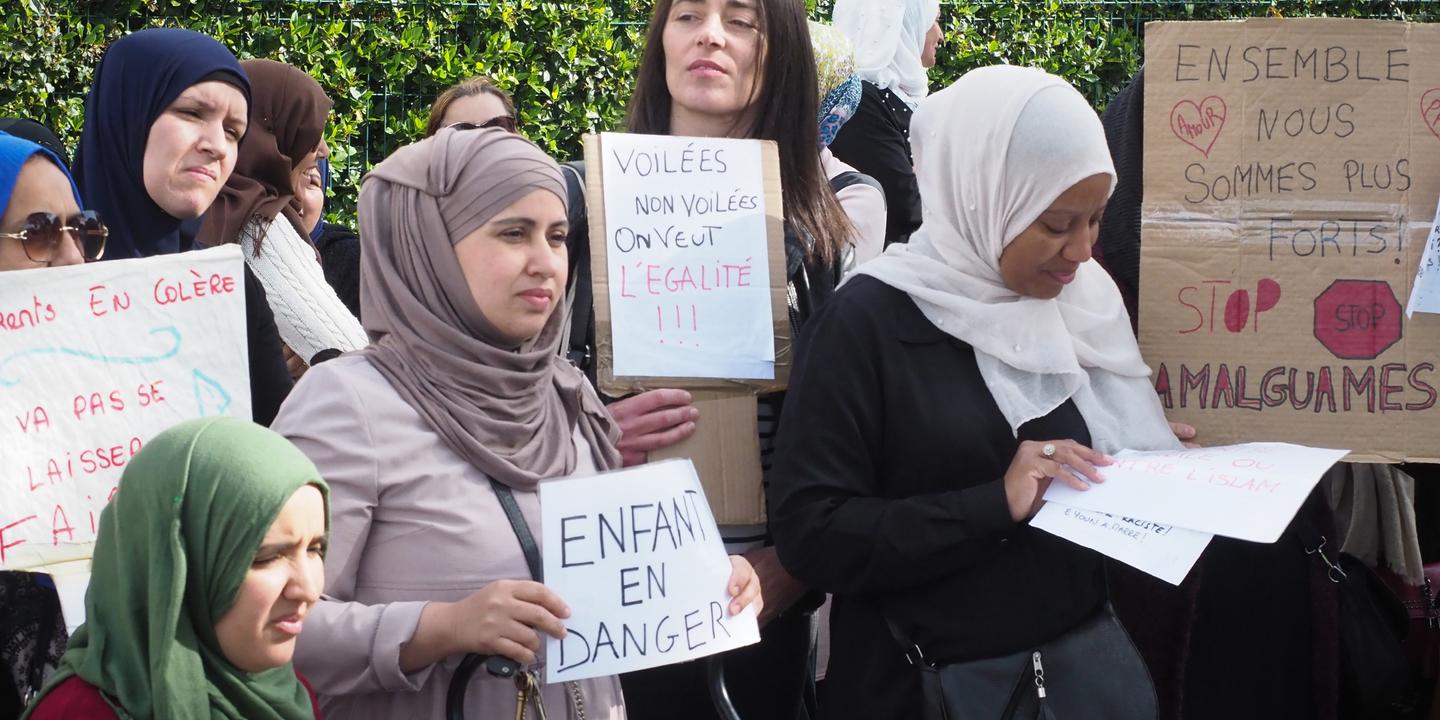 Le quinzième jour du septième mois, quand vous récolterez les produits du pays, vous célébrerez donc une fête à l'Éternel (…)

et vous vous réjouirez devant l'Éternel, votre Dieu, pendant sept jours. (…)

Vous demeurerez pendant sept jours sous des tentes … afin que vos descendants sachent que j'ai fait habiter sous des tentes les enfants d'Israël, après les avoir fait sortir du pays d'Égypte. Je suis l'Éternel, votre Dieu. Lévitique 23: 39-43
Si l'image nous révolte tant, c'est parce que nous en sommes tous collectivement responsables (…) cette scène, ces mots, ce comportement sont d'une violence et d'une haine inouïes. Mais par notre lâcheté, par nos renoncements, nous avons contribué, petit à petit, à les laisser passer, à les accepter. Cette femme a été « publiquement piétinée, chosifiée, déshumanisée, devant le groupe d'enfants qu'elle accompagnait bénévolement (…) Quelles seront les conséquences d'une telle humiliation publique si ce n'est renvoyer à cet enfant qu'il demeure un citoyen de seconde zone, indigne d'être pleinement français et reconnu comme tel ? Où est l'indignation générale ? Où sont les émissions de télévision, de radio, hormis quelques billets et tribunes comme celle-ci pour condamner cette agression ? Où est la parole publique de premier niveau, celle de nos élus, des partis politiques, celle des ministres, celle du président de la République pour refuser l'inacceptable ? Ne nous y trompons donc pas. L'extrême droite a fait de la haine contre les musulmans un outil majeur de sa propagande, mais elle n'en a pas le monopole. Des membres de la droite et de la gauche dites républicaines n'hésitent pas à stigmatiser les musulmans, et en premier lieu les femmes portant le voile, souvent -au nom de la laïcité-. Jusqu'où laisserons-nous passer ces haines ? (…) Jusqu'à quand allons-nous accepter que la laïcité, socle de notre République, soit instrumentalisée pour le compte d'une vision ségrégationniste, raciste, xénophobe, mortifère de notre société ? Acceptons-nous de nous laisser sombrer collectivement ou disons-nous stop maintenant, tant qu'il est encore temps ? Nous demandons urgemment au Président de la République de condamner publiquement l'agression dont cette femme a été victime devant son propre fils (…) de refuser que nos concitoyens musulmans soient fichés, stigmatisés, dénoncés pour la simple pratique de leur religion et d'exiger solennellement que cessent les discriminations et les amalgames envers une partie de notre communauté nationale. 90 personnalités
Dans une tribune publiée ce mardi sur lemonde.fr, 90 personnalités, dont l'acteur Omar Sy, le rappeur Nekfeu, le réalisateur Mathieu Kassovitz, ou encore la députée LFI Danièle Obono demandent au Chef de l'Etat d'intervenir pour condamner fermement « l'agression » dont a été victime la mère voilée vendredi dernier après la vidéo tournée par un élu RN au Conseil régional de Bourgogne-Franche-Comté. Parmi les 90 personnalités signataires : Rokhaya Diallo, journaliste et réalisatrice, DJ Snake, artiste, Marina Foïs, actrice, Mathieu Kassovitz, acteur et réalisateur, Kyan Khojandi, auteur, Tonie Marshall, réalisatrice, productrice, Guillaume Meurice, humoriste, Géraldine Nakache, actrice et réalisatrice, Nekfeu, artiste, Danièle Obono, députée (La France insoumise), Alessandra Sublet, animatrice, Omar Sy, acteur… France bleu
Columbus makes Hitler look like a juvenile delinquent. Russell Means
It's almost obscene to celebrate Columbus because it's an unmitigated record of horror. We don't have to celebrate a man who was really — from an Indian point of view — worse than Attila the Hun. Hans Koning
The evidence of Aztec cannibalism has largely been ignored and consciously or unconsciously covered up. Michael Harner (New School for Social Research)
Dr. Harner's theory of nutritional need is based on a recent revision in the number of people thought to have been sacrificed by the Aztecs. Dr. Woodrow Borah an authority on the demography of ancient Mexico at the University of California, Berkeley, has recently estimated that the Aztecs sacrificed 250,000 people a year. This consituted about 1 percent of the region's population of 25 million. (…) He argues that cannibalism, which may have begun for purely religious reasons, appears to have grown to serve nutritional needs because the Aztecs, unlike nearly all other civilizations, lacked domesticated herbivores such as pigs or cattle. Staples of the Aztec diet were corn and beans supplemented with a few vegetables, lizards, snakes and worms. There were some domesticated turkeys and hairless dogs. Poor people gathered floating mats of vegetation from lakes. (…) In contemporary sources, however, such as the writings of Hernando Cortes, who conquered the Aztecs in 1521, and Bernal Diaz, who accompanied Cortes, Dr. Hamer says there is abundant evidence that human sacrifice was a common event in every town and that the limbs of the victims were boiled or roasted and eaten. Diaz, who is regarded by anthropologists as a highly reliable source, wrote in "The Conquest of New Spain," for example, that in the town of Tlaxcala "we found wooden cages made of lattice‐work in which men and women were imprisoned and fed until they were fat enough to be sacrificed and eaten. These prison cages existed throughout the country." The sacrifices, carried out by priests, took place atop the hundreds of steepwalled pyramids scattered about the Valley of Mexico. According to Diaz, the victims were taken up the pyramids where the priests "laid them down on their backs on some narrow stones of sacrifice and, cutting open their chests, drew out their palpitating hearts which they offered to the idols before them. Then they kicked the bodies down the steps, and the Indian butchers who were waiting below cut off their arms and legs. Then they ate their flesh with a sauce of peppers and tomatoes." (…) Diaz's accounts indicate that the Aztecs ate only the limbs of their victims. The torsos were fed to carnivores in zoos. According to Dr. Harner, the Aztecs never sacrificed their own people. Instead they battled neighboring nations, using tactics that minimized deaths in battle and maximized the number of prisoners. The traditional explanation for Aztec human sacrifice has been that it was religious—a way of winning the support of the gods for success in battle. Victories procured even more victims, thus winning still more divine support in the next war. (…) Traditional anthropological accounts indicate that to win more favor from the gods during the famine the Aztecs arranged with their neighbors to stage battles for prisoners who could be sacrificed. The Aztecs' neighbors, sharing similar religious tenets, wanted to sacrifice Aztecs to their gods. The NYT
Specialists in Mesoamerican history are going to be upset about this for obvious reasons. They're not going to have the people they study looking like cannibals. They're clinging to a very romantic point of view about the Aztecs. It's the Hiawatha syndrome. Michael Harner
Some conquistadors wrote about the tzompantli and its towers, estimating that the rack alone contained 130,000 skulls. But historians and archaeologists knew the conquistadors were prone to exaggerating the horrors of human sacrifice to demonize the Mexica culture. As the centuries passed, scholars began to wonder whether the tzompantli had ever existed. Archaeologists at the National Institute of Anthropology and History (INAH) here can now say with certainty that it did. Beginning in 2015, they discovered and excavated the remains of the skull rack and one of the towers underneath a colonial period house on the street that runs behind Mexico City's cathedral. (The other tower, they suspect, lies under the cathedral's back courtyard.) The scale of the rack and tower suggests they held thousands of skulls, testimony to an industry of human sacrifice unlike any other in the world. Science
Some post-conquest sources report that at the re-consecration of Great Pyramid of Tenochtitlan in 1487, the Aztecs sacrificed about 80,400 prisoners over the course of four days. This number is considered by Ross Hassig, author of Aztec Warfare, to be an exaggeration. Hassig states « between 10,000 and 80,400 persons » were sacrificed in the ceremony. The higher estimate would average 15 sacrifices per minute during the four-day consecration. Four tables were arranged at the top so that the victims could be jettisoned down the sides of the temple. Nonetheless, according to Codex Telleriano-Remensis, old Aztecs who talked with the missionaries told about a much lower figure for the reconsecration of the temple, approximately 4,000 victims in total. Michael Harner, in his 1977 article The Enigma of Aztec Sacrifice, cited an estimate by Borah of the number of persons sacrificed in central Mexico in the 15th century as high as 250,000 per year which may have been one percent of the population. Fernando de Alva Cortés Ixtlilxochitl, a Mexica descendant and the author of Codex Ixtlilxochitl, estimated that one in five children of the Mexica subjects was killed annually. Victor Davis Hanson argues that a claim by Don Carlos Zumárraga of 20,000 per annum is « more plausible ». Wikipedia
Certains chercheurs ont émis l'hypothèse que l'apport en protéines des aliments dont disposaient les Aztèques était insuffisant, en raison de l'absence de grands mammifères terrestres domesticables, et que les sacrifices humains avaient pour fonction principale de pallier cette carence nutritionnelle. Cette théorie, en particulier quand elle a été diffusée par le New York Times, a été critiquée par la majorité des spécialistes de la Mésoamérique. Michael Harner a notamment accusé les chercheurs mexicains de minimiser le cannibalisme aztèque par nationalisme ; Bernardo R. Ortiz de Montellano, en particulier, a publié en 1979 un article détaillant les failles de l'analyse de Harner, en démontrant notamment que le régime alimentaire aztèque était équilibré, varié et suffisamment riche en protéines, grâce à la pêche d'une abondante faune aquatique et la chasse de nombreux oiseaux, et que donc l'anthropophagie ne pouvait pas être une nécessité, car elle n'aurait pas pu améliorer significativement un apport en protéines déjà suffisant. Michel Graulich a apporté d'autres éléments de critique. Il affirme que si cette théorie était exacte, la chair des victimes aurait dû être distribuée au moins autant aux gens modestes qu'aux puissants, mais il semble que ce n'était pas le cas ; il ajoute que seules les grandes villes pratiquaient le sacrifice humain de masse, et que ce phénomène n'a pas été prouvé dans la plupart des autres populations mésoaméricaines, dont l'alimentation semble pourtant comparable à celle des Aztèques. Wikipedia
Considérant que c'est le devoir de toutes les Nations de reconnaître la providence de Dieu Tout-puissant, d'obéir à sa volonté, d'être reconnaissantes pour ses bienfaits, et humblement implorer sa protection et sa faveur, et tandis que les deux Chambres du Congrès m'ont, par leur Comité mixte, demandé de recommander au Peuple des États-Unis qu'un jour public d'action de grâce et de prières soit observé en reconnaissance aux nombreux signes de faveur de Dieu Tout-puissant, particulièrement en ayant donné au Peuple les moyens d'établir pacifiquement une forme de gouvernement pour sa sûreté et son bonheur. Maintenant donc, je recommande et assigne que le premier jeudi après le 26e jour de novembre soit consacré par le Peuple de ces États au service du grand et glorieux Être, qui est l'Auteur bienfaisant de tout ce qu'il y a eu, qu'il y a et qu'il y aura de bon. Nous pouvons alors tous nous unir en lui donnant notre sincère et humble merci, pour son soin et sa protection, appréciés du Peuple de ce Pays, avant que celui-ci ne soit devenu une Nation de pitié ; pour les interpositions favorables de sa Providence lors de nos épreuves durant le cours et la fin de la récente guerre ; pour le grand degré de tranquillité, d'union, et d'abondance, que nous avons depuis appréciées ; pour le pacifisme et la raison qui nous ont été conférés pour nous permettre d'établir des constitutions de gouvernement pour notre sûreté et notre bonheur, en particulier la Loi nationale récemment instituée, ; pour la liberté civile et la liberté religieuse formant à elles seules une vraie bénédiction ; pour les moyens que nous avons d'acquérir et de répandre la connaissance utile ; et d'une manière générale pour toutes les grandes et diverses faveurs qu'il nous a bien heureusement conférées. Nous pouvons alors nous unir en offrant le plus humblement nos prières et supplications au grand Seigneur et Gouverneur des Nations et le solliciter pour pardonner nos transgressions nationales et autres transgressions ; pour nous permettre à tous, en poste public ou privé, de remplir nos nombreuses fonctions respectives, correctement et ponctuellement ; pour permettre à notre gouvernement national de rendre bénédiction à toutes les personnes, en étant constamment un Gouvernement de lois sages, justes, et constitutionnelles, discrètement et loyalement exécutées et obéies ; pour protéger, guider et bénir tous les Souverains et toutes les Nations (particulièrement celles qui ont montré de la bonté envers nous), afin de leur assurer paix et concordance, et assurer un bon gouvernement ; pour favoriser la connaissance et la pratique vraies de la religion et de la vertu, ainsi que davantage de science parmi eux et nous, et accorder généralement à toute l'Humanité un tel degré de prospérité temporelle comme lui seul sait pour être le meilleur. « Donné sous ma main à la Ville de New-York le troisième jour d'octobre par année 1789 de notre Seigneur. George Washington

The year that is drawing towards its close, has been filled with the blessings of fruitful fields and healthful skies. To these bounties, which are so constantly enjoyed that we are prone to forget the source from which they come, others have been added, which are of so extraordinary a nature, that they cannot fail to penetrate and soften even the heart which is habitually insensible to the ever watchful providence of Almighty God. In the midst of a civil war of unequalled magnitude and severity, which has sometimes seemed to foreign States to invite and to provoke their aggression, peace has been preserved with all nations, order has been maintained, the laws have been respected and obeyed, and harmony has prevailed everywhere except in the theatre of military conflict; while that theatre has been greatly contracted by the advancing armies and navies of the Union. Needful diversions of wealth and of strength from the fields of peaceful industry to the national defence, have not arrested the plough, the shuttle or the ship; the axe has enlarged the borders of our settlements, and the mines, as well of iron and coal as of the precious metals, have yielded even more abundantly than heretofore. Population has steadily increased, notwithstanding the waste that has been made in the camp, the siege and the battle-field; and the country, rejoicing in the consciousness of augmented strength and vigor, is permitted to expect continuance of years with large increase of freedom. No human counsel hath devised nor hath any mortal hand worked out these great things. They are the gracious gifts of the Most High God, who, while dealing with us in anger for our sins, hath nevertheless remembered mercy. It has seemed to me fit and proper that they should be solemnly, reverently and gratefully acknowledged as with one heart and one voice by the whole American People. I do therefore invite my fellow citizens in every part of the United States, and also those who are at sea and those who are sojourning in foreign lands, to set apart and observe the last Thursday of November next, as a day of Thanksgiving and Praise to our beneficent Father who dwelleth in the Heavens. And I recommend to them that while offering up the ascriptions justly due to Him for such singular deliverances and blessings, they do also, with humble penitence for our national perverseness and disobedience, commend to His tender care all those who have become widows, orphans, mourners or sufferers in the lamentable civil strife in which we are unavoidably engaged, and fervently implore the interposition of the Almighty Hand to heal the wounds of the nation and to restore it as soon as may be consistent with the Divine purposes to the full enjoyment of peace, harmony, tranquillity and Union. In testimony whereof, I have hereunto set my hand and caused the Seal of the United States to be affixed. Done at the City of Washington, this Third day of October, in the year of our Lord one thousand eight hundred and sixty-three, and of the Independence of the United States the Eighty-eighth. Abraham Lincoln
Whereas by a joint resolution approved June 29, 1892, it was resolved by the Senate and House of Representatives of the United States of America in Congress assembled— That the President of the United States be authorized and directed to issue a proclamation recommending to the people the observance in all their localities of the four hundredth anniversary of the discovery of America, on the 21st of October, 1892, by public demonstrations and by suitable exercises in their schools and other places of assembly. Now, therefore, I, Benjamin Harrison, President of the United States of America, in pursuance of the aforesaid joint resolution, do hereby appoint Friday, October 21, 1892, the four hundredth anniversary of the discovery of America by Columbus, as a general holiday for the people of the United States. On that day let the people, so far as possible, cease from toil and devote themselves to such exercises as may best express honor to the discoverer and their appreciation of the great achievements of the four completed centuries of American life. Columbus stood in his age as the pioneer of progress and enlightenment. The system of universal education is in our age the most prominent and salutary feature of the spirit of enlightenment, and it is peculiarly appropriate that the schools be made by the people the center of the day's demonstration. Let the national flag float over every schoolhouse in the country and the exercises be such as shall impress upon our youth the patriotic duties of American citizenship. In the churches and in the other places of assembly of the people let there be expressions of gratitude to Divine Providence for the devout faith of the discoverer and for the divine care and guidance which has directed our history and so abundantly blessed our people. (…) Done at the city of Washington, this 21st day of July, A.D. 1892, and of the Independence of the United States the one hundred and seventeenth. US president Benjamin Harrison
Of all the bedtime-story versions of American history we teach, the tidy Thanksgiving pageant may be the one stuffed with the heaviest serving of myth. This iconic tale is the main course in our nation's foundation legend, complete with cardboard cutouts of bow-carrying Native American cherubs and pint-size Pilgrims in black hats with buckles. And legend it largely is. In fact, what had been a New England seasonal holiday became more of a "national" celebration only during the Civil War, with Lincoln's proclamation calling for "a day of thanksgiving" in 1863. That fall, Lincoln had precious little to be thankful for. The Union victory at Gettysburg the previous July had come at a dreadful cost – a combined 51,000 estimated casualties, with nearly 8,000 dead. Enraged by draft laws and emancipation, rioters in Northern cities like New York went on bloody rampages. And the president and his wife, Mary, were still mourning the loss of their 11-year-old son, Willie, who had died the year before. So it might seem odd that Lincoln chose this moment to announce a national day of thanksgiving, to be marked on the last Thursday in November. His Oct. 3, 1863, proclamation read: "In the midst of a civil war of unequaled magnitude and severity … peace has been preserved with all nations, order has been maintained, the laws have been respected and obeyed, and harmony has prevailed everywhere, except in the theater of military conflict." But it took another year for the day to really catch hold. In 1864 Lincoln issued a second proclamation, which read, "I do further recommend to my fellow-citizens aforesaid that on that occasion they do reverently humble themselves in the dust."(…) What prompted Lincoln to issue these proclamations – the first two in an unbroken string of presidential Thanksgiving proclamations – is uncertain. He was not the first president to do so. George Washington and James Madison had earlier issued "thanksgiving" proclamations, calling for somber days of prayer. Perhaps Lincoln saw an opportunity to underscore shared American traditions – a theme found in the "mystic chords of memory" stretching from "every patriot grave" in his first inaugural. Or he may have been responding to the passionate entreaties of Sara Josepha Hale, editor of Godey's Lady's Book – the Good Housekeeping of its day. Hale, who contributed to American folkways as the author of "Mary had a Little Lamb," had been advocating in the magazine for a national day of Thanksgiving since 1837. (…)  But one crucial piece remained: The elevation of Thanksgiving to a true national holiday, a feat accomplished by Franklin D. Roosevelt. In 1939, with the nation still struggling out of the Great Depression, the traditional Thanksgiving Day fell on the last day of the month – a fifth Thursday. Worried retailers, for whom the holiday had already become the kickoff to the Christmas shopping season, feared this late date. Roosevelt agreed to move his holiday proclamation up one week to the fourth Thursday, thereby extending the critical shopping season. Some states stuck to the traditional last Thursday date, and other Thanksgiving traditions, such as high school and college football championships, had already been scheduled. This led to Roosevelt critics deriding the earlier date as "Franksgiving." With 32 states joining Roosevelt's "Democratic Thanksgiving, " 16 others stuck with the traditional date, or "Republican Thanksgiving." After some congressional wrangling, in December 1941, Roosevelt signed the legislation making Thanksgiving a legal holiday on the fourth Thursday in November. And there it has remained. Kenneth C. Davis
Le 14 mars 1891, à la Nouvelle-Orléans, en Louisiane, onze Italiens furent lynchés par la foule en raison du rôle qu'ils avaient supposément joué dans le meurtre du commissaire de police David Hennessy. Ce lynchage, qui restera comme le lynchage de masse le plus important de toute l'histoire des États-Unis, eut lieu le lendemain du procès de neuf sur les dix-neuf hommes inculpés dans cette affaire de meurtre. Six de ces prévenus furent alors acquittés, et le jugement fut ajourné concernant les trois autres, pour défaut d'unanimité dans le jury sur le verdict. Croyant que le jury avait été soudoyé, une foule d'émeutiers fit irruption dans la prison où les hommes étaient détenus et tuèrent onze d'entre eux. Ce lynchage apparaît inhabituel en ceci que les émeutiers étaient au nombre de plusieurs milliers et que dans leurs rangs figuraient quelques-uns parmi les citoyens les plus en vue de la ville. La couverture de l'événement par la presse américaine fut d'ailleurs largement complaisante, et les responsables du lynchage ne furent jamais poursuivis. Le New York Times félicita les meurtriers, car la mort des Italiens « accroissait la sécurité des biens et de la vie des habitants de La Nouvelle-Orléans ». Le Washington Post assura que le lynchage mettrait un terme au « règne de la terreur » qu'imposerait les Italiens. Selon le Saint Louis Globe Democrat, les lyncheurs n'avaient fait qu'exercer « les droits légitimes de la souveraineté populaire ». L'incident eut de graves répercussions au plan national. L'Italie suspendit ses relations diplomatiques avec les États-Unis après le refus du président Benjamin Harrison d'ouvrir une enquête fédérale. La presse et la rumeur publique propagèrent l'idée que la marine italienne s'apprêtait à attaquer les ports américains et des milliers de volontaires se présentèrent pour faire la guerre à l'Italie3. La recrudescence des sentiments anti-italiens s'accompagna d'appels à une restriction de l'immigration. Le vocable mafia fit son entrée dans le lexique des Américains, et le stéréotype du mafioso italo-américain s'implanta durablement dans l'imaginaire populaire. En 1955, un homme d'affaires, décédé cette année-là, reconnut dans une lettre que l'assassinat du policier avait été organisé par un comité d'une cinquantaine d'hommes d'affaires anglo-saxons qui entendaient se débarrasser d'hommes d'affaires rivaux italiens. Ces lynchages constituent l'argument du téléfilm Vendetta, produit en 1999 par HBO et adapté d'un ouvrage de Richard Gambino paru en 1977, avec Christopher Walken dans le rôle principal. Wikipedia
La première célébration du jour de Christophe Colomb s'est faite dans la ville de San Francisco, en 1869, par une communauté majoritairement italo-américaine. Pourtant, le premier État tout entier à célébrer cette fête fut le Colorado, en 1907. Trente ans après, Franklin D. Roosevelt instaure ce jour comme un jour de fête nationale aux États-Unis. Il faudra cependant attendre la Proclamation du président George W. Bush du 4 octobre 2007 pour que le jour de Christophe Colomb soit officiellement fixé au deuxième lundi du mois d'octobre de chaque année. Christophe Colomb était au service de l'Espagne cependant il était d'origine italienne. « Cristoforo Colombo » est né en 1451 sur le territoire de la République de Gênes. Les Italiens ont été les premiers à célébrer le jour de Christophe Colomb lors de leur immigration vers les États-Unis. L'Empire State Building se pare alors des couleurs du drapeau italien (vert, blanc et rouge). Le Jour de Christophe Colomb (Columbus Day) est un jour férié fédéral aux États-Unis. Il est organisé depuis 1929 par la Columbus Citizens Foundation. Chaque État célèbre différemment le jour de Christophe Colomb. Cette fête a lieu sous forme de parades dans les rues américaines, il y a plusieurs défilés. Une Columbus Day Parade est organisée dans plusieurs villes comme à Denver. À New York, la Columbus Day Parade a lieu depuis 1915 le long de la célèbre 5e avenue à la hauteur de la 44e rue et continue sur la célèbre avenue de la Big Apple jusqu'au niveau de la 86e rue. On retrouve ainsi des fanfares, des chars, et différentes manifestations et fêtes dans tous les quartiers aux alentours de la route de la parade. À Washington, devant la Gare de l'Union a lieu une cérémonie officielle devant le Mémorial de Christophe Colomb. Les festivités commencent juste après le dépôt de gerbes aux pieds de ce monument. Ce n'est pas un jour férié dans tous les États des États-Unis, comme en Alaska, dans le Nevada, à Hawaï et dans le Dakota du Sud. Ces États ne reconnaissent pas le Jour de Christophe Colomb et fêtent d'autres événements. Cette fête est contestée aux États-Unis. Nombreux sont ceux rappelant que derrière la découverte de l'Amérique par Christophe Colomb se cachent des faits moins glorieux, tels que la colonisation ou encore le massacre des Indiens d'Amérique. Le Jour de Christophe Colomb est plus communément appelé « Jour de la Race » (Día de la Raza) dans les pays d'Amérique Latine comme le Brésil, le Guatemala, le Paraguay, Porto Rico, le Nicaragua ou la République Dominicaine. Il se déroule généralement le 12 octobre et est considéré, pour de nombreux pays, comme un anti-Colombus Day. Il célèbre la résistance à l'arrivée des européens dans le Nouveau Monde et est aussi utilisé pour commémorer les cultures indigènes. Au cours de cette journée des festivités sont organisées pour lutter contre le racisme, se souvenir des cultures et des traditions des peuples précolombiens. En Argentine la fête est appelée « Journée de la Diversité Culturelle » (Día de la Diversidad Cultural). Elle se veut être la naissance d'une nouvelle identité, issue de la fusion entre les peuples d'origine et les colonisateurs espagnols. Le 24 septembre 1892, le Congrès mexicain décréta le 12 octobre jour de fête nationale. Depuis 1917 à l'initiative de Venustiano Carranza il porte le nom de Día de la Raza. Le président Emilio Portes Gil lui donna le nom de Día de la Raza y Aniversario del Descubrimiento de América en 1929. Ce jour n'est plus un jour férié officiel actuellement, mais il donne lieu a de nombreuses festivités. L'Espagne est la seule à utiliser le nom de « Jour de l'Hispanité » (Día de la Hispanidad) pour célébrer cette fête. Le terme « hispanité » a été défini à la fin du XIXe siècle par des intellectuels. Il est officialisé fête nationale par Alfonso XIII en 1918 sous l'appellation «Fête de la Race » (Día de la Raza) en contradiction avec les idées progressistes. Après la restauration de la monarchie en 1981, un arrêté royal publié dans le premier Bulletin Officiel de l'État en 1982, officialise la date de 12 octobre en tant que Fête Nationale de l'Espagne et Jour de l'Hispanité. Cet événement est très cher au cœur des Espagnols puisque le navigateur est venu chercher la grande majorité de son équipage en Espagne. Wikipedia
Sans pouvoir préciser avec certitude l'ampleur de l'impact des maladies infectieuses chez les Amérindiens, le taux de mortalité aurait atteint 90 pour cent pour certaines populations durement affectées. Les Amérindiens, qui n'étaient pas immunisés contre des virus et maladies comme la coqueluche, la rougeole ou la variole qui sévissaient depuis des millénaires dans l'Ancien Monde, auraient été foudroyés par des épidémies plusieurs décennies avant que des colons arrivent dans des territoires apparemment peu peuplés de l'intérieur. N'ayant aucune connaissance sur les virus à l'époque, les Européens n'ont donc aucunement profité en connaissance de cause des faiblesses immunitaires des populations autochtones. Le processus a commencé dès les années 1500 et a emporté des centaines de milliers de vies. En 1520 et 1521, une épidémie de variole toucha les habitants de Tenochtitlan et fut l'un des principaux facteurs de la chute de la ville au moment du siège. En effet, on estime entre 10 et 50 % la part de la population de la cité qui serait morte à cause de cette maladie en deux semaines. Deux autres épidémies affectèrent la vallée de Mexico : la variole en 1545-1548 et le typhus en 1576-1581. Les Espagnols, pour compenser la diminution de la population, ont rassemblé les survivants des petites villes de la vallée de Mexico dans de plus grandes cités. Cette migration a brisé le pouvoir des classes supérieures, mais n'a pas dissous la cohésion de la société indigène dans un Mexique plus grand. Les épidémies de variole, de typhus, de grippe, de diphtérie de rougeole, de peste auraient tué entre 50 et 66 % de la population indigène selon les régions de Amérique latine. En 1617-1619, une épidémie de peste bubonique ravage la Nouvelle-Angleterre. Le bilan de ces épidémies est difficile à donner avec exactitude. Les sources sont inexistantes et les historiens ne sont pas d'accord sur les estimations. Certains avancent 10 millions d'Amérindiens pour tout le continent ; d'autres pensent plutôt à 90 millions, dont 10 pour l'Amérique du Nord. Le continent américain entier (de l'Alaska au Cap Horn) aurait abrité environ 50 millions d'habitants en 1492 ; pour comparaison, il y avait 20 millions de Français au XVIIe siècle. Les chiffres avancés pour le territoire des États-Unis d'aujourd'hui sont compris entre 7 et 12 millions d'habitants. Environ 500 000 Amérindiens peuplaient la côte Est de cet espace. Ils ne sont plus que 100 000 au début du XVIIIe siècle. Dans l'Empire espagnol, la mortalité des Amérindiens était telle qu'elle fut l'un des motifs de la traite des Noirs, permettant d'importer dans le « Nouveau Monde » de la main-d'œuvre pour les mines et les plantations. Wikipedia
Celebration of Christopher Columbus's voyage in the early United States is recorded from as early as 1792. In that year, the Tammany Society in New York City (for whom it became an annual tradition) and the Massachusetts Historical Society in Boston celebrated the 300th anniversary of Columbus' landing in the New World. For the 400th anniversary in 1892, following a lynching in New Orleans where a mob had murdered 11 Italian immigrants, President Benjamin Harrison declared Columbus Day as a one-time national celebration. The proclamation was part of a wider effort after the lynching incident to placate Italian Americans and ease diplomatic tensions with Italy. During the anniversary in 1892, teachers, preachers, poets and politicians used rituals to teach ideals of patriotism. These rituals took themes such as citizenship boundaries, the importance of loyalty to the nation, and the celebration of social progress. Many Italian-Americans observe Columbus Day as a celebration of their heritage, and the first such celebration had already been held in New York City on October 12, 1866. The day was first enshrined as a legal holiday in the United States through the lobbying of Angelo Noce, a first generation Italian, in Denver. The first statewide holiday was proclaimed by Colorado governor Jesse F. McDonald in 1905, and it was made a statutory holiday in 1907. In April 1937, as a result of lobbying by the Knights of Columbus and New York City Italian leader Generoso Pope, Congress and President Franklin Delano Roosevelt proclaimed October 12 be a federal holiday under the name Columbus Day. Since 1971 (Oct. 11), the holiday has been attributed to the second Monday in October,[20] coincidentally exactly the same day as Thanksgiving in neighboring Canada since 1957. It is generally observed nowadays by banks, the bond market, the U.S. Postal Service, other federal agencies, most state government offices, many businesses, and most school districts. Some businesses and some stock exchanges remain open, and some states and municipalities abstain from observing the holiday. The traditional date of the holiday also adjoins the anniversary of the United States Navy (founded October 13, 1775), and thus both occasions are customarily observed by the Navy and the Marine Corps with either a 72- or 96-hour liberty period. Actual observance varies in different parts of the United States, ranging from large-scale parades and events to complete non-observance. Most states do not celebrate Columbus Day as an official state holiday. Some mark it as a « Day of Observance » or « Recognition." Most states that celebrate Columbus Day will close state services, while others operate as normal. San Francisco claims the nation's oldest continuously existing celebration with the Italian-American community's annual Columbus Day Parade, which was established by Nicola Larco in 1868, while New York City boasts the largest, with over 35,000 marchers and one million viewers around 2010. As in the mainland United States, Columbus Day is a legal holiday in the U.S. territory of Puerto Rico. In the United States Virgin Islands, the day is celebrated as both Columbus Day and « Puerto Rico Friendship Day. » Virginia also celebrates two legal holidays on the day, Columbus Day and Yorktown Victory Day, which honors the final victory at the Siege of Yorktown in the Revolutionary War. The celebration of Columbus Day in the United States began to decline at the end of the 20th century, although many Italian-Americans, and others, continue to champion it. The states of Florida, Hawaii, Alaska, Vermont, South Dakota, New Mexico, Maine, Wisconsin, and parts of California including, for example, Los Angeles County do not recognize it and have each replaced it with celebrations of Indigenous People's Day (in Hawaii, « Discoverers' Day », in South Dakota, « Native American Day »). A lack of recognition or a reduced level of observance for Columbus Day is not always due to concerns about honoring Native Americans. For example, a community of predominantly Scandinavian descent may observe Leif Erikson Day instead. In the state of Oregon, Columbus Day is not an official holiday. Iowa and Nevada do not celebrate Columbus Day as an official holiday, but the states' respective governors are « authorized and requested » by statute to proclaim the day each year. Several states have removed the day as a paid holiday for state government workers, while still maintaining it—either as a day of recognition, or as a legal holiday for other purposes, including California and Texas. The practice of U.S. cities eschewing Columbus Day to celebrate Indigenous Peoples' Day began in 1992 with Berkeley, California. The list of cities which have followed suit as of 2018 includes Austin, Boise, Cincinnati, Denver, Los Angeles, Mankato, Minnesota, Portland, Oregon, San Francisco, Santa Fe, New Mexico, Seattle, St. Paul, Minnesota, Phoenix, Tacoma, and « dozens of others. » Columbus, Ohio has chosen to honor veterans instead of Christopher Columbus, and removed Columbus Day as a city holiday. Various tribal governments in Oklahoma designate the day as Native American Day, or name it after their own tribe. Wikipedia
In a country of diverse religious faiths and national origins like the United States, it made sense to develop a holiday system that was not entirely tied to a religious calendar. (Christmas survives here, of course, but in law it's a secular holiday much like New Year's Day.) So Americans do not all leave for the shore on August 15th, the Feast of the Assumption of the Blessed Virgin, the way Italians do; and while St. Patrick's Day is celebrated by many Americans, it is not a legal holiday in any of the states. The American system of holidays was constructed mostly around a series of great events and persons in our nation's history. The aim was to instill a feeling of civic pride. Holidays were chosen as occasions to bring everyone together, not for excluding certain people. They were supposed to be about the recognition of our society's common struggles and achievements. Civic religion is often used to describe the principle behind America's calendar of public holidays. Consider the range and variability of the meanings of our holidays. Certainly they have not always been occasions for celebration: Memorial Day and Veterans' Day involve mourning for the dead and wounded. Labor Day commemorated significant hardships in the decades when unions were struggling to organize. Having grown up in the 1960s I remember how Abraham Lincoln's Birthday (now lumped in with Presidents' Day, and with some of its significance transferred to Martin Luther King, Jr. Day) took on special meaning during the Civil Rights movement and after the JFK assassination. When thinking about the Columbus Day holiday it helps to remember the good intentions of the people who put together the first parade in New York. Columbus Day was first proclaimed a national holiday by President Benjamin Harrison in 1892, 400 years after Columbus's first voyage. The idea, lost on present-day critics of the holiday, was that this would be a national holiday that would be special for recognizing both Native Americans, who were here before Columbus, and the many immigrants—including Italians—who were just then coming to this country in astounding numbers. It was to be a national holiday that was not about the Founding Fathers or the Civil War, but about the rest of American history. Like the Columbian Exposition dedicated in Chicago that year and opened in 1893, it was to be about our land and all its people. Harrison especially designated the schools as centers of the Columbus celebration because universal public schooling, which had only recently taken hold, was seen as essential to a democracy that was seriously aiming to include everyone and not just preserve a governing elite. You won't find it in the public literature surrounding the first Columbus Day in 1892, but in the background lay two recent tragedies, one involving Native Americans, the other involving Italian Americans. The first tragedy was the massacre by U.S. troops of between 146 and 200 Lakota Sioux, including men, women and children, at Wounded Knee, South Dakota, on December 29, 1890. Shooting began after a misunderstanding involving an elderly, deaf Sioux warrior who hadn't heard and therefore did not understand that he was supposed to hand over his rifle to the U.S. Cavalry. The massacre at Wounded Knee marked the definitive end of Indian resistance in the Great Plains. The episode was immediately seen by the government as potentially troubling, although there was much popular sentiment against the Sioux. An inquiry was held, the soldiers were absolved, and some were awarded medals that Native Americans to this day are seeking to have rescinded. A second tragedy in the immediate background of the 1892 Columbus celebration took place in New Orleans. There, on March 14, 1891—only 10 weeks after the Wounded Knee Massacre—11 Italians were lynched in prison by a mob led by prominent Louisiana politicians. A trial for the murder of the New Orleans police chief had ended in mistrials for three of the Italians and the acquittal of the others who were brought to trial. Unhappy with the verdict and spurred on by fear of the "Mafia" (a word that had only recently entered American usage), civic leaders organized an assault on the prison to put the Italians to death. This episode was also troubling to the U.S. Government. These were legally innocent men who had been killed. But Italians were not very popular, and even Theodore Roosevelt was quoted as saying that he thought the New Orleans Italians "got what they deserved." A grand jury was summoned, but no one was charged with a crime. President Harrison, who would proclaim the Columbus holiday the following year, was genuinely saddened by the case, and over the objections of some members of congress he paid reparations to the Italian government for the deaths of its citizens. Whenever I hear of protests about the Columbus Day holiday—protests that tend to pit Native Americans against Italian Americans, I remember these tragedies that occurred so soon before the first Columbus Day holiday, and I shake my head. President Harrison did not allude to either of these sad episodes in his proclamation of the holiday, but the idea for the holiday involved a vision of an America that would get beyond the prejudice that had led to these deaths. Columbus Day was supposed to recognize the greatness of all of America's people, but especially Italians and Native Americans. Consider how the first Columbus Day parade in New York was described in the newspapers. It consisted mostly of about 12,000 public school students grouped into 20 regiments, each commanded by a principal. The boys marched in school uniforms or their Sunday best, while the girls, dressed in red, white and blue, sat in bleachers. Alongside the public schoolers there were military drill squads and 29 marching bands, each of 30 to 50 instruments. After the public schools, there followed 5,500 students from the Catholic schools. Then there were students from the private schools wearing school uniforms. These included the Hebrew Orphan Asylum, the Barnard School Military Corps, and the Italian and American Colonial School. The Dante Alighieri Italian College of Astoria was dressed entirely in sailor outfits. These were followed by the Native American marching band from the Carlisle Indian School in Pennsylvania, which, according to one description, included "300 marching Indian boys and 50 tall Indian girls." That the Native Americans came right after the students from the Dante Alighieri School speaks volumes about the spirit of the original Columbus Day. (…) So Columbus Day is for all Americans. It marks the first encounter that brought together the original Americans and the future ones. A lot of suffering followed, and a lot of achievement too. That a special role has been reserved for Italians in keeping the parades and the commemoration alive for well over a century seems right, since Columbus was Italian (…) So much for his ethnicity. What about his moral standing? In the late 19th century an international movement, led by a French priest, sought to have Columbus canonized for bringing Christianity to the New World. To the Catholic Church's credit, this never got very far. It sometimes gets overlooked in current discussions that we neither commemorate Columbus's birthday (as was the practice for Presidents Washington and Lincoln, and as we now do with Martin Luther King, Jr.) nor his death date (which is when Christian saints are memorialized), but rather the date of his arrival in the New World. The historical truth about Columbus—the short version suitable for reporters who are pressed for time—is that Columbus was Italian, but he was no saint. The holiday marks the event, not the person. What Columbus gets criticized for nowadays are attitudes that were typical of the European sailing captains and merchants who plied the Mediterranean and the Atlantic in the 15th century. Within that group he was unquestionably a man of daring and unusual ambition. But what really mattered was his landing on San Salvador, which was a momentous, world-changing occasion such as has rarely happened in human history. William J. Connell
These sneaking and cowardly Sicilians, the descendants of bandits and assassins, who have transported to this country the lawless passions, the cutthroat practices … are to us a pest without mitigations. Our own rattlesnakes are as good citizens as they. Our own murderers are men of feeling and nobility compared to them. The Times
Congress envisioned a white, Protestant and culturally homogeneous America when it declared in 1790 that only "free white persons, who have, or shall migrate into the United States" were eligible to become naturalized citizens. The calculus of racism underwent swift revision when waves of culturally diverse immigrants from the far corners of Europe changed the face of the country. As the historian Matthew Frye Jacobson shows in his immigrant history "Whiteness of a Different Color," the surge of newcomers engendered a national panic and led Americans to adopt a more restrictive, politicized view of how whiteness was to be allocated. Journalists, politicians, social scientists and immigration officials embraced the habit, separating ostensibly white Europeans into "races." Some were designated "whiter" — and more worthy of citizenship — than others, while some were ranked as too close to blackness to be socially redeemable. The story of how Italian immigrants went from racialized pariah status in the 19th century to white Americans in good standing in the 20th offers a window onto the alchemy through which race is constructed in the United States, and how racial hierarchies can sometimes change. Darker skinned southern Italians endured the penalties of blackness on both sides of the Atlantic. In Italy, Northerners had long held that Southerners — particularly Sicilians — were an "uncivilized" and racially inferior people, too obviously African to be part of Europe. Racist dogma about Southern Italians found fertile soil in the United States. As the historian Jennifer Guglielmo writes, the newcomers encountered waves of books, magazines and newspapers that "bombarded Americans with images of Italians as racially suspect." They were sometimes shut out of schools, movie houses and labor unions, or consigned to church pews set aside for black people. They were described in the press as "swarthy," "kinky haired" members of a criminal race and derided in the streets with epithets like "dago," "guinea" — a term of derision applied to enslaved Africans and their descendants — and more familiarly racist insults like "white nigger" and "nigger wop." The penalties of blackness went well beyond name-calling in the apartheid South. Italians who had come to the country as "free white persons" were often marked as black because they accepted "black" jobs in the Louisiana sugar fields or because they chose to live among African-Americans. This left them vulnerable to marauding mobs like the ones that hanged, shot, dismembered or burned alive thousands of black men, women and children across the South. The federal holiday honoring the Italian explorer Christopher Columbus — celebrated on Monday — was central to the process through which Italian-Americans were fully ratified as white during the 20th century. The rationale for the holiday was steeped in myth, and allowed Italian-Americans to write a laudatory portrait of themselves into the civic record. Few who march in Columbus Day parades or recount the tale of Columbus's voyage from Europe to the New World are aware of how the holiday came about or that President Benjamin Harrison proclaimed it as a one-time national celebration in 1892 — in the wake of a bloody New Orleans lynching that took the lives of 11 Italian immigrants. The proclamation was part of a broader attempt to quiet outrage among Italian-Americans, and a diplomatic blowup over the murders that brought Italy and the United States to the brink of war. (…) Italian immigrants were welcomed into Louisiana after the Civil War, when the planter class was in desperate need of cheap labor to replace newly emancipated black people, who were leaving backbreaking jobs in the fields for more gainful employment. These Italians seemed at first to be the answer to both the labor shortage and the increasingly pressing quest for settlers who would support white domination in the emerging Jim Crow state. Louisiana's romance with Italian labor began to sour when the new immigrants balked at low wages and dismal working conditions. The newcomers also chose to live together in Italian neighborhoods, where they spoke their native tongue, preserved Italian customs and developed successful businesses that catered to African-Americans, with whom they fraternized and intermarried. In time, this proximity to blackness would lead white Southerners to view Sicilians, in particular, as not fully white and to see them as eligible for persecution — including lynching — that had customarily been imposed on African-Americans. (…) The carnage in New Orleans was set in motion in the fall of 1890, when the city's popular police chief, David Hennessy, was assassinated on his way home one evening. Hennessy had no shortage of enemies. The historian John V. Baiamonte Jr. writes that he had once been tried for murder in connection with the killing of a professional rival. He is also said to have been involved in a feud between two Italian businessmen. On the strength of a clearly suspect witness who claimed to hear Mr. Hennessy say that "dagoes" had shot him, the city charged 19 Italians with complicity in the chief's murder. That the evidence was distressingly weak was evident from the verdicts that were swiftly handed down: Of the first nine to be tried, six were acquitted; three others were granted mistrials. The leaders of the mob that then went after them advertised their plans in advance, knowing full well that the city's elites — who coveted the businesses the Italians had built or hated the Italians for fraternizing with African-Americans — would never seek justice for the dead. After the lynching, a grand jury investigation pronounced the killings praiseworthy, turning that inquiry into what the historian Barbara Botein describes as "possibly one of the greatest whitewashes in American history. (…) President Harrison would have ignored the New Orleans carnage had the victims been black. But the Italian government made that impossible. It broke off diplomatic relations and demanded an indemnity that the Harrison administration paid. Harrison even called on Congress in his 1891 State of the Union to protect foreign nationals — though not black Americans — from mob violence. Harrison's Columbus Day proclamation in 1892 opened the door for Italian-Americans to write themselves into the American origin story, in a fashion that piled myth upon myth. As the historian Danielle Battisti shows in "Whom We Shall Welcome," they rewrote history by casting Columbus as "the first immigrant" — even though he never set foot in North America and never immigrated anywhere (except possibly to Spain), and even though the United States did not exist as a nation during his 15th-century voyage. The mythologizing, carried out over many decades, granted Italian-Americans "a formative role in the nation-building narrative." It also tied Italian-Americans closely to the paternalistic assertion, still heard today, that Columbus "discovered" a continent that was already inhabited by Native Americans. But in the late 19th century, the full-blown Columbus myth was yet to come. The New Orleans lynching solidified a defamatory view of Italians generally, and Sicilians in particular, as irredeemable criminals who represented a danger to the nation. The influential anti-immigrant racist Representative Henry Cabot Lodge of Massachusetts, soon to join the United States Senate, quickly appropriated the event. He argued that a lack of confidence in juries, not mob violence, had been the real problem in New Orleans. "Lawlessness and lynching are evil things," he wrote, "but a popular belief that juries cannot be trusted is even worse." Facts aside, Lodge argued, beliefs about immigrants were in themselves sufficient to warrant higher barriers to immigration. Congress ratified that notion during the 1920s, curtailing Italian immigration on racial grounds, even though Italians were legally white, with all of the rights whiteness entailed. The Italian-Americans who labored in the campaign that overturned racist immigration restrictions in 1965 used the romantic fictions built up around Columbus to political advantage. This shows yet again how racial categories that people mistakenly view as matters of biology grow out of highly politicized myth making. NYT
Attention: un massacre peut en cacher beaucoup d'autres !
En cette journée où, entre Israël, les Etats-Unis et le Canada, voire les pays hispaniques, coïncident les célébrations de plusieurs traditions culturelles différentes …
Et où, énième illustration de la division toujours plus grande des Etats-Unis par nos déconstructeurs postmodernes obsédés par un prétendu génocide indien – pire qu'Attila et Hitler réunis !
Dû pour l'essentiel à un choc microbien, un nombre croissant d'états ne la fêtent plus ou l'ont même remplacée par la Journée des peuples indigènes  …
Pendant qu'après l'égorgement de quatre policiers du renseignement de la lutte anti-islamique et quelque 250 victimes de la barbarie islamiste …
Nos courageux enfants gâtés du showbiz dénonçaient dès le lendemain l'agression « d'une violence et d'une haine inouïes » que l'on sait …
Retour …
Sans parler, avant et après Colomb ou Cortez, des centaines de milliers de sacrifices humains de nos amis aztèques et mayas …
Sur le massacre …
Et pratiquement plus grand lynchage, avec 11 immigrants italiens extraits manu militari de leur prison de la Nouvelle Orléans et sommairement abattus, de l'histoire américaine …
Qui comme après la fête du Thanksgiving du président Lincoln suite aux centaines de milliers de morts de la Guerre civile américaine …
Et à l'instar de la Saint Patrick d'une communauté irlandaise elle aussi initialement discriminée …
Lança nationalement, au moins pour une journée, cette véritable marche des fiertés …
Qu'est devenue le Columbus Day pour une communauté italo-américaine et notamment sicilienne …
Jusque-là assimilée non seulement à une race de criminels …
Mais à une sous-race à peine au-dessus des esclaves affranchis et des emplois méprisés …
Qu'ils étaient venus remplacer dans un Sud tout récemment sorti du traumatisme d'une guerre civile meurtrière…
How Italians Became 'White'
Vicious bigotry, reluctant acceptance: an American story.
Brent Staples Mr. Staples is a member of the editorial board.
NYT
Oct. 12, 2019
Congress envisioned a white, Protestant and culturally homogeneous America when it declared in 1790 that only "free white persons, who have, or shall migrate into the United States" were eligible to become naturalized citizens. The calculus of racism underwent swift revision when waves of culturally diverse immigrants from the far corners of Europe changed the face of the country.
As the historian Matthew Frye Jacobson shows in his immigrant history "Whiteness of a Different Color," the surge of newcomers engendered a national panic and led Americans to adopt a more restrictive, politicized view of how whiteness was to be allocated. Journalists, politicians, social scientists and immigration officials embraced the habit, separating ostensibly white Europeans into "races." Some were designated "whiter" — and more worthy of citizenship — than others, while some were ranked as too close to blackness to be socially redeemable. The story of how Italian immigrants went from racialized pariah status in the 19th century to white Americans in good standing in the 20th offers a window onto the alchemy through which race is constructed in the United States, and how racial hierarchies can sometimes change.
Darker skinned southern Italians endured the penalties of blackness on both sides of the Atlantic. In Italy, Northerners had long held that Southerners — particularly Sicilians — were an "uncivilized" and racially inferior people, too obviously African to be part of Europe.
Racist dogma about Southern Italians found fertile soil in the United States. As the historian Jennifer Guglielmo writes, the newcomers encountered waves of books, magazines and newspapers that "bombarded Americans with images of Italians as racially suspect." They were sometimes shut out of schools, movie houses and labor unions, or consigned to church pews set aside for black people. They were described in the press as "swarthy," "kinky haired" members of a criminal race and derided in the streets with epithets like "dago," "guinea" — a term of derision applied to enslaved Africans and their descendants — and more familiarly racist insults like "white nigger" and "nigger wop."
The penalties of blackness went well beyond name-calling in the apartheid South. Italians who had come to the country as "free white persons" were often marked as black because they accepted "black" jobs in the Louisiana sugar fields or because they chose to live among African-Americans. This left them vulnerable to marauding mobs like the ones that hanged, shot, dismembered or burned alive thousands of black men, women and children across the South.
The federal holiday honoring the Italian explorer Christopher Columbus — celebrated on Monday — was central to the process through which Italian-Americans were fully ratified as white during the 20th century. The rationale for the holiday was steeped in myth, and allowed Italian-Americans to write a laudatory portrait of themselves into the civic record.
Few who march in Columbus Day parades or recount the tale of Columbus's voyage from Europe to the New World are aware of how the holiday came about or that President Benjamin Harrison proclaimed it as a one-time national celebration in 1892 — in the wake of a bloody New Orleans lynching that took the lives of 11 Italian immigrants. The proclamation was part of a broader attempt to quiet outrage among Italian-Americans, and a diplomatic blowup over the murders that brought Italy and the United States to the brink of war.
Historians have recently showed that America's dishonorable response to this barbaric event was partly conditioned by racist stereotypes about Italians promulgated in Northern newspapers like The Times. A striking analysis by Charles Seguin, a sociologist at Pennsylvania State University, and Sabrina Nardin, a doctoral student at the University of Arizona, shows that the protests lodged by the Italian government inspired something that had failed to coalesce around the brave African-American newspaper editor and anti-lynching campaigner Ida B. Wells — a broad anti-lynching effort.
A Black 'Brute' Lynched
The lynchings of Italians came at a time when newspapers in the South had established the gory convention of advertising the far more numerous public murders of African-Americans in advance — to attract large crowds — and justifying the killings by labeling the victims "brutes," "fiends," "ravishers," "born criminals" or "troublesome Negroes." Even high-minded news organizations that claimed to abhor the practice legitimized lynching by trafficking in racist stereotypes about its victims.
As Mr. Seguin recently showed, many Northern newspapers were "just as complicit" in justifying mob violence as their Southern counterparts. For its part, The Times made repeated use of the headline "A Brutal Negro Lynched," presuming the victims' guilt and branding them as congenital criminals. Lynchings of black men in the South were often based on fabricated accusations of sexual assault. As the Equal Justice Initiative explained in its 2015 report on lynching in America, a rape charge could occur in the absence of an actual victim and might arise from minor violations of the social code — like complimenting a white woman on her appearance or even bumping into her on the street.
The Times was not owned by the family that controls it today when it dismissed Ida B. Wells as a "slanderous and nasty-minded mulattress" for rightly describing rape allegations as "a thread bare lie" that Southerners used against black men who had consensual sexual relationships with white women. Nevertheless, as a Times editorialist of nearly 30 years standing — and a student of the institution's history — I am outraged and appalled by the nakedly racist treatment my 19th-century predecessors displayed in writing about African-Americans and Italian immigrants.
When Wells took her anti-lynching campaign to England in the 1890s, Times editors rebuked her for representing "black brutes" abroad in an editorial that joked about what they described as "the practice of roasting Negro ravishers alive and boring out their eyes with red-hot pokers." The editorial slandered African-Americans generally, referring to rape as "a crime to which Negroes are particularly prone." The Times editors may have lodged objections to lynching — but they did so in a rhetoric firmly rooted in white supremacy.
'Assassins by Nature'
Italian immigrants were welcomed into Louisiana after the Civil War, when the planter class was in desperate need of cheap labor to replace newly emancipated black people, who were leaving backbreaking jobs in the fields for more gainful employment.
These Italians seemed at first to be the answer to both the labor shortage and the increasingly pressing quest for settlers who would support white domination in the emerging Jim Crow state. Louisiana's romance with Italian labor began to sour when the new immigrants balked at low wages and dismal working conditions.
The newcomers also chose to live together in Italian neighborhoods, where they spoke their native tongue, preserved Italian customs and developed successful businesses that catered to African-Americans, with whom they fraternized and intermarried. In time, this proximity to blackness would lead white Southerners to view Sicilians, in particular, as not fully white and to see them as eligible for persecution — including lynching — that had customarily been imposed on African-Americans.
Nevertheless, as the historian Jessica Barbata Jackson showed recently in the journal Louisiana History, Italian newcomers were still well thought of in New Orleans in the 1870s when negative stereotypes were being established in the Northern press.
The Times, for instance, described them as bandits and members of the criminal classes who were "wretchedly poor and unskilled," "starving and wholly destitute." The stereotype about inborn criminality is plainly evident in an 1874 story about Italian immigrants seeking vaccinations that refers to one immigrant as a "burly fellow, whose appearance was like that of the traditional brigand of the Abruzzi."
A Times story in 1880 described immigrants, including Italians, as "links in a descending chain of evolution." These characterizations reached a defamatory crescendo in an 1882 editorial that appeared under the headline "Our Future Citizens." The editors wrote:
"There has never been since New York was founded so low and ignorant a class among the immigrants who poured in here as the Southern Italians who have been crowding our docks during the past year."
The editors reserved their worst invective for Italian immigrant children, whom they described as "utterly unfit — ragged, filthy, and verminous as they were — to be placed in the public primary schools among the decent children of American mechanics."
The racist myth that African-Americans and Sicilians were both innately criminal drove an 1887 Times story about a lynching victim in Mississippi whose name was given as "Dago Joe" — "dago" being a slur directed at Italian and Spanish-speaking immigrants. The victim was described as a "half breed" who "was the son of a Sicilian father and a mulatto mother, and had the worst characteristics of both races in his makeup. He was cunning, treacherous and cruel, and was regarded in the community where he lived as an assassin by nature."
Sicilians as 'Rattlesnakes'
The carnage in New Orleans was set in motion in the fall of 1890, when the city's popular police chief, David Hennessy, was assassinated on his way home one evening. Hennessy had no shortage of enemies. The historian John V. Baiamonte Jr. writes that he had once been tried for murder in connection with the killing of a professional rival. He is also said to have been involved in a feud between two Italian businessmen. On the strength of a clearly suspect witness who claimed to hear Mr. Hennessy say that "dagoes" had shot him, the city charged 19 Italians with complicity in the chief's murder.
That the evidence was distressingly weak was evident from the verdicts that were swiftly handed down: Of the first nine to be tried, six were acquitted; three others were granted mistrials. The leaders of the mob that then went after them advertised their plans in advance, knowing full well that the city's elites — who coveted the businesses the Italians had built or hated the Italians for fraternizing with African-Americans — would never seek justice for the dead. After the lynching, a grand jury investigation pronounced the killings praiseworthy, turning that inquiry into what the historian Barbara Botein describes as "possibly one of the greatest whitewashes in American history."
The blood of the New Orleans victims was scarcely dry when The Times published a cheerleading news story — "Chief Hennessy Avenged: Eleven of his Italian Assassins Lynched by a Mob" — that reveled in the bloody details. It reported that the mob had consisted "mostly of the best element" of New Orleans society. The following day, a scabrous Times editorial justified the lynching — and dehumanized the dead, with by-now-familiar racist stereotypes.
"These sneaking and cowardly Sicilians," the editors wrote, "the descendants of bandits and assassins, who have transported to this country the lawless passions, the cutthroat practices … are to us a pest without mitigations. Our own rattlesnakes are as good citizens as they. Our own murderers are men of feeling and nobility compared to them." The editors concluded of the lynching that it would be difficult to find "one individual who would confess that privately he deplores it very much."
Lynchers in 1891 storming the New Orleans city jail, where they killed 11 Italian-Americans accused in the fatal shooting of Chief Hennessy. Italian Tribune
President Harrison would have ignored the New Orleans carnage had the victims been black. But the Italian government made that impossible. It broke off diplomatic relations and demanded an indemnity that the Harrison administration paid. Harrison even called on Congress in his 1891 State of the Union to protect foreign nationals — though not black Americans — from mob violence.
Harrison's Columbus Day proclamation in 1892 opened the door for Italian-Americans to write themselves into the American origin story, in a fashion that piled myth upon myth. As the historian Danielle Battisti shows in "Whom We Shall Welcome," they rewrote history by casting Columbus as "the first immigrant" — even though he never set foot in North America and never immigrated anywhere (except possibly to Spain), and even though the United States did not exist as a nation during his 15th-century voyage. The mythologizing, carried out over many decades, granted Italian-Americans "a formative role in the nation-building narrative." It also tied Italian-Americans closely to the paternalistic assertion, still heard today, that Columbus "discovered" a continent that was already inhabited by Native Americans.
But in the late 19th century, the full-blown Columbus myth was yet to come. The New Orleans lynching solidified a defamatory view of Italians generally, and Sicilians in particular, as irredeemable criminals who represented a danger to the nation. The influential anti-immigrant racist Representative Henry Cabot Lodge of Massachusetts, soon to join the United States Senate, quickly appropriated the event. He argued that a lack of confidence in juries, not mob violence, had been the real problem in New Orleans. "Lawlessness and lynching are evil things," he wrote, "but a popular belief that juries cannot be trusted is even worse."
Facts aside, Lodge argued, beliefs about immigrants were in themselves sufficient to warrant higher barriers to immigration. Congress ratified that notion during the 1920s, curtailing Italian immigration on racial grounds, even though Italians were legally white, with all of the rights whiteness entailed.
The Italian-Americans who labored in the campaign that overturned racist immigration restrictions in 1965 used the romantic fictions built up around Columbus to political advantage. This shows yet again how racial categories that people mistakenly view as matters of biology grow out of highly politicized myth making.
Voir aussi:
What Columbus Day Really Means
If you think the holiday pits Native Americans against Italian Americans, consider the history behind its origin
William J. Connell
American scholar
October 4, 2012
During the run-up to Columbus Day I usually get a call from at least one and sometimes several newspaper reporters who are looking for the latest on what has become one of the most controversial of our national holidays. Rather than begin with whatever issues the media are covering—topics like the number of deaths in the New World caused by the European discovery; or the attitude of Columbus toward the indigenous inhabitants of the Caribbean (whom he really did want to use as forced laborers); or whether syphilis really came from the Americas to Europe; or whether certain people (the cast of The Sopranos, Supreme Court Justice Antonin Scalia) deserve to be excluded from or honored in the parade in New York—I always try to remind the reporters that Columbus Day is just a holiday.
Leave the parades aside. The most evident way in which holidays are celebrated is by taking a day off from work or school. Our system of holidays, which developed gradually over time and continues to evolve, is founded upon the recognition that weekends are not sufficient, that some jobs don't offer much time off, and that children and teachers need a break now and then in the course of the school year. One characteristic of holidays is that unless they are observed widely, which is to say by almost everyone, many of us wouldn't take them. There are so many incremental reasons for not taking time off (to make some extra money, to impress the boss, or because we're our own bosses and can't stop ourselves) that a lot of us would willingly do without a day's vacation that would have been good both for us and for society at large if we had taken it. That is why there are legal holidays.
But which days should be holidays? Another way of posing the question would be to say, "Given that holidays are necessary, but that left to their own devices people would simply work, how do you justify a legal holiday so that it does not appear completely arbitrary, and so that people will be encouraged to observe it?" Most of the media noise around the Columbus Day holiday is about the holiday's excuse, not the holiday itself. Realizing that helps to put matters in perspective.
In a country of diverse religious faiths and national origins like the United States, it made sense to develop a holiday system that was not entirely tied to a religious calendar. (Christmas survives here, of course, but in law it's a secular holiday much like New Year's Day.) So Americans do not all leave for the shore on August 15th, the Feast of the Assumption of the Blessed Virgin, the way Italians do; and while St. Patrick's Day is celebrated by many Americans, it is not a legal holiday in any of the states. The American system of holidays was constructed mostly around a series of great events and persons in our nation's history. The aim was to instill a feeling of civic pride. Holidays were chosen as occasions to bring everyone together, not for excluding certain people. They were supposed to be about the recognition of our society's common struggles and achievements. Civic religion is often used to describe the principle behind America's calendar of public holidays.
Consider the range and variability of the meanings of our holidays. Certainly they have not always been occasions for celebration: Memorial Day and Veterans' Day involve mourning for the dead and wounded. Labor Day commemorated significant hardships in the decades when unions were struggling to organize. Having grown up in the 1960s I remember how Abraham Lincoln's Birthday (now lumped in with Presidents' Day, and with some of its significance transferred to Martin Luther King, Jr. Day) took on special meaning during the Civil Rights movement and after the JFK assassination.
When thinking about the Columbus Day holiday it helps to remember the good intentions of the people who put together the first parade in New York. Columbus Day was first proclaimed a national holiday by President Benjamin Harrison in 1892, 400 years after Columbus's first voyage. The idea, lost on present-day critics of the holiday, was that this would be a national holiday that would be special for recognizing both Native Americans, who were here before Columbus, and the many immigrants—including Italians—who were just then coming to this country in astounding numbers. It was to be a national holiday that was not about the Founding Fathers or the Civil War, but about the rest of American history. Like the Columbian Exposition dedicated in Chicago that year and opened in 1893, it was to be about our land and all its people. Harrison especially designated the schools as centers of the Columbus celebration because universal public schooling, which had only recently taken hold, was seen as essential to a democracy that was seriously aiming to include everyone and not just preserve a governing elite.
You won't find it in the public literature surrounding the first Columbus Day in 1892, but in the background lay two recent tragedies, one involving Native Americans, the other involving Italian Americans. The first tragedy was the massacre by U.S. troops of between 146 and 200 Lakota Sioux, including men, women and children, at Wounded Knee, South Dakota, on December 29, 1890. Shooting began after a misunderstanding involving an elderly, deaf Sioux warrior who hadn't heard and therefore did not understand that he was supposed to hand over his rifle to the U.S. Cavalry. The massacre at Wounded Knee marked the definitive end of Indian resistance in the Great Plains. The episode was immediately seen by the government as potentially troubling, although there was much popular sentiment against the Sioux. An inquiry was held, the soldiers were absolved, and some were awarded medals that Native Americans to this day are seeking to have rescinded.
A second tragedy in the immediate background of the 1892 Columbus celebration took place in New Orleans. There, on March 14, 1891—only 10 weeks after the Wounded Knee Massacre—11 Italians were lynched in prison by a mob led by prominent Louisiana politicians. A trial for the murder of the New Orleans police chief had ended in mistrials for three of the Italians and the acquittal of the others who were brought to trial. Unhappy with the verdict and spurred on by fear of the "Mafia" (a word that had only recently entered American usage), civic leaders organized an assault on the prison to put the Italians to death. This episode was also troubling to the U.S. Government. These were legally innocent men who had been killed. But Italians were not very popular, and even Theodore Roosevelt was quoted as saying that he thought the New Orleans Italians "got what they deserved." A grand jury was summoned, but no one was charged with a crime. President Harrison, who would proclaim the Columbus holiday the following year, was genuinely saddened by the case, and over the objections of some members of congress he paid reparations to the Italian government for the deaths of its citizens.
Whenever I hear of protests about the Columbus Day holiday—protests that tend to pit Native Americans against Italian Americans, I remember these tragedies that occurred so soon before the first Columbus Day holiday, and I shake my head. President Harrison did not allude to either of these sad episodes in his proclamation of the holiday, but the idea for the holiday involved a vision of an America that would get beyond the prejudice that had led to these deaths. Columbus Day was supposed to recognize the greatness of all of America's people, but especially Italians and Native Americans.
Consider how the first Columbus Day parade in New York was described in the newspapers. It consisted mostly of about 12,000 public school students grouped into 20 regiments, each commanded by a principal. The boys marched in school uniforms or their Sunday best, while the girls, dressed in red, white and blue, sat in bleachers. Alongside the public schoolers there were military drill squads and 29 marching bands, each of 30 to 50 instruments. After the public schools, there followed 5,500 students from the Catholic schools. Then there were students from the private schools wearing school uniforms. These included the Hebrew Orphan Asylum, the Barnard School Military Corps, and the Italian and American Colonial School. The Dante Alighieri Italian College of Astoria was dressed entirely in sailor outfits. These were followed by the Native American marching band from the Carlisle Indian School in Pennsylvania, which, according to one description, included "300 marching Indian boys and 50 tall Indian girls." That the Native Americans came right after the students from the Dante Alighieri School speaks volumes about the spirit of the original Columbus Day.
I teach college kids, and since they tend to be more skeptical about Columbus Day than younger students, it's nice to point out that the first Columbus Day parade had a "college division." Thus 800 New York University students played kazoos and wore mortarboards. In between songs they chanted "Who are we? Who are we? New York Universitee!" The College of Physicians and Surgeons wore Skeletons on their hats. And the Columbia College students marched in white hats and white sweaters, with a message on top of their hats that spelled out "We are the People."
So Columbus Day is for all Americans. It marks the first encounter that brought together the original Americans and the future ones. A lot of suffering followed, and a lot of achievement too. That a special role has been reserved for Italians in keeping the parades and the commemoration alive for well over a century seems right, since Columbus was Italian—although even in the 1890s his nationality was being contested. Some people, who include respectable scholars, still argue, based on elements of his biography and family history, that Columbus must really have been Spanish, Portuguese, Jewish, or Greek, instead of, or in addition to, Italian. One lonely scholar in the 1930s even wrote that Columbus, because of a square jaw and dirty blond hair in an old portrait, must have been Danish. The consensus, however, is that he was an Italian from outside of Genoa.
So much for his ethnicity. What about his moral standing? In the late 19th century an international movement, led by a French priest, sought to have Columbus canonized for bringing Christianity to the New World. To the Catholic Church's credit, this never got very far. It sometimes gets overlooked in current discussions that we neither commemorate Columbus's birthday (as was the practice for Presidents Washington and Lincoln, and as we now do with Martin Luther King, Jr.) nor his death date (which is when Christian saints are memorialized), but rather the date of his arrival in the New World. The historical truth about Columbus—the short version suitable for reporters who are pressed for time—is that Columbus was Italian, but he was no saint.
The holiday marks the event, not the person. What Columbus gets criticized for nowadays are attitudes that were typical of the European sailing captains and merchants who plied the Mediterranean and the Atlantic in the 15th century. Within that group he was unquestionably a man of daring and unusual ambition. But what really mattered was his landing on San Salvador, which was a momentous, world-changing occasion such as has rarely happened in human history. Sounds to me like a pretty good excuse for taking a day off from work.
Voir également:
Study traces origins of syphilis in Europe to New World
New evidence from the jungles of Guyana suggests Christopher Columbus and his crewmates carried syphilis-causing bacteria from America to Europe, triggering a massive epidemic that killed more than five million people there.
The findings — which scientists said are the first attempt to use molecular genetics to address the problem of the origin of the venereal disease — were published Monday in the online journal Public Library of Science/Neglected Tropical Disease.
They suggest that Columbus and his crew of explorers brought the deadly disease back from the New World during their famous voyage in 1492 while a non-sexually transmitted subspecies was already in existence in Renaissance Europe, or the Old World.
The study was based around an exceptionally large specimen provided by Canadian infectious disease specialist Dr. Michael Silverman, who leads a medical team into the rainforests of Guyana each year to treat villagers who have virtually no contact with the outside world.
There, he discovered children with ulcer-like lesions on their arms and legs, « just like you get with syphilis but in the wrong place, » he told CBC.
Blood tests confirmed the children had yaws, an infectious skin disease believed to be extinct in the Western Hemisphere, though still present in parts of Africa and southeast Asia.
Yaws is considered the cousin of syphilis as they are both distinct varieties of the same bacterium.
Further testing by researchers in the United States suggested that yaws, in fact, was the elder cousin — an ancient infection that evolved from a harmless skin-to-skin condition of the limbs into a devastating sexually transmitted disease around the time of contact with Europeans.
« They couldn't really catch it because they had long sleeves, long pants, » Silverman said. « So the only way they could get it, the only time they would expose their skin and might touch somebody was when they dropped their pants to have sex. »
Upon the Europeans' return, many of them joined the army of Charles VIII in 1495 and invaded Italy. After their victory in Naples, the army — mostly made of mercenaries — returned home and spread syphilis across the Continent, culminating in the Great Pox.
This first outbreak of syphilis, documented just two years after Columbus and his men sailed the ocean blue in 1492, is believed to have killed more than five million Europeans.
« In this case we have an example of a disease that went the other way, from Native Americans to Europeans, » said Dr. Kristin Harper, a researcher in molecular genetics at Atlanta's Emory University and the principal investigator in the study published Monday.
« So that's especially interesting, I think. »
Syphilis is usually transmitted through sexual contact and initially results in a painless, open sore or ulcer in the area of exposure. The second stage consists of a rash on the palms of the hands or soles of the feet.
Left untreated, the disease eventually attacks the heart, eyes and brain and can lead to mental illness, blindness and death.
Voir de plus:
In 1492, Columbus sailed the ocean blue, but when he returned from 'cross the seas, did he bring with him a new disease?
New skeletal evidence suggests Columbus and his crew not only introduced the Old World to the New World, but brought back syphilis as well, researchers say.
Syphilis is caused by Treponema pallidum bacteria, and is usually curable nowadays with antibiotics. Untreated, it can damage the heart, brain, eyes and bones; it can also be fatal.
The first known epidemic of syphilis occurred during the Renaissance in 1495. Initially its plague broke out among the army of Charles the VIII after the French king invaded Naples. It then proceeded to devastate Europe, said researcher George Armelagos, a skeletal biologist at Emory University in Atlanta.
« Syphilis has been around for 500 years, » said researcher Molly Zuckerman at Mississippi State University. « People started debating where it came from shortly afterward, and they haven't stopped since. It was one of the first global diseases, and understanding where it came from and how it spread may help us combat diseases today. »
Stigmatized disease
The fact that syphilis is a stigmatized sexually transmitted disease has added to the controversy over its origins. People often seem to want to blame some other country for it, said researcher Kristin Harper, an evolutionary biologist at Emory. [Top 10 Stigmatized Health Disorders]
Armelagos originally doubted the so-called Columbian theory for syphilis when he first heard about it decades ago. « I laughed at the idea that a small group of sailors brought back this disease that caused this major European epidemic, » he recalled. Critics of the Columbian theory have proposed that syphilis had always bedeviled the Old World but simply had not been set apart from other rotting diseases such as leprosy until 1500 or so.
However, upon further investigation, Armelagos and his colleagues got a shock — all of the available evidence they found supported the Columbian theory, findings they published in 1988. « It was a paradigm shift, » Armelagos says. Then in 2008, genetic analysis by Armelagos and his collaborators of syphilis's family of bacteria lent further support to the theory.
Still, there have been reports of 50 skeletons from Europe dating back from before Columbus set sail that apparently showed the lesions of chronic syphilis. These seemed to be evidence that syphilis originated in the Old World and that Columbus was not to blame.
Armelagos and his colleagues took a closer look at all the data from these prior reports. They found most of the skeletal material didn't actually meet at least one of the standard diagnostic criteria for chronic syphilis, such as pitting on the skull, known as caries sicca, and pitting and swelling of the long bones.
In the seafood?
The 16 reports that did meet the criteria for syphilis came from coastal regions where seafood was a large part of the diet. This seafood contains « old carbon » from deep, upwelling ocean waters. As such, they might fall prey to the so-called « marine reservoir effect » that can throw off radiocarbon dating of a skeleton by hundreds or even thousands of years. To adjust for this effect, the researchers figured out the amount of seafood these individuals ate when alive. Since our bodies constantly break down and rebuild our bones, measurements of bone-collagen protein can provide a record of diet.
« Once we adjusted for the marine signature, all of the skeletons that showed definite signs of treponemal disease appeared to be dated to after Columbus returned to Europe, » Harper said, findings detailed in the current Yearbook of Physical Anthropology.
« What it really shows to me is that globalization of disease is not a modern condition, » Armelagos said. « In 1492, you had the transmission of a number of diseases from Europe that decimated Native Americans, and you also had disease from Native Americans to Europe. »
« The lesson we can learn for today from history is that these epidemics are the result of unrest, » Armelagos added. « With syphilis, wars were going on in Europe at the time, and all the turmoil set the stage for the disease. Nowadays, a lot of diseases jump the species barrier due to environmental unrest. »
« The origin of syphilis is a fascinating, compelling question, » Zuckerman said. « The current evidence is pretty definitive, but we shouldn't close the book and say we're done with the subject. The great thing about science is constantly being able to understand things in a new light. »
Of all the bedtime-story versions of American history we teach, the tidy Thanksgiving pageant may be the one stuffed with the heaviest serving of myth. This iconic tale is the main course in our nation's foundation legend, complete with cardboard cutouts of bow-carrying Native American cherubs and pint-size Pilgrims in black hats with buckles. And legend it largely is.
In fact, what had been a New England seasonal holiday became more of a "national" celebration only during the Civil War, with Lincoln's proclamation calling for "a day of thanksgiving" in 1863.
That fall, Lincoln had precious little to be thankful for. The Union victory at Gettysburg the previous July had come at a dreadful cost – a combined 51,000 estimated casualties, with nearly 8,000 dead. Enraged by draft laws and emancipation, rioters in Northern cities like New York went on bloody rampages. And the president and his wife, Mary, were still mourning the loss of their 11-year-old son, Willie, who had died the year before.
So it might seem odd that Lincoln chose this moment to announce a national day of thanksgiving, to be marked on the last Thursday in November. His Oct. 3, 1863, proclamation read: "In the midst of a civil war of unequaled magnitude and severity … peace has been preserved with all nations, order has been maintained, the laws have been respected and obeyed, and harmony has prevailed everywhere, except in the theater of military conflict."
But it took another year for the day to really catch hold. In 1864 Lincoln issued a second proclamation, which read, "I do further recommend to my fellow-citizens aforesaid that on that occasion they do reverently humble themselves in the dust." Around the same time, the heads of Union League clubs – Theodore Roosevelt's father among them – led an effort to provide a proper Thanksgiving meal, including turkey and mince pies, for Union troops. As the Civil War raged on, four steamers sailed out of New York laden with 400,000 pounds of ham, canned peaches, apples and cakes – and turkeys with all the trimmings. They arrived at Ulysses S. Grant's headquarters in City Point, Va., then one of the busiest ports in the world, to deliver dinner to the Union's "gallant soldiers and sailors."
This Thanksgiving delivery was an unprecedented effort – a huge fund-raising and food-collection drive. One soldier said, "It isn't the turkey, but the idea we care for."
The good people of nearby Petersburg, Va., had no turkey. Surrounded and besieged by Grant's armies since June, they were lucky to eat at all. The local flocks of pigeons had all mysteriously disappeared and "starvation parties" were a form of mordant entertainment in this once cosmopolitan town.
What prompted Lincoln to issue these proclamations – the first two in an unbroken string of presidential Thanksgiving proclamations – is uncertain. He was not the first president to do so. George Washington and James Madison had earlier issued "thanksgiving" proclamations, calling for somber days of prayer. Perhaps Lincoln saw an opportunity to underscore shared American traditions – a theme found in the "mystic chords of memory" stretching from "every patriot grave" in his first inaugural.
Or he may have been responding to the passionate entreaties of Sara Josepha Hale, editor of Godey's Lady's Book – the Good Housekeeping of its day. Hale, who contributed to American folkways as the author of "Mary had a Little Lamb," had been advocating in the magazine for a national day of Thanksgiving since 1837. Even as many states had begun to observe Thanksgiving, she wrote in 1860, "It will no longer be a partial and vacillating commemoration of our gratitude to our Heavenly Father, observed in one section or State, while other portions of our common country do not sympathize in the gratitude and gladness."
So how did the lore of that Pilgrim repast get connected to Lincoln's wartime proclamations?
The Plymouth "first Thanksgiving" dates from an October 1621 harvest celebration, an event at which the surviving passengers of the Mayflower – about half of the approximately 100 on board — were able to mark their communal harvest with a shared feast. By the account of the Pilgrim leader Edward Winslow, this event was no simple sit-down dinner, but a three-day revel. "Amongst other recreations," Winslow wrote, "we exercised our arms, many of the Indians coming amongst us, and among the rest their greatest king Massasoit, with some ninety men, whom for three days we entertained and feasted, and they went out and killed five deer, which we brought to the plantation."
There is nothing novel or uniquely American — and nothing especially "Pilgrim"– about giving thanks for a successful harvest. Certainly it has been done by people throughout history and surely by earlier Europeans in America as well as Native Americans.
But New Englanders, who had long marked a Founders Day as a celebration of the Pilgrim and Puritan arrivals, began to move across America and took this tradition – and their singular version of history — with them. Essentially a churchgoing day with a meal that followed, the celebration of that legendary feast gradually evolved into the Thanksgiving we know.
Eventually, it was commingled with Lincoln's first proclamation. During the post-Civil War period, the iconic Thanksgiving meal and the connection to the Pilgrims were cemented in the popular imagination, through artistic renderings of black-cloaked, churchgoing, gun-toting Puritans, a militant, faithful past that most likely rang familiar for many Civil War Americans.
But one crucial piece remained: The elevation of Thanksgiving to a true national holiday, a feat accomplished by Franklin D. Roosevelt. In 1939, with the nation still struggling out of the Great Depression, the traditional Thanksgiving Day fell on the last day of the month – a fifth Thursday. Worried retailers, for whom the holiday had already become the kickoff to the Christmas shopping season, feared this late date. Roosevelt agreed to move his holiday proclamation up one week to the fourth Thursday, thereby extending the critical shopping season.
Some states stuck to the traditional last Thursday date, and other Thanksgiving traditions, such as high school and college football championships, had already been scheduled. This led to Roosevelt critics deriding the earlier date as "Franksgiving." With 32 states joining Roosevelt's "Democratic Thanksgiving, " 16 others stuck with the traditional date, or "Republican Thanksgiving." After some congressional wrangling, in December 1941, Roosevelt signed the legislation making Thanksgiving a legal holiday on the fourth Thursday in November. And there it has remained.
---
Kenneth C. Davis is the author of "Don't Know Much About History" and "America's Hidden History." His forthcoming book, "The Hidden History of America At War: Untold Tales from Yorktown to Fallujah," includes an account of the siege of Petersburg, Va.