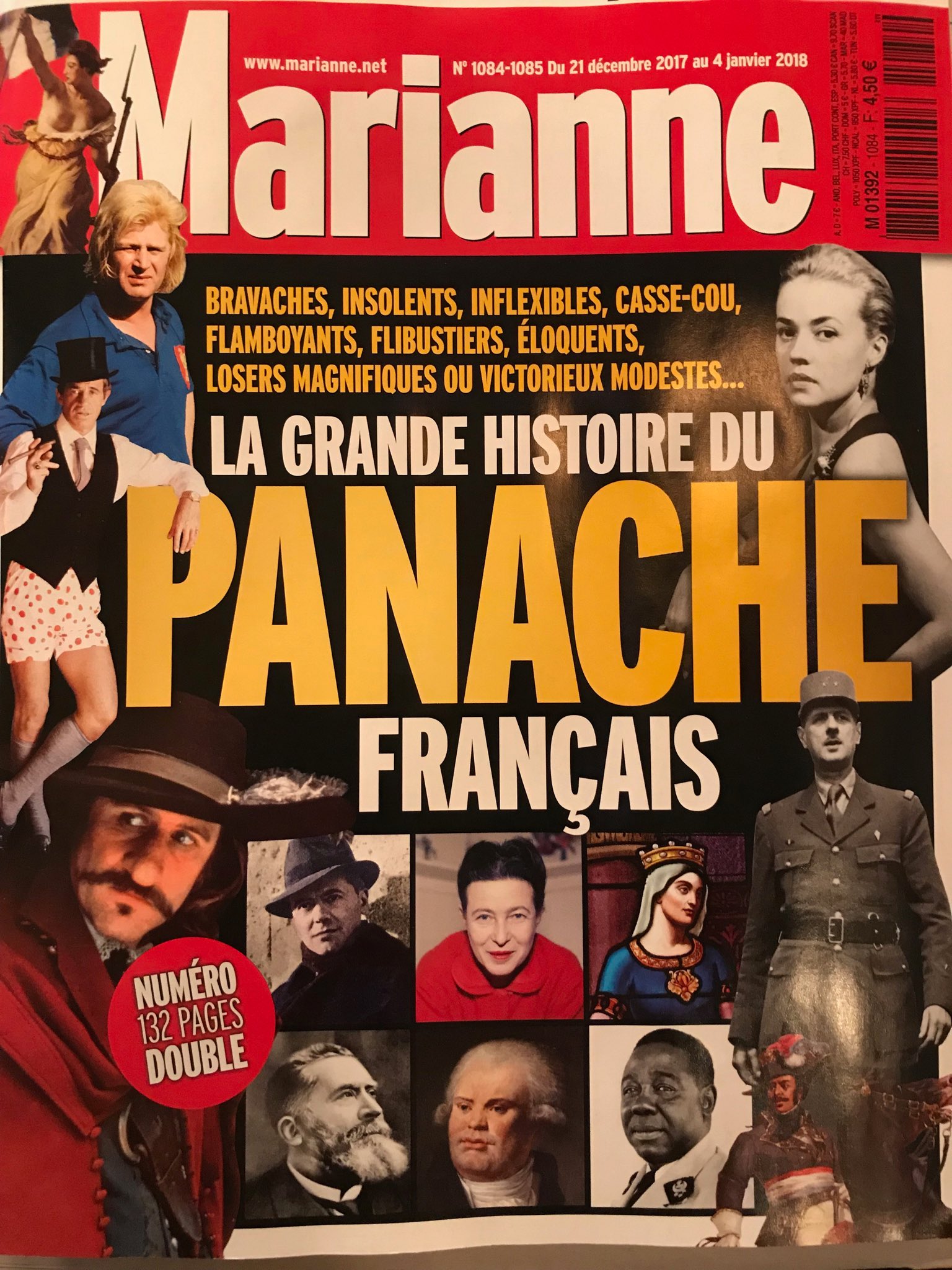 Une nation fatiguée de longs débats consent volontiers qu'on la dupe, pourvu qu'on la repose.Tocqueville
Pour un colonel en retraite qui, avec brio, a commandé un régiment devant l'ennemi, rien n'est plus démoralisant ni plus déprimant que de se voir réduit à commander une choucroute avec un demi dans une brasserie. Pierre Dac
La grande histoire du panache français Au fil de notre histoire, beaucoup de femmes et d'hommes, réels ou fictifs, ont incarné le brio à la française. Le courage, le sens de l'honneur et l'élégance ne leur ont jamais fait défaut. « Marianne » leur consacre son numéro double de fin d'année, disponible en kiosques du 21 décembre au 4 janvier. Marianne
Il est tout à fait naturel qu'on ressente la nostalgie de ce qui était l'Empire, tout comme on peut regretter la douceur des lampes à huile, la splendeur de la marine à voile, le charme du temps des équipages. Mais, quoi ? Il n'y a pas de politique qui vaille en dehors des réalités. Charles de Gaulle (1960)
Il n'y aura pas de paix séparée entre Israël et le monde arabe. Je veux que cela soit très clair avec vous tous. J'ai entendu plusieurs politiciens de premier plan en Israël dire parfois: 'Eh bien, le monde arabe est dans un endroit différent maintenant Nous devons juste leur tendre la main. Nous pouvons travailler certaines choses avec le monde arabe et nous traiterons avec les Palestiniens. Non, non et non. Je peux vous dire que, comme l'ont confirmé les conversations que j'ai eues avec des dirigeants de la communauté arabe la semaine dernière, il n'y aura pas de paix avancée et séparée avec le monde arabe sans le processus palestinien et la Paix palestinienne. Tout le monde doit comprendre cela. C'est une dure réalité. John Kerry
« Il n'y a pas de politique qui vaille en dehors des réalités », a dit Charles de Gaulle. Cette maxime guide la politique des États-Unis à l'égard de la République islamique d'Iran. Nous reconnaissons ce régime pour ce qu'il est: le premier État commanditaire du terrorisme au monde et la principale source d'instabilité au Moyen-Orient. (…) Malheureusement, la France refuse de désigner l'ensemble du Hezbollah comme une organisation terroriste, comme l'ont fait d'autres pays européens, et freine les progrès de l'Union européenne dans ce sens. Au lieu de cela, Paris s'en tient à cette fiction qu'il existe une «aile politique» du Hezbollah, alors que celui-ci est entièrement contrôlé par un seul terroriste, Hassan Nasrallah. Je partage la frustration des vingt-sept personnalités publiques françaises qui, dans une tribune collective publiée dans Le Figaro , ont récemment appelé la France à adopter cette désignation. (…) Les calculs politiques entrent également en jeu dans les prises de position de l'Europe, où plusieurs dirigeants refusent d'agir avant l'issue de la prochaine élection présidentielle américaine. Cette manœuvre cynique considère les mutilations et les massacres commis par l'Iran comme des dommages collatéraux acceptables, et estime que Washington, ce qui est regrettable, est plus dangereux pour le monde que Téhéran. Je me demande si les habitants de Beyrouth, de Riyad ou de Jérusalem, les villes les plus exposées à l'Iran, seraient d'accord. Comment est-il possible que la France vote contre l'embargo sur les armes, et que la semaine suivante le président Macron rencontre un haut représentant du Hezbollah à Beyrouth? (…)  Le scepticisme manifesté par de nombreux dirigeants français à l'égard de l'accord durant les négociations semble aujourd'hui plus justifié que jamais. Mike Pompeo (2020)
Cinq minutes pour comprendre l'accord « historique » entre Israël et les Emirats arabes unis Le Parisien
Nous sommes en guerre. J'appelle tous les acteurs politiques, économiques, sociaux, associatifs, tous les Français à s'inscrire dans cette union nationale qui a permis à notre pays de surmonter tant de crises par le passé. Nous sommes en guerre et la Nation soutiendra ses enfants qui, personnels soignants en ville, à l'hôpital, se trouvent en première ligne dans un combat qui va leur demander énergie, détermination, solidarité. Ils ont des droits sur nous. Nous leur devons évidemment les moyens, la protection. Nous serons là. Nous leur devons, des masques, du gel, tout le matériel nécessaire. Et nous y veillons et y veillerons. (…) Nous sommes en guerre, oui. Le pays accompagnera dans cette période les régions les plus touchées aujourd'hui, comme celles qui le seront demain. A ce titre, je veux assurer les habitants, les personnels soignants du Grand-Est que nous serons au rendez-vous pour les appuyer face à l'afflux de patients et à la saturation des hôpitaux. Je sais ce qu'ils vivent depuis des jours et des jours. Nous sommes avec eux. J'ai décidé pour cela qu'un hôpital de campagne du service de santé des armées serait déployé dans les jours à venir en Alsace. Les armées apporteront aussi leur concours pour déplacer les malades des régions les plus affectées et ainsi réduire la congestion des hôpitaux de certains territoires. Nous sommes en guerre. Aussi, comme je vous l'ai dit jeudi, pour nous protéger et contenir la dissémination du virus, mais aussi préserver nos systèmes de soins, nous avons pris ce matin, entre Européens, une décision commune. Dès demain midi, les frontières à l'entrée de l'Union européenne et de l'espace Schengen seront fermées. Concrètement, tous les voyages entre les pays non européens et l'Union européenne seront suspendus pendant trente jours. (…) Mes chers compatriotes, en étant unis, solidaires, je vous demande d'être responsables tous ensemble et de ne céder à aucune panique, d'accepter ces contraintes, de les porter, de les expliquer, de vous les appliquer à vous-mêmes. Nous nous les appliquerons tous, il n'y aura pas de passe-droits. Mais là aussi de ne céder ni à la panique ni au désordre. Nous gagnerons, mais cette période nous aura beaucoup appris. Beaucoup de certitudes, de convictions seront balayées, seront remises en cause. Beaucoup de choses que nous pensions impossibles adviennent. Ne nous laissons pas impressionner, agissons avec force, mais retenons cela, le jour d'après, quand nous aurons gagné, ce ne sera pas un retour aux jours d'avant. Nous serons plus forts moralement. Nous aurons appris et je saurai aussi avec vous en tirer toutes conséquences, toutes les conséquences. Hissons-nous, individuellement et collectivement, à la hauteur du moment. Je sais, mes chers compatriotes, pouvoir compter sur vous. Vive la République ! Vive la France ! Emmanuel Macron
Je salue la décision courageuse des Émirats arabes unis et souhaite qu'elle contribue à l'établissement d'une paix juste et durable entre Israéliens et Palestiniens. Je l'ai dit au Président Trump, au Premier ministre Netanyahou et au Prince héritier Mohamed bin Zayed.

Emmanuel Macron
Je me suis entretenu avec le président de l'Autorité palestinienne, Mahmoud Abbas. Je lui ai dit ma détermination à oeuvrer pour la paix au Proche-Orient. La reprise des négociations pour parvenir à une solution juste et respectueuse du droit international reste une priorité. Emmanuel Macron

Les manifestations ne sont pas (autorisées) dans les faits car il y a un décret du premier ministre dans le cadre de la deuxième phase du déconfinement qui interdit les rassemblements de plus de dix personnes. Mais je crois que l'émotion mondiale, qui est une émotion saine sur ce sujet, dépasse au fond les règles juridiques qui s'appliquent. Il n'y aura pas de sanction et de procès-verbal. Nous ne souhaitons pas réaffirmer l'interdiction qui est de droit, qui est de fait. Je sais que ceux qui vont ne considèrent pas, dans leur très grande majorité, qu'il y a une police raciste, antisémite ou homophobe», a souligné le ministre qui voit avant tout dans ces rassemblements un «combat contre le racisme. Je crois que la politique est faite de symbole. Si ce symbole [poser un genou à terre] est utile pour combattre le racisme, je serai particulièrement à l'aise de le faire. François Castaner
On voit une augmentation en Europe et en France de sujets positifs, je ne parle pas de malades, et cette pente est quinze fois plus faible qu'en mars. (…) Le nombre de décès ne réaugmente pas de manière significative alors qu'on nous le promet tous les quinze jours depuis le début du mois d'avril. En France, la réaugmentation que l'on perçoit a une pente 300 fois inférieure à celle du tsunami du mois de mars (…) [En Europe] nous sommes depuis début juillet entre 200 et 250 décès par jour sans augmentation, alors que nous étions à 5.000 décès mi-avril. Il n'y a aucune réaugmentation significative par rapport à l'ensemble des données européennes (…). Il y a eu une seule vague, celle de mars-avril qui a augmenté à peu près 115.000 décès surnuméraires par rapport à 2019 et 2018 sur l'ensemble des pays européens. Sur les 30.000 décès [attribués au Covid], il faut voir que l'excès de mortalité en France n'est compris qu'entre 12.000 et 15.000 par rapport aux autres années. (…) L'institut national des études démographiques divise par deux le nombre total de décès attribués actuellement au Covid, on n'est pas à 30.000 décès, on est à 12.000 à 15.000 décès supplémentaires. En réalité, le confinement est un instrument sociétal majeur, c'est la seule arme de destruction massive qui a été utlisée au 21ème siècle puisque c'est la seule qui a concerné quasiment la moitié de l'humanité. (…) Les conséquences socio-économiques qui vont maintenant se dégager vont concerner non pas les conseillers qui sont assis sur leurs certitudes, mais les jeunes générations qui vont devoir ramer. (…) Et quand on n'est pas capable d'assumer ces conséquences, alors on continue à faire croire à une crise sanitaire qui n'est plus présente. Pr Jean-François Toussaint
Tout le monde s'est mis à s'intéresser aux débats! (…) Les gens ne sont pas contre les migrants, mais nous voulons un processus légal. On n'a pas le droit d'avoir une opinion. On est tout de suite des nazis, des déplorables non éduqués… C'est franchement la raison pour laquelle Donald Trump a été élu. Les gens en ont marre d'être méprisés. Ils ne cessent de l'attaquer, quoiqu'il fasse. Nous appelons ça le syndrome de dérangement trumpien. Il ne fait «que se défendre» et j'adore ses tweets« parce qu'ils lui permettent de contourner le mur médiatique. Nous, les partisans de Trump, ne prenons pas ses paroles de manière littérale. Il faut regarder ses actes. Mais la presse, elle, s'attache à chaque mot. Elle ne comprend pas son humour! Les enfants ne peuvent même plus porter un costume de Halloween en se peignant le visage en noir sans être soupçonnés de racisme… C'est comme ce mouvement #MeToo. Ça va trop loin. On a tous des maris, des fils, voudrions-nous les voir accusés sans preuves? (…) C'est la première fois que je peux imaginer comment la guerre civile a commencé en Amérique. Les passions sont tellement fortes. Lynette Vilano (activiste républicaine de Pennsylvanie)
Depuis le premier jour, ils ne lui donnent aucune chance. Alors nous n'écoutons plus. Lynette Vilano
Bien sûr, il y a le Covid, les 200.000 morts, les masques, le virus qui continue de courir, les frontières fermées, le business qui souffre. Toutes ces circonstances qui font de l'élection qui approche un défi gigantesque pour le président sortant. Mais pour l'essentiel, la musique de fond de cette drôle de campagne 2020, où les démocrates mobilisent en ligne pour montrer qu'ils sont «responsables» et «respectueux des experts», tandis que Trump s'en va en chair et en os chez ses électeurs pour leur dire que l'Amérique est vivante et «toujours grande», ressemble à s'y tromper à celle de 2016: pour ou contre Trump, jusqu'à la caricature. D'un côté, une polyphonie orchestrée par tout ce que l'élite compte de sommités monte au créneau, avec tambours et trompettes médiatiques, pour affirmer que le président est «inapte à gouverner». De l'autre, les chœurs du peuple trumpien scandent «quatre ans de plus» sans prêter la moindre attention à la cascade de livres et de révélations censés accabler leur héros. Du coup, le pays vit en schizophrène, dans deux salles de «concert électoral» qui ne communiquent pas, comme c'est le cas depuis quatre ans. Dans la première – journaux, télés, Twitter – on parle des dernières révélations du livre Rage du journaliste Bob Woodward, ancien «tombeur de Nixon». Il est sorti de ses 17 conversations avec le président «effaré», notamment après que ce dernier lui ait confié avoir «sous-estimé» publiquement la dangerosité du Covid, parce qu'il ne voulait pas semer la panique. Preuve de son incapacité et de son amoralité, dénoncent les éditorialistes. «Un mélange de couard, raciste, menteur, frimeur, narcisse, arnaqueur et vantard», écrit notamment Roger Cohen à la une du New York Times. Mais cette propension à diaboliser Trump pourrait paradoxalement s'avérer contre-productive, les démocrates donnant le sentiment de n'avoir tiré aucune leçon de l'échec essuyé en 2016. Pour l'instant, l'essentiel des analystes parient toujours sur Joe Biden. La plus singulière surprise de 2020 est en effet que, malgré le Covid, les ratages, les innombrables défauts de Trump, et les grincements de dents de l'élite, il continue de porter les espoirs de quelque 45 % de la population! Les démocrates s'acharnent sur l'homme. Mais lui chevauche une colère réelle qui ne passe pas. C'est ainsi que dans les provinces profondes, personne ou presque ne prête attention à la charge de la cavalerie antitrumpiste. (…) Même le fait que Trump ait fait la paix entre Israël, les Émirats arabes unis et Bahreïn, n'a été pas mis à son crédit, regrette l'activiste, qui affirme que «CNN a totalement sous-couvert» la percée diplomatique car elle ne colle pas à leur discours sur le désastre de sa politique étrangère. Lynette Vilano affirme que le soutien à Trump dans son comté, «ne cesse de grandir» et que «de nombreux démocrates continuent de migrer vers le Parti républicain». Comme en 2016. Un constat intéressant mais qui reste à l'échelle locale, se hâte-t-elle de dire. Pour l'instant, l'essentiel des analystes parient toujours sur Joe Biden qui, selon la militante républicaine, ressemble à son mari «quand il s'est mis à vieillir et à ne plus trop s'orienter». Mais les sondages se resserrent. Les débats seront sans doute déterminants. Laure Mandeville
Quand Emmanuel Macron dramatisait les enjeux et en appelait à l'union nationale, Angela Merkel emportait la conviction en expliquant aux Allemands comment agir pour ralentir la progression du virus. La crise sanitaire a montré que la capacité d'analyse, la rigueur et la pédagogie sont des qualités plus utiles que le brio. C'est une leçon dont nous devrons nous souvenir. Annick Steta
Derrière le brio des formules, la démission du politique !
Fiasco du confinement aveugle, économie dévastée, ensauvagement de la population, immigration hors de contrôle, ingérence au Liban, collusion avec des Etats et mouvements terroristes, refus de soutenir ses alliés …
A l'heure où après la relative insouciance de l'été …
La psychose, entre annonces catastrophistes et obligation aussi liberticide qu'inepte du masque en extérieur, a repris à tous les étages …
Où après deux mois de restriction sévèrement sanctionnée des libertés de mouvement, réunion et  manifestation, l'on a vu un ministre de l'Intérieur renoncer publiquement, au nom s'il vous plait de l'émotion, à sa mission de maintien de l'ordre face à des mouvements racialistes …
Et où l'on découvre qu'un président français qui avait avait pris des airs si martiaux au début de la crise sanitaire et avait au Liban même appelé à un réveil du peuple libanais …
Avait au même moment eu un rendez-vous secret avec le mouvement terroriste du Hezbollah et, à l'instar de la presse hexagonale,  a réduit au service minimum sa réaction à l'accord proprement historique entre Israël et plusieurs pays arabes …
Pendant que fatiguée par les effets conjugués du virus chinois et du chaos générés par les racialistes de Black lives matter de l'autre côté de l'Atlantique, une Amérique semble tentée par la non-candidature d'un vieux gâteux à la limite de la sénilité et son parti de génuflecteurs …
Comment ne pas voir avec ce début de bilan de l'épidémie …
Dans le dernier numéro de la Revue des deux mondes …
Derrière le panache si facile et si français des formules …
Non seulement les limites du brio en une haute administration et une classe politique françaises où la culture scientifique brille cruellement par son absence …
Mais la véritable démission et l'épuisement de tout un système politique …
Et peut-être même d'une nation ou d'un Occident tout entier ?
Annick Steta
Revue des deux mondes
septembre 2020
Il est encore trop tôt pour faire le bilan de la pandémie de Covid-19. Nul ne peut exclure qu'une nouvelle vague de contaminations se produise à l'automne. Peut-être même devrons-nous apprendre à vivre avec le SARS-CoV-2 jusqu'à ce que ce virus disparaisse. Le temps n'est pas non plus venu d'établir la responsabilité individuelle des dirigeants politiques et administratifs français dans la réponse apportée à une crise sanitaire d'une brutalité et d'une gravité inédites depuis l'émergence de la grippe espagnole(… Mais il est impossible de nier que cette réponse a été tardive et qu'elle a manqué de pertinence durant les premières semaines de la pandémie, c'est-à-dire au stade où les mesures destinées à casser les chaînes de transmission d'un virus sont les plus efficaces. D'autres pays ont réagi dès que la République populaire de Chine a confirmé, le 31 décembre 2019, l'existence de douzaines de cas graves de pneumonie d'origine inconnue à Wuhan, la capitale de la province du Hubei. La République de Chine (Taïwan) a affirmé avoir soulevé le jour même auprès de l'Organisation mondiale de la santé (OMS) – dont elle n'est pas membre en raison de l'opposition de Pékin – la possibilité d'une transmission interhumaine de l'agent pathogène en cause. Sans attendre la réponse de l'OMS, Taïwan a imposé des contrôles sanitaires à bord des avions en provenance de Wuhan. Elle a également demandé le 6 janvier que les personnels soignants portent des masques filtrant au moins 95 % des particules de diamètre égal ou supérieur à 0,3 micron. La population taïwanaise, qui a gardé un souvenir cuisant de l'épidémie de SARS-CoV-1 de 2003, a par ailleurs rapidement adopté le port du masque. Grâce à ces mesures, Taïwan a enrayé la progression du SARS-CoV-2 : fin juin 2020, ce pays de 23 millions d'habitants dénombrait 447 cas d'infection et sept décès. Plus près de nous, l'Allemagne s'est préparée dès janvier 2020 à l'arrivée du nouveau coronavirus sur son territoire. L'hôpital universitaire de la Charité de Berlin a développé dès la mi-janvier un test diagnostique du SARS-CoV-2. À partir de la fin janvier, les médecins de ville ont commencé à tester les personnes présentant des symptômes d'infection par ce virus ainsi que les individus avec lesquels elles avaient été en contact. Cette campagne de dépistage a permis d'isoler les personnes infectées et de limiter la propagation du virus, en particulier aux sujets les plus vulnérables. Durant la seconde quinzaine de mars, les laboratoires allemands ont réalisé entre 350 000 et 500 000 tests par semaine. En France, où le matériel permettant de procéder aux prélèvements et de les analyser manquait cruellement, environ 225 000 tests ont été effectués entre le 24 février et le 27 mars. Plus de 85 % d'entre eux ont été réalisés par des laboratoires hospitaliers. L'Allemagne, où la population a eu largement accès au dépistage du SARS-CoV-2 et où le confinement a été moins strict qu'en France, recensait fin juin 194 864 cas d'infection et 9 029 décès pour une population de 83 millions d'habitants. À la même époque, la France, qui compte un peu moins de 67 millions d'habitants, dénombrait 162 936 cas d'infection et 29 778 décès. Le retard avec lequel les autorités françaises ont réagi à la menace représentée par le nouveau coronavirus est d'autant plus surprenant que le premier décès dû au Covid-19 hors d'Asie a eu lieu le 14 février dans un hôpital parisien. En Allemagne, cette maladie a fait ses deux premières victimes le 9 mars, soit trois semaines plus tard. À l'évidence, les autorités françaises ont tardé à prendre la mesure des conséquences potentielles de la propagation du SARS-CoV-2. Durant de longues semaines, les responsables politiques et administratifs se sont efforcés de rassurer la population en minorant les risques encourus et en affirmant que les moyens nécessaires pour enrayer une telle épidémie étaient disponibles. Le débat entourant la question du port du masque a été particulièrement révélateur à cet égard. Le 26 janvier, Agnès Buzyn, qui était alors ministre des Solidarités et de la Santé, a affirmé que la France disposait de stocks de dizaines de millions de masques destinés à être distribués en cas d'épidémie. Moins de deux mois plus tard, son successeur, Olivier Véran, a reconnu qu'il ne restait que 110 millions de masques dans les stocks de l'État alors qu'il y en avait plus d'un milliard dix ans plus tôt. Il s'est ensuivi une longue polémique, ponctuée par la publication dans la presse d'enquêtes détaillées consacrées à l'évolution de la stratégie nationale de réponse aux épidémies. Peu à peu, le grand public a compris que les mesures prises par le gouvernement français pour faire face à l'irruption du SARS-CoV-2 avaient été dictées par la pénurie de masques, de matériel de prélèvement, de réactifs et d'instruments de laboratoire permettant de réaliser les tests diagnostiques. Dans ce contexte, le confinement de l'ensemble de la population durant près de deux mois, du 17 mars au 11 mai 2020, est apparu comme le seul moyen de ralentir la progression de l'épidémie.L'exécutif a tenté de rejeter la responsabilité du défaut de préparation de la France sur les gouvernements précédents. Les données disponibles n'appuient pas cette thèse. La réduction des stocks étatiques de masques chirurgicaux s'est en effet accélérée à partir de 2017. La destruction de centaines de millions de masques jugés périmés a été décidée en 2018 – mais les stocks n'ont pas été reconstitués. Les débats sur la nécessité de relocaliser la production de matériel médical et de produits pharmaceutiques ont par ailleurs occulté une question essentielle : celle de la raison pour laquelle la France a, comme d'autres pays, renoncé dans les années soixante-dix à utiliser des masques de protection réutilisables, dont les performances étaient au moins équivalentes à celles des masques jetables. Quelques jours avant sa mort, le 6 avril 2020, l'économiste de la santé Claude Le Pen avait évoqué le rôle de l'administration dans ce désarmement sanitaire. Son analyse rejoignait celle du professeur Philippe Juvin, chef du service des urgences de l'hôpital européen Georges-Pompidou et membre du parti Les Républicains. Celui-ci a mis en cause « la médiocrité de la haute administration, avec des hauts fonctionnaires qui sont dans l'entre-soi, et une classe politique qui manque de caractère pour s'opposer ». En dépit de leur brutalité, les propos du professeur Juvin ne sauraient être écartés d'un revers de main. Ils conduisent à s'interroger sur les raisons profondes qui ont porté les responsables publics français à ne pas prendre suffisamment au sérieux ceux qui mettaient en garde contre la survenue d'une pandémie majeure. De la difficulté à mobiliser face à une menace lointaine L'idée qu'un tel phénomène était appelé à se produire s'est diffusée après l'épidémie de SARS-CoV-1 de 2003. En 2005, Michael T. Osterholm, directeur du Center for Infectious Disease Research and Policy de l'université du Minnesota, publia un article dans lequel il soulignait que la probabilité d'une pandémie dévastatrice s'était significa-tivement accrue. Il appelait les pays avancés à s'y préparer en stockant du matériel de protection et des médicaments antiviraux, en augmentant le nombre de respirateurs disponibles, en développant la capacité de production de vaccins, mais aussi en anticipant les conséquences de la survenue d'une pandémie sur les processus de production (4). Un an plus tôt, l'historien américain John M. Barry, professeur à l'École de santé publique et de médecine tropicale de l'université Tulane (La Nouvelle-Orléans), avait fait paraître un essai consacré à la pandémie de grippe espagnole de 1918-1919. La lecture de The Great Influenza conduisit le président George W. Bush à demander à ses collaborateurs de concevoir une stratégie permettant de répondre à une pandémie comparable. Le souvenir du 11 septembre 2001 facilita leur mobilisation : ils savaient par expérience que des événements totalement inattendus aux conséquences extrêmement graves pouvaient survenir. Dans un discours prononcé en novembre 2005 au National Institutes of Health, l'agence du gouvernement des États-Unis qui supervise la recherche biomédicale, le président Bush dévoila leurs premières conclusions en décrivant de façon très précise la façon dont une épidémie progresserait sur le territoire national et en identifiant les problèmes auxquels les pouvoirs publics seraient confrontés. Pendant trois ans, des moyens financiers importants furent consacrés à ce projet. Celui-ci fut toutefois délaissé après le second mandat du président Bush. L'essai de John M. Barry convainquit également Bill Gates qu'une pandémie de grande ampleur se produirait presque certainement. Le fondateur de Microsoft, qui consacre désormais le meilleur de son temps à la fondation qu'il a créée afin d'améliorer l'accès aux soins de santé et de réduire la pauvreté, exhorta à plu-sieurs reprises les responsables publics du monde entier à développer des moyens de lutte contre des agents pathogènes encore inconnus. Il tint le même discours lors d'une conférence TED de mars 2015, dont l'enregistrement a été abondamment partagé sur les réseaux sociaux lors de la pandémie de Covid-19. Ses appels sont restés lettre morte.Michael T. Osterholm et Mark Olshaker, qui ont mis en garde dans un livre paru en 2017 contre la menace grandissante représentée par différents agents pathogènes, ont récemment analysé dans Foreign Affairs la réponse des autorités américaines à l'émergence du SARS-CoV-2. Ils utilisent pour ce faire une notion issue de l'économie comportementale : la dévaluation hyperbolique (hyperbolic discounting), qui désigne l'augmentation brutale de l'évaluation d'une récompense lorsqu'on s'en rapproche. Le cas d'un individu impatient qui préfère une petite récompense proche dans le temps à une récompense importante mais lointaine en constitue une illustration. L'existence d'un tel phénomène explique la difficulté qu'éprouvent les responsables publics à placer la possibilité d'une pandémie au premier rang de leurs préoccupations. Michael T. Osterholm et Mark Olshaker constatent par ailleurs que le gouvernement des États-Unis n'a pas interprété correctement les signes indiquant que le SARS-CoV-2 pourrait provoquer une pandémie – signes qui, selon eux, étaient présents dès le début de l'année 2020. L'ampleur des ravages causés par la pandémie de Covid-19 contraint les pouvoirs publics à réviser en profondeur la manière dont ils appréhendent l'incertitude. Dans un ouvrage intitulé « Risque, incertitude et profit », publié en 1921, l'économiste américain Frank Knight a proposé de distinguer les situations risquées, où la distribution de probabilité des cas possibles est connue, des situations incertaines, où les cas possibles ne sont pas connus. Or le risque est beaucoup plus facile à gérer que l'incertitude. Il est par exemple nettement plus aisé de concevoir les dégâts susceptibles d'être provoqués par une tempête ou une marée noire que de se projeter dans une situation où la présence d'un agent pathogène fait courir un risque potentiellement létal à une partie de la population. De façon à se préparer à une telle éventualité, il est indispensable que les pouvoirs publics – qu'il s'agisse de l'administration ou des responsables politiques – renforcent leurs liens avec la communauté scientifique. En France, l'absence quasi totale de culture scientifique aux échelons les plus élevés de l'administration comme au sein de la classe politique constitue un frein majeur à un tel rapprochement. Pour ce qui concerne la fonction publique, les conditions de recrutement des hauts fonctionnaires expliquent largement ce qui apparaît désormais comme une faiblesse dangereuse. Le rapport de la Mission haute fonction publique remis au Premier ministre le 18 février 2020 contient à cet égard des informations et des propositions très révélatrices. Les diplômés de Sciences Po Paris représentent les trois quarts des candidats admis au concours externe de l'École nationale d'administration (ENA). Or les disciplines scientifiques sont presque totalement étrangères au cursus de Sciences Po. Cet établissement ne dote pas davantage les étudiants ayant choisi la filière « Affaires publiques » d'une véritable formation disciplinaire. La formation par la recherche y est enfin réservée aux étudiants s'engageant dans la préparation d'un master recherche ou d'un doctorat. Autre-ment dit, les trois quarts des admis au concours externe de l'ENA – et une proportion plus importante encore si l'on tient compte des admis issus des autres instituts d'études politiques – n'ont pas bénéficié d'une formation intellectuelle rigoureuse permettant d'apprendre à chercher et à identifier des informations pertinentes, à les hiérarchiser, à quantifier et qualifier les liens unissant des variables, et, in fine, à bâtir une pensée originale sur des bases solides. Si les membres de la Mission haute fonction publique soulignent les vertus de la formation par la recherche, « qui développe la créativité, la ténacité, voire l'humilité », ils jugent toutefois préférable que la voie de recrutement réservée aux titulaires d'un doctorat soit limitée à quelques postes par an dans l'école d'administration publique dont ils préconisent la création. Cette conclusion est d'autant plus stupéfiante que le doctorat est, comme le souligne ce rapport, le diplôme de référence dans les organisations internationales. Pour tenter de résoudre cette contradiction, les membres de la Mission haute fonction publique proposent d'encourager les hauts fonctionnaires à préparer un doctorat, par exemple en aménageant leurs premières affectations de façon à ce qu'ils puissent mener une recherche en parallèle. Ceux qui connaissent le mode de fonctionnement de l'administration française savent que la diffusion à dose homéopathique de la formation par la recherche ne changera pas la donne. Pour préparer l'administration à répondre aux défis d'un monde de plus en plus incertain, il est devenu nécessaire de procéder à une révolution culturelle consistant à réduire la place accordée aux gestionnaires et à accroître celle attribuée aux « têtes chercheuses ». La formation par la recherche a une vertu supplémentaire : elle produit des esprits indépendants, qui placent la quête de la vérité scientifique avant toute autre considération. François Mitterrand aurait dit qu'il fallait avoir la nuque raide pour ce que l'on estime juste. Quand le monde devient dangereux, les « nuques raides » sont plus précieuses que les adeptes du consensus mou. Là encore, la comparaison de la façon dont les responsables politiques français et allemands ont répondu à la crise sanitaire du Covid-19 est éclairante. En France, une classe politique déboussolée n'a guère trouvé d'arguments à opposer à la rhétorique guerrière embrassée par le président de la République. En Allemagne, la chancelière s'est appuyée sur son expérience de physicienne pour comprendre les risques associés à la propagation du SARS-CoV-2 et concevoir une stratégie permettant d'enrayer l'épidémie. Quand Emmanuel Macron dramatisait les enjeux et en appelait à l'union nationale, Angela Merkel emportait la conviction en expliquant aux Allemands comment agir pour ralentir la progression du virus. La crise sanitaire a montré que la capacité d'analyse, la rigueur et la pédagogie sont des qualités plus utiles que le brio. C'est une leçon dont nous devrons nous souvenir.
Voir aussi:
«Il n'y a pas de politique qui vaille en dehors des réalités», a dit Charles de Gaulle. Cette maxime guide la politique des États-Unis à l'égard de la République islamique d'Iran. Nous reconnaissons ce régime pour ce qu'il est: le premier État commanditaire du terrorisme au monde et la principale source d'instabilité au Moyen-Orient. Je pense que nos amis français perçoivent eux aussi la véritable nature de Téhéran. Reste à savoir si la France est disposée à se joindre à nous pour s'opposer à l'Iran afin d'assurer la paix et la stabilité de la région.
La brutalité du régime actuel frappe en premier lieu le peuple iranien lui-même. Au cours de la seule année dernière, les forces de sécurité ont tué au moins 1500 manifestants pacifiques descendus dans les rues de tout le pays après une augmentation du prix des carburants. Le harcèlement, la discrimination et l'emprisonnement abusif sont choses courantes pour les membres de minorités religieuses, les femmes qui refusent de porter le hijab, les homosexuels et ceux qui dénoncent les autorités.
On compte également parmi les victimes de Téhéran certains de mes compatriotes américains. Le Hezbollah, soutenu par l'Iran, a tué des centaines d'Américains (et de nombreux ressortissants français) au cours d'attaques menées au Liban dans les années 1980, notamment lors de l'attentat à la bombe contre la caserne des marines à Beyrouth en 1983. Dix-neuf autres Américains ont péri en Arabie saoudite dans l'attentat des tours de Khobar commis par le Hezbollah en 1996. Et plus de 600 militaires américains ont été tués par des militants soutenus par les Iraniens au cours de la deuxième guerre d'Irak. Aujourd'hui, Téhéran retient trois Américains en otage.
Et cependant, les attentats qui ont fait couler le sang américain et commandités par l'Iran ne sont qu'une des formes de malveillance dans l'histoire de l'Iran au Moyen-Orient. En 2015, les pays libres espéraient que le Plan d'action global commun (PAGC) mettrait fin au comportement néfaste du régime – et en particulier à ses activités nucléaires illicites. Ils espéraient que le renforcement économique de l'Iran modérerait la violence subversive du régime.
Loin de rejoindre la communauté des nations, l'Iran a réagi à l'apaisement de l'Ouest par des massacres et une défiance accrus. Ce sont, l'an dernier, des missiles iraniens qui ont frappé des installations pétrolières saoudiennes, et des mines iraniennes qui ont explosé sur des navires marchands dans le golfe Persique. Au Yémen, les rebelles houthis appuyés par l'Iran alimentent l'une des pires crises humanitaires mondiales. Les milices chiites soutenues par l'Iran, telles que les Kataeb Hezbollah, portent atteinte à la souveraineté nationale et étouffent la démocratie en Irak. Les sables de Syrie sont gorgés du sang d'innocents à cause des forces iraniennes, du régime Assad appuyé par l'Iran et du Hezbollah.
Aucun pays n'a autant souffert que le Liban sous le talon de l'Iran. Le Hezbollah, mercenaire de l'Iran, y est depuis quelque trois décennies le principal acteur politique. Aujourd'hui, à Beyrouth, la corruption règne, le système financier et politique délabré fonctionne à peine, et les jeunes Libanais manifestent dans les rues au son de slogans comme «Iran dehors!».
Malheureusement, la France refuse de désigner l'ensemble du Hezbollah comme une organisation terroriste, comme l'ont fait d'autres pays européens, et freine les progrès de l'Union européenne dans ce sens. Au lieu de cela, Paris s'en tient à cette fiction qu'il existe une «aile politique» du Hezbollah, alors que celui-ci est entièrement contrôlé par un seul terroriste, Hassan Nasrallah. Je partage la frustration des vingt-sept personnalités publiques françaises qui, dans une tribune collective publiée dans Le Figaro , ont récemment appelé la France à adopter cette désignation.
Les faits sont les suivants: une fois le PAGC en place, le budget militaire de l'Iran est monté en flèche et les milices et terroristes soutenus par le pays ont obtenu davantage de fonds pour tuer et affermir leur présence dans tout le Moyen-Orient. L'Iran s'est doté de la plus grande force de missiles balistiques de la région et a enfreint de multiples dispositions de l'accord concernant les questions nucléaires. Le scepticisme manifesté par de nombreux dirigeants français à l'égard de l'accord durant les négociations semble aujourd'hui plus justifié que jamais.
Le président Trump pense que seule une pression maximale exercée sur le régime, et non l'apaisement, peut induire les changements de comportement que nous recherchons tous. C'est pourquoi les États-Unis ont imposé à l'Iran des sanctions économiques sans précédent et rétabli les mesures de dissuasion militaires à son encontre, notamment par l'élimination de Qassem Soleimani.
Notre campagne vise également à nous assurer que l'Iran ne puisse ni acheter ni vendre des armes conventionnelles – chars d'assaut lourds, avions de combat, missiles et autres. C'est ce qu'a fait le Conseil de sécurité de l'ONU en imposant à l'Iran des limites de transferts d'armes durant les treize dernières années. Mais les auteurs du PAGC ont commis une terrible erreur en fixant à ces dispositions une date d'expiration: le 18 octobre de cette année.
Les conséquences d'une levée d'embargo sont évidentes: le premier État commanditaire mondial du terrorisme fournira des armes à des terroristes ou à des tyrans. Les infrastructures de transports et d'énergie du Moyen-Orient – qui sont cruciales pour les économies de l'Europe et d'autres régions du monde – tomberont sous le coup d'une menace encore plus forte. Et les populations de la région seront exposées à des souffrances encore plus grandes aux mains des ayatollahs.
Rarement une évolution aussi dangereuse a-t-elle été aussi évitable. Mais le 14 août dernier, la France, et avec elle le Royaume-Uni et l'Allemagne, s'est abstenue d'appuyer la résolution visant la prorogation de l'embargo sur les armes introduite au Conseil de sécurité par les États-Unis.
Le prolongement de l'embargo aurait servi la mission de «maintien de la paix et de la sécurité internationales» qui est celle du Conseil de sécurité, la coopération transatlantique et plus généralement le multilatéralisme. Alors pourquoi nos amis européens n'ont-ils pas soutenu la proposition raisonnable qui était émise, ou au moins proposé une alternative? Pourquoi m'ont-ils affirmé en privé les dangers de la fin de l'embargo, mais n'ont pas agi en public?
Concernant la politique appliquée, il s'agit d'un problème de peur. Nos alliés européens craignent que, s'ils considèrent l'Iran comme responsable de son comportement déstabilisateur, Téhéran réagisse par des violations encore plus nombreuses de l'accord. Cette stratégie d'apaisement ne joue qu'en faveur de la grande stratégie de l'Iran. C'est une campagne d'extorsion diplomatique efficace, forgée par mon prédécesseur, le secrétaire d'État Kerry.
Les calculs politiques entrent également en jeu dans les prises de position de l'Europe, où plusieurs dirigeants refusent d'agir avant l'issue de la prochaine élection présidentielle américaine. Cette manœuvre cynique considère les mutilations et les massacres commis par l'Iran comme des dommages collatéraux acceptables, et estime que Washington, ce qui est regrettable, est plus dangereux pour le monde que Téhéran. Je me demande si les habitants de Beyrouth, de Riyad ou de Jérusalem, les villes les plus exposées à l'Iran, seraient d'accord. Comment est-il possible que la France vote contre l'embargo sur les armes, et que la semaine suivante le président Macron rencontre un haut représentant du Hezbollah à Beyrouth?
Le 20 août, j'ai fait appel à l'autorité des États-Unis afin de rétablir presque toutes les sanctions de l'ONU contre l'Iran que la résolution 2231 du Conseil de sécurité avait suspendues. Le rétablissement de ces sanctions n'a jamais été le premier choix des États-Unis, mais elles seront bientôt en vigueur pour de bon. Tous les pays sont tenus de les appliquer ; ne pas le faire porterait gravement atteinte à l'autorité et à la crédibilité du Conseil de sécurité et risquerait de normaliser une application sélective de ses résolutions. Comment les pays pourraient-ils alors se prétendre légitimement défenseurs du multilatéralisme?
Voir également:
« Nous sommes en guerre » : le verbatim du discours d'Emmanuel Macron
Tandis que l'épidémie due au coronavirus progresse chaque jour en France, le président de la République a annoncé lundi soir une stricte restriction des déplacements pendant au moins quinze jours.
Pendant que l'épidémie de Covid-19 progresse chaque jour en France, le président de la République, Emmanuel Macron, s'est exprimé, lundi 16 mars à 20 heures, dans une allocution télévisée. Nous retranscrivons ci-dessous ses propos.
« Françaises, Français, mes chers compatriotes. Jeudi soir, je me suis adressé à vous pour évoquer la crise sanitaire que traverse le pays. Jusqu'alors, l'épidémie de Covid-19 était peut-être pour certains d'entre vous une idée lointaine. Elle est devenue une réalité immédiate, pressante. Le gouvernement a pris, comme je vous l'avais annoncé, des dispositions fermes pour freiner la propagation du virus. Les crèches, les écoles, les collèges, les lycées, les universités sont fermées depuis ce jour. Samedi soir, les restaurants, les bars, tous les commerces non essentiels à la vie de la nation ont également clos leurs portes. Les rassemblements de plus de 100 personnes ont été interdits. Jamais la France n'avait dû prendre de telles décisions, évidemment exceptionnelles, évidemment temporaires en temps de paix. Elles ont été prises avec ordre, préparation, sur la base de recommandations scientifiques avec un seul objectif : nous protéger face à la propagation du virus.
Dans la journée de jeudi, un consensus scientifique et politique s'est formé pour maintenir le premier tour des élections municipales et j'ai pris, avec le premier ministre, la décision de maintenir le scrutin. Hier dimanche, les opérations de vote ont donc pu se tenir. Je veux ce soir remercier les services de l'Etat, les maires, l'ensemble des services des mairies, tous ceux qui ont tenu les bureaux de vote et qui ont donc permis l'organisation de ce scrutin. Je veux aussi saluer chaleureusement les Françaises et les Français qui, malgré le contexte, se sont rendus aux urnes dans le strict respect des consignes sanitaires, des gestes barrières contre le virus. Je veux aussi ce soir adresser mes félicitations républicaines aux candidats élus au premier tour. Environ 30 000 communes sur 35 000 ont après ce premier tour un conseil municipal.
Mais dans le même temps, alors même que les personnels soignants des services de réanimation alertaient sur la gravité de la situation, nous avons aussi vu du monde se rassembler dans les parcs, des marchés bondés, des restaurants, des bars qui n'ont pas respecté la consigne de fermeture. Comme si, au fond, la vie n'avait pas changé.
A tous ceux qui, adoptant ces comportements, ont bravé les consignes, je veux dire ce soir, très clairement, non seulement vous ne vous protégez pas, vous, et l'évolution récente a montré que personne n'est invulnérable, y compris les plus jeunes, mais vous ne protégez pas les autres, même si vous ne présentez aucun symptôme, vous pouvez transmettre le virus. Même si vous ne présentez aucun symptôme, vous risquez de contaminer vos amis, vos parents, grands-parents, de mettre en danger la santé de ceux qui vous sont chers. Dans le Grand-Est, dans les Hauts-de-France, en Ile-de-France, nos soignants se battent pour sauver des vies avec dévouement, avec force.
Au moment où la situation sanitaire se dégrade fortement, où la pression sur nos hôpitaux et nos soignants s'accentue, tout notre engagement, toute notre énergie, toute notre force doivent se concentrer sur un seul objectif : ralentir la progression du virus. Je vous le redis avec force ce soir : respectons les gestes barrières, les consignes sanitaires. C'est le seul moyen de protéger les personnes vulnérables, d'avoir moins de concitoyens infectés et ainsi de réduire la pression sur les services de réanimation pour qu'ils puissent mieux accueillir, mieux soigner. Sans signes graves, contactons notre médecin traitant, n'appelons le SAMU et ne nous rendons à l'hôpital qu'en cas de fortes fièvres, de difficultés à respirer, sans quoi ils ne pourront faire face à la vague de cas graves qui déjà se profile dans certaines régions. Faisons preuve, au fond, d'esprit solidaire et de sens des responsabilités. Chacun d'entre nous doit à tout prix limiter le nombre de personnes avec qui il est en contact chaque jour. Les scientifiques le disent, c'est la priorité absolue.
C'est pourquoi, après avoir consulté, écouté les experts, le terrain et en conscience, j'ai décidé de renforcer encore les mesures pour réduire nos déplacements et nos contacts au strict nécessaire. Dès demain midi et pour quinze jours au moins, nos déplacements seront très fortement réduits. Cela signifie que les regroupements extérieurs, les réunions familiales ou amicales ne seront plus permises. Se promener, retrouver ses amis dans le parc, dans la rue, ne sera plus possible. Il s'agit de limiter au maximum ses contacts au-delà du foyer. Partout sur le territoire français, en métropole comme outre-mer, seuls doivent demeurer les trajets nécessaires. Nécessaire pour faire ses courses avec de la discipline et en mettant les distances d'au moins un mètre, en ne serrant pas la main, en n'embrassant pas. Les trajets nécessaires pour se soigner, évidemment. Les trajets nécessaires pour aller travailler quand le travail à distance n'est pas possible et les trajets nécessaires pour faire un peu d'activité physique mais sans retrouver, là encore, des amis ou des proches. Toutes les entreprises doivent s'organiser pour faciliter le travail à distance. Et quand cela ne sera pas possible, elles devront adapter dès demain leur organisation pour faire respecter ces gestes barrières contre le virus, c'est-à-dire protéger leurs salariés ou, quand il s'agit d'indépendants, se protéger eux-mêmes.
Le gouvernement précisera les modalités de ces nouvelles règles dès ce soir, dès après mon allocution. Toute infraction à ces règles sera sanctionnée. Je vous le dis avec beaucoup de solennité ce soir. Ecoutons les soignants qui nous disent « si vous voulez nous aider, il faut rester chez vous et limiter les contacts ». C'est le plus important, évidemment. Ce soir, je pose des règles nouvelles. Nous posons des interdits. Il y aura des contrôles, mais la meilleure règle, c'est celle qu'en tant que citoyens, vous vous appliquez à vous-mêmes et une fois encore, j'en appelle à votre sens des responsabilités et de la solidarité.
Dans ce contexte, après avoir consulté le président du Sénat, le président de l'Assemblée nationale, mais également mes prédécesseurs, j'ai décidé que le second tour des élections municipales serait reporté. Le premier ministre en a informé aujourd'hui même les chefs de partis représentés au Parlement. Cette décision a fait l'objet d'un accord unanime.
Mes chers compatriotes, je mesure l'impact de toutes ces décisions sur vos vies. Renoncer à voir ses proches, c'est un déchirement. Stopper ses activités quotidiennes, ses habitudes, c'est très difficile. Cela ne doit pas nous empêcher de garder le lien, d'appeler nos proches, de donner des nouvelles, d'organiser aussi les choses avec nos voisins. D'inventer de nouvelles solidarités entre générations. De rester, comme je vous l'ai dit jeudi dernier, profondément solidaires et d'innover là aussi sur ce point. Je sais que je vous demande de rester chez vous.
Je vous demande aussi de garder le calme dans ce contexte. J'ai vu ces dernières heures des phénomènes de panique en tous sens. Nous devons tous avoir l'esprit de responsabilité. Il ne faut pas que les fausses informations circulent à tout-va et en restant chez vous, occupez-vous des proches qui sont dans votre appartement, votre maison ; donnez des nouvelles, prenez des nouvelles, lisez. Retrouvez aussi ce sens de l'essentiel. Je pense que c'est important dans les moments que nous vivons. La culture, l'éducation, le sens des choses est important. Evitez l'esprit de panique, de croire dans les fausses rumeurs. Les demi-experts ou les faux-sachants. La parole est claire, l'information est transparente et nous continuerons de la donner. Mais croyez-moi, cet effort que je vous demande, je sais qu'il est inédit mais les circonstances nous y obligent.
Nous sommes en guerre, en guerre sanitaire certes. Nous ne luttons ni contre une armée ni contre une autre nation, mais l'ennemi est là, invisible, insaisissable, et qui progresse. Et cela requiert notre mobilisation générale. Nous sommes en guerre. Toute l'action du gouvernement et du Parlement doit être désormais tournée vers le combat contre l'épidémie, de jour comme de nuit. Rien ne doit nous en divertir. C'est pourquoi j'ai décidé que toutes les réformes en cours seraient suspendues, à commencer par la réforme des retraites.
Dès mercredi, en conseil des ministres, sera présenté un projet de loi permettant au gouvernement de répondre à l'urgence et, lorsque nécessaire, de légiférer par ordonnance dans les domaines relevant strictement de la gestion de crise. Ce projet sera soumis au Parlement dès jeudi. J'ai vu tout à l'heure les présidents de l'Assemblée nationale et du Sénat afin que ces textes soient votés le plus finement possible, afin aussi que la vie démocratique et le contrôle du Parlement continuent dans cette période. Je les en remercie et je remercie tous nos parlementaires en cet instant.
Nous sommes en guerre. J'appelle tous les acteurs politiques, économiques, sociaux, associatifs, tous les Français à s'inscrire dans cette union nationale qui a permis à notre pays de surmonter tant de crises par le passé. Nous sommes en guerre et la Nation soutiendra ses enfants qui, personnels soignants en ville, à l'hôpital, se trouvent en première ligne dans un combat qui va leur demander énergie, détermination, solidarité. Ils ont des droits sur nous. Nous leur devons évidemment les moyens, la protection. Nous serons là. Nous leur devons, des masques, du gel, tout le matériel nécessaire. Et nous y veillons et y veillerons.
Nous avons décidé avec les scientifiques de réserver les masques en priorité pour l'hôpital et la médecine de ville et de campagne, en particulier les généralistes et les infirmières, désormais en première ligne aussi dans la gestion de la crise. Des masques seront livrés dans les pharmacies dès demain soir, dans les vingt-cinq départements les plus touchés, mercredi pour le reste du territoire national. J'ai aussi entendu le message des spécialistes, en particulier les chirurgiens-dentistes et beaucoup d'autres. Des solutions seront trouvées avec le ministre de la santé dans les prochaines heures.
Nous devons aussi aux soignants la garde de leurs enfants. Un service minimum de garde est en place depuis ce jour dans les crèches et dans les écoles. Nous leur devons aussi sérénité, dans leurs déplacements, et repos. C'est pourquoi j'ai décidé que dès demain les taxis et les hôtels pourront être mobilisés à leur profit. L'Etat paiera.
Nous sommes en guerre, oui. Le pays accompagnera dans cette période les régions les plus touchées aujourd'hui, comme celles qui le seront demain. A ce titre, je veux assurer les habitants, les personnels soignants du Grand-Est que nous serons au rendez-vous pour les appuyer face à l'afflux de patients et à la saturation des hôpitaux. Je sais ce qu'ils vivent depuis des jours et des jours. Nous sommes avec eux. J'ai décidé pour cela qu'un hôpital de campagne du service de santé des armées serait déployé dans les jours à venir en Alsace. Les armées apporteront aussi leur concours pour déplacer les malades des régions les plus affectées et ainsi réduire la congestion des hôpitaux de certains territoires.
Nous sommes en guerre. Aussi, comme je vous l'ai dit jeudi, pour nous protéger et contenir la dissémination du virus, mais aussi préserver nos systèmes de soins, nous avons pris ce matin, entre Européens, une décision commune. Dès demain midi, les frontières à l'entrée de l'Union européenne et de l'espace Schengen seront fermées. Concrètement, tous les voyages entre les pays non européens et l'Union européenne seront suspendus pendant trente jours. Les Françaises et les Français qui sont actuellement à l'étranger et souhaitent rentrer pourront bien entendu rejoindre leur pays. Nous devons prendre cette décision parce que je vous demande ce soir d'importants efforts et que nous devons, dans la durée, nous protéger. Et je veux dire à tous nos compatriotes qui vivent à l'étranger que là aussi, en bon ordre, ils doivent se rapprocher des ambassades et consulats et que nous organiserons pour celles et ceux qui le souhaitent, et là où c'est nécessaire, le rapatriement.
Vous l'aurez compris, vous le pressentez, cette crise sanitaire sans précédent aura des conséquences humaines, sociales, économiques majeures. C'est aussi ce défi que nous devons mener. Je vous demande des sacrifices pour ralentir l'épidémie. Jamais ils ne doivent mettre en cause l'aide aux plus fragiles, la pérennité d'une entreprise, les moyens de subsistance des salariés comme des indépendants.
Pour les plus précaires, pour les plus démunis, pour les personnes isolées, nous ferons en sorte, avec les grandes associations, avec aussi les collectivités locales et leurs services, qu'ils puissent être nourris, protégés, que les services que nous leur devons soient assurés. Pour la vie économique, pour ce qui concerne la France, aucune entreprise, quelle que soit sa taille, ne sera livrée au risque de faillite. Aucune Française, aucun Français ne sera laissé sans ressources.
S'agissant des entreprises, nous mettons en place un dispositif exceptionnel de report de charges fiscales et sociales, de soutien au report d'échéances bancaires et de garanties de l'Etat à hauteur de 300 milliards d'euros pour tous les prêts bancaires contractés auprès des banques. Pour les plus petites d'entre elles, et tant que la situation durera, celles qui font face à des difficultés n'auront rien à débourser ni pour les impôts, ni pour les cotisations sociales. Les factures de gaz ou d'électricité ainsi que les loyers devront être suspendus.
En outre, afin que personne ne soit laissé sans ressources, pour les salariés le dispositif de chômage partiel sera massivement élargi, comme je vous l'avais annoncé jeudi dernier, et comme le gouvernement a commencé à le préciser. Pour les entrepreneurs, commerçants, artisans, un fonds de solidarité sera créé, abondé par l'Etat, et auquel le premier ministre proposera aux régions aussi de contribuer.
Le gouvernement, dès demain, précisera toutes ces mesures. Elles seront en fonction des besoins, des réalités économiques, des nécessités secteur par secteur, évidemment adaptées. Nous serons au rendez-vous pour que notre économie soit préservée dans cette période si dure et pour que l'ensemble des travailleuses et des travailleurs puissent avoir cette sécurité aussi en termes de pouvoir d'achat, de continuité de leur vie.
Mes chers compatriotes, la France vit un moment très difficile. Nul ne peut en prévoir précisément la durée et à mesure que les jours suivront les jours, que les problèmes succéderont aux problèmes, il faudra en lien avec les éclairages donnés par les scientifiques, des expériences de terrain, il faudra nous adapter. Nous allons continuer aussi pendant cette période de travailler, de progresser sur les traitements et je sais le dévouement de plusieurs équipes partout sur notre territoire avec les premiers espoirs qui naissent, et nous continuerons aussi d'avancer sur le vaccin.
Régulièrement, je m'adresserai à vous. Je vous dirai à chaque fois, comme je l'ai fait, comme le gouvernement le fait, la vérité sur l'évolution de la situation. J'ai une certitude : plus nous agirons ensemble et vite, plus nous surmonterons cette épreuve. Plus nous agirons en citoyens, plus nous ferons preuve de la même force d'âme, de la même abnégation patriote que démontrent aujourd'hui nos personnels soignants, nos sapeurs-pompiers, l'ensemble des acteurs de la sécurité civile, plus vite nous sortirons de cette vie au ralenti. Nous y arriverons.
Mes chers compatriotes, en étant unis, solidaires, je vous demande d'être responsables tous ensemble et de ne céder à aucune panique, d'accepter ces contraintes, de les porter, de les expliquer, de vous les appliquer à vous-mêmes. Nous nous les appliquerons tous, il n'y aura pas de passe-droits. Mais là aussi de ne céder ni à la panique ni au désordre. Nous gagnerons, mais cette période nous aura beaucoup appris. Beaucoup de certitudes, de convictions seront balayées, seront remises en cause. Beaucoup de choses que nous pensions impossibles adviennent. Ne nous laissons pas impressionner, agissons avec force, mais retenons cela, le jour d'après, quand nous aurons gagné, ce ne sera pas un retour aux jours d'avant. Nous serons plus forts moralement. Nous aurons appris et je saurai aussi avec vous en tirer toutes conséquences, toutes les conséquences. Hissons-nous, individuellement et collectivement, à la hauteur du moment. Je sais, mes chers compatriotes, pouvoir compter sur vous. Vive la République ! Vive la France ! »
Voir encore:
Bien sûr, il y a le Covid, les 200.000 morts, les masques, le virus qui continue de courir, les frontières fermées, le business qui souffre. Toutes ces circonstances qui font de l'élection qui approche un défi gigantesque pour le président sortant. Mais pour l'essentiel, la musique de fond de cette drôle de campagne 2020, où les démocrates mobilisent en ligne pour montrer qu'ils sont «responsables» et «respectueux des experts», tandis que Trump s'en va en chair et en os chez ses électeurs pour leur dire que l'Amérique est vivante et «toujours grande», ressemble à s'y tromper à celle de 2016: pour ou contre Trump, jusqu'à la caricature. D'un côté, une polyphonie orchestrée par tout ce que l'élite compte de sommités monte au créneau, avec tambours et trompettes médiatiques, pour affirmer que le président est «inapte à gouverner».
De l'autre, les chœurs du peuple trumpien scandent «quatre ans de plus» sans prêter la moindre attention à la cascade de livres et de révélations censés accabler leur héros. Du coup, le pays vit en schizophrène, dans deux salles de «concert électoral» qui ne communiquent pas, comme c'est le cas depuis quatre ans.
Dans la première – journaux, télés, Twitter – on parle des dernières révélations du livre Rage du journaliste Bob Woodward, ancien «tombeur de Nixon». Il est sorti de ses 17 conversations avec le président «effaré», notamment après que ce dernier lui ait confié avoir «sous-estimé» publiquement la dangerosité du Covid, parce qu'il ne voulait pas semer la panique. Preuve de son incapacité et de son amoralité, dénoncent les éditorialistes. «Un mélange de couard, raciste, menteur, frimeur, narcisse, arnaqueur et vantard», écrit notamment Roger Cohen à la une du New York Times. Mais cette propension à diaboliser Trump pourrait paradoxalement s'avérer contre-productive, les démocrates donnant le sentiment de n'avoir tiré aucune leçon de l'échec essuyé en 2016.
Pour l'instant, l'essentiel des analystes parient toujours sur Joe Biden. Mais les sondages se resserrent. Les débats seront sans doute déterminants
La plus singulière surprise de 2020 est en effet que, malgré le Covid, les ratages, les innombrables défauts de Trump, et les grincements de dents de l'élite, il continue de porter les espoirs de quelque 45 % de la population! Les démocrates s'acharnent sur l'homme. Mais lui chevauche une colère réelle qui ne passe pas. C'est ainsi que dans les provinces profondes, personne ou presque ne prête attention à la charge de la cavalerie antitrumpiste. C'est ce que confie au téléphone Lynette Vilano, activiste républicaine de Pennsylvanie, dégoûtée par la manière dont les médias traitent «son président». «Depuis le premier jour, ils ne lui donnent aucune chance. Alors nous n'écoutons plus», dit-elle.
Même le fait que Trump ait fait la paix entre Israël, les Émirats arabes unis et Bahreïn, n'a été pas mis à son crédit, regrette l'activiste, qui affirme que «CNN a totalement sous-couvert» la percée diplomatique car elle ne colle pas à leur discours sur le désastre de sa politique étrangère. Lynette Vilano affirme que le soutien à Trump dans son comté, «ne cesse de grandir» et que «de nombreux démocrates continuent de migrer vers le Parti républicain». Comme en 2016. Un constat intéressant mais qui reste à l'échelle locale, se hâte-t-elle de dire. Pour l'instant, l'essentiel des analystes parient toujours sur Joe Biden qui, selon la militante républicaine, ressemble à son mari «quand il s'est mis à vieillir et à ne plus trop s'orienter». Mais les sondages se resserrent. Les débats seront sans doute déterminants.