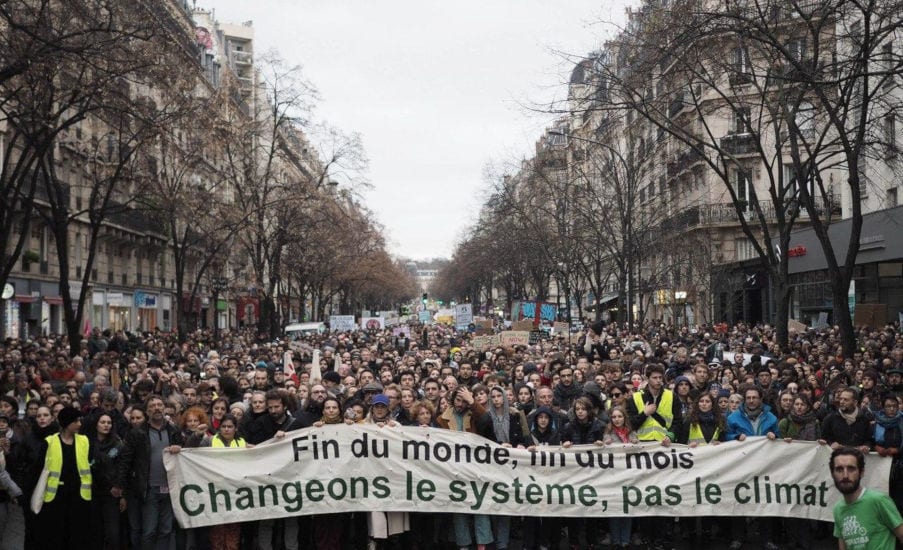 Une nation s'élèvera contre une nation, et un royaume contre un royaume; il y aura de grands tremblements de terre, et, en divers lieux, des pestes et des famines; il y aura des phénomènes terribles, et de grands signes dans le ciel. (…) Il y aura des signes dans le soleil, dans la lune et dans les étoiles. Et sur la terre, il y aura de l'angoisse chez les nations qui ne sauront que faire, au bruit de la mer et des flots. Jésus (Luc 21: 10-25)
Où est Dieu? cria-t-il, je vais vous le dire! Nous l'avons tué – vous et moi! Nous tous sommes ses meurtriers! Mais comment avons-nous fait cela? Comment avons-nous pu vider la mer? Qui nous a donné l'éponge pour effacer l'horizon tout entier? Dieu est mort! (…) Et c'est nous qui l'avons tué ! (…) Ce que le monde avait possédé jusqu'alors de plus sacré et de plus puissant a perdu son sang sous nos couteaux (…) Quelles solennités expiatoires, quels jeux sacrés nous faudra-t-il inventer? Nietzsche
Quand vous avez éliminé l'impossible, ce qui reste, aussi improbable cela soit-il, doit être la vérité. Sherlock Holmes
Ce sont les enjeux ! Pour faire un monde où chaque enfant de Dieu puisse vivre, ou entrer dans l'obscurité, nous devons soit nous aimer l'un l'autre, soit mourir. Lyndon Johnson (1964)

Interdire le DDT a tué plus de personnes qu'Hitler. Personnage d'un roman de  Michael Crichton (State of Fear, 2004)
Dans la mythologie grecque, Prométhée est le titan qui donne le feu aux hommes. Il incarne désormais la civilisation industrielle si décriée par l'écologie politique. Je tente de restituer son bilan en lui offrant un procès équitable. Il ne s'agit pas seulement de rappeler que la société industrielle nous a délivrés de la famine, de l'ignorance, de la maladie, des effets ravageurs des aléas naturels et de la pénibilité. Il convient aussi de liquider le mythe du paradis perdu qui prétend que notre environnement n'a jamais été aussi toxique qu'aujourd'hui. On doit cette fable aux penchants rousseauistes de l'idéologie écologiste : ils reprochent au progrès industriel de souiller notre monde. (…) Ce récit décliniste suggère que les sociétés prémodernes entretenaient avec leur environnement une relation plus harmonieuse. Mais cette nostalgie n'a aucun fondement. Les hommes des cavernes et les villes préindustrielles étaient exposés à des nuisances environnementales bien plus ravageuses que les citadins des métropoles modernes. La pollution et les catastrophes naturelles font plus de victimes dans les pays faiblement industrialisés que dans les nations développées. Enfin, les secondes sont mieux armées que les premières pour affronter le changement climatique. Il serait immoral et contreproductif de renoncer à l'expansion de l'industrialisme. On trahirait les peuples enfermés dans les fléaux écologiques prémodernes en éloignant l'humanité des solutions aux nouveaux défis. (…) La technologie provient toujours de ce que le philosophe Jacques Ellul appelait avec dédain la «passion de l'efficacité». Elle a pour objet d'augmenter notre puissance. La question est de savoir si cette quête de puissance est bienveillante ou non. L'écologie politique l'envisage avec pessimisme. Hans Jonas écrivait que la véritable menace que porte la technologie «ne réside pas tant dans ses moyens de destruction que dans son paisible usage quotidien». On accuse la technique d'augmenter les penchants destructeurs de l'homme. Les tragédies du XXe siècle et l'attention accordée aux nouveaux risques ont renforcé le prestige de cette lecture, quitte encore à sombrer dans la fable du bon sauvage. Pourtant, les travaux de Lawrence Keeley montrent que les guerres préhistoriques étaient plus fréquentes et meurtrières que les conflits modernes. Les Hutus n'ont guère eu besoin de la haute technologie pour décimer les Tutsis. Si l'on revient à l'environnement, les outils rudimentaires des chasseurs-cueilleurs ont suffi à conduire une partie de la mégafaune du Pléistocène à l'extinction tandis que leur mode de vie exigeait des infanticides et des géronticides réguliers. Bien sûr, il ne faut pas tomber dans l'excès inverse, qui voit dans le progrès technique la condition suffisante du progrès moral, en oubliant la variable culturelle. Mais en l'occurrence, et en dépit des nouveaux risques, le bilan sécuritaire de la modernité est positif, comme en témoigne notre succès évolutif. Il n'appartient qu'à nous de faire en sorte qu'il le demeure en usant de notre puissance pour servir notre espèce et non l'asservir. (…) Déjà au XVIIe siècle, l'humaniste Hugo Grotius constatait que le fondement du commerce mondial résidait dans l'inégale répartition géographique des ressources et des terres fertiles ainsi que l'incapacité des nations à subvenir seules à leurs besoins. En s'inscrivant à contre-courant de la mondialisation, localisme et décroissance constituent un profond désintérêt pour le sort de l'humanité. Des études suggèrent que seul un tiers de l'humanité pourrait se nourrir dans un monde localiste. Faut-il tuer les autres ? Lorsque les écologistes pourfendent le productivisme, veulent diminuer les rendements agricoles, préfèrent les sources d'énergie intermittentes aux énergies abondantes, on peut se demander si l'hécatombe humanitaire n'est pas délibérément recherchée. D'autant que les vertus écologiques de ces propositions sont surestimées. Toutes choses égales par ailleurs, une agriculture aux rendements faibles, c'est plus de déforestation. Le localisme néglige le fait que le transport contribue, en proportion, peu aux pollutions, contrairement à la phase de production. C'est pourquoi il est parfois moins polluant de se procurer une marchandise produite par un industriel étranger qui, pour des raisons géographiques, climatiques, techniques, logistiques ou par le jeu des économies d'échelle, parvient à utiliser moins de ressources pour produire une unité de richesses qu'un producteur local aux méthodes inefficientes. Si chaque ville française produisait sa nourriture localement, le gaspillage exploserait. Enfin, un effondrement du commerce mondial appauvrirait l'humanité, ainsi qu'on l'a vu avec la Covid, ce qui amputerait ses capacités à investir dans des technologies propres, mais coûteuses. Pour verdir notre monde sans renoncer à améliorer le sort de l'humanité, il serait plus vertueux que les pays riches investissent dans la modernisation de leur appareil productif ainsi que dans celui des pays du Sud. (…) L'écologie profonde personnifie la nature sauvage en la plaçant au-dessus de l'homme tandis que l'écologie intégrale, selon les termes du Manifeste de la nouvelle droite publié en 2000, «en appelle au dépassement de l'anthropocentrisme moderne». Certes, elle «ne gomme pas la spécificité de l'homme», mais elle lui dénie tout de même «la place exclusive que lui avaient donnée le christianisme et l'humanisme classique». Ces deux écoles ont en commun de se méfier de la souveraineté que l'homme exerce sur la nature. Cette méfiance est désormais partagée par le Pape. Preuve en est qu'il préfère dénoncer la «démesure anthropocentrique» qui définirait notre époque que souligner les atteintes aux droits de l'homme qui ralentissent le développement des pays du Sud. Le souverain pontife propose d'ailleurs de ralentir le développement, voire d'y renoncer. Ce qui montre que l'humanisme n'est plus sa grille de lecture. Comment ne pas déceler des bribes de paganisme dans un discours qui compte parmi les pauvres notre «Terre opprimée», accuse les hommes de «piller» la nature comme si seule Gaïa était propriétaire des ressources et que nous ne serions plus légitimes à en disposer (comme le font tous les autres êtres vivants à leur humble échelle) ? Je ne parle même pas de l'image figée de la biosphère héritée de l'ère pré-darwinienne qui assimile toute transformation des écosystèmes à une destruction. François taxe enfin d'extrémisme ceux qui, dans le sillage des Lumières, placent leur confiance dans le progrès pour résoudre nos problèmes actuels ! Je vois dans cette inflexion du discours catholique le signe de l'hégémonie d'une écologie misanthrope à qui il faut donner des gages : elle ne définit plus la protection de la nature comme la sauvegarde d'un milieu hospitalier pour l'homme, mais comme la «sanctuarisation» d'un milieu dont il faut l'exclure. Pourtant, les écologistes insistent – à raison – sur le fait que l'homme appartient à la nature ! Sapiens doit visiblement se chercher d'autres alliés. (…) Depuis Platon, la philosophie politique occidentale admet que le but des sociétés réside dans l'allégement de la peine que l'homme s'inflige pour assouvir ses besoins. C'est pourquoi on préfère la Cité à l'ermitage. La réduction du labeur est une aspiration naturelle et universelle. Elle n'a pas attendu l'émergence de la question ouvrière au XIXe siècle pour se manifester. En 1516, le penseur humaniste Thomas More imaginait un monde utopique où 6 heures de travail par jour suffisent pour bien vivre. Et tandis que l'ouvrier occidental moyen devait besogner plus de 3000 heures par an pour s'acheter le niveau de vie du XIXe siècle, il peut désormais travailler 1500 heures par an, soit 4 heures par jour, pour obtenir le confort du XXIe siècle. Le progrès de l'industrie et l'ouverture du commerce permettent de faire mieux que l'utopie de More. Le libéral que je suis ne considère pas le travail comme une fin en soi. Ce n'est que le vulgaire prix à payer pour vivre, assouvir ses besoins et servir ses semblables. Le but du progrès est de réduire ce prix pour tendre vers la perfection (même si nous ne l'atteindrons jamais) que décrivait l'économiste Frédéric Bastiat en son temps : un effort nul pour un gain infini. Ces idéaux ont longtemps été consensuels. Mais le comble est de voir désormais la gauche radicale, naguère favorable au «droit à la paresse», plaider pour assigner l'humanité à la malédiction de Sisyphe : un effort infini pour un gain nul. C'est ainsi qu'il faut interpréter les propositions d'un Nicolas Hulot ou d'un Dominique Bourg. Ce dernier veut reconduire un tiers de la population dans les champs, avec pour seule aide «l'énergie musculaire et animale». Ces délires réactionnaires seraient amusants s'ils n'influençaient pas les responsables «modérés» : nous avons déjà entendu un ministre français plaider pour le retour aux pratiques agricoles de nos grands-parents. (…) Malthus craignait le scénario d'une production de richesses incapable de suivre une croissance démographique exponentielle. En dépit de ses erreurs, l'épouvantail de la surpopulation continue d'être agité par les écologistes, comme en témoignent les cas de Paul Ehrlich, qui envisageait la stérilisation forcée, ou de Pablo Servigne, qui suggère dans son best-seller que nous devons dès maintenant choisir qui doit naître pour ne pas avoir à choisir qui devra mourir demain. Rappelons qu'au temps de Malthus, nous étions un milliard et la misère était la norme. Aujourd'hui, nous sommes 8 milliards et la misère devient l'exception, ce qui infirme les scénarios apocalyptiques que l'on pouvait lire dans les années 70 à travers le rapport au Club de Rome. Ces progrès humanitaires s'expliquent par le fait que les hommes, loin de n'être que des ventres sur pattes, sont d'abord des ouvriers, des ingénieurs et des innovateurs. Ils créent plus qu'ils ne détruisent. Jean Bodin avait raison de souligner dès le XVIe siècle qu'il ne faut jamais craindre qu'il y ait trop de citoyens dans la mesure où il n'y a de richesse que d'hommes. Désormais, le néo-malthusianisme prétend qu'une «surpopulation» d'êtres opulents menace de rendre notre planète toxique. Le raisonnement semble a priori logique. On peut en effet se dire que, toutes choses égales par ailleurs, plus on est, plus on consomme, plus on pollue. Sauf que la variable technologique fait que les choses ne sont jamais égales par ailleurs ! Par exemple, Paris comptait 200 000 âmes en 1328, soit 10 fois moins qu'aujourd'hui. Pourtant, la pollution tuait une proportion de Parisiens plus forte au Moyen Âge qu'au XXIe siècle : une métropole équipée de l'électricité et du traitement des eaux usées bénéficie d'un environnement de meilleure qualité qu'une petite bourgade dépourvue de ces technologies. (…) Le raisonnement vaut pour le changement climatique. Entre 1979 et 2019, grâce au nucléaire et à l'efficacité énergétique, les émissions territoriales françaises de CO2 ont baissé tandis que la population française a gagné 11 millions d'habitants sur la même période et que notre production industrielle est plus élevée en 2019 qu'en 1979 en valeur absolue. Les émissions importées suivront la même trajectoire à mesure que nos partenaires commerciaux obtiendront nos technologies. Or, ainsi que le rappelait l'économiste Julian Simon, une large démographie favorise l'innovation, car elle permet une abondance de bras et de cerveaux brillants. Enfin, le jeu des économies d'échelle fait que les grandes communautés obtiennent plus aisément les technologies propres qui, parce que coûteuses, seraient inaccessibles aux petites communautés. C'est la raison pour laquelle les villes sont mieux équipées que les campagnes en infrastructures essentielles à un environnement sain, comme les réseaux d'égout ou les stations d'épuration. Pour sauver notre habitat, mieux vaut des familles nombreuses composées d'ingénieurs que des zadistes célibataires. D'ailleurs, si l'on regarde les trajectoires démographiques actuelles, la menace qui plane sur nous est plutôt le vieillissement et le déclin démographique de notre espèce. (…) Je dénonce une récurrence étrange chez les écologistes. Les mesures qu'ils proposent contreviennent toujours à la résolution des problèmes qu'ils soulignent, voire les aggravent. On ne peut pas comprendre cette dissonance si on ne la met pas en lien avec les arrière-pensées anticapitalistes de ce mouvement. Je cite dans mon ouvrage d'éminents auteurs écologistes qui redoutent le scénario d'une humanité qui parvient à se doter d'une énergie abondante, fut-elle propre, et qui présentent la pauvreté comme l'horizon souhaitable de notre espèce. Ce qui suffit à prouver leur insincérité. Si le but est de lutter contre le changement climatique en assurant à l'humanité le niveau de vie le plus élevé possible, alors, outre l'efficacité énergétique, il faut que celle-ci cesse de fermer des centrales nucléaires et se convertisse massivement à l'énergie atomique, soit la source d'énergie la plus décarbonée, fiable et efficace à grande échelle. Les centaines de milliards que les pouvoirs publics et le secteur privé des pays développés dilapident dans l'éolien et le solaire doivent être immédiatement réaffectés vers l'atome. Sans cela, toute tentative de décarboner l'électricité mondiale, d'électrifier nos usages, de synthétiser des carburants ou des engrais propres ou d'investir dans la capture du CO₂ sera inefficiente. Plutôt que de culpabiliser les pays émergents, nous devrions porter l'idéal d'une filière nucléaire ambitieuse, capable de frapper à la porte de tous les pays soucieux de se délivrer de la misère et des énergies fossiles. Il ne faut pas non plus oublier l'impératif de l'adaptation, qui montre là encore l'inanité de la post-croissance : la résistance des sociétés face aux aléas naturels augmente avec la richesse. Un Israélien ou un Néerlandais qui peut se procurer des stations pour dessaler l'eau de mer ou un système de protection côtière ultra-sophistiqué contre la montée des eaux est moins vulnérable à la sécheresse et aux inondations qu'un Malgache ou qu'un Bangladais. Une des réponses au changement climatique consiste à nous assurer que ces gains en résilience devancent l'émergence des nouveaux risques. Ce ne sont là que des premières pistes qui méritent d'être approfondies par des entrepreneurs, ingénieurs et scientifiques assez humanistes pour refuser le discours qui feint de s'inquiéter des maux du changement climatique pour assigner les hommes aux fléaux de la misère. Ferghane Azihari
Combien de dirigeants mondiaux, depuis combien de décennies ont vu et su ce qui vient, mais ont décidé qu'il était politiquement plus opportun de le garder à huis clos ? Ma génération et les générations après moi n'ont pas ce luxe. En 2050, j'aurai 56 ans. Pourtant, aujourd'hui, l'âge moyen de ce 52e Parlement est de 49 ans. OK, boomer ! Les institutions politiques actuelles se sont avérées incompétentes pour penser en dehors du court terme politique. Chloe Swarbruck
Parents have scrambled to buy air purifiers. IQAir, a Swiss company, makes purifiers that cost up to $3,000 here and are displayed in shiny showrooms. Mike Murphy, the chief executive of IQAir China, said sales had tripled in the first three months of 2013 over the same period last year. Face masks are now part of the urban dress code. Ms. Zhang laid out half a dozen masks on her dining room table and held up one with a picture of a teddy bear that fits Xiaotian. Schools are adopting emergency measures. Xiaotian's private kindergarten used to take the children on a field trip once a week, but it has canceled most of those this year. At the prestigious Beijing No. 4 High School, which has long trained Chinese leaders and their children, outdoor physical education classes are now canceled when the pollution index is high. (…) Elite schools are investing in infrastructure to keep children active. Among them are Dulwich College Beijing and the International School of Beijing, which in January completed two large white sports domes of synthetic fabric that cover athletic fields and tennis courts. The construction of the domes and an accompanying building began a year ago, to give the 1,900 students a place to exercise in both bad weather and high pollution, said Jeff Johanson, director of student activities. The project cost $5.7 million and includes hospital-grade air-filtration systems. Teachers check the hourly air ratings from the United States Embassy to determine whether children should play outside or beneath the domes. NYT
From gigantic domes that keep out pollution to face masks with fancy fiber filters, purifiers and even canned air, Chinese businesses are trying to find a way to market that most elusive commodity: clean air. An unprecedented wave of pollution throughout China (dubbed the "airpocalypse" or "airmageddon" by headline writers) has spawned an almost entirely new industry. The biggest ticket item is a huge dome that looks like a cross between the Biosphere and an overgrown wedding tent. Two of them recently went up at the International School of Beijing, one with six tennis courts, another large enough to harbor kids playing soccer and badminton and shooting hoops simultaneously Friday afternoon. The contraptions are held up with pressure from the system pumping in fresh air. Your ears pop when you go in through one of three revolving doors that maintain a tight air lock. The anti-pollution dome is the joint creation of a Shenzhen-based manufacturer of outdoor enclosures and a California company, Valencia-based UVDI, that makes air filtration and disinfection systems for hospitals, schools, museums and airports, including the new international terminal at Los Angeles International Airport. Although the technologies aren't new, this is the first time they've been put together specifically to keep out pollution, the manufacturers say. (…) Since air pollution skyrocketed in mid-January, Xiao said, orders for domes were pouring in from schools, government sports facilities and wealthy individuals who want them in their backyards. He said domes measuring more than 54,000 square feet each cost more than $1 million. (…) Because it's not possible to put a dome over all of Beijing, where air quality is the worst, people are taking matters into their own hands. Not since the 2003 epidemic of SARS have face masks been such hot sellers. Many manufacturers are reporting record sales of devices varying from high-tech neoprene masks with exhalation valves, designed for urban bicyclists, that cost up to $50 each, to cheap cloth masks (some in stripes, polka dots, paisley and some emulating animal faces). (…) In mid-January, measurements of particulate matter reached more than 1,000 micrograms per cubic meter in some parts of northeast China. Anything above 300 is considered "hazardous" and the index stops at 500. By comparison, the U.S. has seen readings of 1,000 only in areas downwind of forest fires. The U.S. Centers for Disease Control and Prevention reported last year that the average particulate matter reading from 16 airport smokers' lounges was 166.6. The Chinese government has been experimenting with various emergency measures, curtailing the use of official cars and ordering factories and construction sites to shut down. Some cities are even considering curbs on fireworks during the upcoming Chinese New Year holiday, interfering with an almost sacred tradition. In the meantime, home air filters have joined the new must-have appliances for middle class Chinese. (…) Many distributors report panic buying of air purifiers. In China, home air purifiers range from $15 gizmos that look like night lights to handsome $6,000 wood-finished models that are supplied to Zhongnanhai, the headquarters of the Chinese Communist Party and to other leadership facilities. One model is advertised as emitting vitamin C to build immunity and to prevent skin aging. In a more tongue in cheek approach to the problem, a self-promoting Chinese millionaire has been selling soda-sized cans of, you guessed it, air. (…) "I want to tell mayors, county chiefs and heads of big companies," Chen told reporters Wednesday, while giving out free cans of air on a Beijing sidewalk as a publicity stunt. "Don't just chase GDP growth, don't chase the biggest profits at the expense of our children and grandchildren. » LA Times
Plus la guerre froide s'éloigne, plus le nombre de conflits diminue. (…) il n'y a eu ainsi en 2010 que 15 conflits d'ampleur significative, tous internes. (…)  Grosso modo, le nombre de conflits d'importance a diminué de 60% depuis la fin de la guerre froide (…) outre le fait que les guerres sont plutôt moins meurtrières, en moyenne, qu'elles ne l'étaient jusque dans les années 1960, cette réduction trouve sa source essentiellement dans la diminution spectaculaire du nombre de guerres civiles. La fin des conflits indirects entre l'Est et l'Ouest, l'intervention croissante des organisations internationales et des médiateurs externes, et dans une certaine mesure le développement économique et social des États, sont les causes principales de cette tendance. S'y ajoutent sans doute (…) des évolutions démographiques favorables. Bruno Tertrais
Imaginez que [Fukushima] se soit produit dans un pays non-développé: le nombre de morts aurait été de 200 000. Le développement et la croissance nous protègent des catastrophes naturelles. Bruno Tertrais
Longtemps, les divinités représentèrent le lieu de cette extériorité. Les sociétés modernes ont voulu s'en affranchir: mais cette désacralisation peut nous laisser sans protection aucune face à notre violence et nous mener à la catastrophe finale. Jean-Pierre Dupuy
Nous étions installés dans le temps des catastrophes. Le monde a vécu l'événement du 11 septembre moins comme l'inscription dans le réel de quelque chose d'insensé, donc d'impossible, que comme l'irruption du possible dans l'impossible. La pire horreur devient désormais possible. Si elle est devenue possible, c'est qu'elle ne l'était pas. Et pourtant, objecte le bon sens, si elle s'est produite, c'est bien qu'elle était possible. […] C'est bien là la source de notre problème. Car s'il faut prévenir la catastrophe, on a besoin de croire en sa possibilité avant qu'elle ne se produise. Si, inversement, on réussit à la prévenir, sa non-réalisation la maintient dans le domaine de l'impossible, et les efforts de prévention en apparaissent rétrospectivement inutiles. J.-P. Dupuy (Pour un catastrophisme éclairé – Quand l'impossible est certain, 2002)
Le catastrophisme éclairé, c'est être pessimiste pour se donner les moyens d'être optimiste. Il faut regarder la catastrophe en face pour se donner une chance de l'éviter. Jean-Pierre Dupuy
On peut dire de ce type de prophétie qu'elle est auto-invalidante de la même manière que l'on parle de prophétie auto-réalisatrice. (…) S'il veut être un vrai prophète, le prophète, en annonçant l'avenir, doit donc tenir compte de l'effet de sa parole sur le comportement des gens. Il doit annoncer un avenir tel que les réactions de ses auditeurs co-produisent l'avenir en question, ou, en tout cas, ne l'empêchent pas de se réaliser. (…) En d'autres termes, le prophète prétend annoncer un futur fixe c'est-à-dire indépendant des actions des agents, un avenir destinal en somme, alors qu'il a en réalité tenu compte des réactions de son auditoire pour se caler en un avenir tel que, celui-ci une fois annoncé, les réactions des agents l'engendreront. Ce procédé fonctionne d'autant mieux que les agents ignorent qu'ils participent à un tel schème. Ils tiennent que la parole du prophète dit ce que sera l'avenir. Si le prophète s'est calé sur un point fixe, l'avenir devenu présent ne les démentira pas. Si, de plus, cet avenir est celui que le prophète voulait faire arriver, soit parce qu'il est bon soit parce qu'il évite un désastre, qui songera à soupçonner le prophète ? Il aura eu recours à un détour métaphysique pour aller dans le bon sens. Autrement dit, le prophète fait fond sur la logique de la prophétie auto-réalisatrice. Le défi que doit relever le prophète de malheur apparaît dès lors dans sa singularité : il doit résoudre en termes de prophétie auto-réalisatrice un problème dont la nature est celui d'une prophétie auto-invalidante. C'est l'objectif que je me suis fixé dès mon livre de 2002 sur le « catastrophisme éclairé » et c'est en ce point que je me suis écarté tant de Jonas que d'Anders, lesquels en sont restés au stade de la prophétie auto-invalidante, celle qui rend le prophète ridicule mais fier d'avoir sauvegardé la vie. (…) Existe-t-il une manière de prophétiser la catastrophe par l'annonce d'un avenir nécessaire qui l'évite et qui soit tel que cette annonce induise des comportements qui favorisent cet évitement ? Peut-on vraiment rabattre la prophétie auto-invalidante sur la prophétie auto-réalisatrice ? Comme nous l'avons déjà vu, deux types opposés de rapport prophétique à l'avenir conduisent à renforcer la probabilité d'une catastrophe majeure. Celui des optimistes béats qui voient les choses s'arranger de toute façon, quoi que fassent les agents, par la grâce du principe qui veut que l'humanité se soit toujours sortie des pires situations. Et celui des catastrophistes mortifères que sont les collapsologues, qui annoncent comme certain ce qu'ils appellent l'effondrement. Dans l'un et l'autre cas, on contribue à en renforcer le caractère probable en démobilisant les agents, mais dans le second cas, cela va dans le sens de la prophétie, et dans le premier en sens opposé. (…) Prophétiser que la catastrophe est sur le point de se produire, c'est contribuer à la faire advenir. La passer sous silence ou en minimiser l'importance, à la façon des optimistes béats, conduit au même résultat. Ce qu'il faudrait, c'est combiner les deux démarches : annoncer un avenir nécessaire qui superposerait l'occurrence de la catastrophe, pour qu'elle puisse faire office de dissuasion, et sa non-occurrence, pour préserver l'espoir. (…) Il existe diverses manières de concevoir la superposition des états qui réalise l'indétermination. Je me contenterai ici de deux sortes d'exemples, tirés de mes travaux passés. D'abord le concept de near miss (ou near hit), familier aux stratèges nucléaires. Plusieurs dizaines de fois au cours de la Guerre froide, mais aussi plus tard, on est passé « à un cheveu » du déclenchement d'une guerre nucléaire. Est-ce à mettre au crédit ou au passif de la dissuasion ? Les deux réponses sont simultanément bonnes. McNamara conclut à l'inefficacité de la dissuasion. «We lucked out » (Nous avons eu du bol) dit-il à ce sujet en recourant à une expression argotique bien trempée. Cette conclusion n'est-elle pas trop hâtive ? Ne pourrait-on pas dire au contraire que c'est ce flirt répété avec le tigre nucléaire, cette série d'apocalypses qui n'ont pas eu lieu, qui nous a protégés du danger que représentent l'accoutumance, le contentement de soi, l'indifférence, le cynisme, la bêtise, la croyance béate que le pire nous sera épargné ? Ni trop près, ni trop loin du trou noir, ou bien être à la fois proche et distant de l'abîme, telle semble être la leçon à tirer de la Guerre froide. Le point fixe endogène est ici une apocalypse qui n'a pas eu lieu mais il s'en est fallu de peu. Je suis encore tout secoué que ma fille brésilienne se soit trouvée à bord du vol Air France AF 447 qui relie quotidiennement Rio de Janeiro à Paris le 31 mai 2009, soit la veille du jour où le même vol a disparu en mer. Mais si elle avait été sur ce vol une semaine, un mois, une année avant le crash, mon sentiment de peur rétroactive aurait-il été le même ? La catastrophe n'a pas eu lieu, cela arrive tous les jours, sinon c'en serait fini de l'industrie aéronautique. Le near miss, c'est autre chose. Il y a, sous-jacente à l'absence de la catastrophe, l'image de la catastrophe elle-même, l'ensemble constituant ce qu'on peut appeler une présence-absence. La nouvelle de Philippe K. Dick, « Minority Report », développe une idée contenue dans le Zadig de Voltaire et illustre d'une autre façon les paradoxes examinés ici. La police du futur y est représentée comme ce qu'on appelle aujourd'hui, alors qu'elle est mise en place dans diverses villes du monde, une police prédictive qui prévoit tous les crimes qui vont être commis dans une zone donnée. Elle intervient parfois au tout dernier moment pour empêcher le criminel d'accomplir son forfait, ce qui fait dire à ce dernier : « Mais je n'ai rien fait ! », à quoi la police répond : « Mais vous alliez le faire. » L'un des policiers, plus tourné vers la métaphysique que les autres, a ce mot : « Ce n'est pas l'avenir si on l'empêche de se produire ! ». Mais c'est sur le titre de la nouvelle que je veux insister ici. L'« avis minoritaire » se réfère à cette pratique à laquelle ont recours nombre d'institutions importantes de par le monde, par exemple la Cour Suprême des États-Unis ou le Conseil d'État français, qui consiste, lorsqu'elles rendent un avis qui ne fait pas l'unanimité, à inclure, à côté de l'avis majoritaire qui devient de ce fait l'avis de la Cour ou du Conseil, l'avis de la minorité. Dans la nouvelle de Dick, la prophétie est faite par un trio de Parques nommées Precogs (pour Pre-cognition). Trois est un nombre très intéressant car, ou bien les trois Parques sont d'accord, ou bien c'est deux contre une. La minorité, s'il y en a une, ne contient qu'un élément. L'avis de celui-ci apparaît en supplément de l'avis rendu, qu'il contredit tout en en faisant partie. Voilà à quoi devrait ressembler la prophétie face à une catastrophe anticipée mais dont la date est inconnue : le malheur ne devrait y figurer qu'en filigrane d'une annonce de bonheur, ce bonheur consistant en l'évitement du malheur. On pourrait dire que le bonheur contient le malheur tout en étant son contraire, en prenant le verbe « contenir » dans son double sens d'avoir en soi et de faire barrage à. Jean-Pierre Dupuy
Nous vivons à la fois dans lehttp://www.lekairn.fr/article-231120-jean-pierre-dupuy/ meilleur et le pire des mondes. Les progrès de l'humanité sont réels. Nos lois sont meilleures et nous nous tuons moins les uns les autres. En même temps, nous ne voulons pas voir notre responsabilité dans les menaces et les possibilités de destruction qui pèsent sur nous. René Girard
Les événements qui se déroulent sous nos yeux sont à la fois naturels et culturels, c'est-à-dire qu'ils sont apocalyptiques. Jusqu'à présent, les textes de l'Apocalypse faisaient rire. Tout l'effort de la pensée moderne a été de séparer le culturel du naturel. La science consiste à montrer que les phénomènes culturels ne sont pas naturels et qu'on se trompe forcément si on mélange les tremblements de terre et les rumeurs de guerre, comme le fait le texte de l'Apocalypse. Mais, tout à coup, la science prend conscience que les activités de l'homme sont en train de détruire la nature. C'est la science qui revient à l'Apocalypse. René Girard
L'interprétation que Dupuy et Dumouchel donnent de notre société me paraît juste, seulement un peu trop optimiste. D'après eux, la société de consommation constitue une façon de désamorcer la rivalité mimétique, de réduire sa puissance conflictuelle. C'est vrai. S'arranger pour que les mêmes objets, les mêmes marchandises soient accessibles à tout le monde, c'est réduire les occasions de conflit et de rivalité entre les individus. Lorsque ce système devient permanent, toutefois, les individus finissent par se désintéresser de ces objets trop accessibles et identiques. Il faut du temps pour que cette « usure » se produise, mais elle se produit toujours. Parce qu'elle rend les objets trop faciles à acquérir, la société de consommation travaille à sa propre destruction. Comme tout mécanisme sacrificiel, cette société a besoin de se réinventer de temps à autre. Pour survivre, elle doit inventer des gadgets toujours nouveaux. Et la société de marché engloutit les ressources de la terre, un peu comme les

Aztèques

qui tuaient toujours plus de victimes. Tout remède sacrificiel perd son efficacité avec le temps. René Girard
Certains spécialistes avancent le chiffre de vingt mille victimes par an au moment de la conquête de Cortès. Même s'il y avait beaucoup d'exagération, le sacrifice humain n'en jouerait pas moins chez les Aztèques un rôle proprement monstrueux. Ce peuple était constamment occupé à guerroyer, non pour étendre son territoire, mais pour se procurer les victimes nécessaires aux innombrables sacrifices recensés par Bernardino de Sahagun. Les ethnologues possèdent toutes ces données depuis des siècles, depuis l'époque, en vérité, qui effectua les premiers déchiffrements de la représentation persécutrice dans le monde occidental. Mais ils ne tirent pas les mêmes conclusions dans les deux cas. Aujourd'hui moins que jamais. Ils passent le plus clair de leur temps à minimiser, sinon à justifier entièrement, chez les Aztèques, ce qu'ils condamnent à juste titre dans leur propre univers. Une fois de plus nous retrouvons les deux poids et les deux mesures qui caractérisent les sciences de l'homme dans leur traitement des sociétés historiques et des sociétés ethnologiques. Notre impuissance à repérer dans les mythes une représentation persécutrice plus mystifiée encore que la nôtre ne tient pas seulement à la difficulté plus grande de l'entreprise, à la transfiguration plus extrême des données, elle relève "modernes sont surtout obsédés par le mépris et ils s'efforcent de présenter ces univers disparus sous les couleurs les plus favorables. (…) Les ethnologues décrivent avec gourmandise le sort enviable de ces victimes. Pendant la période qui précède leur sacrifice, elles jouissent de privilèges extraordinaires et c'est sereinement, peut-être même joyeusement, qu'elles s'avancent vers la mort. Jacques Soustelle, entre autres, recommande à ses lecteurs de ne pas interpréter ces boucheries religieuses à la lumière de nos concepts. L'affreux péché d'ethnocentrisme nous guette et, quoi que fassent les sociétés exotiques, il faut se garder du moindre jugement négatif. Si louable que soit le souci de « réhabiliter » des mondes méconnus, il faut y mettre du discernement. Les excès actuels rivalisent de ridicule avec l'enflure orgueilleuse de naguère, mais en sens contraire. Au fond, c'est toujours la même condescendance : nous n'appliquons pas à ces sociétés les critères que nous appliquons à nous-mêmes, mais à la suite, cette fois, d'une inversion démagogique bien caractéristique de notre fin de siècle. Ou bien nos sources ne valent rien et nous n'avons plus qu'à nous taire : nous ne saurons jamais rien de certain sur les Aztèques, ou bien nos sources valent quelque chose, et l'honnêteté oblige à conclure que la religion de ce peuple n'a pas usurpé sa place au musée planétaire de l'horreur humaine. Le zèle antiethnocentrique s'égare quand il justifie les orgies sanglantes de l'image visiblement trompeuse qu'elles donnent d'elles-mêmes. Bien que pénétré d'idéologie sacrificielle, le mythe atroce et magnifique de Teotihuacan porte sourdement témoignage contre cette vision mystificatrice. Si quelque chose humanise ce texte, ce n'est pas la fausse idylle des victimes et des bourreaux qu'épousent fâcheusement le néo-rousseauisme et le néo-nietzschéisme de nos deux après-guerres, c'est ce qui s'oppose à cette hypocrite vision, sans aller jusqu'à la contredire ouvertement, ce sont les hésitations que j'ai notées face aux fausses évidences qui les entourent. René Girard
Cargo cult: any of the religious movements chiefly, but not solely, in Melanesia that exhibit belief in the imminence of a new age of blessing, to be initiated by the arrival of a special "cargo" of goods from supernatural sources—based on the observation by local residents of the delivery of supplies to colonial officials. Tribal divinities, culture heroes, or ancestors may be expected to return with the cargo, or the goods may be expected to come through foreigners, who are sometimes accused of having intercepted material goods intended for the native peoples. If the cargo is expected by ship or plane, symbolic wharves or landing strips and warehouses are sometimes built in preparation, and traditional material resources are abandoned—gardening ceases, and pigs and foodstocks are destroyed. Former customs may be revived or current practices drastically changed, and new social organizations, sometimes imitative of the colonial police or armed forces, initiated. Encyclopaedia Britannica
Pur produit des sociétés dans lesquelles les élites ignorent que les processus culturels précèdent le succès, le Culte du Cargo, qui consiste à investir dans une infrastructure dont est dotée une société prospère en espérant que cette acquisition produise les mêmes effets pour soi, fut l'un des moteurs des emprunts toxiques des collectivités locales. L'expression a été popularisée lors de la seconde guerre mondiale, quand elle s'est exprimée par de fausses infrastructures créées par les insulaires et destinées à attirer les cargos.(…) Les collectivités ont développé une addiction à la dépense et, comme les ménages victimes plus ou moins conscientes des subprimes, elles ont facilement trouvé un dealer pour leur répondre. Les causes en sont assez évidentes : multiplication des élus locaux n'ayant pas toujours de compétences techniques et encore moins financières, peu ou pas formés, tenus parfois par leur administration devenue maîtresse des lieux, et engagés dans une concurrence à la visibilité entre la ville, l'agglomération, le département à qui voudra montrer qu'il construit ou qu'il anime plus et mieux que l'autre, dans une relation finalement assez féodale. (…) Il serait sans doute erroné de porter l'opprobre sur les élus locaux ou même sur les banques, car il s'agit là de la manifestation d'une tendance de fond très profonde et très simple qui a à faire avec le désir mimétique et le Culte du Cargo. Ce dernier fut particulièrement évident en Océanie pendant la seconde guerre mondiale, où des habitants des îles observant une corrélation entre l'appel du radio et l'arrivée d'un cargo de vivres, ou bien entre l'existence d'une piste et l'arrivée d'avions, se mirent à construire un culte fait de simulacre de radio et de fausses pistes d'atterrissage, espérant ainsi que l'existence de moyens ferait venir l'objet désiré. Il s'agit d'un phénomène général, comme par exemple en informatique lorsque l'on recopie une procédure que l'on ne comprend pas dans son propre programme, en espérant qu'elle y produise le même effet que dans son programme d'origine. (…) Bien que paradoxale, l'addiction à la dette est synchrone avec les difficultés financières et correspond peut-être inconsciemment à l'instinct du joueur à se "refaire". Ce qui est toutefois plus grave est, d'une part, l'hallucination collective qui permet le phénomène de Culte du Cargo, mais aussi l'absence totale de contre-pouvoir à cette pensée devenue unique, voire magique. Le Culte du Cargo aggrave toujours la situation. La raison est aussi simple que diabolique : les prêtres du Culte du Cargo dépensent pour acheter des infrastructures similaires à ce qu'ils ont vu ailleurs dans l'espoir d'attirer la fortune sur leur tribu. Malheureusement, dans le même temps, les "esprits" qui restaient dans la tribu se sont enfuis ou se taisent devant la pression de la foule en attente de miracle. Alors, les élites, qui ignorent totalement que derrière l'apparent résultat se cachent des processus culturels complexes qu'ils ne comprennent pas, se dotent d'un faux aéroport ou d'une fausse radio et dilapident ainsi, en pure perte, leurs dernières ressources. Il serait injuste de penser que ce phénomène ne concerne que des populations peu avancées. En 1974, Richard Feynman dénonça la "Cargo Cult Science" lors d'un discours à Caltech. Les collectivités confrontées à une concurrence pour la population organisent agendas et ateliers (en fait des brainstormings) pour évoquer les raisons de leurs handicaps par rapport à d'autres. Il suit généralement une liste de solutions précédées de "Il faut" : de la Recherche, des Jeunes, des Cadres, une communauté homosexuelle, une patinoire, une piscine, le TGV, un festival, une équipe sportive onéreuse, son gymnase…Tout cela est peut-être vrai, mais cela revient à confondre les effets avec les processus requis pour les obtenir. Comme nul ne comprend les processus culturels qui ont conduit à ce qu'une collectivité réussisse, il est plus facile de croire que boire le café de George Clooney vous apportera le même succès. Rien de nouveau ici : la publicité et ses 700 milliards de dollars de budget mondial annuel manipule cela depuis le début de la société de consommation. Routes menant à des plateformes logistiques ou des zones industrielles jamais construites, bureaux vides, duplication des infrastructures (piscines, technopoles, pépinières…) à quelques mètres les unes des autres, le Culte du Cargo nous coûte cher : il faut que cela se voit, même si cela ne sert à rien. Malheureusement, les vraies actions de création des processus culturels et sociaux ne se voient généralement pas aussi bien qu'un beau bâtiment tout neuf. (…) Ainsi, les pôles de compétitivité marchent d'autant mieux qu'ils viennent seulement labelliser un système culturel déjà préexistant. Lorsqu'ils sont des créations dans l'urgence, en hydroponique, par la volonté rituelle de reproduire, leurs effets relèvent de l'espoir, non d'une stratégie. (…) Ainsi, la tentation française de copier les mesures allemandes qui ont conduit au succès, sans que les dirigeants français aient vraiment compris pourquoi, mais en espérant les mêmes bénéfices, peut être considérée comme une expression du Culte du Cargo. C'est en effet faire fi des processus culturels engagés depuis des décennies en Allemagne et qui ont conduit à une culture de la négociation sociale et à des syndicats représentatifs. (…) Contrairement à ce que veulent faire croire les prêtres du Culte du Cargo, les danses de la pluie ne marchent pas, il faut réfléchir. Luc Brunet
Je crois qu'il y a  quelque chose qui se passe. Il y a quelque chose qui est en train de changer et cela va changer à nouveau. Je ne pense pas que ce soit un canular, je pense qu'il y a probablement une différence. Mais je ne sais pas si c'est à cause de l'homme. (…) Je ne veux pas donner des trillions et des trillions de dollars. Je ne veux pas perdre des millions et des millions d'emplois. Je ne veux pas qu'on y perde au change. (…) Et on ne sait pas si ça se serait passé avec ou sans l'homme. On ne sait pas. (…) Il y a des scientifiques qui ne sont pas d'accord avec ça. (…) Je ne nie pas le changement climatique. Mais cela pourrait très bien repartir dans l'autre sens. Vous savez, on parle de plus de millions d'années. Il y en a qui disent que nous avons eu des ouragans qui étaient bien pires que ce que nous venons d'avoir avec Michael. (…) Vous savez, les scientifiques aussi ont leurs visées politiques. Président Trump (15.10.2018)
La « fin du monde » contre la « fin du mois ». L'expression, supposée avoir été employée initialement par un gilet jaune, a fait florès : comment concilier les impératifs de pouvoir d'achat à court terme, et les exigences écologiques vitales pour la survie de la planète ? La formule a même été reprise ce mardi par Emmanuel Macron, dans son discours sur la transition énergétique. « On l'entend, le président, le gouvernement, a-t-il expliqué, en paraphrasant les requêtes supposées des contestataires. Ils évoquent la fin du monde, nous on parle de la fin du mois. Nous allons traiter les deux, et nous devons traiter les deux. » (…) C'est dire que l'expression – si elle a pu être reprise ponctuellement par tel ou tel manifestant – émane en fait de nos élites boboïsantes. Elle correspond bien à la vision méprisante qu'elles ont d'une France périphérique aux idées étriquées, obsédée par le « pognon » indifférente au bien commun, là où nos dirigeants auraient la capacité à embrasser plus large, et à voir plus loin. Or, la réalité est toute autre : quand on prend le temps de parler à ces gilets jaunes, on constate qu'ils sont parfaitement conscients de la problématique écologique. Parmi leurs revendications, dévoilées ces derniers jours, il y a ainsi l'interdiction immédiate du glyphosate, cancérogène probable que le gouvernement a en revanche autorisé pour encore au moins trois ans. Mais, s'ils se sentent concernés par l'avenir de la planète, les représentants de cette France rurale et périurbaine refusent de payer pour les turpitudes d'un système économique qui détruit l'environnement. D'autant que c'est ce même système qui est à l'origine de la désindustrialisation et de la dévitalisation des territoires, dont ils subissent depuis trente ans les conséquences en première ligne. A l'inverse, nos grandes consciences donneuses de leçon sont bien souvent les principaux bénéficiaires de cette économie mondialisée. Qui est égoïste, et qui est altruiste ? Parmi les doléances des gilets jaunes, on trouve d'ailleurs aussi nombre de revendications politiques : comptabilisation du vote blanc, présence obligatoire des députés à l'Assemblée nationale, promulgation des lois par les citoyens eux-mêmes. Des revendications qu'on peut bien moquer, ou balayer d'un revers de manche en estimant qu'elles ne sont pas de leur ressort. Elles n'en témoignent pas moins d'un souci du politique, au sens le plus noble du terme, celui du devenir de la Cité. A l'inverse, en se repaissant d'une figure rhétorique caricaturale, reprise comme un « gimmick » de communication, nos élites démontrent leur goût pour le paraître et la superficialité, ainsi que la facilité avec laquelle elles s'entichent de clichés qui ne font que conforter leurs préjugés. Alors, qui est ouvert, et qui est étriqué ? Qui voit loin, et qui est replié sur lui-même ? Qui pense à ses fins de mois, et qui, à la fin du monde ? Benjamin Masse-Stamberger
In the South Seas there is a Cargo Cult of people. During the war they saw airplanes land with lots of good materials, and they want the same thing to happen now. So they've arranged to make things like runways, to put fires along the sides of the runways, to make a wooden hut for a man to sit in, with two wooden pieces on his head like headphones and bars of bamboo sticking out like antennas—he's the controller—and they wait for the airplanes to land. They're doing everything right. The form is perfect. It looks exactly the way it looked before. But it doesn't work. No airplanes land. So I call these things Cargo Cult Science, because they follow all the apparent precepts and forms of scientific investigation, but they're missing something essential, because the planes don't land. Now it behooves me, of course, to tell you what they're missing. But it would he just about as difficult to explain to the South Sea Islanders how they have to arrange things so that they get some wealth in their system. It is not something simple like telling them how to improve the shapes of the earphones. But there is one feature I notice that is generally missing in Cargo Cult Science. That is the idea that we all hope you have learned in studying science in school (…) It's a kind of scientific integrity, a principle of scientific thought that corresponds to a kind of utter honesty—a kind of leaning over backwards. For example, if you're doing an experiment, you should report everything that you think might make it invalid—not only what you think is right about it: other causes that could possibly explain your results; and things you thought of that you've eliminated by some other experiment, and how they worked—to make sure the other fellow can tell they have been eliminated. Details that could throw doubt on your interpretation must be given, if you know them. You must do the best you can—if you know anything at all wrong, or possibly wrong—to explain it. If you make a theory, for example, and advertise it, or put it out, then you must also put down all the facts that disagree with it, as well as those that agree with it. There is also a more subtle problem. When you have put a lot of ideas together to make an elaborate theory, you want to make sure, when explaining what it fits, that those things it fits are not just the things that gave you the idea for the theory; but that the finished theory makes something else come out right, in addition. In summary, the idea is to try to give all of the information to help others to judge the value of your contribution; not just the information that leads to judgment in one particular direction or another. The first principle is that you must not fool yourself—and you are the easiest person to fool. So you have to be very careful about that. After you've not fooled yourself, it's easy not to fool other scientists… You just have to be honest in a conventional way after that. Richard Feynman (1974)
If it's consensus, it isn't science. If it's science, it isn't consensus. Period. Michael Crichton (2013)
Humans exert a growing, but physically small, warming influence on the climate. The results from many different climate models disagree with, or even contradict, each other and many kinds of observations. In short, the science is insufficient to make useful predictions about how the climate will change over the coming decades, much less what effect our actions will have on it. Dr. Steven E. Koonin
'The Science," we're told, is settled. How many times have you heard it? Humans have broken the earth's climate. Temperatures are rising, sea level is surging, ice is disappearing, and heat waves, storms, droughts, floods, and wildfires are an ever-worsening scourge on the world. Greenhouse gas emissions are causing all of this. And unless they're eliminated promptly by radical changes to society and its energy systems, "The Science" says Earth is doomed.  Yes, it's true that the globe is warming, and that humans are exerting a warming influence upon it. But beyond that — to paraphrase the classic movie "The Princess Bride" — "I do not think 'The Science' says what you think it says."  For example, both research literature and government reports state clearly that heat waves in the US are now no more common than they were in 1900, and that the warmest temperatures in the US have not risen in the past fifty years. When I tell people this, most are incredulous. Some gasp. And some get downright hostile.  These are almost certainly not the only climate facts you haven't heard. Here are three more that might surprise you, drawn from recent published research or assessments of climate science published by the US government and the UN:   Humans have had no detectable impact on hurricanes over the past century. Greenland's ice sheet isn't shrinking any more rapidly today than it was 80 years ago. The global area burned by wildfires has declined more than 25 percent since 2003 and 2020 was one of the lowest years on record.  Why haven't you heard these facts before?  Most of the disconnect comes from the long game of telephone that starts with the research literature and runs through the assessment reports to the summaries of the assessment reports and on to the media coverage. There are abundant opportunities to get things wrong — both accidentally and on purpose — as the information goes through filter after filter to be packaged for various audiences. The public gets their climate information almost exclusively from the media; very few people actually read the assessment summaries, let alone the reports and research papers themselves. That's perfectly understandable — the data and analyses are nearly impenetrable for non-experts, and the writing is not exactly gripping. As a result, most people don't get the whole story. Policymakers, too, have to rely on information that's been put through several different wringers by the time it gets to them. Because most government officials are not themselves scientists, it's up to scientists to make sure that those who make key policy decisions get an accurate, complete and transparent picture of what's known (and unknown) about the changing climate, one undistorted by "agenda" or "narrative." Unfortunately, getting that story straight isn't as easy as it sounds. (…) the public discussions of climate and energy [have become] increasingly distant from the science. Phrases like "climate emergency," "climate crisis" and "climate disaster" are now routinely bandied about to support sweeping policy proposals to "fight climate change" with government interventions and subsidies. Not surprisingly, the Biden administration has made climate and energy a major priority infused throughout the government, with the appointment of John Kerry as climate envoy and proposed spending of almost $2 trillion dollars to fight this "existential threat to humanity." Trillion-dollar decisions about reducing human influences on the climate should be informed by an accurate understanding of scientific certainties and uncertainties. My late Nobel-prizewinning Caltech colleague Richard Feynman was one of the greatest physicists of the 20th century. At the 1974 Caltech commencement, he gave a now famous address titled "Cargo Cult Science" about the rigor scientists must adopt to avoid fooling not only themselves. "Give all of the information to help others to judge the value of your contribution; not just the information that leads to judgment in one particular direction or another," he implored.  Much of the public portrayal of climate science ignores the great late physicist's advice. It is an effort to persuade rather than inform, and the information presented withholds either essential context or what doesn't "fit." Scientists write and too-casually review the reports, reporters uncritically repeat them, editors allow that to happen, activists and their organizations fan the fires of alarm, and experts endorse the deception by keeping silent.  As a result, the constant repetition of these and many other climate fallacies are turned into accepted truths known as "The Science." Dr. Steven E. Koonin
Physicist Steven Koonin kicks the hornet's nest right out of the gate in "Unsettled." In the book's first sentences he asserts that "the Science" about our planet's climate is anything but "settled." Mr. Koonin knows well that it is nonetheless a settled subject in the minds of most pundits and politicians and most of the population. Further proof of the public's sentiment: Earlier this year the United Nations Development Programme published the mother of all climate surveys, titled "The Peoples' Climate Vote." With more than a million respondents from 50 countries, the survey, unsurprisingly, found "64% of people said that climate change was an emergency." But science itself is not conducted by polls, regardless of how often we are urged to heed a "scientific consensus" on climate. As the science-trained novelist Michael Crichton summarized in a famous 2003 lecture at Caltech: "If it's consensus, it isn't science. If it's science, it isn't consensus. Period." Mr. Koonin says much the same in "Unsettled." The book is no polemic. It's a plea for understanding how scientists extract clarity from complexity. And, as Mr. Koonin makes clear, few areas of science are as complex and multidisciplinary as the planet's climate. (…) But Mr. Koonin is no "climate denier," to use the concocted phrase used to shut down debate. The word "denier" is of course meant to associate skeptics of climate alarmism with Holocaust deniers. (…) Mr. Koonin makes it clear, on the book's first page, that "it's true that the globe is warming, and that humans are exerting a warming influence upon it." The heart of the science debate, however, isn't about whether the globe is warmer or whether humanity contributed. The important questions are about the magnitude of civilization's contribution and the speed of changes; and, derivatively, about the urgency and scale of governmental response. (…) As Mr Koonin illustrates, tornado frequency and severity are also not trending up; nor are the number and severity of droughts. The extent of global fires has been trending significantly downward. The rate of sea-level rise has not accelerated. Global crop yields are rising, not falling. And while global atmospheric CO2 levels are obviously higher now than two centuries ago, they're not at any record planetary high—they're at a low that has only been seen once before in the past 500 million years. Mr. Koonin laments the sloppiness of those using local weather "events" to make claims about long-cycle planetary phenomena. He chastises not so much local news media as journalists with prestigious national media who should know better. (…) When it comes to the vaunted computer models, Mr. Koonin is persuasively skeptical. It's a big problem, he says, when models can't retroactively "predict" events that have already happened. And he notes that some of the "tuning" done to models so that they work better amounts to "cooking the books." (…) Since all the data that Mr. Koonin uses are available to others, he poses the obvious question: "Why haven't you heard these facts before?" (…) He points to such things as incentives to invoke alarm for fundraising purposes and official reports that "mislead by omission." Many of the primary scientific reports, he observes repeatedly, are factual. Still, "the public gets their climate information almost exclusively from the media; very few people actually read the assessment summaries." (…) But even if one remains unconvinced by his arguments, the right response is to debate the science. We'll see if that happens in a world in which politicians assert the science is settled and plan astronomical levels of spending to replace the nation's massive infrastructures with "green" alternatives. Never have so many spent so much public money on the basis of claims that are so unsettled. The prospects for a reasoned debate are not good. Mark P. Mills
La prophétie de malheur est faite pour éviter qu'elle ne se réalise; et se gausser ultérieurement d'éventuels sonneurs d'alarme en leur rappelant que le pire ne s'est pas réalisé serait le comble de l'injustice: il se peut que leur impair soit leur mérite. Hans Jonas
(Noah was tired of playing the prophet of doom and of always foretelling a catastrophe that would not occur and that no one would take seriously. One day,) he clothed himself in sackcloth and put ashes on his head. This act was only permitted to someone lamenting the loss of his dear child or his wife. Clothed in the habit of truth, acting sorrowful, he went back to the city, intent on using to his advantage the curiosity, malignity and superstition of its people. Within a short time, he had gathered around him a small crowd, and the questions began to surface. He was asked if someone was dead and who the dead person was. Noah answered them that many were dead and, much to the amusement of those who were listening, that they themselves were dead. Asked when this catastrophe had taken place, he answered: tomorrow. Seizing this moment of attention and disarray, Noah stood up to his full height and began to speak: the day after tomorrow, the flood will be something that will have been. And when the flood will have been, all that is will never have existed. When the flood will have carried away all that is, all that will have been, it will be too late to remember, for there will be no one left. So there will no longer be any difference between the dead and those who weep for them. If I have come before you, it is to reverse time, it is to weep today for tomorrow's dead. The day after tomorrow, it will be too late. Upon this, he went back home, took his clothes off, removed the ashes covering his face, and went to his workshop. In the evening, a carpenter knocked on his door and said to him: let me help you build an ark, so that this may become false. Later, a roofer joined with them and said: it is raining over the mountains, let me help you, so that this may become false. Günther Anders
Si nous nous distinguons des apocalypticiens judéo-chrétiens classiques, ce n'est pas seulement parce que nous craignons la fin (qu'ils ont, eux, espérée), mais surtout parce que notre passion apocalyptique n'a pas d'autre objectif que celui d'empêcher l'apocalypse. Nous ne sommes apocalypticiens que pour avoir tort. Que pour jouir chaque jour à nouveau de la chance d'être là, ridicules mais toujours debout. Günther Anders
Quiconque tient une guerre imminente pour certaine contribue à son déclenchement, précisément par la certitude qu'il en a. Quiconque tient la paix pour certaine se conduit avec insouciance et nous mène sans le vouloir à la guerre. Seul celui qui voit le péril et ne l'oublie pas un seul instant se montre capable de se comporter rationnellement et de faire tout le possible pour l'exorciser. Karl Jaspers
To make the prospect of a catastrophe credible, one must increase the ontological force of its inscription in the future. But to do this with too much success would be to lose sight of the goal, which is precisely to raise awareness and spur action so that the catastrophe does not take place. Jean-Pierre Dupuy (The Paradox of Enlightened Doomsaying/The Jonah Paradox]
Annoncer que la catastrophe est certaine, c'est contribuer à la rendre telle. La passer sous silence ou en minimiser l'importance, à la façon des optimistes béats, conduit au même résultat. Ce qu'il faudrait, c'est combiner les deux démarches : annoncer un avenir destinal qui superposerait l'occurrence de la catastrophe, pour qu'elle puisse faire office de dissuasion, et sa non-occurrence, pour préserver l'espoir. C'est parce que la catastrophe constitue un destin détestable dont nous devons dire que nous n'en voulons pas qu'il faut garder les yeux fixés sur elle, sans jamais la perdre de vue.

Jean-Pierre Dupuy
La modernité (…) repose sur la conviction que la croissance économique n'est pas seulement possible mais absolument essentielle. Prières, bonnes actions et méditation pourraient bien être une source de consolation et d'inspiration, mais des problèmes tels que la famine, les épidémies et la guerre ne sauraient être résolus que par la croissance. Ce dogme fondamental se laisse résumer par une idée simple : « Si tu as un problème, tu as probablement besoin de plus, et pour avoir plus, il faut produire plus ! » Les responsables politiques et les économistes modernes insistent : la croissance est vitale pour trois grandes raisons. Premièrement, quand nous produisons plus, nous pouvons consommer plus, accroître notre niveau de vie et, prétendument, jouir d'une vie plus heureuse. Deuxièmement, tant que l'espèce humaine se multiplie, la croissance économique est nécessaire à seule fin de rester où nous en sommes. (…) La modernité a fait du « toujours plus » une panacée applicable à la quasi-totalité des problèmes publics et privés – du fondamentalisme religieux au mariage raté, en passant par l'autoritarisme dans le tiers-monde. (…) La croissance économique est ainsi devenue le carrefour où se rejoignent la quasi-totalité des religions, idéologies et mouvements modernes. L'Union soviétique, avec ses plans quinquennaux mégalomaniaques, n'était pas moins obsédée par la croissance que l'impitoyable requin de la finance américain. De même que chrétiens et musulmans croient tous au ciel et ne divergent que sur le moyen d'y parvenir, au cours de la guerre froide, capitalistes et communistes imaginaient créer le paradis sur terre par la croissance économique et ne se disputaient que sur la méthode exacte. (…) De fait, on n'a sans doute pas tort de parler de religion lorsqu'il s'agit de la croyance dans la croissance économique : elle prétend aujourd'hui résoudre nombre de nos problèmes éthiques, sinon la plupart. La croissance économique étant prétendument la source de toutes les bonnes choses, elle encourage les gens à enterrer leurs désaccords éthiques pour adopter la ligne d'action qui maximise la croissance à long terme. Le credo du « toujours plus » presse en conséquence les individus, les entreprises et les gouvernements de mépriser tout ce qui pourrait entraver la croissance économique : par exemple, préserver l'égalité sociale, assurer l'harmonie écologique ou honorer ses parents. En Union soviétique, les dirigeants pensaient que le communisme étatique était la voie de la croissance la plus rapide : tout ce qui se mettait en travers de la collectivisation fut donc passé au bulldozer, y compris des millions de koulaks, la liberté d'expression et la mer d'Aral. De nos jours, il est généralement admis qu'une forme de capitalisme de marché est une manière beaucoup plus efficace d'assurer la croissance à long terme : on protège donc les magnats cupides, les paysans riches et la liberté d'expression, tout en démantelant et détruisant les habitats écologiques, les structures sociales et les valeurs traditionnelles qui gênent le capitalisme de marché. (….) Le capitalisme de marché a une réponse sans appel. Si la croissance économique exige que nous relâchions les liens familiaux, encouragions les gens à vivre loin de leurs parents, et importions des aides de l'autre bout du monde, ainsi soit-il. Cette réponse implique cependant un jugement éthique, plutôt qu'un énoncé factuel. Lorsque certains se spécialisent dans les logiciels quand d'autres consacrent leur temps à soigner les aînés, on peut sans nul doute produire plus de logiciels et assurer aux personnes âgées des soins plus professionnels. Mais la croissance économique est-elle plus importante que les liens familiaux ? En se permettant de porter des jugements éthiques de ce type, le capitalisme de marché a franchi la frontière qui séparait le champ de la science de celui de la religion. L'étiquette de « religion » déplairait probablement à la plupart des capitalistes, mais, pour ce qui est des religions, le capitalisme peut au moins tenir la tête haute. À la différence des autres religions qui nous promettent un gâteau au ciel, le capitalisme promet des miracles ici, sur terre… et parfois même en accomplit. Le capitalisme mérite même des lauriers pour avoir réduit la violence humaine et accru la tolérance et la coopération. (…) La croissance économique peut-elle cependant se poursuivre éternellement ? L'économie ne finira-t-elle pas par être à court de ressources et par s'arrêter ? Pour assurer une croissance perpétuelle, il nous faut découvrir un stock de ressources inépuisable. Une solution consiste à explorer et à conquérir de nouvelles terres. Des siècles durant, la croissance de l'économie européenne et l'expansion du système capitaliste se sont largement nourries de conquêtes impériales outre-mer. Or le nombre d'îles et de continents est limité. Certains entrepreneurs espèrent finalement explorer et conquérir de nouvelles planètes, voire de nouvelles galaxies, mais, en attendant, l'économie moderne doit trouver une meilleure méthode pour poursuivre son expansion. (…) La véritable némésis de l'économie moderne est l'effondrement écologique. Le progrès scientifique et la croissance économique prennent place dans une biosphère fragile et, à mesure qu'ils prennent de l'ampleur, les ondes de choc déstabilisent l'écologie. Pour assurer à chaque personne dans le monde le même niveau de vie que dans la société d'abondance américaine, il faudrait quelques planètes de plus ; or nous n'avons que celle-ci. (…) Une débâcle écologique provoquera une ruine économique, des troubles politiques et une chute du niveau de vie. Elle pourrait bien menacer l'existence même de la civilisation humaine. (…) Nous pourrions amoindrir le danger en ralentissant le rythme du progrès et de la croissance. Si cette année les investisseurs attendent un retour de 6 % sur leurs portefeuilles, dans dix ans ils pourraient apprendre à se satisfaire de 3 %, puis de 1 % dans vingt ans ; dans trente ans, l'économie cessera de croître et nous nous contenterons de ce que nous avons déjà. Le credo de la croissance s'oppose pourtant fermement à cette idée hérétique et il suggère plutôt d'aller encore plus vite. Si nos découvertes déstabilisent l'écosystème et menacent l'humanité, il nous faut découvrir quelque chose qui nous protège. Si la couche d'ozone s'amenuise et nous expose au cancer de la peau, à nous d'inventer un meilleur écran solaire et de meilleurs traitements contre le cancer, favorisant ainsi l'essor de nouvelles usines de crèmes solaires et de centres anticancéreux. Si les nouvelles industries polluent l'atmosphère et les océans, provoquant un réchauffement général et des extinctions massives, il nous appartient de construire des mondes virtuels et des sanctuaires high-tech qui nous offriront toutes les bonnes choses de la vie, même si la planète devient aussi chaude, morne et polluée que l'enfer. (…) L'humanité se trouve coincée dans une course double. D'un côté, nous nous sentons obligés d'accélérer le rythme du progrès scientifique et de la croissance économique. Un milliard de Chinois et un milliard d'Indiens aspirent au niveau de vie de la classe moyenne américaine, et ils ne voient aucune raison de brider leurs rêves quand les Américains ne sont pas disposés à renoncer à leurs 4×4 et à leurs centres commerciaux. D'un autre côté, nous devons garder au moins une longueur d'avance sur l'Armageddon écologique. Mener de front cette double course devient chaque année plus difficile, parce que chaque pas qui rapproche l'habitant des bidonvilles de Delhi du rêve américain rapproche aussi la planète du gouffre. (…) Qui sait si la science sera toujours capable de sauver simultanément l'économie du gel et l'écologie du point d'ébullition. Et puisque le rythme continue de s'accélérer, les marges d'erreur ne cessent de se rétrécir. Si, précédemment, il suffisait d'une invention stupéfiante une fois par siècle, nous avons aujourd'hui besoin d'un miracle tous les deux ans. (…) Paradoxalement, le pouvoir même de la science peut accroître ledanger, en rendant les plus riches complaisants. (…) Trop de politiciens et d'électeurs pensent que, tant que l'économie poursuit sa croissance, les ingénieurs et les hommes de science pourront toujours la sauver du jugement dernier. S'agissant du changement climatique, beaucoup de défenseurs de la croissance ne se contentent pas d'espérer des miracles : ils tiennent pour acquis que les miracles se produiront. (…) Même si les choses tournent au pire, et que la science ne peut empêcher le déluge, les ingénieurs pourraient encore construire une arche de Noé high-tech pour la caste supérieure, et laisser les milliards d'autres hommes se noyer. La croyance en cette arche high-tech est actuellement une des plus grosses menaces sur l'avenir de l'humanité et de tout l'écosystème. (…) Et les plus pauvres ? Pourquoi ne protestent-ils pas ? Si le déluge survient un jour, ils en supporteront le coût, mais ils seront aussi les premiers à faire les frais de la stagnation économique. Dans un monde capitaliste, leur vie s'améliore uniquement quand l'économie croît. Aussi est-il peu probable qu'ils soutiennent des mesures pour réduire les menaces écologiques futures fondées sur le ralentissement de la croissance économique actuelle. Protéger l'environnement est une très belle idée, mais ceux qui n'arrivent pas à payer leur loyer s'inquiètent bien davantage de leur découvert bancaire que de la fonte de la calotte glaciaire. (…) Même si nous continuons de courir assez vite et parvenons à parer à la foi l'effondrement économique et la débâcle écologique, la course elle-même crée d'immenses problèmes. (…) Sur un plan collectif, les gouvernements, les entreprises et les organismes sont encouragés à mesurer leur succès en termes de croissance et à craindre l'équilibre comme le diable. Sur le plan individuel, nous sommes constamment poussés à accroître nos revenus et notre niveau de vie. Même si vous êtes satisfait de votre situation actuelle, vous devez rechercher toujours plus. Le luxe d'hier devient nécessité d'aujourd'hui. (…) Le deal moderne nous promettait un pouvoir sans précédent. La promesse a été tenue. Mais à quel prix ? Yuval Harari
Les outils dont l'homme dispose aujourd'hui sont infiniment plus puissants que tous ceux qu'il a connus auparavant. Ces outils, l'homme est parfaitement capable de les utiliser de façon égoïste et rivalitaire. Ce qui m'intéresse, c'est cet accroissement de la puissance de l'homme sur le réel. Les statistiques de production et de consommation d'énergie sont en progrès constant, et la rapidité d'augmentation de ce progrès augmente elle aussi constamment, dessinant une courbe parfaite, presque verticale. C'est pour moi une immense source d'effroi tant les hommes, essentiellement, restent des rivaux, rivalisant pour le même objet ou la même gloire – ce qui est la même chose. Nous sommes arrivés à un stade où le milieu humain est menacé par la puissance même de l'homme. Il s'agit avant tout de la menace écologique, des armes et des manipulations biologiques. (…) Loin d'être absurdes ou impensables, les grands textes eschatologiques – ceux des Évangiles synoptiques, en particulier Matthieu, chapitre 24, et Marc, chapitre 13 –, sont d'une actualité saisissante. La science moderne a séparé la nature et la culture, alors qu'on avait défini la religion comme le tonnerre de Zeus, etc. Dans les textes apocalyptiques, ce qui frappe, c'est ce mélange de nature et de culture ; les guerres et rumeurs de guerre, le fracas de la mer et des flots ne forment qu'un. Or si nous regardons ce qui se passe autour de nous, si nous nous interrogeons sur l'action des hommes sur le réel, le réchauffement global, la montée du niveau la mer, nous nous retrouvons face à un univers où les choses naturelles et culturelles sont confondues. La science elle-même le reconnaît. J'ai voulu radicaliser cet aspect apocalyptique. Je pense que les gens sont trop rassurés. Ils se rassurent eux-mêmes. L'homme est comme un insecte qui fait son nid ; il fait confiance à l'environnement. La créature fait toujours confiance à l'environnement… Le rationalisme issu des Lumières continue aussi à rassurer. (…) La Chine a favorisé le développement de l'automobile. Cette priorité dénote une rivalité avec les Américains sur un terrain très redoutable ; la pollution dans la région de Shanghai est effrayante. Mais avoir autant d'automobiles que l'Amérique est un but dont il est, semble-t-il, impossible de priver les hommes. L'Occident conseille aux pays en voie de développement et aux pays les plus peuplés du globe, comme la Chine et l'Inde, de ne pas faire la même chose que lui ! Il y a là quelque chose de paradoxal et de scandaleux pour ceux auxquels ces conseils s'adressent. Aux États-Unis, les politiciens vous diront tous qu'ils sont d'accord pour prendre des mesures écologiques si elles ne touchent pas les accroissements de production. Or, s'il y a une partie du monde qui n'a pas besoin d'accroissement de production, c'est bien les États-Unis ; le profit individuel et les rivalités, qui ne sont pas immédiatement guerrières et destructrices mais qui le seront peut-être indirectement, et de façon plus massive encore, sont sacrées ; pas question de les toucher. Que faut-il pour qu'elles cessent d'être sacrées ? Il n'est pas certain que la situation actuelle, notamment la disparition croissante des espèces, soit menaçante pour la vie sur la planète, mais il y a une possibilité très forte qu'elle le soit. Ne pas prendre de précaution, alors qu'on est dans le doute, est dément. Des mesures écologiques sérieuses impliqueraient des diminutions de production. Mais ce raisonnement ne joue pas dans l'écologie, l'humanité étant follement attachée à ce type de concurrence qui structure en particulier la réalité occidentale, les habitudes de vie, de goût de l'humanité dite « développée ». René Girard
Attention: un culte du cargo peut en cacher un autre !
A l'heure où au nom d'une prétendue science hautement selective et de plus en plus douteuse …
Et où après avoir ruiné, à coup de délocalisations et d'immigration sauvages, leurs emplois et leurs vies …
Entre deux petites virées à l'autre bout du monde et des annonces de centaines de milliards de dépenses pour reverdir nos économies …
Nos ayatollahs du climat et intermittents du jetset « de la fin du monde » font feu de tout bois contre la France ou l'Amérique « de la fin du mois » qui « fume des clopes et roule en diesel » …
Pendant que pour rattraper tant d'injustices face à l'inextricable dilemme entre environnement et emplois, nos populistes tentent de relancer encore plus fort la folle machine de la croissance à tout prix …
Ou nos nouveaux prêtres du transhumanisme multiplient littéralement les promesses en l'air sur l'éventuelle colonisation de l'une ou l'autre des autres planètes de notre système solaire …
Comment ne pas repenser …
Après le feu prix Nobel de physique américain Richard Feynman …
Qui dès les années 70 nous en avait averti …
A la pseudoscience ou nouvelle pensée magique qu'est en train de devenir la science dont nos sociétés ont fait rien de moins qu'une nouvelle religion …
Qu'il avait en son temps qualifiée de « science du culte cargo » (improprement dit « culte du cargo » en français, en référence aux bateaux du même nom, alors que le mot anglais, proche du français « cargaison », fait en réalité référence aux marchandises ou aux biens matériels) …
Car ayant quitté, dans une approche non réfléchie et ritualiste, son enracinement dans l'expérience et de plus en plus tentée, sous la pression politique et médiatique, de ne garder que le nom et l'apparence de la méthode scientifique …
A la manière de ces sortes de versions modernisées des antiques danses de la pluie des habitants de certaines petites iles mélanésiennes de la seconde guerre mondiale…
Où observant une corrélation entre l'appel du radio et l'arrivée d'une cargaison de vivres et d'objets manufacturés ou entre l'existence d'une piste et l'arrivée d'avions …
Ces derniers s'étaient mis, on le sait, à construire un culte fait de simulacre de radio et de fausses pistes d'atterrissage, espérant ainsi que l'existence de moyens ferait venir les biens matériels occidentaux désirés tout en dilapidant, en pure perte, leurs propres maigres ressources ?
Mais comment ne pas voir aussi …
Avec de Jonas, Anders, Jaspers à Dupuy, nos penseurs du dilemme du prophète de malheur dont « l'impair pourrait être le mérite » …
Et notre regretté anthropologue français René Girard …
Ou plus récemment l'historien israélien Yuval Harari …
A la fois fascinés par la formidable capacité de notre monde moderne à désamorcer la puissance conflictuelle de la rivalité mimétique en rendant les mêmes marchandises accessibles à tous …
Et effrayés par la tout aussi formidable puissance des outils dont nous disposons …
Qui entre menace écologique, armes et manipulations biologiques proprement apocalyptiques …
Menacent notre propre milieu naturel avec l'entrée dans la danse, mimétisme planétaire oblige, des milliards de Chinois, Indiens ou autres jusque là laissés pour compte  …
Dans une fuite en avant que suppose notre système même puisqu'il ne vit que par l'innovation et la croissance perpétuelles …
Et qui à terme, au nom de la désormais sacro-sainte croissance mais aussi du fait de la simple accoutumance poussant comme pour les drogues à toujours plus de consommation pour conserver les mêmes effets, ne peut qu'engloutir les ressources de la terre …
A la manière de ces Aztèques qui à la veille de leur inévitable défaite devant Cortès…
Multipliaient, jusqu'à des dizaines de milliers par an, le nombre des victimes de leurs sacrifices humains ?
Obama administration scientist says climate 'emergency' is based on fallacy
'The Science," we're told, is settled. How many times have you heard it?
Humans have broken the earth's climate. Temperatures are rising, sea level is surging, ice is disappearing, and heat waves, storms, droughts, floods, and wildfires are an ever-worsening scourge on the world. Greenhouse gas emissions are causing all of this. And unless they're eliminated promptly by radical changes to society and its energy systems, "The Science" says Earth is doomed. 
Yes, it's true that the globe is warming, and that humans are exerting a warming influence upon it. But beyond that — to paraphrase the classic movie "The Princess Bride" — "I do not think 'The Science' says what you think it says."
For example, both research literature and government reports state clearly that heat waves in the US are now no more common than they were in 1900, and that the warmest temperatures in the US have not risen in the past fifty years. When I tell people this, most are incredulous. Some gasp. And some get downright hostile.
These are almost certainly not the only climate facts you haven't heard. Here are three more that might surprise you, drawn from recent published research or assessments of climate science published by the US government and the UN:
 Humans have had no detectable impact on hurricanes over the past century.
Greenland's ice sheet isn't shrinking any more rapidly today than it was 80 years ago.
The global area burned by wildfires has declined more than 25 percent since 2003 and 2020 was one of the lowest years on record.
Why haven't you heard these facts before?
Most of the disconnect comes from the long game of telephone that starts with the research literature and runs through the assessment reports to the summaries of the assessment reports and on to the media coverage. There are abundant opportunities to get things wrong — both accidentally and on purpose — as the information goes through filter after filter to be packaged for various audiences. The public gets their climate information almost exclusively from the media; very few people actually read the assessment summaries, let alone the reports and research papers themselves. That's perfectly understandable — the data and analyses are nearly impenetrable for non-experts, and the writing is not exactly gripping. As a result, most people don't get the whole story.
Policymakers, too, have to rely on information that's been put through several different wringers by the time it gets to them. Because most government officials are not themselves scientists, it's up to scientists to make sure that those who make key policy decisions get an accurate, complete and transparent picture of what's known (and unknown) about the changing climate, one undistorted by "agenda" or "narrative." Unfortunately, getting that story straight isn't as easy as it sounds.
I should know. That used to be my job.
I'm a scientist — I work to understand the world through measurements and observations, and then to communicate clearly both the excitement and the implications of that understanding. Early in my career, I had great fun doing this for esoteric phenomena in the realm of atoms and nuclei using high-performance computer modeling (which is also an important tool for much of climate science). But beginning in 2004, I spent about a decade turning those same methods to the subject of climate and its implications for energy technologies. I did this first as chief scientist for the oil company BP, where I focused on advancing renewable energy, and then as undersecretary for science in the Obama administration's Department of Energy, where I helped guide the government's investments in energy technologies and climate science. I found great satisfaction in these roles, helping to define and catalyze actions that would reduce carbon dioxide emissions, the agreed-upon imperative that would "save the planet."
But doubts began in late 2013 when I was asked by the American Physical Society to lead an update of its public statement on climate. As part of that effort, in January 2014 I convened a workshop with a specific objective: to "stress test" the state of climate science.
I came away from the APS workshop not only surprised, but shaken by the realization that climate science was far less mature than I had supposed. Here's what I discovered:
Humans exert a growing, but physically small, warming influence on the climate. The results from many different climate models disagree with, or even contradict, each other and many kinds of observations. In short, the science is insufficient to make useful predictions about how the climate will change over the coming decades, much less what effect our actions will have on it. 
In the seven years since that workshop, I watched with dismay as the public discussions of climate and energy became increasingly distant from the science. Phrases like "climate emergency," "climate crisis" and "climate disaster" are now routinely bandied about to support sweeping policy proposals to "fight climate change" with government interventions and subsidies. Not surprisingly, the Biden administration has made climate and energy a major priority infused throughout the government, with the appointment of John Kerry as climate envoy and proposed spending of almost $2 trillion dollars to fight this "existential threat to humanity."
Much of the public portrayal of climate science ignores the great late physicist's advice. It is an effort to persuade rather than inform, and the information presented withholds either essential context or what doesn't "fit." Scientists write and too-casually review the reports, reporters uncritically repeat them, editors allow that to happen, activists and their organizations fan the fires of alarm, and experts endorse the deception by keeping silent.
As a result, the constant repetition of these and many other climate fallacies are turned into accepted truths known as "The Science."
This article is an adapted excerpt from Dr. Koonin's book, "Unsettled: What Climate Science Tells Us, What It Doesn't, and Why It Matters" (BenBella Books), out May 4.
Voir aussi:
'Unsettled' Review: The 'Consensus' On Climate
A top Obama scientist looks at the evidence on warming and CO2 emissions and rebuts much of the dominant political narrative.
Mark P. Mills
The Wall Street Journal
April 25, 2021
Physicist Steven Koonin kicks the hornet's nest right out of the gate in "Unsettled." In the book's first sentences he asserts that "the Science" about our planet's climate is anything but "settled." Mr. Koonin knows well that it is nonetheless a settled subject in the minds of most pundits and politicians and most of the population.
Further proof of the public's sentiment: Earlier this year the United Nations Development Programme published the mother of all climate surveys, titled "The Peoples' Climate Vote." With more than a million respondents from 50 countries, the survey, unsurprisingly, found "64% of people said that climate change was an emergency."
But science itself is not conducted by polls, regardless of how often we are urged to heed a "scientific consensus" on climate. As the science-trained novelist Michael Crichton summarized in a famous 2003 lecture at Caltech: "If it's consensus, it isn't science. If it's science, it isn't consensus. Period." Mr. Koonin says much the same in "Unsettled."
The book is no polemic. It's a plea for understanding how scientists extract clarity from complexity. And, as Mr. Koonin makes clear, few areas of science are as complex and multidisciplinary as the planet's climate.
But Mr. Koonin is no "climate denier," to use the concocted phrase used to shut down debate. The word "denier" is of course meant to associate skeptics of climate alarmism with Holocaust deniers. Mr. Koonin finds this label particularly abhorrent, since "the Nazis killed more than two hundred of my relatives in Eastern Europe." As for "denying," Mr. Koonin makes it clear, on the book's first page, that "it's true that the globe is warming, and that humans are exerting a warming influence upon it."
The heart of the science debate, however, isn't about whether the globe is warmer or whether humanity contributed. The important questions are about the magnitude of civilization's contribution and the speed of changes; and, derivatively, about the urgency and scale of governmental response. Mr. Koonin thinks most readers will be surprised at what the data show. I dare say they will.
As Mr Koonin illustrates, tornado frequency and severity are also not trending up; nor are the number and severity of droughts. The extent of global fires has been trending significantly downward. The rate of sea-level rise has not accelerated. Global crop yields are rising, not falling. And while global atmospheric CO2 levels are obviously higher now than two centuries ago, they're not at any record planetary high—they're at a low that has only been seen once before in the past 500 million years.
Mr. Koonin laments the sloppiness of those using local weather "events" to make claims about long-cycle planetary phenomena. He chastises not so much local news media as journalists with prestigious national media who should know better. This attribution error evokes one of Mr. Koonin's rare rebukes: "Pointing to hurricanes as an example of the ravages of human-caused climate change is at best unconvincing, and at worst plainly dishonest."
When it comes to the vaunted computer models, Mr. Koonin is persuasively skeptical. It's a big problem, he says, when models can't retroactively "predict" events that have already happened. And he notes that some of the "tuning" done to models so that they work better amounts to "cooking the books." He should know, having written one of the first textbooks on using computers to model physics phenomena.
Mr. Koonin's science credentials are impeccable—unlike, say, those of one well-known Swedish teenager to whom the media affords great attention on climate matters. He has been a professor of physics at Caltech and served as the top scientist in Barack Obama's Energy Department. The book is copiously referenced and relies on widely accepted government documents.
Since all the data that Mr. Koonin uses are available to others, he poses the obvious question: "Why haven't you heard these facts before?" He is cautious, perhaps overly so, in proposing the causes for so much misinformation. He points to such things as incentives to invoke alarm for fundraising purposes and official reports that "mislead by omission." Many of the primary scientific reports, he observes repeatedly, are factual. Still, "the public gets their climate information almost exclusively from the media; very few people actually read the assessment summaries."
Mr. Koonin says that he knows he'll be criticized, even "attacked." You can't blame him for taking a few pages to shadow box with his critics. But even if one remains unconvinced by his arguments, the right response is to debate the science. We'll see if that happens in a world in which politicians assert the science is settled and plan astronomical levels of spending to replace the nation's massive infrastructures with "green" alternatives. Never have so many spent so much public money on the basis of claims that are so unsettled. The prospects for a reasoned debate are not good. Good luck, Mr. Koonin.
Mr. Mills, a senior fellow at the Manhattan Institute, is the author of "Digital Cathedrals" and a forthcoming book on how the cloud and new technologies will create an economic boom.
Voir également:
ANTICIPATION
Culte du Cargo : contagion des collectivités aux Etats
Luc Brunet
MAP
Mars 2012
Pur produit des sociétés dans lesquelles les élites ignorent que les processus culturels précèdent le succès, le Culte du Cargo, qui consiste à investir dans une infrastructure dont est dotée une société prospère en espérant que cette acquisition produise les mêmes effets pour soi, fut l'un des moteurs des emprunts toxiques des collectivités locales. L'expression a été popularisée lors de la seconde guerre mondiale, quand elle s'est exprimée par de fausses infrastructures créées par les insulaires et destinées à attirer les cargos. En 2012, le Culte du Cargo tendra à se généraliser au niveau des Etats.
En septembre 2011, dans l'orbite des difficultés de DEXIA, les personnes qui ne lisent pas le GEAB découvraient avec stupéfaction que des milliers de collectivités locales étaient exposées à des emprunts toxiques1. En décembre, un rapport parlementaire français2 évalue le désastre à 19 Milliards d'euros, près du double de ce qu'estimait la Cours des Comptes six mois plus tôt. Les collectivités représentent, en France par exemple, 70% de l'investissement public3, soit 51,7 milliards d'euros en 2010 (-2,1% par rapport à 2009).
Les collectivités ont développé une addiction à la dépense4 et, comme les ménages victimes plus ou moins conscientes des subprimes, elles ont facilement trouvé un dealer pour leur répondre5. Les causes en sont assez évidentes : multiplication des élus locaux n'ayant pas toujours de compétences techniques et encore moins financières, peu ou pas formés, tenus parfois par leur administration devenue maîtresse des lieux, et engagés dans une concurrence à la visibilité entre la ville, l'agglomération, le département à qui voudra montrer qu'il construit ou qu'il anime plus et mieux que l'autre, dans une relation finalement assez féodale. L'Italie a prévu une baisse de 3 milliards d'euros des subventions aux collectivités, la Suède et le Royaume-Uni6(dont les collectivités avaient par ailleurs été exposées aux faillites des institutions financières islandaises7) s'engagent aussi dans un douloureux sevrage, dans l'optique de gagner en stabilité financière ce qui risque fort d'être perdu en autonomie.
Il serait sans doute erroné de porter l'opprobre sur les élus locaux ou même sur les banques, car il s'agit là de la manifestation d'une tendance de fond très profonde et très simple qui a à faire avec le désir mimétique et le Culte du Cargo. Ce dernier fut particulièrement évident en Océanie pendant la seconde guerre mondiale, où des habitants des îles observant une corrélation entre l'appel du radio et l'arrivée d'un cargo de vivres, ou bien entre l'existence d'une piste et l'arrivée d'avions, se mirent à construire un culte fait de simulacre de radio et de fausses pistes d'atterrissage, espérant ainsi que l'existence de moyens ferait venir l'objet désiré.
Il s'agit d'un phénomène général, comme par exemple en informatique lorsque l'on recopie une procédure que l'on ne comprend pas dans son propre programme, en espérant qu'elle y produise le même effet que dans son programme d'origine.
Un exemple emblématique est celui de Flint, Michigan. La fermeture brutale des usines General Motors a vu la patrie de Michael Moore perdre 25.000 habitants et se paupériser, la population étant pratiquement divisée par deux entre 1960 et 2010. Il s'agit évidemment là d'une distillation : la crise provoque l'évaporation de l'esprit (c'est-à-dire des talents) qui s'envole vers d'autres lieux plus prospères tandis que se concentrent les problèmes et la pauvreté dans la cité autrefois bénie par son parrain industriel. C'est alors que la bénédiction devient un baiser de la mort puisque, dans leur prospérité, ses élus n'ont pas réfléchi ni vu les tendances de fond pourtant évidentes de la mondialisation. C'est alors qu'arrive l'idée de Six Flags Autoworld. Ce parc d'attraction automobile, supposé être "La renaissance de la Grande Cité de Flint" selon le gouverneur du Michigan J. Blanchard, ouvre en 1984. Un an et 80 millions de dollars plus loin, le parc ferme et il sera finalement détruit en 1997.8
Bien que paradoxale, l'addiction à la dette est synchrone avec les difficultés financières et correspond peut-être inconsciemment à l'instinct du joueur à se "refaire"9. Ce qui est toutefois plus grave est, d'une part, l'hallucination collective qui permet le phénomène de Culte du Cargo, mais aussi l'absence totale de contre-pouvoir à cette pensée devenue unique, voire magique. Le Culte du Cargo aggrave toujours la situation.
La raison est aussi simple que diabolique : les prêtres du Culte du Cargo dépensent pour acheter des infrastructures similaires à ce qu'ils ont vu ailleurs dans l'espoir d'attirer la fortune sur leur tribu. Malheureusement, dans le même temps, les "esprits" qui restaient dans la tribu se sont enfuis ou se taisent devant la pression de la foule en attente de miracle. Alors, les élites, qui ignorent totalement que derrière l'apparent résultat se cachent des processus culturels complexes qu'ils ne comprennent pas, se dotent d'un faux aéroport ou d'une fausse radio et dilapident ainsi, en pure perte, leurs dernières ressources.
Il serait injuste de penser que ce phénomène ne concerne que des populations peu avancées. En 1974, Richard Feynman dénonça la "Cargo Cult Science" lors d'un discours à Caltech10.
Les collectivités confrontées à une concurrence pour la population organisent agendas et ateliers (en fait des brainstormings) pour évoquer les raisons de leurs handicaps par rapport à d'autres. Il suit généralement une liste de solutions précédées de "Il faut" : de la Recherche, des Jeunes, des Cadres, une communauté homosexuelle, une patinoire, une piscine, le TGV, un festival, une équipe sportive onéreuse, son gymnase…Tout cela est peut-être vrai, mais cela revient à confondre les effets avec les processus requis pour les obtenir.
Comme nul ne comprend les processus culturels qui ont conduit à ce qu'une collectivité réussisse, il est plus facile de croire que boire le café de Georges Clooney vous apportera le même succès. Rien de nouveau ici : la publicité et ses 700 milliards de dollars de budget mondial annuel manipule cela depuis le début de la société de consommation.
Routes menant à des plateformes logistiques ou des zones industrielles jamais construites, bureaux vides, duplication des infrastructures (piscines, technopoles, pépinières…) à quelques mètres les unes des autres, le Culte du Cargo nous coûte cher : il faut que cela se voit, même si cela ne sert à rien. Malheureusement, les vraies actions de création des processus culturels et sociaux ne se voient généralement pas aussi bien qu'un beau bâtiment tout neuf.
Le processus suit trois étapes et retour : crise, fuite ou éviction des rationnels, rituel de brainstorming puis Culte du Cargo et investissement, qui conduisent enfin à une aggravation de la crise.
Ainsi, les pôles de compétitivité marchent d'autant mieux qu'ils viennent seulement labelliser un système culturel déjà préexistant. Lorsqu'ils sont des créations dans l'urgence, en hydroponique, par la volonté rituelle de reproduire, leurs effets relèvent de l'espoir, non d'une stratégie. Le culte du Cargo est une façon pour les collectivités prises au sens large de ne pas se poser la question véritable : Est-ce que chacune d'entre elles peut de manière identique accéder au même destin dans la société de la connaissance ?
2012 : les Indiens fuient-ils les Amériques ?
Le monde occidental est, contrairement à l'idée reçue, une société dont le moteur est l'inégalité. La compétition pour l'attractivité de la "meilleure" population fait rage et elle a été, tout le XXème siècle, à l'avantage des Etats-Unis. Une des raisons profondes à l'étrange résilience du dollar et à la curieuse faiblesse de l'Euro est l'irrationnel pari de la plus grande attractivité des Etats-Unis pour les compétences.
Depuis la création du G20, il y a au moins quatre "New kids in Town", les BRICs. Si l'un des révélateurs d'un engrenage de type cargo est la fuite des cerveaux, alors, même si elle ne bat pas encore son plein, l'Occident, et particulièrement les Etats-Unis, risque fort de perdre une part de ses élites asiatiques. La multiplication des études, notamment de la part des institutions académiques indiennes, est révélatrice quant à elle d'une actualité
Si beaucoup des informaticiens des Etats-Unis sont Indiens, parfois mal dans leur peau aux USA11, et qu'une part croissante est maintenant attirée par un retour121314 dans une Inde démocratique et en train de gérer son problème de corruption, les deux premières phases du processus sont déjà bien engagées.
Il reste l'étape du rituel de brainstorming visant à étudier les conditions du succès Suisse, Chinois ou autre, pour que les idées de dépenses les plus incohérentes soient lancées
2012 : Contagion du Culte du Cargo aux Etats
Les campagnes électorales de 2012 seront un révélateur. S'il reste encore quelques esprits pour dire que la mise en place, coûteuse et dérangeante, des actions visant à rétablir les processus culturels conduisant à la création de richesse concrète, c'est-à-dire vendables à d'autres, alors l'Occident aura vécu un de ses énièmes rebonds civilisationnels. Si nous observons des investissements déraisonnables d'un point de vue thermodynamique, dans des infrastructures énergétiques décoratives mais inefficaces, ou bien dans de faux projets d'apparat visant à renforcer l'attractivité perdue, il faudra boire jusqu'à la lie le jus amer de la crise.
Ainsi, la tentation française de copier les mesures allemandes qui ont conduit au succès, sans que les dirigeants français aient vraiment compris pourquoi, mais en espérant les mêmes bénéfices, peut être considérée comme une expression du Culte du Cargo. C'est en effet faire fi des processus culturels engagés depuis des décennies en Allemagne et qui ont conduit à une culture de la négociation sociale et à des syndicats représentatifs.
En période de crise, il faudrait toujours prouver l'utilité des actions, pas le caractère publicitaire qu'elles pourraient avoir. En 2012, il faudra sans doute, dans les pays où des élections vont avoir lieu, poser la question du pourquoi des investissements. Les candidats proposant de séduisants mais coûteux gadgets devront être questionnés par les journalistes sur leur analyse.15
Dernières nouvelles de Flint, en novembre 2011, le gouverneur confirme l'état d'urgence financière de la ville15. Contrairement à ce que veulent faire croire les prêtres du Culte du Cargo, les danses de la pluie ne marchent pas, il faut réfléchir.13
Richard P. Feynman
Caltech
1974
Some remarks on science, pseudoscience, and learning how to not fool yourself. Caltech's 1974 commencement address.
During the Middle Ages there were all kinds of crazy ideas, such as that a piece of rhinoceros horn would increase potency. (Another crazy idea of the Middle Ages is these hats we have on today—which is too loose in my case.) Then a method was discovered for separating the ideas—which was to try one to see if it worked, and if it didn't work, to eliminate it. This method became organized, of course, into science. And it developed very well, so that we are now in the scientific age. It is such a scientific age, in fact, that we have difficulty in understanding how­ witch doctors could ever have existed, when nothing that they proposed ever really worked—or very little of it did.
But even today I meet lots of people who sooner or later get me into a conversation about UFO's, or astrology, or some form of mysticism, expanded consciousness, new types of awareness, ESP, and so forth. And I've concluded that it's not a scientific world.
Most people believe so many wonderful things that I decided to investigate why they did. And what has been referred to as my curiosity for investigation has landed me in a difficulty where I found so much junk to talk about that I can't do it in this talk. I'm overwhelmed. First I started out by investigating various ideas of mysticism, and mystic experiences. I went into isolation tanks (they're dark and quiet and you float in Epsom salts) and got many hours of hallucinations, so I know something about that. Then I went to Esalen, which is a hotbed of this kind of thought (it's a wonderful place; you should go visit there). Then I became overwhelmed. I didn't realize how much there was.
I was sitting, for example, in a hot bath and there's another guy and a girl in the bath. He says to the girl, "I'm learning massage and I wonder if I could practice on you?" She says OK, so she gets up on a table and he starts off on her foot—working on her big toe and pushing it around. Then he turns to what is apparently his instructor, and says, "I feel a kind of dent. Is that the pituitary?" And she says, "No, that's not the way it feels." I say, "You're a hell of a long way from the pituitary, man." And they both looked at me—I had blown my cover, you see—and she said, "It's reflexology." So I closed my eyes and appeared to be meditating.
That's just an example of the kind of things that overwhelm me. I also looked into extrasensory perception and PSI phenomena, and the latest craze there was Uri Geller, a man who is supposed to be able to bend keys by rubbing them with his finger. So I went to his hotel room, on his invitation, to see a demonstration of both mind reading and bending keys. He didn't do any mind reading that succeeded; nobody can read my mind, I guess. And my boy held a key and Geller rubbed it, and nothing happened. Then he told us it works better under water, and so you can picture all of us standing in the bathroom with the water turned on and the key under it, and him rubbing the key with his finger. Nothing happened. So I was unable to investigate that phenomenon.
But then I began to think, what else is there that we believe? (And I thought then about the witch doctors, and how easy it would have been to check on them by noticing that nothing really worked.) So I found things that even more people believe, such as that we have some knowledge of how to educate. There are big schools of reading methods and mathematics methods, and so forth, but if you notice, you'll see the reading scores keep going down—or hardly going up—in spite of the fact that we continually use these same people to improve the methods. There's a witch doctor remedy that doesn't work. It ought to be looked into: how do they know that their method should work? Another example is how to treat criminals. We obviously have made no progress—lots of theory, but no progress—in decreasing the amount of crime by the method that we use to handle criminals.
Yet these things are said to be scientific. We study them. And I think ordinary people with commonsense ideas are intimidated by this pseudoscience. A teacher who has some good idea of how to teach her children to read is forced by the school system to do it some other way—or is even fooled by the school system into thinking that her method is not necessarily a good one. Or a parent of bad boys, after disciplining them in one way or another, feels guilty for the rest of her life because she didn't do "the right thing," according to the experts.
So we really ought to look into theories that don't work, and science that isn't science.
I tried to find a principle for discovering more of these kinds of things, and came up with the following system. Any time you find yourself in a conversation at a cocktail party—in which you do not feel uncomfortable that the hostess might come around and say, "Why are you fellows talking shop?'' or that your wife will come around and say, "Why are you flirting again?"—then you can be sure you are talking about something about which nobody knows anything.
Using this method, I discovered a few more topics that I had forgotten—among them the efficacy of various forms of psychotherapy. So I began to investigate through the library, and so on, and I have so much to tell you that I can't do it at all. I will have to limit myself to just a few little things. I'll concentrate on the things more people believe in. Maybe I will give a series of speeches next year on all these subjects. It will take a long time.
I think the educational and psychological studies I mentioned are examples of what I would like to call Cargo Cult Science. In the South Seas there is a Cargo Cult of people. During the war they saw airplanes land with lots of good materials, and they want the same thing to happen now. So they've arranged to make things like runways, to put fires along the sides of the runways, to make a wooden hut for a man to sit in, with two wooden pieces on his head like headphones and bars of bamboo sticking out like antennas—he's the controller—and they wait for the airplanes to land. They're doing everything right. The form is perfect. It looks exactly the way it looked before. But it doesn't work. No airplanes land. So I call these things Cargo Cult Science, because they follow all the apparent precepts and forms of scientific investigation, but they're missing something essential, because the planes don't land.
Now it behooves me, of course, to tell you what they're missing. But it would he just about as difficult to explain to the South Sea Islanders how they have to arrange things so that they get some wealth in their system. It is not something simple like telling them how to improve the shapes of the earphones. But there is one feature I notice that is generally missing in Cargo Cult Science. That is the idea that we all hope you have learned in studying science in school—we never explicitly say what this is, but just hope that you catch on by all the examples of scientific investigation. It is interesting, therefore, to bring it out now and speak of it explicitly. It's a kind of scientific integrity, a principle of scientific thought that corresponds to a kind of utter honesty—a kind of leaning over backwards. For example, if you're doing an experiment, you should report everything that you think might make it invalid—not only what you think is right about it: other causes that could possibly explain your results; and things you thought of that you've eliminated by some other experiment, and how they worked—to make sure the other fellow can tell they have been eliminated.
Details that could throw doubt on your interpretation must be given, if you know them. You must do the best you can—if you know anything at all wrong, or possibly wrong—to explain it. If you make a theory, for example, and advertise it, or put it out, then you must also put down all the facts that disagree with it, as well as those that agree with it. There is also a more subtle problem. When you have put a lot of ideas together to make an elaborate theory, you want to make sure, when explaining what it fits, that those things it fits are not just the things that gave you the idea for the theory; but that the finished theory makes something else come out right, in addition.
In summary, the idea is to try to give all of the information to help others to judge the value of your contribution; not just the information that leads to judgment in one particular direction or another.
The easiest way to explain this idea is to contrast it, for example, with advertising. Last night I heard that Wesson Oil doesn't soak through food. Well, that's true. It's not dishonest; but the thing I'm talking about is not just a matter of not being dishonest, it's a matter of scientific integrity, which is another level. The fact that should be added to that advertising statement is that no oils soak through food, if operated at a certain temperature. If operated at another temperature, they all will—including Wesson Oil. So it's the implication which has been conveyed, not the fact, which is true, and the difference is what we have to deal with.
We've learned from experience that the truth will out. Other experimenters will repeat your experiment and find out whether you were wrong or right. Nature's phenomena will agree or they'll disagree with your theory. And, although you may gain some temporary fame and excitement, you will not gain a good reputation as a scientist if you haven't tried to be very careful in this kind of work. And it's this type of integrity, this kind of care not to fool yourself, that is missing to a large extent in much of the research in Cargo Cult Science.
A great deal of their difficulty is, of course, the difficulty of the subject and the inapplicability of the scientific method to the subject. Nevertheless, it should be remarked that this is not the only difficulty. That's why the planes don't land—but they don't land.
We have learned a lot from experience about how to handle some of the ways we fool ourselves. One example: Millikan measured the charge on an electron by an experiment with falling oil drops and got an answer which we now know not to be quite right. It's a little bit off, because he had the incorrect value for the viscosity of air. It's interesting to look at the history of measurements of the charge of the electron, after Millikan. If you plot them as a function of time, you find that one is a little bigger than Millikan's, and the next one's a little bit bigger than that, and the next one's a little bit bigger than that, until finally they settle down to a number which is higher.
Why didn't they discover that the new number was higher right away? It's a thing that scientists are ashamed of—this history—because it's apparent that people did things like this: When they got a number that was too high above Millikan's, they thought something must be wrong—and they would look for and find a reason why something might be wrong. When they got a number closer to Millikan's value they didn't look so hard. And so they eliminated the numbers that were too far off, and did other things like that. We've learned those tricks nowadays, and now we don't have that kind of a disease.
But this long history of learning how to not fool ourselves—of having utter scientific integrity—is, I'm sorry to say, something that we haven't specifically included in any particular course that I know of. We just hope you've caught on by osmosis.
The first principle is that you must not fool yourself—and you are the easiest person to fool. So you have to be very careful about that. After you've not fooled yourself, it's easy not to fool other scientists. You just have to be honest in a conventional way after that.
I would like to add something that's not essential to the science, but something I kind of believe, which is that you should not fool the layman when you're talking as a scientist. I'm not trying to tell you what to do about cheating on your wife, or fooling your girlfriend, or something like that, when you're not trying to be a scientist, but just trying to be an ordinary human being. We'll leave those problems up to you and your rabbi. I'm talking about a specific, extra type of integrity that is not lying, but bending over backwards to show how you're maybe wrong, that you ought to do when acting as a scientist. And this is our responsibility as scientists, certainly to other scientists, and I think to laymen.
For example, I was a little surprised when I was talking to a friend who was going to go on the radio. He does work on cosmology and astronomy, and he wondered how he would explain what the applications of this work were. "Well," I said, "there aren't any." He said, "Yes, but then we won't get support for more research of this kind." I think that's kind of dishonest. If you're representing yourself as a scientist, then you should explain to the layman what you're doing—and if they don't want to support you under those circumstances, then that's their decision.
One example of the principle is this: If you've made up your mind to test a theory, or you want to explain some idea, you should always decide to publish it whichever way it comes out. If we only publish results of a certain kind, we can make the argument look good. We must publish both kinds of result. For example—let's take advertising again—suppose some particular cigarette has some particular property, like low nicotine. It's published widely by the company that this means it is good for you—they don't say, for instance, that the tars are a different proportion, or that something else is the matter with the cigarette. In other words, publication probability depends upon the answer. That should not be done.
I say that's also important in giving certain types of government advice. Supposing a senator asked you for advice about whether drilling a hole should be done in his state; and you decide it would he better in some other state. If you don't publish such a result, it seems to me you're not giving scientific advice. You're being used. If your answer happens to come out in the direction the government or the politicians like, they can use it as an argument in their favor; if it comes out the other way, they don't publish it at all. That's not giving scientific advice.
Other kinds of errors are more characteristic of poor science. When I was at Cornell. I often talked to the people in the psychology department. One of the students told me she wanted to do an experiment that went something like this—I don't remember it in detail, but it had been found by others that under certain circumstances, X, rats did something, A. She was curious as to whether, if she changed the circumstances to Y, they would still do, A. So her proposal was to do the experiment under circumstances Y and see if they still did A.
I explained to her that it was necessary first to repeat in her laboratory the experiment of the other person—to do it under condition X to see if she could also get result A—and then change to Y and see if A changed. Then she would know that the real difference was the thing she thought she had under control.
She was very delighted with this new idea, and went to her professor. And his reply was, no, you cannot do that, because the experiment has already been done and you would be wasting time. This was in about 1935 or so, and it seems to have been the general policy then to not try to repeat psychological experiments, but only to change the conditions and see what happens.
Nowadays there's a certain danger of the same thing happening, even in the famous field of physics. I was shocked to hear of an experiment done at the big accelerator at the National Accelerator Laboratory, where a person used deuterium. In order to compare his heavy hydrogen results to what might happen to light hydrogen he had to use data from someone else's experiment on light hydrogen, which was done on different apparatus. When asked he said it was because he couldn't get time on the program (because there's so little time and it's such expensive apparatus) to do the experiment with light hydrogen on this apparatus because there wouldn't be any new result. And so the men in charge of programs at NAL are so anxious for new results, in order to get more money to keep the thing going for public relations purposes, they are destroying—possibly—the value of the experiments themselves, which is the whole purpose of the thing. It is often hard for the experimenters there to complete their work as their scientific integrity demands.
All experiments in psychology are not of this type, however. For example, there have been many experiments running rats through all kinds of mazes, and so on—with little clear result. But in 1937 a man named Young did a very interesting one. He had a long corridor with doors all along one side where the rats came in, and doors along the other side where the food was. He wanted to see if he could train the rats to go in at the third door down from wherever he started them off. No. The rats went immediately to the door where the food had been the time before.
The question was, how did the rats know, because the corridor was so beautifully built and so uniform, that this was the same door as before? Obviously there was something about the door that was different from the other doors. So he painted the doors very carefully, arranging the textures on the faces of the doors exactly the same. Still the rats could tell. Then he thought maybe the rats were smelling the food, so he used chemicals to change the smell after each run. Still the rats could tell. Then he realized the rats might be able to tell by seeing the lights and the arrangement in the laboratory like any commonsense person. So he covered the corridor, and, still the rats could tell.
He finally found that they could tell by the way the floor sounded when they ran over it. And he could only fix that by putting his corridor in sand. So he covered one after another of all possible clues and finally was able to fool the rats so that they had to learn to go in the third door. If he relaxed any of his conditions, the rats could tell.
Now, from a scientific standpoint, that is an A‑Number‑l experiment. That is the experiment that makes rat‑running experiments sensible, because it uncovers the clues that the rat is really using—not what you think it's using. And that is the experiment that tells exactly what conditions you have to use in order to be careful and control everything in an experiment with rat‑running.
I looked into the subsequent history of this research. The subsequent experiment, and the one after that, never referred to Mr. Young. They never used any of his criteria of putting the corridor on sand, or being very careful. They just went right on running rats in the same old way, and paid no attention to the great discoveries of Mr. Young, and his papers are not referred to, because he didn't discover anything about the rats. In fact, he discovered all the things you have to do to discover something about rats. But not paying attention to experiments like that is a characteristic of Cargo Cult Science.
Another example is the ESP experiments of Mr. Rhine, and other people. As various people have made criticisms—and they themselves have made criticisms of their own experiments—they improve the techniques so that the effects are smaller, and smaller, and smaller until they gradually disappear. All the parapsychologists are looking for some experiment that can be repeated—that you can do again and get the same effect—statistically, even. They run a million rats—no, it's people this time—they do a lot of things and get a certain statistical effect. Next time they try it they don't get it any more. And now you find a man saying that it is an irrelevant demand to expect a repeatable experiment. This is science?
This man also speaks about a new institution, in a talk in which he was resigning as Director of the Institute of Parapsychology. And, in telling people what to do next, he says that one of the things they have to do is be sure they only train students who have shown their ability to get PSI results to an acceptable extent—not to waste their time on those ambitious and interested students who get only chance results. It is very dangerous to have such a policy in teaching—to teach students only how to get certain results, rather than how to do an experiment with scientific integrity.
So I wish to you—I have no more time, so I have just one wish for you—the good luck to be somewhere where you are free to maintain the kind of integrity I have described, and where you do not feel forced by a need to maintain your position in the organization, or financial support, or so on, to lose your integrity. May you have that freedom. May I also give you one last bit of advice: Never say that you'll give a talk unless you know clearly what you're going to talk about and more or less what you're going to say.
Voir de plus:
[Actualisation: René Girard est mort mercredi 4 novembre 2015, à l'âge de 91 ans] Auteur d'une théorie fertile et discutée, René Girard est un penseur inclassable qui vit aux Etats-Unis depuis 1947. Entre critique littéraire, théologie et anthropologie, il révèle les liens unissant la violence et le religieux, et construit une « science des rapports humains ».
Transdisciplinaire, la théorie du désir mimétique de René Girard repose sur l'idée que l'homme ne désire jamais par lui-même sinon en imitant les désirs d'un tiers pris pour modèle, le médiateur. Aux concepts abstraits et à la fixité, il a toujours préféré la matière des œuvres et le dynamisme des mécanismes, comme celui du bouc émissaire et du sacrifice. Né le 25 décembre 1923 à Avignon, ancien élève de l'École des chartes, venu « de nulle part » comme il aime à le dire, René Girard s'est d'abord intéressé au désir mimétique à travers la littérature (Mensonge romantique et vérité romanesque) avant de prendre pour objet les religions archaïques (La Violence et le Sacré) puis la Bible et le christianisme (Des choses cachées depuis la fondation du monde). Anthropologue autodidacte élu à l'Académie française en 2005, penseur chrétien converti par sa théorie – « Ce n'est pas parce je suis chrétien que je pense comme je le fais ; c'est parce que mes recherches m'ont amené à penser ce que je pense, que je suis devenu chrétien », a-t-il écrit –, René Girard a bâti une anthropologie du phénomène religieux. En insistant sur le passage des religions mythiques au christianisme, il invente une genèse de la culture.
Philosophie magazine : Votre parcours est atypique. Votre position  extérieure à l'université vous a-t-elle permis d'élaborer votre théorie transversale ?
René Girard : Oui, sans conteste, et cela remonte très tôt dans mon enfance. Je n'ai jamais rien appris dans les établissements d'enseignement. J'ai des souvenirs de mon entrée en classe de dixième à Avignon. Je vois encore la maîtresse, aussi peu terrifiante que possible. Elle m'a pourtant causé une véritable panique… Ma mère m'a retiré du lycée et j'ai passé mes premières années d'enseignement dans ce que mon père appelait une école de gâtés. Je suis retourné au lycée en sixième et je suis devenu terriblement chahuteur, si bien que je me suis fait renvoyer de l'année de philo. J'avais passé mon premier bac très médiocrement et j'ai fait ma classe de philo seul. J'ai obtenu une mention bien. À partir de là, mon père a considéré que j'étais le meilleur professeur de moi-même… En 1941, je suis parti pour la khâgne de Lyon. La situation était difficile, il y avait déjà des restrictions alimentaires, et je suis rentré chez mes parents. Mon père, qui était conservateur de la bibliothèque et du musée d'Avignon, m'a suggéré de préparer seul l'École des chartes. J'ai été reçu en 1943. Mais j'ai trouvé cela ennuyeux et suis parti pour les États-Unis en 1947, répondant à une offre d'assistant de français.
C'est la littérature qui est à la source de votre théorie.
«Le christianisme est, selon moi, à la source du scepticisme moderne, il est démystification»
Aux États-Unis, j'ai commencé à enseigner la littérature française. Mon idée première a été de me demander comment enseigner ces romans que, pour beaucoup, je n'avais pas lus. La critique littéraire était déjà très différentialiste ; il fallait découvrir dans les œuvres ce qui les rendait exceptionnelles, différentes les unes des autres. En lisant ces romans, ce qui m'a frappé au contraire, c'est la substance très analogue qui en émanait, de Stendhal à Proust par exemple. La même problématique sociale reparaissait sous un jour différent, mais avec des différences liées à la période plutôt qu'à la personnalité du romancier. Je suis arrivé à l'idée que s'il y a des modes et de l'Histoire, c'est parce que les hommes ont tendance à désirer la même chose. Ils imitent le désir les uns des autres. L'imitation, pour cette raison, est source de conflits. Désirer la même chose, c'est s'opposer à son modèle, c'est essayer de lui enlever l'objet qu'il désire. Le modèle se change en rival. Ces allers-retours accélèrent les échanges hostiles et la puissance du désir ; il y a donc chez l'homme une espèce de spirale ascendante de rivalité, de concurrence et de violence. Si la littérature a été un point de départ pour moi, c'est que le roman ne parle que des rapports concrets, des vraies relations humaines ; il ne monologue pas. C'est à partir de trois personnages que l'on peut parler correctement des rapports humains et jamais à partir d'un sujet seul. C'est la rivalité mimétique qui est première pour moi, non l'individu.
Vous reprochez à la philosophie de ne pas penser assez la relation. Que faire de l'intersubjectivité ?
L'intersubjectivité est la bonne direction mais elle est récente. Lévinas a bien compris le mimétisme ; il cite toujours cette parole talmudique formidable : si tout le monde est d'accord pour condamner un individu, libérez-le, il doit être innocent. L'accord contre lui est un accord mimétique. Dans le Talmud, il y a une conscience du mimétisme, de l'influence réciproque des hommes les uns sur les autres qui tranche complètement sur les religions antiques et en particulier sur la religion grecque. Cette dernière voit les individus comme des boules de billard, isolées les unes des autres. Nous avons vécu une longue période où la philosophie ne voyait que des différences ; la déconstruction et le structuralisme ont alors joué un rôle important. Pour moi, au fond, il n'y a que des identités méconnues. La méconnaissance que l'Amérique a de l'Europe est à cet égard frappante ; les Américains imaginent qu'il y a quelque chose de spécifiquement européen qu'ils n'ont pas et ne comprennent pas. En réalité, ils ne comprennent pas l'identité des réactions de part et d'autre ; les différences ne sont que des différences de situation, de pouvoir relatif. L'Europe fait la même chose vis-à-vis de l'Amérique : elle ne voit pas à quel point l'Amérique est la même chose que l'Europe. Chez les Américains, il y a quand même cette idée qu'on a immigré parce qu'on est des Européens ratés ; par conséquent, l'Amérique est en rivalité permanente, toujours en train de prouver à l'Europe qu'elle peut faire mieux qu'elle.
La violence est au cœur de votre anthropologie mimétique. Cet aspect conflictuel de l'imitation, la philosophie ne l'avait-elle pas déjà mis en lumière ?
Platon est le premier à avoir parlé de l'imitation. Il lui a accordé un rôle prodigieux : l'imitation, pour lui, est essentielle et dangereuse. Il la redoute. L'imitation, c'est le passage de l'essence à l'existence. Dans La République, il y a des textes extraordinaires sur les dangers des gardiens de la cité idéale s'imitant les uns les autres. L'hostilité de Platon envers la foule, qui est dans une imitation déréglée, déchaînée, est impressionnante. Platon est l'un des précurseurs de cette vision conflictuelle de l'imitation, mais il n'en révèle pas vraiment le mécanisme. Tout ceci disparaît avec Aristote qui rend l'imitation anodine et docile ; pour lui, l'imitation, c'est le peintre du dimanche voulant être aussi réaliste que possible ! Depuis Aristote, l'imitation est considérée comme une faculté, une technique assez stupide et dérisoire, qui joue un rôle dans l'éducation élémentaire.
Selon vous, la philosophie est idéaliste, essentialiste. Est-ce votre réalisme qui vous en éloigne ?
Oui, je pense que l'accent mis sur l'observation du réel dans le monde moderne a été quelque chose de très efficace, autant dans le danger que dans le bénéfice. Les outils dont l'homme dispose aujourd'hui sont infiniment plus puissants que tous ceux qu'il a connus auparavant. Ces outils, l'homme est parfaitement capable de les utiliser de façon égoïste et rivalitaire. Ce qui m'intéresse, c'est cet accroissement de la puissance de l'homme sur le réel. Les statistiques de production et de consommation d'énergie sont en progrès constant, et la rapidité d'augmentation de ce progrès augmente elle aussi constamment, dessinant une courbe parfaite, presque verticale. C'est pour moi une immense source d'effroi tant les hommes, essentiellement, restent des rivaux, rivalisant pour le même objet ou la même gloire – ce qui est la même chose. Nous sommes arrivés à un stade où le milieu humain est menacé par la puissance même de l'homme. Il s'agit avant tout de la menace écologique, des armes et des manipulations biologiques.
Dans Achever Clausewitz, vous ne cachez pas votre inquiétude face à ce climat « apocalyptique ».
«L'humanisme occidental ne voit pas que la violence se développe spontanément quand les hommes rivalisent pour un objet»
Loin d'être absurdes ou impensables, les grands textes eschatologiques – ceux des Évangiles synoptiques, en particulier Matthieu, chapitre 24, et Marc, chapitre 13 –, sont d'une actualité saisissante. La science moderne a séparé la nature et la culture, alors qu'on avait défini la religion comme le tonnerre de Zeus, etc. Dans les textes apocalyptiques, ce qui frappe, c'est ce mélange de nature et de culture ; les guerres et rumeurs de guerre, le fracas de la mer et des flots ne forment qu'un. Or si nous regardons ce qui se passe autour de nous, si nous nous interrogeons sur l'action des hommes sur le réel, le réchauffement global, la montée du niveau la mer, nous nous retrouvons face à un univers où les choses naturelles et culturelles sont confondues. La science elle-même le reconnaît. J'ai voulu radicaliser cet aspect apocalyptique. Je pense que les gens sont trop rassurés. Ils se rassurent eux-mêmes. L'homme est comme un insecte qui fait son nid ; il fait confiance à l'environnement. La créature fait toujours confiance à l'environnement… Le rationalisme issu des Lumières continue aussi à rassurer. Les rapports humains, l'humanisme des Lumières les juge stables ; il considère que les rapports hostiles entre individus sont exactement comme ces boules de billard qui s'entrechoquent : c'est la plus grosse ou la plus rapide qui l'emporte sur les autres. L'humanisme occidental ne voit pas que la violence est ce qui se développe spontanément entre les hommes lorsqu'ils rivalisent pour un objet. Clausewitz était un homme des Lumières, et ce n'est, à mon avis, que parce qu'il parle de la guerre qu'il saisit les rapports humains véritables ; libéré, il peut parler de la violence. Quand Clausewitz définit la guerre comme une montée aux extrêmes, il décrit un mécanisme très simple : lorsque nous nous bagarrons avec quelqu'un, nous allons toujours vers le pire, nos injures seront toujours plus violentes. Il se produit ce que nous appelons aujourd'hui une « escalade », escalation en anglais, une montée par échelle d'intensité.
Certains phénomènes contemporains relèvent-ils, pour vous, du mécanisme mimétique ?
La Chine a favorisé le développement de l'automobile. Cette priorité dénote une rivalité avec les Américains sur un terrain très redoutable ; la pollution dans la région de Shanghai est effrayante. Mais avoir autant d'automobiles que l'Amérique est un but dont il est, semble-t-il, impossible de priver les hommes. L'Occident conseille aux pays en voie de développement et aux pays les plus peuplés du globe, comme la Chine et l'Inde, de ne pas faire la même chose que lui ! Il y a là quelque chose de paradoxal et de scandaleux pour ceux auxquels ces conseils s'adressent. Aux États-Unis, les politiciens vous diront tous qu'ils sont d'accord pour prendre des mesures écologiques si elles ne touchent pas les accroissements de production. Or, s'il y a une partie du monde qui n'a pas besoin d'accroissement de production, c'est bien les États-Unis ; le profit individuel et les rivalités, qui ne sont pas immédiatement guerrières et destructrices mais qui le seront peut-être indirectement, et de façon plus massive encore, sont sacrées ; pas question de les toucher. Que faut-il pour qu'elles cessent d'être sacrées ? Il n'est pas certain que la situation actuelle, notamment la disparition croissante des espèces, soit menaçante pour la vie sur la planète, mais il y a une possibilité très forte qu'elle le soit. Ne pas prendre de précaution, alors qu'on est dans le doute, est dément. Des mesures écologiques sérieuses impliqueraient des diminutions de production. Mais ce raisonnement ne joue pas dans l'écologie, l'humanité étant follement attachée à ce type de concurrence qui structure en particulier la réalité occidentale, les habitudes de vie, de goût de l'humanité dite « développée ».
Vivons-nous dans une société de victimes ? Ce processus actuel de victimisation ressemble-t-il à celui que vous avez analysé dans Le Bouc émissaire ?
Notre société s'intéresse aux victimes et dénonce la victimisation collective d'individus innocents. Le besoin de bouc émissaire est si puissant que nous accusons toujours les gens de faire des boucs émissaires. Aujourd'hui, nous victimisons les victimisateurs ou ceux que nous jugeons comme tels. Dès que nous sommes hostiles à quelqu'un, nous l'accusons de faire des victimes, ce qui est très différent de l'hostilité qui structure les sociétés archaïques. Dans mon système, il y a deux types de religions. D'abord, les religions archaïques, qui sont fondées sur des crises de violence se résolvant par des phénomènes de bouc émissaire, c'est-à-dire par le choix d'une victime insignifiante mais dont on comprend, au regard des mythes, qu'elle n'est pas choisie au hasard : Œdipe est boiteux, il a attiré l'attention pour des raisons qui n'ont rien à voir avec le parricide et l'inceste. Le fait religieux, c'est un bouc émissaire qui rassemble contre lui une communauté troublée et qui fait cesser ce trouble. Ce bouc émissaire apparaît très méchant, dangereux, mais aussi très bon et secourable puisqu'il ressoude la communauté et purge la violence. Il faut l'apaiser. Pour cela, on recommence prudemment sur des victimes désignées à l'avance qui n'appartiennent pas à la communauté, qui lui sont un peu extérieures ; c'est-à-dire qu'on fait des sacrifices, des moments de violence contrôlés, ritualisés. La religion protège ainsi les sociétés de la violence mimétique. Ensuite, le judaïque et le chrétien révèlent la vérité du système. Dans les sociétés archaïques, le système fonctionne parce qu'on ne le comprend pas. C'est ce que j'appelle la méconnaissance : avoir un bouc émissaire, c'est ne pas savoir qu'on l'a ; apprendre qu'on en a un, c'est le perdre. L'anthropologie moderne a compris que, d'une certaine manière, le drame dans le judaïque et le chrétien, et en particulier la crucifixion du Christ, a la même structure que les mythes. Mais ce que les antropologues n'ont pas vu, c'est que dans les mythes, la victime apparaît comme coupable, tandis que les Évangiles reconnaissent l'innocence de la victime sacrificielle. On peut les considérer comme une explication de la religion archaïque : mieux on comprend les Évangiles, plus on comprend qu'ils suppriment les religions. J'exalte le christianisme d'une façon paradoxale. Selon moi, il est à la source du scepticisme moderne. Il est révélation des boucs émissaires. Il est démystification.
La « fin du monde » contre la « fin du mois ». L'expression, supposée avoir été employée initialement par un gilet jaune, a fait florès : comment concilier les impératifs de pouvoir d'achat à court terme, et les exigences écologiques vitales pour la survie de la planète ? La formule a même été reprise ce mardi par Emmanuel Macron, dans son discours sur la transition énergétique. « On l'entend, le président, le gouvernement, a-t-il expliqué, en paraphrasant les requêtes supposées des contestataires. Ils évoquent la fin du monde, nous on parle de la fin du mois. Nous allons traiter les deux, et nous devons traiter les deux. »

L'expression a-t-elle effectivement été employée par des gilets jaunes ? Peut-être. Mais le moins qu'on puisse dire, c'est que nos élites se sont saisies avec gourmandise de cette dialectique rassurante, reprise comme une antienne sur tous les plateaux de télévision pour résumer la problématique soulevée par ce mouvement sans précédent. Les politiques eux-mêmes en ont fait leurs choux gras : l'expression avait déjà été employée par Nicolas Hulot le 22 novembre, lors de l'Emission politique sur France 2, puis par Emmanuelle Wargon, la secrétaire d'Etat à l'Ecologie, le 24 novembre sur LCI enfin par Ségolène Royal le 25 novembre dernier, sur France 3. A vrai dire, elle avait même été utilisée par David Cormand, le secrétaire national d'Europe-Ecologie-Les Verts, sur France Info… dès le 4 septembre !
Quand on prend le temps de parler à ces gilets jaunes, on constate qu'ils sont parfaitement conscients de la problématique écologique
C'est dire que l'expression – si elle a pu être reprise ponctuellement par tel ou tel manifestant – émane en fait de nos élites boboïsantes. Elle correspond bien à la vision méprisante qu'elles ont d'une France périphérique aux idées étriquées, obsédée par le « pognon » indifférente au bien commun, là où nos dirigeants auraient la capacité à embrasser plus large, et à voir plus loin.
Or, la réalité est toute autre : quand on prend le temps de parler à ces gilets jaunes, on constate qu'ils sont parfaitement conscients de la problématique écologique. Parmi leurs revendications, dévoilées ces derniers jours, il y a ainsi l'interdiction immédiate du glyphosate, cancérogène probable que le gouvernement a en revanche autorisé pour encore au moins trois ans. Mais, s'ils se sentent concernés par l'avenir de la planète, les représentants de cette France rurale et périurbaine refusent de payer pour les turpitudes d'un système économique qui détruit l'environnement. D'autant que c'est ce même système qui est à l'origine de la désindustrialisation et de la dévitalisation des territoires, dont ils subissent depuis trente ans les conséquences en première ligne. A l'inverse, nos grandes consciences donneuses de leçon sont bien souvent les principaux bénéficiaires de cette économie mondialisée. Qui est égoïste, et qui est altruiste ?
Parmi les doléances des gilets jaunes, on trouve d'ailleurs aussi nombre de revendications politiques : comptabilisation du vote blanc, présence obligatoire des députés à l'Assemblée nationale, promulgation des lois par les citoyens eux-mêmes. Des revendications qu'on peut bien moquer, ou balayer d'un revers de manche en estimant qu'elles ne sont pas de leur ressort. Elles n'en témoignent pas moins d'un souci du politique, au sens le plus noble du terme, celui du devenir de la Cité. A l'inverse, en se repaissant d'une figure rhétorique caricaturale, reprise comme un « gimmick » de communication, nos élites démontrent leur goût pour le paraître et la superficialité, ainsi que la facilité avec laquelle elles s'entichent de clichés qui ne font que conforter leurs préjugés. Alors, qui est ouvert, et qui est étriqué ? Qui voit loin, et qui est replié sur lui-même ? Qui pense à ses fins de mois, et qui, à la fin du monde ?
Voir enfin:
LE GATEAU MIRACLE
Homo deus
Yuval Noah Harari
2015
/…/ La modernité (…) repose sur la conviction que la croissance économique n'est pas seulement possible mais absolument essentielle. Prières, bonnes actions et méditation pourraient bien être une source de consolation et d'inspiration, mais des problèmes tels que la famine, les épidémies et la guerre ne sauraient être résolus que par la croissance. Ce dogme fondamental se laisse résumer par une idée simple : « Si tu as un problème, tu as probablement besoin de plus, et pour avoir plus, il faut produire plus ! »
Les responsables politiques et les économistes modernes insistent : la croissance est vitale pour trois grandes raisons. Premièrement, quand nous produisons plus, nous pouvons consommer plus, accroître notre niveau de vie et, prétendument, jouir d'une vie plus heureuse. Deuxièmement, tant que l'espèce humaine se multiplie, la croissance économique est nécessaire à seule fin de rester où nous en sommes. En Inde, par exemple, la croissance démographique est de 1,2 % par an. Cela signifie que, si l'économie indienne n'enregistre pas une croissance annuelle d'au moins 1,2 %, le chômage augmentera, les salaires diminueront et le niveau de vie moyen déclinera. Troisièmement, même si les Indiens cessent de se multiplier, et si la classe moyenne indienne peut secontenter de son niveau de vie actuel, que devrait faire l'Inde de ses centaines demillions de citoyens frappés par la pauvreté ? Sans croissance, le gâteau reste dela même taille ; on ne saurait par conséquent donner plus aux pauvres qu'en prenant aux riches. Cela obligera à des choix très difficiles, et causera probablement beaucoup de rancœur, voire de violence. Si vous souhaitez éviter des choix douloureux, le ressentiment et les violences, il vous faut un gâteau plus gros.
La modernité a fait du « toujours plus » une panacée applicable à la quasi-totalité des problèmes publics et privés – du fondamentalisme religieux au mariage raté, en passant par l'autoritarisme dans le tiers-monde. Si seulement des pays comme le Pakistan et l'Égypte pouvaient soutenir une croissance régulière, leurs citoyens profiteraient des avantages que constituent voitures individuelles et réfrigérateurs pleins à craquer ; dès lors, ils suivraient la voie dela prospérité ici-bas au lieu d'emboîter le pas au joueur de pipeau fondamentaliste. De même, dans des pays comme le Congo et la Birmanie, lacroissance économique produirait une classe moyenne prospère, qui est le socle de la démocratie libérale. Quant au couple qui traverse une mauvaise passe, il serait sauvé si seulement il pouvait acquérir une maison plus grande (que mari et femme n'aient pas à partager un bureau encombré), acheter un lave-vaisselle (qu'ils cessent de se disputer pour savoir à qui le tour de faire la vaisselle) et suivre de coûteuses séances de thérapie deux fois par semaine.
La croissance économique est ainsi devenue le carrefour où se rejoignent la quasi-totalité des religions, idéologies et mouvements modernes. L'Union soviétique, avec ses plans quinquennaux mégalomaniaques, n'était pas moins obsédée par la croissance que l'impitoyable requin de la finance américain. De même que chrétiens et musulmans croient tous au ciel et ne divergent que sur le moyen d'y parvenir, au cours de la guerre froide, capitalistes et communistes imaginaient créer le paradis sur terre par la croissance économique et ne sedisputaient que sur la méthode exacte.
Aujourd'hui, les revivalistes hindous, les musulmans pieux, les nationalistes japonais et les communistes chinois peuvent bien proclamer leur adhésion à de valeurs et objectifs très différents : tous ont cependant fini par croire que la croissance économique est la clé pour atteindre leurs buts disparates. En 2014, Narendra Modi, hindou fervent, a ainsi été élu Premier ministre de l'Inde ; sonélection a largement été due au fait qu'il a su stimuler la croissance économiquedans son État du Gujarât et à l'idée largement partagée que lui seul pourrait ranimer une économie nationale léthargique. En Turquie, des vues analogues ontpermis à l'islamiste Recep Tayyip Erdoğan de conserver le pouvoir depuis 2003. Le nom de son parti – Parti de la justice et du développement – souligne sonattachement au développement économique ; de fait, le gouvernement Erdoğan aréussi à obtenir des taux de croissance impressionnants depuis plus de dix ans.
En 2012, le Premier ministre japonais, le nationaliste Shinzō Abe, est arrivé au pouvoir en promettant d'arracher l'économie japonaise à deux décennies de stagnation. À cette fin, il a recouru à des mesures si agressives et inhabituellesqu'on a parlé d' « abenomie ». Dans le même temps, en Chine, le particommuniste a rendu hommage du bout des lèvres aux idéaux marxistes-léninistes traditionnels ; dans les faits, cependant, il s'en tient aux célèbresmaximes de Deng Xiaoping : « le développement est la seule vérité tangible » et « qu'importe que le chat soit noir ou blanc, pourvu qu'il attrape les souris ». Ce qui veut dire en clair : faites tout ce qui sert la croissance économique, même sicela aurait déplu à Marx et à Lénine.
À Singapour, comme il sied à cet État-cité qui va droit au but, cet axe de réflexion est poussé encore plus loin, au point que les salaires des ministres sontindexés sur le PIB. Quand l'économie croît, le salaire des ministres estaugmenté, comme si leur mission se réduisait à cela. Cette obsession de la croissance pourrait sembler aller de soi, mais c'est uniquement parce que nous vivons dans le monde moderne. Les maharajas indiens, les sultans ottomans, les shoguns de Kamakura et les empereurs Han fondaient rarement leur destin politique sur la croissance économique. Que Modi, Erdoğan, Abe et le président chinois Xi Jinping aient tous misé leur carrière sur la croissance atteste le statut quasi religieux que la croissance a fini par acquérir à travers le monde. De fait, on n'a sans doute pas tort de parler de religion lorsqu'il s'agit de la croyance dans la croissance économique : elle prétend aujourd'hui résoudre nombre de nos problèmes éthiques, sinon la plupart. La croissance économique étant prétendument la source de toutes les bonnes choses, elle encourage les gens à enterrer leurs désaccords éthiques pour adopter la ligne d'action qui maximise la croissance à long terme. L'Inde de Modi abrite des milliers de sectes, de partis, de mouvements et de gourous : bien que leurs objectifs ultimes puissent diverger, tous doivent passer par le même goulet d'étranglement de la croissance économique. Alors, en attendant, pourquoi ne pas tous se serrer les coudes ?
Le credo du « toujours plus » presse en conséquence les individus, les entreprises et les gouvernements de mépriser tout ce qui pourrait entraver la croissance économique : par exemple, préserver l'égalité sociale, assurer l'harmonie écologique ou honorer ses parents. En Union soviétique, lesdirigeants pensaient que le communisme étatique était la voie de la croissance laplus rapide : tout ce qui se mettait en travers de la collectivisation fut donc passé au bulldozer, y compris des millions de koulaks, la liberté d'expression et la mer d'Aral. De nos jours, il est généralement admis qu'une forme de capitalisme de marché est une manière beaucoup plus efficace d'assurer la croissance à long terme : on protège donc les magnats cupides, les paysans riches et la liberté d'expression, tout en démantelant et détruisant les habitats écologiques, les structures sociales et les valeurs traditionnelles qui gênent le capitalisme de marché.
Prenez, par exemple, une ingénieure logiciel qui touche 100 dollars par heure de travail dans une start-up de high-tech. Un jour, son vieux père fait un AVC. Il a besoin d'aide pour faire ses courses, la cuisine et même sa toilette. Elle pourrait installer son père chez elle, partir plus tard au travail le matin, rentrer plus tôt le soir et prendre soin personnellement de son père. Ses revenus et la productivité de la start-up en souffriraient, mais son père profiterait des soins d'une fille dévouée et aimante. Inversement, elle pourrait faire appel à une aide mexicaine qui, pour 12 dollars de l'heure, vivrait avec son père et pourvoirait à tous ses besoins. Cela ne changerait rien à sa vie d'ingénieure et à la start-up, et cela profiterait à l'aide et l'économie mexicaines. Que doit faire notre ingénieure ?
Le capitalisme de marché a une réponse sans appel. Si la croissance économique exige que nous relâchions les liens familiaux, encouragions les gens à vivre loin de leurs parents, et importions des aides de l'autre bout du monde, ainsi soit-il. Cette réponse implique cependant un jugement éthique, plutôt qu'unénoncé factuel. Lorsque certains se spécialisent dans les logiciels quand d'autresconsacrent leur temps à soigner les aînés, on peut sans nul doute produire plus de logiciels et assurer aux personnes âgées des soins plus professionnels. Mais la croissance économique est-elle plus importante que les liens familiaux ? En sepermettant de porter des jugements éthiques de ce type, le capitalisme de marchéa franchi la frontière qui séparait le champ de la science de celui de la religion.
L'étiquette de « religion » déplairait probablement à la plupart des capitalistes, mais, pour ce qui est des religions, le capitalisme peut au moins tenir la tête haute. À la différence des autres religions qui nous promettent un gâteau au ciel, le capitalisme promet des miracles ici, sur terre… et parfois même en accomplit. Le capitalisme mérite même des lauriers pour avoir réduit la violence humaine etaccru la tolérance et la coopération. Ainsi que l'explique le chapitre suivant, d'autres facteurs entrent ici en jeu, mais le capitalisme a amplement contribué à l'harmonie mondiale en encourageant les hommes à cesser de voir l'économie comme un jeu à somme nulle, où votre profit est ma perte, pour y voir plutôt une situation gagnant-gagnant, où votre profit est aussi le mien. Cette approche dubénéfice mutuel a probablement bien plus contribué à l'harmonie générale quedes siècles de prédication chrétienne sur le thème du « aime ton prochain » et « tends l'autre joue ».
De sa croyance en la valeur suprême de la croissance, le capitalisme déduit son commandement numéro un : tu investiras tes profits pour augmenter la croissance. Pendant le plus clair de l'histoire, les princes et les prêtres ont dilapidé leurs profits en carnavals flamboyants, somptueux palais et guerres inutiles. Inversement, ils ont placé leurs pièces d'or dans des coffres de fer, scellés et enfermés dans un donjon. Aujourd'hui, les fervents capitalistes se servent de leurs profits pour embaucher, développer leur usine ou mettre au point un nouveau produit.
S'ils ne savent comment faire, ils confient leur argent à quelqu'un qui saura : un banquier ou un spécialiste du capital-risque. Ce dernier prête de l'argent à divers entrepreneurs. Des paysans empruntent pour planter de nouveaux champs de blé ; des sous-traitants, pour construire de nouvelles maisons, des compagniesénergétiques, pour explorer de nouveaux champs de pétrole et les usinesd'armement, pour mettre au point de nouvelles armes. Les profits de toutes cesactivités permettent aux entrepreneurs de rembourser avec intérêts. Non seulement nous avons maintenant plus de blé, de maisons, de pétrole et d'armes, mais nous avons aussi plus d'argent, que les banques et les fonds peuvent denouveau prêter. Cette roue ne cessera jamais de tourner, du moins pas selon le capitalisme. Jamais n'arrivera un moment où le capitalisme dira : « Ça suffit. Il y a assez de croissance ! On peut se la couler douce. » Si vous voulez savoir pourquoi la roue capitaliste a peu de chance de s'arrêter un jour de tourner, discutez donc une heure avec un ami qui a accumulé 100 000 dollars et se demande qu'en faire.
« Les banques offrent des taux d'intérêt si bas, déplore-t-il. Je ne veux pasmettre mon argent sur un compte d'épargne qui rapporte à peine 0,5 % par an. Peut-être puis-je obtenir 2 % en bons du Trésor. L'an dernier, mon cousin Richie a acheté un appartement à Seattle, et son investissement lui a déjà rapporté 20 % ! Peut-être devrais-je me lancer dans l'immobilier, mais tout le monde parle d'une nouvelle bulle spéculative. Alors que penses-tu de la Bourse ? Un ami m'a dit que le bon plan, ces derniers temps, c'est d'acheter un fonds négocié en Bourse qui suit les économies émergentes comme le Brésil ou la Chine. » Il s'arrête un moment pour reprendre son souffle, et vous lui posez la questionsuivante : « Eh bien, pourquoi ne pas te contenter de tes 100 000 dollars ? » Il vous expliquera mieux que je ne saurais le faire pourquoi le capitalisme nes'arrêtera jamais.
On apprend même cette leçon aux enfants et aux adolescents à travers des jeux capitalistes omniprésents. Les jeux prémodernes, comme les échecs, supposaient une économie stagnante. Vous commencez une partie d'échecs avec seize pièces et, à la fin, vous n'en avez plus. Dans de rares cas, un pion peut être transformé en reine, mais vous ne pouvez produire de nouveaux pions ni métamorphoser vos cavaliers en chars. Les joueurs d'échecs n'ont donc jamais à  penser investissement. À l'opposé, beaucoup de jeux de société modernes et de jeux vidéo se focalisent sur l'investissement et la croissance.
Particulièrement révélateurs sont les jeux de stratégie du genre de Minecraft,Les Colons de Catane ou Civilizationde Sid Meier. Le jeu peut avoir pour cadre le Moyen Âge, l'âge de pierre ou quelque pays imaginaire, mais les principes restent les mêmes – et sont toujours capitalistes. Votre but est d'établir une ville,un royaume, voire toute une civilisation. Vous partez d'une base très modeste : juste un village, peut-être, avec les champs voisins. Vos actifs vous assurent un revenu initial sous forme de blé, de bois, de fer ou d'or. À vous d'investir ce revenu à bon escient. Il vous faut choisir entre des outils improductifs mais encore nécessaires, comme les soldats, et des actifs productifs, tels que des villages, des mines et des champs supplémentaires. La stratégie gagnante consiste habituellement à investir le strict minimum dans des produits de première nécessité improductifs, tout en maximisant vos actifs productifs. Aménager des villages supplémentaires signifie qu'au prochain tour vous disposerez d'un revenu plus important qui pourrait vous permettre non seulement d'acheter d'autres soldats, si besoin, mais aussi d'augmenter vos investissements productifs. Bientôt vous pourrez ainsi transformer vos villages en villes, bâtir des universités, des ports et des usines, explorer les mers et les océans, créer votre civilisation et gagner la partie.
LE SYNDROME DE L'ARCHE
La croissance économique peut-elle cependant se poursuivre éternellement ? L'économie ne finira-t-elle pas par être à court de ressources et par s'arrêter ? Pour assurer une croissance perpétuelle, il nous faut découvrir un stock de ressources inépuisable. Une solution consiste à explorer et à conquérir de nouvelles terres. Des siècles durant, la croissance de l'économie européenne et l'expansion du système capitaliste se sont largement nourries de conquêtes impériales outre-mer. Or le nombre d'îles et de continents est limité. Certains entrepreneurs espèrent finalement explorer et conquérir de nouvelles planètes, voire de nouvelles galaxies, mais, en attendant, l'économie moderne doit trouver une meilleure méthode pour poursuivre son expansion.
C'est la science qui a fourni la solution à la modernité. L'économie des renards ne saurait croître, parce qu'ils ne savent pas produire plus de lapins. L'économie des lapins stagne, parce qu'ils ne peuvent faire pousser l'herbe plus vite. Mais l'économie humaine peut croître, parce que les hommes peuvent découvrir des sources d'énergie et des matériaux nouveaux.
La vision traditionnelle du monde comme un gâteau de taille fixe présuppose qu'il n'y a que deux types de ressources : les matières premières et l'énergie. En vérité, cependant, il y en a trois : les matières premières, l'énergie et la connaissance. Les matières premières et l'énergie sont épuisables : plus vous les utilisez, moins vous en avez. Le savoir, en revanche, est une ressource en perpétuelle croissance : plus vous l'utilisez, plus vous en possédez. En fait,quand vous augmentez votre stock de connaissances, il peut vous faire accéder aussi à plus de matières premières et d'énergie. Si j'investis 100 millions de dollars dans la recherche de pétrole en Alaska et si j'en trouve, j'ai plus de pétrole, mais mes petits-enfants en auront moins. En revanche, si j'investis la même somme dans la recherche sur l'énergie solaire et que je découvre une nouvelle façon plus efficace de la domestiquer, mes petits-enfants et moi aurons davantage d'énergie.
Pendant des millénaires, la route scientifique de la croissance est restée bloquée parce que les gens croyaient que les Saintes Écritures et les anciennes traditions contenaient tout ce que le monde avait à offrir en connaissances importantes. Une société convaincue que tous les gisements de pétrole ont déjà été découverts ne perdrait pas de temps ni d'argent à chercher du pétrole. De même, une culture humaine persuadée de savoir déjà tout ce qui vaut la peine d'être su ne ferait pas l'effort de se mettre en quête de nouvelles connaissances. Telle était la position de la plupart des civilisations humaines prémodernes. La révolution scientifique a cependant libéré l'humanité de cette conviction naïve. La plus grande découverte scientifique a été la découverte de l'ignorance. Du jour où les hommes ont compris à quel point ils en savaient peu sur le monde, ils ont eu soudain une excellente raison de rechercher des connaissances nouvelles, ce qui a ouvert la voie scientifique du progrès.
À chaque génération, la science a contribué à découvrir de nouvelles sources d'énergie, de nouvelles matières premières, des machines plus performantes et des méthodes de production inédites. En 2017, l'humanité dispose donc de bien plus d'énergie et de matières premières que jamais, et la production s'envole. Des inventions comme la machine à vapeur, le moteur à combustion interne et l'ordinateur ont créé de toutes pièces des industries nouvelles. Si nous nous projetons dans vingt ans, en 2037, nous produirons et consommerons beaucoup plus qu'en 2017. Nous faisons confiance aux nanotechnologies, au géniegénétique et à l'intelligence artificielle pour révolutionner encore la production et ouvrir de nouveaux rayons dans nos supermarchés en perpétuelle expansion.
Nous avons donc de bonnes chances de triompher du problème de la rareté des ressources. La véritable némésis de l'économie moderne est l'effondrement écologique. Le progrès scientifique et la croissance économique prennent place dans une biosphère fragile et, à mesure qu'ils prennent de l'ampleur, les ondes de choc déstabilisent l'écologie. Pour assurer à chaque personne dans le mondele même niveau de vie que dans la société d'abondance américaine, il faudrait quelques planètes de plus ; or nous n'avons que celle-ci. Si le progrès et la croissance finissent par détruire l'écosystème, cela n'en coûtera pas seulement aux chauves-souris vampires, aux renards et aux lapins. Mais aussi à Sapiens. Une débâcle écologique provoquera une ruine économique, des troubles politiques et une chute du niveau de vie. Elle pourrait bien menacer l'existence même de la civilisation humaine.
Nous pourrions amoindrir le danger en ralentissant le rythme du progrès et de la croissance. Si cette année les investisseurs attendent un retour de 6 % sur leursportefeuilles, dans dix ans ils pourraient apprendre à se satisfaire de 3 %, puis de 1 % dans vingt ans ; dans trente ans, l'économie cessera de croître et nous nous contenterons de ce que nous avons déjà. Le credo de la croissance s'oppose pourtant fermement à cette idée hérétique et il suggère plutôt d'aller encore plus vite. Si nos découvertes déstabilisent l'écosystème et menacent l'humanité, il nous faut découvrir quelque chose qui nous protège. Si la couche d'ozone s'amenuise et nous expose au cancer de la peau, à nous d'inventer un meilleur écran solaire et de meilleurs traitements contre le cancer, favorisant ainsi l'essor de nouvelles usines de crèmes solaires et de centres anticancéreux. Si les nouvelles industries polluent l'atmosphère et les océans, provoquant un réchauffement général et des extinctions massives, il nous appartient de construire des mondes virtuels et des sanctuaires high-tech qui nous offriront toutes les bonnes choses de la vie, même si la planète devient aussi chaude, morne et polluée que l'enfer.
Pékin est déjà tellement polluée que la population évite de sortir, et que les riches Chinois dépensent des milliers de dollars en purificateurs d'air intérieur. Les super-riches construisent même des protections au-dessus de leur cour. En 2013, l'École internationale de Pékin, destinée aux enfants de diplomatesétrangers et de la haute société chinoise, est allée encore plus loin et a construitune immense coupole de 5 millions de dollars au-dessus de ses six courts detennis et de ses terrains de jeux. D'autres écoles suivent le mouvement, et le marché chinois des purificateurs d'air explose. Bien entendu, la plupart des Pékinois ne peuvent s'offrir pareil luxe, ni envoyer leurs enfants à l'École internationale.
L'humanité se trouve coincée dans une course double. D'un côté, nous nous sentons obligés d'accélérer le rythme du progrès scientifique et de la croissance économique. Un milliard de Chinois et un milliard d'Indiens aspirent au niveau de vie de la classe moyenne américaine, et ils ne voient aucune raison de brider leurs rêves quand les Américains ne sont pas disposés à renoncer à leurs 4×4 et à leurs centres commerciaux. D'un autre côté, nous devons garder au moins une longueur d'avance sur l'Armageddon écologique. Mener de front cette double course devient chaque année plus difficile, parce que chaque pas qui rapproche l'habitant des bidonvilles de Delhi du rêve américain rapproche aussi la planète du gouffre.
La bonne nouvelle, c'est que l'humanité jouit depuis des siècles de la croissance économique sans pour autant être victime de la débâcle écologique. Bien d'autres espèces ont péri en cours de route, et les hommes se sont aussi retrouvés face à un certain nombre de crises économiques et de désastres écologiques, mais jusqu'ici nous avons toujours réussi à nous en tirer. Reste qu'aucune loi de la nature ne garantit le succès futur. Qui sait si la science sera toujours capable de sauver simultanément l'économie du gel et l'écologie du point d'ébullition. Et puisque le rythme continue de s'accélérer, les marges d'erreur ne cessent de se rétrécir. Si, précédemment, il suffisait d'une invention stupéfiante une fois par siècle, nous avons aujourd'hui besoin d'un miracle tous les deux ans.
Nous devrions aussi nous inquiéter qu'une apocalypse écologique puisse avoirdes conséquences différentes en fonction des différentes castes humaines. Il n'ya pas de justice dans l'histoire. Quand une catastrophe s'abat, les pauvressouffrent toujours bien plus que les riches, même si ce sont ces derniers qui sontresponsables de la tragédie. Le réchauffement climatique affecte déjà la vie desplus pauvres dans les pays arides d'Afrique bien plus que la vie des Occidentauxplus aisés. Paradoxalement, le pouvoir même de la science peut accroître ledanger, en rendant les plus riches complaisants.
Prenez les émissions de gaz à effet de serre. La plupart des savants et un nombre croissant de responsables politiques reconnaissent la réalité du réchauffement climatique et l'ampleur du danger. Jusqu'ici, pourtant, cette reconnaissance n'a pas suffi à changer sensiblement notre comportement. Nous parlons beaucoup du réchauffement, mais, en pratique, l'humanité n'est pas prête aux sérieux sacrifices économiques, sociaux ou politiques nécessaires pour arrêter la catastrophe. Les émissions n'ont pas du tout diminué entre 2000 et 2010. Elles ont au contraire augmenté de 2,2 % par an, contre un taux annuel de 1,3 % entre 1970 et 2000(4). Signé en 1997, le protocole de Kyoto sur la réduction des émissions de gaz à effet de serre visait à ralentir le réchauffement plutôt qu'à l'arrêter, mais le pollueur numéro un du monde, les États-Unis, a refusé de le ratifier et n'a fait aucun effort pour essayer de réduire de manière notable ses émissions, de peur de gêner sa croissance économique.
En décembre 2015, l'accord de Paris a fixé des objectifs plus ambitieux, appelant à limiter l'augmentation de la température moyenne à 1,5 degré au-dessus des niveaux préindustriels. Toutefois, nombre des douloureuses mesures nécessaires pour atteindre ce but ont été comme par hasard différées après 2030, ce qui revient de fait à passer la patate chaude à la génération suivante. Les administrations actuelles peuvent ainsi récolter les avantages politiques immédiats de leur apparent engagement vert, tandis que le lourd prix politique de la réduction des émissions (et du ralentissement de la croissance) est légué aux administrations futures. Malgré tout, au moment où j'écris (janvier 2016), il est loin d'être certain que les États-Unis et d'autres grands pollueurs ratifieront et mettront en œuvre l'accord de Paris. Trop de politiciens et d'électeurs pensent que, tant que l'économie poursuit sa croissance, les ingénieurs et les hommes de science pourront toujours la sauver du jugement dernier. S'agissant du changement climatique, beaucoup de défenseurs de la croissance ne se contentent pas d'espérer des miracles : ils tiennent pour acquis que les miracles se produiront.
À quel point est-il rationnel de risquer l'avenir de l'humanité en supposant que les futurs chercheurs feront des découvertes insoupçonnées qui sauveront la planète ? La plupart des présidents, ministres et PDG qui dirigent le monde sont des gens très rationnels. Pourquoi sont-ils disposés à faire un tel pari ? Peut-être parce qu'ils ne pensent pas parier sur leur avenir personnel. Même si les choses tournent au pire, et que la science ne peut empêcher le déluge, les ingénieurs pourraient encore construire une arche de Noé high-tech pour la caste supérieure, et laisser les milliards d'autres hommes se noyer. La croyance en cette arche high-tech est actuellement une des plus grosses menaces sur l'avenir de l'humanité et de tout l'écosystème. Les gens qui croient à l'arche high-tech ne devraient pas être en charge de l'écologie mondiale, pour la même raison qu'ilne faut pas confier les armes nucléaires à ceux qui croient à un au-delà céleste.
Et les plus pauvres ? Pourquoi ne protestent-ils pas ? Si le déluge survient un jour, ils en supporteront le coût, mais ils seront aussi les premiers à faire les frais de la stagnation économique. Dans un monde capitaliste, leur vie s'améliore uniquement quand l'économie croît. Aussi est-il peu probable qu'ils soutiennent des mesures pour réduire les menaces écologiques futures fondées sur le ralentissement de la croissance économique actuelle. Protéger l'environnement est une très belle idée, mais ceux qui n'arrivent pas à payer leur loyer s'inquiètent bien davantage de leur découvert bancaire que de la fonte de la calotte glaciaire.
FOIRE D'EMPOIGNE
Même si nous continuons de courir assez vite et parvenons à parer à la foi 'effondrement économique et la débâcle écologique, la course elle-même créed'immenses problèmes. Pour l'individu, elle se traduit par de hauts niveaux destress et de tension. Après des siècles de croissance économique et de progrèsscientifique, la vie aurait dû devenir calme et paisible, tout au moins dans lespays les plus avancés. Si nos ancêtres avaient eu un aperçu des outils et desressources dont nous disposons, ils auraient conjecturé que nous jouissons d'unetranquillité céleste, débarrassés de tout tracas et de tout souci. La vérité est trèsdifférente. Malgré toutes nos réalisations, nous sommes constamment pressés defaire et produire toujours plus.
Nous nous en prenons à nous-mêmes, au patron, à l'hypothèque, au gouvernement, au système scolaire. Mais ce n'est pas vraiment leur faute. C'est le deal moderne, que nous avons tous souscrit le jour de notre naissance. Dans le monde prémoderne, les gens étaient proches des modestes employés d'une bureaucratie socialiste. Ils pointaient et attendaient qu'un autre fasse quelque chose. Dans le monde moderne, c'est nous, les hommes, qui avons les choses en main, et nous sommes soumis jour et nuit à une pression constante.
Sur le plan collectif, la course se manifeste par des chambardements incessants. Alors que les systèmes politiques et sociaux duraient autrefois des siècles, aujourd'hui chaque génération détruit le vieux monde pour en construire un nouveau à la place. Comme le Manifeste communiste le montre brillamment,le monde moderne a absolument besoin d'incertitude et de perturbation. Toutes les relations fixes, tous les vieux préjugés sont balayés, les nouvelles structures deviennent archaïques avant même de pouvoir faire de vieux os. Tout ce qui est solide se dissipe dans l'air. Il n'est pas facile de vivre dans un monde aussi chaotique, et encore moins de le gouverner.
La modernité doit donc travailler dur pour s'assurer que ni les individus ni le collectif n'essaient de se retirer de la course, malgré la tension et le chaos qu'elle crée. À cette fin, elle brandit la croissance comme la valeur suprême au nom de laquelle on devrait tout sacrifier et braver tous les dangers. Sur un plan collectif, les gouvernements, les entreprises et les organismes sont encouragés à mesurer leur succès en termes de croissance et à craindre l'équilibre comme le diable. Sur le plan individuel, nous sommes constamment poussés à accroître nos revenus et notre niveau de vie. Même si vous êtes satisfait de votre situation actuelle, vous devez rechercher toujours plus. Le luxe d'hier devient nécessité d'aujourd'hui. Si autrefois vous viviez bien dans un appartement avec trois chambres, une voiture et un ordinateur fixe, aujourd'hui il vous faut une maison de cinq chambres, avec deux voitures et une nuée d'iPods, de tablettes et de smartphones.
Il n'était pas très difficile de convaincre les individus de vouloir plus. La cupidité vient facilement aux êtres humains. Le gros problème a été de convaincre les institutions collectives comme les États et les Églises d'accompagner le nouvel idéal. Des millénaires durant, les sociétés se sont efforcées de freiner les désirs individuels et de promouvoir une sorte d'équilibre. Il était notoire que les gens voulaient toujours plus pour eux-mêmes, mais le gâteau étant d'une taille fixe, l'harmonie sociale dépendait de la retenue. L'avarice était mauvaise. La modernité a mis le monde sens dessus dessous. Elle a convaincu les instances collectives que l'équilibre est bien plus effrayant que le chaos, et que comme l'avarice nourrit la croissance, c'est une force du bien. Dès lors, la modernité a incité les gens à vouloir plus, et a démantelé les disciplines séculaires qui tempéraient la cupidité.
Les angoisses qui en résultèrent furent largement apaisées par le capitalisme de marché : c'est une des raisons de la popularité de cette idéologie. Les penseurs capitalistes ne cessent de nous calmer : « Ne vous inquiétez pas, tout ira bien. Du moment que l'économie croît, la main invisible du marché pourvoira à tout. » Le capitalisme a donc sanctifié un système vorace et chaotique qui croît à pas de géant, sans que personne comprenne ce qui se passe et où nous courons. (Le communisme, qui croyait aussi à la croissance, pensait pouvoir empêcher le chaos et orchestrer la croissance par la planification. Après ses premiers succès, cependant, il s'est laissé largement distancer par la cavalcade désordonnée du marché.)
Il est de bon ton aujourd'hui, chez les intellectuels, de dénigrer le capitalisme. Puisqu'il domine le monde, nous ne devons rien négliger pour en saisir les insuffisances avant qu'elles ne produisent des catastrophes apocalyptiques. La critique du capitalisme ne doit pourtant pas nous aveugler sur ses avantages et ses réalisations. Il a été jusqu'ici un succès stupéfiant, du moins si nous ignorons les risques de débâcle écologique future, et si nous mesurons la réussite à l'aune de la production et de la croissance. Sans doute vivons-nous en 2017 dans un monde de stress et de chaos, mais les sombres prophéties d'effondrement et de violence ne se sont pas matérialisées, tandis que les scandaleuses promesses de croissance perpétuelle et de coopération mondiale s'accomplissent. Nous connaissons certes des crises économiques épisodiques et des guerres internationales, mais, à long terme, le capitalisme ne s'est pas seulement imposé, il a aussi réussi à surmonter la famine, les épidémies et la guerre. Des millénaires durant, prêtres, rabbins et muftis nous avaient expliqué que les hommes n'y parviendraient pas par leurs propres efforts. Puis sont venus les banquiers, les investisseurs et les industriels : en deux siècles, ils y sont arrivés !
Le deal moderne nous promettait un pouvoir sans précédent. La promesse a été tenue. Mais à quel prix ? En échange du pouvoir, le deal moderne attend de nous que nous renoncions au sens. Comment les hommes ont-ils accueilli cette exigence glaçante ? Obtempérer aurait pu aisément se traduire par un monde sinistre, dénué d'éthique, d'esthétique et de compassion. Il n'en reste pas moins vrai que l'humanité est aujourd'hui non seulement bien plus puissante que jamais, mais aussi beaucoup plus paisible et coopérative. Comment y sommes-nous parvenus ? Comment la morale, la beauté et même la compassion ont-elles survécu et fleuri dans un monde sans dieux, ni ciel, ni enfer ?
Une fois encore, les capitalistes sont prompts à en créditer la main invisible du marché. Pourtant, celle-ci n'est pas seulement invisible, elle est aussi aveugle : toute seule, jamais elle n'aurait pu sauver la société humaine. En vérité, même une foire d'empoigne générale ne saurait se passer de la main secourable d'un dieu, d'un roi ou d'une Église. Si tout est à vendre, y compris les tribunaux et la police, la confiance s'évapore, le crédit se dissipe et les affaires périclitent. Qu'est-ce qui a sauvé la société moderne de l'effondrement ? L'espèce humaine n'a pas été sauvée par la loi de l'offre et de la demande, mais par l'essor d'une nouvelle religion révolutionnaire : l'humanisme.
Voir par ailleurs:
In China, Breathing Becomes a Childhood Risk
Edward Wong
The New York Times
April 22, 2013
BEIJING — The boy's chronic cough and stuffy nose began last year at the age of 3. His symptoms worsened this winter, when smog across northern China surged to record levels. Now he needs his sinuses cleared every night with saltwater piped through a machine's tubes.
The boy's mother, Zhang Zixuan, said she almost never lets him go outside, and when she does she usually makes him wear a face mask. The difference between Britain, where she once studied, and China is "heaven and hell," she said.
Levels of deadly pollutants up to 40 times the recommended exposure limit in Beijing and other cities have struck fear into parents and led them to take steps that are radically altering the nature of urban life for their children.
Parents are confining sons and daughters to their homes, even if it means keeping them away from friends. Schools are canceling outdoor activities and field trips. Parents with means are choosing schools based on air-filtration systems, and some international schools have built gigantic, futuristic-looking domes over sports fields to ensure healthy breathing.
"I hope in the future we'll move to a foreign country," Ms. Zhang, a lawyer, said as her ailing son, Wu Xiaotian, played on a mat in their apartment, near a new air purifier. "Otherwise we'll choke to death."
She is not alone in looking to leave. Some middle- and upper-class Chinese parents and expatriates have already begun leaving China, a trend that executives say could result in a huge loss of talent and experience. Foreign parents are also turning down prestigious jobs or negotiating for hardship pay from their employers, citing the pollution.
There are no statistics for the flight, and many people are still eager to come work in Beijing, but talk of leaving is gaining urgency around the capital and on Chinese microblogs and parenting forums. Chinese are also discussing holidays to what they call the "clean-air destinations" of Tibet, Hainan and Fujian.
"I've been here for six years and I've never seen anxiety levels the way they are now," said Dr. Richard Saint Cyr, a new father and a family health doctor at Beijing United Family Hospital, whose patients are half Chinese and half foreigners. "Even for me, I've never been as anxious as I am now. It has been extraordinarily bad."
He added: "Many mothers, especially, have been second-guessing their living in Beijing. I think many mothers are fed up with keeping their children inside."
Few developments have eroded trust in the Communist Party as quickly as the realization that the leaders have failed to rein in threats to children's health and safety. There was national outrage in 2008 after more than 5,000 children were killed when their schools collapsed in an earthquake, and hundreds of thousands were sickened and six infants died in a tainted-formula scandal. Officials tried to suppress angry parents, sometimes by force or with payoffs.
But the fury over air pollution is much more widespread and is just beginning to gain momentum.
"I don't trust the pollution measurements of the Beijing government," said Ms. Zhang's father, Zhang Xiaochuan, a retired newspaper administrator.
Scientific studies justify fears of long-term damage to children and fetuses. A study published by The New England Journal of Medicine showed that children exposed to high levels of air pollution can suffer permanent lung damage. The research was done in the 1990s in Los Angeles, where levels of pollution were much lower than those in Chinese cities today.
A study by California researchers published last month suggested a link between autism in children and the exposure of pregnant women to traffic-related air pollution. Columbia University researchers, in a study done in New York, found that prenatal exposure to air pollutants could result in children with anxiety, depression and attention-span problems. Some of the same researchers found in an earlier study that children in Chongqing, China, who had prenatal exposure to high levels of air pollutants from a coal-fired plant were born with smaller head circumferences, showed slower growth and performed less well on cognitive development tests at age 2. The shutdown of the plant resulted in children born with fewer difficulties.
Analyses show little relief ahead if China does not change growth policies and strengthen environmental regulation. A Deutsche Bank report released in February said the current trends of coal use and automobile emissions meant air pollution was expected to worsen by an additional 70 percent by 2025.
Some children's hospitals in northern China reported a large number of patients with respiratory illnesses this winter, when the air pollution soared. During one bad week in January, Beijing Children's Hospital admitted up to 9,000 patients a day for emergency visits, half of them for respiratory problems, according to a report by Xinhua, the state news agency.
Parents have scrambled to buy air purifiers. IQAir, a Swiss company, makes purifiers that cost up to $3,000 here and are displayed in shiny showrooms. Mike Murphy, the chief executive of IQAir China, said sales had tripled in the first three months of 2013 over the same period last year.
Face masks are now part of the urban dress code. Ms. Zhang laid out half a dozen masks on her dining room table and held up one with a picture of a teddy bear that fits Xiaotian. Schools are adopting emergency measures. Xiaotian's private kindergarten used to take the children on a field trip once a week, but it has canceled most of those this year.
At the prestigious Beijing No. 4 High School, which has long trained Chinese leaders and their children, outdoor physical education classes are now canceled when the pollution index is high.
"The days with blue sky and seemingly clean air are treasured, and I usually go out and do exercise," said Dong Yifu, a senior there who was just accepted to Yale University.
Elite schools are investing in infrastructure to keep children active. Among them are Dulwich College Beijing and the International School of Beijing, which in January completed two large white sports domes of synthetic fabric that cover athletic fields and tennis courts.
The construction of the domes and an accompanying building began a year ago, to give the 1,900 students a place to exercise in both bad weather and high pollution, said Jeff Johanson, director of student activities. The project cost $5.7 million and includes hospital-grade air-filtration systems.
Teachers check the hourly air ratings from the United States Embassy to determine whether children should play outside or beneath the domes. "The elementary schoolchildren don't miss recess anymore," Mr. Johanson said.
One American mother, Tara Duffy, said she had chosen a prekindergarten school for her daughter in part because the school had air filters in the classrooms. The school, called the 3e International School, also brings in doctors to talk about pollution and bars the children from playing outdoors during increases in smog levels. "In the past six months, there have been a lot more 'red flag' days, and they keep the kids inside," said Ms. Duffy, a writer and former foundation consultant.
Ms. Duffy said she also checked the daily air quality index to decide whether to take her daughter to an outdoor picnic or an indoor play space.
Now, after nine years here, Ms. Duffy is leaving China, and she cites the pollution and traffic as major factors.
That calculus is playing out with expatriates across Beijing, and even with foreigners outside China. One American couple with a young child discussed the pollution when considering a prestigious foundation job in Beijing, and it was among the reasons they turned down the offer.
James McGregor, a senior counselor in the Beijing office of APCO Worldwide, a consulting company, said he had heard of an American diplomat with young children who had turned down a posting here. That was despite the fact that the State Department provides a 15 percent salary bonus for Beijing that exists partly because of the pollution. The hardship bonus for other Chinese cities, which also suffer from awful air, ranges from 20 percent to 30 percent, except for Shanghai, where it is 10 percent.
"I've lived in Beijing 23 years, and my children were brought up here, but if I had young children I'd have to leave," Mr. McGregor said. "A lot of people have started exit plans."
Voir aussi: