He got no place to 'scape to, no place to run  (…) Neighborhood bully been driven out of every land He's wandered the earth an exiled man Seen his family scattered, his people hounded and torn He's always on trial for just being born He's the neighborhood bully. Bob Dylan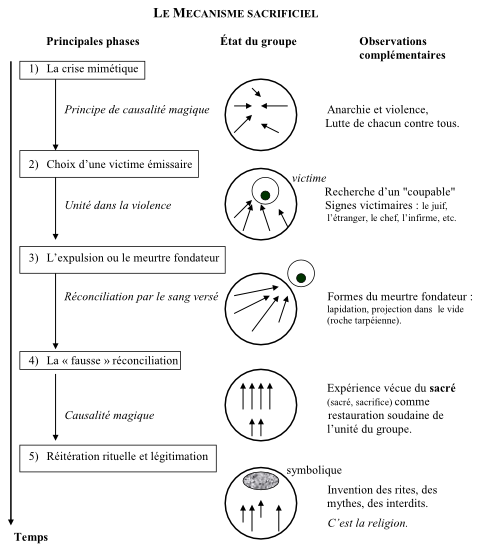 L'Éternel parla à Moïse, après la mort des deux fils d'Aaron, qui moururent en se présentant devant l'Éternel. L'Éternel dit à Moïse: Parle à ton frère Aaron, afin qu'il n'entre pas en tout temps dans le sanctuaire, au dedans du voile, devant le propitiatoire qui est sur l'arche, de peur qu'il ne meure; car j'apparaîtrai dans la nuée sur le propitiatoire. Voici de quelle manière Aaron entrera dans le sanctuaire. Il prendra un jeune taureau pour le sacrifice d'expiation et un bélier pour l'holocauste. Il se revêtira de la tunique sacrée de lin, et portera sur son corps des caleçons de lin; il se ceindra d'une ceinture de lin, et il se couvrira la tête d'une tiare de lin: ce sont les vêtements sacrés, dont il se revêtira après avoir lavé son corps dans l'eau. Il recevra de l'assemblée des enfants d'Israël deux boucs pour le sacrifice d'expiation et un bélier pour l'holocauste. Aaron offrira son taureau expiatoire, et il fera l'expiation pour lui et pour sa maison. Il prendra les deux boucs, et il les placera devant l'Éternel, à l'entrée de la tente d'assignation. Aaron jettera le sort sur les deux boucs, un sort pour l'Éternel et un sort pour Azazel. Aaron fera approcher le bouc sur lequel est tombé le sort pour l'Éternel, et il l'offrira en sacrifice d'expiation. Et le bouc sur lequel est tombé le sort pour Azazel sera placé vivant devant l'Éternel, afin qu'il serve à faire l'expiation et qu'il soit lâché dans le désert pour Azazel. Lévitique 16: 1-10

Vous ne réfléchissez pas qu'il est dans votre intérêt qu'un seul homme meure pour le peuple, et que la nation entière ne périsse pas. Caïphe (Jean 11: 50)
 

Or, il ne dit pas cela de lui-même; mais étant souverain sacrificateur cette année-là, il prophétisa que Jésus devait mourir pour la nation.

Et ce n'était pas pour la nation seulement; c'était aussi afin de réunir en un seul corps les enfants de Dieu dispersés. Jean (11: 50-52)

Je te loue, Père, Seigneur du ciel et de la terre, de ce que tu as caché ces choses aux sages et aux intelligents, et de ce que tu les as révélées aux enfants. Jésus (Matthieu 11: 25)

Malheur à vous! parce que vous bâtissez les tombeaux des prophètes, que vos pères ont tués.

Vous rendez donc témoignage aux oeuvres de vos pères, et vous les approuvez; car eux, ils ont tué les prophètes, et vous, vous bâtissez leurs tombeaux.

C'est pourquoi la sagesse de Dieu a dit: Je leur enverrai des prophètes et des apôtres; ils tueront les uns et persécuteront les autres,

afin qu'il soit demandé compte à cette génération du sang de tous les prophètes qui a été répandu depuis la création du monde,

depuis le sang d'Abel jusqu'au sang de Zacharie, tué entre l'autel et le temple; oui, je vous le dis, il en sera demandé compte à cette génération. Jésus (Luc 11: 47-51)

Souvenez-vous de la parole que je vous ai dite: Le serviteur n'est pas plus grand que son maître. S'ils m'ont persécuté, ils vous persécuteront aussi. Jésus (Jean 15: 20)

Une nation ne se régénère que sur un  monceau de cadavres. Saint-Just
Qu'un sang impur abreuve nos sillons! Air connu
Le marxisme doit mourir pour que la nation renaisse. Banderole de la Grand messe nazie de Berlin (février 1933)
Où est Dieu? cria-t-il, je vais vous le dire! Nous l'avons tué – vous et moi! Nous tous sommes ses meurtriers! Mais comment avons-nous fait cela? Comment avons-nous pu vider la mer? Qui nous a donné l'éponge pour effacer l'horizon tout entier? Dieu est mort! (…) Et c'est nous qui l'avons tué ! (…) Ce que le monde avait possédé jusqu'alors de plus sacré et de plus puissant a perdu son sang sous nos couteaux (…) Quelles solennités expiatoires, quels jeux sacrés nous faudra-t-il inventer? Nietzsche
« Dionysos contre le 'crucifié'  » : la voici bien l'opposition. Ce n'est pas une différence quant au martyr – mais celui-ci a un sens différent. La vie même, son éternelle fécondité, son éternel retour, détermine le tourment, la destruction, la volonté d'anéantir pour Dionysos. Dans l'autre cas, la souffrance, le « crucifié » en tant qu'il est « innocent », sert d'argument contre cette vie, de formulation de sa condamnation.  (…) L'individu a été si bien pris au sérieux, si bien posé comme un absolu par le christianisme, qu'on ne pouvait plus le sacrifier : mais l'espèce ne survit que grâce aux sacrifices humains… La véritable philanthropie exige le sacrifice pour le bien de l'espèce – elle est dure, elle oblige à se dominer soi-même, parce qu'elle a besoin du sacrifice humain. Et cette pseudo-humanité qui s'institue christianisme, veut précisément imposer que personne ne soit sacrifié. Nietzsche
Ils disent: nous avons mis à mort le Messie, Jésus fils de Marie, l'apôtre de dieu. Non ils ne l'ont point tué, ils ne l'ont point crucifié, un autre individu qui lui ressemblait lui fut substitué, et ceux qui disputaient à son sujet ont été eux-mêmes dans le doute, ils n'ont que des opinions, ils ne l'ont pas vraiment tué. Mais Dieu l'a haussé à lui, Dieu est le puissant, Dieu est le sage. Le Coran (Sourate IV, verset 157-158)
Tel est le rôle historique de l'affaire Dreyfus. Sur ce bouc émissaire du judaïsme, tous les crimes anciens se trouvent représentativement accumulés. Georges Clemenceau
Al-Aqsa est à nous et l'église du Saint Sépulcre est notre, tout est à nous. Mahmoud Abbas

Si la lettre avait été cachée dans le rayon de leur investigation, ces gaillards l'auraient trouvée, cela ne fait pas pour moi l'ombre d'un doute. (…) Donc, les mesures, continua-t-il, étaient bonnes dans l'espèce et admirablement exécutées ; elles avaient pour défaut d'être inapplicables au cas et à l'homme en question. Il y a tout un ordre de moyens singulièrement ingénieux qui sont pour le préfet une sorte de lit de Procuste, sur lequel il adapte et garrotte tous ses plans. Mais il erre sans cesse par trop de profondeur ou par trop de superficialité pour le cas en question, et plus d'un écolier raisonnerait mieux que lui. (…) Pour la valeur pratique, c'est en effet la condition, répliqua Dupin, et, si le préfet et toute sa bande se sont trompés si souvent, c'est, d'abord, faute de cette identification, en second lieu, par une appréciation inexacte, ou plutôt par la non-appréciation de l'intelligence avec laquelle ils se mesurent. Ils ne voient que leurs propres idées ingénieuses ; et, quand ils cherchent quelque chose de caché, ils ne pensent qu'aux moyens dont ils se seraient servis pour le cacher. Ils ont fortement raison en cela que leur propre ingéniosité est une représentation fidèle de celle de la foule ; mais, quand il se trouve un malfaiteur particulier dont la finesse diffère, en espèce, de la leur, ce malfaiteur, naturellement, les roule. (…) « Et ne voyez-vous pas aussi que des cachettes aussi originales ne sont employées que dans des occasions ordinaires et ne sont adoptées que par des intelligences ordinaires ; car, dans tous les cas d'objets cachés, cette manière ambitieuse et torturée de cacher l'objet est, dans le principe, présumable et présumée ; ainsi, la découverte ne dépend nullement de la perspicacité, mais simplement du soin, de la patience et de la résolution des chercheurs. Mais, quand le cas est important, ou, ce qui revient au même aux yeux de la police, quand la récompense est considérable, on voit toutes ces belles qualités échouer infailliblement. Vous comprenez maintenant ce que je voulais dire en affirmant que, si la lettre volée avait été cachée dans le rayon de la perquisition de notre préfet, en d'autres termes, si le principe inspirateur de la cachette avait été compris dans les principes du préfet, – il l'eût infailliblement découverte. (…) « Il y a d'ailleurs chez nos algébristes, qui sont eux-mêmes des païens, de certaines fables païennes auxquelles on ajoute foi, et dont on a tiré des conséquences, non pas tant par une absence de mémoire que par un incompréhensible trouble du cerveau. (…) « Cela devait impérativement le conduire à dédaigner toutes les cachettes vulgaires. Cet homme-là ne pouvait être assez faible pour ne pas deviner que la cachette la plus compliquée, la plus profonde de son hôtel, serait aussi peu secrète qu'une antichambre ou une armoire pour les yeux, les sondes, les vrilles et les microscopes du préfet. « Enfin je voyais qu'il avait dû viser nécessairement à la simplicité, s'il n'y avait pas été induit par un goût naturel. Vous vous rappelez sans doute avec quels éclats de rire le préfet accueillit l'idée que j'exprimai dans notre première entrevue, à savoir que si le mystère l'embarrassait si fort, c'était peut-être en raison de son absolue simplicité. (…) Il existe, reprit Dupin, un jeu de divination, qu'on joue avec une carte géographique. Un des joueurs prie quelqu'un de deviner un mot donné, un nom de ville, de rivière, d'Etat ou d'empire, enfin un mot quelconque compris dans l'étendue bigarrée et embrouillée de la carte. Une personne novice dans le jeu cherche en général à embarrasser ses adversaires en leur donnant à deviner des noms écrits en caractères imperceptibles ; mais les adeptes du jeu choisissent des mots en gros caractères qui s'étendent d'un bout de la carte à l'autre. « Ces mots-là, comme les enseignes et les affiches à lettres énormes, échappent à l'observateur par le fait même de leur excessive évidence ; et, ici, l'oubli matériel est précisément analogue à l'inattention morale d'un esprit qui laisse échapper les considérations trop palpables, évidentes jusqu'à la banalité et l'importunité. Mais c'est là un cas, à ce qu'il semble, un peu au-dessus ou au-dessous de l'intelligence du préfet. Il n'a jamais cru probable ou possible que le ministre eût déposé sa lettre juste sous le nez du monde entier, comme pour mieux empêcher un individu quelconque de l'apercevoir. Edgar Allan Poe (La Lettre volée, 1844)
Un bouc émissaire est un individu, un groupe, une organisation, etc., choisi(e) pour endosser une responsabilité ou une faute pour laquelle il/elle est, totalement ou partiellement, innocent(e). Le phénomène du bouc émissaire peut émaner de motivations multiples, délibérées (telles que l'évasion de responsabilité) ou inconscientes (telles que des mécanismes de défense internes). Par ailleurs, le processus peut se mettre en place entre deux personnes (e.g., un employé et son subalterne), entre des membres d'une même famille (e.g., un enfant pris pour bouc émissaire), entre les membres d'une organisation (e.g., les responsables d'une entreprise) ou à l'intérieur de tout autre groupe constitué. Outre cet aspect intragroupal, le phénomène peut également être intergroupal et s'observer alors entre des groupes différents (au sein d'un pays ou d'une société). Il existe différents critères guidant la sélection d'une personne ou d'un groupe particulier comme bouc émissaire, tels que la différence perçue de la victime, l'antipathie qu'elle suscite ou le degré de pouvoir social qu'elle possède. Selon les cas de figure et les motivations des agresseurs, les conséquences pour la victime et les réactions possibles des protagonistes peuvent varier. (…) Une des origines de ce concept peut être trouvé dans la Grèce antique où le pharmakos (en grec ancien : φαρμακός, celui qu'on immole en expiation des fautes d'un autre) désigne la victime expiatoire dans un rite de purification largement utilisé dans les sociétés primitives. Le mot a fini par prendre en grec, à l'époque classique, la signification de malfaiteur. Afin de combattre une calamité ou de chasser une force menaçante, une personne, parfois revêtue de vêtements sacrés, ou un animal était choisi et traîné hors de la cité, où il était parfois mis à mort. Cette victime sacrificielle, innocente en elle-même, était censée, comme le bouc émissaire hébreu, se charger de tous les maux de la cité. (…) Le terme de « bouc émissaire » provient de la traduction grecque de « bouc à Azazel », un bouc portant sur lui tous les péchés d'Israël. Si la tradition rabbinique conçoit Azazel comme une vallée désertique hostile, les auteurs de la Septante lisent ez ozel (« bouc en partance ») qu'ils traduisent en grec ancien par ἀποπομπαῖος τράγος / apopompaîos trágos, rendu en latin par caper emissarius. Le terme « bouc émissaire », tant employé au sens figuré dans la culture judéo-chrétienne, n'est cité qu'à une seule reprise dans l'Ancien Testament qui introduit le terme : Dieu demande à Moïse de faire porter les péchés de l'homme par un bouc. Le prêtre pose alors les mains sur le bouc, et le charge par là, symboliquement de tous les péchés. Puis le prêtre envoie l'animal dans le désert pour les porter à Azazel. La notion de sacrifice de substitution est intégrée à la thématique chrétienne, Jésus étant présenté dans les Évangiles comme un agneau immolé, expiant les péchés du monde en mourant sur la croix au terme de sa passion. L'expression française « bouc émissaire » est mentionnée dans le dictionnaire de Furetière (1690), avec une définition liée aux écritures. Par la suite, on l'a utilisée pour désigner une personne sur laquelle on fait retomber les fautes des autres. Ce sens est déjà attesté au XVIIIe siècle. Georges Clemenceau le reprendra plus tard à propos de l'affaire Dreyfus (…) Chez les anthropologues contemporains, le concept de « bouc émissaire » désigne l'ensemble des rites d'expiation utilisés par une communauté. Le premier à avoir utilisé ce concept est James George Frazer dans Le Bouc émissaire, étude comparée d'histoire des religions. (…) pour René Girard, le bouc émissaire est le mécanisme collectif permettant à une communauté archaïque de survivre à la violence générée par le désir mimétique individuel de ses membres (même si la détermination des désirs est, pour une très large part, collective). Le bouc émissaire désigne également l'individu, nécessairement coupable pour ses accusateurs, mais innocent du point de vue de la « vérité », par lequel le groupe, en s'unissant uniformément contre lui, va retrouver une paix éphémère. Le meurtre fondateur génère le religieux archaïque, les rites (répétitions de la crise mimétique) et les mythes (récits, déformés par les persécuteurs, du meurtre fondateur). L'innocence du bouc émissaire, que nous connaissons bien aujourd'hui, est révélée par le biblique et tout particulièrement par la Crucifixion de Jésus-Christ, d'ailleurs parfois appelé «l'Agneau de Dieu» en référence au bouc émissaire. C'est bien la foule, et à travers elle, toute l'humanité, qui rejette ses fautes, culpabilités et péchés sur Jésus. Il est devenu impensable aujourd'hui de se représenter un ordre social antérieur à la révélation évangélique. Avec l'avancée de la révélation évangélique et l'évangélisation du monde au sens fort du terme (en plus du sens exclusivement religieux), le monde, privé de sa solution préférée, le mécanisme émissaire, devient de plus en plus violent, quoique les formes de civilisations ne cessent d'évoluer pour contenir, dans les deux sens du terme, cette violence dite « apocalyptique ». Wikipedia
Azazel appears to be a place, and the word itself gives us some clue as to what kind of place this is and its purpose. Lets go back and get into context. All of the sins of Israel are placed on this goat which is to go to Azazel. The Torah implies that that the goat is going to be simply set free to do what he wants. Not so. According to the Oral tradition of the Jews, recorded not long after the destruction of the Second Temple, the goat was indeed left to run but he was deliberately chased to a cliff where he would be either be forced over the cliff to his death or grabbed and thrown over the cliff to die. This is explained in the Babylonian Talmud at Yoma 67b. The Mishna to that section of Talmud teaches also that as the goat's body hit the rocks its limbs would fall off. This seems odd, but let's continue. At Yoma 67b the Talmud offers three definitions of the word Azazel: The first explanation argues that it means hard and rough. (The word az in hebrew means strong) The second opinion argues that Azazel means the hardest of mountains. (The third opinion is a midrashic reference to the atonement process and not relevant to this discussion.) These two definition appears to be descriptive of the place to where the goat was chased. Indeed, not far from Jerusalem is a mountain, called Har Azazel, which has one side covered with flintstone, a very hard rock which (if you saw it you would understand that any animal hitting those stones would be ripped to pieces. There are other explanations for the word. The Septuagint translates Azazel in Lev. 16:10 as « the one to be sent away. » Rabbi J.H. Hertz argues that « Azazel » is a rare technical Hebrew noun, contracted from azlazel — which means « dismissal » — and applied exclusively here to define the animal on whom all of Israel's sins have been symbolically attached and which will meet his doom when he's thrown off a cliff to its death. Bruce James
L'expression bouc émissaire remonte au caper emissarius de la Vulgate, interprétation libre du grec apopompaios : « ce qui écarte les fléaux ». Ce dernier terme constitue lui-même, dans la traduction grecque de la Bible, dite des Septante, une interprétation libre du texte hébreu dont la traduction exacte serait : « destiné à Azazel ». On pense généralement qu'Azazel est le nom d'un démon ancien censé habiter dans le désert. Dans le chapitre XVI du Lévitique, l'action rituelle dont le bouc fait l'objet est ainsi décrite : « Aaron lui posera les deux mains sur la tête et confessera à sa charge toutes les fautes des enfants d'Israël, toutes leurs transgressions et tous leurs péchés. Après en avoir ainsi chargé la tête du bouc, il l'enverra au désert sous la conduite d'un homme qui se tiendra prêt, et le bouc emportera sur lui toutes les fautes dans un lieu aride (Lévitique 16, 5-10) (…) L'intérêt de cette conjonction, c'est qu'elle révèle une intuition très largement répandue de choses que la science ethnologique et les sciences de l'homme en général n'ont jamais officiellement reconnu : il existe un rapport entre les formes rituelles et la tendance universelle des hommes à transférer leurs angoisses et leurs conflits sur des victimes arbitraires.

Cette dualité sémantique de l'expression bouc émissaire, en français, se retrouve   dans le scapegoat anglais, dans le Sünden bock allemand et dans toutes les Pour peu qu'on y réfléchisse, on verra que nous ne disons rien, à la limite, qui ne soit déjà là dans ce double sens de rien, à la limite, qui ne soit déjà là dans ce double sens de bouc émissaire. Loin d'être saugrenue, et de survenir comme une chose inattendue, notre hypothèse entière est silencieusement dans la langue populaire depuis l'avènement de ce qu'on appelle le rationalisme. C'est la « curiosité sémantique » de ce double sens que nous essayons d'expliciter.  il est étrange à la vérité qu'avant nous, personne, à ma connaissance, ne se soit interrogé sur cette « curiosité ». Si on examine l'histoire de l'ethnologie, on s'aperçoit que de nombreuse théories du religieux ont été proposées. il n'y aen a qu'une qui ne l'a jamais été et c'est celle qui est inscrite dans les langues occidentales depuis deux ou trois siècles au moins. (…) Une hypothèse inscrite dans le langage depuis des siècles a le droit de demander des comptes à une ethnologie qui n'aurait qu'à la formuler pour échapper à ces absurdes catégorisations rituelles qui se pratiquaient encore il ya cinquante ans et que personne n'ose plus mentionner aujour'dh'ui tant elles font penser auc carottes et aux navets à la devanture des épiciers, mais personne n'a réussi à les remplacer.
René Girard
(Des choses cachées depuis la fondation du monde, 1978)
Attention: un mot peut en cacher un autre !
En ces temps étranges où, à l'instar des pierres millénaires de plusieurs dizaines de tonnes d'un temple prétendument inexistant, les plus grosses évidences se voient jusqu'au siège des Nations Unies systématiquement niées …
En cette journée où nos amis juifs se rémémorent l'institution qui donna au monde, avec la fétichisation de la victimisation qui va avec, le terme et la théorie pour débusquer l'un des phénomèmes les plus prégnants de notre modernité …
Et où en cette année électorale américaine, une bonne partie d'entre nous semble vouloir s'acharner sur la seule figure censément malfaisante du Donald …
Qui il est vrai ne manque jamais une occasion lui-même d'user et d'abuser du même procédé pour ses propres ennemis …
Comment ne pas s'étonner avec l'anthropologue franco-américain récemment décédé René Girard …
Sur la « curiosité sémantique » d'une « hypothèse inscrite silencieusement », à la manière de la fameuse lettre volée de Poe, « dans la langue populaire et les langues occidentales depuis des siècles » …

Et notamment dans ce multimillénaire récit biblique de l'institution suite à l'échec spectaculaire d'une première propitiation qui avait déjà vu la mort des deux fils du frère de Moïse Aaron …
Du rituel, par ailleurs double d'un premier consistant à sacrifier sur l'autel un premier bouc identique mais choisi par le sort, du bouc destiné (« envoyé »comme un « émissaire ») à Azazel censé porter les péchés du peuple …
Et qu'à l'instar du pharmakos grec ou des condamnés de la roche tarpéienne romaine, l'on précipitait en bas d'une montagne du désert de Judée apparemment associée à un démon ancien à une dizaine de kilomètres au sud de Jérusalem …
Comme à toutes les victimes depuis Abel jusqu'au capitaine Dreyfus et à tous ses successeurs …
Mais qui ne prendra véritablement tout son sens qu'avec la mort assumée librement d'un certain rabbin galiléen dont le grand prêtre de l'époque avait sans probablement tout à fait comprendre la portée de ses paroles …
Dit qu'il valait mieux « qu'un seul homme meure pour que la nation entière ne périsse » ?
Le «Bouc émissaire », par René Girard
Olivier Berruyer
Les Crises
Introduction
Tout le monde sait grosso modo ce qu'est un « bouc émissaire » : c'est une personne sur laquelle on fait retomber les torts des autres. Le bouc émissaire (synonyme approximatif : souffre-douleur) est un individu innocent sur lequel va s'acharner un groupe social pour s'exonérer de sa propre faute ou masquer son échec. Souvent faible ou dans l'incapacité de se rebeller, la victime endosse sans protester la responsabilité collective qu'on lui impute, acceptant comme on dit de « porter le chapeau ». Il y dans l'Histoire des boucs émissaires célèbres. Dreyfus par exemple a joué ce rôle dans l'Affaire à laquelle il a été mêlé de force : on a fait rejaillir sur sa seule personne toute la haine qu'on éprouvait pour le peuple juif : c'était le « coupable idéal »… Ainsi le bouc émissaire est une « victime expiatoire », une personne qui paye pour toutes les autres : l'injustice étant à la base de cette élection/désignation, on ne souhaite à personne d'être pris pour le bouc émissaire d'un groupe social, quel qu'il soit (peuple, ethnie, entreprise, école, équipe, famille, secte).
Cette expression, employée le plus souvent au sens figuré, trouve sa source dans un rite de la religion hébraïque : dans la Bible (Lévitique) on peut lire que le prêtre d'Israël posait ses deux mains sur la tête d'un bouc. De cette manière, on pensait que tous les péchés commis par les juifs étaient transmis à l'animal. Celui-ci était ensuite chassé dans le désert d'Azazel (= traduit fautivement par « émissaire ») pour tenir les péchés à distance. Ce bouc n'avait rien fait de mal, il était choisi au hasard pour porter le blâme de tous afin que ces derniers soient dégagés de toute accusation. On voit par là que le sens figuré est relativement proche du sens religieux d'origine, axés tous deux sur l'idée d'expiation par l'ostracisation d'un individu jouant en quelque sorte le rôle de « fusible » (bête ou homme).
Avec René Girard (né en 1923), le bouc émissaire, cesse d'être une simple expression pour devenir un concept à part entière. La théorie du Bouc Émissaire est un système interprétatif global, une théorie unitaire visant à expliquer le fonctionnement et le développement des sociétés humaines. La réflexion de René Girard s'origine dans un étonnement, qui prend la forme de deux questions successives.
D'où naît la violence dans les sociétés humaines, quel en est le ressort fondamental ?
D'où vient que cette violence ne les dévaste pas ? Comment parviennent-elles à se développer malgré elle ?
Autrement dit : quel mécanisme mystérieux permet aux sociétés humaines archaïques, enclines à l'autodestruction, de se développer quand même (la logique voudrait en effet qu'elles aient disparu depuis longtemps). À cette question, René Girard apporte une réponse univoque, martelée depuis des décennies dans plusieurs de ses livres, notamment La Violence et le Sacré, et Des Choses cachées depuis la fondation du Monde : le mécanisme du bouc émissaire…
Le désir mimétique
La théorie du bouc émissaire est adossée à une autre théorie qui lui sert de support : à l'origine de toute violence, explique René Girard, il y a le « désir mimétique », c'est-à-dire le désir d'imiter ce que l'Autre désire, de posséder ce que possède autrui, non que cette chose soit précieuse en soi, ou intéressante, mais le fait même qu'elle soit possédée par un autre la rend désirable, irrésistible, au point de déclencher des pulsions violentes pour son appropriation. La théorie mimétique du désir postule en effet que tout désir est une imitation (mimésis) du désir de l'autre. Girard prend ici le contre-pied de la croyance romantique selon laquelle le désir serait singulier, unique, imitable. Le sujet désirant a l'illusion que son désir est motivé par l'objet de son désir (une belle femme, un objet rare) mais en réalité son désir est suscité, fondamentalement, par un modèle (présent ou absent) qu'il jalouse, envie. Contrairement à une idée reçue, nous ne savons pas ce que nous désirons, nous ne savons pas sur quoi, sur quel objet (quelle femme, quelle nourriture, quel territoire) porter notre désir – ce n'est qu'après coup, rétrospectivement, que nous donnons un sens à notre choix en le faisant passer pour un choix voulu (« je t'ai choisi(e) entre mille ») alors qu'il n'en est rien – mais dès l'instant qu'un Autre a fixé son attention sur un objet, aussi quelconque soit-il, alors cet objet (que nul ne regardait jusqu'alors) devient un objet de convoitise qui efface tous les autres !
En clair, le désir n'est pas direct, mais indirect (ou médié), entre le sujet et l'objet : il fonctionne de manière triangulaire en ce sens qu'il passe par un modèle (ou médiateur). L'exemple que donne Girard pour illustrer sa théorie est celui des enfants qui se disputent des jouets en quantité suffisante. Cet exemple montre de manière édifiante qu'on ne désire pas une chose pour ce qu'elle est (sa valeur propre) mais pour ce qu'elle représente aux yeux de l'autre (un objet de désir). Les cas de « désir mimétique » sont nombreux dans la littérature. Don Quichotte, par exemple, ne désire pas être un chevalier, il ne fait qu'imiter Amadis de Gaulle, et tous les autres chevaliers qu'il a lus dans les livres. La médiation est ici littéraire. Don Quichotte est une victime d'autant plus spectaculaire du désir mimétique qu'il désire – c'est la source du comique cervantésien – une chose absurde : être chevaleresque dans un monde déféodalisé. Dans l'univers publicitaire qui est le nôtre, le mécanisme mimétique fonctionne aussi à plein. Les consommateurs ne désirent pas une marchandise parce qu'elle est utile, nécessaire ou aimable, mais parce qu'elle est convoitée, ou supposée l'être, par un tiers (star de cinéma, ami ou groupe d'amis). Le consumérisme moderne est un désir « selon l'autre », quand bien même il nous donne l'illusion de faire un choix personnel, voire unique. La mode et la publicité jouent à plein sur le désir mimétique, raison pour laquelle elles connaissent du succès, alors que ce succès ne repose objectivement sur aucune base rationnelle (beauté, robustesse, originalité de l'objet).
Du désir mimétique à la violence généralisée
Le désir mimétique serait bien innocent s'il ne débouchait sur des conflits en chaîne, et à terme sur la violence généralisée. Que se passe-t-il en effet quand deux individus (ou plus) désirent la même chose ? Ils se battent, voire s'entretuent, pour l'obtenir. Pour René Girard, le désir mimétique, en mettant en concurrence le sujet désirant et son modèle fait naître une rivalité meurtrière. L'objet désiré n'étant généralement pas partageable (pensons au jugement de Salomon : peut-on partager en deux un bébé que deux femmes revendiquent comme le leur ?), le modèle devient nécessairement un obstacle pour le sujet désirant, autrement dit une figure à abattre. C'est ici que la thématique du désir, via le mécanisme de la rivalité, rejoint celle de la violence… Son recours étant, on l'aura compris, le seul moyen de satisfaire le désir mimétique.
Prenons un exemple. Shakespeare écrit dans ses Sonnets : « Tu l'aimes, toi, car tu sais que je l'aime. » On voit bien ici que l'amour qu'éprouve le destinataire du poème (« tu ») est motivé avant tout (« car ») par l'amour qu'éprouve Shakespeare et non par l'objet lui-même de cet amour. Tu l'aimes « toi », insiste le poète, de manière mimétique, alors que moi je l'aime de manière authentique. Nous sommes bien dans le cas de figure du jouet sans valeur que se disputent deux enfants, dont l'issue est bien connue : chamaillerie, cris, crêpage de chignon, et… intervention des adultes, pour séparer les belligérants. Mais que se passe-t-il quand, dans la même situation de rivalité, deux adultes se disputent un objet ? Sans l'intervention providentielle d'un tiers situé au-dessus de la mêlée (Dieu ?), les adultes vont jusqu'au bout, c'est-à-dire jusqu'à l'élimination du rival, obstacle insupportable à la réalisation de leur désir. Les faits divers et les romans (pensons au Rouge et le Noir de Stendhal : Julien Sorel y désire triangulairement Madame de Rénal) sont remplis de crimes passionnels, motivés à l'origine par un désir mimétique, quoique ces motivations, comme l'explique René Girard, soient toujours dissimulées par le criminel derrière l'idée fallacieuse que son désir est légitime, car premier :
Seul l'être qui nous empêche de satisfaire un désir qu'il nous a lui-même suggéré est vraiment objet de haine. Celui qui hait se hait d'abord lui-même en raison de l'admiration secrète que recèle sa haine. Afin de cacher aux autres, et de se cacher à lui-même, cette admiration éperdue, il ne veut plus voir qu'un obstacle dans son médiateur. Le rôle secondaire de ce médiateur passe donc au premier plan et dissimule le rôle primordial de modèle religieusement imité. Dans la querelle qui l'oppose à son rival, le sujet intervertit l'ordre logique et chronologique des désirs afin de dissimuler son imitation. Il affirme que son propre désir est antérieur à celui de son rival ; ce n'est donc jamais lui, à l'entendre, qui est responsable de la rivalité : c'est le médiateur.
Pour masquer sa brutalité, le sujet mimétique n'hésite pas à ruser avec son désir, c'est-à-dire à faire passer le modèle pour l'imitateur…
Cette violence serait soutenable socialement (maintien de la paix civile), si elle demeurait le propre de quelques individus isolés. Or, ce qui la rend éminemment dangereuse, nous dit Girard, c'est qu'elle est contagieuse. Le désir mimétique se propage à la société tout entière, par effet « boule de neige » : si deux individus désirent la même chose il y en aura bientôt un troisième, un quatrième, et ainsi de suite. Rapidement – à la vitesse d'une traînée de poudre – , le conflit mimétique se transforme en antagonisme généralisé. Un fait divers récent illustre exemplairement cette propagation du désir mimétique, avec son corollaire agonistique de la « guerre de tous contre tous » (Hobbes). « Gaz lacrymogènes, bagarres, échauffourées violentes, arrestations musclées, lit-on dans Le Monde.fr du 25 décembre 2012, telle était l'ambiance apocalyptique dans laquelle plusieurs magasins américains ont ouvert pour la sortie des dernières paires de baskets Nike créées pour l'ancien basketteur Mickael Jordan : […] des milliers de personnes se sont ainsi rassemblées très tôt ce vendredi, parfois dès deux heures du matin, pour figurer parmi les chanceux se procurant les 150 paires seulement disponibles ; […], la même scène s'est déroulée un peu partout aux États-Unis, conduisant notamment à plusieurs arrestations à Atlanta, des personnes légèrement blessées, à la suite de piétinements à l'entrée du magasin ou encore une mère abandonnant ses deux enfants de 2 et 5 ans dans la voiture en pleine nuit. Dans la banlieue de Seattle, avant l'ouverture, la foule avait déjà enfoncé deux portes. Des bagarres ont commencé à éclater, des bousculades, certaines personnes essayaient de couper la file d'attente. Les officiers ont utilisé du gaz incapacitant pour interrompre certaines bagarres. » Aucune de ces personnes n'avait besoin, à strictement parler, de ces chaussures, pourtant toutes se sont battues, presque au risque de leur vie, pour se les approprier. Telle est l'implacable loi du désir mimétique lorsqu'elle s'applique à grande échelle : son escalade conduit à la destruction sociale généralisée. Pire, la violence engendre la violence, dans une chaîne infinie, sous l'empire du mécanisme de la vengeance. « Chaque fois qu'elle surgit en un point quelconque d'une communauté elle tend à s'étendre et à gagner l'ensemble du corps social. » (La Violence et le Sacré). De crimes en représailles (regardons comment les bandes de la Mafia s'autodétruisent), la vengeance menace la société d'éclatement. La loi du Talion, (« œil pour œil, dent pour dent »), qui répond à la violence par une violence égale, et non supérieure, limite certes son risque d'extension et d'escalade, mais ne l'arrête pas. La spirale de la violence est en principe, dans les sociétés primitives où n'existe pas la Justice, incoercible. Le cycle de la violence réciproque est littéralement infernal : elle l'était dans la Grèce antique (voir les Atrides) elle l'est encore dans certains pays où dominent la loi du Talion ou l'usage de la Vengeance (au Mexique dans les Cartels de la drogue, dans la Mafia corse, ou sicilienne).
Le bouc émissaire, rempart contre la violence
Et pourtant, force est de constater que la société a survécu à cette loi effroyable, que les peuples de la terre ont surmonté tant bien que mal le phénomène. Pourquoi ? se demande Girard. Comment se fait-il que le désir mimétique, dont la puissance de nuisance est universellement prouvée (voir Mensonge romantique et Vérité romanesque) ne nous ait pas dévasté totalement ? Comment les sociétés sont-elles parvenues à trouver un antidote à ce poison ? C'est ici qu'intervient la deuxième intuition de Girard, consistant à relier l'apparition du sacré avec le problème de la violence (d'où le titre de son livre majeur : La Violence et le Sacré). L'anthropologue observe en effet, à partir d'une lecture attentive des mythes ancestraux (de toutes origines), que ces mythes nous racontent la même histoire, à savoir la conjuration, ou plutôt la neutralisation de la violence (cette épée de Damoclès qui plane sur l'Humanité) par le sacrifice d'une victime, appelée « bouc émissaire ».
Là encore, pour résoudre l'énigme, Girard renverse une idée unanimement reçue dans la communauté scientifique et a fortiori dans le grand public, le préjugé selon lequel le sacrifice « religieux » (égorger un animal ou un être humain) serait destiné à calmer la colère des Dieux (chez les Grecs), ou à tester la foi des croyants (on pense au sacrifice d'Isaac par Abraham interrompu in extremis par un ange descendu du Ciel). Aux yeux du philosophe, le sacrifice n'est pas une affaire religieuse mais une affaire humaine. Si les hommes vont jusqu'à tuer l'un de leurs semblables, ce n'est pas pour faire plaisir aux dieux, mais pour mettre fin à l'hémorragie de violence qui frappe le groupe, et partant le menace d'extinction. En proie à une violence meurtrière, la société primitive se choisit spontanément, instinctuellement, une victime, qui jouera le rôle à la fois de pansement et de paratonnerre. De pansement, parce qu'elle va recueillir en sa seule personne toute l'agressivité diffuse et soigner le mal ; de paratonnerre parce qu'elle sera remobilisée, sous forme symbolique, chaque fois que la communauté replongera dans la violence. Ainsi se met en place, selon Girard, le rite du bouc émissaire, dont la vertu première est de transformer le « tous contre tous » en « tous contre un ». Le bouc émissaire humain n'est pas tiré au hasard ; c'est un personnage que ses qualités victimaires prédisposent à occuper la fonction de bouc émissaire. Afin d'expulser cette violence intestine, le bouc émissaire doit en effet correspondre à certains critères. Premièrement, il faut que la victime soit à la fois assez distante du groupe pour pouvoir être sacrifiée sans que chacun se sente visé par cette brutalité et en même temps assez proche pour qu'un lien cathartique puisse s'établir (on ne peut expulser que le mal qui est en nous…). Aussi, le véritable bouc émissaire de la tradition hébraïque est à la fois différent par sa qualité d'animal et semblable par son caractère domestiqué. Deuxièmement, il faut que le groupe ignore que la victime est innocente sous peine de neutraliser les effets du processus. Troisièmement, le bouc émissaire présente souvent des qualités extrêmes : richesse ou pauvreté, beauté ou laideur, vice ou vertu, force ou faiblesse. Enfin, la victime doit être en partie consentante afin de transformer le délire de persécution en vérité consensuelle. Dans les mythes, c'est souvent un prisonnier de guerre, un esclave, un enfant informe, un mendiant…
Le sacrifice du bouc émissaire permet donc à la fois de libérer l'agressivité collective (exutoire) et de ressouder la communauté autour de la paix retrouvée (pacte). Dans l'optique girardienne, le rite sacrificiel est donc une violence ponctuelle et légale dont la fonction est d'opérer une catharsis des pulsions mauvaises sur une victime indifférente à la communauté parce que marginale. Ainsi, se produit, aux dépens d'un être innocent, une sorte de solidarité dans le crime, qu'on retrouve dans les scènes de lynchage dans l'Histoire (pogrome, lapidations, etc.) ou dans la fiction (La Nuit du Chasseur1, M. le Maudit2). Le bouc émissaire permet par ailleurs d'expliquer l'émergence du Sacré, car, par un retournement paradoxal, la victime se voit divinisée pour avoir ramené la paix. La victime gît devant le groupe, apparaissant tout à la fois comme la responsable de la crise et l'auteur de ce miracle de la sérénité retrouvée. Elle devient sacrée, c'est-à-dire porteuse du pouvoir prodigieux de déchaîner la crise comme de ramener la paix. En reliant le mécanisme du bouc émissaire à celui du rite sacrificiel, René Girard rend compte ni plus ni moins que de la genèse du religieux archaïque.
Le problème de ce mécanisme régulateur de la violence est cependant son caractère temporaire. En effet, la violence endémique générée par le désir se fait, tôt ou tard, ressentir. Pour contenir la violence, et l'empêcher de ressurgir, il faut trouver un nouveau bouc émissaire. Solution au coût (humain) exorbitant, à laquelle les premières sociétés ont remédié en substituant progressivement des simulacres aux victimes humaines : ainsi seraient nés les rites des religions primitives vivantes : le sacrifice d'un animal permet d'apaiser symboliquement les pulsions agressives, par ce subterfuge (l'animal est substitué à la « cible » humaine), les membres de la communauté sont préservés, la paix est maintenue à ce prix. À chaque crise mimétique, la société répond par des sacrifices symboliques, fortement ritualisés, censés rétablir magiquement l'ordre. C'est ce qui fait dire à René Girard, dans une formule fulgurante : « Le sacré, c'est la violence. » Le sacré est en effet indissociable de la violence, en ce sens qu'il naît d'elle, tout du moins de la volonté des hommes de l'éradiquer.
Relecture du mythe d'Œdipe
Cette approche révolutionnaire du rite religieux – révolutionnaire parce qu'elle fait découler le sacré du profane – ouvre sur une réinterprétation du fameux mythe d'Œdipe3. Là encore, le philosophe prend le contre-pied de tout le monde. Rappelons en deux mots l'histoire : un oracle prédit au roi de Thèbes, Laïos, que s'il a un fils, celui-ci tuera son père et épousera sa mère, Jocaste. Quand Œdipe naît, Laïos l'abandonne. Mais des bergers le recueillent et le portent au roi de Corinthe, Polybe, qui l'élève. Adulte, Œdipe consulte l'oracle de Delphes qui lui conseille de ne pas retourner dans son pays s'il ne veut pas tuer son père et épouser sa mère. Il se dirige donc vers la Béotie, mais à un carrefour, il tue un vieillard, qui se révèle être son père. Plus tard, pour avoir débarrassé la ville de Thèbes du Sphinx (en résolvant l'énigme), on le fait roi, de sorte qu'il épouse sa mère, Jocaste, à son insu. Une peste s'abat sur la ville. La Pythie annonce que la maladie persistera tant que le meurtrier de Laïos ne se sera pas dénoncé. Œdipe mène l'enquête lui-même et découvre, horrifié, qu'il est le coupable. Pour se punir de son aveuglement, Œdipe se crève les yeux ; on le chasse de Thèbes.
Généralement, les exégètes adoptent spontanément le point de vue du narrateur (Sophocle), en rendant Œdipe responsable de la calamité qui s'abat sur la ville. C'est, nous explique-t-on, parce qu'il a tué son père et couché avec sa mère que la peste décime les thébains, aussi n'est-ce que justice que le coupable, une fois découvert, soit banni de la communauté. Faux, écrit Girard, car Œdipe n'est en réalité qu'un bouc émissaire, un homme auquel on fait endosser, sans raison valable, la responsabilité de l'épidémie qui frappe la cité. La peste n'a aucun lien de cause à effet avec les « crimes » de son roi, crimes qui, du reste, d'après Girard, ne sont que des bruits sans fondement : en somme, Œdipe est victime d'une mystification : des rumeurs courent sur son compte (le parricide, l'inceste) mais ce ne sont que des affabulations, des prétextes pour exposer le roi à la vindicte populaire. Ce que raconte le mythe d'Œdipe n'est donc pas la punition d'un coupable, mais au contraire la persécution d'un innocent, l'histoire scandaleuse d'un lynchage collectif. Bref, au lieu d'en faire un Monstre qui se repend, Girard en fait un Martyr à qui l'on ment. Comme tous les boucs émissaires, Œdipe se soumet en effet au verdict de la foule. René Girard en déduit, au plan général, que l'adhésion de l'accusé au processus qui l'élimine (ex : pression policière pour obtenir des aveux) n'est en aucun cas le signe, et encore moins la preuve de sa culpabilité. Au lieu de se révolter contre cette accusation sans fondement, Œdipe l'accepte docilement ; ce faisant, il renforce le mécanisme du bouc émissaire, qui a certes l'avantage de stopper le cycle de la violence, mais l'inconvénient d'alimenter l'injustice par le sacrifice d'un innocent. Si l'on regarde les choses d'un point de vue pragmatique, ce système est d'une grande efficacité ; au point de vue moral, en revanche, il est scandaleux. Le mécanisme du bouc émissaire est en effet basé sur un mensonge collectif (ou déni de réalité), qui est reconduit d'autant plus aisément qu'il arrange la communauté. Tout le monde a intérêt à entretenir le mythe de la résolution surnaturelle et irrationnelle de la violence par la désignation arbitraire d'une victime émissaire. On ne voit pas, dans ces conditions, pour quelles raisons ce phénomène ne durerait pas éternellement… Heureusement, il se trouve quelqu'un pour dénoncer ce mensonge, et ce quelqu'un, d'après Girard, c'est Jésus Christ !
L'Évangile : la vérité sur le bouc émissaire
René Girard considère le Nouveau Testament comme un événement capital de l'histoire de l'Humanité, non pas parce qu'il marque la naissance d'une nouvelle religion (le Christianisme) mais parce qu'il met fin au scandale de la culpabilité du bouc émissaire. Jusqu'alors toutes les victimes émissaires acceptaient de se sacrifier au nom de leurs fautes ou de leurs défauts (tares). Mais voici que le Christ met un coup d'arrêt à cette logique, en jetant une lumière crue sur le mécanisme mystificateur du bouc émissaire. Non que le Sauveur refuse d'assumer son rôle de bouc émissaire, au contraire, il se laisse torturer sans protester et crucifier comme s'il était coupable, mais à la différence des autres victimes émissaires, il clame haut et fort son innocence. Jésus se présente ouvertement comme l'agneau de Dieu qu'on sacrifie sur l'autel de la violence collective (il prend sur lui « tous les péchés du monde »), sauf que sa démarche a un tout autre sens que celle des boucs émissaires classiques qui subissaient leur sort, dans la mesure où elle est annoncée comme l'ultime sacrifice, après lequel devrait régner l'ordre et la paix. En dévoilant le mécanisme caché (depuis la fondation du monde) du bouc émissaire, à savoir que la victime est sacrifiée non par ce qu'elle est coupable (alibi grossier), mais parce qu'il faut un coupable, l'Évangile rend impossible son recours ultérieur. Désormais, la société devra trouver d'autres remèdes pour exorciser la violence (en l'occurrence elle s'appuiera sur le message évangélique de la non-violence). Si le Nouveau Testament marque un tournant majeur dans l'histoire de l'humanité, c'est que la gestion de la violence, à partir de cette date, prend un aspect tout différent. L'une des conséquences inattendues de cette révélation du « pot aux roses » du bouc émissaire, c'est que le monde, privé de sa solution préférée, devient, selon Girard, de plus en plus violent, et cela bien que les formes de civilisations ne cessent d'évoluer pour contenir, dans les deux sens du terme, cette violence.
René Girard se montre en effet très pessimiste sur l'évolution de l'Humanité, à partir du moment où elle se prive de la possibilité d'user de la carte victimaire. L'efficacité du bouc émissaire reposait en effet sur la méconnaissance/ignorance du phénomène de la part de ses usagers : les peuples ancestraux croyaient sincèrement qu'il suffisait de sacrifier une victime, ou d'accomplir un rite symbolique équivalent, pour régler les conflits. À partir du moment où les peuples ont perdu cette foi, ils doivent inventer des solutions alternatives, soit recourir à l'Évangile et sa morale naïve de la non violence (l'amour du Prochain), soit se tourner vers la Justice et son droit compliqué (proportionnalité des peines au crime commis). Or, nous dit René Girard, il n'est pas sûr que les communautés puissent se passer de la fonction régulatrice du bouc émissaire : force est d'observer que les sociétés modernes, dans les périodes de forte crise mimétique, y ont recours, tout se passant comme si elles avaient oublié qu'elle était un procédé barbare et irrationnel. Dans l'entre deux guerres par exemple, l'Allemagne, frappée par une crise économique grave, est animée de tensions sociales extrêmes et de débordements de violence qui mènent le pays au bord de la guerre civile. Or cette violence intestine va se trouver spontanément redirigée vers des boucs émissaires tels que les homosexuels, les communistes, les Tsiganes et vers les Juifs. La propagande – ce travail de sape de la connaissance, cet apprentissage de l'ignorance – se chargera pour sa part de conforter la population allemande dans l'idée que les Juifs ne peuvent pas, par définition, être innocents, ouvrant grand la porte à la tragédie de la Shoah. En dehors de ces cas exceptionnels, le fait que nos sociétés ne soient plus protégées par le mécanisme victimaire constitue paradoxalement un danger majeur, car, sauf à convertir la population entière à l'amour chrétien (idée illusoire), il n'existe désormais plus aucun frein à la violence. Dans son dernier ouvrage, Achever Clausewitz (2007), René Girard va jusqu'à nous promettre l'apocalypse. On aimerait que l'avenir lui donne tort, mais l'explosion de violence à laquelle on assiste sur toute la planète semble hélas aller dans sons sens.
Conclusion
La théorie du bouc émissaire serait-elle trop belle pour être vraie ? Le fait est qu'elle est séduisante, et même fascinante, en ce qu'elle fournit une clé de compréhension simple et efficace pour des problèmes fort complexes. Avec Girard, tout devient lumineux : la question du désir (réglée via le principe du mimétisme), la question de la violence (résolue par l'intervention du mécanisme victimaire), la question enfin de l'apparition du sacré (expliquée par les pouvoirs miraculeux attribués à la Victime). Il n'a évidemment pas manqué de spécialistes de chacune des disciplines dont Girard s'est emparé sans prévenir pour contester les thèses du philosophe : jusqu'à ces dernières années sa pensée était très discutée, voire contestée par ses confrères, mais peu à peu elle s'est imposée ; elle fait désormais partie du paysage intellectuel. Le désir mimétique, la théorie du bouc émissaire, sont cités dans les travaux d'anthropologie4.
Le système girardien présente néanmoins, sinon des failles, quelques zones d'ombre. Le principal reproche qu'on pourrait lui faire, c'est de ne pas laisser de place à la singularité, à la différence, à la complexité. Soucieux avant tout de faire triompher sa théorie, Girard généralise sans nuance, parfois à outrance. N'existe-t-il pas des sacrifices qui n'entrent pas dans la logique du bouc émissaire (les sacrifices d'offrandes) ? Ne peut-on pas trouver des peuplades qui usent du bouc émissaire sans sacraliser ce dernier (ex : les aborigènes d'Australie qui ignorent les dieux). La théorie est aussi fragile à la base, en ce sens qu'elle s'appuie sur une conception du désir qui écarte toute dimension pulsionnelle (vouloir instinctivement une chose pour elle-même). Le désir, pour Girard, n'est que mimétique, c'est-à-dire un processus cérébral. Or, peut-on faire l'économie de la libido dans les rapports humains ? Ne peut- on pas penser que la difficulté d'assouvir son désir est autant sinon plus génératrice de violence que la rivalité mimétique ? Enfin n'est-ce pas accorder une importance exagérée au message évangélique que d'en faire le seul et unique texte à dire la Vérité sur le mécanisme victimaire ?
Reste que, en dépit de son caractère totalisant (une seule explication pour tout !) cette théorie est particulièrement bienvenue aujourd'hui pour expliquer ce qui nous arrive, à savoir la prolifération du désir consumériste, la résurgence de la violence en contexte civilisationnel, le processus de désignation du coupable (l'immigré, l'étranger, etc.), la recherche effrénée de spiritualité. La pensée de Girard n'a pas perdu de son efficacité car, contrairement aux apparences, ce qu'il y a de primitif en chaque homme n'est pas éradiqué et peut ressurgir à tout moment, surtout en temps de crise. Grâce à cette pensée originale, nous sommes donc en mesure de mieux comprendre conjointement la nature biaisée de notre désir, les causes profondes de notre violence, et notre aspiration instinctive au sacré.
Bibliographie
Mensonge romantique et vérité romanesque, Paris, Grasset, 1961.
La violence et le sacré, Paris, Grasset, 1972.
Critique dans un souterrain, Lausanne, L'Âge d'Homme, 1976.
Des choses cachées depuis la fondation du monde, Paris, Grasset, 1978.
Le bouc émissaire, Paris, Grasset, 1982.
La route antique des hommes pervers, Paris, Grasset, 1985.
Shakespeare, les feux de l'envie, Paris, Grasset, 1990.
Quand ces choses commenceront…, Paris, Arléa, 1994.
The Girard Reader, New York, édité par James Wil iams,Crossroad, 1996.
Je vois Satan tomber comme l'éclair, Paris, Grasset, 1999.
Celui par qui le scandale arrive, Paris, Desclée de Brouwer, 2001.
La voix méconnue du réel, Paris, Grasset, 2002.
Le sacrifice, Paris, Bibliothèque nationale de France, 2003.
Les origines de la culture, Paris, Desclée de Brouwer, 2004.
Achever Clausewitz, Paris, Carnets Nord, 2007.
Anorexie et désir mimétique, Paris, Éditions de L'Herne, 2008.
La conversion de l'art, Paris, Carnets Nord, 2008.
Notes
1 La Nuit du chasseur (titre original : The Night of the Hunter) est un film américain réalisé par Charles Laughton en 1955. Le pasteur Harry Powell, le méchant persécuteur d'enfants, est lynché par les « bons » américains.
2 M le maudit (M – Eine Stadt sucht einen Mörder) est un film allemand réalisé par Fritz Lang, sorti en 1931. Un meurtrier d'enfants jette les habitants d'une grande ville allemande dans la terreur et l'hystérie si bien que la police et même la pègre, tous alliés contre lui, se mettent toutes les deux à sa poursuite.
3 Œdipe roi (en grec ancien Οἰδίπoυς τύραννoς / Oidípous Týrannos, en latin Œdipus Rex) est une tragédie grecque de Sophocle, entre 430 et 415 avant J.-C.
4 La consécration du philosophe a eu lieu récemment, en 2005, avec son élection à l'Académie.
Voir aussi:
Acharei Mot – 5773
Mrs.Cain
The weekly portion
April 19, 2013
L'Azazel!  Go to hell!  A ubiquitous Israeli expression, used across the board amongst the not-quite-polite fold (read all Israelis).  The phrase shows just how deeply connected we are to our Biblical origins, if only linguistically.
The parasha opens with a designation of the sequence of events (remember, the Bible doesn't always follow a consecutive narrative):
וידבר ה' אל-משה אחרי מות שני בני אהרן בקרבתם לפני-ה' וימתו: ויאמר ה' אל-משה דבר אל-אהרן אחיך ואל יבא בכל-עת אל הקדש…
Hashem spoke to Moshe after the death of Aaron's sons, when they approached before HaShem and died.   HaShem said speak to Aaron, your brother – he shall not come at all times into the Sanctuary…
The parasha then continues with clear instructions of when Aaron can go into the Sanctuary, how he must be cleansed, and in which proscribed form of dress.  Then follows a description of the sacrifices made for Yom Kippur: two male goats for a sin offering, one male ram for the elevation offering, and one bull for Aaron's sin offering, covering himself and his family.
ולקח את-שני השעירם והעמיד אתם לפני ה' פתח אהל מועד: ונתן אהרון על שני השערים גרלות גורל אחד לה'  וגורל אחד לעזאזל:  והקריב אהרון את השעיר אשר עלה עליו הגורל לה' ועשהו חטאה:  ץוהשעיר אשר עליו הגורל לעזאזל יעמד-חי לפני לכפר עליו לשלח אתו לעזאזל המדברה.
He shall take two he-goats and stand them before HaShem at the entrance of the Tent of Meeting.  Aharon shall place lots on the two he-goats: one lot "for HaShem," and one lot "for Azazel."  Aaron shall bring the he-goat designated by lot for HaShem, and make it a sin-offering.  And the he-goat designated by lopt for Azazel shall be stood alive before HaShem, to provide atonement through it, to send it to Azazel in the wilderness.
Let's look a little more closely at the sequence.  Two promising young priests die for approaching the holy of holies improperly.  Then G-d informs Moshe immediately of what the proper procedure is for doing so:  'Tell Aaron how to do it right, or I might have to kill him too!  This is the dress code, this is the ritual, etc.  In fact, the parasha opens with a double warning – not G-d spoke to Moshe once – but twice – i.e "Listen up bro…this is important…"
But more important is a small often underemphasized word:  ואל יבא בכל-עת אל הקדש…   Tell your brother not to just come whenever he wants – there needs to be a purpose for approaching the inner Sanctuary.   And the purpose is atonement for the people, not personal – but communal.
Rituals of elimination were a common aspect of ancient religions throughout the Levant: that is, the slaying of a ritual animal or person (usually representing a god) as a means of cleansing away sin on behalf of the people.  The first millennium Mesopotamian creation myth (Enûma Eliš) elaborates on the slaying of the rebellious god Gingku correlating for the first time in extant text the notion of expiation of guilt and sin with the death of a demi-deity.   Out of Gingku's blood, the first man is created, free of the sins of the god who was killed.  Am seventh century BCE Hittite text based on earlier first millennium sources of the Sargonnid kings Esahradon and Ashurbanipal (based on earlier first millennium BCE sources) relates that a lunar eclipse was thought to foretell the death of the ruling king.  In order to neutralize the evil portent, a ritual substitution was made by having a substitute king sit upon the throne for one hundred days.  At the end of this period the substitute was killed and the real king was reinstated.  In these rituals the substitute king carries away the impurities, as do animals in earlier substitution rituals.
Within this context, the text in Leviticus is evidence of a distinct departure from the more standard and commonly known substitution rituals of the region.   First of all, there are two substitutions.  One is the transference of impurity, by laying hands of the ram, and sacrificing it as a sin offering.  The second is the transference of the sins of the people onto the scapegoat.   However, the substitution done on behalf of a group or community is not unique to Leviticus.  A text from Ebla (early Akkadian) describes a scapegoat ritual from 2400-2300 BCE, in which two goats are put through a startlingly similar ritual:
(And) we purge the mausoleum|
Before the entry of the gods Kura and Barama a goat
…a silver bracelet hanging from the goat's neck.
Towards the steps of Alini we let her go…
About a thousand years later an Ugaritic text describes a similar ritual:
If the city is about to be conquered, if death
wickedly treats man
A person will take a goat into the steppes
and send her out
A Hittite scapegoat ritual from about 1350 BCE also describes a situation describing the purification ceremony for ritual pestilence, which involves the designation of a substitute (a ram and a woman), the adorning of the scapegoat, and then sending the scapegoat out into enemy territory.
Similar rituals are documented throughout the outlying regions of the Hittite empire – stretching from modern-day South-East Anatolia and northern Syria.  *1
What is unique about the scapegoat ritual in Leviticus is the concept of drawing lots to ascribe which goat is designated for G-d, and which will carry the sins of the people to Azazel.  The random nature of casting a lot shows development of a wholly new concept within the regional tradition.  Either animal can be sacrificed.  It's not for man to determine which one is which. Only G-d can determine the fate of man and animal alike.
Two questions have bothered Tannaim, and subsequent, far later Jewish scholars.  One is the actual meaning of "L'Azazel, and the second is why the date of the most important day of the year is designated only at the end of the text, after the description of the substitution ritual.
Was 'Azazel' a physical location?  The Jews of the Second Temple Period seemed to believe so.  Documented texts indicate that the goat was physically led to an outlying area 14 km southeast of Jerusalem, now referred to as Har Azazel (Jabel Muntar).  The Mishna relates that the goat was walked for a distance of about 14 km, at which 10 booths were contructed to water and feed the goat (but not the kohenim driving it to its death). Yoma 67b; Sifra, Aharei Mot 2.8 ("to a hard place in the mountains") Ibn Ezra related the word to Aramic a-z-l , or "ez – alal" – meaning "a goat goes."  A third interpretation, found in the Talmud relates the term to a demon.  Talmudic Sages wrote (Babylonian Talmud, Yoma 67b):  "It is taught by Rabbi Ishmael:  Azazel, since it atones for the deeds of Uzza and Azael," the sinful angels who were cast out of Heaven.   According to Pirkei de-Rabbi Eliezer 46, the goat is given to Azazel = Samael to bribe him not to act as the prosecutor against the Jewish people (also cf. Zohar, Aharei Mot).  There it says, "The lot of the Holy One, blessed be He, is the burnt offering, and the lot of Azazel is the he-goat sin offering."  The contraposition of these two goats alludes to a contest, as it were, between the demons and the Lord.   The Book of Isaiah supports this interpretation as well (Is. 13:21-22, 34:11-15), where Isaiah describes the wilderness as being a place of demons.
According to Leviticus 16:8, Aaron casts lots, "one marked for the Lord and the other marked for Azazel."   Likewise, Leviticus 17:7 says, "that they may offer their sacrifices no more to the goat-demons (se'irim) after whom they stray.  That would be a pretty powerful argument for sending the goat off to die in wilderness.
Finally, let's consider the timing of ritual.  Only at the end of the ritual's description is there mention of when the ritual should take place:
והיתה לכם לחקת עולם בחדש השביעי בעשור לחדש תענו את-נפשתיכם וכל-מלאכה לא תעשו האזרח והגר הגר בתוככם
"And this shall be to you a law for all time: In the seventh month, on the tenth day of the month, you shall practice self-denial, and not do any work, neither the native or the proselyte who dwells amongst you." (Leviticus 16:29)"  In an excellent drash on the parasha, Manashe Ben Yashar shows that the Vilna Gaon concluded that while Moshe had the right to approach Hashem more frequently, Aaron was limited to specific times when expiation was deemed necessary,  and Aaron's successors were to be limited to a single day in which they would bear the responsibility of expiation on behalf of a repentant people.   This parasha portrays a ritual that was far more encompassing than the single day of Yom Kippur.
Ancient cultic practices from the region support this conclusion.