Daech dispose d'équipements militaires nombreux, rustiques mais aussi lourds et sophistiqués. Plus que d'une mouvance terroriste, nous sommes confrontés à une véritable armée encadrée par des militaires professionnels. Quel est le docteur Frankenstein qui a créé ce monstre ? Affirmons-le clairement, parce que cela a des conséquences : ce sont les États-Unis. Par intérêt politique à court terme, d'autres acteurs – dont certains s'affichent en amis de l'Occident – d'autres acteurs donc, par complaisance ou par volonté délibérée, ont contribué à cette construction et à son renforcement. Mais les premiers responsables sont les Etats-Unis. Général Vincent Desportes (17.12.2014)
We should take great pride in the progress that we've made over the last eight years. That's the bottom line. No foreign terrorist organization has successfully planned and executed an attack on our homeland. (…) The most deadly attacks on the homeland over the last eight years have not been carried out by operatives with sophisticated networks or equipment directed from abroad. "They've been carried out by home-grown and largely isolated individuals who were radicalized online. Barack Hussein Obama (MacDill Air Force Base, Tampa, Fla., Dec. 6, 2016)
L'Amérique est un endroit meilleur et plus fort qu'il ne l'était quand nous avons commencé. (…) Si je vous avais dit il y a huit ans que l'Amérique renverserait une grande récession, redémarrerait notre industrie automobile et entammerait la plus longue période de création d'emplois de notre histoire … si je vous avais dit que nous ouvririons un nouveau chapitre avec le peuple cubain , que nous fermerions le programme d'armes nucléaires de l'Iran sans tirer un coup de feu, et tuer le cerveau des attentats du 9/11 … si je vous avais dit que nous gagnerions l'égalité au mariage et le droit à l'assurance maladie pour 20 millions de nos concitoyens – Vous auriez pu dire que nos objectifs étaient un peu trop élevés. (…) Les relations raciales sont meilleures qu'avant, croyez-moi, mais nous se sommes pas encore où nous devons être. (…) En raison de l'extraordinaire courage de nos hommes et de nos femmes en uniforme, des officiers du renseignement, des forces de l'ordre et des diplomates qui les soutiennent, aucune organisation terroriste étrangère n'a planifié et exécuté avec succès une attaque dans notre pays ces huit dernières années. Et bien que Boston et Orlando nous rappellent à quel point la radicalisation peut être dangereuse, nos forces de l'ordre sont plus efficaces et plus vigilantes que jamais. Barack Hussein Obama (Chicago, 10.01.2017)
Regardez ce qui se passe en Allemagne, regardez ce qui s'est passé hier soir en Suède. La Suède, qui l'aurait cru ? La Suède. Ils ont accueilli beaucoup de réfugiés, et maintenant ils ont des problèmes comme ils ne l'auraient jamais pensé. Donald Trump
La sécurité nationale commence par la sécurité aux frontières. Les terroristes étrangers ne pourront pas frapper l'Amérique s'ils ne peuvent entrer dans notre pays. Regardez ce qui se passe en Europe! Regardez ce qui passe en Europe! J'adore la Suède mais les gens là-bas comprennent que j'ai raison. J'ai un ami, c'est quelqu'un de très très important. Il adore la Ville lumière. Pendant des années, tous les étés, il allait à Paris, avec sa femme et sa famille. Je ne l'avais pas vu depuis longtemps et j'ai dit "Jim, comment va Paris?"; "Je n'y vais plus. Paris n'est plus Paris. Il n'aurait jamais raté une occasion. Aujourd'hui, il n'envisage même plus d'y aller. Donald Trump

Je ne ferai pas de comparaison, mais ici il n'y a pas de circulation d'armes, il n'y a pas de personnes qui prennent des armes pour tirer dans la foule. François Hollande

Examinant mon passeport, il relève que j'ai bénéficié récemment d'un visa « J1 », accordé notamment aux universitaires. J'ai été, en effet, professeur invité à l'Université Columbia de New York, de septembre 2016 à janvier 2017. Il conclut que je suis donc revenu travailler « illégalement » avec un visa expiré. J'ai beau expliquer que ma situation n'a rien d'anormal, sinon l'université n'aurait pas pu m'inviter, rien n'y fait. N'étant pas en possession d'un document fédéral m'autorisant à travailler aux États-Unis, je suis en infraction. La décision sera confirmée plus tard par son supérieur hiérarchique – que je n'aurai pas la possibilité de rencontrer. (…) Vers 21h, il reste une demi-douzaine de personnes, somnolentes et inquiètes, un Africain ne parlant pas bien l'anglais, les autres sans doute d'origine latino-américaine. Je suis apparemment le seul Européen – le seul « blanc ». Arrivent alors deux officiers de police. Ils se dirigent vers le monsieur assis devant moi, peut-être un Mexicain, bien mis de sa personne. Ils lui montrent un billet d'avion et lui disent qu'ils vont l'emmener. Invité à se lever, il est alors menotté, enchaîné à la taille, et entravé aux chevilles. Je n'en crois pas mes yeux. Des images d'esclaves me traversent l'esprit: la policière qui lui met les fers aux pieds est une Africaine-Américaine, vaguement gênée. J'imagine le temps qu'il va mettre pour rejoindre la porte d'embarquement. Je me demande surtout si c'est le même sort qui nous attend. Je préfère croire que lui a commis un délit sérieux. J'apprendrai par la suite que « c'est la procédure ». Cette façon de faire – proprement indigne – serait exigée par les compagnies aériennes. Je ne suis pas sûr, au demeurant, que les conditions d'expulsion soient plus humaines chez nous.A 1h 30 du matin – cela fait plus de 26 heures que j'ai quitté mon domicile parisien – je vois une certaine agitation. Une policière vient vers moi et me demande quelle est ma destination finale aux États-Unis et si quelqu'un m'attend à l'aéroport. (…) Quelques minutes plus tard, un policier au ton cette fois amical me rend mon téléphone et mon passeport, dûment tamponné, et me déclare autorisé à entrer aux États-Unis. Les restrictions qui m'ont été imposées sont levées, ajoute-t-il, sans que je puisse savoir ce qui va rester dans leurs fichiers. Il m'explique que le fonctionnaire qui a examiné mon dossier était « inexpérimenté » et ne savait pas que certaines activités, dont celles liées à la recherche et à l'enseignement, bénéficiaient d'un régime d'exception et pouvaient parfaitement être menées avec un simple visa touristique. « Il ne savait pas ». Abasourdi, je lui demande, ou plutôt je déclare que c'était donc une erreur. Il ne me répond pas. Il me laisse simplement entendre qu'ayant, lui, une longue expérience, il a vu le problème en prenant son poste en début de nuit. Il aura l'amabilité de me raccompagner à la sortie d'un aéroport totalement désert, m'indiquant l'adresse d'un hôtel dans la zone portuaire. À aucun moment, ni lui, ni ses collègues ne se sont excusés. En réalité, ma libération n'a rien eu de fortuit. Elle est la conséquence de l'intervention de mon collègue auprès du président de l'université Texas A & M, d'une professeure de droit chargée des questions d'immigration, et de plusieurs avocats. Sans eux, j'aurais été conduit menotté, enchaîné, et entravé à l'embarquement pour Paris. Historien de métier, je me méfie des interprétations hâtives. Cet incident a occasionné pour moi un certain inconfort, difficile de le nier. Je ne peux, cependant, m'empêcher de penser à tous ceux qui subissent ces humiliations et cette violence légale sans les protections dont j'ai pu bénéficier. J'y pense d'autant plus que j'ai connu l'expulsion et l'exil dans mon enfance. Pour expliquer ce qui s'est passé, j'en suis rendu aux conjectures. Pourquoi le contrôle aléatoire est-il tombé sur moi? Je ne le sais pas mais ce n'est pas le fruit du hasard. Mon « cas » présentait un problème avant même l'examen approfondi de mon visa. Peut-être est-ce mon lieu de naissance, l'Egypte, peut-être ma qualité d'universitaire, peut-être mon récent visa de travail expiré, pourtant sans objet ici, peut-être aussi ma nationalité française. Peut-être aussi le contexte. Quand bien même aurais-je commis une erreur, ce qui n'est pas le cas, cela méritait-il pareil traitement? Comment expliquer ce zèle, évident, de la part du policier qui m'a examiné et de son supérieur hiérarchique sinon par le souci de faire du chiffre et de justifier, au passage, ces contrôles accrus? J'étais d'autant plus « intéressant » que je ne tombais pas dans la catégorie habituelle des « déportables ». Telle est donc la situation aujourd'hui. Il faut désormais faire face outre-Atlantique à l'arbitraire et à l'incompétence la plus totale. Je ne sais ce qui est le pire. Ce que je sais, aimant ce pays depuis toujours, c'est que les États-Unis ne sont plus tout à fait les États-Unis. Henry Rousso
La chancelière allemande Angela Merkel et les Premiers ministres des 16 Landers allemands ont conclu jeudi un accord visant à faciliter les expulsions de réfugiés dont la demande d'asile a été rejetée. Les expulsions sont normalement du ressort des landers, mais Merkel souhaite coordonner un certain nombre de choses au niveau fédéral pour accélérer les procédures. Le gouvernement fédéral veut s'accaparer plus de pouvoirs pour refuser des permis de séjour et effectuer lui-même les expulsions. L'un des objectifs centraux du plan en 16 points est de construire un centre de rapatriement à Potsdam (Berlin) qui comptera un représentant pour chaque lander. En outre, il prévoit la création de centres d'expulsion à proximité des aéroports pour faciliter les expulsions collectives. Un autre objectif est de faciliter l'expulsion des immigrants qui présentent un danger pour la sécurité du pays et de favoriser les «retours volontaires» d'autres migrants par le biais d'incitations financières s'ils acceptent de quitter le pays avant qu'une décision ait été prise au regard de leur demande d'asile. Une somme de 40 millions d'euros est consacrée à ce projet. Selon le ministère allemand de l'Intérieur, 280.000 migrants ont sollicité l'asile en Allemagne en 2016. C'est trois fois moins que les 890.000 de l'année précédente, au plus fort de la crise des réfugiés en Europe. Près de 430 000 demandes d'asile sont encore en cours d'instruction. L'Express

When President Trump last week raised Sweden's problematic experience with open door immigration, skeptics were quick to dismiss his claims. Two days later an immigrant suburb of Stockholm was racked by another riot. No one was seriously injured, though the crowd burned cars and hurled stones at police officers. Mr. Trump did not exaggerate Sweden's current problems. If anything, he understated them. Sweden took in about 275,000 asylum-seekers from 2014-16—more per capita than any other European country. Eighty percent of those who came in 2015 lacked passports and identification, but a majority come from Muslim nations. Islam has become Sweden's second-largest religion. In Malmö, our third-largest city, Mohamed is the most common name for baby boys. The effects are palpable, starting with national security. An estimated 300 Swedish citizens with immigrant backgrounds have traveled to the Middle East to fight for Islamic State. Many are now returning to Sweden and are being welcomed back with open arms by our socialist government. In December 2010 we had our first suicide attack on Swedish soil, when an Islamic terrorist tried to blow up hundreds of civilians in central Stockholm while they were shopping for Christmas presents. Thankfully the bomber killed only himself. Riots and social unrest have become a part of everyday life. Police officers, firefighters and ambulance personnel are regularly attacked. Serious riots in 2013, involving many suburbs with large immigrant populations, lasted for almost a week. Gang violence is booming. Despite very strict firearm laws, gun violence is five times as common in Sweden, in total, as in the capital cities of our three Nordic neighbors combined. Anti-Semitism has risen. Jews in Malmö are threatened, harassed and assaulted in the streets. Many have left the city, becoming internal refugees in their country of birth. The number of sex crimes nearly doubled from 2014-15, according to surveys by the Swedish government body for crime statistics. One-third of Swedish women report that they no longer feel secure in their own neighborhoods, and 12% say they don't feel safe going out alone after dark. A 1996 report from the same government body found that immigrant men were far likelier to commit rape than Swedish men.  (…) Our nation's culture hasn't been spared either. Artists accused of insulting Islam live under death threats. Dance performances and art exhibitions have been called off for fear of angering Islamists. Schools have prohibited the singing of traditional Christian hymns because they don't want to "insult" non-Christian immigrants. Yet reports made with hidden cameras by journalists from Swedish public media show mosques teaching fundamentalist interpretations of Islam. Sweden's government now spends an incredible amount of money caring for newly arrived immigrants each year. The unemployment rate among immigrants is five times as high as that of native Swedes. Among some groups, such as Somalis, in places like Malmö unemployment reaches 80%. Jimmie Åkesson and Mattias Karlsson
Sweden has the highest rape rate in Europe, author Naomi Wolf said on the BBC's Newsnight programme recently. (…) The Swedish police recorded the highest number of offences – about 63 per 100,000 inhabitants – of any force in Europe, in 2010. The second-highest in the world. This was three times higher than the number of cases in the same year in Sweden's next-door neighbour, Norway, and twice the rate in the United States and the UK. It was more than 30 times the number in India, which recorded about two offences per 100,000 people. On the face of it, it would seem Sweden is a much more dangerous place than these other countries. But that is a misconception, according to Klara Selin, a sociologist at the National Council for Crime Prevention in Stockholm. She says you cannot compare countries' records, because police procedures and legal definitions vary widely. « In Sweden there has been this ambition explicitly to record every case of sexual violence separately, to make it visible in the statistics, » she says. « So, for instance, when a woman comes to the police and she says my husband or my fiance raped me almost every day during the last year, the police have to record each of these events, which might be more than 300 events. In many other countries it would just be one record – one victim, one type of crime, one record. » The thing is, the number of reported rapes has been going up in Sweden – it's almost trebled in just the last seven years. In 2003, about 2,200 offences were reported by the police, compared to nearly 6,000 in 2010. So something's going on. But Klara Selin says the statistics don't represent a major crime epidemic, rather a shift in attitudes. The public debate about this sort of crime in Sweden over the past two decades has had the effect of raising awareness, she says, and encouraging women to go to the police if they have been attacked. The police have also made efforts to improve their handling of cases, she suggests, though she doesn't deny that there has been some real increase in the number of attacks taking place – a concern also outlined in an Amnesty International report in 2010. « There might also be some increase in actual crime because of societal changes. Due to the internet, for example, it's much easier these days to meet somebody, just the same evening if you want to. Also, alcohol consumption has increased quite a lot during this period. « But the major explanation is partly that people go to the police more often, but also the fact that in 2005 there has been reform in the sex crime legislation, which made the legal definition of rape much wider than before. » The change in law meant that cases where the victim was asleep or intoxicated are now included in the figures. Previously they'd been recorded as another category of crime. BBC
Comment se fait-il, alors, qu'en 2008, le Danemark, voisin de la Suède, avait seulement 7,3 viols pour cent mille habitants par rapport à 53,2 en Suède ? La législation danoise n'est pas très différente de celle de la Suède et il n'y a aucune raison évidente pour laquelle les femmes danoises auraient moins tendance à signaler un viol que les femmes suédoises. En 2011, six mille cinq cent neuf viols ont été signalés à la police suédoise – mais seulement trois cent quatre vingt douze au Danemark. La population du Danemark est d'environ la moitié de celle de Suède et, même ajustée à ces chiffres, la différence est donc significative. En Suède, les autorités font ce qu'elles peuvent pour dissimuler l'origine des violeurs. Au Danemark, l'Office Statistique Officiel de l'État, Statistics Denmark, a révélé qu'en 2010, plus de la moitié des violeurs condamnés étaient issus de l'immigration. Depuis 2000, il n'y a eu qu'un seul rapport de recherche sur la criminalité des immigrants. Cela a été fait en 2006 par Ann-Christine Hjelm de l'Université Karlstads. Il est apparu que, en 2002, 85% des personnes condamnées à au moins deux ans de prison pour viol par Svea hovrätt, une cour d'appel, étaient nées à l'étranger ou étaient des immigrants de deuxième génération. Un rapport de 1996 du Conseil National Suédois pour la Prévention du Crime est arrivé à la conclusion que les immigrants en provenance d'Afrique du Nord (Algérie, Libye, Maroc et Tunisie) étaient vingt-trois fois plus susceptibles de commettre des viols que les Suédois. Les chiffres pour les hommes venus d'Irak, de Bulgarie et de Roumanie étaient, respectivement de vingt, dix-huit et dix-huit. Les hommes venant du reste de l'Afrique étaient seize fois plus susceptibles de commettre un viol ; et les hommes originaires d'Iran, du Pérou, de l'Équateur et de Bolivie, dix fois plus enclins à en commettre que les Suédois. Une nouvelle tendance a frappé la Suède de plein fouet au cours des dernières décennies : le viol collectif – pratiquement inconnu auparavant dans l'histoire criminelle suédoise. Le nombre de viols collectifs a augmenté de façon spectaculaire entre 1995 et 2006. Depuis lors, aucune étude n'a été faite à ce sujet. L'un des pires cas s'est produit en 2012, quand une femme de trente ans a été violée par huit hommes dans une cité pour demandeurs d'asile, dans la petite ville de Mariannelund. Cette femme était une connaissance d'un Afghan qui avait vécu en Suède pendant un certain nombre d'années. Il l'a invitée à sortir avec lui. Elle avait accepté. Cet Afghan l'avait emmenée dans une cité pour réfugiés et l'y avait laissée, sans défense. Pendant la nuit, elle a été violée à plusieurs reprises par des demandeurs d'asile et quand son « ami » est revenu, il l'a violée aussi. Le lendemain matin, elle a réussi à appeler la police. Le Procureur de la Suède a qualifié cet incident de « pire crime de viol de l'histoire criminelle suédoise. » Gatestone institute
Depuis les Attentats du 11 septembre 2001, la France doit faire face, comme d'autres pays, à une menace plus diffuse et qui n'émane plus d'États bien identifiés. Les attentats les plus récents sont généralement revendiqués par l'État islamique. Eric Denécé évalue à 102 morts le nombre de victimes françaises du terrorisme islamiste entre 2001 et le 5 mai 20156. Les tueries de mars 2012 à Toulouse et Montauban font un total de 8 morts dont l'agresseur. Les attentats de janvier 2015 à Paris et dans sa région (au siège de Charlie Hebdo, à Montrouge, à Dammartin-en-Goële et la prise d'otages du magasin Hyper Cacher de la porte de Vincennes) font un total de 20 morts dont les trois terroristes. Le 19 avril 2015 Sid Ahmed Ghlam assassine Aurélie Châtelain à Villejuif et se blesse avant de pouvoir attaquer plusieurs églises. Le 26 juin 2015, attentat de Saint-Quentin-Fallavier: Yassin Salhi décapite son patron et fait deux blessés. Il se suicide en prison 6 mois plus tard. Lors des attentats du 13 novembre 2015 en France, deux kamikazes font détoner leur ceinture d'explosifs au Stade de France, faisant une victime ; en même temps, diverses fusillades à la Kalachnikov visent des restaurants situés dans le 10e et 11e arrondissements de Paris, suivies d'une nouvelle fusillade puis d'une prise d'otages au Bataclan, qui se soldera après assaut des forces de l'ordre par la mort de 89 otages et des trois terroristes impliqués. Au total, le bilan s'élève à 130 morts et 415 blessés7. Les attentats seront revendiqués par l'État islamique8. Tous les terroristes sont abattus par les forces de l'ordre ou meurent dans ce qui sont les premiers attentats suicides en France, sauf Salah Abdeslam qui sera capturé 4 mois plus tard en Belgique Le 13 juin 2016, un terroriste, Larossi Abballa (Français d'origine marocaine), ayant fait allégeance à l'État islamique perpètre un double meurtre sur des fonctionnaires de police, un commandant et sa compagne, agent administratif, par arme blanche, à leur domicile9. Le bilan est de trois morts, dont l'assassin, abattu lors de l'assaut du RAID. Le couple laisse un jeune enfant. Lors de l'attentat du 14 juillet 2016 à Nice, Mohamed Lahouaiej Bouhlel fonce délibérément sur la promenade des Anglais à Nice, au volant d'un poids lourd de 19 tonnes avec lequel il écrase de nombreux passants qui regardaient la fin du feu d'artifice lors de la fête nationale française. L'attentat fait 86 morts et 434 blessés, dont de nombreux enfants. Le terroriste est abattu par la police à bord de son véhicule. Le père Jacques Hamel est égorgé le mardi 26 juillet 2016 lors de l'attentat de l'église de Saint-Étienne-du-Rouvray, ses deux assassins sont abattus par la police alors qu'il sortaient avec des otages. Le 3 février 2017 se déroule une attaque au Musée du Louvre à Paris. Des militaires sont agressés par un homme les attaquant avec deux machettes. L'un d'eux est légèrement blessé et ses camarades neutralisent l'assaillant en ouvrant le feu.

Plusieurs projets d'attentats sont déjoués en 2015, notamment contre des églises et des bases militaires10. Le plus spectaculaire est l'attentat du train Thalys le 21 août 2015 où Ayoub El Khazzani est arrêté dans sa tentative par un français et des militaires américains en permission. Une tentative d'attentat de la cathédrale Notre-Dame de Paris par des femmes est déjoué en septembre 2016. En 2016, de nombreux projets sont également déjoués dans le pays11. En France, la région parisienne, la région Rhône-Alpes et l'agglomération Roubaix-Tourcoing sont considérées comme des « viviers du terrorisme islamique » selon Claude Moniquet, codirecteur de l'European strategic Intelligence and Security Center. En France, environ 5000 personnes font l'objet d'une fiche « S » (Sûreté de l'État) et la majorité des terroristes de la seconde vague d'attentats qui ont touché la France étaient fichés « S » eux aussi. Wikipedia
Les déclarations controversées de Donald Trump associant immigration et criminalité en Suède ont involontairement ravivé le débat dans le pays scandinave sur les réussites et les échecs de sa politique d'intégration. Deux jours après les propos du président américain samedi en Floride, des émeutes dans un quartier nord de Stockholm où vit une majorité de personnes issues de l'immigration ont semblé mettre en pièces l'argumentaire déployé pour lui répondre. (…) Lundi soir en effet, plusieurs dizaines de jeunes ont affronté les policiers venus procéder à l'arrestation d'un trafiquant de drogue, incendiant des voitures, pillant des commerces. Les forces de l'ordre ont effectué un tir à balles réelles pour se dégager, a indiqué à l'AFP Lars Byström, porte-parole de la police de la capitale. Les images ont fait le tour du monde, brouillant la réponse des autorités suédoises à Donald Trump et à la chaîne Fox News qui a diffusé un reportage sur l'insécurité en Suède dont le président républicain s'était inspiré. Pour Tove Lifvendahl, éditorialiste du quotidien Svenska Dagbladet, il existe bel et bien « une once de vérité dans ce qu'a dit Trump ». « Que cela nous plaise ou non, c'est l'occasion de se demander si la perception que l'étranger a de nous et la perception que nous avons de nous-mêmes coïncident », écrivait-elle mercredi. Les contradicteurs de M. Trump font valoir que la Suède n'a pas connu d'attentat depuis 2010, qu'elle n'enregistre pas d'inflation criminelle depuis l'accueil de 244.000 migrants en 2014 et 2015 –un record en Europe par habitant –, et qu'elle demeure au total un pays parmi les plus sûrs du monde. Parmi les plus riches aussi. Si la Suède n'est pas épargnée par les difficultés de l'intégration, elle est loin de connaître les tensions entre communautés, les inégalités, la pauvreté et la violence à l'oeuvre aux États-Unis, soulignent-ils. Une autre vision met en avant la surreprésentation des personnes d'origine étrangère dans les statistiques de la délinquance, leur sous-activité professionnelle, les règlements de compte, les quelque 300 jeunes partis faire le jihad en Syrie et en Irak, le repli religieux, l'existence présumée de zones de non-droit… (…) Benjamin Dousa, un élu local conservateur d'origine turque, dénonce lui dans une tribune « une émeute par mois, un incendie de voitures par jour et le plus fort taux d'homicides par balles au niveau national » par habitant. En tout état de cause, le président américain a tort de stigmatiser une population en raison de son origine ethnique ou religieuse, estiment les sociologues Susanne Urban et Oskar Adenfelt. La clé de l'intégration est sociale et passe par « l'accès à l'État-providence, aux services sociaux, à l'emploi, à une école de qualité, à la mixité et au droit de peser sur la vie locale », défendaient-ils mercredi dans le grand quotidien Dagens Nyheter. Le Point/AFP
Attention: un aveuglement peut en cacher un autre !
Alors qu'après ses récentes allusions aux problèmes soulevés par l'immigration et le terrorisme islamiques en Europe nos médias se sont dument gaussés de la prétendue ignorance du président Trump …
Inspiré certes pour la Suède d'un reportage quelque peu sensationaliste sur un pays qui, sans compter un attentat-suicide d'un immigré irakien heureusement sans victimes il y a sept ans, tout en ayant apparemment dramatiquement sa définition du viol se trouve avoir ces dernières années le record du nombre de viols comme de migrants par habitant …
Et que refusant toute « comparaison » après, sans parler il y a deux mois ou encore hier en une Allemagne en pleine révision de sa politique migratoire, la quarantaine d'attentats et projets d'attentats islamistes depuis 2012 pour quelque 240 morts et 800 blessés, un président français nous assure qu' « ici (…) il n'y a pas de personnes qui prennent des armes pour tirer dans la foule » …
Pendant qu'apparemment victime du zèle d'un employé inexpérimenté et d'un contrôle de sécurité prolongé à un aéroport américain un mois à peine après un attentat à l'aéroport de Fort Lauderdale ayant fait cinq morts et six blessés, un universitaire français né en Egypte, porteur d'un ancien visa de travail et en route pour une conférence rémunérée se fend d'une tribune entière déplorant avec force « images d'esclaves » que « les États-Unis ne sont plus tout à fait les États-Unis » …
Comment ne pas repenser à un autre président américain …
Qui au terme de deux mandats qui, suite à l'abandon d'un Irak alors sécurisé, ont vu pas moins de 124 attentats ou tentatives d'attentats islamiques …
Dont une douzaine, entre Little Rock, Fort Hood, Boston, Moore (Oklahoma), Queens, Brooklyn, Garland, Chattanooga, San Bernardino, Orlando, St. Cloud (Minnesota), New York,  Columbus, d'attaques majeures …
Nous annonçait tranquillement il y a un mois qu' « aucune organisation terroriste étrangère n'a planifié et exécuté avec succès une attaque dans notre pays ces huit dernières années » ?
A Complete List of Radical Islamic Terror Attacks on U.S. Soil Under Obama
James Barrett
Dailywire
December 7, 2016
In a speech at MacDill Air Force Base in Tampa, Florida on Tuesday, President Obama declared that « [n]o foreign terrorist organization has successfully planned and executed an attack on our homeland. » The claim earned perfunctory applause, but a closer look at the reaction of many of the servicemen and women there made clear what they really thought about the administration's handling of national security.
The President's claim — which he has repeated in some form or fashion over the last few years — is an obvious rhetorical attempt to gloss over the reality of the threat of radical Islamic terror on American soil. The attempt to disconnect « lone wolf » terrorists from the terror organizations who often inspire them does nothing to alleviate the pain of those who have suffered at the hands of jihadists and only hurts prevention efforts. Rhetorical tricks aside, the reality is that during Obama's tenure scores of innocent Americans have been murdered on U.S. soil by jihadists, most of whom were inspired by or acting under the direction of foreign terror groups, particularly the Islamic state.
Below is a list of the major, verifiable radical Islamic terror attacks « successfully planned and executed » on U.S. soil since Obama first took office in 2009 (the first section provided by Daily Wire's Aaron Bandler):
Little Rock, Arkansas, June 1, 2009. Abdulhakim Mujahid Muhammad shot and murdered one soldier, Army Pvt. William Andrew Long, and injured another, Pvt. Quinton Ezeagwula, at a military recruiting station in Little Rock. Muhammad reportedly converted to Islam in college and was on the FBI's radar after being arrested in Yemen–a hotbed of radical Islamic terrorism–for using a Somali passport, even though he was a U.S. citizen. In a note to an Arkansas judge, Muhammad claimed to be a member of al-Qaeda in the Arab Peninsula, the terror group's Yemen chapter.

Fort Hood, Texas, November 5, 2009. Major Nidal Malik Hasan shot up a military base in Fort Hood and murdered 14 people. Hasan was in contact with al-Qaeda terrorist Anwar al-Awlaki prior to the attack and shouted « Allahu Akbar! » as he fired upon the soldiers on the Fort Hood base. After being sentenced to death, Hasan requested to join ISIS while on death row. It took six years for Obama to acknowledge the shooting as a terror attack instead of « workplace violence. »

Boston, Massachusetts, April 15, 2013. Tamerlan and Dhozkar Tsarnaev set off two bombs at the 2013 Boston marathon, killing three and injuring over 260 people. The Tsarnaev brothers later shot and murdered Massachusetts Institute of Technology police officer Sean Collier. The Tsarnaev brothers were self-radicalized through online jihadist propaganda and through a mosque with ties to al-Qaeda.

Moore, Oklahoma, September 24, 2014. Alton Nolen beheaded a woman, Colleen Huff, at a Vaughan Foods plant and stabbed and injured another person. While Nolen's motives are unclear, he appears to have been another radicalized Muslim who was obsessed with beheadings.

Queens, New York, October 23, 2014. Zale Thompson, another self-radicalized Muslim, injured two police officers with a hatchet before being shot dead by other cops. Thompson reportedly indoctrinated himself with ISIS, al-Qaeda and al-Shabab–a Somali jihadist terror group–websites and was a lone wolf attacker.

Brooklyn, New York, December 20, 2014. Ismaayil Brinsley shot and murdered two police officers execution-style and his Facebook page featured jihadist postings and had ties to a terror-linked mosque.

Garland, Texas, May 3, 2015. Two gunmen shot up the Curtis Culwell Center in Garland, where a Mohammed cartoon contest was taking place, and were killed by a police officer. ISIS claimed responsibility for the attack.

Chattanooga, Tennessee, July 16, 2015. Muhammad Youssef Abdulazeez shot and killed four Marines and a sailor at a military base in Chattanooga and was believed to have been inspired by ISIS.

San Bernardino, California, December 14, 2015. Two radical Islamists, Syed Farook and Tashfeen Malik, shot and murdered 14 people and injured 22 others at an office holiday party.
Orlando, Florida, June 12, 2016. Omar Mateen, 29, opened fire at a gay nightclub, killing 49 and injuring 53. The FBI investigated Mateen twice before his rampage, but did not take any substantive action. Officials believe Mateen was self-radicalized but he pledged fealty to ISIS leader Abu Bakr al-Baghdadi before his death. « The real muslims will never accept the filthy ways of the west, » Mateen posted on his Facebook page after committing his heinous act at Pulse nightclub. « I pledge my alliance to (ISIS leader) abu bakr al Baghdadi..may Allah accept me, » he wrote.
St. Cloud, Minnesota, September 17, 2016. Dahir Ahmed Adan, a 20-year-old Somali refugee, began hacking at people with a steak knife at a Minnesota mall, injuring nine people before he was shot dead by off-duty police officer Jason Falconer. The FBI said numerous witnesses heard Adan yelling « Allahu akbar! » and « Islam! Islam! » during the rampage. He also asked potential victims if they were Muslims before inflicting wounds in their heads, necks, and chests. The FBI believe he had recently become self-radicalized. (As the Daily Wire highlighted, the Minneapolis Star Tribune attempted to blame « anti-Muslim tensions » for his murderous actions.)
New York City/New Jersey, September 17, 2016. Ahmad Khan Rahami, a 28-year-old naturalized citizen from Afghanistan, set off multiple bombs in New York and New Jersey. In Chelsea, his bomb resulted in the injury of over 30 people. Rahami wrote in his journal that he was connected to « terrorist leaders, » and appears to have been heavily influenced by Sheikh Anwar, Anwar al-Awlaki, Nidal Hassan, and Osama bin Laden. « I pray to the beautiful wise ALLAH, [d]o not take JIHAD away from me, » Rahami wrote. « You [USA Government] continue your [unintelligible] slaught[er] » against the holy warriors, « be it Afghanistan, Iraq, Sham [Syria], Palestine … «
Columbus, Ohio, November 28, 2016. Abdul Razak Ali Artan, an ISIS-inspired 20-year-old Somali refugee who had been granted permanent legal residence in 2014 after living in Pakistan for 7  years, attempted to run over his fellow Ohio State students on campus. After his car was stopped by a barrier, he got out of the vehicle and began hacking at people with a butcher knife before being shot dead by a campus police officer. He injured 11 people, one critically. ISIS took credit for the attack, describing Artan as their « soldier. » Just three minutes before his rampage, Artan posted a warning to America on Facebook that the « lone wolf attacks » will continue until America « give[s] peace to the Muslims. » He also praised deceased al-Qaeda cleric Anwar Al-Awlaki as a « hero. »
Voir aussi:
Les États-Unis sont-ils encore les États-Unis?
Il faut désormais faire face outre-Atlantique à l'arbitraire et à l'incompétence la plus totale.
Henry Rousso
Historien, directeur de recherches au CNRS (Institut d'histoire du temps présent)
Le Hugffington Post
26.02.2017
Le 22 février dernier, j'ai atterri vers 14h30 à l'aéroport de Houston, aux États-Unis, en provenance de Paris. Je devais me rendre à un colloque de la Texas A&M University (College Station), où j'ai été invité à plusieurs reprises ces dernières années. Au guichet de l'immigration, une fonctionnaire me refuse l'entrée et m'emmène dans une salle attenante pour contrôle, sans explications. Une trentaine de personnes y attendent que l'on statue sur leur sort. J'observe machinalement une certaine fréquence dans les entrées et sorties. Au bout de trois quarts d'heure, alors que la plupart de ceux qui attendent repartent sans problèmes, un jeune officier de police me demande de le suivre dans un bureau particulier. Commence alors un interrogatoire informel. Je lui demande ce qui me vaut d'être là. Il me répond : « contrôle aléatoire » (random check). Il me demande ce que je viens faire aux États-Unis. Je lui présente alors la lettre d'invitation de l'université. Cette intervention doit-elle être rémunérée ? Je confirme – c'est la règle dans beaucoup universités Nord-américaines. Il m'objecte alors que je n'ai qu'un visa touristique et non un visa spécifique de travail. Je lui réponds que je n'en ai pas besoin, que l'université s'est occupée comme d'habitude des formalités et, surtout, que je fais cela depuis plus de trente ans sans jamais avoir eu le moindre ennui. Son attitude se fait alors encore plus suspicieuse. Examinant mon passeport, il relève que j'ai bénéficié récemment d'un visa « J1 », accordé notamment aux universitaires. J'ai été, en effet, professeur invité à l'Université Columbia de New York, de septembre 2016 à janvier 2017. Il conclut que je suis donc revenu travailler « illégalement » avec un visa expiré. J'ai beau expliquer que ma situation n'a rien d'anormal, sinon l'université n'aurait pas pu m'inviter, rien n'y fait. N'étant pas en possession d'un document fédéral m'autorisant à travailler aux États-Unis, je suis en infraction. La décision sera confirmée plus tard par son supérieur hiérarchique – que je n'aurai pas la possibilité de rencontrer.
On bascule alors dans une autre dimension. Le policier me fait prêter serment et me soumet à un interrogatoire étendu : questions sur mon père, ma mère, ma situation familiale, me posant près d'une dizaine de fois les mêmes questions: qui m'emploie, où j'habite, etc. J'ai la copie du procès-verbal. Il relève toutes mes empreintes digitales, pourtant déjà enregistrées dans le système comme pour tous les visiteurs. Il opère une fouille au corps en règle, malgré mes protestations. « C'est la procédure », me rétorque-t-il. Il m'informe ensuite que je vais être refoulé (deported) et mis dans le prochain avion en partance pour Paris. Il ajoute que je ne pourrai plus jamais entrer dans le pays sans un visa particulier. Je suis stupéfait mais ne peux rien faire sinon prévenir mon collègue de l'université. Le policier me demande si je veux contacter le Consulat de France à Houston. Je réponds par l'affirmative mais c'est lui qui se charge de composer le numéro, plusieurs heures après, aux alentours de 19h, appelant le standard et non le numéro d'urgence, donc sans résultat. Il m'indique également qu'il n'arrive pas à contacter Air France pour mon billet. Cela fait déjà près de cinq heures que je suis détenu et je comprends alors que rien ne se passera avant le lendemain.
Je m'apprête donc à passer encore entre une dizaine ou une vingtaine d'heures installé sur une chaise, sans téléphone – l'usage en est interdit –, avant de pouvoir occuper un fauteuil un peu plus adapté à la situation de personnes ayant effectué un long voyage. Toutes les heures, un fonctionnaire vient nous proposer à boire ou à manger, et nous fait signer un registre comme quoi nous avons accepté ou refusé. Malgré la tension, j'observe ce qui se passe dans ce lieu insolite, à la fois salle d'attente anodine et zone de rétention. Si la plupart des policiers adoptent un ton réglementaire, non discourtois, quelques-uns ricanent discrètement en observant cette population hétéroclite sous leur contrôle. Une policière engueule une femme dont le garçon de trois ans court dans tous les sens. Un homme se lève pour demander ce qu'il en est de sa situation. Trois policiers lui hurlent de s'asseoir immédiatement.
Vers 21h, il reste une demi-douzaine de personnes, somnolentes et inquiètes, un Africain ne parlant pas bien l'anglais, les autres sans doute d'origine latino-américaine. Je suis apparemment le seul Européen – le seul « blanc ». Arrivent alors deux officiers de police. Ils se dirigent vers le monsieur assis devant moi, peut-être un Mexicain, bien mis de sa personne. Ils lui montrent un billet d'avion et lui disent qu'ils vont l'emmener. Invité à se lever, il est alors menotté, enchaîné à la taille, et entravé aux chevilles. Je n'en crois pas mes yeux. Des images d'esclaves me traversent l'esprit: la policière qui lui met les fers aux pieds est une Africaine-Américaine, vaguement gênée. J'imagine le temps qu'il va mettre pour rejoindre la porte d'embarquement. Je me demande surtout si c'est le même sort qui nous attend. Je préfère croire que lui a commis un délit sérieux. J'apprendrai par la suite que « c'est la procédure ». Cette façon de faire – proprement indigne – serait exigée par les compagnies aériennes. Je ne suis pas sûr, au demeurant, que les conditions d'expulsion soient plus humaines chez nous.
L'attente continue, cette fois avec une réelle angoisse. A 1h 30 du matin – cela fait plus de 26 heures que j'ai quitté mon domicile parisien – je vois une certaine agitation. Une policière vient vers moi et me demande quelle est ma destination finale aux États-Unis et si quelqu'un m'attend à l'aéroport. Je réponds avec un début d'énervement – à éviter absolument dans ce genre de situations – que le chauffeur de l'université, qui se trouve à deux heures de route, est sans doute reparti… Elle me prie alors de ne pas me rendormir car je vais être appelé. Quelques minutes plus tard, un policier au ton cette fois amical me rend mon téléphone et mon passeport, dûment tamponné, et me déclare autorisé à entrer aux États-Unis. Les restrictions qui m'ont été imposées sont levées, ajoute-t-il, sans que je puisse savoir ce qui va rester dans leurs fichiers. Il m'explique que le fonctionnaire qui a examiné mon dossier était « inexpérimenté » et ne savait pas que certaines activités, dont celles liées à la recherche et à l'enseignement, bénéficiaient d'un régime d'exception et pouvaient parfaitement être menées avec un simple visa touristique. « Il ne savait pas ». Abasourdi, je lui demande, ou plutôt je déclare que c'était donc une erreur. Il ne me répond pas. Il me laisse simplement entendre qu'ayant, lui, une longue expérience, il a vu le problème en prenant son poste en début de nuit. Il aura l'amabilité de me raccompagner à la sortie d'un aéroport totalement désert, m'indiquant l'adresse d'un hôtel dans la zone portuaire. À aucun moment, ni lui, ni ses collègues ne se sont excusés.
En réalité, ma libération n'a rien eu de fortuit. Elle est la conséquence de l'intervention de mon collègue auprès du président de l'université Texas A & M, d'une professeure de droit chargée des questions d'immigration, et de plusieurs avocats. Sans eux, j'aurais été conduit menotté, enchaîné, et entravé à l'embarquement pour Paris.
Historien de métier, je me méfie des interprétations hâtives. Cet incident a occasionné pour moi un certain inconfort, difficile de le nier. Je ne peux, cependant, m'empêcher de penser à tous ceux qui subissent ces humiliations et cette violence légale sans les protections dont j'ai pu bénéficier. J'y pense d'autant plus que j'ai connu l'expulsion et l'exil dans mon enfance. Pour expliquer ce qui s'est passé, j'en suis rendu aux conjectures. Pourquoi le contrôle aléatoire est-il tombé sur moi? Je ne le sais pas mais ce n'est pas le fruit du hasard. Mon « cas » présentait un problème avant même l'examen approfondi de mon visa. Peut-être est-ce mon lieu de naissance, l'Egypte, peut-être ma qualité d'universitaire, peut-être mon récent visa de travail expiré, pourtant sans objet ici, peut-être aussi ma nationalité française. Peut-être aussi le contexte. Quand bien même aurais-je commis une erreur, ce qui n'est pas le cas, cela méritait-il pareil traitement? Comment expliquer ce zèle, évident, de la part du policier qui m'a examiné et de son supérieur hiérarchique sinon par le souci de faire du chiffre et de justifier, au passage, ces contrôles accrus? J'étais d'autant plus « intéressant » que je ne tombais pas dans la catégorie habituelle des « déportables ». Telle est donc la situation aujourd'hui. Il faut désormais faire face outre-Atlantique à l'arbitraire et à l'incompétence la plus totale. Je ne sais ce qui est le pire. Ce que je sais, aimant ce pays depuis toujours, c'est que les États-Unis ne sont plus tout à fait les États-Unis.
Voir de même:
Trump Is Right: Sweden's Embrace of Refugees Isn't Working
The country has accepted 275,000 asylum-seekers, many without passports—leading to riots and crime.
Jimmie Åkesson and Mattias Karlsson
The Wall Street Journal
Feb. 22, 2017
When President Trump last week raised Sweden's problematic experience with open door immigration, skeptics were quick to dismiss his claims. Two days later an immigrant suburb of Stockholm was racked by another riot. No one was seriously injured, though the crowd burned cars and hurled stones at police officers.
Mr. Trump did not exaggerate Sweden's current problems. If anything, he understated them. Sweden took in about 275,000 asylum-seekers from 2014-16—more per capita than any other European country. Eighty percent of those who came in 2015 lacked passports and identification, but a majority come from Muslim nations. Islam has become Sweden's second-largest religion. In Malmö, our third-largest city, Mohamed is the most common name for baby boys.
The effects are palpable, starting with national security. An estimated 300 Swedish citizens with immigrant backgrounds have traveled to the Middle East to fight for Islamic State. Many are now returning to Sweden and are being welcomed back with open arms by our socialist government. In December 2010 we had our first suicide attack on Swedish soil, when an Islamic terrorist tried to blow up hundreds of civilians in central Stockholm while they were shopping for Christmas presents. Thankfully the bomber killed only himself.
Riots and social unrest have become a part of everyday life. Police officers, firefighters and ambulance personnel are regularly attacked. Serious riots in 2013, involving many suburbs with large immigrant populations, lasted for almost a week. Gang violence is booming. Despite very strict firearm laws, gun violence is five times as common in Sweden, in total, as in the capital cities of our three Nordic neighbors combined.
Anti-Semitism has risen. Jews in Malmö are threatened, harassed and assaulted in the streets. Many have left the city, becoming internal refugees in their country of birth.
The number of sex crimes nearly doubled from 2014-15, according to surveys by the Swedish government body for crime statistics. One-third of Swedish women report that they no longer feel secure in their own neighborhoods, and 12% say they don't feel safe going out alone after dark. A 1996 report from the same government body found that immigrant men were far likelier to commit rape than Swedish men. Last year our party asked the minister of justice to conduct a new report on crime and immigration, and he replied: "In light of previous studies, I do not see that a further report on recorded crime and individuals' origins would add knowledge with the potential to improve the Swedish society."
Our nation's culture hasn't been spared either. Artists accused of insulting Islam live under death threats. Dance performances and art exhibitions have been called off for fear of angering Islamists. Schools have prohibited the singing of traditional Christian hymns because they don't want to "insult" non-Christian immigrants. Yet reports made with hidden cameras by journalists from Swedish public media show mosques teaching fundamentalist interpretations of Islam.
Sweden's government now spends an incredible amount of money caring for newly arrived immigrants each year. The unemployment rate among immigrants is five times as high as that of native Swedes. Among some groups, such as Somalis, in places like Malmö unemployment reaches 80%.
Our party, the Sweden Democrats, wants to put the security and welfare of Swedish citizens first. We are surging in the opinion polls and seem to have a good chance of becoming the country's largest party during the elections next year. We will not rest until we have made Sweden safe again.
For the sake of the American people, with whom we share so many strong historical and cultural ties, we can only hope that the leaders in Washington won't make the same mistakes that our socialist and liberal politicians did.
Mr. Åkesson is party chairman of the Sweden Democrats. Mr. Karlsson is the party's group leader in Parliament.
Voir par ailleurs:
Hommage national aux victimes du terrorisme: Trois décennies d'attentats en France
Laure Cometti
20 minutes
L'hommage national aux victimes du terrorisme, qui a lieu chaque année le 19 septembre, depuis 1998, prend ce lundi un écho particulier. Depuis janvier 2015, 236 personnes sont mortes dans des attentats en France, sur un total de 271 en trente ans. 20 Minutes revient sur les attaques terroristes perpétrées dans l'Hexagone au cours des trois dernières décennies.
1986
Cette année est marquée par neuf attaques terroristes, dont six sont meurtrières. Elles s'inscrivent dans une vague d'attentats, de décembre 1985 à septembre 1986, dont certains seront imputés au Hezbollah.
Le mois de septembre est particulièrement meurtrier. Le 8, une explosion fait un mort et dix-huit blessés dans le bureau de poste de l'Hôtel de Ville à Paris. Le 12, plus d'une cinquantaine de personnes sont blessées par une bombe placée dans un magasin Casino à la Défense. Le 14, une nouvelle explosion tue deux personnes dans le pub Renault des Champs-Elysées. Le lendemain, c'est la préfecture de police de Paris qui est visée : une bombe fait un mort et 51 blessés. Le 17, ce mois de septembre meurtrier s'achève par un attentat à la bombe devant le magasin Tati de la rue de Rennes, toujours à Paris. Le bilan est de sept morts et une cinquantaine de blessés.
1995
Entre juillet et novembre, l'Hexagone est le théâtre d'une série d'attaques à la bombe imputées à l'organisation terroriste algérienne du Groupe islamique armé (GIA). La seule attaque meurtrière est celle de la station de RER B Saint-Michel à Paris, le 25 juillet. Le bilan est de huit tués et plus d'une centaine de blessés.
Près de Lyon, une bombe est découverte le 26 août sur une ligne de TGV. Les empreintes digitales de Khaled Kelkal sont retrouvées sur l'engin explosif. Le jeune homme, impliqué dans l'attentat de la station Saint-Michel, est abattu par la police le 29 septembre. Arrêté deux jours auparavant, son complice Karim Koussa a été jugé et condamné à de la prison. Deux autres membres du GIA ont été arrêtés le 1er novembre dans le cadre de l'enquête sur cette vague d'attentats, Boualem Bensaïd et Smaïn Aït Ali Belkacem, tous deux jugés et incarcérés.
Le 3 septembre, une bombe blesse quatre personnes sur un marché du boulevard Richard Lenoir à Paris.
Les transports en commun de la capitale sont ciblés à deux autres reprises, sans faire de morts : le 6 octobre à Maison-Blanche (seize blessés) et le 17 octobre dans une rame du RER C, entre les stations Saint-Michel et Quai d'Orsay (une trentaine de blessés).
1996
Le 3 décembre, une explosion tue quatre personnes et en blesse plus de 90 à la station de RER B de Port-Royal. Les auteurs de l'attaque n'ont pas été identifiés.
2000
Le 19 avril, une bombe explose dans un restaurant de la chaîne McDonald's à Quévert (ôtes-d'Armor), tuant une employée. L'enquête démontrera plus tard que la bombe devait exploser pendant la nuit. Trois hommes appartenant à la mouvance indépendantiste bretonne seront jugés puis acquittés dans cette affaire qui n'a pas été élucidée à ce jour.
2007
Le 6 décembre, un colis piégé explose dans un cabinet d'avocat au 52, boulevard Malesherbes à Paris. La secrétaire du cabinet est tuée sur le coup. L'affaire n'est pas élucidée à ce jour.
2012
En mars, Mohamed Merah tue sept personnes par balle à Toulouse et Montauban. Il s'agit de trois militaires et de  trois élèves et un professeur d'une école juive. Le terroriste islamiste est abattu le 22 mars après une intervention du Raid dans le quartier de Côte Pavée à Toulouse.
2015
Le début de l'année est marquée par la tuerie au siège de Charlie Hebdo. Les frères Saïd et Chérif Kouachi, qui affirment agir au nom de l'organisation Al-Qaida dans la péninsule arabique (Aqpa), abattent le 7 janvier huit membres de la rédaction de l'hebdomadaire, un dessinateur invité à la conférence du journal, deux policiers et un agent de maintenance de l'entreprise Sodexo. Les terroristes sont tués deux jours plus tard à Dammartin-en-Goële.
Le lendemain, une policière municipale est tuée à Montrouge par Amédy Coulibaly qui mènera la prise d'otages du magasin Hypercacher de la Porte de Vincennes, le 9 janvier. Le terroriste, qui se revendique du groupe Etat islamique (EI) dans une vidéo, est abattu après avoir tué un employé et trois clients de la boutique vendant des produits casher.
Le 26 juin, Yassin Salhi décapite son patron sur le site de l'usine AirProducts. Fiché S pour ses liens avec l'islam radical, le présumé coupable s'est suicidé en prison le 23 décembre de la même année.
Le 13 novembre au soir, des attaques simultanées à Saint-Denis et Paris font 130 morts et plus de 400 blessés. Il s'agit des pires attaques terroristes de l'histoire de la France. Tous les auteurs de ces attentats, revendiqués par Daesh, sont morts en kamikazes. Salah Abdeslam, l'unique membre encore vivant des commandos, a été arrêté en le 18 mars 2016 en Belgique et remis à la France où il a été écroué.
2016
Le 13 juin, un policier de Magnanville et sa compagne employée au commissariat de Mantes-la-Jolie (Yvelines) sont assassinés chez eux par  Larossi Abballa, qui avait revendiqué son action sur Twitter et Facebook au nom de Daesh. Le terroriste est abattu par le Raid.
Le soir de la fête nationale, Mohamed Lahouaiej-Bouhlel, au volant d'un camion, fonce dans la foule quelques instants après le feu d'artifice du 14 juillet sur la Promenade des Anglais à Nice. Le bilan est de 86 morts et plus de 300 blessés. L'attaque est revendiquée par Daesh.
Le 26 juillet, un prêtre est tué lors d'une prise d'otages pendant la messe dans une église catholique à Saint-Etienne-du-Rouvray. Les auteurs, deux djihadistes sont abattus par les forces de l'ordre. Cette attaque est aussi revendiquée par Daesh..
Voir de même:
19/07/2016
Alors que le bilan humain de l'attentat de Nice du 14 juillet n'est pas encore définitif, Nord Actu a dressé la liste chronologique des attentats terroristes islamistes qui ont touché la France depuis début 2012, ainsi que les tentatives déjouées par les services de sécurité dont nous avons eu connaissance. La liste des projets d'attentats est donc non-exhaustive, mais permet de se faire une idée sur la quantité d'actions islamistes entreprises depuis 4 ans en France. Le bilan humain provisoire de cette guerre fait état de 254 morts et 684 blessés.
(NDLR: les attentats ayant « abouti » apparaissent en gras)
Attentats de mars 2012 par Mohammed Merah : 8 morts et 6 blessés.
Attentat du 25 mai 2013, un individu tente d'égorger un militaire à la Défense : 1 blessé.
Attentat déjoué en octobre 2013 : Un homme arrêté à Lille après son retour de Syrie.
Attentat déjoué en février 2014 : Le carnaval de Nice.
Attentat déjoué en juillet 2014 : Des lieux chiites à Créteil.
Attentat déjoué en août 2014 : Des synagogues à Lyon.
Attentat déjoué en septembre 2014 : Une réunion du CRIF à Lyon.
Attentat du 20 décembre 2014 à Joué les Tours, un individu attaque le commissariat à l'arme blanche, il est abattu : 1 mort et 3 blessés.
Attentat du 21 décembre 2014 à Dijon, un individu fonce dans la foule avec son véhicule au cri d' «Allah Ahkbar» : 13 blessés.
Attentat du 22 décembre 2014 à Nantes, modus operandi similaire à l'attaque de Dijon : 1 mort et 10 blessés.
Attentats de janvier 2015 (Charlie hebdo + Montrouge + Hyper Kasher) : 17 morts et 22 blessés.
Attentat du 3 février 2015 à Nice, Moussa Coulibaly attaque des militaires à l'arme blanche : 3 blessés.
Attentat du 19 avril 2015 : Meurtre d'Aurélie Châtelain à Villejuif par Sid Ahmed Ghlam lors du vol de son véhicule devant servir à des actions contre des églises (voir ci-dessous) : 1 mort.
Attentat déjoué en avril 2015 : Une ou plusieurs églises en région parisienne par Sid Ahmed Ghlam (le suspect avait effectué des repérages autour du Sacré Cœur  de Montmartre et de deux églises de Villejuif).
Attentat de Saint-Quentin-Fallavier 26 juin 2015 : 1 mort et 2 blessés.
Attentat déjoué en juillet 2015 : Une base militaire dans les Pyrénées-Orientales.
Attentat du 21 août 2015 (attaque d'un train Thalys entre Bruxelles et Paris) : 3 blessés.
Attentat déjoué en octobre 2015 : Hakim Marnissi voulait attaquer la base navale de Toulon.
Attentat déjoué en octobre 2015 : Arrestation à Fontenay-sous-Bois, Salim et Ahmed M., deux frères « velléitaires pour le jihad syrien » qui ont planifié de s'en prendre à « des militaires, des policiers et/ou des juifs ».
Attentats du 13 novembre 2015 (Bataclan + terrasses de cafés + Stade de France + St Denis) : 137 morts et 413 blessés.
Attentat déjoué en novembre 2015 : Le quartier de la Défense.
Attentat déjoué en décembre 2015 : « Des représentants de la force publique » dans la région d'Orléans. Les deux suspects voulaient s'en prendre notamment au préfet du Loiret et à une centrale nucléaire.
Attentat déjoué en décembre 2015 : Interpellation d'un couple à Montpellier, la femme aurait dû commettre un attentat suicide à l'aide d'un faux-ventre de femme enceinte rempli d'explosifs.
Attentat du 1er janvier 2016 à Valence : un individu fonce sur des militaires avec son véhicule. Il doit être neutralisé par des tirs, un passant est blessé : 3 blessés au total.
Attentat du 7 janvier 2016 au commissariat de la Goutte d'Or à Paris : 1 mort (l'assaillant).
Attentat du 11 janvier 2016 à Marseille, un kurde de 15 ans attaque un enseignant juif à la machette : 1 blessé. Des policiers étaient également visés.
Attentat déjoué en janvier 2016 : Fort Béar dans les Pyrénées orientales, un gradé devait être kidnappé puis décapité. 3 interpellés.
Attentat déjoué du 2 février 2016 : Arrestation à Lyon de 6 individus qui projetaient d'attaquer des « clubs échangistes en France ».
Attentat déjoué du 9 mars 2016 : Un individu radicalisé d'une trentaine d'années a embarqué à l'aéroport de Nantes en direction de Fès. Il a été arrêté au Maroc par les autorités marocaines. Il était en possession de plusieurs armes blanches et une bonbonne de gaz.
Attentat déjoué du 9 mars  2016 : Un franco-algérien a délibérément lancé sa voiture contre la façade d'un commissariat de police à Firminy. D'après Noëlle Deraime, directrice départementale de la sécurité publique, il ne s'agit pas d'un accident.
Attentat déjoué en mars 2016 : 4 jeunes femmes devaient attaquer une salle de concert, deux cafés et un centre commercial à Paris.
Attentat déjoué en mars 2016: Quatre personnes (3 hommes et 1 femme) ont été interpellées par la DGSI dans le XVIIIe arrondissement de Paris ainsi qu'en Seine-Saint-Denis. Elles sont suspectées de s'être préparées à commettre des attentats dans la capitale.
Attentat déjoué en mars 2016 : Arrestation de Rada Kriket à Boulogne Billancourt, d'Anis B. à Rotterdam et d'Abderahmane Ameuroud  à Bruxelles pour « risque imminent d'action terroriste ».
Attentat déjoué le 8 avril 2016: Arrestation de Mohamed Abrini, recherché depuis les attentats du 13 novembre, à Anderlecht. Il révèle que le commando des attentats du 22 mars 2016 à Bruxelles devait à nouveau frapper la France.
Attentat du 24 avril 2016: Un militaire de l'opération Sentinelle est agressé au cutter par un individu tenant des propos en arabe à Strasbourg. L'agresseur prend la fuite et est interpellé le 4 mai 2016. Bilan : 1 blessé.
Attentat contre un couple de policiers du 13 juin 2016 à Magnanville par Larossi Abballa : 3 morts.
Attentat du 14 juin 2016 à Rennes, une lycéenne âgée de 19 ans est agressée à coups de couteau par un homme de 32 ans connu des services de police qui voulait procéder à un « sacrifice » au cours du ramadan, selon ses propres termes. Bilan : 1 blessé.
Attentat déjoué le 16 juin 2016: Un jeune homme de 22 ans arrêté par la DGSI à la gare de Carcassonne en possession d'un couteau et d'une machette projetant un attentat en s'attaquant à des touristes américains et anglais ainsi qu'aux forces de l'ordres et « mourir en martyr ».
Attentat déjoué le 17 juin 2016: À Béziers, un détenu converti à l'islam et radicalisé voulait commettre un attentat contre un club naturiste au Cap d'Agde car il n'aimait pas les « culs-nus ». L'individu s'est fait allonger sa peine de 6 mois supplémentaires.
Attentat du 14 juillet 2016 à Nice : 84 morts et 202 blessés
INFO LE FIGARO – Des projets d'assassinats et d'attentats, visant notamment un centre commercial, une salle de spectacle ou encore une centrale nucléaire, ont été révélés devant la commission d'enquête parlementaire.
«Nous avons tout eu»: le 18 mai, devant la commission d'enquête, le coordonnateur national du renseignement, Didier Le Bret, résume en une formule les multiples attaques, contrecarrées ou non, qui ont visé le pays. Pour la première fois, le rapport de Sébastien Pietrasanta fournit le détail d'une dizaine d'attentats déjoués en France en un an. Certains, comme celui ciblant la base militaire de Port Vendres où trois djihadistes voulaient filmer la décapitation d'un haut gradé ou celui en octobre contre des militaires de la base de Toulon, sont connus. D'autres sont restés plus confidentiels. Ainsi, le document révèle que, le 16 mars, «quatre jeunes femmes, dont trois mineures (…) ont été interpellées à Roubaix, Lyon et Brie-Comte-Robert» alors qu'«elles avaient formé le projet d'attaquer une salle de concert, deux cafés et un centre commercial à Paris».
La Suède, capitale du viol en Occident
En 1975, le Parlement suédois a décidé à l'unanimité de transformer l'ancienne Suède homogène en un pays multiculturel. Quarante ans plus tard, les conséquences dramatiques de cette expérience apparaissent : les crimes violents ont augmenté de 300%.
Si l'on regarde le nombre de viols, toutefois, l'augmentation est encore pire. En 1975, quatre cent vingt et un viols ont été signalés à la police ; en 2014, ils étaient six mille six cent vingt. Soit une augmentation de 1.472%.
La Suède est maintenant numéro deux des pays du monde en matière de viols. Selon une enquête de 2010, la Suède, avec 53,2 viols pour cent mille habitants, n'est dépassée que par le minuscule Lesotho, en Afrique du Sud, avec 91,6 viols pour cent mille habitants.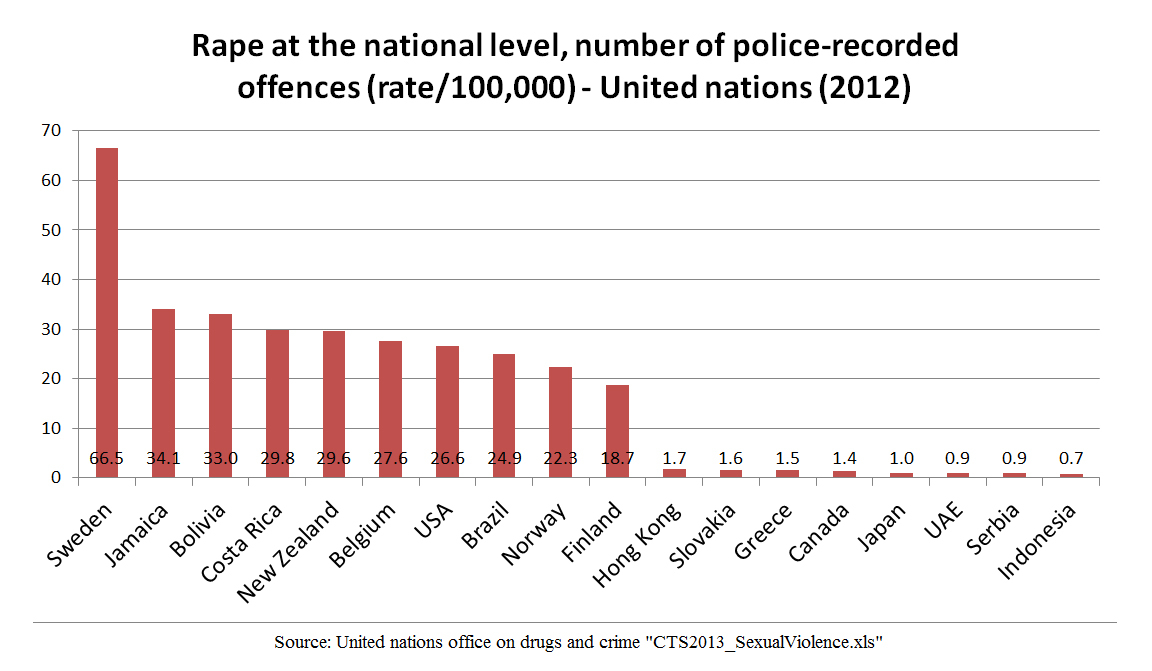 Taux des viols pour une population de cent mille personnes ( les pays aux taux les plus élevés et les plus bas ont été sélectionnés ), statistiques de 2012 de L'Office des Nations unies contre la drogue et le crime. ( Source de l'image : Wikimedia Commons )
Selon les chiffres publiés par le Conseil National Suédois pour la Prévention du Crime (Brottsförebyggande de rådet, connu comme Brå) – organisme relevant du ministère de la Justice – , en 2011, vingt-neuf mille Suédoises ont signalé qu'elles avaient été violées (ce qui semble indiquer que moins de 25% des viols ont été déclarés à la police).
D'étranges explications
Plutôt que d'agir contre le problème de la violence et des viols, les politiciens suédois, les autorités publiques et les médias font de leur mieux pour justifier les faits. Voici quelques-unes de leurs explications :
Les Suédois signalent plus volontiers les crimes.
La loi a été modifiée de telle sorte qu'un plus grand nombre d'agressions sexuelles sont désormais considérées comme des viols.
Les Suédois ne peuvent pas gérer une plus grande égalité entre les sexes et réagissent violemment contre les femmes (peut-être l'excuse la plus fantaisiste).
Un mythe féministe qui existe de longue date est que l'endroit le plus dangereux pour une femme est sa propre maison, que la plupart des viols sont commis par quelqu'un qu'elle connaît. Cette affirmation a été démentie par le rapport de Brå :
« Dans 58% des cas, l'agresseur était tout à fait inconnu de la victime. Dans 29% des cas, l'agresseur était une connaissance, et dans 13% des cas, l'agresseur était une personne proche de la victime. »
Selon les rapports de Brå il n'y a pas de grandes différences entre les femmes d'origine suédoise et d'origine étrangère en ce qui concerne le risque d'être violées. Fait significatif, le rapport n'aborde pas la question de l'origine des violeurs.
Sans parallèle
En 1975, année où les politiciens ont décidé que la Suède devait devenir multiculturelle, la population suédoise était de 8.208.442 personnes. En 2014, elle était passée à 9.743.087 – soit une augmentation de 18,7%. Cette croissance est entièrement attribuable à l'immigration car les femmes suédoises donnent naissance en moyenne à 1,92 enfant, par rapport à la moyenne de 2,24 pour les femmes immigrées. Il faut, cependant, ne pas oublier que dans les statistiques, les immigrants de deuxième génération sont considérés comme suédois.
La croissance récente de la population en Suède est sans parallèle. Jamais auparavant dans l'histoire du pays le nombre d'habitants n'a augmenté si rapidement. La Suède est désormais le pays d'Europe à plus forte croissance.
Au cours des dix à quinze dernières années, les immigrants sont venus principalement de pays musulmans comme l'Irak, la Syrie et la Somalie. Cet afflux massif pourrait-il expliquer l'explosion du nombre de viols en Suède ? Il est difficile de donner une réponse précise, parce que la loi suédoise interdit l'enregistrement sur la base de l'ascendance ou de la religion des personnes. Une explication possible est que, en moyenne, les personnes venant du Moyen-Orient ont une vision très différente de celle des Scandinaves concernant les femmes et la sexualité. Et malgré les tentatives faites par les pouvoirs établis suédois pour convaincre la population que tous ceux qui mettent le pied sur le sol suédois deviennent exactement comme ceux qui ont vécu ici depuis des dizaines de générations, les faits indiquent tout autre chose.
La dernière enquête statistique sur la criminalité des immigrants par rapport à celle des Suédois a été réalisée en 2005. Les résultats ne sont pratiquement jamais mentionnés. Et ce n'est pas tout : quiconque ose s'y référer, par exemple dans les médias sociaux, est violemment critiqué.
Dénigrement de groupes ethniques
Michael Hess, un politicien local du Parti Démocrate de Suède a encouragé les journalistes suédois à se familiariser avec le point de vue de l'Islam sur les femmes, à propos des nombreux viols commis sur la place Tahrir au Caire au cours du « printemps arabe ». Hess a écrit: « Quand allez-vous, vous les journalistes, vous rendre compte que violer et brutaliser les femmes qui refusent de se conformer aux enseignements de l'Islam, cela est profondément enraciné dans la culture de l'Islam. Il y a un lien très fort entre les viols en Suède et le nombre d'immigrants en provenance des pays de la région MENA [Moyen-Orient et Afrique du Nord] » .
Cette remarque a valu à Michael Hess d'être inculpé pour « dénigrement de groupes ethniques » [hets mot de folkgrupp], un délit en Suède. En mai de l'année 2014 il a été condamné à une peine de prison avec sursis et à une amende – la suspension était due au fait qu'il n'a pas de condamnations antérieures. Il a été fait appel du verdict devant une juridiction supérieure.
Pendant de nombreuses années, Michael Hess a vécu dans des pays musulmans et il connaît bien l'Islam et son point de vue sur les femmes. Lors de son procès, il a fourni des preuves quant à la manière dont la charia traite du viol et il a donné des statistiques pour indiquer que les musulmans sont largement surreprésentés parmi les auteurs de viol en Suède. Cependant, le tribunal a décidé que ces faits n'étaient pas pertinents :
« La Cour [tingsrätt] note que la question de savoir si ce qu'a affirmé Michael Hess est vrai ou non, ou semblait vrai à Michael Hess, n'a aucune incidence sur ce cas. La déclaration de Michael Hess doit être jugée en fonction de son timing et du contexte… au moment du délit, Michael Hess ne s'est référé ni à des études fiables ni à des sources islamiques. Ce n'est que dans le cadre de sa mise en accusation que Michael Hess a essayé de s'appuyer sur des recherches et des écrits religieux. La Cour constate donc que, de toute évidence, la déclaration de Michael Hess ne s'inscrivait pas dans le cadre d'un débat raisonné [saklig] ou crédible [vederhäftig]. Les propos de Michael Hess doivent donc être considérés comme une expression de dédain envers les immigrants de religion islamique. »
Preuves statistiques
Que peut-on conclure à partir des statistiques disponibles ?
Concernant les preuves présentées par Michael Hess au tribunal, celui-ci a utilisé les statistiques existantes sur la criminalité des immigrants en Suède avant que les autorités statistiques n'arrêtent ces calculs. Michael Hess a essayé de trouver des réponses à deux questions:
Y at-il un lien entre l'incidence des viols et le nombre de personnes d'origine étrangère en Suède?
Y at-il un lien entre l'incidence des viols et un groupe spécifique d'immigrants en Suède?
La réponse à ces deux questions est un oui » sans équivoque. Vingt et un rapports de recherche depuis les années 1960 jusqu'à aujourd'hui sont unanimes dans leurs conclusions : qu'ils aient ou non mesuré le nombre de violeurs reconnus coupables ou d'hommes présumés coupables de viol, les hommes d'origine étrangère étaient représentés beaucoup plus que les Suédois. Et cette représentation plus importante de personnes d'origine étrangère ne cesse d'augmenter:
1960-1970 – 1,2 à 2,6 fois plus que les Suédois
1980 – 2,1 à 4,7 fois plus que les Suédois
1990 – 2,1 à 8,1 fois plus que les Suédois
2000 – 2,1 à 19,5 fois plus que les Suédois
Même après ajustement pour les variables tels que l'âge, le sexe, la classe et le lieu de résidence, l'écart énorme entre les immigrants et les Suédois demeure.
Les rapports de recherche sur la criminalité en Suède sont devenus très rares, mais parmi les dix-huit rapports faits au cours des années 1990 et 2000, onze ont traité des viols. Deux de ces rapports portaient sur le lien entre le viol et l'immigration et ils ont tous deux confirmé qu'il y a bien un lien.
Ces chiffres sont à la disposition des autorités, des politiciens et de la presse, ceux-ci insistent pourtant sur le fait que ces chiffres ne reflètent pas la réalité.
Écarts flagrants
Comment se fait-il, alors, qu'en 2008, le Danemark, voisin de la Suède, avait seulement 7,3 viols pour cent mille habitants par rapport à 53,2 en Suède ?
La législation danoise n'est pas très différente de celle de la Suède et il n'y a aucune raison évidente pour laquelle les femmes danoises auraient moins tendance à signaler un viol que les femmes suédoises.
En 2011, six mille cinq cent neuf viols ont été signalés à la police suédoise – mais seulement trois cent quatre vingt douze au Danemark. La population du Danemark est d'environ la moitié de celle de Suède et, même ajustée à ces chiffres, la différence est donc significative.
En Suède, les autorités font ce qu'elles peuvent pour dissimuler l'origine des violeurs. Au Danemark, l'Office Statistique Officiel de l'État, Statistics Denmark, a révélé qu'en 2010, plus de la moitié des violeurs condamnés étaient issus de l'immigration.
Les étrangers surreprésentés
Depuis 2000, il n'y a eu qu'un seul rapport de recherche sur la criminalité des immigrants. Cela a été fait en 2006 par Ann-Christine Hjelm de l'Université Karlstads.
Il est apparu que, en 2002, 85% des personnes condamnées à au moins deux ans de prison pour viol par Svea hovrätt, une cour d'appel, étaient nées à l'étranger ou étaient des immigrants de deuxième génération.
Un rapport de 1996 du Conseil National Suédois pour la Prévention du Crime est arrivé à la conclusion que les immigrants en provenance d'Afrique du Nord (Algérie, Libye, Maroc et Tunisie) étaient vingt-trois fois plus susceptibles de commettre des viols que les Suédois. Les chiffres pour les hommes venus d'Irak, de Bulgarie et de Roumanie étaient, respectivement de vingt, dix-huit et dix-huit. Les hommes venant du reste de l'Afrique étaient seize fois plus susceptibles de commettre un viol ; et les hommes originaires d'Iran, du Pérou, de l'Équateur et de Bolivie, dix fois plus enclins à en commettre que les Suédois.
Les viols collectifs
Une nouvelle tendance a frappé la Suède de plein fouet au cours des dernières décennies : le viol collectif – pratiquement inconnu auparavant dans l'histoire criminelle suédoise. Le nombre de viols collectifs a augmenté de façon spectaculaire entre 1995 et 2006. Depuis lors, aucune étude n'a été faite à ce sujet.
L'un des pires cas s'est produit en 2012, quand une femme de trente ans a été violée par huit hommes dans une cité pour demandeurs d'asile, dans la petite ville de Mariannelund. Cette femme était une connaissance d'un Afghan qui avait vécu en Suède pendant un certain nombre d'années. Il l'a invitée à sortir avec lui. Elle avait accepté. Cet Afghan l'avait emmenée dans une cité pour réfugiés et l'y avait laissée, sans défense. Pendant la nuit, elle a été violée à plusieurs reprises par des demandeurs d'asile et quand son « ami » est revenu, il l'a violée aussi. Le lendemain matin, elle a réussi à appeler la police. Le Procureur de la Suède a qualifié cet incident de « pire crime de viol de l'histoire criminelle suédoise. »
Sept de ces hommes ont été condamnés à entre quatre ans et demie et six ans et demie de prison. Le temps passé en prison est généralement réduit d'un tiers, de sorte que dans peu de temps ils seront prêts pour de nouvelles agressions – vraisemblablement contre des « Infidèles ».
En cas de viol collectif, les coupables et les victimes sont le plus souvent jeunes et presque dans tous les cas, les auteurs sont issus de l'immigration, la plupart de pays musulmans. Dans un nombre incroyable de cas, les tribunaux suédois ont montré de la sympathie pour les violeurs. Plusieurs fois, les tribunaux ont acquitté les suspects qui ont prétendu que la jeune fille voulait du sexe avec six, sept ou huit hommes.
Un incident frappant s'est produit en 2013, à Tentsa, dans la banlieue de Stockholm. Une adolescente de quinze ans a été enfermée pendant que six hommes d'origine étrangère avaient des relations sexuelles avec elle. Le tribunal de première instance a condamné les six hommes, mais la cour d'appel les a acquittés car il n'y avait eu aucune violence et parce que le tribunal a estimé que la jeune fille « n'était pas sans défense ».
L'année dernière, tous les grands médias suédois ont rapporté un viol collectif brutal à bord du Ferry Finlande Amorella, entre Stockholm et Åbo en Finlande. Des gros titres ont rapporté aux lecteurs que les auteurs étaient suédois: « Plusieurs Suédois soupçonnés de viol ou sur le Ferry Finlande » (Dagens Nyheter). « Six Suédois ont violé une femme dans une cabine » (Aftonbladet). « Six Suédois arrêtés pour viol sur le Ferry » (Expressen). « Huit Suédois soupçonnés de viol sur le Ferry » (TT – l'Agence Suédoise de Presse ).
En regardant les choses de plus près, il s'avère que sept suspects sur huit étaient somaliens et un suspect était irakien. Aucun d'entre eux avait la nationalité suédoise, ils n'étaient même pas suédois dans ce sens-là. Selon des témoins, le groupe d'hommes avait fouillé le ferry à la recherche de sexe. La police en a libéré quatre (mais ils sont toujours considérés comme suspects), tandis que quatre d'entre eux (tous les Somaliens) restent en détention.
La station de radio sur Internet Granskning Sverige a appelé les grands journaux Aftonbladet et Expressen à se demander pourquoi ils avaient décrit les auteurs comme « suédois » alors que c'étaient, en réalité, des Somaliens qui n'avaient pas la nationalité suédoise. Ils ont été vraiment offusqués quand on leur a demandé s'ils pensaient avoir la moindre responsabilité et devaient avertir les Suédoises de se tenir à l'écart de certains hommes. Un journaliste a demandé pourquoi cela devrait relever de leur responsabilité. « Si les femmes le savaient, alors, peut-être se seraient-elles tenues à l'écart de ces hommes et auraient évité d'être violées », a répondu le reporter de Granskning Sverige. Sur ce, l'autre journaliste a violemment raccroché le téléphone.
A partir de ce jour, Gatestone et Ingrid Carlqvist ne sont plus associés d'une quelconque manière. Néanmoins, Gatestone conserve et assume tous les articles écrits pour lui par Ingrid Carlqvist.

Voir enfin:
Sweden's rape rate under the spotlight
The Julian Assange extradition case has put Sweden's relatively high incidence of rape under the spotlight. But can such statistics be reliably compared from one country to another?
Which two countries are the kidnapping capitals of the world?
Australia and Canada.
Official figures from the United Nations show that there were 17 kidnaps per 100,000 people in Australia in 2010 and 12.7 in Canada.
That compares with only 0.6 in Colombia and 1.1 in Mexico.
So why haven't we heard any of these horror stories? Are people being grabbed off the street in Sydney and Toronto, while the world turns a blind eye?
No, the high numbers of kidnapping cases in these two countries are explained by the fact that parental disputes over child custody are included in the figures.
If one parent takes a child for the weekend, and the other parent objects and calls the police, the incident will be recorded as a kidnapping, according to Enrico Bisogno, a statistician with the United Nations.
Comparing crime rates across countries is fraught with difficulties – this is well known among criminologists and statisticians, less so among journalists and commentators.
Sweden has the highest rape rate in Europe, author Naomi Wolf said on the BBC's Newsnight programme recently. She was commenting on the case of Julian Assange, the Wikileaks founder who is fighting extradition from the UK to Sweden over rape and sexual assault allegations that he denies.
Is it true? Yes. The Swedish police recorded the highest number of offences – about 63 per 100,000 inhabitants – of any force in Europe, in 2010. The second-highest in the world.
This was three times higher than the number of cases in the same year in Sweden's next-door neighbour, Norway, and twice the rate in the United States and the UK. It was more than 30 times the number in India, which recorded about two offences per 100,000 people.
On the face of it, it would seem Sweden is a much more dangerous place than these other countries.
But that is a misconception, according to Klara Selin, a sociologist at the National Council for Crime Prevention in Stockholm. She says you cannot compare countries' records, because police procedures and legal definitions vary widely.
« In Sweden there has been this ambition explicitly to record every case of sexual violence separately, to make it visible in the statistics, » she says.
« So, for instance, when a woman comes to the police and she says my husband or my fiance raped me almost every day during the last year, the police have to record each of these events, which might be more than 300 events. In many other countries it would just be one record – one victim, one type of crime, one record. »
The thing is, the number of reported rapes has been going up in Sweden – it's almost trebled in just the last seven years. In 2003, about 2,200 offences were reported by the police, compared to nearly 6,000 in 2010.
So something's going on.
But Klara Selin says the statistics don't represent a major crime epidemic, rather a shift in attitudes. The public debate about this sort of crime in Sweden over the past two decades has had the effect of raising awareness, she says, and encouraging women to go to the police if they have been attacked.
The police have also made efforts to improve their handling of cases, she suggests, though she doesn't deny that there has been some real increase in the number of attacks taking place – a concern also outlined in an Amnesty International report in 2010.
« There might also be some increase in actual crime because of societal changes. Due to the internet, for example, it's much easier these days to meet somebody, just the same evening if you want to. Also, alcohol consumption has increased quite a lot during this period.
« But the major explanation is partly that people go to the police more often, but also the fact that in 2005 there has been reform in the sex crime legislation, which made the legal definition of rape much wider than before. »
The change in law meant that cases where the victim was asleep or intoxicated are now included in the figures. Previously they'd been recorded as another category of crime.
So an on-the-face-of-it international comparison of rape statistics can be misleading.
Botswana has the highest rate of recorded attacks – 92.9 per 100,000 people – but a total of 63 countries don't submit any statistics, including South Africa, where a survey three years ago showed that one in four men questioned admitted to rape.
In 2010, an Amnesty International report highlighted that sexual violence happens in every single country, and yet the official figures show that some countries like Hong Kong and Mongolia have zero cases reported.
Evidently, women in some countries are much less likely to report an attack than in others and are much less likely to have their complaint recorded.
UN statistician Enrico Bisogno says surveys suggest that as few as one in 10 cases are ever reported to the police, in many countries.
« We often present the situation as kind of an iceberg where really what we can see is just the tip while the rest is below the sea level. It remains below the radar of the law enforcement agencies, » he says.
Naomi Wolf has also written that Sweden has the lowest conviction rate in Europe.
She was relying on statistics from a nine-year-old report, which calculated percentage conviction rates based on the number of offences recorded by the police and the number of convictions. But this is a problematic way of analysing statistics, as several offences could be committed by one person.
The United Nations holds official statistics on the number of convictions for rape per 100,000 people and actually, by that measure, Sweden has the highest number of convictions per capita in Europe, bar Russia. In 2010, 3.7 convictions were achieved per 100,000 population.
Though it's still the case, as Wolf pointed out to the BBC, that women in Sweden report a high number of offences – and only a small number of rapists are punished.
So there's a lot that official statistics don't tell us. They certainly don't reveal the real number of rapes that happen in Sweden, or any other country. And they don't give a clear view of which countries have worse crime rates than others.
Rape is particularly complex, but you'd think it would be straightforward to analyse murder rates across different countries – just count up the dead bodies, and compare and contrast.
If only, says Enrico Bisogno. « For example, if I punch somebody and the person eventually dies, some countries can consider that as an intentional murder, others as a manslaughter. Or in some countries, dowry killings are coded separately because there is separate legislation. »
What's more, a comparison of murder rates between developed and less developed countries may tell you as much about health as crime levels, according to Professor Chris Lewis, a criminologist from Portsmouth University in the UK.
The statistics are to some unknown degree complicated by the fact that you're more likely to survive an attack in a town where you're found quickly and taken to a hospital that's well-equipped.