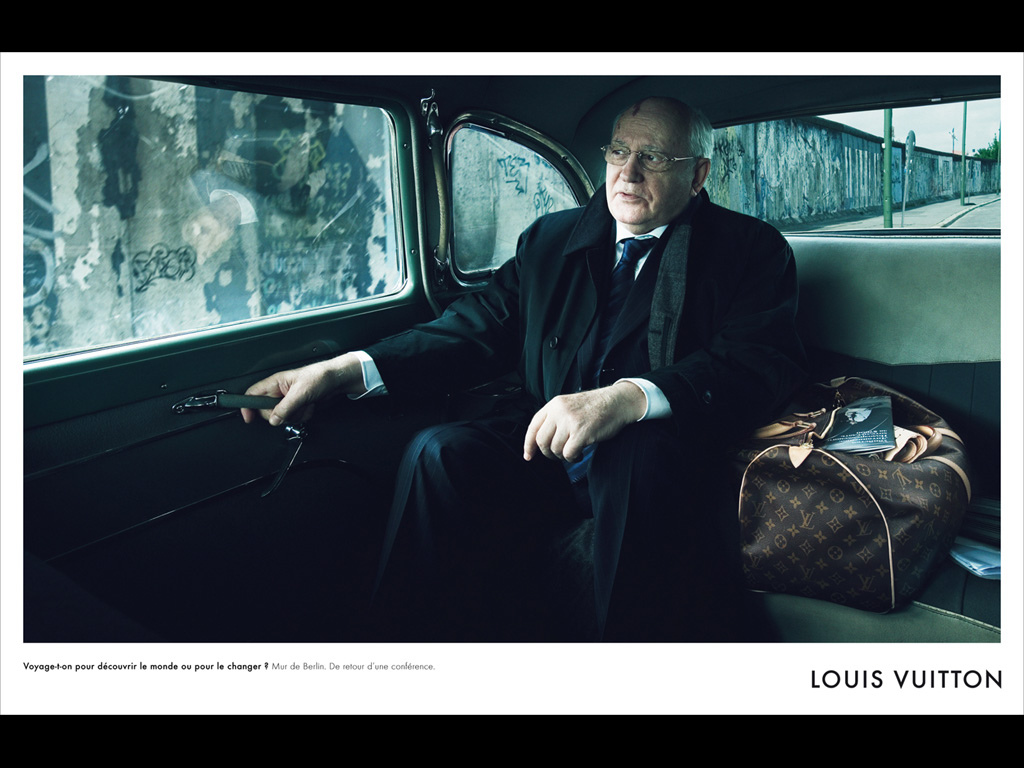 Un des grands problèmes de la Russie – et plus encore de la Chine – est que, contrairement aux camps de concentration hitlériens, les leurs n'ont jamais été libérés et qu'il n'y a eu aucun tribunal de Nuremberg pour juger les crimes commis. Thérèse Delpech (2005)
Welcome Gorby, bienv'nue ici Où on est quelques-uns, je crois Un copain à moi et puis moi A espérer Qu'tu vas v'nir avec tes blindés Nous délivrer T'as fait tomber l'mur de Berlin (…) Ici y'a des chaînes à briser Commence par les chaînes de télé (…) Que tu nous débarrasses un peu De ce « Big Brother » de mes deux J'te fais confiance Tu pourras aussi liquider Les radios FM à gerber Qu' nous balancent De nos chanteurs hydrocéphales Et de leur poésie fécale Toute l'indigence (…) Où on est quelques-uns, je crois (…) A espérer Qu'tu vas v'nir avec ton armée Tout balayer Tu peux construire, si tu t'amènes Quelques goulags au bord d'la Seine De toute urgence Ici y'a un paquet d'nuisibles Qui nous font péter les fusibles De la conscience Des BHL et des Foucault Pas l'philosophe, non, l'autre idiot Des Dorothée Fort sympathiques au demeurant Je dirais plus exactement Aux demeurés (…) Que tu vas v'nir claquer l'beignet A ces tarés On a ici, c'est bien pratique Quelques hôpitaux psychiatriques Qu'tu peux vider Pour y foutre les psychanalystes Les députés, les journalistes Et les Musclés (…) Si t'en as marre du communisme J'te raconte pas l'capitalisme Comme c'est l'panard Comment on est manipulés Intoxiqués, fichés, blousés Par ces connards Viens donc contempler nos idoles Elles sont un peu plus rock and roll Que ton Lénine Bernard Tapie et Anne Sinclair 'Vec ça tu comprends qu'notr'misère Soit légitime (…) Qu'si tu v'nais avec tes blindés Y voudraient sur'ment pas rester. Renaud
Nous nous trompons peut-être [sur Gorbatchev], mais j'aime mieux cette erreur que l'autre, monstrueuse, qui consiste à douter. Pierre Bergé
Une glasnost franche et complète, voilà la première condition pour une société saine, la nôtre y compris. Soljénitsyne
Pendant que le régime tentait [ou peut-être ne le tentait-il pas] de rééduquer les détenus à l'aide de slogans, les détenus rééduquaient tout le pays à travers la zone bordant l'Archipel. La philosophie des truands, la ténacité apprise dans les camps, la cruauté dans les rapports humains, la carapace de l'insensibilité couvrant le cœur, la haine du travail bien fait, tout cela gagna sans peine le monde attenant aux camps et de là tout le pays. Ce fut là la vengeance de l'Archipel contre le pays qui l'avait créé. Soljénitsyne (L'Archipel du Goulag)
Il est facile de transformer l'homme en bête ; il est terriblement difficile et incroyablement long de refaire de cette bête un homme. Pavlov
Personne ne s'apprête à nous faire la guerre. Tous les discours sur les Pershing et les relations tendues sont du bavardage. Qui pourrait déclencher une guerre contre nous, alors que dans douze à quinze ans nous aurons disparu en tant qu'État souverain – un État dont plus de la moitié de la population adulte est constituée d'alcooliques et d'ivrognes n'est pas capable d'assurer sa défense. […] Dans la plupart des villages sibériens, tout le monde boit, du responsable aux vachers. Notre institut cultive la betterave pour Akademgorodok parce que le village chargé de fournir la betterave est dans un état d'hébétude alcoolique et personne n'y travaille. La conséquence la plus effrayante de ces vingt ans de folie alcoolique est la dégénérescence progressive de la nation, surtout de sa partie russe. […] Qui laissons-nous derrière nous aujourd'hui ? Cette année – 1983 – nous avons donné naissance à tant d'enfants handicapés qu'en 1990 15 % au moins de tous nos enfants seront dans des écoles spéciales. […] Dans les villages sibériens […], les gens n'atteignent pas l'âge de soixante ans, parce qu'ils boivent. Ils travaillent tant bien que mal jusqu'à l'heure du déjeuner avec une idée en tête : se saoûler après déjeuner. Le soir, on a à peu près autant de chance de rencontrer quelqu'un de sobre que de rencontrer un martien. Rapport de Novossibirsk (RLRB, 13 février 1985)
La disparition de l'URSS est la plus grande catastrophe géopolitique du XXe siècle, celui qui ne la regrette pas n'a pas de cœur, celui qui veut la restaurer n'a pas de tête. Vladimir Poutine
In an industry where sesame seeds are hand-placed on a hamburger bun by food technicians before a shot, one would reasonably assume that this was not something that happened by chance. Ads like these get art-directed to the very millimeter and airbrushed so that the advertiser gets exactly what they want. Given that Louis Vuitton and Ogilvy are receiving precisely the kind of attention and buzz that is regarded as being the measure of success these days, it counteracts those effects if they admit to doing it. Once you declare it was an overt and planned act, it has no meaning.

Robert Passikoff (Brand Keys)
The magazine turns out to be the May 28 edition of New Times, a liberal Russian weekly that regularly criticises Vladimir Putin's Kremlin. In this article New Times contentiously alleged that its reporters were approached by Russian secret agents offering to tell them in exchange for $7,000 the whereabouts of Andrei Lugovoi. He is the chief suspect in the radiation poisoning in London of Alexander Litvinenko, and the British government wants to extradite Mr Lugovoi to stand trial. The Guardian
This symbolized the passing of communism and the triumph of the new, capitalist, and consumerist order with Gorbachev's transformation into a commercial spokesman for powerful Western brands and the co-optation of his iconic status for marketing purposes as an ironic symbol of his irrelevance as a political figure in the post-communist context. Nadia Kaneva and Elza Ibroscheva
Failing upward into the world's gratitude, Mikhail Gorbachev became a hero by precipitating the liquidation of the political system he had tried to preserve with reforms. He is remembered as a visionary because he was not clear-sighted about socialism's incurable systemic disease: It cannot cope with the complexity of dispersed information in a developed nation. Like Christopher Columbus, who accidentally discovered the New World, Gorbachev stumbled into greatness by misunderstanding where he was going. (…) President Ronald Reagan, abandoning the niceties of detente, turned up the rhetorical and military temperature. In 1983, he described the Soviet Union as "the focus of evil in the modern world." With the Strategic Defense Initiative, he launched a high-tech challenge to a Soviet Union in which 30 percent of hospitals lacked indoor plumbing. Reagan sent lethal aid to those fighting the Soviet forces in Afghanistan. When Gorbachev retreated from there, Taubman writes, it was "the first time the Soviet Union had pulled back from territories it had 'liberated' for Communism." (…) Gorbachev's lasting legacy might be in the lessons that China's durable tyranny has chosen to learn from his and the Soviet Union's downfall. Political scientist Graham Allison observes that "when Xi Jinping has nightmares, the apparition he sees is Mikhail Gorbachev." According to Allison, Xi says Gorbachev's three ruinous errors were: He relaxed political control of society before reforming the economy, he allowed the Communist Party to become corrupt, and he "nationalized" the Soviet military by allowing commanders to swear allegiance to the nation rather than to the party and its leader. (…) The Soviet Union's brittle husk crumbled as Gorbachev struggled to preserve it. His reputation rests on the world's amnesia about this: When elevated to general secretary of the Communist Party, Taubman says, Gorbachev claimed to have re-read all 55 volumes of Lenin's writings, telling a friend, "If you were to read Lenin's disputes with [the German Marxist Karl] Kautsky, you would understand that they're far more interesting than a novel." Of Lenin, the architect of the first totalitarian system, who let loose rivers of blood, Gorbachev said — in 2006 — "I trusted him then and I still do." George F. Will
La Russie a augmenté d'une superficie équivalente à celle de la Hollande par an à partir du XVe siècle. Pendant les 300 ans d'existence de la dynastie des Romanov, l'empire russe s'agrandit à la vitesse de 140 km² par jour. Très tôt se fait sentir le tiraillement entre la volonté d'expansion, qui présuppose par la force des choses un contact avec le monde extérieur, et le sentiment que tout contact avec l'étranger ne peut que corrompre le peuple russe, déstabiliser le régime autocratique et détourner les Russes de la vraie foi. La Russie balance entre messianisme et volonté d'autarcie. Ce tiraillement entre cosmopolitisme expansionniste et désir d'autarcie isolationniste va se retrouver au cœur du bolchevisme. Joseph Staline résout ce dilemme et c'est bien la raison de son emprise profonde sur les esprits en Russie. Il crée une zone d'hégémonie autarcique, en déseuropéanisant les terres conquises, dans la tradition des princes de Moscou. Staline préfère une extension des frontières de l'URSS et la création d'un empire périphérique dans lequel il peut imposer son régime. Mieux que les Tsars, il a su neutraliser les effets de contagion indésirable de l'incursion des troupes soviétiques en Europe. L'expansion qu'il réalise est conforme aux vœux des slavophiles : Moscou impose son régime à toutes les régions conquises, éradique les élites européanisées et construit un bloc quasi autarcique par le fer et par le sang. Nous retrouvons le même dilemme au coeur de la Russie poutinienne, partagée entre son ambition de grande puissance et un irrésistible penchant vers le repli sur soi. La réaction maladive du Kremlin au choix européen de l'Ukraine s'explique par ce sentiment qu'un retour de l'Ukraine dans l'aire de civilisation européenne remettrait en cause l'évolution historique des cinq derniers siècles, caractérisée par une avancée continue de la Russie en Europe, culminant avec la victoire de « la Grande Guerre patriotique » qui, en 1945, a livré à Staline la moitié du continent européen, avancée que le Kremlin poutinien se promettait de poursuivre en misant sur les tendances centrifuges au sein de l'Union européenne et le désengagement américain. (…) A l'inverse de la théorie « réaliste » des relations internationales, soucieuse d'élaborer une sorte de physique newtonienne des rapports de puissance, l'analyse géopolitique doit prendre en compte les hommes, leurs représentations géopolitiques et la nature du régime politique. Après la disparition de l'URSS, la Russie semblait engagée dans une « transition » vers l'Etat de droit et l'économie de marché. Au cours des années Eltsine (1991-1999), le fonctionnement du régime était certes erratique et marqué par la corruption, mais le progrès des libertés était indéniable. Toutefois, les siloviki, ces hommes issus des organes de sécurité (KGB et autres) ont largement pris le contrôle du partage des dépouilles, via les privatisations, et la « guerre des régions », transformées en mini-URSS par les nomenklaturistes locaux. Ce qui a neutralisé les réformes économiques d'inspiration libérale. C'est dans ce contexte de « polyarchie chaotique » que Vladimir Poutine a entamé son ascension, puis mis en place ce que l'on a appelé une « verticale du pouvoir », partant du Kremlin : une recentralisation de l'organisation territoriale russe, doublée d'une prise de contrôle du champ politico-médiatique et de l'économie. La science politique définit ce mode de gouvernement comme un « autoritarisme patrimonial », l'autocrate et ses proches étant en même temps les propriétaires des richesses du pays. Cela présuppose l'absence de véritables règles de droit et d'institutions vivaces, ainsi que des luttes de clans permanentes pour le pouvoir et le contrôle des rentes économiques qui achètent les fidélités politiques. Cette confusion des genres explique les hésitations initiales des analystes sur la finalité centrale du système russe : la puissance étatico-militaire ou l'enrichissement privé ? Depuis, les faits ont démontré la force de ce que les Russes appellent la « Derjavnost », une sorte de culte de la puissance. De l'analyse des discours et représentations géopolitiques, il ressort que pour le Kremlin et la classe dirigeante russe, l'ultime partie de la Guerre froide n'est pas encore jouée. La Russie peut et doit récupérer une partie du terrain perdu en 1991 – cf. le thème de l'« étranger proche » -, et reconstituer une sorte d'URSS « new-look », voire faire payer à l'Occident l'éclatement de l'URSS en attisant les tendances centrifuges dans les Etats et les structures occidentales, notamment au sein de l'Union européenne. In fine, la Russie se pose en puissance revancharde et révisionniste, prête à remettre en cause par les armes l'architectonie géopolitique de l'Europe post-Guerre froide. Autrement dit, il est erroné de voir en la Russie un simple Etat mafieux : le Kremlin conduit une « grande stratégie » et le système est tendu vers la reconstitution de la puissance passée. (…) Vladimir Poutine considère les instances euro-atlantiques, l'Union européenne aussi bien que l'OTAN, comme de simples superstructures politiques et militaires héritées de la stratégie de containment et vouées au dépérissement, à la suite d'un hypothétique retrait américain, les Etats-Unis étant supposés se réorienter vers l'Asie-Pacifique et se désintéresser de toute autre région du monde. Schématiquement, l'OTAN exprimerait les seuls intérêts américains ; l'Union européenne et ses Etats membres seraient dépourvus de substance et de volonté propres. Si le président russe a usé de la thématique eurasiste, ses partisans vont plus loin dans ce registre : l'heure d'une vaste Eurasie, rassemblée autour du « Heartland » russo-sibérien, aurait sonné. Le « Brexit » (référendum du 23 juin 2016 au Royaume-Uni) et ses conséquences sur le système euro-atlantique sont appréhendés à travers cette grille de lecture. Si l'on se reporte aux années 2000, le discours russe sur l'OTAN et l'Union européenne était empreint de duplicité. Dans le cas ukrainien par exemple, les diplomates russes expliquaient que seule l'OTAN leur posait problème car il s'agissait d'une alliance militaire incluant la superpuissance américaine. La candidature de l'Ukraine constituait, disaient-ils, une grave menace sur la sécurité de la Russie, et l'octroi par les Etats membres de l'OTAN d'un Membership Action Plan (MAP), ultime étape avant l'adhésion pure et simple, serait un casus belli. Il en irait de même pour la Géorgie. Inversement, la candidature à l'Union européenne n'était pas censée leur poser problème, car il s'agissait d'une structure avant tout civile et économique. Ces éléments de langage ont souvent été repris dans les milieux officiels français et européens, mais du point de vue russe, il ne s'agissait que de dissocier les fléaux. Lors du sommet de l'OTAN organisé à Bucarest, au printemps 2008, le MAP a été refusé à l'Ukraine comme à la Géorgie, et ces deux pays, restés à l'extérieur du périmètre de sécurité, ont été attaqués. Dans le cas ukrainien, l'accord d'association à l'Union européenne, censé ne pas poser problème quelques années plus tôt, a été le point de départ de pressions multiformes de la part de Moscou sur Kiev, jusqu'à la guerre et à un rattachement manu militari de la Crimée. La leçon sur le plan stratégique et géopolitique est simplissime : malheur à qui reste en dehors du périmètre de sécurité. L'OTAN et l'Union européenne sont les deux piliers de l'Europe post-Guerre froide, et ces instances euro-atlantiques font obstacle au révisionnisme géopolitique russe. En leur absence, le « chacun pour soi » l'emporterait, ce qui ouvrirait de nouvelles possibilités à la politique russe, l'Europe basculant dans une nouvelle période de déchirements. (…) L'Union économique eurasienne relève d'un projet géopolitique plus vaste et plus ambitieux, mais contrarié par les faits. Dès 1993, la doctrine de l' « étranger proche » évoquée précédemment est énoncée à la Douma et reprise au sommet de l'Etat : il s'agit de reprendre le contrôle direct ou indirect de la plus grande partie possible de l'ex-URSS. La doctrine eurasiste donne une touche historique, culturelle et civilisationnelle à un projet néo-soviétique. Cela est hors de portée de la Russie de Eltsine, mais les représentations géopolitiques et les projets de ce type doivent être analysés sur plusieurs échelles temporelles. A l'époque, l'instrumentalisation par Moscou de différents conflits ethniques et territoriaux, sur les confins de la Russie (Moldavie, Géorgie, Arménie-Azerbaïdjan), et leur « gel », permettent de poser des jalons, aussi d'installer l'idée d'un démembrement fatal, en attendant que la conjoncture géopolitique soit plus propice (voir les pseudo-indépendances de l'Abkhazie et de l'Ossétie du Sud, proclamées après la guerre russo-géorgienne d'août 2008). En revanche, les tentatives d'intégration de la Communauté des Etats indépendants (CEI) échouent. Ce cadre post-soviétique, instauré pour liquider l'URSS (1991), tout en préservant des relations techniques et fonctionnelles entre les anciennes républiques soviétiques, s'avère inadapté à un projet néo-soviétique ; un certain nombre de pays entendent conserver leur souveraineté. Les dirigeants russes privilégient donc des cadres d'action plus restreints, à l'instar de l'Organisation du traité de sécurité collective (OTSC), mais ils ne renoncent pas à institutionnaliser la sphère d'influence exclusive qu'ils revendiquent dans l'« étranger proche ». Diverses esquisses aboutissent au projet d'Union eurasienne, présenté par Poutine, en octobre 2011, comme la grande réalisation du prochain mandat présidentiel. Dans son esprit, l'Ukraine devra renoncer à ses aspirations européennes et intégrer cette union, mais l'insurrection civique de la fin 2013, en réponse aux pressions russes a modifié le cours des événements. L'Etat ukrainien a perdu le contrôle de la Crimée et d'environ un tiers du Donbass, mais il conserve les neuf dixièmes de son territoire et le nouveau gouvernement, appuyé sur une nouvelle majorité, conduit un retournement géopolitique vers l'Occident. L'Union eurasienne a officiellement été lancée au 1er janvier 2015. Elle regroupe la Russie, le Belarus, le Kazakhstan et l'Arménie, bientôt rejoints par le Kirghizstan. L'absence de l'Ukraine réduit la part des Slaves orthodoxes au sein de cette union qui, de ce fait, est plus eurasiatique qu'envisagé au départ. En son sein, le Belarus et le Kazakhstan, qui refusent de reconnaître les remaniements politico-territoriaux en Géorgie (Abkhazie et Ossétie du Sud) et en Ukraine (Crimée), se méfient de la Russie et cherchent à limiter l'union eurasienne à la sphère économique ; la percée de la Chine populaire en Asie centrale et dans le bassin de la Caspienne, bientôt renforcée par le projet des « Nouvelles routes de la Soie », assure au Kazakhstan une certaine marge de manœuvre. La récession russe limite également la portée effective de l'Union eurasienne dans la sphère économique. Il reste que la Russie représente 80 % du PIB, 85 % de la population et 85 % de la superficie de ce vaste ensemble (20 millions de km² et 170 millions d'habitants). Une étape décisive a été franchie et Poutine n'a certainement pas renoncé à ses ambitions géopolitiques, mais l'avenir est plus à une « Russie-Eurasie » qu'à une Russie slave-orthodoxe, notamment dans la sphère démographique (poids croissant des musulmans et des populations issues d'Asie centrale en Russie, et 43 millions d'Ukrainiens qui restent en dehors de cette union). Jusqu'où l'eurasisme et le « chauvinisme grand-russe », pour parler comme Lénine, sont-ils compatibles ? (…) Avec les trois quarts de son territoire au-delà de l'Oural, la Russie recouvre toute l'Asie septentrionale (Sibérie et Extrême-Orient russe), et elle est la voisine de l'ancien Turkestan occidental (l'Asie centrale russo-soviétique désormais indépendante), la Mongolie, la Chine, la Corée du Nord et le Japon. La dégradation des relations avec l'Occident – parler de « Paix froide » n'est en rien excessif -, a permis à Poutine de mettre en avant le thème d'un « pivot » russe vers la Chine populaire : la stratégie consiste à chercher des appuis en Asie, afin de peser en Europe. Le rapprochement avec Pékin s'inscrit dans le prolongement de la « doctrine Primakov », mise en œuvre sous Eltsine, mais il s'agissait alors de renforcer le pouvoir de négociation de la Russie. Désormais, la Chine populaire est présentée, du point de vue russe, comme un substitut à l'Occident. Le « partenariat stratégique » de 1996, complété cette année-là par le Groupe de Shanghaï, i.e. la future Organisation de Coopération de Shanghaï (OCS), a été le point de départ d'échanges croissants sur tous les plans. En 2011, un traité d'amitié et de coopération a été signé entre Pékin et Moscou, mais il ne s'agit pas d'une alliance à proprement parler, de même que l'OCS n'est pas une « OTAN eurasiatique ». Négocié après les sanctions occidentales qui ont suivi l'annexion de la Crimée, le « contrat du siècle » (mai 2014) sur la construction d'un grand gazoduc (« Force de Sibérie ») et l'exportation de gaz russe, depuis la Sibérie orientale vers la Chine, a surtout permis à Pékin d'imposer ses conditions. Par ailleurs, les neuf dixièmes de la production russe d'hydrocarbures sont extraits en Sibérie occidentale et ces volumes ne peuvent pas être redéployés vers la Chine (Pékin ne veut pas financer le gazoduc « Force de l'Altaï » qui permettrait d'établir un lien fixe entre Sibérie occidentale et Extrême-Orient). D'une manière générale, les dirigeants chinois considèrent leurs homologues russes comme des partenaires de second rang, et la Russie est considérée comme un réservoir de produits de base, utile également sur le plan diplomatique afin de renforcer les positions chinoises vis-à-vis des Etats-Unis, notamment dans la question des litiges maritimes en mer de Chine méridionale, cette « Méditerranée asiatique ». Bien entendu, Poutine n'ignore pas cela, mais ses priorités géopolitiques sont à l'Ouest : les Russes ont plus besoin de la Chine que la Chine de la Russie. La relation est comparable à un « dos-à-dos », et le sommet sino-russe de Pékin (25 juin 2016), organisé dans le prolongement du sommet de Tachkent (OCS), a confirmé ces convergences géopolitiques. Ces convergences sino-russes mettent Moscou en porte à faux avec les autres acteurs étatiques de la zone Asie-Pacifique et limitent la possibilité d'un retour sur la « grande scène asiatique ». Les pays de l'Association des Nations d'Asie du Sud-Est (ASEAN) s'inquiètent de l'expansion et des revendications chinoises sur la « Méditerranée asiatique », et ils cherchent des réassurances du côté des Etats-Unis. Le Vietnam lui-même, fortement lié à la Russie par des achats militaires, se rapproche de Washington, et le président américain, Barack Obama, a récemment annoncé la levée de l'embargo sur les armes à destination de ce pays. En Asie du Nord-Est, les rapports avec le Japon achoppent sur la question des Kouriles. Avec la Corée du Nord, les relations sont ambivalentes et Moscou, malgré quelques velléités dans les années 2000, ne peut jouer le rôle de « facilitateur » entre les deux Etats de la péninsule coréenne. Si l'on élargit le champ d'analyse, il faut y intégrer l'Union indienne, dont la diplomatie relance l'idée d'un « bassin Indo-Pacifique », un concept qui lie l'océan Indien et l'océan Pacifique. Héritage de la Guerre froide et du « neutralisme bienveillant » d'Indira Gandhi, la coopération russo-indienne est étroite. Cela ne va pas sans contradiction avec le rapprochement sino-russe, alors que Pékin resserre en parallèle son alliance avec Islamabad. Notons que l'Inde et le Pakistan devraient intégrer l'OCS (signature d'un mémorandum sur cette adhésion, le 24 juin 2016, à Tachkent). Plus que la Chine, la Russie a intérêt à renforcer ce forum diplomatique, de manière à encadrer la puissance chinoise et à pouvoir manœuvrer entre ses « partenariats » contradictoires. Enfin, les relations indo-russes ne sont pas exclusives et le jeu diplomatique est ouvert. (…) [A propos des des réseaux d'influences russes en France], La parution presque simultanée de ces deux livres témoigne d'une prise de conscience en France du danger représenté par l'alignement croissant sur les positions du Kremlin d'une grande partie de la classe politique, à droite surtout. Cécile Vaissié (Les Réseaux du Kremlin en France, éditions Les petits matins) et Nicolas Hénin (La France russe, éditions Fayard) ont fait un travail remarquable qui donne la mesure de l'immense effort déployé par le Kremlin pour pénétrer les milieux qui comptent en France. Il faut d'abord mentionner un impressionnant dispositif de propagande, qui fait largement appel aux réseaux sociaux. La stratégie médiatique du Kremlin est triple. Le premier volet consiste à dénigrer à travers ses réseaux tout ce qui est en Occident : la classe politique (« tous des corrompus et des incapables »), les mœurs (« tous des sodomites décadents »), la démocratie (« une hypocrisie au service des Américains »), le droit (« l'idolâtrie de l'homme qui fait oublier Dieu » selon le patriarche Kirill), le droit international (une fiction dont les Américains se servent pour camoufler leur hégémonisme), l'Europe (« en perdition »), les Etats-Unis (« en perte de vitesse »). Le deuxième volet consiste à tabler sur les peurs et à les attiser : peur du terrorisme (« causé par la politique de tolérance »), peur de l'immigration massive (idem), peur de la globalisation. Le troisième volet consiste à rapprocher les Européens des Russes en les faisant communier dans les mêmes haines et les mêmes phobies. Haine des Etats-Unis en priorité. Tous les événements négatifs qui ponctuent l'actualité – terrorisme islamique, guerre en Ukraine, crise économique – ont un coupable : les Etats-Unis et leurs vassaux européens. L'Amérique est toujours responsable, soit qu'elle agisse (intervention en Irak), soit qu'elle n'agisse pas (évacuation de l'Irak, développement de Daech). La vision manichéenne exportée de Moscou est rassurante : il y a les méchants d'un côté, qui tirent les ficelles dans les coulisses, et les vaillants résistants derrière Poutine, dressés contre l'Amérique comme Astérix contre l'Empire romain. Cet univers de BD trouve beaucoup d'adeptes, notamment grâce aux réseaux sociaux. Les principales cibles de Moscou sont les milieux politiques, les milieux économiques, les think tanks, les milieux militaires et les institutions chargées de la sécurité. C'est parmi les « souverainistes » europhobes et anti-américains que le Kremlin recrute la majorité de ses adeptes en posant au défenseur de « l'identité nationale », voire de « l'identité européenne ». Une analyse de la guerre de l'information menée par le Kremlin, de ses thèmes et de ses cibles principales, la description de sa stratégie de pénétration systématique des lieux de pouvoir dans notre société, ne peuvent laisser aucun doute : c'est la capacité d'agir indépendamment de Moscou que le Kremlin veut détruire en France (et en Europe). C'est une stratégie de pré-conquête que nous avons sous les yeux. Une des leçons principales tirées par le Kremlin du conflit ukrainien est que l'intégration de l'espace ex-soviétique dans l'Union eurasienne de Poutine, le rattachement de l'Europe occidentale à cette Union eurasienne aux conditions voulues par Moscou, ne sont concevables que si les Européens cessent de porter un projet alternatif à la « verticale du pouvoir » poutinienne. Depuis l'affrontement à propos de l'Ukraine, le Kremlin déploie des efforts décuplés pour remodeler l'Europe à son image. En insinuant qu'un « homme fort » est ce qu'il faut à l'Europe, que l'esprit de tolérance et de coopération qui caractérisaient l'Europe de l'après-guerre doivent être éradiqués au profit d'un nationalisme étroit, que seul l'emploi de la force est payant sur la scène internationale, il ambitionne de reformater la conscience européenne, d'amener les Européens à abandonner leurs institutions, à renoncer à leurs libertés, à se détourner de leur classe politique, afin de les rendre « poutino-compatibles ». Françoise Thom, Jean-Sylvestre Mongrenier et Pierre Verluise (2016)

S'il est vrai que le sursaut « gorbatchevien » a pour origine un accablant constat de faillite de l'économie socialiste, les moyens mis en oeuvre pour y remédier sont, la plupart du temps, assez éloignés de l'image que s'en font les médias et les hommes politiques occidentaux. Loin de se démocratiser sans ses structures profondes, le système soviétique tend à se « re-communiser », afin de mieux faire porter à la population le poids de son échec, tout en essayant, par une habile manipulation de l'information, de convaincre un Occident -si possible désarmé- de se laisser parasiter économiquement pour lui éviter la chute finale. Y réussira-t-il? La question est posée. Présentation de l'éditeur
Depuis l'accession au pouvoir de Mikhaïl Gorbatchev en mars 1985, le monde entier est resté les yeux fixés sur le fougueux secrétaire général qui a suscité les attentes les plus contradictoires : certains ont espéré qu'il réaliserait enfin les promesses du socialisme ; d'autres comme Margaret Thatcher se sont demandés s'il ne s'était pas secrètement converti à l'ultra-libéralisme ; d'autres encore ont vu en lui un disciple de la social-démocratie à la suédoise. L'écrivain américain Joyce Carol Oates admire sa « candeur désarmante » et a « la certitude viscérale que Gorbatchev est une personne d'une intégrité hors de pair, plus grande que nature peut-être » ; un militant pacifiste le compare à Jésus : « Il ne cesse de nous offrir de bonnes choses, comme des propositions de désarmement… » Tous ceux qui ne partagent pas la foi en ce nouveau messie semblent d'emblée suspects : « Nous nous trompons peut-être [sur Gorbatchev], mais j'aime mieux cette erreur que l'autre, monstrueuse, qui consiste à douter », écrit Pierre Bergé. Cet enthousiasme qui rappelle d'autres temps contraste avec les sentiments mitigés nourris par un grand nombre de Soviétiques à l'égard de leur leader, la méfiance et le désenchantement qui se font jour, surtout depuis l'automne 1988. La « gorbomania », et c'est là un de ses dangers, fait oublier que Gorbatchev n'est pas un chef d'État légitimement élu, qu'il n'est pas représentatif et que l'URSS ne se réduit pas au secrétaire général du PCUS même promu Président. (…) La « glasnost » (mot qu'on rend le mieux en français par « publicité », au sens de « publicité » d'un débat) enseigne maintenant aux citoyens soviétiques et proclame à la face du monde que l'URSS stalinienne présentait aux yeux de l'humanité un vaste décor planté de chantiers enthousiastes et de kolkhozes paradisiaques, qui recouvrait une réalité sanglante et tragique, des charniers innombrables, des paysans réduits au servage en plein XXe siècle, un prolétariat terrorisé et dépourvu de droits élémentaires, que l'URSS brejnévienne déployait un rideau de statistiques fausses faisant état de récoltes fabuleuses et de « rythmes accélérés », derrière lequel se dissimulaient la corruption, le cynisme et la dégradation économique. Qu'en est-il aujourd'hui ? Faut-il considérer que le tableau de l'URSS livré par la glasnost est complet ou doit-on penser que la loquacité nouvelle de la presse officielle cache des zones de silence plus efficacement peut-être que le mensonge surréaliste pratiqué sous Brejnev ? Les précédents incitent à la prudence. (…) L'URSS semble entrer toujours plus avant dans la période de ce que l'on peut appeler les « effets boomerang » : dans un grand nombre de domaines, la politique menée jusque-là avec un plein succès dans l'optique communiste, et sur laquelle reposait le système totalitaire, s'est peu à peu retournée contre le régime et menace maintenant jusqu'à son existence, justement parce qu'elle a trop bien réussi. Soixante-dix ans de mensonges, de terreur, d'esclavage, de purges, de revirements, de destruction des élites, ont donné naissance en URSS à un type humain particulier qui, malheureusement, ne cadre pas du tout avec l'homme idéal prévu par la doctrine : l'« homme nouveau » du projet communiste était avant tout un travailleur acharné, carburant à l'enthousiasme révolutionnaire, un être discipliné aux exigences modestes, fanatiquement dévoué au Parti. La concasseuse communiste a livré un tout autre produit. Il n'y a pas eu de NEP dans le domaine des mœurs. La fausse restauration stalinienne a supprimé quelques-uns des effets les plus choquants de la politique « libertaire » des années vingt, ce qui a fait oublier que les processus enclenchés par la révolution – destruction de la famille, sabotage des rapports humains au moyen de la peur, guerre des générations, dégradation des relations entre les sexes, remodelage de l'individu au moyen de la pénurie et du rationnement, etc. – se poursuivaient et même s'approfondissaient, comme on dirait en langue de bois. Une grande partie des contre-sens commis sur la perestroïka en Occident tient au fait qu'on se représente très mal la gravité de la crise du facteur humain dans le monde communiste. Françoise Thom (1989)
Attention: un mot peut en cacher un autre !
A l'heure où avec la disparition…
La gorbymanie –  sauf quelques rares exceptions comme la soviétologue Françoise Thom – semble être repartie pour un tour …
Quelle meilleure illustration …
Que ces fameuses publicités, de Pizza Hut à Louis Vuitton et les chemins de fer autrichiens OBB, auxquelles il avait prêté son image …
De la véritable imposture du syndic de faillite de l'Union soviétique …
Consistant à réduire, le terme de glasnost – au sens français de publicité d'un débat – à laquelle avait appelé Soljénitsyne, à la simple publicité commerciale…
Comme de la corruption massive au cœur de la kleptocratie de l'Etat voyou ….
Qui nous a donné aujourd'hui le nouveau fûhrer russe Poutine ?
Françoise Thom, le Moment Gorbatchev,1991
Marianne Gourg
La Revue russe
Année 1993
pp. 101-104
Françoise THOM, 335 pages.
Le Moment Gorbatchev, Paris, Hachette, 1991
Les changements qui affectent, ces dernières années, les ex-pays de l'Est, Гех-URSS en tout premier lieu, vont à un rythme tel qu'il est bien difficile aux chercheurs de dresser de véritables synthèses, bien plus encore de formuler des pronostics. F. Thom a eu ce courage puisque son ouvrage, le Moment Gorbatchev, dont la dernière édition date du lendemain du putsch d'août 1991 (qualifié de « putsch d'opérette ») se propose de dresser un bilan critique des « années Gorbatchev », de cerner et divulguer le caractère réel du projet idéologique qui a rendu possible des changements que la chercheuse considère, disons-le d'emblée de jeu, avec la plus grande méfiance.
Dans un premier temps, Fr. Thom décrit la crise sociale et politique qui a rendu les nouvelles orientations inéluctables. Elle rejoint sur ce point la plupart des analyses existantes : pauvreté, dégradation de la famille, abandons d'enfants, progression de l'alcoolisme y compris chez les femmes et les adolescents, perte du sens des responsabilités, recul de la productivité du travail, développement d'une mentalité d'assistés, conditions de vie et de santé désastreuses, progression catastrophique de la criminalité (Fr. Thom évoque le phénomène d'apparition de gangs organisés chez les jeunes), disparition des valeurs éthiques, en un mot, « ensauvagement » de la société, tel est le bilan d'une utopie dont la réalisation a pris le visage du cauchemar. A tout ceci vient s'ajouter le désastre écologique, avec pour conséquence la dégradation du capital génétique, le pouvoir accru des « mafias » locales, la dérive « mafieuse » du parti. Ce tableau apocalyptique, dont la catastrophe de Tchernobyl est comme l'emblème, avait été dressé par nombre d'écrivains bien avant la perestroïka d'Amalrik à Zinoviev et à Raspoutine. Les médias de la glasnost' vont l'amplifier, le porter à la connaissance des Soviétiques et de l'opinion internationale. C'est d'ailleurs d'eux que Fr. Thom tire, et c'est bien naturel, la plus grande partie de ses informations.
Fr. Thom consacre précisément un chapitre entier à l'analyse de la glasnost'. Elle y voit principalement une arme idéologique d'un nouveau modèle. Face à l'Occident, la glasnost' aurait essentiellement permis aux Soviétiques de reprendre l'initiative des informations concernant leur propre pays, de dicter aux étrangers, grâce à l'introduction insidieuse d'une nouvelle «langue de bois perestroïkiste», les cadres conceptuels dans lesquels ils souhaitent que ceux-ci pensent la réforme. Sur le plan intérieur, la glasnost' présentait l'avantage de rallier les intellectuels en les portant au pinacle et en restaurant les liens privilégiés que le communisme prétendait jadis établir avec l'intelligentsia. Elle avait par ailleurs l'avantage de créer les conditions d'un contrôle social accru permettant, dans les faits, aux autorités centrales de garder un œil sur les agissements des cadres locaux. Surtout, la glasnost' figurait une discontinuité entre l'ordre ancien et l'ère nouvelle de la perestroïka, héritière des traditions léninistes et des martyrs communistes (tels Boukharine dont la figure va être réhabilitée) de la période stalinienne. Ainsi le Parti pouvait-il avantageusement se démarquer des crimes du passé, voire transformer une histoire sanglante en vecteur de popularité. Et de fustiger la « gorbymania » occidentale. L'analyse de Fr. Thom a l'indéniable mérite de rechercher, au-delà d'un compte rendu pur et simple des faits, une interprétation globale. Il nous semble toutefois que ses ingénieuses conclusions, même si elle font apparaître les desseins secrets des dirigeants de l'époque (dont il n'y a aucune raison de sous-estimer le machiavélisme), laissent de côté un fait essentiel : la glasnost' a eu l'immense mérite objectif de restituer à tout un peuple sa mémoire historique et culturelle créant par là-même, une fois le premier traumatisme passé, les conditions nécessaires à une reprise en main politique, intellectuelle, morale des peuples de l'ex-URSS par eux-mêmes. Les processus qui ont mené de la redécouverte de penseurs et d'écrivains du début du siècle à celle d'auteurs, de publicistes, de théoriciens contemporains, ne sont pas étudiés.
Les chapitres suivants sont consacrés à l'histoire même de la perestroïka, la première étape allant de la perestroïka andropovienne à l'élection du Congrès des députés (1985-1989), la deuxième couvrant les années précédant le putsch d'août 1991. Fr. Thom en étudie les aspects politiques et économiques (ces derniers n'étant pas abordés dans le détail). La chercheuse s'applique à mettre en lumière l'abîme qui sépare les mots des faits : aggravation de la situation des entreprises au nom d'un « autofinancement » qui aboutit de facto à une aggravation des pertes et à un contrôle renforcé des organismes locaux du parti, difficultés rencontrées par les coopérateurs, création de boucs émissaires artificiels (les soviets dont la « revalorisation » annoncée à grands cris n'aboutit qu'à leur faire jouer un rôle de « paratonnerre », le Conseil des ministres, les « bureaucrates » désignés à la vindicte publique). L'ouvrage souligne les problèmes rencontrés par la création d'un « État de droit » en l'absence (toujours actuelle !) d'une claire séparation entre les pouvoirs exécutif et législatif. Pour finir Fr. Thom crie à l'imposture : le Parti feint de répondre aux aspirations de la société civile en introduisant des mesures visant en réalité à « renforcer la direction politique et la centralisation », à « recommuniser la société en profondeur ». Les lois libérales sont vidées de leur contenu par de multiples décrets qui vont dans le sens contraire (ainsi les restrictions cruciales qui assortissent la loi sur la propriété). Là encore, nous relevons l'absence d'une véritable information historique qui aurait permis à Fr. Thom d'élucider les causes du puissant mouvement de politisation auquel on assiste après les élections de 1989, de la radicalisation de la société dont l'exemple le plus frappant est la grande grève des mineurs du Kouzbass en mai 1989. Dans le même temps se dessine un mouvement de pluripartisme. Tout ceci est pour une grande part la conséquence directe de la glasnost', même si tel n'était pas (et, somme toute, cela importe peu) le but conscient de Gorbatchev).
L'un des chapitres les plus intéressants du livre de Fr. Thom est celui qu'elle consacre à la politique religieuse de Gorbatchev. Après avoir évoqué l'utilisation faite par le pouvoir d'une Église devenue «athée» tant au plan intérieur qu'à l'étranger, de son noyautage, du dessein qui consiste à la détruire de l'intérieur, l'A. évoque la fabrication d'une idéologie de substitution destinée à prendre le relais d'un marxisme-léninisme devenu obsolète. Cette « religion rouge », syncrétisme évocateur du New Age, mêlerait tout à la fois slavophilie, « cosmisme », bribes de marxisme, doctrines de Vernadski et Teilhard de Chardin. Ici comme ailleurs, en dépit d'un exposé intéressant, il nous semble que les conclusions auxquelles aboutit Fr. Thom manquent par trop de subtilité. Ces problèmes auraient eu intérêt à être replacés dans un questionnement global sur l'histoire de la pensée russe. Il ferait sans doute apparaître que les doctrines de cette fameuse « religion rouge » n'ont pas attendu les idéologues de la perestroïka pour séduire les esprits en Russie. Le début du siècle en offre un exemple combien éloquent ! Par ailleurs, l'Église orthodoxe officielle n'a jamais été totalement acquise au pouvoir et à son idéologie, comme en témoignent le meurtre récent du père Men, le rôle joué par G. Iakounine (voué aux gémonies par l'évêque de Saint-Pétersbourg) et surtout l'impact que connaît actuellement la religion. Autre chose est la possible collusion d'une Église potentiellement compromise mais devenue vecteur d'un puissant mouvement populaire avec les éléments extrémistes du camp nationaliste, l'utilisation que pourrait en faire Гех-KGB. De tout ceci, Fr. Thom ne parle malheureusement pas, se cantonnant à un propos schématique et plus que convenu.
Au chapitre suivant, l'auteur évoque longuement les liens privilégiés existant entre le KGB et le complexe militaro-industriel, les pouvoirs et la faculté d'adaptation de ce dernier. Si ce chapitre n'apporte guère de concepts nouveaux, le suivant propose une interprétation intéressante de la modernisation de l'empire. Ce projet qui s'inscrirait dans le prolongement de celui de la « maison européenne commune » viserait à réduire l'hétérogénéité politique existant en Europe sans que le pouvoir réel de Moscou soit compromis. D'où des tactiques de louvoiement (utilisation des « Fronts populaires », etc.).
La proclamation de souveraineté de la R.S.F.S.R. apparaît à l'A. comme une tactique de dédoublement destinée à mettre l'État à l'abri d'éventuelles sanctions économiques de l'Occident. Pour finir, l'éclatement de l'Empire devrait aboutir à sa reconstitution à long terme sur la base de traités entre les ex-républiques soviétiques devenues souveraines. Pendant ce temps, la Russie s'orienterait vers l'Europe, prioritairement vers l'Allemagne. Sur le plan international, le P.C.U.S. aurait recours à une tactique de camouflage (agir par personne, État, organisation « neutre » interposés, adopter le masque de la social-démocratie, créer et exploiter de « grandes peurs »), le but final d'une politique destinée à « faire flèche de tout bois » étant d'associer la communauté internationale à la tâche de nourrir, d'entretenir, de financer et d'équiper l'U.R.S.S. A cet effet, il conviendrait d'utiliser les organismes supranationaux où les Russes peuvent espérer s'infiltrer.
A ce jour, l'histoire n'a pas donné raison à Fr. Thom. Gorbatchev n'est plus au pouvoir ; l'empire soviétique est démantelé et nous assistons à une série d'affrontements sanglants. En proie à une crise structurelle et morale profonde, la Russie ne semble pas dans l'avenir immédiat devenir un partenaire à part entière dans l'Union européenne. Enfin, le PCUS n'existe plus. Même si une alliance de ses nostalgiques et des tendances nationalistes devait voir le jour, il est douteux que ce soit pour poursuivre ce que Fr. Thom définit comme une politique « léniniste ». Ces constatations a posteriori n'ôtent rien à l'intérêt du livre de Fr. Thom, écrit avec passion et alacrité. On peut, toutefois déplorer que le réel talent de cette chercheuse soit obéré par l'absence de vraies méthodes historiques qui lui fait préférer l'exposé de ses convictions à l'examen des faits réels. Fr. Thom ne trouve pour nous expliquer l'une des plus grandes révolutions de ce siècle que la vieille thèse du complot. C'est dommage.
Voir aussi:
Quelle géopolitique de la Russie ?
Françoise THOM, Jean-Sylvestre MONGRENIER, Pierre VERLUISE,
Diploweb
4 juillet 2016
Jean-Sylvestre Mongrenier, chercheur à l'Institut Français de Géopolitique (Paris-VIII) et chercheur associé à l'Institut Thomas More.
Françoise Thom, Maître de conférences à la Sorbonne. Pierre Verluise, Docteur en Géopolitique est Directeur du Diploweb.com
Dans cet entretien inédit, Jean-Sylvestre Mongrenier et François Thom dressent un vaste tableau de la géopolitique de la Russie, du temps des tsars à Vladimir Poutine. Cela permet de distinguer des ruptures et des continuités, puis de caractériser l'acteur d'aujourd'hui, notamment à l'égard de l'UE et de l'OTAN mais aussi de l'Union économique eurasienne. Les auteurs abordent également la stratégie de la Russie en Asie. Enfin, Jean-Sylvestre Mongrenier et François Thom mettent à jour la stratégie d'influence du Kremlin en France.
Jean-Sylvestre Mongrenier, François Thom viennent de publier « Géopolitique de la Russie », Coll. Que-sais-je ?, Paris, Presses universitaire de France. Ils répondent aux questions de Pierre Verluise, Directeur du Diploweb.com
Pierre Verluise (P.V.) : Entre la géopolitique de la Russie tsariste, de l'Union des Républiques Socialistes Soviétiques (1922-1991) et celle de la Russie post-soviétique, quelles sont les ruptures et les continuités ?

Jean-Sylvestre Mongrenier (J.-S. M), François Thom (F.T.) :
Pour comprendre le rapport particulier de la Russie actuelle à la géopolitique il est indispensable de revenir sur les circonstances dans lesquelles l'État moscovite s'est développé, puis imposé au monde russe. Car la Moscovie est un fragment d'un ensemble antérieur, la grande principauté de Kiev, appelée Rus. L'Etat kiévain, une fédération de principautés liées entre elles par des attaches généalogiques, apparaît au milieu du IXe siècle. En 988, Vladimir, le grand-prince de Kiev, se convertit au christianisme et fait baptiser son peuple. A son apogée, au XIe siècle, la Russie kiévaine faisait partie du système politique de l'Europe. Elle avait juste commencé à s'imprégner de culture européenne, grâce à la christianisation, quand surviennent les invasions mongoles. En 1240, Kiev est prise par Batou, neveu de Genghis Khan. Batou fonde la Horde d'Or, la partie européenne de l'empire mongol, qui s'étend de l'Oural et de la Caspienne aux embouchures du Danube. La domination mongole dure 250 ans, entraînant une dislocation du monde slave oriental. Deux grands pôles émergent et s'affirment lorsque la Horde d'Or commence à se morceler à partir de 1430.
La Rus occidentale, l'ancien Etat kiévain, est conquise par les Lithuaniens au XIIIe-XIVe siècle. En 1386, la Lithuanie s'unit avec la Pologne par un accord dynastique et se convertit au catholicisme (le Grand-duché de Lithuanie s'unira avec la Pologne en 1569 : la Rus occidentale va alors se poloniser). Une lente renaissance a lieu dans cet espace. La noblesse hérite du pouvoir. Le roi est élu par le Sejm. La Lithuanie entre dans la zone où règne le droit de Magdebourg qui donne aux citadins l'auto-administration et les émancipe de la tutelle des princes. Le processus de développement culturel ne se prolonge qu'au Nord, à Novgorod et à Pskov.
Au Nord-Est, la principauté de Moscou monte en puissance à la fin du XVe siècle car le prince de Moscou s'est transformé en agent général des Tatares. Les princes de Moscou, écrit Karamzine, « prirent l'humble titre de serviteurs des khans, et c'est par là qu'ils devinrent de puissants monarques » [1]. La Russie moscovite s'appuie de plus en plus sur la Horde d'Or dans sa guerre contre les Slaves de l'Ouest et les princes lithuaniens. Responsables vis-à-vis du khan mongol de la perception de l'impôt et de la docilité de la population, les princes de Moscou vont anéantir l'indépendance des villes, la résistance des princes rivaux, la fronde des Boïars, la paysannerie libre. Ivan III (1462-1505) se déclare tsar et autocrate, c'est-à-dire indépendant de tout suzerain ; il dénonce son allégeance à l'égard du khan en 1480. Sous son règne se cristallise un lourd despotisme, dans lequel le peuple est un esclave, l'Eglise est une servante, les Boïars et les princes les valets du grand prince de Moscou. En conquérant Novgorod vers 1470, ville franche tournée vers la Lithuanie et les villes allemandes de la Hanse, Ivan III ferme la possibilité d'un développement du monde russe ouvert vers l'Europe de la Baltique. Désormais la Rous occidentale est considérée comme l'ennemie et le ralliement à cette Rous comme une trahison. La fenêtre polonaise vers l'Europe est fermée, tout comme l'accès au monde grec. En effet, au XVe siècle, l'Eglise russe moscovite se « nationalise ». Elle se proclame autocéphale en 1448, à la suite de son refus de l'union de Florence entre chrétiens d'Orient et chrétiens d'Occident, en 1439. Elle rompt avec les Grecs qui ne la reconnaissent pas comme autocéphale pendant 120 ans. La Russie moscovite se retrouve totalement isolée et ne voit dans l'Ouest qu'un monde abandonné à l'« hérésie latine ».
Dès cette époque apparaît le lien entre l'expansion extérieure et l'alourdissement de la tyrannie à l'intérieur. Ce lien est encore plus évident sous Ivan le Terrible, pendant la guerre de Livonie (1558-1582). Ivan voit dans ses élites des agents potentiels des puissances étrangères et il lancera contre elles la redoutable opritchnina, une police politique devenue Etat dans l'Etat. C'est alors qu'apparaît l'idée que le succès de la Moscovie, notamment dans ses guerres contre les puissances européennes, est dû à son régime autocratique, idée qui ne fera que se renforcer durant les siècles suivants et qui est toujours très présente chez les idéologues poutiniens. Car la Russie a augmenté d'une superficie équivalente à celle de la Hollande par an à partir du XVe siècle. Pendant les 300 ans d'existence de la dynastie des Romanov, l'empire russe s'agrandit à la vitesse de 140 km² par jour.
Très tôt se fait sentir le tiraillement entre la volonté d'expansion, qui présuppose par la force des choses un contact avec le monde extérieur, et le sentiment que tout contact avec l'étranger ne peut que corrompre le peuple russe, déstabiliser le régime autocratique et détourner les Russes de la vraie foi. La Russie balance entre messianisme et volonté d'autarcie. Ce tiraillement entre cosmopolitisme expansionniste et désir d'autarcie isolationniste va se retrouver au cœur du bolchevisme. Joseph Staline résout ce dilemme et c'est bien la raison de son emprise profonde sur les esprits en Russie. Il crée une zone d'hégémonie autarcique, en déseuropéanisant les terres conquises, dans la tradition des princes de Moscou. Staline préfère une extension des frontières de l'URSS et la création d'un empire périphérique dans lequel il peut imposer son régime. Mieux que les Tsars, il a su neutraliser les effets de contagion indésirable de l'incursion des troupes soviétiques en Europe. L'expansion qu'il réalise est conforme aux vœux des slavophiles : Moscou impose son régime à toutes les régions conquises, éradique les élites européanisées et construit un bloc quasi autarcique par le fer et par le sang.
Nous retrouvons le même dilemme au coeur de la Russie poutinienne, partagée entre son ambition de grande puissance et un irrésistible penchant vers le repli sur soi. La réaction maladive du Kremlin au choix européen de l'Ukraine s'explique par ce sentiment qu'un retour de l'Ukraine dans l'aire de civilisation européenne remettrait en cause l'évolution historique des cinq derniers siècles, caractérisée par une avancée continue de la Russie en Europe, culminant avec la victoire de « la Grande Guerre patriotique » qui, en 1945, a livré à Staline la moitié du continent européen, avancée que le Kremlin poutinien se promettait de poursuivre en misant sur les tendances centrifuges au sein de l'Union européenne et le désengagement américain.

P.V. : Au vu des faits, comment caractériser l'acteur géopolitique qu'est la Russie de Vladimir Poutine ?

J.-S. M et F.T. : A l'inverse de la théorie « réaliste » des relations internationales, soucieuse d'élaborer une sorte de physique newtonienne des rapports de puissance, l'analyse géopolitique doit prendre en compte les hommes, leurs représentations géopolitiques et la nature du régime politique. Après la disparition de l'URSS, la Russie semblait engagée dans une « transition » vers l'Etat de droit et l'économie de marché. Au cours des années Eltsine (1991-1999), le fonctionnement du régime était certes erratique et marqué par la corruption, mais le progrès des libertés était indéniable. Toutefois, les siloviki, ces hommes issus des organes de sécurité (KGB et autres) ont largement pris le contrôle du partage des dépouilles, via les privatisations, et la « guerre des régions », transformées en mini-URSS par les nomenklaturistes locaux. Ce qui a neutralisé les réformes économiques d'inspiration libérale.

C'est dans ce contexte de « polyarchie chaotique » que Vladimir Poutine a entamé son ascension, puis mis en place ce que l'on a appelé une « verticale du pouvoir », partant du Kremlin : une recentralisation de l'organisation territoriale russe, doublée d'une prise de contrôle du champ politico-médiatique et de l'économie. La science politique définit ce mode de gouvernement comme un « autoritarisme patrimonial », l'autocrate et ses proches étant en même temps les propriétaires des richesses du pays. Cela présuppose l'absence de véritables règles de droit et d'institutions vivaces, ainsi que des luttes de clans permanentes pour le pouvoir et le contrôle des rentes économiques qui achètent les fidélités politiques.
Cette confusion des genres explique les hésitations initiales des analystes sur la finalité centrale du système russe : la puissance étatico-militaire ou l'enrichissement privé ? Depuis, les faits ont démontré la force de ce que les Russes appellent la « Derjavnost », une sorte de culte de la puissance. De l'analyse des discours et représentations géopolitiques, il ressort que pour le Kremlin et la classe dirigeante russe, l'ultime partie de la Guerre froide n'est pas encore jouée. La Russie peut et doit récupérer une partie du terrain perdu en 1991 – cf. le thème de l'« étranger proche » -, et reconstituer une sorte d'URSS « new-look », voire faire payer à l'Occident l'éclatement de l'URSS en attisant les tendances centrifuges dans les Etats et les structures occidentales, notamment au sein de l'Union européenne. In fine, la Russie se pose en puissance revancharde et révisionniste, prête à remettre en cause par les armes l'architectonie géopolitique de l'Europe post-Guerre froide. Autrement dit, il est erroné de voir en la Russie un simple Etat mafieux : le Kremlin conduit une « grande stratégie » et le système est tendu vers la reconstitution de la puissance passée.
P. V. : Quel est le jeu de V. Poutine à l'égard de l'UE et de l'OTAN ?

J.-S. M et F.T. : Vladimir Poutine considère les instances euro-atlantiques, l'Union européenne aussi bien que l'OTAN, comme de simples superstructures politiques et militaires héritées de la stratégie de containment et vouées au dépérissement, à la suite d'un hypothétique retrait américain, les Etats-Unis étant supposés se réorienter vers l'Asie-Pacifique et se désintéresser de toute autre région du monde. Schématiquement, l'OTAN exprimerait les seuls intérêts américains ; l'Union européenne et ses Etats membres seraient dépourvus de substance et de volonté propres. Si le président russe a usé de la thématique eurasiste, ses partisans vont plus loin dans ce registre : l'heure d'une vaste Eurasie, rassemblée autour du « Heartland » russo-sibérien, aurait sonné. Le « Brexit » (référendum du 23 juin 2016 au Royaume-Uni) et ses conséquences sur le système euro-atlantique sont appréhendés à travers cette grille de lecture.

Si l'on se reporte aux années 2000, le discours russe sur l'OTAN et l'Union européenne était empreint de duplicité. Dans le cas ukrainien par exemple, les diplomates russes expliquaient que seule l'OTAN leur posait problème car il s'agissait d'une alliance militaire incluant la superpuissance américaine. La candidature de l'Ukraine constituait, disaient-ils, une grave menace sur la sécurité de la Russie, et l'octroi par les Etats membres de l'OTAN d'un Membership Action Plan (MAP), ultime étape avant l'adhésion pure et simple, serait un casus belli. Il en irait de même pour la Géorgie. Inversement, la candidature à l'Union européenne n'était pas censée leur poser problème, car il s'agissait d'une structure avant tout civile et économique. Ces éléments de langage ont souvent été repris dans les milieux officiels français et européens, mais du point de vue russe, il ne s'agissait que de dissocier les fléaux.
Lors du sommet de l'OTAN organisé à Bucarest, au printemps 2008, le MAP a été refusé à l'Ukraine comme à la Géorgie, et ces deux pays, restés à l'extérieur du périmètre de sécurité, ont été attaqués. Dans le cas ukrainien, l'accord d'association à l'Union européenne, censé ne pas poser problème quelques années plus tôt, a été le point de départ de pressions multiformes de la part de Moscou sur Kiev, jusqu'à la guerre et à un rattachement manu militari de la Crimée. La leçon sur le plan stratégique et géopolitique est simplissime : malheur à qui reste en dehors du périmètre de sécurité. L'OTAN et l'Union européenne sont les deux piliers de l'Europe post-Guerre froide, et ces instances euro-atlantiques font obstacle au révisionnisme géopolitique russe. En leur absence, le « chacun pour soi » l'emporterait, ce qui ouvrirait de nouvelles possibilités à la politique russe, l'Europe basculant dans une nouvelle période de déchirements.
P. V. : Quelle est la réalité de l'Union économique eurasienne ?

J.-S. M et F.T. : L'Union économique eurasienne relève d'un projet géopolitique plus vaste et plus ambitieux, mais contrarié par les faits. Dès 1993, la doctrine de l' « étranger proche » évoquée précédemment est énoncée à la Douma et reprise au sommet de l'Etat : il s'agit de reprendre le contrôle direct ou indirect de la plus grande partie possible de l'ex-URSS. La doctrine eurasiste donne une touche historique, culturelle et civilisationnelle à un projet néo-soviétique. Cela est hors de portée de la Russie de Eltsine, mais les représentations géopolitiques et les projets de ce type doivent être analysés sur plusieurs échelles temporelles. A l'époque, l'instrumentalisation par Moscou de différents conflits ethniques et territoriaux, sur les confins de la Russie (Moldavie, Géorgie, Arménie-Azerbaïdjan), et leur « gel », permettent de poser des jalons, aussi d'installer l'idée d'un démembrement fatal, en attendant que la conjoncture géopolitique soit plus propice (voir les pseudo-indépendances de l'Abkhazie et de l'Ossétie du Sud, proclamées après la guerre russo-géorgienne d'août 2008).

En revanche, les tentatives d'intégration de la Communauté des Etats indépendants (CEI) échouent. Ce cadre post-soviétique, instauré pour liquider l'URSS (1991), tout en préservant des relations techniques et fonctionnelles entre les anciennes républiques soviétiques, s'avère inadapté à un projet néo-soviétique ; un certain nombre de pays entendent conserver leur souveraineté. Les dirigeants russes privilégient donc des cadres d'action plus restreints, à l'instar de l'Organisation du traité de sécurité collective (OTSC), mais ils ne renoncent pas à institutionnaliser la sphère d'influence exclusive qu'ils revendiquent dans l'« étranger proche ». Diverses esquisses aboutissent au projet d'Union eurasienne, présenté par Poutine, en octobre 2011, comme la grande réalisation du prochain mandat présidentiel. Dans son esprit, l'Ukraine devra renoncer à ses aspirations européennes et intégrer cette union, mais l'insurrection civique de la fin 2013, en réponse aux pressions russes a modifié le cours des événements. L'Etat ukrainien a perdu le contrôle de la Crimée et d'environ un tiers du Donbass, mais il conserve les neuf dixièmes de son territoire et le nouveau gouvernement, appuyé sur une nouvelle majorité, conduit un retournement géopolitique vers l'Occident.
L'Union eurasienne a officiellement été lancée au 1er janvier 2015. Elle regroupe la Russie, le Belarus, le Kazakhstan et l'Arménie, bientôt rejoints par le Kirghizstan. L'absence de l'Ukraine réduit la part des Slaves orthodoxes au sein de cette union qui, de ce fait, est plus eurasiatique qu'envisagé au départ. En son sein, le Belarus et le Kazakhstan, qui refusent de reconnaître les remaniements politico-territoriaux en Géorgie (Abkhazie et Ossétie du Sud) et en Ukraine (Crimée), se méfient de la Russie et cherchent à limiter l'union eurasienne à la sphère économique ; la percée de la Chine populaire en Asie centrale et dans le bassin de la Caspienne, bientôt renforcée par le projet des « Nouvelles routes de la Soie », assure au Kazakhstan une certaine marge de manœuvre. La récession russe limite également la portée effective de l'Union eurasienne dans la sphère économique. Il reste que la Russie représente 80 % du PIB, 85 % de la population et 85 % de la superficie de ce vaste ensemble (20 millions de km² et 170 millions d'habitants). Une étape décisive a été franchie et Poutine n'a certainement pas renoncé à ses ambitions géopolitiques, mais l'avenir est plus à une « Russie-Eurasie » qu'à une Russie slave-orthodoxe, notamment dans la sphère démographique (poids croissant des musulmans et des populations issues d'Asie centrale en Russie, et 43 millions d'Ukrainiens qui restent en dehors de cette union). Jusqu'où l'eurasisme et le « chauvinisme grand-russe », pour parler comme Lénine, sont-ils compatibles ?
P. V. : Plus largement, en Asie, quelle est la stratégie de la Russie contemporaine ?
J.-S. M et F.T. : Avec les trois quarts de son territoire au-delà de l'Oural, la Russie recouvre toute l'Asie septentrionale (Sibérie et Extrême-Orient russe), et elle est la voisine de l'ancien Turkestan occidental (l'Asie centrale russo-soviétique désormais indépendante), la Mongolie, la Chine, la Corée du Nord et le Japon. La dégradation des relations avec l'Occident – parler de « Paix froide » n'est en rien excessif -, a permis à Poutine de mettre en avant le thème d'un « pivot » russe vers la Chine populaire : la stratégie consiste à chercher des appuis en Asie, afin de peser en Europe. Le rapprochement avec Pékin s'inscrit dans le prolongement de la « doctrine Primakov », mise en œuvre sous Eltsine, mais il s'agissait alors de renforcer le pouvoir de négociation de la Russie. Désormais, la Chine populaire est présentée, du point de vue russe, comme un substitut à l'Occident. Le « partenariat stratégique » de 1996, complété cette année-là par le Groupe de Shanghaï, i.e. la future Organisation de Coopération de Shanghaï (OCS), a été le point de départ d'échanges croissants sur tous les plans. En 2011, un traité d'amitié et de coopération a été signé entre Pékin et Moscou, mais il ne s'agit pas d'une alliance à proprement parler, de même que l'OCS n'est pas une « OTAN eurasiatique ».

Négocié après les sanctions occidentales qui ont suivi l'annexion de la Crimée, le « contrat du siècle » (mai 2014) sur la construction d'un grand gazoduc (« Force de Sibérie ») et l'exportation de gaz russe, depuis la Sibérie orientale vers la Chine, a surtout permis à Pékin d'imposer ses conditions. Par ailleurs, les neuf dixièmes de la production russe d'hydrocarbures sont extraits en Sibérie occidentale et ces volumes ne peuvent pas être redéployés vers la Chine (Pékin ne veut pas financer le gazoduc « Force de l'Altaï » qui permettrait d'établir un lien fixe entre Sibérie occidentale et Extrême-Orient). D'une manière générale, les dirigeants chinois considèrent leurs homologues russes comme des partenaires de second rang, et la Russie est considérée comme un réservoir de produits de base, utile également sur le plan diplomatique afin de renforcer les positions chinoises vis-à-vis des Etats-Unis, notamment dans la question des litiges maritimes en mer de Chine méridionale, cette « Méditerranée asiatique ». Bien entendu, Poutine n'ignore pas cela, mais ses priorités géopolitiques sont à l'Ouest : les Russes ont plus besoin de la Chine que la Chine de la Russie. La relation est comparable à un « dos-à-dos », et le sommet sino-russe de Pékin (25 juin 2016), organisé dans le prolongement du sommet de Tachkent (OCS), a confirmé ces convergences géopolitiques.
Ces convergences sino-russes mettent Moscou en porte à faux avec les autres acteurs étatiques de la zone Asie-Pacifique et limitent la possibilité d'un retour sur la « grande scène asiatique ». Les pays de l'Association des Nations d'Asie du Sud-Est (ASEAN) s'inquiètent de l'expansion et des revendications chinoises sur la « Méditerranée asiatique », et ils cherchent des réassurances du côté des Etats-Unis. Le Vietnam lui-même, fortement lié à la Russie par des achats militaires, se rapproche de Washington, et le président américain, Barack Obama, a récemment annoncé la levée de l'embargo sur les armes à destination de ce pays. En Asie du Nord-Est, les rapports avec le Japon achoppent sur la question des Kouriles. Avec la Corée du Nord, les relations sont ambivalentes et Moscou, malgré quelques velléités dans les années 2000, ne peut jouer le rôle de « facilitateur » entre les deux Etats de la péninsule coréenne. Si l'on élargit le champ d'analyse, il faut y intégrer l'Union indienne, dont la diplomatie relance l'idée d'un « bassin Indo-Pacifique », un concept qui lie l'océan Indien et l'océan Pacifique. Héritage de la Guerre froide et du « neutralisme bienveillant » d'Indira Gandhi, la coopération russo-indienne est étroite. Cela ne va pas sans contradiction avec le rapprochement sino-russe, alors que Pékin resserre en parallèle son alliance avec Islamabad. Notons que l'Inde et le Pakistan devraient intégrer l'OCS (signature d'un mémorandum sur cette adhésion, le 24 juin 2016, à Tachkent). Plus que la Chine, la Russie a intérêt à renforcer ce forum diplomatique, de manière à encadrer la puissance chinoise et à pouvoir manœuvrer entre ses « partenariats » contradictoires. Enfin, les relations indo-russes ne sont pas exclusives et le jeu diplomatique est ouvert.
P. V. : Deux livres viennent d'être publiés en France à propos des réseaux d'influences russes en France, que pensez-vous de ces travaux ?

J.-S. M et F.T. : La parution presque simultanée de ces deux livres témoigne d'une prise de conscience en France du danger représenté par l'alignement croissant sur les positions du Kremlin d'une grande partie de la classe politique, à droite surtout. Cécile Vaissié (Les Réseaux du Kremlin en France, éditions Les petits matins) et Nicolas Hénin (La France russe, éditions Fayard) ont fait un travail remarquable qui donne la mesure de l'immense effort déployé par le Kremlin pour pénétrer les milieux qui comptent en France.
Il faut d'abord mentionner un impressionnant dispositif de propagande, qui fait largement appel aux réseaux sociaux. La stratégie médiatique du Kremlin est triple.
Le premier volet consiste à dénigrer à travers ses réseaux tout ce qui est en Occident : la classe politique (« tous des corrompus et des incapables »), les mœurs (« tous des sodomites décadents »), la démocratie (« une hypocrisie au service des Américains »), le droit (« l'idolâtrie de l'homme qui fait oublier Dieu » selon le patriarche Kirill), le droit international (une fiction dont les Américains se servent pour camoufler leur hégémonisme), l'Europe (« en perdition »), les Etats-Unis (« en perte de vitesse »).
Le deuxième volet consiste à tabler sur les peurs et à les attiser : peur du terrorisme (« causé par la politique de tolérance »), peur de l'immigration massive (idem), peur de la globalisation.
Le troisième volet consiste à rapprocher les Européens des Russes en les faisant communier dans les mêmes haines et les mêmes phobies. Haine des Etats-Unis en priorité. Tous les événements négatifs qui ponctuent l'actualité – terrorisme islamique, guerre en Ukraine, crise économique – ont un coupable : les Etats-Unis et leurs vassaux européens. L'Amérique est toujours responsable, soit qu'elle agisse (intervention en Irak), soit qu'elle n'agisse pas (évacuation de l'Irak, développement de Daech). La vision manichéenne exportée de Moscou est rassurante : il y a les méchants d'un côté, qui tirent les ficelles dans les coulisses, et les vaillants résistants derrière Poutine, dressés contre l'Amérique comme Astérix contre l'Empire romain. Cet univers de BD trouve beaucoup d'adeptes, notamment grâce aux réseaux sociaux.
Les principales cibles de Moscou sont les milieux politiques, les milieux économiques, les think tanks, les milieux militaires et les institutions chargées de la sécurité. C'est parmi les « souverainistes » europhobes et anti-américains que le Kremlin recrute la majorité de ses adeptes en posant au défenseur de « l'identité nationale », voire de « l'identité européenne ».
Une analyse de la guerre de l'information menée par le Kremlin, de ses thèmes et de ses cibles principales, la description de sa stratégie de pénétration systématique des lieux de pouvoir dans notre société, ne peuvent laisser aucun doute : c'est la capacité d'agir indépendamment de Moscou que le Kremlin veut détruire en France (et en Europe). C'est une stratégie de pré-conquête que nous avons sous les yeux. Une des leçons principales tirées par le Kremlin du conflit ukrainien est que l'intégration de l'espace ex-soviétique dans l'Union eurasienne de Poutine, le rattachement de l'Europe occidentale à cette Union eurasienne aux conditions voulues par Moscou, ne sont concevables que si les Européens cessent de porter un projet alternatif à la « verticale du pouvoir » poutinienne. Depuis l'affrontement à propos de l'Ukraine, le Kremlin déploie des efforts décuplés pour remodeler l'Europe à son image. En insinuant qu'un « homme fort » est ce qu'il faut à l'Europe, que l'esprit de tolérance et de coopération qui caractérisaient l'Europe de l'après-guerre doivent être éradiqués au profit d'un nationalisme étroit, que seul l'emploi de la force est payant sur la scène internationale, il ambitionne de reformater la conscience européenne, d'amener les Européens à abandonner leurs institutions, à renoncer à leurs libertés, à se détourner de leur classe politique, afin de les rendre « poutino-compatibles ».
Copyright Juillet 2016-Mongrenier-Thom-Verluise/Diploweb.com

Plus
Jean-Sylvestre Mongrenier, François Thom, Géopolitique de la Russie , Coll. Que-sais-je ?, Paris, Presses universitaire de France

Géopolitique de la Russie et de son environnement

Presses Universitaires de France
4e de couverture
Parce qu'elle s'étend de l'Est européen à l'océan Pacifique, la Russie est à la croisée des grandes aires géopolitiques mondiales.
Au sud, le Moyen-Orient est perçu comme un arc de crise en proie à l'islamisme, dont les contrecoups se répercutent dans le Caucase, en Asie centrale et dans les républiques musulmanes de la Volga. Au nord, l'océan Arctique semble retrouver la valeur géostratégique qui était la sienne pendant la guerre froide.
À cette immensité répondent les ambitions du pouvoir russe. Son projet ? Redonner à la Russie un statut de puissance mondiale, en opposition à l'Occident.
Expliquer la géopolitique vue de Moscou, montrer son enracinement dans l'histoire, éclairer les implications de ces conceptions et leurs modalités pratiques en analysant l'évolution des politiques russes, tel est l'objectif de cet ouvrage.
Voir Jean-Sylvestre Mongrenier, François Thom, Géopolitique de la Russie , Coll. QSJ, sur le site des éditions Presses universitaire de France

Voir de plus:
Gorbachev's reputation rests on the world's amnesia
George F. Will
The Washington Post
August 30, 2022
Failing upward into the world's gratitude, Mikhail Gorbachev became a hero by precipitating the liquidation of the political system he had tried to preserve with reforms. He is remembered as a visionary because he was not clear-sighted about socialism's incurable systemic disease: It cannot cope with the complexity of dispersed information in a developed nation. Like Christopher Columbus, who accidentally discovered the New World, Gorbachev stumbled into greatness by misunderstanding where he was going.
Two of Gorbachev's uncles and an aunt died in Joseph Stalin's engineered famine of 1932-1933. The tortures of the Great Terror were visited upon both grandfathers. One of them remembered: An interrogator broke his arms, beat him brutally, then wrapped him in a wet sheepskin coat and put him on a hot stove. In "Gorbachev: His Life and Times," William Taubman, an emeritus political scientist at Amherst College, quotes Gorbachev on his experience as a boy during World War II, finding the remains of Red Army soldiers: "decaying corpses, partly devoured by animals, skulls in rusted helmets, bleached bones . . . unburied, staring at us out of black, gaping eye-sockets."
Perhaps, Taubman says, such experiences explain Gorbachev's most noble facet, his "extraordinary reluctance" to use violence to hold the Soviet system together. Yet when Neil Kinnock, then the leader of Britain's Labour Party, raised with Gorbachev the case of the imprisoned dissident Natan Sharansky, "Gorbachev responded with a volley of obscenities against 'turds' and spies like Sharansky."
President Ronald Reagan, abandoning the niceties of detente, turned up the rhetorical and military temperature. In 1983, he described the Soviet Union as "the focus of evil in the modern world." With the Strategic Defense Initiative, he launched a high-tech challenge to a Soviet Union in which 30 percent of hospitals lacked indoor plumbing. Reagan sent lethal aid to those fighting the Soviet forces in Afghanistan. When Gorbachev retreated from there, Taubman writes, it was "the first time the Soviet Union had pulled back from territories it had 'liberated' for Communism."
Taubman, who judges Gorbachev "a tragic hero who deserves our understanding and admiration," says the 1986 Chernobyl nuclear plant disaster and the government's bungled response to it caused the scales to fall from Gorbachev's eyes regarding the comprehensive rottenness of the Soviet system. A French official reported that when Gorbachev arrived late at a Kremlin reception, Gorbachev said "he had been trying to solve some urgent problem of the agriculture sector. I asked when the problem had arisen, and he replied with a sly smile: 'In 1917.' " Secretary of State George P. Shultz in 1987 explained to Gorbachev the world's transformation from the industrial to the information age, making the foundational Marxist distinction between capital and labor obsolete because "we have entered a world in which the truly important capital is human capital — what people know, how freely they exchange information and knowledge."
Gorbachev's lasting legacy might be in the lessons that China's durable tyranny has chosen to learn from his and the Soviet Union's downfall. Political scientist Graham Allison observes that "when Xi Jinping has nightmares, the apparition he sees is Mikhail Gorbachev." According to Allison, Xi says Gorbachev's three ruinous errors were: He relaxed political control of society before reforming the economy, he allowed the Communist Party to become corrupt, and he "nationalized" the Soviet military by allowing commanders to swear allegiance to the nation rather than to the party and its leader.
In 1988, when the French were about to celebrate and sensible people were about to regret a bicentennial, Gorbachev impertinently lectured the United Nations: "Two great revolutions, the French Revolution of 1789 and the Russian Revolution of 1917, exerted a powerful impact on the very nature of history." Two? It was America's revolution that unleashed the world-shaking passion for freedom grounded in respect for natural rights. The Soviet Union, hammered together by force and held together by iron hoops of bureaucracy, never achieved legitimacy as the United States has exemplified it — the consensual association of a culturally diverse population.
The Soviet Union's brittle husk crumbled as Gorbachev struggled to preserve it. His reputation rests on the world's amnesia about this: When elevated to general secretary of the Communist Party, Taubman says, Gorbachev claimed to have re-read all 55 volumes of Lenin's writings, telling a friend, "If you were to read Lenin's disputes with [the German Marxist Karl] Kautsky, you would understand that they're far more interesting than a novel." Of Lenin, the architect of the first totalitarian system, who let loose rivers of blood, Gorbachev said — in 2006 — "I trusted him then and I still do."
Voir enfin:
Mikhaïl Gorbatchev : Les vibrants hommages en Occident contrastent avec les sobres « condoléances » de Poutine
REACTIONS: Joe Biden, Ursula von der Leyen, Boris Johnson ou encore Emmanuel Macron ont salué le combat pour la paix de Mikhaïl Gorbatchev
20 Minutes avec AFP
31/08/22
Nul n'est prophète en son pays : cette expression résonne particulièrement alors que Mikhaïl Gorbatchev s'est éteint mardi soir à 91 ans. Si la mort du dernier dirigeant de l'URSS a suscité de vibrants hommages en Occident, où son rôle crucial pour mettre fin à la Guerre froide et son combat pour la paix ont été salués, le contraste avec la sobriété du Kremlin est saisissant.
Le président russe Vladimir Poutine a ainsi simplement exprimé « ses profondes condoléances » et « enverra (ce mercredi) dans la matinée un télégramme de condoléances à la famille et aux proches » de l'ancien dirigeant, selon le porte-parole du Kremlin. Le président américain Joe Biden a pour sa part salué en Mikhaïl Gorbatchev un « leader rare ». Ses actes furent ceux d'un dirigeant ayant assez d'« imagination pour voir qu'un autre avenir était possible et le courage de risquer toute sa carrière pour y parvenir. Le résultat fut un monde plus sûr et davantage de liberté pour des millions de personnes ».
Le parallèle de Johnson avec l'Ukraine
Pour le secrétaire général des Nations unies Antonio Guterres, « le monde a perdu un immense dirigeant mondial, engagé envers le multilatéralisme, et défenseur infatigable de la paix ». Le chef de l'Onu a salué « un homme d'Etat unique qui a changé le cours de l'histoire » et fait « plus que n'importe qui pour provoquer de façon pacifique la fin de la Guerre froide ». « J'ai toujours admiré le courage et l'intégrité dont il a fait preuve pour mettre fin à la Guerre froide », a également indiqué dans un tweet le Premier ministre britannique Boris Johnson. « A l'heure de l'agression de (Vladimir) Poutine en Ukraine, son engagement inlassable pour l'ouverture de la société soviétique reste un exemple pour nous tous », a-t-il insisté.
Pour Emmanuel Macron, Mikhaïl Gorbatchev était un « homme de paix dont les choix ont ouvert un chemin de liberté aux Russes. Son engagement pour la paix en Europe a changé notre histoire commune », a souligné le président français.
La présidente de la Commission européenne Ursula von der Leyen a pour sa part salué « un dirigeant digne de confiance et respecté » qui « a joué un rôle crucial pour mettre fin à la guerre froide et faire tomber le rideau de fer. Il a ouvert la voie à une Europe libre ». Enfin, pour l'ancien président colombien et Nobel de la paix 2016, Juan Manuel Santos, Mikhaïl Gorbatchev – qui a lui-même reçu ce Nobel en 1990 – était « un champion de la paix ». « Le monde a besoin de beaucoup plus de leaders comme lui », a-t-il écrit dans un tweet.
Mikhaïl Gorbatchev, 81 ans, a été président de l'URSS de 1985 à 1991. Il a obtenu le prix Nobel de la paix en 1990 pour sa contribution à la fin de la guerre froide. Il a fondé en 1993 Green Cross International, une association de défense de l'environnement. Elle dispose d'un budget de 18 millions d'euros, financé par des donations privées et des subventions allouées par 34 Etats. M. Gorbatchev, qui la préside toujours, a pris la parole devant les délégations de 140 pays, lundi 12 mars, pour l'ouverture du sixième Forum mondial de l'eau, qui se tient à Marseille jusqu'au 17 mars. Il a répondu au Monde.
Pourquoi avoir réorienté votre vie vers la défense de l'environnement ?
Ce n'est pas du tout une nouvelle vie, c'est ma vie, voilà tout ! Je suis un paysan du nord du Caucase, fils de paysan, qui a longtemps vécu en lien étroit avec la nature, avant de connaître une vie d'intellectuel, d'homme politique, puis de chef d'Etat. Notre existence était misérable, nous avons connu la famine, les purges staliniennes et l'agression des nazis. Je n'ai pris conscience que très tardivement, quand je suis arrivé au comité central de l'ex-Union soviétique, du massacre écologique du pays : pollution de l'air, des rivières, déforestation, contamination des sols… Dire que nous étions si fiers de notre modèle… Tous ces massacres étaient répertoriés dans des documents tenus secrets ! Depuis, je ne veux plus de silence sur ces sujets, et je porte un message de défense de la planète.
Qu'est-ce qui vous différencie des autres ONG ?
On ne cherche pas particulièrement à se distinguer, on travaille dur, ce n'est pas facile. Notre marque de fabrique, en quelque sorte, c'est notre volonté d'informer et d'éduquer. Le plus important, c'est l'éducation. Nous voulons que les gens soient au courant de ce qui se passe dans ce domaine. Quand je suis arrivé à la tête de l'Union soviétique, c'était le grand silence. Je me suis dit : « Plus jamais ça ! »
Vous parlez beaucoup d'éducation, mais, depuis des années que vous tenez ce discours, l'état de la planète ne s'est pas amélioré. Faut-il en venir à une politique de coercition ?
Oui. Je serais personnellement très favorable à la création d'un tribunal international chargé de juger ceux qui sont coupables de crimes écologiques, aussi bien des chefs d'entreprise que des chefs d'Etat ou de gouvernement. Ce tribunal, il faudrait évidemment en définir avec précision le statut, les règles, les compétences.
Soutenez-vous la création d'une organisation mondiale de l'environnement, comme le réclame la France ?
Je n'y suis pas opposé, mais sceptique. Il faut faire attention à ne pas mettre sur pied une nouvelle organisation bureaucratique, qui pourrait agir, dépenser de l'argent, sans tenir compte de l'avis des gens. Cela pourrait finalement freiner l'énergie de la société civile. Le moteur, c'est elle. Même si je ne suis pas convaincu par l'idée de cette nouvelle institution, je reconnais que vous, les Français, avez été en pointe dans bien des domaines. En particulier sur le droit à l'eau, que vous avez inscrit dans votre corpus juridique, et que les Nations unies ont reconnu en juillet 2010.
Trois pays d'Europe, l'Allemagne, l'Italie et la Suisse, ont décidé de sortir du nucléaire. Ont-ils raison ?
Nous soutenons une sortie progressive du nucléaire militaire et civil. J'ai vécu l'expérience de Tchernobyl, qui tient une place énorme dans ma vie. Pour moi, il y a un avant et un après-Tchernobyl. Quatorze milliards de roubles déversés en très peu de temps pour contenir un seul réacteur dans un sarcophage ! Et pour quel résultat… On aurait pu penser que, trente-cinq ans après, le Japon, nation évoluée, confronté au désastre de Fukushima, s'en serait mieux sorti. Or, les Japonais se débattent toujours aujourd'hui dans les difficultés.
Nous soutenons les pays qui ont opté pour le désarmement et pour la fin du nucléaire civil, mais nous avons évolué dans nos prises de position. Désormais, nous pouvons comprendre que, pour certains pays comme la France, qui ont peu d'autres ressources, la transition énergétique prenne plus de temps.
Vous défendez le développement durable, ce qui implique de remettre en question un modèle basé sur la course à la croissance. Des pays émergents comme la Russie ou la Chine peuvent-ils entendre ce discours ?
Oui, bien sûr. Mais c'est aux pays développés de montrer l'exemple au reste du monde. Il leur faudra changer eux aussi et sortir de ce qu'on appelle communément « le consensus de Washington », c'est-à-dire l'orthodoxie économique libérale qui les rend incapables, dans le fond, de comprendre la nouvelle donne écologique et sociale.
L'écologie relève-t-elle des ONG ou des Etats ?
Des ONG, sans conteste, même si les gouvernements ne peuvent plus rester passifs. Quand ils ont agi, les Etats ont commis beaucoup d'erreurs.
On dit que vous pourriez laisser les rênes de votre association à Arnold Schwarzenegger ?
Non, je ne vais pas démissionner pour laisser la place à Terminator ! La rumeur vient du fait que M. Schwarzenegger a fondé lui aussi une association de défense de l'environnement, et qu'il veut travailler avec nous sur certains projets, ce que nous croyons souhaitable. Je suis un homme âgé maintenant, je n'ai plus le même dynamisme. Mais avec l'expérience, je constate que, si vous voulez résoudre un problème, vous devez avoir des femmes avec vous. Il y en a beaucoup à Green Cross, et je dis aux autres : « Bienvenue à bord. »
Propos recueillis par Anne-Sophie Mercier et Martine Valo