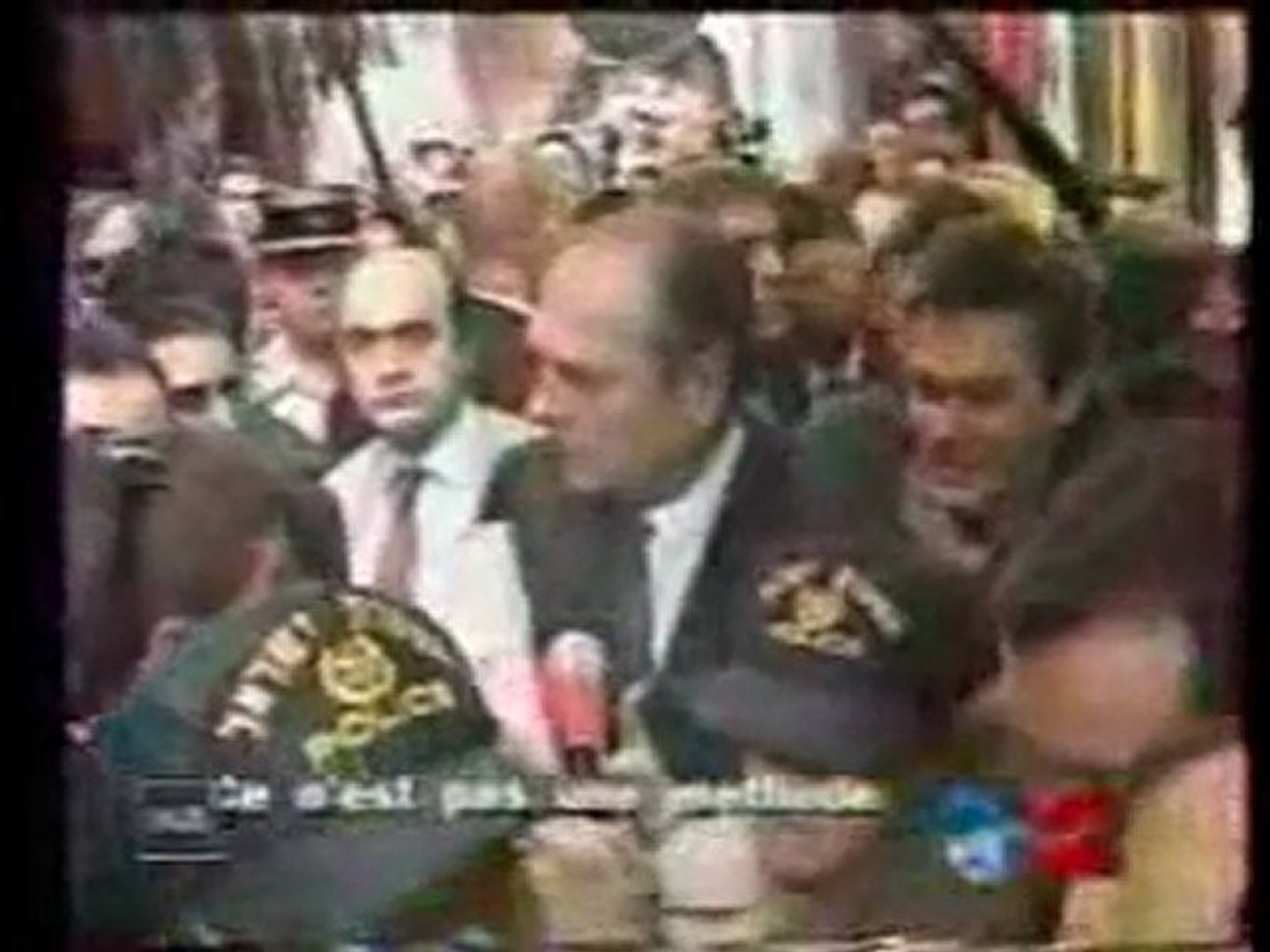 Presque aucun des fidèles ne se retenait de s'esclaffer, et ils avaient l'air d'une bande d'anthropophages chez qui une blessure faite à un blanc a réveillé le goût du sang. Car l'instinct d'imitation et l'absence de courage gouvernent les sociétés comme les foules. Et tout le monde rit de quelqu'un dont on voit se moquer, quitte à le vénérer dix ans plus tard dans un cercle où il est admiré. C'est de la même façon que le peuple chasse ou acclame les rois. Marcel Proust
Un père, ça peut être une femme, une grand-mère. Agnès Buzyn (ministre française de la Santé)
L'enfant a le droit à un nom dès la naissance. Il a également le droit d' acquérir une nationalité et, dans la mesure du possible, de connaître ses parents et d'être élevé par eux. Convention internationale des droits de l'enfant (article 7, 1989)
La loi ne doit pas mentir sur l'origine de la vie. Conférence des évêques
Une droite qui voudrait que soit placé dans nos mairies et nos écoles le portrait d'un homme mis en examen, qui a perdu toute autorité morale. Richard Ferrand (14.04.2017)

Le président Chirac incarna une certaine idée de la France. (…) Jacques Chirac était un destin français. (…) Jacques Chirac portait en lui l'amour de la France et des Français. Emmanuel Macron
Dans une autre publication, il tenait à peu près les mêmes propos concernant le candidat LR: "nous disons à François Fillon qu'il a perdu toute autorité morale pour diriger l'État et parler au nom de la France". Lundi 30 septembre 2019 est une journée de deuil national à la suite du décès de M. Jacques CHIRAC, ancien Président de la République. Durant cette journée, les enseignants qui le souhaitent peuvent consacrer un cours à l'évocation de la mémoire de l'ancien chef de l'État. A cette fin, éduscol vous propose des ressources pédagogiques permettant de revenir sur la biographie de Jacques Chirac, son engagement politique national et international, sa relation à l'histoire des arts… Ministère de l'Education nationale
C'est très français au fond. La seule chose que l'on retiendra de la présidence de Jacques Chirac est une belle bravade sans conséquence: son refus spectaculaire de la guerre américaine en Irak. Laquelle, pour le coup, en eut de fâcheuses. Dieu sait combien Jacques Chirac représentait le caractère national. Au milieu de beaucoup de compromissions, ce fut une parenthèse de gloire, de panache et d'honneur. Cela n'a servi à rien mais le geste en était d'autant plus beau. Chirac eut quelque chose de Cyrano de Bergerac au cours de cet hiver 2002-2003, entraînant la Russie de Poutine et l'Allemagne de Schröder et bien d'autres nations derrière lui. Villepin, au contraire, avait peur de se fâcher avec l'Amérique. Il n'a pas troqué le retour de la France dans le comité militaire de l'Otan en échange de quelques postes honorifiques. Il a osé renouveler la dissuasion nucléaire française. C'est en souvenir de ces moments-là que la France est encore écoutée dans le monde. (…) Jacques Chirac avait un grand mérite: il connaissait l'histoire du monde et de ses civilisations. Il savait que l'Irak est un des berceaux de l'humanité et qu'on ne pouvait la détruire sans commettre l'irréparable. Il savait aussi que la démocratie ne se construit pas sur le sable d'une occupation militaire et que tôt ou tard, les chiites d'Irak se tourneraient vers leurs coreligionnaires iraniens, entraînant une terrible guerre de religions. Ce qui devait advenir arriva: la rage cumulée des pétromonarchies du golfe et des terroristes wahhabites a redoublé de violence. Daech et les destructions de Mossoul, Palmyre et Alep sont des contrecoups de la folle expédition de Dick Cheney et Donald Rumsfeld. Tout le Moyen-Orient a souffert de cette lamentable aventure mais pas seulement. Après les attentats de 2004-2005 et 2015-2016 en Europe, nous sommes loin d'avoir retrouvé l'équilibre. Depuis 2003, le Moyen-Orient est une région en guerre de religion, fracturée et travaillée par le terrorisme, minée par les migrations, incapable de se coordonner et d'avancer ensemble. Chirac avait au long de sa carrière noué des relations fidèles avec les chefs d'États d'Afrique et d'Asie. Il était soucieux du sort des Palestiniens, lui qui était intraitable avec l'antisémitisme. (…) Chirac s'intéressait et comprenait les relations internationales, sans avoir peur de quiconque. Le Figaro
Nous avons été présidés par un délinquant pendant 12 ans, et mon adversaire de 2002 est quelqu'un qui aurait dû être condamné à la prison. Le Pen
Attendu que la responsabilité de Jacques Chirac, maire de París, découle du mandat reçu de la collectivité des Parisiens ; qu'elle résulte également de l'autorité hiérarchique exercée par lui sur l'ensemble du personnel de la Ville de Paris et singulièrement sur ses collaborateurs immédiats au premier rang desquels son directeur de cabinet ; Attendu que le dossier et les débats ont établi que Jacques Chirac a été l'initiateur et l'auteur principal des délits d'abus de confiance, détournement de fonds publics, ingérence et prise illégale d'intérêts ; que sa culpabilité résulte de pratiques pérennes et réitérées qui lui sont personnellement imputables et dont le développement a été grandement favorisé par une parfaite connaissance des rouages de la municipalité ainsi que la qualité des liens tissés avec les différents acteurs administratifs et politiques au cours de ses années passées à la tête de la Ville de Paris ; qu'en multipliant les connexions entre son parti et la municipalité parisienne, Jacques Chirac a su créer et entretenir entre la collectivité territoriale et l'organisation politique une confusion telle qu'elle a pu entraîner ses propres amis politiques ; que le gain en résultant, nonobstant les économies des salaires payés par la mairie de Paris, a pu prendre la forme soit d'un renforcement des effectifs du parti politique dont il était le président soit d'un soutien à la contribution intellectuelle pour l'élaboration du programme politique de ce parti ; Attendu que par l'ensemble de ces agissements, Jacques Chirac a engagé les fonds de la Ville de Paris pour un montant total d'environ 1 400 000 euros ; Attendu que l'ancienneté des faits, l'absence d'enrichissement personnel de Jacques Chirac, l'indemnisation de la Ville de Paris par l'UMP et Jacques Chirac, ce dernier à hauteur de 500.000 euros, l'âge et l'état de santé actuel de Jacques Chirac, dont la dégradation est avérée, ainsi que les éminentes responsabilités de chef de l'Etat qu'il a exercées pendant les douze années ayant immédiatement suivi la période de prévention, sont autant d'éléments qui doivent être pris en considération pour déterminer la sanction qu'il convient d'appliquer à son encontre ; Attendu que ces éléments ne sauraient occulter le fait que, par son action délibérée, en ayant recours au cours de ces cinq années à dix neuf emplois totalement ou partiellement fictifs, Jacques Chirac a manqué à l'obligation de probité qui pèse sur les personnes publiques chargées de la gestion des fonds ou des biens qui leur sont confiés, cela au mépris de l'intérêt général des Parisiens ; que dans ces conditions, le recours à une peine d'emprisonnement avec sursis dont le quantum sera fixé à deux années apparaît tout à la fois adapté à la personnalité du prévenu et ainsi qu'à la nature et la gravité des faits qu'il a commis. Verdict de la 11e chambre correctionnelle de Paris (15.12.11)
Pour la première fois depuis Louis XVI et Philippe Pétain, un ancien chef de l'Etat français a été condamné par la justice de son pays. Jacques Chirac, 79 ans, reconnu coupable d'abus de confiance, de détournement de fonds publics et de prise illégale d'intérêts, a écopé ce jeudi matin de deux ans de prison avec sursis. Dans un communiqué, Jacques Chirac a annoncé qu'il ne ferait pas appel, même si « sur le fond [il] conteste catégoriquement ce jugement ». Il explique ne plus avoir « hélas, toutes les forces nécessaires pour mener par [lui-même], face à de nouveaux juges, le combat pour la vérité ». Nouvel obs
Janvier 1975. C'est l'époque du journalisme politique à la Françoise Giroud, la patronne de L'Express envoie alors de jeunes et jolies reporters pour faire parler les politiques. Jacqueline Chabridon, journaliste au Figaro, est mandatée par son rédacteur en chef pour suivre Jacques Chirac et en tirer un portrait du jeune Premier ministre de Valéry Giscard d'Estaing. Elle n'en a guère envie, le voit comme « un soudard, un prêt-à-tout (…) sentencieux et ringard au possible », écrivent les auteurs. De son côté, il veut vérifier à qui il a affaire. Il la met au défi d'engloutir les copieuses portions de tête de veau trônant sur la table aussi vite que lui. Elle s'y colle, en bonne vivante. Il est séduit par cette petite jeune femme de 34 ans. Comme le dit son ami Jacques Toubon, alors conseiller technique à Matignon, « c'est le charme fait femme ». Pauline de Saint-Rémy d'expliquer : « On s'était imaginé une femme impressionnante, très élégante, très intello. Avec sa voix fluette, sa petite taille, elle est en fait très simple. Au sens noble du terme. » C'est peut-être cela qui plaît alors au Premier ministre. Elle est d'origine modeste, auvergnate, fille de communistes. Affirme simplement son goût pour la vie. « Jacques et Jacqueline, c'est aussi et avant tout une complicité de classe, relatent les journalistes dans leur livre. Une sorte de reconnaissance mutuelle. » De son côté, Jacqueline voit désormais derrière le technocrate ambitieux un homme qui a « du goût pour les gens ». Très vite, « son envie de la revoir vire à l'obsession. Il la veut à ses côtés, en public comme en privé », lit-on dans Jacques et Jacqueline (1). On prête à Chirac un parcours de séducteur « mais avec elle, ça a été différent, affirment Laureline Dupont et Pauline de Saint-Rémy. Pour elle, il a failli tout quitter ; ça a eu des répercussions sur sa vie politique, dans un moment charnière. » Le livre raconte l'appartement aménagé pour eux rue de Marignan, à Paris : c'est là qu'il installe sa collection d'ouvrages de la Pléiade, un mur entier. Il l'emmène en escapade à La Rochelle. Elle le suit dans ses déplacements, en tant que journaliste. Fin 1975, il organise même, selon les auteurs, un voyage de presse aux Antilles pour passer Noël en sa compagnie ! Les reporters présents sur place s'agacent des nombreux « briefings » du chef du gouvernement. Dans l'ouvrage, Jacques Toubon se souvient des chuchotements qu'il surprend alors : « Il [Chirac] n'a rien à nous dire… » « C'est ridicule ! C'est juste pour la voir. » Le couple fait face à l'incompréhension de son entourage devant cette histoire qui dure, devant ce mariage qu'il lui aurait promis. Jacqueline Chabridon, dont les premières noces avec le socialiste Charles Hernu ont été célébrées par François Mitterrand, se fait rabrouer par ses amis de gauche, expliquent les auteurs. Chirac, lui, encaisse l'hostilité de sa conseillère Marie-France Garaud. Elle s'inquiète. Et si l'affaire s'ébruitait ? « Beaucoup de gens savaient, à l'époque, souligne Laureline Dupont. Le sujet fait jaser dans les dîners parisiens. » Toujours selon le livre, Le Nouvel Observateur s'apprête à publier en avril 1976 un court article intitulé « La garçonnière du Premier ministre ». La publication sera stoppée. Mais c'en est trop pour les conseillers. Trop pour Bernadette Chirac aussi. Dans Jacques et Jacqueline, on la voit faire front commun avec Marie-France Garaud pour éloigner la maîtresse. Et puis à l'époque, on ne divorce pas. Surtout si l'on envisage la plus haute fonction… Été 1976. Jacqueline Chabridon découvre l'appartement vidé. Leur correspondance a disparu. Le choc. Dans un bureau anonyme, il lui annonce que c'est fini. Certains y ont vu la pression de ses proches. Les auteurs livrent une autre hypothèse : « De nombreux témoins nous ont dit que Chirac, qui s'apprêtait à lancer le RPR (Rassemblement pour la République, ndlr) – il venait de démissionner de Matignon pour ça -, avait besoin d'avoir le coeur et les mains libres. Parce qu'il entretenait un rapport charnel et chaleureux aux électeurs. Notre théorie, c'est qu'il a été rattrapé par son ambition, plus que par son entourage. » Apporter un autre éclairage sur Jacques Chirac, c'était un des objectifs des deux journalistes : « Il est plus humain et plus complexe qu'il n'y paraît, perclus de passions contraires. » Fallait-il pour autant, quarante ans après, remettre cet amour sous le feu des projecteurs ? « Certains seront heurtés car on est sur le terrain de la vie privée. Mais c'est un récit politique, pas un livre sulfureux, répond Pauline de Saint-Rémy. Nous voulions aussi donner un autre éclairage à cette époque politico-médiatique en nous intéressant à la petite histoire dans la grande histoire. » Jacqueline Chabridon, elle, a poursuivi la sienne. Le coeur à gauche. « Elle qui pensait ne jamais pouvoir voter pour lui a fini par le faire en avril 2002. Mais on a compris que ça lui avait fait un peu mal. » Aujourd'hui encore, elle est proche des socialistes. Voit François Hollande régulièrement. Et Laureline Dupont de conclure : « Elle a 75 ans et a l'air très heureuse. » Grazia
Voici un homme qui a dû se représenter à  sa réélection l'an dernier afin de préserver son immunité  présidentielle des poursuites judiciaires pour de graves accusations de corruption. Voici un homme qui a aidé Saddam Hussein à construire un réacteur nucléaire et qui savait très bien ce qu'il comptait en faire. Voici un homme à la tête de la France qui est en fait ouvertement à vendre. Il me fait penser au banquier de « L'Education Sentimentale » de Flaubert : un homme si habitué à la corruption qu'il payerait pour le plaisir de se vendre lui-même. Ici, également, est un monstre positif de vanité. Lui et son ministre des affaires étrangères, Dominique de Villepin, ont mielleusement déclaré que la « force est toujours le dernier recours.  » Vraiment ? Ce n'était pas la position de l'establishment français quand des troupes ont été envoyées au Rwanda pour tenter de sauver le client-régime qui venait de lancer un ethnocide contre les Toutsis. Ce n'est pas, on présume, la position des généraux français qui traitent actuellement comme leur fief  la population et la nation ivoiriennes. Ce n'était pas la position de ceux qui ont commandité la destruction d'un bateau désarmé, le Rainbow à l'ancre dans un port de Nouvelle Zélande après les manifestations contre la pratique officielle française d'essais nucléaires atmosphériques dans le Pacifique. (…) Nous nous rendons tous compte du fait que Saddam Hussein doit beaucoup d'argent à des compagnies françaises et à l'Etat français. Nous espérons tous que le parti Baath irakien n'a fait aucun cadeau privé à des personnalités politiques françaises, même si le moins qu'on puisse dire c'est que de tels scrupules des deux côtés seraient une anomalie. Est-il possible qu'il y ait plus en jeu que cela ? Il est très possible que le futur gouvernement de Bagdad ne se considère plus tellement responsable des dettes de Saddam. Ce seul fait conditionne-t-il la réponse de Chirac à une fin de régime en Irak ? (…) Charles de Gaulle avait un égo colossal, mais il se sentit obligé à un moment crucial de représenter une certaine idée de la  France à un moment où cette nation avait été trahie dans le servitude et la honte par son establishment politique et militaire. (…) Il avait un sens de l'histoire. Aux intérêts permanents de la France, il tenait à joindre une certaine idée de la liberté aussi. Il aurait approuvé les propos de Vaclav Havel – ses derniers en tant que président tchèque – parlant hardiment des droits du peuple irakien. Et on aime à penser qu'il aurait eu un mépris  pour son pygmée de successeur, l'homme vain, poseur et vénal qui, souhaitant jouer le rôle d'une Jeanne d'Arc travestie, fait de la France le proxénète abject de Saddam. C'est le cas du rat qui voulait rugir. Christopher Hitchens (2003)
Pasqua n'était guère cocaïnomane – «j'en suis sûr», atteste notre lascar – mais l'argent parallèle du secteur a pu l'intéresser… Fauré, précoce dealer au Maroc puis un peu partout ailleurs, raconte avoir été très vite pris en charge, dans les années 70, par l'Organisation de l'armée secrète. Initialement dédiée au maintien de l'Algérie française, l'OAS changera très vite de fusil d'épaule : «opérations homo» (assassinats ciblés) contre des indépendantistes basques ou corses, mais aussi braquages de banques. Le Service d'action civique (SAC) prendra ensuite le relais. Fauré, fort de ses compétences en la matière, met la main à l'ouvrage : «La recette Pasqua consistait à constituer des « mouvements patriotiques », en vérité violents, avec des voyous peu recommandables. Comment les rémunérer ? Tout simplement avec l'argent provenant de gros braquages de banques et de bijouteries, commis en toute impunité. Avec Pasqua, tout était possible, du moins pour les membres du SAC. Patriote, certainement prêt à mourir pour son pays, il gardait en revanche un œil attentif sur les caisses du parti. Moyennant la moitié de nos gains, il nous garantissait l'impunité sur des affaires juteuses et triées sur le volet, sachant exactement là ou il fallait frapper.» (…) A l'issue de l'entretien, Gérard Fauré croisera illico le parrain marseillais «Tony» Zampa, qui traînait là par hasard, lequel l'entreprend dans la foulée sur différentes affaires à venir : des investissements dans les casinos et la prostitution aux Pays-Bas. Cas peut-être unique dans les annales de la voyoucratie, il fera parallèlement équipe avec l'illustre Francis Vanverberghe, dit «Francis le Belge», «doté d'un savoir-vivre qui valait bien son savoir-tuer». (…) Pour la petite histoire, il reconstitue leur brouille à propos de… Johnny Hallyday : «Tous les deux voulaient le prendre sous tutelle, pour capter sa fortune ou l'utiliser comme prête-nom. Ils ont fini par s'entre-tuer pour ce motif et quelques autres.» Fauré considérait Johnny comme sa «plus belle prise de guerre» dans le microcosme de la coke. Mais lui gardera un chien de sa chienne après que le chanteur l'a balancé sans vergogne aux Stups, contre sa propre immunité. (…) «Si vous le voulez bien, j'attends votre version des faits s'agissant des deux chèques de M. Chirac rédigés à votre ordre. Je vous invite à bien réfléchir avant de répondre» : sollicitation d'une juge d'instruction parisienne en 1986, hors procès-verbal. Tempête sous un crâne à l'issue de laquelle Gérard Fauré évoquera une dette de jeu au backgammon… Dans son bouquin, l'explication est tout autre – «J'avais dû travestir la vérité.» S'il ne peut attester que l'ex-président prenait de la coke, il évoque son penchant pour les femmes… Pour l'anecdote, les deux chèques en question feront l'objet d'une rapide opposition de leur signataire. «Chirac, dont j'avais admiré la prestance et même les idées politiques, s'est avéré mauvais payeur.» (…) Le livre s'achève sur cet hommage indirect à la police française : lors d'une perquisition à son domicile, 10 des 15 kilos de cocaïne disparaissent, tout comme 90 % des 300 000 euros logés dans un tiroir. «Je n'ai pas pensé un seul instant me plaindre de la brigade du quai des Orfèvres, dans la mesure où les vols qu'elle commettait chez moi ne pouvaient qu'alléger ma future condamnation. » Libération
Chirac's opposition to the Iraq War put him at loggerheads with George W. Bush and Tony Blair. As President he made a historic apology for France's role in the Holocaust but his term was also marked by riots and a stinging defeat over EU integration. He also had a reputation as a womaniser and philanderer who repeatedly cheated on his long-suffering wife Bernadette during their 63 years of marriage. His reputed partners included Italian sex symbol Claudia Cardinale and there were rumours about a series of relationships with journalists and politicians. Chirac was also known for a love of fine living, revelling in the trappings of power including luxury trips abroad and life at the presidential palace. After leaving office, Chirac was found guilty of corruption dating back to his time as mayor of Paris and given a two-year suspended prison sentence. The Daily Mail
How many times have certain Western politicians cast an envious glance at Jacques Chirac and thought: just how the hell did he get away with it? France is in deep mourning following the news that its flamboyant, philandering former centre-Right president has died at the age of 86. World leaders joined in a chorus of tributes yesterday. Precisely what and whom they are mourning, however, remains as opaque as ever. Former French President Jacques Chirac was often seen in the company of beautiful women such as legendary actress Brigitte Bardot (….) The first ex-president in French history to be convicted of corruption, he managed to espouse contradictory opinions on just about everything during four decades in politics. Here was the great peacemonger – famous for keeping France out of the 2003 invasion of Iraq – who also flogged nuclear technology to Iraq's Saddam Hussein and who obliterated a South Pacific coral atoll with his own nuclear weapons. (…) He was the self-styled champion of human rights and the developing world who also sucked up to the most appalling tyrants, argued that 'Africa is not ready for democracy' and deplored the 'noise and smell' of workshy immigrants. And all the while, he was the family man who enjoyed affairs with umpteen women – from humble secretaries and party workers to film stars. As mayor of Paris, he kept a mayoral bus with a bedroom for assignations and used public funds to rent a flat for a political journalist from Le Figaro who was his then mistress. As president, so it was claimed by one biographer, he would never want for 'naked women, burning with desire' on board the presidential jet. On a state visit to Tunisia, he managed to bring along both his long-suffering wife, Bernadette, and his mistress du moment on the same trip. The two women did not exchange a word. Not that he would ever allow himself to be distracted from his work for long. Following the publication of the memoirs of the presidential chauffeur, Chirac could never quite shake off the nickname he acquired thereafter: 'Five minutes – including shower' (to add insult to injury, this was later reduced from 'five' to 'three'). Routinely satirised on a top French comedy show as 'Superliar', Chirac would never have got where he got – or lasted as long as he did – in British politics. It was his good fortune to be blessed with a French media which seldom subjected him to the same scrutiny endured by his British counterparts. It also helped that he was sleeping with quite a few of them. (…) In 2011, he received a two-year prison sentence for abuse of trust and public funds, though the sentence was suspended. The Daily Mail
There were strong indications in the US and UK [intelligence services] that Chirac received money from Saddam. His recent obituaries are saying that Chirac got it right [on Iraq] and the rest of us got it wrong. But I am saying that Chirac's motive for getting it right may not appear to be what it is.''He had this questionable relationship with Saddam Hussein. It raises a lot of questions as to what his motives were for opposing the UN Resolution in the build-up to the invasion. It was not a matter of conscience, it was his reputation. If it came out in the wash [that he received money from Saddam], it would have been damaging to him as a politician. It was a dimension which at the time was politically worrying – Chirac had a longstanding relationship with Saddam, which was not state to state, it was personal. He was a roguish individual who manoeuvred very cleverly.  Sir Richard Dearlove
J'ai un principe simple en politique étrangère. Je regarde ce que font les Américains et je fais le contraire. Alors, je suis sûr d'avoir raison. Jacques Chirac

Le multipartisme est une erreur politique, une sorte du luxe que les pays en voie de développement, qui doivent concentrer leurs efforts sur leur expansion économique n'ont pas les moyens de s'offrir. Jacques Chirac (Abidjan, février 1990)
Si les valeurs des droits de l'homme sont universelles, elles peuvent s'exprimer sous des formes différentes. Jacques Chirac (Paris, 1996, visite de Li Peng)
Ici, le message millénaire de l'islam rejoint l'héritage et les valeurs de la République. Jacques Chirac (Grande Mosquée de Paris, 9/4/02)
La guerre … est toujours la pire des solutions … Jacques Chirac (Paris, 17 janvier 2003, au côté de Hans Blix, président exécutif de la commission de contrôle de vérification et d'inspection des Nations Unies en Irak et de Mohamed El Baradei, directeur de l'Agence Internationale de l'Energie Atomique)
Cette institution met la Russie au premier rang des démocraties, pour le respect dû aux peuples premiers, pour le dialogue des cultures et tout simplement pour le respect de l'autre. Jacques Chirac (Saint-Pétersbourg, juin 2003, inauguration de l'Académie polaire)
Le premier des droits de l'homme, c'est de manger, d'être soigné, de recevoir une éducation et d'avoir un habitat. De ce point de vue, la Tunisie est très en avance sur beaucoup de pays. Jacques Chirac (Tunis, le 3 décembre 2003, jour où l'opposante Radhia Nasraoui entrait dans son 50e jour de grève de la faim)
Je n'ai pas à juger les choix de politique intérieure d'un homme démocratiquement élu. Mais je sais une chose : il a rendu sa dignité à un peuple privé de ses droits et de son identité.» Il « a rendu sa dignité à son peuple ». « On ne peut pas vouloir des élections au suffrage universel et contester leurs résultats. Jacques Chirac (sur le président bolivien Evo Morales, Brasilia, 25 mai 2006)
Les racines de l'Europe sont autant musulmanes que chrétiennes. Jacques Chirac
Ce n'est pas une politique de tuer des enfants. Chirac (accueillant
Barak

à Paris, le 4 octobre 2000)
La situation est tragique mais les forces en présence au Moyen-Orient font qu'au long terme, Israël, comme autrefois les Royaumes francs, finira par disparaître. Cette région a toujours rejeté les corps étrangers. Dominique Galouzeau de Villepin (Paris, automne 2001)
La France condamne les attaques du Hezbollah et toutes les actions terroristes unilatérales, où qu'elles se mènent, contre des soldats ou des populations civiles. Oui, ces attaques sont terroristes, et la France souhaite que la réplique frappe aussi peu que possible les populations civiles. Epargner les populations civiles est une contrainte que s'efforce de respecter Israël. Lionel Jospin (Jérusalem, 24 février 2000)
On his visit to Birzeit University, Lionel Jospin had the gall to speak of the Hizbullah fighters as terrorists, also expressing his « understanding » of Israel's actions against Lebanon. Edward Said
Soudain, une pluie de pierres s'abat sur le groupe, petites d'abord, puis de plus en plus grosses. Les gardes du corps déploient aussitôt leur protection en kevlar. Le premier ministre disparaît littéralement sous les corps massés « en tortue » de sa protection rapprochée, avant d'être précipité à l'arrière de la Mercedes blindée qui l'attend. Une voiture, posée en travers de la route, barre le départ du cortège et immobilise quelques longues secondes celle de M. Jospin, criblée de pierres et de coups de pied, tandis qu'un enseignant, debout sur le toit du véhicule, lève les bras pour tenter de calmer les manifestants. Une vitre est atteinte par un pavé. Un photographe de l'Agence France-Presse, Manoucher Deghati, est renversé, la jambe cassée. Il sera transféré à l'hôpital de Jérusalem. Dans le hurlement des sirènes et sous les insultes des manifestants, le cortège repart, enfin. Le Monde
Vous savez bien que l'Irak est un pays pacifique géré par des gens pacifiques. Jacques Chirac (Journal marocain, septembre 1980)
Il y a un problème, c'est la possession probable d'armes de destruction massive par un pays incontrôlable, l'Irak. La communauté internationale a raison de s'émouvoir de cette situation. Et elle a eu raison de décider qu'il fallait désarmer l'Irak. (…) Il faut laisser aux inspecteurs le temps de le faire. Jacques Chirac
Dans l'immédiat, notre attention doit se porter en priorité sur les domaines biologique et chimique. C'est là que nos présomptions vis-à-vis de l'Iraq sont les plus significatives : sur le chimique, nous avons des indices d'une capacité de production de VX et d'ypérite ; sur le biologique, nos indices portent sur la détention possible de stocks significatifs de bacille du charbon et de toxine botulique, et une éventuelle capacité de production.  Dominique De Villepin (05.02.03)

Les visées militaires du programme nucléaire iranien ne font plus de doute mais les possibilités de négociations avec le régime de Téhéran n'ont pas été épuisées. (…) De l'avis des experts, d'ici deux à trois ans, l'Iran pourrait être en possession d'une arme nucléaire. Rapport parlementaire français (17 décembre 2008)
Même aux pires moments de notre relation, quand le général De Gaulle a quitté l'OTAN, critiqué la guerre du Vietnam et voulu remplacer le dollar par l'étalon-or, il n'est jamais allé aussi loin. Il n'a jamais tenté, lui, de monter une coalition contre nous. Kissinger (Paris, automne 2003)
Il est maintenant clair que les assurances données par Chirac ont joué un rôle crucial, persuadant Saddam Hussein de ne pas offrir les concessions qui auraient pu éviter une guerre et le changement de régime. Selon l'ex-vice président Tareq Aziz, s'exprimant depuis sa cellule devant des enquêteurs américains et irakiens, Saddam était convaincu que les Français, et dans une moindre mesure, les Russes allaient sauver son régime à la dernière minute. Amir Taheri
L'affaire Boidevaix-Mérimée est-elle l'arbre qui cache la forêt ? Certaines sources au Quai d'Orsay l'insinuent. « Il est impossible que Mérimée se soit mouillé pour une telle somme (156 000 dollars), qui n'est pas si importante au regard des risques encourus et des profits possibles », estime un diplomate qui a côtoyé l'ancien représentant de la France au Conseil de sécurité. « Nous sommes plusieurs à penser que les sommes en jeu sont en réalité colossales. » Olivier Weber (Le Point 01/12/05)
A senior U.S. official said France's refusal to join in threatening force against Iraq doomed the united front assembled in November and convinced Iraqi President Saddam Hussein that he could split the international community and avert war without divulging his programs to develop weapons of mass destruction. (…) As the United States and Britain lobbied for a second U.N. resolution that would authorize the use of force, France played hardball, openly competing for Security Council votes and trying to intimidate supporters of the U.S. position among Eastern European countries. It wasn't just France's anti-war stance that Washington resented, but the « gleeful organizing against us, » a senior U.S. official said. This generated even more disfavor within the Bush administration than was reserved for Russia, which opposed the war less aggressively. (…) U.S.-French strains did not start with Iraq, and are unlikely to end anytime soon. Determined to act as a counterweight to American power in Europe and to preserve its influence among former colonies in Africa and the Middle East, France has long viewed the United States and its power with a mixture of gratitude, Old World disdain and sheer mischievousness. President Charles de Gaulle set the relationship on its rocky course in 1966 when he pulled France out of the military arm of the U.S.-led North Atlantic Treaty Organization while remaining part of its political umbrella, the North Atlantic Council, and providing troops and equipment for NATO missions. In the years since, France has refused to give unblinking support for U.S. actions, even blocking the use of its airspace when the United States, under President Ronald Reagan, bombed Libya in 1986. The Baltimore Sun (09.05.2003)
Attention: un mensonge peut en cacher beaucoup d'autres !

Longue allocution présidentielle, unes et dossiers spéciaux médiatiques, drapeaux en berne, extinction de la Tour Eiffel, photo géante sur la façade de l'Hôtel de ville de Paris, messe, journée de deuil national, minute de silence dans les écoles …
A l'heure où après le mariage pour tous, l'on s'apprête à mentir à nos enfants sur leurs propres origines …
Où jusque dans leurs salles de classe …
Une France étrangement amnésique multiplie, aussi hypocrites les uns que les autres, hagiographies et hommages …
Et où pour faire oublier le long feuilleton des gilets jaunes et le retour des affaires, la Macronie tente de nous refaire le coup des funérailles quasi-nationales de Johnny il y a deux ans …
Merci au Daily Mail et à l'ancien patron des services secrets britanniques …
Pour leur salutaire remise des pendules à l'heure …
Sur, entre le pillage systématique de la mairie de Paris pendant 20 ans et la fourniture de l'arme nucléaire puis, contre espèces sonnates et trébuchantes, l'indéfectible soutien au tyran Saddam …
Le maitre ès escrocqueries et repris de justice Chirac !
Saddam Hussein 'bribed Jacques Chirac' with £5million in bid to make the former French President oppose the US-led Iraq war
Jacques Chirac (pictured) was paid millions of pounds in bribes by Saddam Hussein to oppose the US-led war in Iraq, according to Britain's former spy chief
Jacques Chirac was paid millions of pounds in bribes by Saddam Hussein to oppose the US-led war in Iraq, according to intelligence revealed for the first time by Britain's former spy chief.
Sir Richard Dearlove – head of MI6 in the run-up to the invasion of Iraq in 2003 – spoke out as recent obituaries for the former French President cited his principled opposition to US President George Bush's plans for military action.
But the former spymaster, speaking exclusively to The Mail on Sunday, revealed that Chirac's true motive for opposing the Gulf War was because he accepted 'substantial amounts' of cash from the Iraqi tyrant for his election campaigns.
Sir Richard, who made the sensational revelation only days after the French statesman's death on Thursday aged 86, said: 'There were strong indications in the US and UK [intelligence services] that Chirac received money from Saddam.
'His recent obituaries are saying that Chirac got it right [on Iraq] and the rest of us got it wrong. But I am saying that Chirac's motive for getting it right may not appear to be what it is.'
Chirac had led an alliance of France, Germany and Russia against plans by the US and Britain to invade Iraq over suspicions that Saddam possessed weapons of mass destruction, which it would pass on to terrorist groups like Al Qaeda.
Sir Richard Dearlove said there had been 'strong indications in the US and UK [intelligence services] that Chirac received money from Saddam'. French Prime Minister Jacques Chirac, left, is seen with Iraqi President Saddam Hussein, right, after arriving in Bagdad in 1976
The French President addressed his nation on television to declare that he would use France's veto at the UN to prevent George Bush and Tony Blair gaining a resolution that sanctioned a military invasion.
Chirac's anti-war stance caused a massive rift between France and the US, prompting American media to deride the French as 'cheese-eating surrender monkeys' and some restaurants to rename French fries as 'Freedom fries'.
While the US and Britain went to war with Iraq without a UN resolution, France stayed out of the coalition.
At the time, MI6 and its US counterparts were gathering 'reliable intelligence' that Chirac had pocketed £5 million from the Iraqi dictator to fight his presidential elections in 1995 and in 2002.
The money came from Saddam's own personal funds and was passed to Chirac through intermediaries, according to the intelligence.
Sir Richard told this newspaper that the 'long relationship' between Chirac and Saddam was the real reason why the French leader opposed the 2003 invasion of Iraq.
'He [Chirac] had this questionable relationship with Saddam Hussein,' said Sir Richard. 'It raises a lot of questions as to what his motives were for opposing the UN Resolution in the build-up to the invasion.'
He added: 'It was not a matter of conscience, it was his [Chirac's] reputation. If it came out in the wash [that he received money from Saddam], it would have been damaging to him as a politician.
'It was a dimension which at the time was politically worrying – Chirac had a longstanding relationship with Saddam, which was not state to state, it was personal.'
Sir Richard said obituaries on Chirac praised the former leader's stance without knowing the full facts. He went on: 'He was a roguish individual who manoeuvred very cleverly.'
The former spymaster, known as 'C' during his five-year spell as head of MI6, is due to give further details at the Cliveden Literary Festival later today.
Last night, France's embassy in London declined to comment on the revelations, but spokeswoman Aurelie Bonal said: 'History has shown who took the right decision.'
Former Foreign Secretary Sir Malcolm Rifkind said: 'Regardless of personal reasons, Chirac would have opposed the war because the French public opposed it so vehemently.'
Voir aussi:
Adieu to Le Grand Philanderer: As Jacques Chirac dies at 86, ROBERT HARDMAN bids farewell to a president so priapic even his official jet had room for illicit trysts
How many times have certain Western politicians cast an envious glance at Jacques Chirac and thought: just how the hell did he get away with it?
France is in deep mourning following the news that its flamboyant, philandering former centre-Right president has died at the age of 86. World leaders joined in a chorus of tributes yesterday.
Precisely what and whom they are mourning, however, remains as opaque as ever.
Former French President Jacques Chirac was often seen in the company of beautiful women such as legendary actress Brigitte Bardot, pictured here in October 1990
The first ex-president in French history to be convicted of corruption, he managed to espouse contradictory opinions on just about everything during four decades in politics.
Here was the great peacemonger – famous for keeping France out of the 2003 invasion of Iraq – who also flogged nuclear technology to Iraq's Saddam Hussein and who obliterated a South Pacific coral atoll with his own nuclear weapons.
Here was Chirac the ardent Eurosceptic who ended up a passionate advocate of a European superstate.
He was the self-styled champion of human rights and the developing world who also sucked up to the most appalling tyrants, argued that 'Africa is not ready for democracy' and deplored the 'noise and smell' of workshy immigrants.
And all the while, he was the family man who enjoyed affairs with umpteen women – from humble secretaries and party workers to film stars. As mayor of Paris, he kept a mayoral bus with a bedroom for assignations and used public funds to rent a flat for a political journalist from Le Figaro who was his then mistress.
Chirac, pictured here in 1987 with Madonna, was routinely satirised on a top French comedy show as 'Superliar'
As president, so it was claimed by one biographer, he would never want for 'naked women, burning with desire' on board the presidential jet. On a state visit to Tunisia, he managed to bring along both his long-suffering wife, Bernadette, and his mistress du moment on the same trip. The two women did not exchange a word.
Not that he would ever allow himself to be distracted from his work for long. Following the publication of the memoirs of the presidential chauffeur, Chirac could never quite shake off the nickname he acquired thereafter: 'Five minutes – including shower' (to add insult to injury, this was later reduced from 'five' to 'three').
Routinely satirised on a top French comedy show as 'Superliar', Chirac would never have got where he got – or lasted as long as he did – in British politics. It was his good fortune to be blessed with a French media which seldom subjected him to the same scrutiny endured by his British counterparts. It also helped that he was sleeping with quite a few of them.
And even when scandals did emerge – be it bungs or mysterious six-figure payments for family entertainment – the publicity never seemed to do him lasting damage. As far as millions of what he called 'my dear compatriots' were concerned, he was a quintessentially French political chancer who put the gloire back in to French public life.
He may have enraged the wider world. The British public, for example, were appalled by his withering attack on the UK: 'You can't trust people who cook as badly as that.' Yet it all played brilliantly to a domestic audience.
Chirac, pictured with the Princess of Wales in September 1995, criticised the UK with a withering remark: 'You can't trust people who cook as badly as that'
And on the few occasions when his extra-marital infidelities did emerge into the public domain, they did little harm to his ratings. 'Do you know where my husband is tonight?' the aristocratic Bernadette, asked his chauffeur on the night in 1997 when Diana, Princess of Wales was killed in a Paris car crash. According to the chauffeur, the president was enjoying a tryst with an Italian actress. When the story emerged some time later, the French public shrugged.
Chirac was the only surviving child of a well-to-do middle class family who shone at school and university and beyond, passing through the French Army – where he was top of his officer intake – and the prestigious Ecole Nationale d'Administration, the training school for elite civil servants.
His determination, along with his political and bureaucratic skills, were soon spotted by the French prime minister, Georges Pompidou who made him chief of staff and gave him the first of his many nicknames: 'Le Bulldozer'. Having entered the French parliament in 1967, he was promoted to agriculture minister in the early Seventies. He wisely backed the new president, Giscard d'Estaing, and was rewarded with the post of prime minister.
He soon had a formidable power base from which to stake his claim for the top prize (while also dishing out fake jobs to chums). In 1977, he was elected mayor of Paris and remained there for nearly 20 years.
Chirac became president in 1995 and set about trying to apply a mild dose of Thatcherism to France's bloated state sector. An inevitable succession of strikes and U-turns ensured that little changed.
At the same time, Chirac decided to conduct a series of nuclear tests on a far-flung Pacific atoll in the French colony of French Polynesia – just before France was due to sign a test ban treaty. There was outrage around the world, although a handful of France's allies – including Britain – refused to condemn him.
Months later, the British government invited Chirac and his wife on a state visit to London where he was given the full Buckingham Palace treatment. She was said to be charmed by Chirac and the English-speaking Bernadette. However, within a year, Chirac was touring China, deploring Britain's imperial record in Hong Kong to secure contracts for French businesses in China.
Having seen off a far-Right challenge by the National Front's Jean-Marie Le Pen, Chirac won a second term as president in 2002.
Soon afterwards, his refusal to join the US and the UK in invading Iraq saw his approval ratings soar at home. However, his decision provoked such contempt among allies that he was derided by the tabloid press as a 'cheese-eating surrender monkey'.
There was also another trip to stay with the Queen as Britain and France marked the centenary of the bilateral friendship agreement known as the 'Entente Cordiale'.
Yet, at the same time, he was cosying up to a man whom Britain was trying to ostracise from the rest of the world.
Zimbabwe despot Robert Mugabe had been banned from visiting Europe. Yet Chirac gave him a special pass to attend a meeting of African nations in Paris.
By now, reports of corruption during his days as Mayor of Paris were catching up. In 2011, he received a two-year prison sentence for abuse of trust and public funds, though the sentence was suspended. Thereafter, he disappeared from public view. Bernadette, meanwhile, would have the last word.
Four years ago, she let it be known that she was not a fan of her husband's policies and that she supported his successor, Nicolas Sarkozy, whom Chirac loathed. She also accused her husband of 'ruining her life'. His life in the public eye had certainly taken its toll on their two daughters, one of whom died in 2016 after a lifelong battle with anorexia.
In 2002, Bernadette had publicly acknowledged that she had been married to a serial womaniser. It had been difficult, she said but her husband had 'always returned' to her. 'Anyway,' she added, 'I have often warned him: Napoleon lost everything on the day he abandoned Josephine.'
Voir également:
Death of a playboy president: France mourns as former head of state Jacques Chirac – famed for his love of fine living and many rumoured affairs – passes away aged 86
Former French President Jacques Chirac has died at the age of 86.
Chirac, who had suffered a series of health problems in recent years, died this morning 'surrounded by his family', his son-in-law Frederic Salat-Baroux said today.
In Paris a minute's silence was held in the National Assembly when the former President's death was announced this morning while mourners have brought flowers to his home in the capital.
In a long career on the French right, Chirac was twice Prime Minister of France before serving as head of state from 1995 to 2007.
Chirac's opposition to the Iraq War put him at loggerheads with George W. Bush and Tony Blair. As President he made a historic apology for France's role in the Holocaust but his term was also marked by riots and a stinging defeat over EU integration.
He also had a reputation as a womaniser and philanderer who repeatedly cheated on his long-suffering wife Bernadette during their 63 years of marriage.
His reputed partners included Italian sex symbol Claudia Cardinale and there were rumours about a series of relationships with journalists and politicians.
Chirac was also known for a love of fine living, revelling in the trappings of power including luxury trips abroad and life at the presidential palace.
After leaving office, Chirac was found guilty of corruption dating back to his time as mayor of Paris and given a two-year suspended prison sentence.
His two immediate successors both paid tribute today, Nicolas Sarkozy declaring that 'a part of my life has disappeared' while Francois Hollande said France was 'losing a statesman'. Current President Emmanuel Macron will speak later.
Voir encore:
« Jacques Chirac a manqué à l'obligation de probité » : le jugement
Pour la première fois depuis Louis XVI et Philippe Pétain, un ancien chef de l'Etat français a été condamné par la justice de son pays. Jacques Chirac, 79 ans, reconnu coupable d'abus de confiance, de détournement de fonds publics…
Pour la première fois depuis Louis XVI et Philippe Pétain, un ancien chef de l'Etat français a été condamné par la justice de son pays. Jacques Chirac, 79 ans, reconnu coupable d'abus de confiance, de détournement de fonds publics et de prise illégale d'intérêts, a écopé ce jeudi matin de deux ans de prison avec sursis.
Dans un communiqué, Jacques Chirac a annoncé qu'il ne ferait pas appel, même si « sur le fond [il] conteste catégoriquement ce jugement ». Il explique ne plus avoir « hélas, toutes les forces nécessaires pour mener par [lui-même], face à de nouveaux juges, le combat pour la vérité ».
Les réactions à cette première historique sous ce régime sont évidemment nombreuses. Certaines portent sur la sévérité du jugement.
Rue89 publie ci-dessous les attendus – c'est-à-dire les motivations – de la condamnation de Jacques Chirac, tels qu'ils ont été communiqués par la justice à l'Association de la presse judiciaire. (Les caractères gras sont de la rédaction.)
« Attendu que la responsabilité de Jacques Chirac, maire de París, découle du mandat reçu de la collectivité des Parisiens ; qu'elle résulte également de l'autorité hiérarchique exercée par lui sur l'ensemble du personnel de la Ville de Paris et singulièrement sur ses collaborateurs immédiats au premier rang desquels son directeur de cabinet ;
Attendu que le dossier et les débats ont établi que Jacques Chirac a été l'initiateur et l'auteur principal des délits d'abus de confiance, détournement de fonds publics, ingérence et prise illégale d'intérêts ;
que sa culpabilité résulte de pratiques pérennes et réitérées qui lui sont personnellement imputables et dont le développement a été grandement favorisé par une parfaite connaissance des rouages de la municipalité ainsi que la qualité des liens tissés avec les différents acteurs administratifs et politiques au cours de ses années passées à la tête de la Ville de Paris ;
qu'en multipliant les connexions entre son parti et la municipalité parisienne, Jacques Chirac a su créer et entretenir entre la collectivité territoriale et l'organisation politique une confusion telle qu'elle a pu entraîner ses propres amis politiques ;
que le gain en résultant, nonobstant les économies des salaires payés par la mairie de Paris, a pu prendre la forme soit d'un renforcement des effectifs du parti politique dont il était le président soit d'un soutien à la contribution intellectuelle pour l'élaboration du programme politique de ce parti ;
Attendu que par l'ensemble de ces agissements, Jacques Chirac a engagé les fonds de la Ville de Paris pour un montant total d'environ 1 400 000 euros ;
Attendu que l'ancienneté des faits, l'absence d'enrichissement personnel de Jacques Chirac, l'indemnisation de la Ville de Paris par l'UMP et Jacques Chirac, ce dernier à hauteur de 500.000 euros, l'âge et l'état de santé actuel de Jacques Chirac, dont la dégradation est avérée, ainsi que les éminentes responsabilités de chef de l'Etat qu'il a exercées pendant les douze années ayant immédiatement suivi la période de prévention, sont autant d'éléments qui doivent être pris en considération pour déterminer la sanction qu'il convient d'appliquer à son encontre ;
Attendu que ces éléments ne sauraient occulter le fait que, par son action délibérée, en ayant recours au cours de ces cinq années à dix neuf emplois totalement ou partiellement fictifs, Jacques Chirac a manqué à l'obligation de probité qui pèse sur les personnes publiques chargées de la gestion des fonds ou des biens qui leur sont confiés, cela au mépris de l'intérêt général des Parisiens ;
que dans ces conditions, le recours à une peine d'emprisonnement avec sursis dont le quantum sera fixé à deux années apparaît tout à la fois adapté à la personnalité du prévenu et ainsi qu'à la nature et la gravité des faits qu'il a commis. »
Voir enfin:
Chirac, le président qui a dit non à l'Amérique
FIGAROVOX/TRIBUNE – Jacques Chirac a tenu tête à George Bush en refusant d'engager la France dans la guerre en Irak. Pour l'essayiste Hadrien Desuin, si, encore aujourd'hui, on écoute la France dans le monde, c'est notamment grâce à l'acte de bravoure de cet ancien président, fin connaisseur des relations internationales.
---
Spécialiste des questions internationales et de défense, Hadrien Desuin est essayiste. Il a publié La France atlantiste ou le naufrage de la diplomatie (éd. du Cerf, 2017).
---
C'est très français au fond. La seule chose que l'on retiendra de la présidence de Jacques Chirac est une belle bravade sans conséquence: son refus spectaculaire de la guerre américaine en Irak. Laquelle, pour le coup, en eut de fâcheuses.
Dieu sait combien Jacques Chirac représentait le caractère national. Au milieu de beaucoup de compromissions, ce fut une parenthèse de gloire, de panache et d'honneur. Cela n'a servi à rien mais le geste en était d'autant plus beau. Chirac eut quelque chose de Cyrano de Bergerac au cours de cet hiver 2002-2003, entraînant la Russie de Poutine et l'Allemagne de Schröder et bien d'autres nations derrière lui. Villepin, au contraire, avait peur de se fâcher avec l'Amérique.
Il n'a pas troqué le retour de la France dans le comité militaire de l'Otan en échange de quelques postes honorifiques. Il a osé renouveler la dissuasion nucléaire française.
C'est en souvenir de ces moments-là que la France est encore écoutée dans le monde. Malheureusement, la geste irakienne n'a pas eu de suites. Que ce soit en Libye et en Syrie, les leçons du vieux Chirac n'ont pas été retenues.
» LIRE AUSSI – Jacques Chirac, le mousquetaire du monde multipolaire
Jacques Chirac avait un grand mérite: il connaissait l'histoire du monde et de ses civilisations. Il savait que l'Irak est un des berceaux de l'humanité et qu'on ne pouvait la détruire sans commettre l'irréparable. Il savait aussi que la démocratie ne se construit pas sur le sable d'une occupation militaire et que tôt ou tard, les chiites d'Irak se tourneraient vers leurs coreligionnaires iraniens, entraînant une terrible guerre de religions. Ce qui devait advenir arriva: la rage cumulée des pétromonarchies du golfe et des terroristes wahhabites a redoublé de violence. Daech et les destructions de Mossoul, Palmyre et Alep sont des contrecoups de la folle expédition de Dick Cheney et Donald Rumsfeld. Tout le Moyen-Orient a souffert de cette lamentable aventure mais pas seulement. Après les attentats de 2004-2005 et 2015-2016 en Europe, nous sommes loin d'avoir retrouvé l'équilibre.
Depuis 2003, le Moyen-Orient est une région en guerre de religion, fracturée et travaillée par le terrorisme, minée par les migrations, incapable de se coordonner et d'avancer ensemble. Chirac avait au long de sa carrière noué des relations fidèles avec les chefs d'États d'Afrique et d'Asie. Il était soucieux du sort des Palestiniens, lui qui était intraitable avec l'antisémitisme.
L'ancien Premier ministre de Giscard et Mitterrand a aussi commis quelques erreurs. On pense notamment à sa gestion de la crise en Côte d'Ivoire ou lorsqu'il laissa l'Otan bombarder le Kosovo sans mandat des Nations unies.
Mais au moins Chirac s'intéressait et comprenait les relations internationales, sans avoir peur de quiconque.
Voir par ailleurs:
POLITIQUE – Les paroles s'envolent, les écrits restent. Après la mise en examen de Richard Ferrand ce jeudi 12 septembre, les réactions sont nombreuses dans la classe politique. Alors que la majorité et l'Elysée font bloc autour du président de l'Assemblée nationale, des responsables de l'opposition, à l'image du socialiste Olivier Faure ou du député LR Philippe Gosselin, estiment que l'élu du Finistère n'est plus en condition de diriger les débats sereinement.
Mais au delà de son maintien (ou non) au Perchoir, c'est la "présomption d'innocence" à géométrie variable de Richard Ferrand qui est pointée, notamment à droite. En cause, des tweets qu'il avait publiés en pleine campagne présidentielle, quand François Fillon, alors embourbé dans le "Penelope Gate", avait été mis en examen pour détournement de fonds publics.
L'ex-député socialiste s'en prenait à cette droite qui "voudrait que soit placé dans nos mairies et nos écoles le portrait d'un homme mis en examen, qui a perdu toute autorité morale". Dans une autre publication, il tenait à peu près les mêmes propos concernant le candidat LR: "nous disons à François Fillon qu'il a perdu toute autorité morale pour diriger l'État et parler au nom de la France".
Des propos qui intervenaient dans un contexte où le candidat de la droite avait promis qu'il jetterai l'éponge en cas de mise en examen, et qui avait attaqué Nicolas Sarkozy sur ce point lors de la primaire de la droite.
Voir enfin:
Barnum garanti. Aujourd'hui sort en librairie l'autobiographie d'un beau voyou. Gérard Fauré (1), fils d'un médecin militaire, fut un authentique trafiquant de cocaïne, doublé d'un braqueur de banques, et tueur à gages à l'occasion. A ce titre, l'intitulé du bouquin, Dealer du tout-Paris, le fournisseur des stars parle (1), pourrait prêter à confusion. Il n'était pas que cela. Mais comme le souligne son éditeur, Yannick Dehée, «c'est la première fois qu'un voyou parle sur les politiques». Et pas n'importe lesquels : Charles Pasqua et Jacques Chirac.
Un quart du manuscrit initial a été expurgé, des noms ont été initialisés ou anonymisés. Demeure le name-dropping dans le milieu du show-biz, visant des personnalités déjà connues pour leur addiction à la coke. Certains lecteurs s'en délecteront, mais il y a mieux – ou pire : l'interférence entre la politique et la voyoucratie, fournisseuse de services en tous genres. «On entre dans le dur», souligne un spécialiste du secteur.
Pasqua n'était guère cocaïnomane – «j'en suis sûr», atteste notre lascar – mais l'argent parallèle du secteur a pu l'intéresser… Fauré, précoce dealer au Maroc puis un peu partout ailleurs, raconte avoir été très vite pris en charge, dans les années 70, par l'Organisation de l'armée secrète. Initialement dédiée au maintien de l'Algérie française, l'OAS changera très vite de fusil d'épaule : «opérations homo» (assassinats ciblés) contre des indépendantistes basques ou corses, mais aussi braquages de banques. Le Service d'action civique (SAC) prendra ensuite le relais. Fauré, fort de ses compétences en la matière, met la main à l'ouvrage : «La recette Pasqua consistait à constituer des « mouvements patriotiques », en vérité violents, avec des voyous peu recommandables. Comment les rémunérer ? Tout simplement avec l'argent provenant de gros braquages de banques et de bijouteries, commis en toute impunité. Avec Pasqua, tout était possible, du moins pour les membres du SAC. Patriote, certainement prêt à mourir pour son pays, il gardait en revanche un œil attentif sur les caisses du parti. Moyennant la moitié de nos gains, il nous garantissait l'impunité sur des affaires juteuses et triées sur le volet, sachant exactement là ou il fallait frapper.»
L'auteur narre ainsi sa rencontre avec le politique, qu'il situe en 1978 : «Charles Pasqua donnait de sa voix tonitruante des ordres à tout le personnel, toutes les têtes brûlées de France et de l'Algérie française.» Et de lui lancer : «Alors, c'est toi le mec dont on me vante les mérites ? Bien. Tu vas reprendre du service dès aujourd'hui, avec tes amis, si tu veux bien. J'ai une mission de la plus haute importance, que tu ne peux pas te permettre de refuser, ni de rater. Compris ?»
Backgammon
A l'issue de l'entretien, Gérard Fauré croisera illico le parrain marseillais «Tony» Zampa, qui traînait là par hasard, lequel l'entreprend dans la foulée sur différentes affaires à venir : des investissements dans les casinos et la prostitution aux Pays-Bas. Cas peut-être unique dans les annales de la voyoucratie, il fera parallèlement équipe avec l'illustre Francis Vanverberghe, dit «Francis le Belge», «doté d'un savoir-vivre qui valait bien son savoir-tuer». Il en garde un souvenir mi-épaté mi-amusé : «Zampa ou « le Belge », qui pourtant étaient des gangsters d'envergure internationale, se seraient fait descendre comme des mouches s'ils avaient eu la mauvaise idée de mettre les pieds en Colombie ou au Venezuela, car ils étaient prétentieux.» Pour la petite histoire, il reconstitue leur brouille à propos de… Johnny Hallyday : «Tous les deux voulaient le prendre sous tutelle, pour capter sa fortune ou l'utiliser comme prête-nom. Ils ont fini par s'entre-tuer pour ce motif et quelques autres.» Fauré considérait Johnny comme sa «plus belle prise de guerre» dans le microcosme de la coke. Mais lui gardera un chien de sa chienne après que le chanteur l'a balancé sans vergogne aux Stups, contre sa propre immunité.
Notre voyou prétend n'avoir jamais balancé, lui, du moins jusqu'à ce livre. «Si vous le voulez bien, j'attends votre version des faits s'agissant des deux chèques de M. Chirac rédigés à votre ordre. Je vous invite à bien réfléchir avant de répondre» : sollicitation d'une juge d'instruction parisienne en 1986, hors procès-verbal. Tempête sous un crâne à l'issue de laquelle Gérard Fauré évoquera une dette de jeu au backgammon… Dans son bouquin, l'explication est tout autre – «J'avais dû travestir la vérité.» S'il ne peut attester que l'ex-président prenait de la coke, il évoque son penchant pour les femmes… Pour l'anecdote, les deux chèques en question feront l'objet d'une rapide opposition de leur signataire. «Chirac, dont j'avais admiré la prestance et même les idées politiques, s'est avéré mauvais payeur.»
Hommage
Ce livre-confession est une authentique plongée dans le commerce de la drogue. Notre trafiquant, dix-huit ans de prison au compteur, connaît son produit : «Aucune coke ne ressemble à une autre. Certaines, comme la colombienne, vous donnent envie de danser, de faire l'amour, mais rendent très agressif, parano et méfiant. La bolivienne rend morose, triste, et pousse parfois au suicide. La meilleure est la péruvienne, qui augmente votre tonus, votre joie de vivre et pousse à la méditation, au questionnement. La vénézuélienne a des effets uniquement sur la performance sexuelle. Les autres, brésilienne, chilienne ou surinamienne, ne sont que des pâles copies.» Son mode de transport aussi : dans le ventre d'une chèvre, elle-même logée dans l'estomac d'un boa que les douaniers, à l'aéroport d'arrivée, prendront soin de ne pas réveiller. Puis, une fois le coup du boa connu des gabelous, le ventre d'un nourrisson – une technique brésilienne consistant à empailler un bébé mort pour le maintenir en bon état, et ainsi faire croire qu'il dort au moment de passer la frontière…
Le livre s'achève sur cet hommage indirect à la police française : lors d'une perquisition à son domicile, 10 des 15 kilos de cocaïne disparaissent, tout comme 90 % des 300 000 euros logés dans un tiroir. «Je n'ai pas pensé un seul instant me plaindre de la brigade du quai des Orfèvres, dans la mesure où les vols qu'elle commettait chez moi ne pouvaient qu'alléger ma future condamnation.»
(1) Nouveau Monde, 224 pp., 17,90 €.