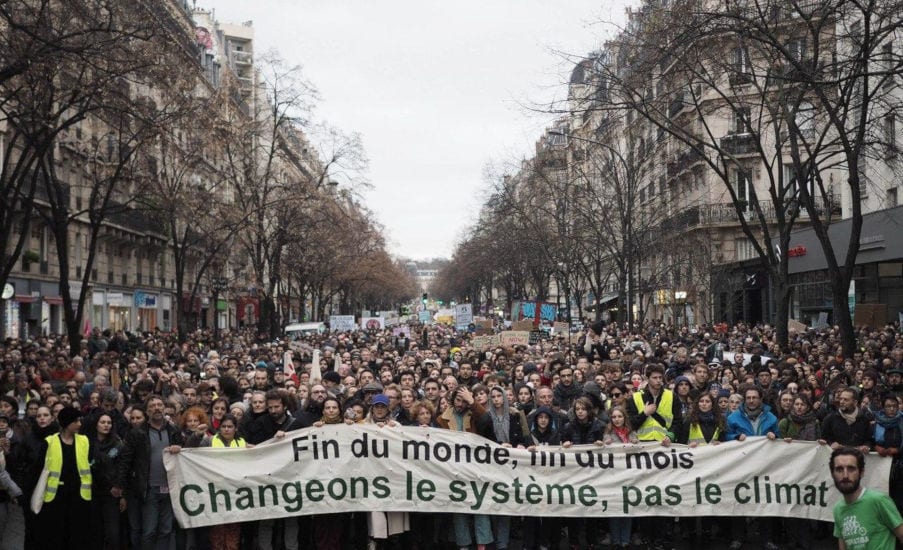 Un peuple connait, aime et défend toujours plus ses moeurs que ses lois. Montesquieu
Aux États-Unis, les plus opulents citoyens ont bien soin de ne point s'isoler du peuple ; au contraire, ils s'en rapprochent sans cesse, ils l'écoutent volontiers et lui parlent tous les jours. Ils savent que les riches des démocraties ont toujours besoin des pauvres et que, dans les temps démocratiques, on s'attache le pauvre par les manières plus que par les bienfaits. La grandeur même des bienfaits, qui met en lumière la différence des conditions, cause une irritation secrète à ceux qui en profitent; mais la simplicité des manières a des charmes presque irrésistibles : leur familiarité entraîne et leur grossièreté même ne déplaît pas toujours. Ce n'est pas du premier coup que cette vérité pénètre dans l'esprit des riches. Ils y résistent d'ordinaire tant que dure la révolution démocratique, et ils ne l'abandonnent même point aussitôt après que cette révolution est accomplie. Ils consentent volontiers à faire du bien au peuple ; mais ils veulent continuer à le tenir à distance. Ils croient que cela suffit ; ils se trompent. Ils se ruineraient ainsi sans réchauffer le coeur de la population qui les environne. Ce n'est pas le sacrifice de leur argent qu'elle leur demande; c'est celui de leur orgueil. Tocqueville
Je m'insurge contre l'abus de langage par lequel, de plus en plus, on en vient à confondre le racisme  défini au sens strict et des attitudes normales, légitimes même, et en tout cas inévitables. Le racisme est une doctrine qui  prétend voir dans les caractères  intellectuels et moraux attribués à un ensemble d'individus, de quelque façon qu'on le définisse, l'effet nécessaire d'un commun patrimoine génétique. On ne saurait ranger sous la même rubrique, ou imputer automatiquement au même préjugé l'attitude d'individus ou de  groupes que leur fidélité à certaines valeurs rend  partiellement ou totalement insensibles à d'autres valeurs. Il n'est nullement coupable de placer une manière de vivre et de penser au-dessus de toutes les autres, et d'éprouver peu d'attirance envers tels ou tels dont le genre de  vie, respectable en lui-même, s'éloigne par trop de celui auquel on est traditionnellement attaché. Cette incommunicabilité relative n'autorise certes pas à opprimer ou détruire les valeurs qu'on rejette ou leurs représentants, mais, maintenue dans ces limites, elle n'a rien de révoltant. Elle peut même représenter le prix à payer pour que les systèmes de valeurs de chaque famille spirituelle ou de chaque communauté se  conservent, et trouvent dans leur propre fonds les ressources  nécessaires à leur renouvellement. Si comme  je  l'ai  écrit  ailleurs,  il  existe  entre  les  sociétés  humaines  un  certain optimum de diversité au-delà duquel elles ne sauraient aller, mais en dessous duquel elles ne peuvent non plus descendre sans danger, on doit reconnaître que cette diversité résulte pour une grande part du désir de chaque culture de s'opposer à celles qui l'environnent, de se distinguer d'elles, en un mot d'être soi; elle ne s'ignorent pas, s'empruntent à l'occasion, mais, pour ne pas périr, il faut que, sous d'autres rapports, persiste entre elles une certaine imperméabilité.[…] Rien ne compromet davantage, n'affaiblit de l'intérieur, et n'affadit la lutte contre le racisme que cette façon de mettre le terme, si j'ose dire, à toutes les sauces, en confondant une théorie fausse, mais explicite, avec des inclinations  et des attitudes  communes dont il  serait  illusoire  d'imaginer que l'humanité puisse un jour s'affranchir ni même qu'il faille le lui souhaiter […] parce que ces inclinations et ces attitudes sont, en quelque sorte, consubstantielles à notre espèce, nous n'avons pas le droit de nous dissimuler qu'elles jouent un rôle dans l'histoire: toujours inévitables,  souvent  fécondes,  et  en  même  temps  grosses  de  dangers  quand  elles  s'exacerbent. J'invitais donc les lecteurs à douter avec sagesse, avec mélancolie s'ils voulaient, de l'avènement d'un monde  où  les  cultures,  saisies  d'une  passion  réciproque,  n'aspiraient  plus  qu'à  se  célébrer mutuellement, dans une confusion où chacune perdrait l'attrait qu'elle pouvait avoir pour les autres et ses propres raisons d'exister. […] il ne suffit pas de se gargariser année après année de bonnes paroles pour réussir  à  changer les hommes, […] en s'imaginant qu'on peut surmonter par des mots bien intentionnés  des  propositions  antinomiques comme celles  visant  à  "concilier  la  fidélité  à  soi  et l'ouverture aux autres" ou à favoriser simultanément "l'affirmation créatrice de chaque identité  et le rapprochement entre toutes les cultures. Claude Lévi-Strauss (Le regard éloigné, 1983)
L'essentiel est d'être bon aux gens avec qui l'on vit. (…) Défiez-vous de ces cosmopolites qui vont chercher au loin dans leurs livres des devoirs qu'ils dédaignent de remplir autour d'eux. Tel philosophe aime les Tartares, pour être dispensé d'aimer ses voisins. Jean-Jacques Rousseau (L'Emile, 1762)
Bien sûr, nous sommes résolument cosmopolites. Bien sûr, tout ce qui est terroir, béret, bourrées, binious, bref franchouillard ou cocardier, nous est étranger, voire odieux. Bernard-Henri Lévy (profession de foi du premier numéro du journal Globe, 1985)
Tout le monde s'est mis à s'intéresser aux débats! (…) Les gens ne sont pas contre les migrants, mais nous voulons un processus légal. On n'a pas le droit d'avoir une opinion. On est tout de suite des nazis, des déplorables non éduqués… C'est franchement la raison pour laquelle Donald Trump a été élu. Les gens en ont marre d'être méprisés. Ils ne cessent de l'attaquer, quoiqu'il fasse. Nous appelons ça le syndrome de dérangement trumpien. Il ne fait «que se défendre» et j'adore ses tweets« parce qu'ils lui permettent de contourner le mur médiatique. Nous, les partisans de Trump, ne prenons pas ses paroles de manière littérale. Il faut regarder ses actes. Mais la presse, elle, s'attache à chaque mot. Elle ne comprend pas son humour! Les enfants ne peuvent même plus porter un costume de Halloween en se peignant le visage en noir sans être soupçonnés de racisme… C'est comme ce mouvement #MeToo. Ça va trop loin. On a tous des maris, des fils, voudrions-nous les voir accusés sans preuves? (…) C'est la première fois que je peux imaginer comment la guerre civile a commencé en Amérique. Les passions sont tellement fortes. Lynette Vilano (activiste républicaine de Pennsylvanie)
Les gens  attendaient  Trump  et  son  discours franc, qui dit les choses comme elles sont et qui promet de défendre les intérêts du peuple.  Il  ne  tourne  pas  autour  du  pot  et c'est ça qu'on aime. (…)  et même si Trump ne le sait pas,  je  suis  persuadé  qu'il  a  été  envoyé par Dieu pour réparer ce pays et lui rendre  sa  grandeur  !  Le  système  est  corrompu,  nous  devons  revenir  aux  fondamentaux  :  les  valeurs  américaines,  le travail, le respect. Obama  est  allé  s'excuser  autour  du  monde, et  résultat,  personne  ne  nous  respecte. Cela va changer. Kelly Lee
Les médias sont en embuscade, mais nous ne sommes pas inquiets parce que le peuple a vraiment vu le vrai visage partisan  de  ces  médias.  Trump  ne  se  laissera pas  faire.  Au  début  j'ai  été  choquée  de voir   son   usage   de   Twitter   car   je   suis conservatrice. Mais maintenant, je comprends.  Il  déjouera  leurs  plans  et  dira aux gens ce qu'il pense vraiment s'ils déforment    ses    propos. Nous avons besoin de lois. Aujourd'hui, les  gardes-frontières  n'ont  pas  le  droit d'arrêter les illégaux et laissent des villes sanctuaires  les  protéger  sans  la  moindre sanction.  Est-ce  normal  ?  La  presse  dit que c'est raciste de penser ce que je vous dis,   mais   c'est   ridicule   !   Nous   serions donc devenus une nation de racistes parce   que   nous   ne   sommes   pas   d'accord avec  ce   laxisme ? Annette
Vous allez dans certaines petites villes de Pennsylvanie où, comme ans beaucoup de petites villes du Middle West, les emplois ont disparu depuis maintenant 25 ans et n'ont été remplacés par rien d'autre (…) Et il n'est pas surprenant qu'ils deviennent pleins d'amertume, qu'ils s'accrochent aux armes à feu ou à la religion, ou à leur antipathie pour ceux qui ne sont pas comme eux, ou encore à un sentiment d'hostilité envers les immigrants. Barack Obama (2008)
Pour généraliser, en gros, vous pouvez placer la moitié des partisans de Trump dans ce que j'appelle le panier des pitoyables. Les racistes, sexistes, homophobes, xénophobes, islamophobes. A vous de choisir. Hillary Clinton
It's not just visual: In interview after interview in all corners of the state, I've found that Trump's support across the ideological spectrum remains strong. Democrats, Republicans, independents, people who have not voted in presidential elections for years — they have not wavered in their support. Two components of these voters' answers and profiles remain consistent: They are middle-class, and they do not live in a big city. They are suburban to rural and are not poor — an element I found fascinating, until a Gallup survey last week confirmed that what I've gathered in interviews is more than just freakishly anecdotal. The Gallup analysis, based on 87,000 interviews over the past year, shows that while economic anxiety and Trump's appeal are intertwined, his supporters for the most part do not make less than average Americans (not those in New York City or Washington, perhaps, but their Main Street peers) and are less likely to be unemployed. The study backs up what many of my interviews across the state found — that these people are more concerned about their children and grandchildren. While Trump supporters here are overwhelmingly white, their support has little to do with race (yes, you'll always find one or two who make race the issue) but has a lot to do with a perceived loss of power. Not power in the way that Washington or Wall Street board rooms view power, but power in the sense that these people see a diminishing respect for them and their ways of life, their work ethic, their tendency to not be mobile (many live in the same eight square miles that their father's father's father lived in). Thirty years ago, such people determined the country's standards in entertainment, music, food, clothing, politics, personal values. Today, they are the people who are accused of creating every social injustice imaginable; when anything in society fails, they get blamed. The places where they live lack economic opportunities for the next generation; they know their children and grandchildren will never experience the comfortable situations they had growing up — surrounded by family who lived next door, able to find a great job without going to college, both common traits among many successful small-business owners in the state. These Trump supporters are not the kind you find on Twitter saying dumb or racist things; many of them don't have the time or the patience to engage in social media because they are too busy working and living life in real time. These are voters who are intellectually offended watching the Affordable Care Act crumble because they warned six years ago that it was an unworkable government overreach. They are the same people who wonder why President Obama has not taken a break from a week of golfing to address the devastating floods in Louisiana. (As one woman told me, "It appears as if he only makes statements during tragedies if there is political gain attached.") Voice such a remark, and you risk being labeled a racist in many parts of America. The Joe-Six-Pack stereotype of a Trump supporter was not created in a vacuum; it's real and it's out there. Yet, if you dig down deep into the Gallup survey — or, better yet, take a drive 15 minutes outside of most cities in America — you will learn a different story. That is, if you look and listen. Salena Zito

America is coming apart. For most of our nation's history, whatever the inequality in wealth between the richest and poorest citizens, we maintained a cultural equality known nowhere else in the world—for whites, anyway. (…) But t's not true anymore, and it has been progressively less true since the 1960s. People are starting to notice the great divide. The tea party sees the aloofness in a political elite that thinks it knows best and orders the rest of America to fall in line. The Occupy movement sees it in an economic elite that lives in mansions and flies on private jets. Each is right about an aspect of the problem, but that problem is more pervasive than either political or economic inequality. What we now face is a problem of cultural inequality. When Americans used to brag about « the American way of life »—a phrase still in common use in 1960—they were talking about a civic culture that swept an extremely large proportion of Americans of all classes into its embrace. It was a culture encompassing shared experiences of daily life and shared assumptions about central American values involving marriage, honesty, hard work and religiosity. Over the past 50 years, that common civic culture has unraveled. We have developed a new upper class with advanced educations, often obtained at elite schools, sharing tastes and preferences that set them apart from mainstream America. At the same time, we have developed a new lower class, characterized not by poverty but by withdrawal from America's core cultural institutions. (…) Why have these new lower and upper classes emerged? For explaining the formation of the new lower class, the easy explanations from the left don't withstand scrutiny. It's not that white working class males can no longer make a « family wage » that enables them to marry. The average male employed in a working-class occupation earned as much in 2010 as he did in 1960. It's not that a bad job market led discouraged men to drop out of the labor force. Labor-force dropout increased just as fast during the boom years of the 1980s, 1990s and 2000s as it did during bad years. (…) As I've argued in much of my previous work, I think that the reforms of the 1960s jump-started the deterioration. Changes in social policy during the 1960s made it economically more feasible to have a child without having a husband if you were a woman or to get along without a job if you were a man; safer to commit crimes without suffering consequences; and easier to let the government deal with problems in your community that you and your neighbors formerly had to take care of. But, for practical purposes, understanding why the new lower class got started isn't especially important. Once the deterioration was under way, a self-reinforcing loop took hold as traditionally powerful social norms broke down. Because the process has become self-reinforcing, repealing the reforms of the 1960s (something that's not going to happen) would change the trends slowly at best. Meanwhile, the formation of the new upper class has been driven by forces that are nobody's fault and resist manipulation. The economic value of brains in the marketplace will continue to increase no matter what, and the most successful of each generation will tend to marry each other no matter what. As a result, the most successful Americans will continue to trend toward consolidation and isolation as a class. Changes in marginal tax rates on the wealthy won't make a difference. Increasing scholarships for working-class children won't make a difference. The only thing that can make a difference is the recognition among Americans of all classes that a problem of cultural inequality exists and that something has to be done about it. That « something » has nothing to do with new government programs or regulations. Public policy has certainly affected the culture, unfortunately, but unintended consequences have been as grimly inevitable for conservative social engineering as for liberal social engineering. The « something » that I have in mind has to be defined in terms of individual American families acting in their own interests and the interests of their children. Doing that in Fishtown requires support from outside. There remains a core of civic virtue and involvement in working-class America that could make headway against its problems if the people who are trying to do the right things get the reinforcement they need—not in the form of government assistance, but in validation of the values and standards they continue to uphold. The best thing that the new upper class can do to provide that reinforcement is to drop its condescending « nonjudgmentalism. » Married, educated people who work hard and conscientiously raise their kids shouldn't hesitate to voice their disapproval of those who defy these norms. When it comes to marriage and the work ethic, the new upper class must start preaching what it practices. Charles Murray
We're in the midst of a rebellion. The bottom and middle are pushing against the top. It's a throwing off of old claims and it's been going on for a while, but we're seeing it more sharply after New Hampshire. This is not politics as usual, which by its nature is full of surprise. There's something deep, suggestive, even epochal about what's happening now. I have thought for some time that there's a kind of soft French Revolution going on in America, with the angry and blocked beginning to push hard against an oblivious elite. It is not only political. Yes, it is about the Democratic National Committee, that house of hacks, and about a Republican establishment owned by the donor class. But establishment journalism, which for eight months has been simultaneously at Donald Trump's feet ("Of course you can call us on your cell from the bathtub for your Sunday show interview!") and at his throat ("Trump supporters, many of whom are nativists and nationalists . . .") is being rebelled against too. Their old standing as guides and gatekeepers? Gone, and not only because of multiplying platforms. (…) All this goes hand in hand with the general decline of America's faith in its institutions. We feel less respect for almost all of them—the church, the professions, the presidency, the Supreme Court. The only formal national institution that continues to score high in terms of public respect (72% in the most recent Gallup poll) is the military (…) we are in a precarious position in the U.S. with so many of our institutions going down. Many of those pushing against the system have no idea how precarious it is or what they will be destroying. Those defending it don't know how precarious its position is or even what they're defending, or why. But people lose respect for a reason. (…) It's said this is the year of anger but there's a kind of grim practicality to Trump and Sanders supporters. They're thinking: Let's take a chance. Washington is incapable of reform or progress; it's time to reach outside. Let's take a chance on an old Brooklyn socialist. Let's take a chance on the casino developer who talks on TV. In doing so, they accept a decline in traditional political standards. You don't have to have a history of political effectiveness anymore; you don't even have to have run for office! "You're so weirdly outside the system, you may be what the system needs." They are pouring their hope into uncertain vessels, and surely know it. Bernie Sanders is an actual radical: He would fundamentally change an economic system that imperfectly but for two centuries made America the wealthiest country in the history of the world. In the young his support is understandable: They have never been taught anything good about capitalism and in their lifetimes have seen it do nothing—nothing—to protect its own reputation. It is middle-aged Sanders supporters who are more interesting. They know what they're turning their backs on. They know they're throwing in the towel. My guess is they're thinking something like: Don't aim for great now, aim for safe. Terrorism, a world turning upside down, my kids won't have it better—let's just try to be safe, more communal. A shrewdness in Sanders and Trump backers: They share one faith in Washington, and that is in its ability to wear anything down. They think it will moderate Bernie, take the edges off Trump. For this reason they don't see their choices as so radical. (…) The mainstream journalistic mantra is that the GOP is succumbing to nativism, nationalism and the culture of celebrity. That allows them to avoid taking seriously Mr. Trump's issues: illegal immigration and Washington's 15-year, bipartisan refusal to stop it; political correctness and how it is strangling a free people; and trade policies that have left the American working class displaced, adrift and denigrated. Mr. Trump's popularity is propelled by those issues and enabled by his celebrity. (…) Mr. Trump is a clever man with his finger on the pulse, but his political future depends on two big questions. The first is: Is he at all a good man? Underneath the foul mouthed flamboyance is he in it for America? The second: Is he fully stable? He acts like a nut, calling people bimbos, flying off the handle with grievances. Is he mature, reliable? Is he at all a steady hand? Political professionals think these are side questions. "Let's accuse him of not being conservative!" But they are the issue. Because America doesn't deliberately elect people it thinks base, not to mention crazy. Peggy Noonan
The furor of ignored Europeans against their union is not just directed against rich and powerful government elites per se, or against the flood of mostly young male migrants from the war-torn Middle East. The rage also arises from the hypocrisy of a governing elite that never seems to be subject to the ramifications of its own top-down policies. The bureaucratic class that runs Europe from Brussels and Strasbourg too often lectures European voters on climate change, immigration, politically correct attitudes about diversity, and the constant need for more bureaucracy, more regulations, and more redistributive taxes. But Euro-managers are able to navigate around their own injunctions, enjoying private schools for their children; generous public pay, retirement packages and perks; frequent carbon-spewing jet travel; homes in non-diverse neighborhoods; and profitable revolving-door careers between government and business. The Western elite classes, both professedly liberal and conservative, square the circle of their privilege with politically correct sermonizing. They romanticize the distant "other" — usually immigrants and minorities — while condescendingly lecturing the middle and working classes, often the losers in globalization, about their lack of sensitivity. On this side of the Atlantic, President Obama has developed a curious habit of talking down to Americans about their supposedly reactionary opposition to rampant immigration, affirmative action, multiculturalism, and political correctness — most notably in his caricatures of the purported "clingers" of Pennsylvania. Yet Obama seems uncomfortable when confronted with the prospect of living out what he envisions for others. He prefers golfing with celebrities to bowling. He vacations in tony Martha's Vineyard rather than returning home to his Chicago mansion. His travel entourage is royal and hardly green. And he insists on private prep schools for his children rather than enrolling them in the public schools of Washington, D.C., whose educators he so often shields from long-needed reform. In similar fashion, grandees such as Facebook billionaire Mark Zuckerberg and Univision anchorman Jorge Ramos do not live what they profess. They often lecture supposedly less sophisticated Americans on their backward opposition to illegal immigration. But both live in communities segregated from those they champion in the abstract. The Clintons often pontificate about "fairness" but somehow managed to amass a personal fortune of more than $100 million by speaking to and lobbying banks, Wall Street profiteers, and foreign entities. The pay-to-play rich were willing to brush aside the insincere, pro forma social-justice talk of the Clintons and reward Hillary and Bill with obscene fees that would presumably result in lucrative government attention. Consider the recent Orlando tragedy for more of the same paradoxes. The terrorist killer, Omar Mateen — a registered Democrat, proud radical Muslim, and occasional patron of gay dating sites — murdered 49 people and wounded even more in a gay nightclub. His profile and motive certainly did not fit the elite narrative that unsophisticated right-wing American gun owners were responsible because of their support for gun rights. No matter. The Obama administration and much of the media refused to attribute the horror in Orlando to Mateen's self-confessed radical Islamist agenda. Instead, they blamed the shooter's semi-automatic .223 caliber rifle and a purported climate of hate toward gays. (…) In sum, elites ignored the likely causes of the Orlando shooting: the appeal of ISIS-generated hatred to some young, second-generation radical Muslim men living in Western societies, and the politically correct inability of Western authorities to short-circuit that clear-cut connection. Instead, the establishment all but blamed Middle America for supposedly being anti-gay and pro-gun. In both the U.S. and Britain, such politically correct hypocrisy is superimposed on highly regulated, highly taxed, and highly governmentalized economies that are becoming ossified and stagnant. The tax-paying middle classes, who lack the romance of the poor and the connections of the elite, have become convenient whipping boys of both in order to leverage more government social programs and to assuage the guilt of the elites who have no desire to live out their utopian theories in the flesh. Victor Davis Hanson
Barack Obama is the Dr. Frankenstein of the supposed Trump monster. If a charismatic, Ivy League-educated, landmark president who entered office with unprecedented goodwill and both houses of Congress on his side could manage to wreck the Democratic Party while turning off 52 percent of the country, then many voters feel that a billionaire New York dealmaker could hardly do worse. If Obama had ruled from the center, dealt with the debt, addressed radical Islamic terrorism, dropped the politically correct euphemisms and pushed tax and entitlement reform rather than Obamacare, Trump might have little traction. A boring Hillary Clinton and a staid Jeb Bush would most likely be replaying the 1992 election between Bill Clinton and George H.W. Bush — with Trump as a watered-down version of third-party outsider Ross Perot. But America is in much worse shape than in 1992. And Obama has proved a far more divisive and incompetent president than George H.W. Bush. Little is more loathed by a majority of Americans than sanctimonious PC gobbledygook and its disciples in the media. And Trump claims to be PC's symbolic antithesis. Making Machiavellian Mexico pay for a border fence or ejecting rude and interrupting Univision anchor Jorge Ramos from a press conference is no more absurd than allowing more than 300 sanctuary cities to ignore federal law by sheltering undocumented immigrants. Putting a hold on the immigration of Middle Eastern refugees is no more illiberal than welcoming into American communities tens of thousands of unvetted foreign nationals from terrorist-ridden Syria. In terms of messaging, is Trump's crude bombast any more radical than Obama's teleprompted scripts? Trump's ridiculous view of Russian President Vladimir Putin as a sort of « Art of the Deal » geostrategic partner is no more silly than Obama insulting Putin as Russia gobbles up former Soviet republics with impunity. Obama callously dubbed his own grandmother a « typical white person, » introduced the nation to the racist and anti-Semitic rantings of the Rev. Jeremiah Wright, and petulantly wrote off small-town Pennsylvanians as near-Neanderthal « clingers. » Did Obama lower the bar for Trump's disparagements? Certainly, Obama peddled a slogan, « hope and change, » that was as empty as Trump's « make America great again. » (…) How does the establishment derail an out-of-control train for whom there are no gaffes, who has no fear of The New York Times, who offers no apologies for speaking what much of the country thinks — and who apparently needs neither money from Republicans nor politically correct approval from Democrats? Victor Davis Hanson
In 1978, the eminent sociologist William Julius Wilson argued confidently that class would soon displace race as the most important social variable in American life. As explicit legal barriers to minority advancement receded farther into the past, the fates of the working classes of different races would converge. By the mid 2000s, Wilson's thesis looked pretty good: The black middle class was vibrant and growing as the average black wealth nearly doubled from 1995 to 2005. Race appeared to lose its salience as a political predictor: More and more blacks were voting Republican, reversing a decades-long trend, and in 2004 George W. Bush collected the highest share of the Latino (44 percent) vote of any Republican ever and a higher share of the Asian vote (43 percent) than he did in 2000. Our politics grew increasingly ideological and less racial: Progressives and the beneficiaries of a generous social-welfare state generally supported the Democratic party, while more prosperous voters were more likely to support Republicans. Stable majorities expressed satisfaction with the state of race relations. It wasn't quite a post-racial politics, but it was certainly headed in that direction. But in the midst of the financial crisis of 2007, something happened. Both the white poor and the black poor began to struggle mightily, though for different reasons. And our politics changed dramatically in response.

I

t's ironic that the election of the first black president marked the end of our brief flirtation with a post-racial politics. By 2011, William Julius Wilson had published a slight revision of his earlier thesis, noting the continued importance of race. The black wealth of the 1990s, it turned out, was built on the mirage of house values. Inner-city murder rates, which had fallen for decades, began to tick upward in 2015. In one of the deadliest mass shootings in recent memory, a white supremacist murdered nine black people in a South Carolina church. And the ever-present antagonism between the police and black Americans — especially poor blacks whose neighborhoods are the most heavily policed — erupted into nationwide protests. Meanwhile, the white working class descended into an intense cultural malaise. Prescription-opioid abuse skyrocketed, and deaths from heroin overdoses clogged the obituaries of local papers. In the small, heavily white Ohio county where I grew up, overdoses overtook nature as the leading cause of death. A drug that for so long was associated with inner-city ghettos became the cultural inheritance of the southern and Appalachian white: White youths died from heroin significantly more often than their peers of other ethnicities. Incarceration and divorce rates increased steadily. Perhaps most strikingly, while the white working class continued to earn more than the working poor of other races, only 24 percent of white voters believed that the next generation would be "better off." No other ethnic group expressed such alarming pessimism about its economic future. And even as each group struggled in its own way, common forces also influenced them. Rising automation in blue-collar industries deprived both groups of high-paying, low-skill jobs. Neighborhoods grew increasingly segregated — both by income and by race — ensuring that poor whites lived among poor whites while poor blacks lived among poor blacks. As a friend recently told me about San Francisco, Bull Connor himself couldn't have designed a city with fewer black residents. Predictably, our politics began to match this new social reality. In 2012, Mitt Romney collected only 27 percent of the Latino vote. Asian Americans, a solid Republican constituency even in the days of Bob Dole, went for Obama by a three-to-one margin — a shocking demographic turn of events over two decades. Meanwhile, the black Republican became an endangered species. Republican failures to attract black voters fly in the face of Republican history. This was the party of Lincoln and Douglass. Eisenhower integrated the school in Little Rock at a time when the Dixiecrats were the defenders of the racial caste system.(…) For many progressives, the Sommers and Norton research confirms the worst stereotypes of American whites. Yet it also reflects, in some ways, the natural conclusions of an increasingly segregated white poor. (…) The reality is not that black Americans enjoy special privileges. In fact, the overwhelming weight of the evidence suggests that the opposite is true. Last month, for instance, the brilliant Harvard economist Roland Fryer published an exhaustive study of police uses of force. He found that even after controlling for crime rates and police presence in a given neighborhood, black youths were far likelier to be pushed, thrown to the ground, or harassed by police. (Notably, he also found no racial disparity in the use of lethal force.) (…) Getting whipped into a frenzy on conspiracy websites, or feeling that distant, faceless elites dislike you because of your white skin, doesn't compare. But the great advantages of whiteness in America are invisible to the white poor, or are completely swallowed by the disadvantages of their class. The young man from West Virginia may be less likely to get questioned by Yale University police, but making it to Yale in the first place still requires a remarkable combination of luck and skill. In building a dialogue around "checking privilege," the modern progressive elite is implicitly asking white America — especially the segregated white poor — for a level of social awareness unmatched in the history of the country. White failure to empathize with blacks is sometimes a failure of character, but it is increasingly a failure of geography and socialization. Poor whites in West Virginia don't have the time or the inclination to read Harvard economics studies. And the privileges that matter — that is, the ones they see — are vanishing because of destitution: the privilege to pay for college without bankruptcy, the privilege to work a decent job, the privilege to put food on the table without the aid of food stamps, the privilege not to learn of yet another classmate's premature death. (…)

B

ecause of this polarization, the racial conversation we're having today is tribalistic. On one side are primarily white people, increasingly represented by the Republican party and the institutions of conservative media. On the other is a collection of different minority groups and a cosmopolitan — and usually wealthier — class of whites. These sides don't even speak the same language: One side sees white privilege while the other sees anti-white racism. There is no room for agreement or even understanding.

J. D. Vance
Est-ce le plus beau cadeau qu'Hillary Clinton ait fait à son adversaire ? En traitant "la moitié" des électeurs de Trump de "basket of deplorables", Hillary a donné à l'équipe Trump un nouveau slogan de campagne : Les Deplorables (en français sur l'affiche avec le "e" sans accent, et aussi sur les t-shirts, sur les pots à café, dans la salle, etc.) ; avec depuis hier une affiche empruntée au formidable succès de scène de 2012 à Broadway Les Misérables (avec le "é" accentué, ou Les Mis', tout cela en français sur l'affiche et sur la scène), et retouchée à la mesure-Trump (drapeau US à la place du drapeau français, bannière avec le nom de Trump). Grâce soit rendue à Hillary, le mot a une certaine noblesse et une signification à la fois, – étrangement, – précise et sophistiqué, dont le sens négatif peut aisément être retourné dans un contexte politique donné (le mot lui-même a, également en anglais, un sens négatif et un sens positif), surtout avec la référence au titre du livre de Hugo devenu si populaire aux USA depuis 2012…  L'équipe Trump reprend également la chanson-standard de la comédie musicale "Do You Hear the People Sing", tout cela à partir d'une idée originale d'un partisan de Trump, un artiste-graphiste qui se désigne sous le nom de Keln : il a réalisé la composition graphique à partir de l'affiche des Misérables et l'a mise en ligne en espérant qu'elle serait utilisée par Trump. Depuis quelques jours déjà, les partisans de Trump se baptisent de plus en plus eux-mêmes Les Deplorables (comme l'on disait il y a 4-5 ans "les indignés") et se reconnaissent entre eux grâce à ce mot devenu porte-drapeau et slogan et utilisé sur tous les produits habituels ("nous sommes tous des Deplorables", comme d'autres disaient, dans le temps, "Nous sommes tous des juifs allemands"). De l'envolée de Clinton, – dont elle s'est excusée mais sans parvenir à contenir l'effet "déplorable" pour elle, ni l'effet-boomerang comme on commence à le mesurer, –nous écrivions ceci le 15 septembre : « L'expression ("panier" ou "paquet de déplorables"), qui qualifie à peu près une moitié des électeurs de Trump, est assez étrange, sinon arrogante et insultante, voire sophistiquée et devrait être très en vogue dans les salons progressistes et chez les milliardaires d'Hollywood ; elle s'accompagne bien entendu des autres qualificatifs classiques formant le minimum syndical de l'intellectuel-Système, dits explicitement par Hillary, de "racistes", xénophobes", et ajoutons comme sous-entendus "crétins absolus" ou bien "sous-hommes", et ajoutons encore implicitement "irrécupérables" et de la sorte "à liquider" ou à envoyer en camp de rééducation ou plutôt à l'asile, comme l'éclairé Bacri conseille de faire avec Zemmour. » Récupéré par les électeurs de Trump eux-mêmes puis par l'équipe Trump, le slogan peu résonner comme un cri de révolte qui pourrait donner un formidable rythme et un atout considérable de communication à la campagne du candidat républicain. Philippe Grasset

In another eerie ditto of his infamous 2008 attack on the supposedly intolerant Pennsylvania "clingers," Obama returned to his theme that ignorant Americans "typically" become xenophobic and racist: "Typically, when people feel stressed, they turn on others who don't look like them." ("Typically" is not a good Obama word to use in the context of racial relations, since he once dubbed his own grandmother a "typical white person.") Too often Obama has gratuitously aroused racial animosities with inflammatory rhetoric such as "punish our enemies," or injected himself into the middle of hot-button controversies like the Trayvon Martin case, the Henry Louis Gates melodrama, and the "hands up, don't shoot" Ferguson mayhem. Most recently, Obama seemed to praise backup 49ers quarterback and multimillionaire Colin Kaepernick for his refusal to stand during the National Anthem, empathizing with Kaepernick's claims of endemic American racism. (…) Even presidential nominee and former Secretary of State Hillary Clinton is not really defending the Obama administration's past "red line" in Syria, the "reset" with Vladimir Putin's Russia, the bombing of Libya, the Benghazi tragedy, the euphemistic rebranding of Islamic terrorism as mere "violent extremism," the abrupt pullout from (and subsequent collapse of) Iraq, or the Iran nuclear deal that so far seems to have made the theocracy both rich and emboldened. (…) Racial relations in this country seem as bad as they have been in a half-century. (…) Following the Clinton model, a post-presidential Obama will no doubt garner huge fees as a "citizen of the world" — squaring the circle of becoming fabulously rich while offering sharp criticism of the cultural landscape of the capitalist West on everything from sports controversies to pending criminal trials. What, then, is the presidential legacy of Barack Obama? It will not be found in either foreign- or domestic-policy accomplishment. More likely, he will be viewed as an outspoken progressive who left office loudly in the same manner that he entered it — as a critic of the culture and country in which he has thrived. But there may be another, unspoken legacy of Obama, and it is his creation of the candidacy of Donald J. Trump. Trump is running as an angry populist, fueled by the promise that whatever supposed elites such as Obama have done to the country, he will largely undo. Obama's only legacy seems to be that "hope and change" begat "make America great again." Victor Davis Hanson
Hillary Clinton's comment that half of Donald Trump's supporters are "racist, sexist, homophobic, xenophobic, Islamophobic"—a heck of a lot of phobia for anyone to lug around all day—puts back in play what will be seen as one of the 2016 campaign's defining forces: the revolt of the politically incorrect.

They may not live at the level of Victor Hugo's "Les Misérables," but it was only a matter of time before les déplorables—our own writhing mass of unheard Americans—rebelled against the intellectual elites' ancien régime of political correctness. (…) Mrs. Clinton's (…) dismissal, at Barbra Streisand's LGBT fundraiser, of uncounted millions of Americans as deplorables had the ring of genuine belief. Perhaps sensing that public knowledge of what she really thinks could be a political liability, Mrs. Clinton went on to describe "people who feel that the government has let them down, the economy has let them down, nobody cares about them . . . and they're just desperate for change." She is of course describing the people in Charles Murray's recent and compelling book on cultural disintegration among the working class, "Coming Apart: The State of White America, 1960-2010." This is indeed the bedrock of the broader Trump base. Mrs. Clinton is right that they feel the system has let them down. There is a legitimate argument over exactly when the rising digital economy started transferring income away from blue-collar workers and toward the "creative class" of Google and Facebook employees, no few of whom are smug progressives who think the landmass seen from business class between San Francisco and New York is pocked with deplorable, phobic Americans. Naturally, they'll vote for the status quo, which is Hillary. But in the eight years available to Barack Obama to do something about what rankles the lower-middle class—white, black or brown—the non-employed and underemployed grew. A lot of them will vote for Donald Trump because they want a radical mid-course correction. (…) The progressive Democrats, a wholly public-sector party, have disconnected from the realities of the private economy, which exists as a mysterious revenue-producing abstraction. Hillary's comments suggest they now see much of the population has a cultural and social abstraction. (…) Donald Trump's appeal, in part, is that he cracks back at progressive cultural condescension in utterly crude terms. Nativists exist, and the sky is still blue. But the overwhelming majority of these people aren't phobic about a modernizing America. They're fed up with the relentless, moral superciliousness of Hillary, the Obamas, progressive pundits and 19-year-old campus activists. Evangelicals at last week's Values Voter Summit said they'd look past Mr. Trump's personal résumé. This is the reason. It's not about him. The moral clarity that drove the original civil-rights movement or the women's movement has degenerated into a confused moral narcissism. (…) It is a mistake, though, to blame Hillary alone for that derisive remark. It's not just her. Hillary Clinton is the logical result of the Democratic Party's new, progressive algorithm—a set of strict social rules that drives politics and the culture to one point of view. (…) Her supporters say it's Donald Trump's rhetoric that is "divisive." Just so. But it's rich to hear them claim that their words and politics are "inclusive." So is the town dump. They have chopped American society into so many offendable identities that only a Yale freshman can name them all. If the Democrats lose behind Hillary Clinton, it will be in part because America's les déplorables decided enough of this is enough. Bret Stephens
Le génie Trump a vu que la classe politique était un tigre de papier et que le pays était en colère. Qu'un outsider comme lui puisse prendre le contrôle d'un parti politique américain majeur est tout simplement du jamais vu et c'est lui qui devrait gagner. Conrad Black
After the election, in liberal, urban America, one often heard Trump's win described as the revenge of the yahoos in flyover country, fueled by their angry "isms" and "ias": racism, anti-Semitism, nativism, homophobia, Islamophobia, and so on. Many liberals consoled themselves that Trump's victory was the last hurrah of bigoted, Republican white America, soon to be swept away by vast forces beyond its control, such as global migration and the cultural transformation of America into something far from the Founders' vision. As insurance, though, furious progressives also renewed calls to abolish the Electoral College, advocating for a constitutional amendment that would turn presidential elections into national plebiscites. Direct presidential voting would shift power to heavily urbanized areas—why waste time trying to reach more dispersed voters in less populated rural states?—and thus institutionalize the greater economic and cultural clout of the metropolitan blue-chip universities, the big banks, Wall Street, Silicon Valley, New York–Washington media, and Hollywood, Democrat-voting all. Barack Obama's two electoral victories deluded the Democrats into thinking that it was politically wise to jettison their old blue-collar appeal to the working classes, mostly living outside the cities these days, in favor of an identity politics of a new multicultural, urban America. Yet Trump's success represented more than simply a triumph of rural whites over multiracial urbanites. More ominously for liberals, it also suggested that a growing minority of blacks and Hispanics might be sympathetic with a "country" mind-set that rejects urban progressive elitism. For some minorities, sincerity and directness might be preferable to sloganeering by wealthy white urban progressives, who often seem more worried about assuaging their own guilt than about genuinely understanding people of different colors. Trump's election underscored two other liberal miscalculations. First, Obama's progressive agenda and cultural elitism prevailed not because of their ideological merits, as liberals believed, but because of his great appeal to urban minorities in 2008 and 2012, who voted in solidarity for the youthful first African-American president in numbers never seen before. That fealty wasn't automatically transferable to liberal white candidates, including the multimillionaire 69-year-old Hillary Clinton. Obama had previously lost most of America's red counties, but not by enough to keep him from winning two presidential elections, with sizable urban populations in Wisconsin, Michigan, Ohio, and Pennsylvania turning out to vote for the most left-wing presidential candidate since George McGovern. Second, rural America hadn't fully raised its electoral head in anger in 2008 and 2012 because it didn't see the Republican antidotes to Obama's progressive internationalism as much better than the original malady. Socially moderate establishmentarians like the open-borders-supporting John McCain or wealthy businessman Mitt Romney didn't resonate with the spirit of rural America—at least not enough to persuade millions to come to the polls instead of sitting the elections out. Trump connected with these rural voters with far greater success than liberals anticipated. Urban minorities failed in 2016 to vote en bloc, in their Obama-level numbers; and rural Americans, enthused by Trump, increased their turnout, so that even a shrinking American countryside still had enough clout to win. What is insufficiently understood is why a hurting rural America favored the urban, superrich Trump in 2016 and, more generally, tends to vote more conservative than liberal. Ostensibly, the answer is clear: an embittered red-state America has found itself left behind by elite-driven globalization, battered by unfettered trade and high-tech dislocations in the economy. In some of the most despairing counties, rural life has become a mirror image of the inner city, ravaged by drug use, criminality, and hopelessness. Yet if muscular work has seen a decline in its relative monetary worth, it has not necessarily lost its importance. After all, the elite in Washington and Menlo Park appreciate the fresh grapes and arugula that they purchase at Whole Foods. Someone mined the granite used in their expensive kitchen counters and cut the timber for their hardwood floors. The fuel in their hybrid cars continues to come from refined oil. The city remains as dependent on this elemental stuff—typically produced outside the suburbs and cities—as it always was. The two Palo Altoans at Starbucks might have forgotten that their overpriced homes included two-by-fours, circuit breakers, and four-inch sewer pipes, but somebody somewhere made those things and brought them into their world. In the twenty-first century, though, the exploitation of natural resources and the manufacturing of products are more easily outsourced than are the arts of finance, insurance, investments, higher education, entertainment, popular culture, and high technology, immaterial sectors typically pursued within metropolitan contexts and supercharged by the demands of increasingly affluent global consumers. A vast government sector, mostly urban, is likewise largely impervious to the leveling effects of a globalized economy, even as its exorbitant cost and extended regulatory reach make the outsourcing of material production more likely. Asian steel may have devastated Youngstown, but Chinese dumping had no immediate effect on the flourishing government enclaves in Washington, Maryland, and Virginia, filled with well-paid knowledge workers. Globalization, big government, and metastasizing regulations have enriched the American coasts, in other words, while damaging much of the nation's interior. Few major political leaders before Trump seemed to care. He hammered home the point that elites rarely experienced the negative consequences of their own ideologies. New York Times columnists celebrating a "flat" world have yet to find themselves flattened by Chinese writers willing to write for a fraction of their per-word rate. Tenured Harvard professors hymning praise to global progressive culture don't suddenly discover their positions drawn and quartered into four part-time lecturer positions. And senators and bureaucrats in Washington face no risk of having their roles usurped by low-wage Vietnamese politicians. Trump quickly discovered that millions of Americans were irate that the costs and benefits of our new economic reality were so unevenly distributed. As the nation became more urban and its wealth soared, the old Democratic commitment from the Roosevelt era to much of rural America—construction of water projects, rail, highways, land banks, and universities; deference to traditional values; and Grapes of Wrath–like empathy—has largely been forgotten. A confident, upbeat urban America promoted its ever more radical culture without worrying much about its effects on a mostly distant and silent small-town other. In 2008, gay marriage and women in combat were opposed, at least rhetorically, by both Barack Obama and Hillary Clinton in their respective presidential campaigns. By 2016, mere skepticism on these issues was viewed by urban elites as reactionary ignorance. In other words, it was bad enough that rural America was getting left behind economically; adding insult to injury, elite America (which is Democrat America) openly caricatured rural citizens' traditional views and tried to force its own values on them. Lena Dunham's loud sexual politics and Beyoncé's uncritical evocation of the Black Panthers resonated in blue cities and on the coasts, not in the heartland. Only in today's bifurcated America could billion-dollar sports conglomerates fail to sense that second-string San Francisco 49ers quarterback Colin Kaepernick's protests of the national anthem would turn off a sizable percentage of the National Football League's viewing audience, which is disproportionately conservative and middle American. These cultural themes, too, Trump addressed forcefully. In classical literature, patriotism and civic militarism were always closely linked with farming and country life. In the twenty-first century, this is still true. The incubator of the U.S. officer corps is red-state America. "Make America Great Again" reverberated in the pro-military countryside because it emphasized an exceptionalism at odds with the Left's embrace of global values. Residents in Indiana and Wisconsin were unimpressed with the Democrats' growing embrace of European-style "soft power," socialism, and statism—all the more so in an age of European constitutional, financial, and immigration sclerosis. Trump's slogan unabashedly expressed American individualism; Clinton's "Stronger Together" gave off a whiff of European socialist solidarity. Trump, the billionaire Manhattanite wheeler-dealer, made an unlikely agrarian, true; but he came across during his presidential run as a clear advocate of old-style material jobs, praising vocational training and clearly enjoying his encounters with middle-American homemakers, welders, and carpenters. Trump talked more on the campaign about those who built his hotels than those who financed them. He could point to the fact that he made stuff, unlike Clinton, who got rich without any obvious profession other than leveraging her office. Give the thrice-married, orange-tanned, and dyed-haired Trump credit for his political savvy in promising to restore to the dispossessed of the Rust Belt their old jobs and to give back to farmers their diverted irrigation water, and for assuring small towns that arriving new Americans henceforth would be legal—and that, over time, they would become similar to their hosts in language, custom, and behavior. Ironically, part of Trump's attraction for red-state America was his posture as a coastal-elite insider—but now enlisted on the side of the rustics. A guy who had built hotels all over the world, and understood how much money was made and lost through foreign investment, offered to put such expertise in the service of the heartland—against the supposed currency devaluers, trade cheats, and freeloaders of Europe, China, and Japan. Trump's appeal to the interior had partly to do with his politically incorrect forthrightness. Each time Trump supposedly blundered in attacking a sacred cow—sloppily deprecating national hero John McCain's wartime captivity or nastily attacking Fox superstar Megyn Kelly for her supposed unfairness—the coastal media wrote him off as a vulgar loser. Not Trump's base. Seventy-five percent of his supporters polled that his crude pronouncements didn't bother them. As one grape farmer told me after the Access Hollywood hot-mike recordings of Trump making sexually vulgar remarks had come to light, "Who cares? I'd take Trump on his worst day better than Hillary on her best." Apparently red-state America was so sick of empty word-mongering that it appreciated Trump's candor, even when it was sometimes inaccurate, crude, or cruel. Outside California and New York City and other elite blue areas, for example, foreigners who sneak into the country and reside here illegally are still "illegal aliens," not "undocumented migrants," a blue-state term that masks the truth of their actions. Trump's Queens accent and frequent use of superlatives—"tremendous," "fantastic," "awesome"—weren't viewed by red-state America as a sign of an impoverished vocabulary but proof that a few blunt words can capture reality. To the rural mind, verbal gymnastics reveal dishonest politicians, biased journalists, and conniving bureaucrats, who must hide what they really do and who they really are. Think of the arrogant condescension of Jonathan Gruber, one of the architects of the disastrous Obamacare law, who admitted that the bill was written deliberately in a "tortured way" to mislead the "stupid" American voter. To paraphrase Cicero on his preference for the direct Plato over the obscure Pythagoreans, rural Americans would have preferred to be wrong with the blunt-talking Trump than to be right with the mush-mouthed Hillary Clinton. One reason that Trump may have outperformed both McCain and Romney with minority voters was that they appreciated how much the way he spoke rankled condescending white urban liberals. Poorer, less cosmopolitan, rural people can also experience a sense of inferiority when they venture into the city, unlike smug urbanites visiting red-state America. The rural folk expect to be seen as deplorables, irredeemables, and clingers by city folk. My countryside neighbors do not wish to hear anything about Stanford University, where I work—except if by chance I note that Stanford people tend to be condescending and pompous, confirming my neighbors' suspicions about city dwellers. And just as the urban poor have always had their tribunes, so, too, have rural residents flocked to an Andrew Jackson or a William Jennings Bryan, politicians who enjoyed getting back at the urban classes for perceived slights. The more Trump drew the hatred of PBS, NPR, ABC, NBC, CBS, the elite press, the universities, the foundations, and Hollywood, the more he triumphed in red-state America. Indeed, one irony of the 2016 election is that identity politics became a lethal boomerang for progressives. After years of seeing America reduced to a binary universe, with culpable white Christian males encircled by ascendant noble minorities, gays, feminists, and atheists—usually led by courageous white-male progressive crusaders—red-state America decided that two could play the identity-politics game. In 2016, rural folk did silently in the voting booth what urban America had done to them so publicly in countless sitcoms, movies, and political campaigns. In sum, Donald Trump captured the twenty-first-century malaise of a rural America left behind by globalized coastal elites and largely ignored by the establishments of both political parties. Central to Trump's electoral success, too, were age-old rural habits and values that tend to make the interior broadly conservative. That a New York billionaire almost alone grasped how red-state America truly thought, talked, and acted, and adjusted his message and style accordingly, will remain one of the astonishing ironies of American political history. Victor Davis Hanson
French President Emmanuel Macron stood at the Arc de Triomphe last month and rebuked President Donald Trump's « America First » policy at a ceremony marking the 100th anniversary of the end of World War I. But three weeks later protesters stormed the monument in central Paris in a massive, violent riot that saw it defaced with slogans calling for Macron's resignation and leaving the statue of Marianne, the symbol of France's revolution, with its face smashed in. (…) Any working theory of international relations understands that nations and actors put their own interests first. Whereas Trump proudly trumpets « America First, » Macron essentially said he's more interested in signaling his country's moral values than advancing the interests of his citizenry. Today Macron's approval rating stands at about 23%, while Trump's is double that at about 46%. Macron has positioned himself as the enemy of nationalist leaders rising around Europe, but leaders like Hungary's anti-refugee Viktor Orban and Italy's Matteo Salvini remain more popular than him in their respective countries. While Trump has often clashed with European leaders over his unilateral decisions to withdraw from the Paris agreement on climate change or the Iran nuclear deal in the name of American interests, Europe's unity and leadership has weakened terribly. Macron's chief ally, German Chancellor Angela Merkel, also lost recent elections and has announced plans to step down when her term ends in 2021. (…) In a speech to Europe's leadership in Brussels, US Secretary of State Mike Pompeo blasted multinational, multilateral institutions like the United Nations and the European Union as ineffective, failing to address the concerns of the people. Pompeo called on « noble nations » around the world to put their interests first and « reform or eliminate » multinational bodies that don't work as intended. Pompeo pointed to China and Russia disregarding treaties and asserting their national wills as evidence that undemocratic countries were reaping the benefits of the liberal world order, while Europe failed to act. On Twitter, Trump teased Macron as having only now come around to the realization that imposing costs on workers to pay for a grand vision of global change had proved untenable. While champions of morality in politics may have celebrated Macron's rebuke of Trump's « America First » policies, which are often seen as inhumane and turning away from the US's much-publicized values of compassion and openness, the massive mobilization of the Yellow Vests and the downfall of liberal leaders across Europe may give Trump the last laugh. Business insider
Bien sûr que ça nous excite beaucoup de mettre le feu, on fait surtout ça pour l'ambiance. En fait on a vu les «gilets jaunes» à la télé et maintenant on veut faire comme eux. Lycéen de Drancy
L'accord de Paris est fondamentalement mauvais car il provoque une hausse des prix de l'énergie pour les pays responsables, tout en donnant un blanc-seing à certains des pires pollueurs au monde. Donald Trump
Je suis heureux que mon ami Emmanuel Macron et les manifestants à Paris soient tombés d'accord sur la conclusion à laquelle j'avais abouti il y a deux ans. Donald Trump
Une très triste journée et nuit à Paris. Peut-être est-il temps d'arrêter le ridicule et très coûteux accord de Paris et de rendre l'argent aux gens par le biais de baisses d'impôts ? Les États-Unis sont bien en avance sur ce point, il s'agit du seul pays dans lequel les émissions ont été réduites l'an dernier. Donald Trump
J'ai du mal à décrire le choc que j'ai ressenti quand j'ai vu apparaitre les premières images des gilets jaunes. Je voyais sur les photos qui accompagnaient les articles des corps qui n'apparaissent presque jamais dans l'espace public et médiatique, des corps souffrants, ravagés par le travail, par la fatigue, par la faim, par l'humiliation permanente des dominants à l'égard des dominés, par l'exclusion sociale et géographique, je voyais des corps fatigués, des mains fatiguées, des dos broyés, des regards épuisés. La raison de mon bouleversement, c'était bien sûr ma détestation de la violence du monde social et des inégalités, mais aussi, et peut-être avant tout, parce que ces corps que je voyais sur les photos ressemblaient aux corps de mon père, de mon frère, de ma tante… Ils ressemblaient aux corps de ma famille, des habitants du village où j'ai vécu pendant mon enfance, de ces gens à la santé dévastée par la misère et la pauvreté, et qui justement répétaient toujours, tous les jours de mon enfance « nous on ne compte pour personne, personne ne parle de nous » – d'où le fait que je me sentais personnellement visé par le mépris et la violence de la bourgeoisie qui se sont immédiatement abattus sur ce mouvement. Parce que, en moi, pour moi, chaque personne qui insultait un gilet jaune insultait mon père. Tout de suite, dès la naissance de ce mouvement, nous avons vu dans les médias des « experts » et des « politiques » diminuer, condamner, se moquer des gilets jaunes et de la révolte qu'ils incarnent. Je voyais défiler sur les réseaux sociaux les mots « barbares », « abrutis », « ploucs », « irresponsables ». Les médias parlaient de la « grogne » des gilets jaunes : les classes populaires ne se révoltent pas, non, elles grognent, comme des bêtes. J'entendais parler de la « violence de ce mouvement » quand une voiture était brulée ou une vitrine cassée, une statue dégradée. Phénomène habituel de perception différentielle de la violence : une grande partie du monde politique et médiatique voudrait nous faire croire que la violence, ce n'est pas les milliers de vie détruites et réduites à la misère par la politique, mais quelques voitures brûlées. Il faut vraiment n'avoir jamais connu la misère pour pouvoir penser qu'un tag sur un monument historique est plus grave que l'impossibilité de se soigner, de vivre, de se nourrir ou de nourrir sa famille. Les gilets jaunes parlent de faim, de précarité, de vie et de mort. Les « politiques » et une partie des journalistes répondent : « des symboles de notre République ont été dégradés ». Mais de quoi parlent ces gens ? Comment osent ils ? D'où viennent ils ? Les médias parlent aussi du racisme et de l'homophobie chez les gilets jaunes. De qui se moquent-ils ? Je ne veux pas parler de mes livres, mais il est intéressant de noter que chaque fois que j'ai publié un roman, j'ai été accusé de stigmatiser la France pauvre et rurale justement parce que j'évoquais l'homophobie et le racisme présents dans le village de mon enfance. Des journalistes qui n'avaient jamais rien fait pour les classes populaires s'indignaient et se mettaient tout à coup à jouer les défenseurs des classes populaires. Pour les dominants, les classes populaires représentent la classe-objet par excellence, pour reprendre l'expression de Pierre Bourdieu ; objet manipulable du discours : de bons pauvres authentiques un jour, des racistes et des homophobes le lendemain. Dans les deux cas, la volonté sous-jacente est la même : empêcher l'émergence d'une parole des classes populaires, sur les classes populaires. Tant pis s'il faut se contredire du jour au lendemain, pourvu qu'ils se taisent. (…) Ce mouvement doit continuer, parce qu'il incarne quelque chose de juste, d'urgent, de profondément radical, parce que des visages et des voix qui sont d'habitude astreints à l'invisibilité sont enfin visibles et audibles. Le combat ne sera pas facile : on le voit, les gilets jaunes représentent une sorte de test de Rorschach sur une grande partie de la bourgeoisie ; ils les obligent à exprimer leur mépris de classe et leur violence que d'habitude ils n'expriment que de manière détournée, ce mépris qui a détruit tellement de vies autour de moi, qui continue d'en détruire, et de plus en plus, ce mépris qui réduit au silence et qui me paralyse au point de ne pas réussir à écrire le texte que je voudrais écrire, à exprimer ce que je voudrais exprimer. Edouard Louis
Many come from the provinces, where President Emmanuel Macron's gas tax would hit hardest. But their ranks also include growing numbers of violent activists from both political extremes — think antifa side-by-side with Charlottesville white supremacists. (…) Call them les déplorables. (…) The disintegration of Macron, once the president the world supposedly envied, is perhaps the most amazing part of this current flyover-France revolt. He ticked all the boxes. He wanted more integration in the European Union. He'd fight populists at home and abroad. He'd put France back to work after three decades of 10 percent unemployment. He'd welcome more refugees. He'd save the planet! Macron lectured President Trump, in good English, before Congress last spring. Save the Iran deal, he enjoined, and the Paris accord on climate. Concrete results? There were none, but the speech was broadcast live on all French news channels. More recently, Macron pledged to sign an open-borders UN pact on world migration, which the US, Australia, Israel and a handful of European nations reject. He said France's cherished secularist 1905 laws should be revised, largely to help the country's newest religion, Islam, integrate within French society. Worst of all: Members of his party have indicated that Macron is willing to give up France's UN Security Council seat to the European Union. None of these decisions please anyone in the country, save the clone-like Macronista hipsters in Paris and a few large cities. They are men and women in their 30s and 40s — affluent, well-educated, in competitive jobs, able to afford the crazy rents in places like Paris, Bordeaux or Lyon. Safe in gentrified neighborhoods, they welcome "diversity" and see themselves as morally superior. They welcomed a president in their own image, especially as he faced the National Front's Marine Le Pen, the perfect foil, in last year's election. (…) The gilets jaunes are a grassroots movement, born in hundreds of provincial small towns and villages across the country. They are farmers, small businessmen, truck drivers, waiters, nurses — or jobless. They have no official spokespersons. It was on Facebook that they resolved to adopt as their symbol the yellow, high-visibility jackets that the French are required to keep in their cars in case of accidents. For years, they have seen their livelihoods threatened — by plant closures, inflation, the disappearance of public services like small train lines, hospitals, schools and local post offices. They need their cars, however old and beat-up, to drive their kids to school, to shop, to find and hold a job. Their lives are fenced in by an ever-growing skein of nanny-state regulations. Before the fuel tax, there was the unpopular rollback of the speed limit on France's roads to 80 kilometers (49 miles) per hour from 90 (56). The same week, bureaucrats added dozens of new requirements for vehicles, forcing many cars off the road. Macron's government offered drivers a $4,500 bonus to buy electric cars: a Marie-Antoinette moment seen as an insult by les déplorables. Anne-Elisabeth Moutet (French political writer and columnist for the London Telegraph)
Notre situation est parfaitement paradoxale. Jamais les ennemis de l'Union européenne n'ont eu à ce point le sentiment de toucher au but, de presque en voir la fin, et cependant jamais, je le crois, les peuples d'Europe n'ont été plus sérieusement, plus gravement attachés à l'Union. Quel malentendu! Voilà bien l'un des plus fâcheux résultats de notre incapacité à discuter, de notre nouvelle inclination pour la simplification à outrance des points de vue. L'hypothèse d'un repli nationaliste procède d'une erreur d'interprétation. Il n'y a pas de demande de repli nationaliste, mais une demande de protection, de régulation politique, de contrôle du cours des choses. C'est une demande de puissance publique qui ne heurte pas l'idée européenne. C'est en refusant de répondre à cette demande éminemment légitime et recevable que l'Union finira par conduire les Européens à revenir, la mort dans l'âme, au dogme nationaliste. (…) Trump marque le retour d'une figure classique mais oubliée chez nous, celle de l'homme d'État qui n'a d'intérêt que pour son pays. Il assume une politique de puissance. (…) [ souligner le clivage avec l'Europe de l'Est] C'est un risque politique, sur le plan national comme sur le plan européen. (…) La double défaite signifierait a posteriori l'imprudence du pari et pèserait sur les deux niveaux, européen et national en affaiblissant dangereusement le président. (…) Du côté des gouvernements, cessons de surjouer l'opposition frontale. (…) nous devons accepter cet attachement viscéral des Européens à leur patrimoine immatériel, leur manière de vivre, leur souveraineté, parfois si récente ou retrouvée depuis si peu et si chèrement payée. Dominique Reynié
La société ouverte (…), c'est la grande fake news de la mondialisation. Quand on regarde les choses de près, les gens qui vendent le plus la société ouverte sont ceux qui vivent dans le plus grand grégarisme social, ceux qui contournent le plus la carte scolaire, ceux qui vivent dans l'entre-soi et qui font des choix résidentiels qui leur permettent à la fin de tenir le discours de la société ouverte puisque de toute façon, ils ont, eux, les moyens de la frontière invisible. Et précisément, ce qui est à l'inverse la situation des catégories modestes, c'est qu'elles n'ont pas les moyens de la frontière invisible. Ca n'en fait pas des xénophobes ou des gens qui sont absolument contre l'autre. Ca fait simplement des gens qui veulent qu'un Etat régule. Christophe Guilluy
Que nous dit Christophe Guilluy ? Que la scission est aujourd'hui consommée entre une élite déconnectée et une classe populaire précarisée. Et que la classe moyenne, qu'il définit comme « une classe majoritaire dans laquelle tout le monde était intégré, de l'ouvrier au cadre », est un champ de ruines. Ce dernier point est affirmé, répété, martelé, « implosion d'un modèle qui n'intègre plus les classes populaires, qui constituaient, hier, le socle de la classe moyenne occidentale et en portait les valeurs ». Dès lors, les groupes sociaux en présence « ne font plus société ». C'est là le sens du titre, « No Society », reprise qui n'a rien d'innocente d'un aphorisme de feu la Première ministre britannique Margaret Thatcher – déjà responsable du célèbre Tina, « There is no alternative » –, dont la politique néolibérale agressive, véritable plan de casse sociale dans les années 1980, définit toujours le modèle outre-Manche. Guilluy se fait lanceur d'alerte. Il constate, à l'instar de l'économiste Thomas Piketty, dont il cite les travaux à plusieurs reprises, le fossé toujours plus large qui sépare les catégories les plus aisées, des classes défavorisées. Une situation qui induit une nouvelle géographie sociale et politique. Et explique, selon lui, l'insécurité culturelle s'ajoutant à l'insécurité sociale, la vague populiste qui balaie la France, la Grande-Bretagne, l'Italie, l'Allemagne, les États-Unis et aujourd'hui le Brésil. Pour l'auteur, comme pour d'autres analystes, l'élection de Trump n'est pas un accident, mais l'aboutissement d'un processus que les élites, drapées dans « un mépris de classe », auraient voulu renvoyer aux marges. Ce qui fâche politiques, chefs d'entreprise et médias ? Cette propension à mettre tout le monde dans le même sac, tous complices de défendre, « au nom du bien commun », une idéologie néolibérale jugée destructrice. Et de masquer les vrais problèmes à l'aide d'éléments de langage. Guilluy conspue les 0,1 %, ces superpuissances économiques, tentées par l'anarcho-capitalisme, qui siphonnent les richesses mondiales. Tout comme il rejette la métropolisation des territoires, encouragée par l'Europe, qui tend à concentrer les créations d'emplois dans les zones urbaines, alors même que les classes populaires en sont rejetées par le coût du logement et une fiscalité dissuasive. Effondrement du modèle intégrateur, ascenseur social en berne… Cette France à qui on demande de traverser la rue attend vainement, selon lui, que le feu repasse au vert pour elle. Guilluy la crédite cependant d'un « soft power », capacité, amplifiée par les réseaux sociaux, à remettre sur la table les sujets qui fâchent, ceux-là mêmes que les élites aimeraient conserver sous le tapis. Une donnée que les tribuns populistes, de droite comme de gauche, ont bien intégrée, s'en faisant complaisamment chambre d'écho. Sud Ouest
La jeune génération n'est pas encouragée à aimer notre héritage. On leur lave le cerveau en leur faisant honte de leur pays. (…) Nous, Français, devons nous battre pour notre indépendance. Nous ne pouvons plus choisir notre politique économique ou notre politique d'immigration et même notre diplomatie. Notre liberté est entre les mains de l'Union européenne. (…) Notre liberté est maintenant entre les mains de cette institution qui est en train de tuer des nations millénaires. Je vis dans un pays où 80%, vous m'avez bien entendu, 80% des lois sont imposées par l'Union européenne. Après 40 ans d'immigration massive, de lobbyisme islamique et de politiquement correct, la France est en train de passer de fille aînée de l'Eglise à petite nièce de l'islam. On entend maintenant dans le débat public qu'on a le droit de commander un enfant sur catalogue, qu'on a le droit de louer le ventre d'une femme, qu'on a le droit de priver un enfant d'une mère ou d'un père. (…) Aujourd'hui, même les enfants sont devenus des marchandises (…) Un enfant n'est pas un droit (…) Nous ne voulons pas de ce monde atomisé, individualiste, sans sexe, sans père, sans mère et sans nation. (…) Nous devons faire connaitre nos idées aux médias et notre culture, pour stopper la domination des libéraux et des socialistes. C'est la raison pour laquelle j'ai lancé une école de sciences politiques. (…) Nous devons faire connaitre nos idées aux médias et notre culture, pour stopper la domination des libéraux et des socialistes. C'est la raison pour laquelle j'ai lancé une école de sciences politiques. (…) La Tradition n'est pas la vénération des cendres, elle est la passation du feu. (…)Je ne suis pas offensée lorsque j'entends le président Donald Trump dire 'l'Amérique d'abord'. En fait, je veux l'Amérique d'abord pour le peuple américain, je veux la Grande-Bretagne d'abord pour le peuple britannique et je veux la France d'abord pour le peuple français. Comme vous, nous voulons reprendre le contrôle de notre pays. Vous avez été l'étincelle, il nous appartient désormais de nourrir la flamme conservatrice. Marion Maréchal-Le Pen
Epigones d'un grand mouvement mondial, les gilets jaunes pourraient être à la fois les électeurs de Donald Trump, de Matteo Salvini, de Vladimir Poutine, du Brésilien Bolsonaro, des Espagnols de Podemos. Idéologiquement, c'est la Fête à Neuneu, avec pour marqueurs le nationalisme, le dégagisme « antisystème », des pulsions d'extrême droite, d'extrême gauche, d'extrême centre. Etait-il bien malin d'opposer à cette colère une espèce de mépris de classe comme le fait M. Macron, avant son heureux revirement de mardi dernier ? En caricaturant à peine, le message du président aux Français en jaune aura été jusque-là qu'il savait où il les menait et qu'ils n'avaient qu'à le suivre les yeux fermés, la bouche close : ces péquenauds n'étaient pas assez malins pour comprendre. Apparemment, il ignorait encore que le centralisme et le dédain sont les deux mamelles des révolutions françaises. Maintenant, il en a une, encore petite, sur le dos. Par pitié, qu'il ne la sous-estime pas ! M. Macron a-t-il été frappé du syndrome Marie-Antoinette, cette grande reine qui vécut hors sol avant une fin sublime et sulpicienne, jusque sur l'échafaud ? Sans doute a-t-il d'abord joué le pourrissement, la confiscation des manifestations par les casseurs. En attendant, hallucinante aura été l'incapacité du président et des siens à saisir ce qui se passait dans les têtes des gilets jaunes, incarnations du mal de vivre de ceux qu'on appelle les « gens ordinaires » et qui ont peur pour leur avenir, leurs valeurs, leur mode de vie. Supermodernes contre ploucs arriérés, « bobos bio » contre « beaufs pollueurs ». Les ministres de M. Macron voudraient creuser davantage la fracture entre la France des grandes métropoles et celle des bourgs de province qu'ils ne s'y prendraient pas autrement, tant ils ont eu l'insulte lourde au cours des derniers jours. M. Castaner est obsédé par l'ultradroite ou le lepénisme alors que, parmi les casseurs, l'ultragauche était en force et que dans les cortèges défilaient les chefs de La France insoumise ; M. Darmanin ose sans vergogne l'expression « peste brune » ; M. Griveaux se gausse de Laurent Wauquiez, candidat « des gars qui roulent au diesel ». Les farceurs ! Quant à M. Macron, il plaisante quand il renvoie les Français à l'écologie, qui n'a pas grand-chose à voir dans cette affaire : les taxes sur le carburant servent moins à la transition énergétique qu'au renflouement du budget de l'Etat ! La vague des gilets jaunes n'est pas le résultat inopiné des hausses de taxes sur les carburants. Elle monte depuis des années, annoncée par des lanceurs d'alerte dont les moindres ne sont pas le philosophe anarcho-conservateur Jean-Claude Michéa et un géographe qui, comme lui, est la bête noire des bien-pensants : Christophe Guilluy. Tous les deux viennent de la gauche et nous donnent les moyens de comprendre la révolution en cours, sur fond de frustrations, de ressentiment. Talentueux et jubilatoire, Jean-Claude Michéa dézingue à tout-va, adore citer Marx, reproche à la gauche de n'être plus la gauche et déconstruit avec la même alacrité le libéralisme que le socialisme réformé, coupable à ses yeux d'avoir abandonné les classes populaires, qui, aujourd'hui, sont à prendre. Dans un livre paru l'an dernier, « Notre ennemi, le capital », il prophétisait : « La fin des jours tranquilles a déjà commencé. » Il a récidivé cette année avec « Le loup dans la bergerie ». Visionnaire rigoureux, Christophe Guilluy observe de livre en livre les fractures qui se creusent dans la société française. Il y a cinq ans, alors que les médias étaient obnubilés par les banlieues, il prédisait l'irruption d'une révolte à l'écart des métropoles, dans ce qu'il appelle « la France périphérique », expression qui, bien sûr, recouvre des réalités différentes. Son dernier livre, « No society », titre qui reprend la célèbre formule de Margaret Thatcher, se termine comme une spéciale dédicace à M. Macron : « Sans repère culturel ou politique, sans attache territoriale, le monde d'en haut est dans l'impasse, perdu (…). Au XXIe siècle, les classes dominantes et supérieures occidentales doivent enfin apprendre à vivre ensemble avec leur peuple. Il en va de la survie des sociétés occidentales ; il en va de leur propre existence. » Franz-Olivier Giesbert
Last February the Conservative Political Action Conference (CPAC) held its convention in Washington, D.C. This annual gathering is a kind of right-wing Davos where insiders and wannabes come to see what's new. The opening speaker, not so new, was Vice President Mike Pence. The next speaker, very new, was a stylish Frenchwoman still in her twenties named Marion Maréchal-Le Pen. Marion, as she is widely called in France, is a granddaughter of Jean-Marie Le Pen, the founder of the far-right National Front party, and a niece of Marine Le Pen, its current president. (…) In 2012, at the age of twenty-two, she entered Parliament as the youngest deputy since the French Revolution. But she decided not to run for reelection in 2017, on the pretext that she wanted to spend more time with her family. Instead she's been making big plans. Her performance at CPAC was unusual, and one wonders what the early morning audience made of her. Unlike her hotheaded grandfather and aunt, Marion is always calm and collected, sounds sincere, and is intellectually inclined. In a slight, charming French accent she began by contrasting the independence of the United States with France's "subjection" to the EU, as a member of which, she claimed, it is unable to set its own economic and foreign policy or to defend its borders against illegal immigration and the presence of an Islamic "counter-society" on its territory. But then she set out in a surprising direction. Before a Republican audience of private property absolutists and gun rights fanatics she attacked the principle of individualism, proclaiming that the "reign of egoism" was at the bottom of all our social ills. As an example she pointed to a global economy that turns foreign workers into slaves and throws domestic workers out of jobs. She then closed by extolling the virtues of tradition, invoking a maxim often attributed to Gustav Mahler: "Tradition is not the cult of ashes, it is the transmission of fire." Needless to say, this was the only reference by a CPAC speaker to a nineteenth-century German composer. Something new is happening on the European right, and it involves more than xenophobic populist outbursts. Ideas are being developed, and transnational networks for disseminating them are being established. Journalists have treated as a mere vanity project Steve Bannon's efforts to bring European populist parties and thinkers together under the umbrella of what he calls The Movement. But his instincts, as in American politics, are in tune with the times. (Indeed, one month after Marion's appearance at CPAC, Bannon addressed the annual convention of the National Front.) In countries as diverse as France, Poland, Hungary, Austria, Germany, and Italy, efforts are underway to develop a coherent ideology that would mobilize Europeans angry about immigration, economic dislocation, the European Union, and social liberalization, and then use that ideology to govern. Now is the time to start paying attention to the ideas of what seems to be an evolving right-wing Popular Front. France is a good place to start. The French left, attached to republican secularism, has never had much feel for Catholic life and is often caught unawares when a line has been crossed. In early 1984 the government of François Mitterrand proposed a law that would have brought Catholic schools under greater government control and pressured their teachers to become public employees. That June nearly a million Catholics marched in Paris in protest, and many more throughout the country. Mitterrand's prime minister, Pierre Mauroy, was forced to resign, and the proposal was withdrawn. It was an important moment for lay Catholics, who discovered that despite the official secularism of the French state they remained a cultural force, and sometimes could be a political one. (…) during his campaign for the French presidency in 2012 the Socialist candidate François Hollande promised to legalize same-sex marriage and open up adoption and additional rights to gay and lesbian couples. Mariage Pour Tous—marriage for everyone—was the slogan. Once in office Hollande moved to fulfill his campaign promise, but he repeated Mitterrand's mistake by failing to anticipate the strong right-wing reaction against it. Shortly after his inauguration, a network of laypeople drawn heavily from Catholic Pentecostal prayer groups began to form. They called themselves La Manif Pour Tous—the Demonstration for Everyone. By January 2013, just before Parliament approved gay marriage, La Manif was able to draw over 300,000 people to a demonstration opposing it in Paris, stunning the government and the media. What especially surprised them was the ludic atmosphere of the protest, which was more like a gay pride parade than a pilgrimage to Compostela. There were lots of young people marching, but rather than rainbow banners they waved pink and blue ones representing boys and girls. Slogans on the placards had a May '68 lilt: François resist, prove you exist. To top it off, the spokeswoman for La Manif was a flamboyantly dressed comedienne and performance artist who goes by the name Frigide Barjot and played in a band called the Dead Pompidous. Where did these people come from? After all, France is no longer a Catholic country, or so we're told. While it's true that fewer and fewer French people baptize their children and attend mass, nearly two thirds still identify as Catholic, and roughly 40 percent of those declare themselves to be "practicing," whatever that means. More importantly, as a Pew study found last year, those French who do identify as Catholic—especially those who attend Mass regularly—are significantly more right-wing in their political views than those who do not. This is consistent with trends in Eastern Europe, where Pew found that Orthodox Christian self-identification has actually been rising, along with nationalism, confounding post-1989 expectations. That may indicate that the relationship between religious and political identification is reversing in Europe—that it is no longer religious affiliation that helps determine one's political views, but one's political views that help determine whether one self-identifies as religious. The prerequisites for a European Christian nationalist movement may be falling into place, as Hungarian president Viktor Orbán has long been predicting. Whatever motivated the many thousands of Catholics who participated in the original Manif and similar demonstrations across France, it soon bore political fruit. Some of its leaders quickly formed a political action group called Sens Commun, which, though small, nearly helped to elect a president in 2017. Its preferred candidate was François Fillon, a straitlaced former prime minister and practicing conservative Catholic who vocally supported La Manif and had close ties to Sens Commun. He was explicit about his religious views during the primary of his party, the Republicans, at the end of 2016—opposing marriage, adoption, and surrogacy for gay and lesbian couples—and surprised everyone by winning. Fillon came out of the primary with very high poll numbers, and given the Socialists' deep unpopularity after the Hollande years and the inability of the National Front to gain the support of more than one third of the French electorate, many considered him the front-runner. But just as Fillon began his national campaign, Le Canard enchaîné, a newspaper that mixes satire with investigative journalism, revealed that his wife had received over half a million euros for no-show jobs over the years, and that he had accepted a number of favors from businessmen, including—Paul Manafort–style—suits costing tens of thousands of euros. For a man running on the slogan "the courage of truth," it was a disaster. He was indicted, staff abandoned him, but he refused to drop out of the race. This provided an opening for the eventual victor, the centrist Emmanuel Macron. But we should bear in mind that despite the scandal, Fillon won 20 percent of the first-round votes, compared to Macron's 24 and Marine Le Pen's 21 percent. Had he not imploded, there is a good chance that he would be president and we would be telling ourselves very different stories about what's really going on in Europe today. The Catholic right's campaign against same-sex marriage was doomed to fail, and it did. A large majority of the French support same-sex marriage, although only about seven thousand couples avail themselves of it each year. Yet there are reasons to think that the experience of La Manif could affect French politics for some time to come. The first reason is that it revealed an unoccupied ideological space between the mainstream Republicans and the National Front. Journalists tend to present an overly simple picture of populism in contemporary European politics. They imagine there is a clear line separating legacy conservative parties like the Republicans, which have made their peace with the neoliberal European order, from xenophobic populist ones like the National Front, which would bring down the EU, destroy liberal institutions, and drive out as many immigrants and especially Muslims as possible. These journalists have had trouble imagining that there might be a third force on the right that is not represented by either the establishment parties or the xenophobic populists. This narrowness of vision has made it difficult for even seasoned observers to understand the supporters of La Manif, who mobilized around what Americans call social issues and feel they have no real political home today. The Republicans have no governing ideology apart from globalist economics and worship of the state, and in keeping with their Gaullist secular heritage have traditionally treated moral and religious issues as strictly personal, at least until Fillon's anomalous candidacy. The National Front is nearly as secular and even less ideologically coherent, having served more as a refuge for history's detritus—Vichy collaborators, resentful pieds noirs driven out of Algeria, Joan of Arc romantics, Jew- and Muslim-haters, skinheads—than as a party with a positive program for France's future. A mayor once close to it now aptly calls it the "Dien Bien Phu right." The other reason La Manif might continue to matter is that it proved to be a consciousness-raising experience for a group of sharp young intellectuals, mainly Catholic conservatives, who see themselves as the avant-garde of this third force. In the last five years they have become a media presence, writing in newspapers like Le Figaro and newsweeklies like Le Point and Valeurs actuelles (Contemporary Values), founding new magazines and websites (Limite, L'Incorrect), publishing books, and making regular television appearances. People are paying attention, and a sound, impartial book on them has just appeared. Whether anything politically significant will come out of this activity is difficult to know, given that intellectual fashions in France change about as quickly as the plat du jour. This past summer I spent some time reading and meeting these young writers in Paris and discovered more of an ecosystem than a cohesive, disciplined movement. Still, it was striking how serious they are and how they differ from American conservatives. They share two convictions: that a robust conservatism is the only coherent alternative to what they call the neoliberal cosmopolitanism of our time, and that resources for such a conservatism can be found on both sides of the traditional left–right divide. More surprising still, they are all fans of Bernie Sanders. The intellectual ecumenism of these writers is apparent in their articles, which come peppered with references to George Orwell, the mystical writer-activist Simone Weil, the nineteenth-century anarchist Pierre-Joseph Proudhon, Martin Heidegger and Hannah Arendt, the young Marx, the ex-Marxist Catholic philosopher Alasdair Macintyre, and especially the politically leftist, culturally conservative American historian Christopher Lasch, whose bons mots—"uprootedness uproots everything except the need for roots"—get repeated like mantras. They predictably reject the European Union, same-sex marriage, and mass immigration. But they also reject unregulated global financial markets, neoliberal austerity, genetic modification, consumerism, and AGFAM (Apple-Google-Facebook-Amazon-Microsoft). That mélange may sound odd to our ears, but it is far more consistent than the positions of contemporary American conservatives. Continental conservatism going back to the nineteenth century has always rested on an organic conception of society. It sees Europe as a single Christian civilization composed of different nations with distinct languages and customs. These nations are composed of families, which are organisms, too, with differing but complementary roles and duties for mothers, fathers, and children. On this view, the fundamental task of society is to transmit knowledge, morality, and culture to future generations, perpetuating the life of the civilizational organism. It is not to serve an agglomeration of autonomous individuals bearing rights. Most of these young French conservatives' arguments presume this organic conception. Why do they consider the European Union a danger? Because it rejects the cultural-religious foundation of Europe and tries to found it instead on the economic self-interest of individuals. To make matters worse, they suggest, the EU has encouraged the immigration of people from a different and incompatible civilization (Islam), stretching old bonds even further. Then, rather than fostering self-determination and a healthy diversity among nations, the EU has been conducting a slow coup d'état in the name of economic efficiency and homogenization, centralizing power in Brussels. Finally, in putting pressure on countries to conform to onerous fiscal policies that only benefit the rich, the EU has prevented them from taking care of their most vulnerable citizens and maintaining social solidarity. Now, in their view, the family must fend for itself in an economic world without borders, in a culture that willfully ignores its needs. Unlike their American counterparts, who celebrate the economic forces that most put "the family" they idealize under strain, the young French conservatives apply their organic vision to the economy as well, arguing that it must be subordinate to social needs. Most surprising for an American reader is the strong environmentalism of these young writers, who entertain the notion that conservatives should, well, conserve. Their best journal is the colorful, well-designed quarterly Limite, which is subtitled "a review of integral ecology" and publishes criticism of neoliberal economics and environmental degradation as severe as anything one finds on the American left. (No climate denial here.) Some writers are no-growth advocates; others are reading Proudhon and pushing for a decentralized economy of local collectives. Others still have left the city and write about their experiences running organic farms, while denouncing agribusiness, genetically modified crops, and suburbanization along the way. They all seem inspired by Pope Francis's encyclical Laudato si' (2015), a comprehensive statement of Catholic social teaching on the environment and economic justice. Coming out of La Manif, these young conservatives' views on family and sexuality are traditionalist Catholic. But the arguments they make for them are strictly secular. In making the case for a return to older norms they point to real problems: dropping rates of family formation, delayed child-bearing, rising rates of single parenthood, adolescents steeped in porn and confused about their sexuality, and harried parents and children eating separately while checking their phones. All this, they argue, is the result of our radical individualism, which blinds us to the social need for strong, stable families. (…) A number of young women have been promoting what they call an "alter-feminism" that rejects what they see as the "career fetishism" of contemporary feminism, which unwittingly reinforces the capitalist ideology that slaving for a boss is freedom. They are in no way arguing that women should stay home if they don't want to; rather they think women need a more realistic image of themselves than contemporary capitalism and feminism give them. Marianne Durano, in her recent book Mon corps ne vous appartient pas (My Body Does Not Belong to You), puts it this way: We are the victims of a worldview in which we are supposed to live it up until the age of 25, then work like fiends from 25 to 40 (the age when you're at the bottom of the professional scrap heap), avoid commitments and having children before 30. All of this goes completely against the rhythm of women's lives. Eugénie Bastié, another alter-feminist, takes on Simone de Beauvoir in her book Adieu mademoiselle. She praises the first-wave feminist struggle for achieving equal legal rights for women, but criticizes Beauvoir and subsequent French feminists for "disembodying" women, treating them as thinking and desiring creatures but not as reproducing ones who, by and large, eventually want husbands and families. Whatever one thinks of these conservative ideas about society and the economy, they form a coherent worldview. The same cannot really be said about the establishment left and right in Europe today. The left opposes the uncontrolled fluidity of the global economy and wants to rein it in on behalf of workers, while it celebrates immigration, multiculturalism, and fluid gender roles that large numbers of workers reject. The establishment right reverses those positions, denouncing the free circulation of people for destabilizing society, while promoting the free circulation of capital, which does exactly that. These French conservatives criticize uncontrolled fluidity in both its neoliberal and cosmopolitan forms. But what exactly do they propose instead? Like Marxists in the past who were vague about what communism would actually entail, they seem less concerned with defining the order they have in mind than with working to establish it. Though they are only a small group with no popular following, they are already asking themselves grand strategic questions. (The point of little magazines is to think big in them.) Could one restore organic connections between individuals and families, families and nations, nations and civilization? If so, how? Through direct political action? By seeking political power directly? Or by finding a way to slowly transform Western culture from within, as a prelude to establishing a new politics? Most of these writers think they need to change minds first. That is why they can't seem to get through an article, or even a meal, without mentioning Antonio Gramsci. (…) Two styles of conservative engagement seem to be developing. If you read a magazine like Limite, you get the impression that conservative counter-hegemony would involve leaving the city for a small town or village, getting involved in local schools, parishes, and environmental associations, and especially raising children with conservative values—in other words, becoming an example of an alternative way of living. This ecological conservativism appears open, generous, and rooted in everyday life, as well as in traditional Catholic social teachings. But if you read publications like the daily Figaro, Valeurs actuelles, and especially the confrontational L'Incorrect, you get another impression altogether. There the conservatism is aggressive, dismissive of contemporary culture, and focused on waging a Kulturkampf against the 1968 generation, a particular obsession. As Jacques de Guillebon, the thirty-nine-year-old editor of L'Incorrect, put it in his magazine, "The legitimate heirs of '68…will end collapsing into the latrines of post-cisgender, transracial, blue-haired boredom…. The end is near." To bring it about, another writer suggested, "we need a right with a real project that is revolutionary, identitarian, and reactionary, capable of attracting the working and middle classes." This group, though not overtly racist, is deeply suspicious of Islam, which the Limite writers never mention. Not just of radical Islamism, or Muslim men's treatment of women, or the refusal of some Muslim students to study evolution—all genuine issues—but even of moderate, assimilated Islam. All this grand talk of an open culture war would hardly be worth taking seriously except for the fact that the combative wing of this group now has the ear of Marion Maréchal. Marion used to be difficult to place ideologically. She was more socially conservative than the National Front leadership but more neoliberal in economics. That's changed. In her speech at CPAC she spoke in culture war terms, giving La Manif as an example of the readiness of young French conservatives to "take back their country." And she described their aims in the language of social organicism (…) Then she surprised everyone in France by announcing to an American audience that she was starting a private graduate school to do just that. Three months later her Institute of Social, Economic, and Political Sciences (ISSEP) opened in Lyon, with the aim, Marion said, of displacing the culture that dominates our "nomadic, globalized, deracinated liberal system." It is basically a business school but will supposedly offer great books courses in philosophy, literature, history, and rhetoric, as well as practical ones on management and "political and cultural combat." The person responsible for establishing the curriculum is Jacques de Guillebon. Not many of the French writers and journalists I know are taking these intellectual developments very seriously. They prefer to cast the young conservatives and their magazines as witting and unwitting soldiers in Marine Le Pen's campaign to "de-demonize" the National Front, rather than as a potential third force. I think they are wrong not to pay attention, much as they were wrong not to take the free-market ideology of Reagan and Thatcher seriously back in the 1980s. The left has an old, bad habit of underestimating its adversaries and explaining away their ideas as mere camouflage for despicable attitudes and passions. Such attitudes and passions may be there, but ideas have an autonomous power to shape and channel, to moderate or inflame them. And these conservative ideas could have repercussions beyond France's borders. One possibility is that a renewed, more classical organic conservatism could serve as a moderating force in European democracies currently under stress. There are many who feel buffeted by the forces of the global economy, frustrated by the inability of governments to control the flow of illegal immigration, resentful of EU rules, and uncomfortable with rapidly changing moral codes regarding matters like sexuality. Until now these concerns have only been addressed, and then exploited, by far-right populist demagogues. If there is a part of the electorate that simply dreams of living in a more stable, less fluid world, economically and culturally—people who are not primarily driven by xenophobic anti-elitism—then a moderate conservative movement might serve as a bulwark against the alt-right furies by stressing tradition, solidarity, and care for the earth. A different scenario is that the aggressive form of conservatism that one also sees in France would serve instead as a powerful tool for building a pan-European reactionary Christian nationalism along the lines laid out in the early twentieth century by Charles Maurras, the French anti-Semitic champion of "integral nationalism" who became the master thinker of Vichy. It is one thing to convince populist leaders in Western and Eastern Europe today that they have common practical interests and should work together, as Steve Bannon is trying to do. It is quite another, more threatening thing to imagine those leaders having a developed ideology at their disposal for recruiting young cadres and cultural elites and connecting them at the Continental level for joint political action. If all French eyes are not on Marion, they should be. Marion is not her grandfather, though within the soap-operatic Le Pen family she defends him. Nor is she her aunt, who is crude and corrupt, and whose efforts to put new lipstick on the family party have failed. Nor, I think, will her fortunes be tied to those of the Rassemblement National né Front National. Emmanuel Macron has shown that a "movement" disdaining mainline parties can win elections in France (though perhaps not govern and get reelected). If Marion were to launch such a movement and make it revolve around herself as Macron has done, she could very well gather the right together while seeming personally to transcend it. Then she would be poised to work in concert with governing right-wing parties in other countries. Modern history has taught us that ideas promoted by obscure intellectuals writing in little magazines have a way of escaping the often benign intentions of their champions. There are two lessons we might draw from that history when reading the new young French intellectuals on the right. First, distrust conservatives in a hurry. Second, brush up your Gramsci. Mark Lilla
Misère (entraînant et expliquant la révolte et la violence) ? faux ! D'après l'Insee, la Seine-Saint-Denis est le quinzième département le plus riche de France – compte non tenu, par définition, de l'économie souterraine qui l'irrigue. En y ajoutant les milliards de la drogue, le "9-3" est sans doute en réalité parmi les cinq départements les plus riches de France. Quels sont à l'inverse les plus pauvres ? L'Ariège (91e), le Cantal (92e) et la Creuse (96e). Ajoutons un taux de pauvreté de 19 % dans un tiers des départements ruraux de France métropolitaine – c'est-à-dire plus élevé que dans le "9-3". Plus largement, souligne lumineusement le géographe Christophe Guilluy, « 85 % des ménages pauvres ne vivent pas dans les quartiers sensibles et… la majorité des chômeurs de longue durée se répartit sur l'ensemble du territoire ». Or, où brûlent les voitures ? Où tire-t-on à la kalachnikov sur les policiers ? Dans la Creuse ou en Seine-Saint-Denis ? Les pauvres "assignés à résidence", dans de lointains territoires de relégation ? Archifaux, là encore ! À l'échelle du Bassin parisien dans son entier, la Seine-Saint-Denis est dans une position confortablement centrale, non dans une lointaine bordure – et dans les "zones urbaines sensibles" (Zus) de ce département, comme dans celles des autres de la région parisienne, la mobilité de la population est la plus élevée de France (taux de mobilité de 61 %, selon l'Observatoire national des Zus). Les quartiers sensibles représentent la jeunesse, la France rurale n'étant plus peuplée que de paysans âgés ? Faux ! Ces quartiers et cités ne rassemblent que 9 % de la jeunesse (l'Insee, toujours), la France périphérique au contraire (grande banlieue et villes-satellites des métropoles) abritant un jeune sur trois de 18-24 ans – et ce, avec un taux de criminalité fort bas. Ajoutons que l'espace rural (18 % de la population métropolitaine, 11 millions d'habitants) compte désormais 32 % d'ouvriers, 27 % d'employés – et seulement 7 % d'agriculteurs… sans que nulle déprédation ou exaction ne s'y commette, ou presque. Industrielle ou rurale, cette France périurbaine est celle des précaires, agriculteurs percevant les minima sociaux, ouvriers pauvres, travailleurs à temps partiel. Cette "France des plans sociaux" abrite les nouvelles classes populaires évincées des grandes métropoles (centre-ville et première couronne) – désormais fiefs de la bourgeoisie-bohème ("bobo") et des immigrés récents. Or quoique victime de la recomposition sociale du territoire, cette France périphérique est calme. Malgré une pauvreté invisible, la délinquance y est rare et la criminalité, plutôt exceptionnelle. Avec une insondable morgue, les journalistes "tendance bobo" dénigrent cependant cette France périphérique et sa "logique de repli". Alors que, pour ces populations victimes de la mondialisation et de la prédation financière, il s'agit, tout au contraire, d'une demande de protection. (…) on ne peut édifier de politique efficace sur des concepts erronés. Pourtant, c'est ce que l'on fait depuis trente ans sous le nom – déjà absurde – de "politique de la ville". Comme de l'eau dans un trou, cette "politique" déverse des milliards d'euros dans des programmes immobiliers opaques et dans d'incontrôlables subventions : 550 millions d'euros en 2012 pour la politique de la ville ; 390 millions pour la "cohésion sociale et l'égalité des chances", nom fort noble pour ce qui ressemble souvent à du racket ou du chantage à l'émeute. À la lumière des réalités que je viens d'énoncer, c'est cette politique-là, d'abord, qu'il faut revoir de fond en comble. Administré à partir d'un faux diagnostic, un médicament n'a aucune chance, jamais, de faire le moindre effet ! Xavier Raufer
The slide in his popularity – Macron is now more unpopular than his predecessor, François Hollande, at the same stage – is a dire warning to "globalists". It comes at a time when Trump's popularity among his voters is relatively stable by comparison and the American economy is growing. Macron's fate could have far-reaching consequences for Europe's political future. What makes the contrast between Trump's and Macron's fortunes so striking is that the two presidents have so much in common. Both found electoral success by breaking free of their own side: Macron from the left and Trump from mainstream Republicanism; they both moved beyond the old left-right divide. Both realised that we were seeing the disappearance of the old western middle class. Both grasped that, for the first time in history, the working people who make up the solid base of the lower middle classes live, for the most part, in regions that now generate the fewest jobs. It is in the small or middling towns and vast stretches of farmland that skilled workers, the low-waged, small farmers and the self-employed are concentrated. These are the regions in which the future of western democracy will be decided. But the similarities end there. While Trump was elected by people in the heartlands of the American rustbelt states, Macron built his electoral momentum in the big globalised cities. While the French president is aware that social ties are weakening in the regions, he believes that the solution is to speed up reform to bring the country into line with the requirements of the global economy. Trump, by contrast, concluded that globalisation was the problem, and that the economic model it is based on would have to be reined in (through protectionism, limits on free trade agreements, controls on immigration, and spending on vast public infrastructure building) to create jobs in the deindustrialised parts of the US. It could be said that to some extent both presidents are implementing the policies they were elected to pursue. Yet, while Trump's voters seem satisfied, Macron's appear frustrated. Why is there such a difference? This has as much to do with the kind of voters involved as the way the two presidents operate politically. Trump speaks to voters who constitute a continuum, that of the old middle class. It is a body of voters with clearly expressed demands – most call for the creation of jobs, but they also want the preservation of their social and cultural model. Macron's problem, on the other hand, is that his electorate consists of different elements that are hard to keep together. The idea that Macron was elected just by the big city "winners" isn't accurate: he also attracted the support of many older voters who are not especially receptive to the economic and societal changes the president's revolution demands.This holds true throughout Europe. Those who support globalisation often tend to forget a vital fact: the people who vote for them aren't just the ones on the winning side in the globalisation stakes or part of the new, cool bourgeoisie in Paris, London or New York, but are a much more heterogeneous group, many of whom are sceptical about the effects of globalisation. In France, for example, most of Macron's support came in the first instance from the ranks of pensioners and public sector workers who had been largely shielded from the effects of globalisation. (…) These developments are an illustration of the political difficulty that Europe's globalising class now finds itself in. From Angela Merkel to Macron, the advocates of globalisation are now relying on voters who cling to a social model that held sway during the three decades of postwar economic growth. Thus their determination to accelerate the adaptation of western societies to globalisation automatically condemns them to political unpopularity. Locked away in their metropolitan citadels, they fail to see that their electoral programmes no longer meet the concerns of more than a tiny minority of the population – or worse, of their own voters. They are on the wrong track if they think that the "deplorables" in the deindustrialised states of the US or the struggling regions of France will soon die out. Throughout the west, people in "peripheral" regions still make up the bulk of the population. Like it or not, these areas continue to represent the electoral heartlands of western democracies. Christophe Guilluy
Ce qui est nouveau, c'est d'abord que la bourgeoisie a le visage de l'ouverture et de la bienveillance. Elle a trouvé un truc génial : plutôt que de parler de « loi du marché », elle dit « société ouverte », « ouverture à l'Autre » et liberté de choisir… Les Rougon-Macquart sont déguisés en hipsters. Ils sont tous très cools, ils aiment l'Autre. Mieux : ils ne cessent de critiquer le système, « la finance », les « paradis fiscaux ». On appelle cela la rebellocratie. C'est un discours imparable : on ne peut pas s'opposer à des gens bienveillants et ouverts aux autres ! Mais derrière cette posture, il y a le brouillage de classes, et la fin de la classe moyenne. La classe moyenne telle qu'on l'a connue, celle des Trente Glorieuses, qui a profité de l'intégration économique, d'une ascension sociale conjuguée à une intégration politique et culturelle, n'existe plus même si, pour des raisons politiques, culturelles et anthropologiques, on continue de la faire vivre par le discours et les représentations. (…) C'est aussi une conséquence de la non-intégration économique. Aujourd'hui, quand on regarde les chiffres – notamment le dernier rapport sur les inégalités territoriales publié en juillet dernier –, on constate une hyper-concentration de l'emploi dans les grands centres urbains et une désertification de ce même emploi partout ailleurs. Et cette tendance ne cesse de s'accélérer ! Or, face à cette situation, ce même rapport préconise seulement de continuer vers encore plus de métropolisation et de mondialisation pour permettre un peu de redistribution. Aujourd'hui, et c'est une grande nouveauté, il y a une majorité qui, sans être « pauvre » ni faire les poubelles, n'est plus intégrée à la machine économique et ne vit plus là où se crée la richesse. Notre système économique nécessite essentiellement des cadres et n'a donc plus besoin de ces millions d'ouvriers, d'employés et de paysans. La mondialisation aboutit à une division internationale du travail : cadres, ingénieurs et bac+5 dans les pays du Nord, ouvriers, contremaîtres et employés là où le coût du travail est moindre. La mondialisation s'est donc faite sur le dos des anciennes classes moyennes, sans qu'on le leur dise ! Ces catégories sociales sont éjectées du marché du travail et éloignées des poumons économiques. Cependant, cette« France périphérique » représente quand même 60 % de la population. (…) Ce phénomène présent en France, en Europe et aux États-Unis a des répercussions politiques : les scores du FN se gonflent à mesure que la classe moyenne décroît car il est aujourd'hui le parti de ces « superflus invisibles » déclassés de l'ancienne classe moyenne. (…) Toucher 100 % d'un groupe ou d'un territoire est impossible. Mais j'insiste sur le fait que les classes populaires (jeunes, actifs, retraités) restent majoritaires en France. La France périphérique, c'est 60 % de la population. Elle ne se résume pas aux zones rurales identifiées par l'Insee, qui représentent 20 %. Je décris un continuum entre les habitants des petites villes et des zones rurales qui vivent avec en moyenne au maximum le revenu médian et n'arrivent pas à boucler leurs fins de mois. Face à eux, et sans eux, dans les quinze plus grandes aires urbaines, le système marche parfaitement. Le marché de l'emploi y est désormais polarisé. Dans les grandes métropoles il faut d'une part beaucoup de cadres, de travailleurs très qualifiés, et de l'autre des immigrés pour les emplois subalternes dans le BTP, la restauration ou le ménage. Ainsi les immigrés permettent-ils à la nouvelle bourgeoisie de maintenir son niveau de vie en ayant une nounou et des restaurants pas trop chers. (…) Il n'y a aucun complot mais le fait, logique, que la classe supérieure soutient un système dont elle bénéficie – c'est ça, la « main invisible du marché» ! Et aujourd'hui, elle a un nom plus sympathique : la « société ouverte ». Mais je ne pense pas qu'aux bobos. Globalement, on trouve dans les métropoles tous ceux qui profitent de la mondialisation, qu'ils votent Mélenchon ou Juppé ! D'ailleurs, la gauche votera Juppé. C'est pour cela que je ne parle ni de gauche, ni de droite, ni d'élites, mais de « la France d'en haut », de tous ceux qui bénéficient peu ou prou du système et y sont intégrés, ainsi que des gens aux statuts protégés : les cadres de la fonction publique ou les retraités aisés. Tout ce monde fait un bloc d'environ 30 ou 35 %, qui vit là où la richesse se crée. Et c'est la raison pour laquelle le système tient si bien. (…) La France périphérique connaît une phase de sédentarisation. Aujourd'hui, la majorité des Français vivent dans le département où ils sont nés, dans les territoires de la France périphérique il s'agit de plus de 60 % de la population. C'est pourquoi quand une usine ferme – comme Alstom à Belfort –, une espèce de rage désespérée s'empare des habitants. Les gens deviennent dingues parce qu'ils savent que pour eux « il n'y a pas d'alternative » ! Le discours libéral répond : « Il n'y a qu'à bouger ! » Mais pour aller où ? Vous allez vendre votre baraque et déménager à Paris ou à Bordeaux quand vous êtes licencié par ArcelorMittal ou par les abattoirs Gad ? Avec quel argent ? Des logiques foncières, sociales, culturelles et économiques se superposent pour rendre cette mobilité quasi impossible. Et on le voit : autrefois, les vieux restaient ou revenaient au village pour leur retraite. Aujourd'hui, la pyramide des âges de la France périphérique se normalise. Jeunes, actifs, retraités, tous sont logés à la même enseigne. La mobilité pour tous est un mythe. Les jeunes qui bougent, vont dans les métropoles et à l'étranger sont en majorité issus des couches supérieures. Pour les autres ce sera la sédentarisation. Autrefois, les emplois publics permettaient de maintenir un semblant d'équilibre économique et proposaient quelques débouchés aux populations. Seulement, en plus de la mondialisation et donc de la désindustrialisation, ces territoires ont subi la retraite de l'État. (…) Même si l'on installe 20 % de logements sociaux partout dans les grandes métropoles, cela reste une goutte d'eau par rapport au parc privé « social de fait » qui existait à une époque. Les ouvriers, autrefois, n'habitaient pas dans des bâtiments sociaux, mais dans de petits logements, ils étaient locataires, voire propriétaires, dans le parc privé à Paris ou à Lyon. C'est le marché qui crée les conditions de la présence des gens et non pas le logement social. Aujourd'hui, ce parc privé « social de fait » s'est gentrifié et accueille des catégories supérieures. Quant au parc social, il est devenu la piste d'atterrissage des flux migratoires. Si l'on regarde la carte de l'immigration, la dynamique principale se situe dans le Grand Ouest, et ce n'est pas dans les villages que les immigrés s'installent, mais dans les quartiers de logements sociaux de Rennes, de Brest ou de Nantes. (…) In fine, il y a aussi un rejet du multiculturalisme. Les gens n'ont pas envie d'aller vivre dans les derniers territoires des grandes villes ouverts aux catégories populaires : les banlieues et les quartiers à logements sociaux qui accueillent et concentrent les flux migratoires. Christophe Guilluy
La focalisation sur le « problème des banlieues » fait oublier un fait majeur : 61 % de la population française vit aujourd'hui hors des grandes agglomérations. Les classes populaires se concentrent dorénavant dans les espaces périphériques : villes petites et moyennes, certains espaces périurbains et la France rurale. En outre, les banlieues sensibles ne sont nullement « abandonnées » par l'État. Comme l'a établi le sociologue Dominique Lorrain, les investissements publics dans le quartier des Hautes Noues à Villiers-sur-Marne (Val-de-Marne) sont mille fois supérieurs à ceux consentis en faveur d'un quartier modeste de la périphérie de Verdun (Meuse), qui n'a jamais attiré l'attention des médias. Pourtant, le revenu moyen par habitant de ce quartier de Villiers-sur-Marne est de 20 % supérieur à celui de Verdun. Bien sûr, c'est un exemple extrême. Il reste que, à l'échelle de la France, 85 % des ménages pauvres (qui gagnent moins de 993 € par mois, soit moins de 60 % du salaire médian, NDLR) ne vivent pas dans les quartiers « sensibles ». Si l'on retient le critère du PIB, la Seine-Saint-Denis est plus aisée que la Meuse ou l'Ariège. Le 93 n'est pas un espace de relégation, mais le cœur de l'aire parisienne. (…)  En se désindustrialisant, les grandes villes ont besoin de beaucoup moins d'employés et d'ouvriers mais de davantage de cadres. C'est ce qu'on appelle la gentrification des grandes villes, symbolisée par la figure du fameux « bobo », partisan de l'ouverture dans tous les domaines. Confrontées à la flambée des prix dans le parc privé, les catégories populaires, pour leur part, cherchent des logements en dehors des grandes agglomérations. En outre, l'immobilier social, dernier parc accessible aux catégories populaires de ces métropoles, s'est spécialisé dans l'accueil des populations immigrées. Les catégories populaires d'origine européenne et qui sont éligibles au parc social s'efforcent d'éviter les quartiers où les HLM sont nombreux. Elles préfèrent déménager en grande banlieue, dans les petites villes ou les zones rurales pour accéder à la propriété et acquérir un pavillon. On assiste ainsi à l'émergence de « villes monde » très inégalitaires où se concentrent à la fois cadres et catégories populaires issues de l'immigration récente. Ce phénomène n'est pas limité à Paris. Il se constate dans toutes les agglomérations de France (Lyon, Bordeaux, Nantes, Lille, Grenoble), hormis Marseille. (…) On a du mal à formuler certains faits en France. Dans le vocabulaire de la politique de la ville, « classes moyennes » signifie en réalité « population d'origine européenne ». Or les HLM ne font plus coexister ces deux populations. L'immigration récente, pour l'essentiel familiale, s'est concentrée dans les quartiers de logements sociaux des grandes agglomérations, notamment les moins valorisés. Les derniers rapports de l'observatoire national des zones urbaines sensibles (ZUS) montrent qu'aujourd'hui 52 % des habitants des ZUS sont immigrés, chiffre qui atteint 64 % en Île-de-France. Cette spécialisation tend à se renforcer. La fin de la mixité dans les HLM n'est pas imputable aux bailleurs sociaux, qui font souvent beaucoup d'efforts. Mais on ne peut pas forcer des personnes qui ne le souhaitent pas à vivre ensemble. L'étalement urbain se poursuit parce que les habitants veulent se séparer, même si ça les fragilise économiquement. Par ailleurs, dans les territoires où se côtoient populations d'origine européenne et populations d'immigration extra-européenne, la fin du modèle assimilationniste suscite beaucoup d'inquiétudes. L'autre ne devient plus soi. Une société multiculturelle émerge. Minorités et majorités sont désormais relatives. (…)  ces personnes habitent là où on produit les deux tiers du PIB du pays et où se crée l'essentiel des emplois, c'est-à-dire dans les métropoles. Une petite bourgeoisie issue de l'immigration maghrébine et africaine est ainsi apparue. Dans les ZUS, il existe une vraie mobilité géographique et sociale : les gens arrivent et partent. Ces quartiers servent de sas entre le Nord et le Sud. Ce constat ruine l'image misérabiliste d'une banlieue ghetto où seraient parqués des habitants condamnés à la pauvreté. À bien des égards, la politique de la ville est donc un grand succès. Les seuls phénomènes actuels d'ascension sociale dans les milieux populaires se constatent dans les catégories immigrées des métropoles. Cadres ou immigrés, tous les habitants des grandes agglomérations tirent bénéfice d'y vivre – chacun à leur échelle. En Grande-Bretagne, en 2013, le secrétaire d'État chargé des Universités et de la Science de l'époque, David Willetts, s'est même déclaré favorable à une politique de discrimination positive en faveur des jeunes hommes blancs de la « working class » car leur taux d'accès à l'université s'est effondré et est inférieur à celui des enfants d'immigrés. (…) Le problème social et politique majeur de la France, c'est que, pour la première fois depuis la révolution industrielle, la majeure partie des catégories populaires ne vit plus là où se crée la richesse. Au XIXe siècle, lors de la révolution industrielle, on a fait venir les paysans dans les grandes villes pour travailler en usine. Aujourd'hui, on les fait repartir à la « campagne ». C'est un retour en arrière de deux siècles. Le projet économique du pays, tourné vers la mondialisation, n'a plus besoin des catégories populaires, en quelque sorte. (…) L'absence d'intégration économique des catégories modestes explique le paradoxe français : un pays qui redistribue beaucoup de ses richesses mais dont une majorité d'habitants considèrent à juste titre qu'ils sont de plus en plus fragiles et déclassés. (…) Les catégories populaires qui vivent dans ces territoires sont d'autant plus attachées à leur environnement local qu'elles sont, en quelque sorte, assignées à résidence. Elles réagissent en portant une grande attention à ce que j'appelle le «village» : sa maison, son quartier, son territoire, son identité culturelle, qui représentent un capital social. La contre-société s'affirme aussi dans le domaine des valeurs. La France périphérique est attachée à l'ordre républicain, réservée envers les réformes de société et critique sur l'assistanat. L'accusation de «populisme» ne l'émeut guère. Elle ne supporte plus aucune forme de tutorat – ni politique, ni intellectuel – de la part de ceux qui se croient «éclairés». (…) Il devient très difficile de fédérer et de satisfaire tous les électorats à la fois. Dans un monde parfait, il faudrait pouvoir combiner le libéralisme économique et culturel dans les agglomérations et le protectionnisme, le refus du multiculturalisme et l'attachement aux valeurs traditionnelles dans la France périphérique. Mais c'est utopique. C'est pourquoi ces deux France décrivent les nouvelles fractures politiques, présentes et à venir. Christophe Guilluy

Les pays de l'OCDE, et plus encore les démocraties occidentales, répondent pleinement au projet que la Dame de fer appelait de ses vœux. Partout, trente ans de mondialisation ont agi comme une concasseuse du pacte social issu de l'après-guerre. La fin de la classe moyenne occidentale est actée. Et pas seulement en France. Les poussées de populisme aux Etats-Unis, en Italie, et jusqu'en Suède, où le modèle scandinave de la social-démocratie n'est désormais plus qu'une sorte de zombie, en sont les manifestations les plus évidentes. Personne n'ose dire que la fête est finie. On se rassure comme on peut. Le monde académique, le monde politique et médiatique, chacun constate la montée des inégalités, s'inquiète de la hausse de la dette, de celle du chômage, mais se rassure avec quelques points de croissance, et soutient que l'enjeu se résume à la question de l'adaptabilité. Pas celle du monde d'en haut. Les gagnants de la mondialisation, eux, sont parfaitement adaptés à ce monde qu'ils ont contribué à forger. Non, c'est aux anciennes classes moyennes éclatées, reléguées, que s'adresse cette injonction d'adaptation à ce nouveau monde. Parce que, cahin-caha, cela marche, nos économies produisent des inégalités, mais aussi plus de richesses. Mais faire du PIB, ça ne suffit pas à faire société. (…) Election de Trump, Brexit, arrivée au pouvoir d'une coalition improbable liant les héritiers de la Ligue du Nord à ceux d'une partie de l'extrême gauche en Italie. De même qu'il y a une France périphérique, il y a une Amérique périphérique, un Royaume-Uni périphérique, etc. La périphérie, c'est, pour faire simple, ces territoires autour des villes-mondes, rien de moins que le reste du pays. L'agglomération parisienne, le Grand-Londres, les grandes villes côtières américaines, sont autant de territoires parfaitement en phase avec la mondialisation, des sortes de Singapour. Sauf que, contrairement à cette cité-Etat, ces territoires disposent d'un hinterland, d'une périphérie. L'explosion du prix de l'immobilier est la traduction la plus visible de cette communauté de destin de ces citadelles où se concentrent la richesse, les emplois à haute valeur ajoutée, où le capital culturel et financier s'accumule. Cette partition est la traduction spatiale de la notion de ruissellement des richesses du haut vers le bas, des premiers de cordée vers les autres. Dans ce modèle, la richesse créée dans les citadelles doit redescendre vers la périphérie. Trente ans de ce régime n'ont pas laissé nos sociétés intactes. Ce sont d'abord les ouvriers et les agriculteurs qui ont été abandonnés sur le chemin, puis les employés, et c'est maintenant au tour des jeunes diplômés d'être fragilisés. Les plans sociaux ne concernent plus seulement l'industrie mais les services, et même les banques… Dans les territoires de cette France périphérique, la dynamique dépressive joue à plein : à l'effondrement industriel succède celui des emplois présentiels lequel provoque une crise du commerce dans les petites villes et les villes moyennes. Les gens aux Etats-Unis ou ailleurs ne se sont pas réveillés un beau matin pour se tourner vers le populisme. Non, ils ont fait un diagnostic, une analyse rationnelle : est-ce que ça marche pour eux ou pas. Et, rationnellement, ils n'ont pas trouvé leur compte. Et pas que du point de vue économique. S'il y a une exception française, c'est la victoire d'Emmanuel Macron, quand partout ailleurs les populistes semblent devoir l'emporter. (…) Emmanuel Macron est le candidat du front bourgeois. A Paris, il n'est pas anodin que les soutiens de François Fillon et les partisans de La Manif pour tous du XVIe arrondissement aient voté à 87,3 % pour le candidat du libéralisme culturel, et que leurs homologues bobos du XXe arrondissement, contempteurs de la finance internationale, aient voté à 90 % pour un banquier d'affaires. Mais cela ne fait pas une majorité. Si Emmanuel Macron l'a emporté, c'est qu'il a reçu le soutien de la frange encore protégée de la société française que sont les retraités et les fonctionnaires. Deux populations qui ont lourdement souffert au Royaume-Uni par exemple, comme l'a traduit leur vote pro-Brexit. Et c'est bien là le drame qui se noue en France. Car, parmi les derniers recours dont dispose la technocratie au pouvoir pour aller toujours plus avant vers cette fameuse adaptation, c'est bien de faire les poches des retraités et des fonctionnaires. Emmanuel Macron applique donc méticuleusement ce programme. Il semble récemment pris de vertige par le risque encouru pour les prochaines élections, comme le montre sa courbe de popularité, laquelle se trouve sous celle de François Hollande à la même période de leur quinquennat. Un autre levier, déjà mis en branle par Margaret Thatcher puis par les gouvernements du New Labour de Tony Blair, est la fin de l'universalité de la redistribution et la concentration de la redistribution. Sous couvert de faire plus juste, et surtout de réduire les transferts sociaux, on réduit encore le nombre de professeurs, mais on divise les classes de ZEP en deux, on limite l'accès des classes populaires aux HLM pour concentrer ce patrimoine vers les franges les plus pauvres, et parfois non solvables. De quoi fragiliser le modèle de financement du logement social en France, déjà mis à mal par les dernières réformes, et ouvrir la porte à sa privatisation, comme ce fut le cas dans l'Angleterre thatchérienne. (…) Partout en Europe, dans un contexte de flux migratoire intensifié, ce ciblage des politiques publiques vers les plus pauvres – mais qui est le plus pauvre justement, si ce n'est celui qui vient d'arriver d'un territoire dix fois moins riche ? – provoque inexorablement un rejet de ce qui reste encore du modèle social redistributif par ceux qui en ont le plus besoin et pour le plus grand intérêt de la classe dominante. C'est là que se noue la double insécurité économique et culturelle. Face au démantèlement de l'Etat-providence, à la volonté de privatiser, les classes populaires mettent en avant leur demande de préserver le bien commun comme les services publics. Face à la dérégulation, la dénationalisation, elles réclament un cadre national, plus sûr moyen de défendre le bien commun. Face à l'injonction de l'hypermobilité, à laquelle elles n'ont de toute façon pas accès, elles ont inventé un monde populaire sédentaire, ce qui se traduit également par une économie plus durable. Face à la constitution d'un monde où s'impose l'indistinction culturelle, elles aspirent à la préservation d'un capital culturel protecteur. Souverainisme, protectionnisme, préservation des services publics, sensibilité aux inégalités, régulation des flux migratoires, sont autant de thématiques qui, de Tel-Aviv à Alger, de Detroit à Milan, dessinent un commun des classes populaires dans le monde. Ce soft power des classes populaires fait parfois sortir de leurs gonds les parangons de la mondialisation heureuse. Hillary Clinton en sait quelque chose. Elle n'a non seulement pas compris la demande de protection des classes populaires de la Rust Belt, mais, en plus, elle les a traités de « déplorables ». Qui veut être traité de déplorable ou, de ce côté-ci de l'Atlantique, de Dupont Lajoie ? L'appartenance à la classe moyenne n'est pas seulement définie par un seuil de revenus ou un travail d'entomologiste des populations de l'Insee. C'est aussi et avant tout un sentiment de porter les valeurs majoritaires et d'être dans la roue des classes dominantes du point de vue culturel et économique. Placées au centre de l'échiquier, ces catégories étaient des références culturelles pour les classes dominantes, comme pour les nouveaux arrivants, les classes populaires immigrées. En trente ans, les classes moyennes sont passées du modèle à suivre, l'American ou l'European way of life, au statut de losers. Il y a mieux comme référents pour servir de modèle d'assimilation. Qui veut ressembler à un plouc, un déplorable… ? Personne. Pas même les nouveaux arrivants. L'ostracisation des classes populaires par la classe dominante occidentale, pensée pour discréditer toute contestation du modèle économique mondialisé – être contre, c'est ne pas être sérieux – a, en outre, largement participé à l'effondrement des modèles d'intégration et in fine à la paranoïa identitaire. L'asociété s'est ainsi imposée partout : crise de la représentation politique, citadéllisation de la bourgeoisie, communautarisation. Qui peut dès lors s'étonner que nos systèmes d'organisation politique, la démocratie, soient en danger ? Christophe Guilluy
En 2016, Hillary Clinton traitait les électeurs de son opposant républicain, c'est-à-dire l'ancienne classe moyenne américaine déclassée, de « déplorables ». Au-delà du mépris de classe que sous-tend une expression qui rappelle celle de l'ancien président français François Hollande qui traitait de « sans-dents » les ouvriers ou employés précarisés, ces insultes (d'autant plus symboliques qu'elles étaient de la gauche) illustrent un long processus d'ostracisation d'une classe moyenne devenue inutile.  (…) Depuis des décennies, la représentation d'une classe moyenne triomphante laisse peu à peu la place à des représentations toujours plus négatives des catégories populaires et l'ensemble du monde d'en haut participe à cette entreprise. Le monde du cinéma, de la télévision, de la presse et de l'université se charge efficacement de ce travail de déconstruction pour produire en seulement quelques décennies la figure répulsive de catégories populaires inadaptées, racistes et souvent proches de la débilité. (…) Des rednecks dégénérés du film « Deliverance » au beauf raciste de Dupont Lajoie, la figure du « déplorable » s'est imposée dès les années 1970 dans le cinéma. La télévision n'est pas en reste. En France, les années 1980 seront marquées par l'émergence de Canal +, quintessence de ll'idéologie libérale-libertaire dominante. (…) De la série « Les Deschiens », à la marionnette débilitante de Johnny Hallyday des Guignols de l'info, c'est en réalité toute la production audiovisuelle qui donne libre cours à son mépris de classe. Christophe Guilluy
Étant donné l'état de fragilisation sociale de la classe moyenne majoritaire française, tout est possible. Sur les plans géographique, culturel et social, il existe bien des points communs entre les situations françaises et américaines, à commencer par le déclassement de la classe moyenne. C'est « l'Amérique périphérique » qui a voté Trump, celle des territoires désindustrialisés et ruraux qui est aussi celle des ouvriers, employés, travailleurs indépendants ou paysans. Ceux qui étaient hier au cœur de la machine économique en sont aujourd'hui bannis. Le parallèle avec la situation américaine existe aussi sur le plan culturel, nous avons adopté un modèle économique mondialisé. Fort logiquement, nous devons affronter les conséquences de ce modèle économique mondialisé : l'ouvrier – hier à gauche –, le paysan – hier à droite –, l'employé – à gauche et à droite – ont aujourd'hui une perception commune des effets de la mondialisation et rompent avec ceux qui n'ont pas su les protéger. La France est en train de devenir une société américaine, il n'y a aucune raison pour que l'on échappe aux effets indésirables du modèle. (…) Dans l'ensemble des pays développés, le modèle mondialisé produit la même contestation. Elle émane des mêmes territoires (Amérique périphérique, France périphérique, Angleterre périphérique… ) et de catégories qui constituaient hier la classe moyenne, largement perdue de vue par le monde d'en haut. (…) la perception que des catégories dominantes – journalistes en tête – ont des classes populaires se réduit à leur champ de vision immédiat. Je m'explique : ce qui reste aujourd'hui de classes populaires dans les grandes métropoles sont les classes populaires immigrées qui vivent dans les banlieues c'est-à-dire les minorités : en France elles sont issues de l'immigration maghrébine et africaine, aux États-Unis plutôt blacks et latinos. Les classes supérieures, qui sont les seules à pouvoir vivre au cœur des grandes métropoles, là où se concentrent aussi les minorités, n'ont comme perception du pauvre que ces quartiers ethnicisés, les ghettos et banlieues… Tout le reste a disparu des représentations. Aujourd'hui, 59 % des ménages pauvres, 60 % des chômeurs et 66 % des classes populaires vivent dans la « France périphérique », celle des petites villes, des villes moyennes et des espaces ruraux. (…) Faire passer les classes moyennes et populaires pour « réactionnaires », « fascisées », « pétinisées » est très pratique. Cela permet d'éviter de se poser des questions cruciales. Lorsque l'on diagnostique quelqu'un comme fasciste, la priorité devient de le rééduquer, pas de s'interroger sur l'organisation économique du territoire où il vit. L'antifascisme est une arme de classe. Pasolini expliquait déjà dans ses Écrits corsaires que depuis que la gauche a adopté l'économie de marché, il ne lui reste qu'une chose à faire pour garder sa posture de gauche : lutter contre un fascisme qui n'existe pas. C'est exactement ce qui est en train de se passer. (…) Il y a un mépris de classe presque inconscient véhiculé par les médias, le cinéma, les politiques, c'est énorme. On l'a vu pour l'élection de Trump comme pour le Brexit, seule une opinion est présentée comme bonne ou souhaitable. On disait que gagner une élection sans relais politique ou médiatique était impossible, Trump nous a prouvé qu'au contraire, c'était faux. Ce qui compte, c'est la réalité des gens depuis leur point de vue à eux. Nous sommes à un moment très particulier de désaffiliation politique et culturel des classes populaires, c'est vrai dans la France périphérique, mais aussi dans les banlieues où les milieux populaires cherchent à préserver ce qui leur reste : un capital social et culturel protecteur qui permet l'entraide et le lien social. Cette volonté explique les logiques séparatistes au sein même des milieux modestes. Une dynamique, qui n'interdit pas la cohabitation, et qui répond à la volonté de ne pas devenir minoritaire. (…) La bourgeoisie d'aujourd'hui a bien compris qu'il était inutile de s'opposer frontalement au peuple. C'est là qu'intervient le « brouillage de classe », un phénomène, qui permet de ne pas avoir à assumer sa position. Entretenue du bobo à Steve Jobs, l'idéologie du cool encourage l'ouverture et la diversité, en apparence. Le discours de l'ouverture à l'autre permet de maintenir la bourgeoisie dans une posture de supériorité morale sans remettre en cause sa position de classe (ce qui permet au bobo qui contourne la carte scolaire, et qui a donc la même demande de mise à distance de l'autre que le prolétaire qui vote FN, de condamner le rejet de l'autre). Le discours de bienveillance avec les minorités offre ainsi une caution sociale à la nouvelle bourgeoisie qui n'est en réalité ni diverse ni ouverte : les milieux sociaux qui prônent le plus d'ouverture à l'autre font parallèlement preuve d'un grégarisme social et d'un entre-soi inégalé. (…) Nous, terre des lumières et patrie des droits de l'homme, avons choisi le modèle libéral mondialisé sans ses effets sociétaux : multiculturalisme et renforcement des communautarismes. Or, en la matière, nous n'avons pas fait mieux que les autres pays. (…) Le FN n'est pas le bon indicateur, les gens n'attendent pas les discours politiques ou les analyses d'en haut pour se déterminer. Les classes populaires font un diagnostic des effets de plusieurs décennies d'adaptation aux normes de l'économie mondiale et utilisent des candidats ou des référendums, ce fut le cas en 2005, pour l'exprimer. Christophe Guilluy
A chaque fois, la grogne vient de territoires qui sont moins productifs économiquement, où le chômage est très implanté. Ce sont des territoires ruraux, des petites et moyennes villes souvent éloignées des grandes métropoles : ce que j'appelle la « France périphérique ». Ce sont des lieux où vivent les classes moyennes, les ouvriers, les petits salariés, les indépendants, les retraités. Cette majorité de la population subit depuis 20 à 30 ans une recomposition économique qui les a desservis. (…) La colère de ces populations vient de beaucoup plus loin. Cela fait des années que ces catégories de Français ne sont plus intégrées politiquement et économiquement. Il y a eu la fermeture progressive des usines puis la crise du monde rural. Pour eux, le retour à l'emploi est très compliqué. En plus, ils ont subi la désertification médicale et le départ des services publics. Idem pour les commerces qui quittent les petites villes. Tout cela s'est cristallisé autour de la question centrale du pouvoir d'achat. Mais le mouvement des Gilets jaunes est une conséquence de tout cela mis bout à bout. (…) le ressentiment est gigantesque. Ce qui est certain c'est que les problèmes sont désormais sur la table. Et si la contestation des Gilets jaunes ne perdure pas dans le temps, un autre mouvement émergera de ces territoires un peu plus tard, car rien n'aura été réglé. (…) Le monde d'en haut ne parle plus au monde d'en bas. Et le monde d'en bas n'écoute plus le monde d'en haut. Les élites sont rassemblées géographiquement dans des métropoles où il y a du travail et de l'argent. Elles continuent de s'adresser à une classe moyenne et à une réalité sociale qui n'existent plus. C'est un boulevard pour les extrêmes… (…) Ils s'adaptent à la demande, comme toujours ! (…) Les réponses apportées par le gouvernement sont à côté de la plaque. Les gens ne demandent pas des solutions techniques pour financer un nouveau véhicule. Ils attendent des réponses de fond où on leur explique quelle place ils ont dans ce pays. De nombreux élus locaux ont des projets pour relancer leur territoire, mais ils n'ont pas d'argent pour les mettre en place. Il faut se retrousser les manches pour développer ces régions, partir du peuple plutôt que de booster en permanence les premiers de cordée. Christophe Guilluy
Je dis depuis quinze ans qu'il y a un éléphant malade (la classe moyenne) dans le magasin de porcelaine (l'Occident) et qu'on m'explique qu'il n'y a pas d'éléphant. Les « gilets jaunes » correspondent effectivement à la sociologie et à la géographie de la France périphérique que j'observe depuis des années. Ouvriers, employés ou petits indépendants, ils ont du mal à boucler leurs fins de mois. Socialement précarisées, ces catégories modestes vivent dans les territoires (villes, moyennes ou petites, campagnes) qui créent le moins d'emplois. Ces déclassés illustrent un mouvement enraciné sur le temps long : la fin de la classe moyenne dont ils formaient hier encore le socle. (…) Du paysan historiquement de droite à l'ouvrier historiquement de gauche, les « gilets jaunes » constatent que le modèle mondialisé ne les intègre plus. Ils roulent en diesel parce qu'on leur a dit de le faire, mais se font traiter de pollueurs par les élites des grandes métropoles. Alors que le monde d'en haut réaffirme sans cesse son identité culturelle (la ville mondialisée, le bio, le vivre-ensemble…), les « gilets jaunes » n'entendent pas se plier au modèle économique et culturel qui les exclut. (…) Plus que l'exclusion des plus modestes, c'est d'abord la sécession du monde d'en haut qui a joué. La rupture entre le haut et le bas de la société se creuse à mesure que les élites ostracisent le peuple. Macron a beau avoir fait le bon diagnostic quand il a déclaré : « Je n'ai pas réussi à réconcilier le peuple français avec ses dirigeants », son camp s'est empressé de traiter les « gilets jaunes » de racistes, d'antisémites et d'homophobes. Ça ne favorise pas la réconciliation ! Pourtant majoritaire, puisqu'elle constitue 60 % de la population, la France périphérique est rejetée par le monde d'en haut qui ne se reconnaît plus dans son propre peuple. L'importance du mouvement et surtout du soutien de l'opinion (huit Français sur dix) révèle l'isolement du monde d'en haut et des représentations sociales et territoriales totalement erronées. Ce divorce soulève un véritable problème démocratique, car les classes moyennes ont toujours été le référent culturel de la classe dirigeante. (…) Certes, il y a des manifestants de droite, de gauche, d'extrême droite et d'extrême gauche qui structurent assez mal leurs discours. Mais tous souhaitent la même chose : du travail et la préservation de ce qu'ils sont. La question du respect est fondamentale, mais le pouvoir y répond par l'insulte ! (…) Tout est possible. Il y a un tel déficit d'offre politique qu'un leader populiste pourrait surgir aussi vite que Macron a émergé. La demande existe. Dans le reste du monde, les populistes réussissent en adaptant leur idéologie à la demande. Il y a quelques années, Salvini défendait des positions sécessionnistes, libérales et racistes en s'attaquant aux Italiens du Sud. Aujourd'hui ministre, il se fait acclamer à Naples, devient étatiste, prône l'unité italienne et vote un budget quasiment de gauche. Quant à Trump, c'est un membre de l'hyperélite new-yorkaise qui a écouté les demandes de l'Amérique périphérique. Ces leaders ne se disent pas qu'il faut rééduquer le peuple. Au contraire, ce sont les demandes de la base qui leur indiquent la voie à suivre. Ainsi, un Mouvement 5 étoiles pourra émerger en France s'il répond aux demandes populaires de régulation (économique, migratoire). (…) Dans tous les pays occidentaux, la classe moyenne est en train d'exploser par le bas. Cette évolution a démarré dans les années 1970-1980 par la crise du monde ouvrier, avec les restructurations industrielles, puis a touché les paysans, les employés du secteur tertiaire, et enfin des territoires ruraux et des villes moyennes. Si on met bout à bout toutes ces catégories, cela touche le cœur de la société. Sur les décombres des classes moyennes telles qu'elles existaient pendant les Trente Glorieuses, les nouvelles classes populaires – ouvriers, employés, paysans, petits commerçants – forment partout l'immense majorité de la population. (…) Maintenant que la classe moyenne a explosé, deux grandes catégories sociales s'affrontent avec comme arrière-plan un nouveau modèle économique de polarisation de l'emploi. D'un côté, les catégories supérieures – 20 à 25 % de la population –, qui occupent des emplois extrêmement qualifiés et hyper intégrés, se concentrent dans les métropoles. De l'autre, une grosse masse de précaires dont les salaires ne suivent pas, vit dans des zones périphériques. Même dans une région riche comme la Bavière, l'électorat AfD recoupe une sociologie et une géographie plutôt populaires réparties dans des petites villes, des villes moyennes et des zones rurales. (…) La classe moyenne n'est absolument pas une catégorie ethnique. Dans mon dernier livre, je critique l'ethnicisation du concept qui, contrairement à ce qu'on croit, est venue de l'intelligentsia de gauche. Depuis quelques années, il y a un glissement sémantique : quand certains parlent des banlieues ou de la politique de la ville, ils désignent les populations issues de l'immigration récente, et quand ils évoquent la « classe moyenne », ils veulent dire « Blancs ». C'est une bêtise. La classe moyenne est le produit d'une intégration économique et culturelle qui a fonctionné pour les Antillais ainsi que pour les premières vagues d'immigration maghrébine qui en épousaient les valeurs, quelle que fût leur origine ou leur religion. Faut-il le rappeler, les DOM-TOM font partie de la France périphérique. Dans ces territoires, les demandes de régulation (économique et migratoire) émanent des mêmes catégories. Cette dynamique est aujourd'hui cassée car le modèle occidental n'intègre plus ces catégories, ni économiquement, ni socialement, ni culturellement. Même dans des régions du monde prospères comme la Scandinavie, les petites gens sont fragilisées culturellement. Cette explosion des classes moyennes entraîne la crise des valeurs culturelles qu'elles portaient, donc des systèmes d'assimilation. (…) Si les classes moyennes, socle populaire du monde d'en haut, ne sont plus les référents culturels de celui-ci, qui ne cesse de les décrire comme des déplorables, elles ne peuvent plus mécaniquement être celles à qui ont envie de ressembler les immigrés. Hier, un immigré qui débarquait s'assimilait mécaniquement en voulant ressembler au Français moyen. De même, l'American way of life était porté par l'ouvrier américain à qui l'immigré avait envie de ressembler. Dès lors que les milieux modestes sont fragilisés et perçus comme des perdants, ils perdent leur capacité d'attractivité. C'est un choc psychologique gigantesque. Cerise sur le gâteau, l'intelligentsia vomit ces gens, à l'image d'Hillary Clinton qui traitait les électeurs de Trump de « déplorables ». Personne n'a envie de ressembler à un déplorable ! (…) La dynamique populiste joue sur deux ressorts à la fois : l'insécurité sociale et l'insécurité culturelle. L'insécurité culturelle sans l'insécurité économique et sociale, cela donne l'électorat Fillon, qui a logiquement voté Macron au second tour : il n'a aucun intérêt à renverser le modèle dont il bénéficie. On l'a vu avec l'élection de Trump, aucun vote populiste n'émerge sans la conjonction de fragilités identitaire et sociale. Il est donc vain de se demander si c'est l'une ou l'autre de ces composantes qui joue. Raison pour laquelle les débats sur la prétendue influence d'Éric Zemmour sont idiots. Zemmour exprime un mouvement réel de la société, qui explique qu'avec 11 millions d'électeurs pour Marine Le Pen, le Front national ait battu son record absolu de voix au second tour en 2017. Malgré tout, la redistribution reste très forte et les protégés sont nombreux. Emmanuel Macron n'a pas seulement été élu par le monde d'en haut. Il a aussi été largement soutenu par les protégés, c'est-à-dire les retraités – notamment de la classe moyenne – et les fonctionnaires. Là est le paradoxe français : ce qui reste de l'État providence protège le monde d'en haut… (…) Cela explique son effondrement dans les sondages. Ceci dit, le niveau de pension reste relativement correct et ne pousse pas les retraités français à renverser la table, même ceux qui estiment qu'il y a des problèmes avec l'immigration. Mais cela pourrait changer aux États-Unis et en Grande-Bretagne, l'État providence étant fragilisé depuis les années 1980, les retraités ne craignent pas de bousculer le système. Ils ont voté pour le Brexit parce qu'ils n'ont rien à perdre. Si demain le gouvernement fragilise les retraités français, ils ne cautionneront pas éternellement le système. En détricotant tous les filets sociaux, comme la redistribution en faveur des retraités, on prend de très gros risques pour la suite des opérations. (…) Et ce n'est d'ailleurs pas un hasard si le gouvernement a fait marche arrière sur la CSG. La pension de retraite médiane en France tourne autour de 1 000, 1 100 euros par mois ! En dessous de 1 000 euros par mois, cela commence à être très compliqué. La majorité des retraités sont issus des catégories populaires. Et ils sont les seuls, au sein de celles-ci, à n'avoir pas majoritairement basculé dans l'abstention ou dans le vote populiste. Le jour où eux aussi basculeront, le choc sera comparable au Brexit. Regardez aussi la rapidité avec laquelle les populistes ont gagné en Italie. (…) Qu'on le veuille ou non, le mouvement est là et il suffit d'attendre. Partout en Occident, il y a une très forte demande de régulation : économique, sociale, migratoire. Pour toute réponse à cette demande populaire, on la traite de fasciste – je suis bien placé pour le savoir. Le résultat de cette stratégie de diversion, c'est que la fracture entre l'élite et les classes supérieures, d'une part, et le peuple d'autre part, ne cesse de se creuser. Jamais dans l'histoire ces deux mondes n'avaient été aussi étrangers l'un à l'autre. (…) Ce monde d'en haut ne tient pas seulement avec le 1 % ou les hyper riches, mais avec des catégories supérieures et une technostructure – les énarques, mais aussi les technocrates territoriaux issus de l'INET. Ses membres viennent tous des mêmes milieux et partagent exactement la même vision de la société. À l'inverse, quand je me balade en France, je rencontre des élus de gauche ou de droite qui partagent mon diagnostic. Et qui se désolent de voir qu'au sommet de leur parti, domine le modèle mondialisé structuré autour des métropoles. (…) Quand la pensée est vraiment en décalage avec le réel, les tentatives de déni et de diabolisation ne marchent plus. Cependant, avec toute la volonté politique du monde, sans l'appui de la technostructure, aucun changement n'est possible. La même question se pose dans les territoires : comment initier des politiques différentes avec la même technostructure ? Peu importe qui est maire de Paris ou Bordeaux, ces villes créent de la richesse grâce au libre jeu du marché. En revanche, il faut être sacrément doué pour sortir Guéret ou Vierzon de l'impasse. (…) Actuellement, on traite la France périphérique à coups de subventions. On redistribue un peu, beaucoup, passionnément, de façon à ce que les gens puissent remplir leur caddie au supermarché. On est arrivé au bout de ce modèle, notamment parce que l'État et les ménages sont surendettés. Mais lorsque des élus locaux et des entreprises privées se réunissent autour d'une table pour impulser un projet économique, cela réussit. Je pense par exemple à la relance des couteaux de Laguiole, dans l'Aveyron. (…) Comme le démontre l'exemple de Laguiole, on ne peut plus penser l'organisation territoriale uniquement à travers une volonté imposée d'en haut par les pouvoirs publics. C'est du bas vers le haut qu'il faut penser ces territoires. Dans des départements ruraux comme la Nièvre, les élus réclament la compétence économique pour initier des projets. Les présidents de conseils départementaux connaissent parfaitement leur territoire, les entreprises qui marchent et la raison de leur succès, la ville où il y a des pauvres et des chômeurs. Ils sont souples, inventifs, pragmatiques et ont à leur disposition des fonctionnaires départementaux issus du cru. Mais les hauts fonctionnaires qui forment l'administration régionale ou étatique cherchent à leur retirer de plus en plus de compétences économiques. Quoique majoritaire, la France des territoires n'existe pas politiquement. Les élus locaux sont marginalisés au sein de leurs partis, contrairement aux élus des grandes villes. Tout doit donc commencer par un rééquilibrage démocratique. Christophe Guilluy
C'était l'idiot du village Trump qui avait raison et nous ne le savions pas !
A l'heure où comme le rappelle ce matin Le Canard enchainé …
Une trainée de poudre qui obtient en moins d'un mois plus que les syndicats en trente ans …
Et de la Belgique à l'Allemagne et des Pays-Bas à la Serbie ou au Burkina Faso …
Voire à l'Egypte ou aux lycéens …
Menace d'enflammer une bonne partie de la planète …
Et où l'on découvre que l'Amérique de Trump reste en tête des pays qui ont le plus réduit leurs émissions de carbone l'an dernier …
Comment ne pas voir …
L'incroyable ironie de l'histoire que rappelle le géographe français Christophe Gulluy …
Que ce membre de l'hyperélite newyorkaise et repoussoir préféré de nos belles âmes et de nos meilleurs esprits …
Qui seul il y a deux ans avait compris qu'il fallait enfin répondre à cette demande des peuples de régulation aussi bien économique que migratoire …
Qui n'est en fait rien d'autre face à des décennies de mépris de classe et de déstructuration systématique …
Qu'une demande de préservation de soi ?
Christophe Guilluy: « Les gilets jaunes demandent du respect, le pouvoir répond par l'insulte! »
Christophe Guilluy avait vu venir les gilets jaunes. En effet, la « France périphérique », que le géographe a conceptualisée et dont il montre, dans No Society, qu'elle est l'oubliée de la nouvelle mondialisation et des politiques qui l'ont accompagnée, est aussi celle qui s'est soulevée, sur les routes et les ronds-points, contre son déclassement. Mondialisation malheureuse, crise des classes moyennes, réaction populiste: ce spectre hante tout l'Occident.
Entretien avec le prophète de la « France périphérique
Daoud Boughezala et Elisabeth Lévy et Gil Mihaely
Causeur
4 décembre 2018
Causeur. Depuis le début du mouvement des « gilets jaunes », on vous voit partout. Vous êtes une sorte de prophète : vous avez inventé la France périphérique avant que la hausse du diesel la fasse apparaître sur les écrans radar. Qu'ont en commun tous ces Français qui ont endossé le gilet jaune ?
Christophe Guilluy. Prophète ? Disons surtout que je dis depuis quinze ans qu'il y a un éléphant malade (la classe moyenne) dans le magasin de porcelaine (l'Occident) et qu'on m'explique qu'il n'y a pas d'éléphant. Les « gilets jaunes » correspondent effectivement à la sociologie et à la géographie de la France périphérique que j'observe depuis des années. Ouvriers, employés ou petits indépendants, ils ont du mal à boucler leurs fins de mois. Socialement précarisées, ces catégories modestes vivent dans les territoires (villes, moyennes ou petites, campagnes) qui créent le moins d'emplois. Ces déclassés illustrent un mouvement enraciné sur le temps long : la fin de la classe moyenne dont ils formaient hier encore le socle.
En plus d'être économiquement précaires, les « gilets jaunes » représentent-ils la France des perdants culturels ?
Absolument. Du paysan historiquement de droite à l'ouvrier historiquement de gauche, les « gilets jaunes » constatent que le modèle mondialisé ne les intègre plus. Ils roulent en diesel parce qu'on leur a dit de le faire, mais se font traiter de pollueurs par les élites des grandes métropoles. Alors que le monde d'en haut réaffirme sans cesse son identité culturelle (la ville mondialisée, le bio, le vivre-ensemble…), les « gilets jaunes » n'entendent pas se plier au modèle économique et culturel qui les exclut.
Qu'est-ce qui vous fait dire que la France d'en haut exclut les « gilets jaunes » ?
Plus que l'exclusion des plus modestes, c'est d'abord la sécession du monde d'en haut qui a joué. La rupture entre le haut et le bas de la société se creuse à mesure que les élites ostracisent le peuple. Macron a beau avoir fait le bon diagnostic quand il a déclaré : « Je n'ai pas réussi à réconcilier le peuple français avec ses dirigeants », son camp s'est empressé de traiter les « gilets jaunes » de racistes, d'antisémites et d'homophobes. Ça ne favorise pas la réconciliation ! Pourtant majoritaire, puisqu'elle constitue 60 % de la population, la France périphérique est rejetée par le monde d'en haut qui ne se reconnaît plus dans son propre peuple. L'importance du mouvement et surtout du soutien de l'opinion (huit Français sur dix) révèle l'isolement du monde d'en haut et des représentations sociales et territoriales totalement erronées. Ce divorce soulève un véritable problème démocratique, car les classes moyennes ont toujours été le référent culturel de la classe dirigeante.
À la décharge de nos dirigeants, admettez que la diversité idéologique du mouvement ne facilite pas la prise en compte de ses revendications. Payer moins d'impôts, ça ne fait pas un projet…
Certes, il y a des manifestants de droite, de gauche, d'extrême droite et d'extrême gauche qui structurent assez mal leurs discours. Mais tous souhaitent la même chose : du travail et la préservation de ce qu'ils sont. La question du respect est fondamentale, mais le pouvoir y répond par l'insulte !
Faute d'écoute du pouvoir, les « gilets jaunes » pourraient-ils constituer un Mouvement 5 étoiles à la française ?
Tout est possible. Il y a un tel déficit d'offre politique qu'un leader populiste pourrait surgir aussi vite que Macron a émergé. La demande existe. Dans le reste du monde, les populistes réussissent en adaptant leur idéologie à la demande. Il y a quelques années, Salvini défendait des positions sécessionnistes, libérales et racistes en s'attaquant aux Italiens du Sud. Aujourd'hui ministre, il se fait acclamer à Naples, devient étatiste, prône l'unité italienne et vote un budget quasiment de gauche. Quant à Trump, c'est un membre de l'hyperélite new-yorkaise qui a écouté les demandes de l'Amérique périphérique.
Ces leaders ne se disent pas qu'il faut rééduquer le peuple. Au contraire, ce sont les demandes de la base qui leur indiquent la voie à suivre. Ainsi, un Mouvement 5 étoiles pourra émerger en France s'il répond aux demandes populaires de régulation (économique, migratoire).
Cette lame de fond touche-t-elle tout l'Occident ?
Oui. Dans tous les pays occidentaux, la classe moyenne est en train d'exploser par le bas. Cette évolution a démarré dans les années 1970-1980 par la crise du monde ouvrier, avec les restructurations industrielles, puis a touché les paysans, les employés du secteur tertiaire, et enfin des territoires ruraux et des villes moyennes. Si on met bout à bout toutes ces catégories, cela touche le cœur de la société. Sur les décombres des classes moyennes telles qu'elles existaient pendant les Trente Glorieuses, les nouvelles classes populaires – ouvriers, employés, paysans, petits commerçants – forment partout l'immense majorité de la population.
Est-ce la sociologie du populisme ?
En gros, oui. Maintenant que la classe moyenne a explosé, deux grandes catégories sociales s'affrontent avec comme arrière-plan un nouveau modèle économique de polarisation de l'emploi. D'un côté, les catégories supérieures – 20 à 25 % de la population –, qui occupent des emplois extrêmement qualifiés et hyper intégrés, se concentrent dans les métropoles. De l'autre, une grosse masse de précaires dont les salaires ne suivent pas, vit dans des zones périphériques. Même dans une région riche comme la Bavière, l'électorat AfD recoupe une sociologie et une géographie plutôt populaires réparties dans des petites villes, des villes moyennes et des zones rurales.
Vous utilisez des catégories socio-économiques, mais vos détracteurs vous accusent de défendre la « France blanche »…
La classe moyenne n'est absolument pas une catégorie ethnique. Dans mon dernier livre, je critique l'ethnicisation du concept qui, contrairement à ce qu'on croit, est venue de l'intelligentsia de gauche. Depuis quelques années, il y a un glissement sémantique : quand certains parlent des banlieues ou de la politique de la ville, ils désignent les populations issues de l'immigration récente, et quand ils évoquent la « classe moyenne », ils veulent dire « Blancs ». C'est une bêtise.
La classe moyenne est le produit d'une intégration économique et culturelle qui a fonctionné pour les Antillais ainsi que pour les premières vagues d'immigration maghrébine qui en épousaient les valeurs, quelle que fût leur origine ou leur religion. Faut-il le rappeler, les DOM-TOM font partie de la France périphérique. Dans ces territoires, les demandes de régulation (économique et migratoire) émanent des mêmes catégories. Cette dynamique est aujourd'hui cassée car le modèle occidental n'intègre plus ces catégories, ni économiquement, ni socialement, ni culturellement. Même dans des régions du monde prospères comme la Scandinavie, les petites gens sont fragilisées culturellement. Cette explosion des classes moyennes entraîne la crise des valeurs culturelles qu'elles portaient, donc des systèmes d'assimilation.
En quoi la crise des classes moyennes nuit-elle à l'intégration des immigrés ?
Si les classes moyennes, socle populaire du monde d'en haut, ne sont plus les référents culturels de celui-ci, qui ne cesse de les décrire comme des déplorables, elles ne peuvent plus mécaniquement être celles à qui ont envie de ressembler les immigrés. Hier, un immigré qui débarquait s'assimilait mécaniquement en voulant ressembler au Français moyen. De même, l'american way of life était porté par l'ouvrier américain à qui l'immigré avait envie de ressembler. Dès lors que les milieux modestes sont fragilisés et perçus comme des perdants, ils perdent leur capacité d'attractivité. C'est un choc psychologique gigantesque. Cerise sur le gâteau, l'intelligentsia vomit ces gens, à l'image d'Hillary Clinton qui traitait les électeurs de Trump de « déplorables ». Personne n'a envie de ressembler à un déplorable !
Les catégories populaires ne sont pas les seules à ne pas se sentir politiquement représentées. Parmi les électeurs des partis dits « populistes », on trouve des perdants culturels qui s'en tirent économiquement plutôt bien, mais se sentent culturellement dépossédés.
La dynamique populiste joue sur deux ressorts à la fois : l'insécurité sociale et l'insécurité culturelle. L'insécurité culturelle sans l'insécurité économique et sociale, cela donne l'électorat Fillon, qui a logiquement voté Macron au second tour : il n'a aucun intérêt à renverser le modèle dont il bénéficie.
On l'a vu avec l'élection de Trump, aucun vote populiste n'émerge sans la conjonction de fragilités identitaire et sociale. Il est donc vain de se demander si c'est l'une ou l'autre de ces composantes qui joue. Raison pour laquelle les débats sur la prétendue influence d'Éric Zemmour sont idiots. Zemmour exprime un mouvement réel de la société, qui explique qu'avec 11 millions d'électeurs pour Marine Le Pen, le Front national ait battu son record absolu de voix au second tour en 2017. Malgré tout, la redistribution reste très forte et les protégés sont nombreux. Emmanuel Macron n'a pas seulement été élu par le monde d'en haut. Il a aussi été largement soutenu par les protégés, c'est-à-dire les retraités – notamment de la classe moyenne – et les fonctionnaires. Là est le paradoxe français : ce qui reste de l'État providence protège le monde d'en haut…
Ce n'est pas le seul : Macron, pour lequel ils ont voté, n'épargne pas fonctionnaires et retraités…
Cela explique son effondrement dans les sondages. Ceci dit, le niveau de pension reste relativement correct et ne pousse pas les retraités français à renverser la table, même ceux qui estiment qu'il y a des problèmes avec l'immigration. Mais cela pourrait changer aux États-Unis et en Grande-Bretagne, l'État providence étant fragilisé depuis les années 1980, les retraités ne craignent pas de bousculer le système. Ils ont voté pour le Brexit parce qu'ils n'ont rien à perdre. Si demain le gouvernement fragilise les retraités français, ils ne cautionneront pas éternellement le système. En détricotant tous les filets sociaux, comme la redistribution en faveur des retraités, on prend de très gros risques pour la suite des opérations.
N'exagère-t-on pas un peu le détricotage des acquis sociaux ?
Non. Et ce n'est d'ailleurs pas un hasard si le gouvernement a fait marche arrière sur la CSG. La pension de retraite médiane en France tourne autour de 1 000, 1 100 euros par mois ! En dessous de 1 000 euros par mois, cela commence à être très compliqué. La majorité des retraités sont issus des catégories populaires. Et ils sont les seuls, au sein de celles-ci, à n'avoir pas majoritairement basculé dans l'abstention ou dans le vote populiste. Le jour où eux aussi basculeront, le choc sera comparable au Brexit. Regardez aussi la rapidité avec laquelle les populistes ont gagné en Italie.
Voulez-vous dire que, pour la France, ce n'est qu'une question de temps ?
Qu'on le veuille ou non, le mouvement est là et il suffit d'attendre. Partout en Occident, il y a une très forte demande de régulation : économique, sociale, migratoire. Pour toute réponse à cette demande populaire, on la traite de fasciste – je suis bien placé pour le savoir. Le résultat de cette stratégie de diversion, c'est que la fracture entre l'élite et les classes supérieures, d'une part, et le peuple d'autre part, ne cesse de se creuser. Jamais dans l'histoire ces deux mondes n'avaient été aussi étrangers l'un à l'autre.
Qui sont ces élites ?
Ce monde d'en haut ne tient pas seulement avec le 1 % ou les hyper riches, mais avec des catégories supérieures et une technostructure – les énarques, mais aussi les technocrates territoriaux issus de l'INET. Ses membres viennent tous des mêmes milieux et partagent exactement la même vision de la société. À l'inverse, quand je me balade en France, je rencontre des élus de gauche ou de droite qui partagent mon diagnostic. Et qui se désolent de voir qu'au sommet de leur parti, domine le modèle mondialisé structuré autour des métropoles.
Au sommet de l'État, Emmanuel Macron a créé un grand ministère de la Cohésion des territoires dirigé par Jacqueline Gourault. N'est-ce pas la preuve que votre discours commence à infuser ?
Bien sûr. Quand la pensée est vraiment en décalage avec le réel, les tentatives de déni et de diabolisation ne marchent plus. Cependant, avec toute la volonté politique du monde, sans l'appui de la technostructure, aucun changement n'est possible. La même question se pose dans les territoires : comment initier des politiques différentes avec la même technostructure ? Peu importe qui est maire de Paris ou Bordeaux, ces villes créent de la richesse grâce au libre jeu du marché. En revanche, il faut être sacrément doué pour sortir Guéret ou Vierzon de l'impasse.
Justement, comment peut-on raccorder Guéret ou Vierzon à l'économie mondiale ? Y a-t-il des initiatives locales réussies ?
Énormément. Actuellement, on traite la France périphérique à coups de subventions. On redistribue un peu, beaucoup, passionnément, de façon à ce que les gens puissent remplir leur caddie au supermarché. On est arrivé au bout de ce modèle, notamment parce que l'État et les ménages sont surendettés. Mais lorsque des élus locaux et des entreprises privées se réunissent autour d'une table pour impulser un projet économique, cela réussit. Je pense par exemple à la relance des couteaux de Laguiole, dans l'Aveyron.
Certes, mais alors que les industries de pointe requièrent de très lourds investissements, n'est-ce pas condamner certains territoires à la production manufacturière à l'ancienne ?  
Comme le démontre l'exemple de Laguiole, on ne peut plus penser l'organisation territoriale uniquement à travers une volonté imposée d'en haut par les pouvoirs publics. C'est du bas vers le haut qu'il faut penser ces territoires. Dans des départements ruraux comme la Nièvre, les élus réclament la compétence économique pour initier des projets. Les présidents de conseils départementaux connaissent parfaitement leur territoire, les entreprises qui marchent et la raison de leur succès, la ville où il y a des pauvres et des chômeurs. Ils sont souples, inventifs, pragmatiques et ont à leur disposition des fonctionnaires départementaux issus du cru. Mais les hauts fonctionnaires qui forment l'administration régionale ou étatique cherchent à leur retirer de plus en plus de compétences économiques. Quoique majoritaire, la France des territoires n'existe pas politiquement. Les élus locaux sont marginalisés au sein de leurs partis, contrairement aux élus des grandes villes. Tout doit donc commencer par un rééquilibrage démocratique.
Voir aussi:
In France, les deplorables strike back
Anne-Elisabeth Moutet
The New York Post
December 7, 2018
PARIS — Glittering shops from Louis Vuitton to Dior are boarded up on both sides of the Champs-Élysées. The Eiffel Tower and the Louvre will be closed. Paris has hunkered down for the latest Yellow Saturday, the fourth in a row that has brought tens of thousands of yellow-jacketed protesters — the gilets jaunes — into the streets.
Many come from the provinces, where President Emmanuel Macron's gas tax would hit hardest. But their ranks also include growing numbers of violent activists from both political extremes — think antifa side-by-side with Charlottesville white supremacists. They will all converge on the City of Light to scream at our aloof young leader that they're mad as hell and not going to take it anymore. Call them les déplorables.
Still, Macron says nothing. Instead, he sent out Prime Minister Édouard Philippe to promise technical measures that satisfy no one. The disintegration of Macron, once the president the world supposedly envied, is perhaps the most amazing part of this current flyover-France revolt.
He ticked all the boxes. He wanted more integration in the European Union. He'd fight populists at home and abroad. He'd put France back to work after three decades of 10 percent unemployment. He'd welcome more refugees. He'd save the planet!
Macron lectured President Trump, in good English, before Congress last spring. Save the Iran deal, he enjoined, and the Paris accord on climate. Concrete results? There were none, but the speech was broadcast live on all French news channels.
More recently, Macron pledged to sign an open-borders UN pact on world migration, which the US, Australia, Israel and a handful of European nations reject. He said France's cherished secularist 1905 laws should be revised, largely to help the country's newest religion, Islam, integrate within French society.
Worst of all: Members of his party have indicated that Macron is willing to give up France's UN Security Council seat to the European Union.
None of these decisions please anyone in the country, save the clone-like Macronista hipsters in Paris and a few large cities. They are men and women in their 30s and 40s — affluent, well-educated, in competitive jobs, able to afford the crazy rents in places like Paris, Bordeaux or Lyon.
Safe in gentrified neighborhoods, they welcome "diversity" and see themselves as morally superior. They welcomed a president in their own image, especially as he faced the National Front's Marine Le Pen, the perfect foil, in last year's election.
A new face, the people mistook Macron for a new broom: After all, he kicked out all the old, tired incumbents, left and right. Voters discounted the fact that he himself is a former top technocrat, bred in the most elite schools in the country. He believes in all the Davos pieties.
It was Macron's green obsession that eventually sparked the explosion. The gilets jaunes are a grassroots movement, born in hundreds of provincial small towns and villages across the provincial small towns and villages across the country. They are farmers, small businessmen, truck drivers, waiters, nurses — or jobless. They have no official spokespersons. It was on Facebook that they resolved to adopt as their symbol the yellow, high-visibility jackets that the French are required to keep in their cars in case of accidents.
For years, they have seen their livelihoods threatened — by plant closures, inflation, the disappearance of public services like small train lines, hospitals, schools and local post offices. They need their cars, however old and beat-up, to drive their kids to school, to shop, to find and hold a job.
Their lives are fenced in by an ever-growing skein of nanny-state regulations. Before the fuel tax, there was the unpopular rollback of the speed limit on France's roads to 80 kilometers (49 miles) per hour from 90 (56). The same week, bureaucrats added dozens of new requirements for vehicles, forcing many cars off the road. Macron's government offered drivers a $4,500 bonus to buy electric cars: a Marie-Antoinette moment seen as an insult by les déplorables.
Resisting pressure to cave in, Macron conceded too little, too late this week, agreeing to a six-month delay of the fuel tax. His job is secure; it would take a lot to remove him. But the time for the great reforms he was elected to make now seems past: All that'll remain, hidden in his Élysée Palace, will be the youngest lame-duck president of the Fifth Republic.
Anne-Elisabeth Moutet is a French political writer and a columnist for the London Telegraph
Voir également:
Edouard Louis : "Chaque personne qui insultait un gilet jaune insultait mon père"
Edouard Louis
Les Inrockuptibles
04/12/18
There are a few issues here. The first is that not identifying Maurer as a Republican isn't the problem as much as not identifying her as a Republican Party official. Another is that Cupp actually said that she was basing her column about Amy Maurer on one of Zito's New York Post columns, not on her book (co-authored with Republican strategist Brad Todd, who contributed polling data).
In that column, Maurer is never identified as a Republican or as a Republican Party official. (In the book, she is identified as a Republican, though there's no mention that she's a Republican Party official in Kenosha County). Here's what Zito says about Maurer in her Post column:
Maurer, 43, is the married, educated, suburban mom whom experts missed in the 2016 election — and still don't get today. As a gun owner and strong defender of the Second Amendment, she based her vote entirely on the Supreme Court vacancy and who would fill it.

The Clinton campaign tried hard to win over voters like Maurer with ads highlighting Trump's most misogynistic remarks, casting him as an unhinged troglodyte no self-respecting woman could support.
And here's what you see when you look up Maurer in the LexisNexis database:

It's one thing to say that the Clinton campaign tried to win over wealthy, conservative-leaning suburban women. It's another thing entirely to hold up an active party official as someone Clinton tried to get but just couldn't convince.
The Case Of The Potential Swing Voter (Who Calls Trump The Savior Of Our Nation)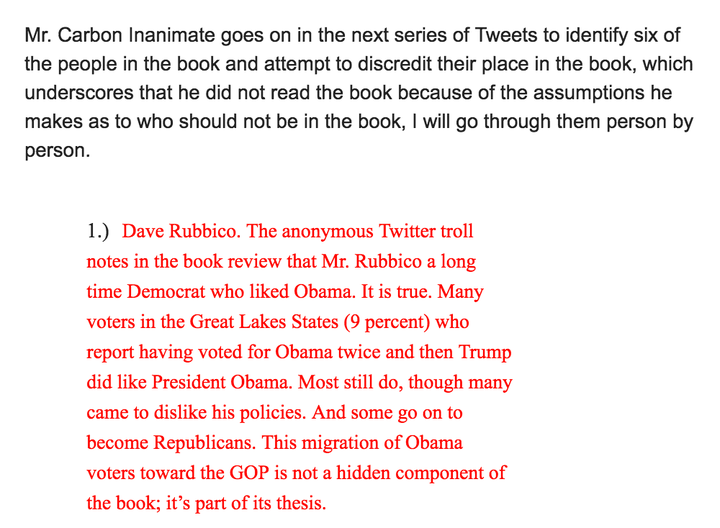 It appears that Rubbico did indeed run as a Republican for a local committee position in 2018. This obviously would have been after Zito interviewed him. The problem here is with Zito's characterization of Rubbico as some sort of swing voter. Toward the end of her chapter on Rubbico, Zito writes: "Trump's outspokenness, which caused many suburban Republicans to blush, blanch, and perhaps even defect from him to vote for Clinton or a third-party candidate, was an asset for voters like Rubbico who mince few words themselves. It's these voters, in this new coalition more because of style than ideology, who could either turn hard against the congressional GOP during the 2018 elections or swing back to voting Democratic once Trump is done."
Now, as the original Twitter thread points out, here's what Rubbico wrote in a letter to his local paper in January 2017: "Sorry to hear that you are yet another sore loser, bleeding-heart liberal who would rather overthrow the government by thrusting us into another Civil War instead of being mature, responsible adults and accepting the outcome of the election and giving President Trump a chance to serve everyone. He is not a racist for saying that immigrants should be legal. He is holding America first by wanting to stop the invasion of illegal immigrants and Syrian refugees, both groups that are embedded with terrorists. Merry Christmas and happy New Year. None of that happy holidays stuff, thanks to Trump, the savior of our nation, which has been decimated by President Barack Obama over the last eight years."
I asked Zito if she was saying that the person who wrote that letter is the type of voter who might vote Democratic in 2018. She did not answer.
The Case Of The Independent Suburban Voter (Who Was Also A GOP Delegate)
Next we have Cynthia Sacco, described in Zito's book as an "independent-minded suburban voter" who is "of Hillary Clinton's generation" and who "spent most of her adult life voting mostly Democrat." This is not the kind of person you might expect to have been a GOP delegate in 1994.
In her email to me, Zito wrote: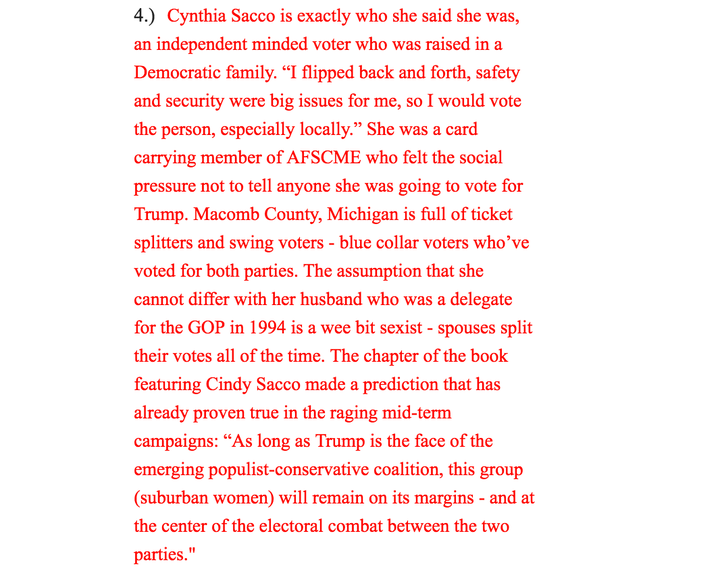 First, it's not Cynthia Sacco's husband who was the GOP delegate in 1994—it was Cynthia Sacco herself. This would certainly seem worth mentioning when otherwise framing someone as an "independent-minded suburban voter." And as for Zito's efforts to describe Sacco as someone who's particularly conflicted party-wise, her Facebook likes leave us with a markedly different impression: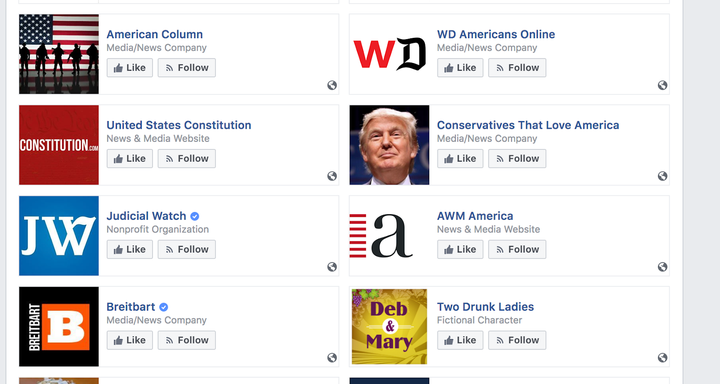 In response to the above screenshot, Zito wrote in a subsequent email: "On page 209 Sacco says she grew up in a Democratic family who said she spent most of her adult life voting mostly Democrat then began switching back and forth as she got older 'Then I just flipped back and forth. Safety and security were big issues for me, so I would vote the person, especially locally.'" In fairness, Clinton probably could have won over voters like Sacco — she just needed to run as a Republican.
The Case Of The Clinton High-Priority Target (Who Thinks Obama's A Muslim)
In discussing Patty Bloomstine of Erie County, Pennsylvania, Zito asserts that Bloomstine is "exactly the kind of voter who was at the top of Hillary Clinton's persuasion-target list during the 2016 campaign." As Inanimate Carbon Rod found, Bloomstine is also on her local Republican committee — though, in fairness to Zito, this appears to be a recent development and thus couldn't have been included in the book.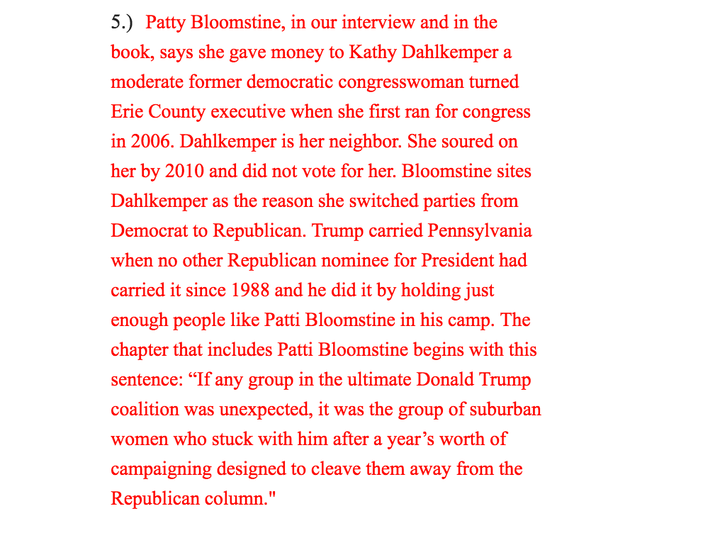 Zito claims that Patty Bloomstine "switched parties from Democrat to Republican" in 2010, but the only other candidate Bloomstine has ever given money to besides Kathy Dahlkemper was former GOP Sen. Rick Santorum, to whom she gave $500 in 2006. Rick Santorum.
What's more, the characterization of Bloomstine as someone who was high on Clinton's priority list doesn't exactly comport with what Bloomstine was sharing on her Facebook page in 2012: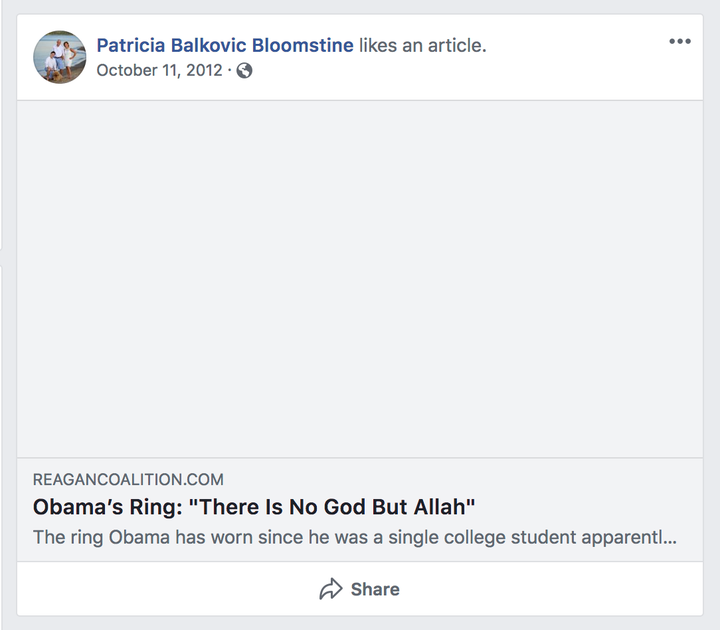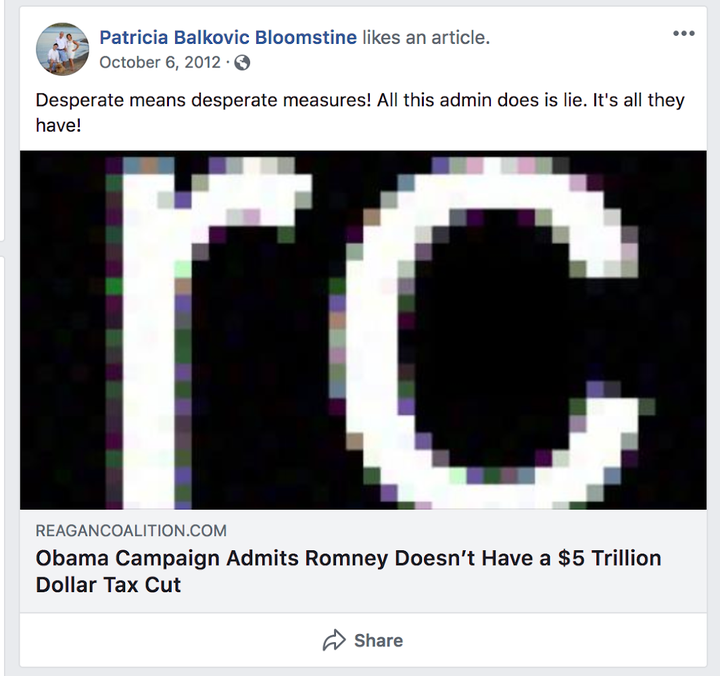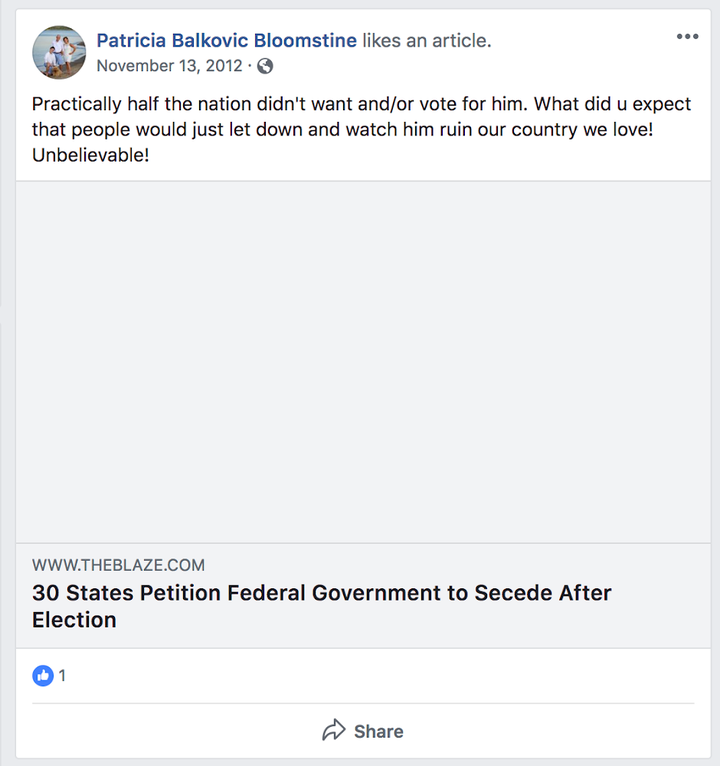 To the above screenshots, Zito responded: "People ticket split all of the time it is not unusual on the life issue (Santorum and Dahlkemper) are both prolife. She says in the book if you read it that she switched from Dem to GOP in 2010 away from Dahlkemper because she began voting with the Dem leadership and then started voting republican." In other words, Zito appears to be arguing that someone who would turn against a politician for voting with Democrats is just the type of person who might vote for Democrats.
The Case Of Salena Zito
In her initial email to me, Zito closed with the following:

Maybe this was her wildest mischaracterization yet. Zito likes to paint herself as a beacon of empiricism and old-fashioned, just-the-facts reporting. This is a difficult posture to strike for someone who once sat on the board of the conservative Heritage Foundation's Center for Media & Public Policy. But she's only doing to herself what she did to all those alleged populist Democrats who became Republican Party officials. She's cosplaying.
After a few more attempts at contact, Zito and I texted: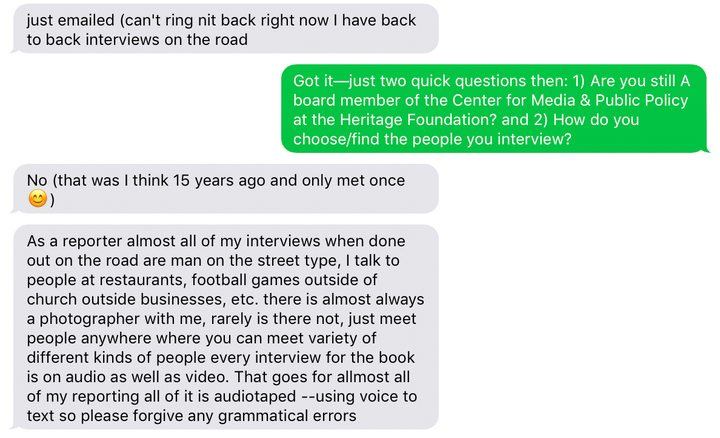 A photographer might back up Zito's version of events, putting a number of credibility questions to bed. Certainly she'd be eager for the scrutiny to end. So I asked:

I have yet to receive a response.
With all that research she's apparently doing, one would think she'd have used some of it.
Voir aussi:
The Salena Zito controversy, explained
A chronicler of heartland Trump voters stands accused of shoddy journalism.
Dylan Matthews
Vox
Sep 5, 2018
Last Thursday afternoon, the front page of the Huffington Post featured a picture of New York Post reporter and CNN contributor Salena Zito, with the headline, "SLIPPERY SALENA: TRUMP WHISPERER EXPOSED!" 
The piece, by reporter Ashley Feinberg, was the culmination of months of speculation by reporters, but especially by a handful of anonymous Twitter accounts (including @rod_inanimate, @UrbanAchievr, @KT_So_It_Goes, and @cnn94cnn), that Zito was plagiarizing, mischaracterizing interviews, and, in the most serious allegations, fabricating quotes out of whole cloth.
If true, the allegations are devastating. Zito responded Tuesday evening with a detailed New York Post column, including a recording, two transcripts, and a photograph of notes aiming to rebut some, but hardly all, of the allegations. She also addressed the controversy on CBS's Face the Nation on Sunday. (She declined to comment for this article, referring me to her New York Post column addressing the allegations.)
Zito, who before the fall of 2016 was a Pittsburgh Tribune-Review columnist with a local following, has benefited from Donald Trump's rise in a way few others have. She made a name for herself by filing revealing dispatches from Trump country during the campaign, which featured conversations with "Main Street voters" whose "traditions, skills, jobs and lives" are under threat by the "cosmopolitan and political classes" exemplified by Hillary Clinton.
She admonished journalists that while they took Trump "literally, but not seriously," Trump's supporters took him "seriously, but not literally." Her pieces explain that regular Joes out in Ohio and Pennsylvania don't care that the president's lawyer and campaign chair are guilty of numerous federal crimes because "as it stands we only really only [sic] have two parties; the party of the governing elite and the party of Trump."
Her Trump voter–whispering columns earned her the New York Post job, a book deal (The Great Revolt, co-authored with GOP political consultant Brad Todd, which came out in May), a CNN contributor deal, and a joint project with Harvard's Institute of Politics. She became a favorite of both mainstream journalists — Jake Tapper said in a book blurb that she "picked up on a political phenomenon long before polls or pundits had any idea of what was happening" — and conservatives, who see her as a rare voice of America's traditionalist heartland. The president even sang her praises:
But as Zito's star has risen, so have the questions around her reporting. Feinberg's article focuses on the most frequent claim against Zito: that she misrepresents reliably Republican officials and donors as swing voters whom Trump won over. Zito and her defenders (like her New York Post colleague Seth Mandel and the Law360 reporter Alex Parker) insist that she always accurately portrayed the people she profiled, including disclosing their Republican Party histories when relevant.
But anonymous Twitter accounts have also unearthed three instances of apparent plagiarism by Zito, and the most damning claims against her, by far, have involved allegations that she fabricates quotes in stories. Zito has said she records "many" of her interviews, which would make verifying more contested stories possible, but she has yet to release any recordings in response to the fabulism accusations (though she did release one as part of the Post piece — more on that below).
Beyond the concrete allegations against Zito, the fight reflects widespread disdain among some journalists toward her anecdote-heavy, data-light, at times unduly credulous approach to political reporting. Zito prides herself on having caught a populist conservative wave that other analysts failed to see coming, and on doing it through interviews in small towns across the Midwest. But that leads to bolder proclamations that 2016 was "not a fluke" and was indeed a fundamental realigning event, as well as to overly charitable interpretations of her subjects' intentions (as she once quipped, "There's always 'some' portion of anyone's followers who are racist").
Incorrect analysis is obviously a very different problem than fabulism, plagiarism, and mischaracterizing sources. Those (especially the former two) are incredibly serious offenses that can get you run out of journalism. Doing political analysis in ways that feel wrongheaded to your critics, obviously, is not career-ending, nor should it be. But that disagreement helps explain why so many in the media have been willing to believe these claims about Zito, even without ironclad proof of the worst allegations.
Three cases of plagiarism
Let's start with the easiest-to-evaluate charges against Zito: allegations of plagiarism. On two occasions identified by @rod_inanimate, Zito copied language without credit from other sources: once from a fellow Pittsburgh reporter, the other time from Wikipedia. On a third occasion, highlighted by @cnn94cnn, she appeared to pass off quotes from the Pittsburgh Post-Gazette as ones she obtained herself.
On December 14, 2016, Zito began a New York Post column on the opioid crisis with this anecdote (emphasis in all the passages quoted is mine):
Exactly one month before Election Day, on a Monday, Rowen Lally boarded her school bus in McKeesport, Pa.

Before the 7-year-old left her house, she cared for her infant sister with a bottle and a diaper change, leaving her 3- and 5-year-old brothers at home with her parents.

On the way home from school, Rowen told the school bus driver her parents looked blue when she left the house and she couldn't wake them up; a quick call was made to the school, which notified police.

Authorities discovered Rowen's parents had been dead since Friday of a heroin overdose.
Zito cites no source for the story, despite offering a link to the other overdose story she mentions. But it appears she took it from the Pittsburgh Post-Gazette's Karen Kane, who wrote up the school bus detail in her October 6, 2016, story this way:
The discoveries had come after Rowen had told a school bus driver on her way home from school Monday afternoon that her parents had been blue and that she had been unable to wake them that morning. The bus driver notified school officials who contacted police. The children were taken to Children's Hospital of Pittsburgh of UPMC for evaluation then were placed in the care of Allegheny County Children, Youth and Family caseworkers.
If Zito had given Kane credit for the story, it would have been basically fine. In the absence of such credit, it looks like she stole an anecdote from another reporter's story.
Arguably an even more egregious example of plagiarism comes in her book with Todd, The Great Revolt: Inside the Populist Coalition Reshaping American Politics. Interviewing Wisconsin voter Amy Giles-Maurer talking about her father, Zito and Todd write:
"He went into the Marines, right out of high school. Just volunteered and he was sent to Vietnam where he fixed F-4 Phantoms," she says, referring to the tandem two-seat, twin-engine, all-weather, long-range supersonic jet interceptor and fighter-bomber used extensively during the southeast Asian conflict.
If that feels like an oddly long and formal construction, almost like an encyclopedia entry, that's because it was lifted directly from Wikipedia, the beginning of whose entry for the "McDonnell Douglas F-4 Phantom II" currently reads:
The McDonnell Douglas F-4 Phantom II is a tandem two-seat, twin-engine, all-weather, long-range supersonic jet interceptor and fighter-bomber originally developed for the United States Navy by McDonnell Aircraft.
The book was published in May; Wikipedia's page history reveals that the article has used this exact language since May 31, 2017, and used nearly identical language for years before that. There is simply no explanation for the writing here other than Zito or Todd copying and pasting the relevant section from Wikipedia while not citing it.
There's a third case of alleged plagiarism, highlighted by @cnn94cnn. It concerns a short news hit that Zito wrote for the Washington Examiner on February 21, 2018, titled, "Woman who had affair with GOP Rep. Tim Murphy is running for Congress." @cnn94cnn alleges that, especially in its original form, it was uncomfortably similar to a Hill story by Lisa Hagen on the same topic, and originally, unlike the Hill, failed to credit the Pittsburgh Post-Gazette with the story.
Here's how the Zito story read originally:
Edwards said at the Allegheny County Court House that she is running for office because Pittsburgh deserves someone who will fight the battles no one wants to fight. She also said she expects her relationship with Murphy will come up again and again during the campaign.

"My opponents are likely to spend egregious amounts of time and money in an attempt to display my human mistakes for all to see," Edwards said. "I was warned. I have been given explanations. I have been told to back down, and I am here to tell you, nevertheless, I will endure."
That passage appears to imply that Zito herself saw Edwards say this at the Allegheny County Court House, when she is in fact quoting comments from Edwards originally heard and reported by the Pittsburgh Post-Gazette's Paula Reed Ward. Zito's post has since been updated to include a link to the Post-Gazette story, but it is still not clear that the quotes from Edwards come from the Post-Gazette originally. Zito's post states simply: "She also told the Pittsburgh Post Gazette she expects her relationship with Murphy will come up again and again during the campaign." (Zito addressed this charge in her column and argued that this was a sufficient fix.)
These cases, to me, represent serious wrongdoing and are deserving of an editorial reprimand at the very least. And while Zito's New York Post column defending her work addresses the final allegation, it does not touch on the first two at all.
Mischaracterizing Republican officials as swing voters
Key to Zito's journalistic project is the idea that she is identifying voters in Midwestern states whom a Democratic Party ruled by liberal coastal elites can't reach anymore. In her column defending her work, she cites this as a motive for her critics: "A few journalists, particularly those who rarely if ever leave the Washington Beltway or Midtown Manhattan, want to discredit my work because of what it reports. They want to silence the voices I listen to and record."
Her critics argue in turn that this is a con, that, over and over again, the people she has chosen to feature in her reporting have turned out to be Republican Party officials, politicians, and donors.
Take Amy Giles-Maurer, the Wisconsin woman whose father built the "tandem two-seat, twin-engine, all-weather, long-range supersonic jet interceptor and fighter-bombers." In the book, Giles-Maurer (also referred to as simply "Amy Maurer") is depicted as a Republican who supports Trump in spite of his sexism and the Access Hollywood tape. In a New York Post column, Zito described her as "the married, educated, suburban mom whom experts missed in the 2016 election — and still don't get today," the kind of voter whom "the Clinton campaign tried hard to win over."
The Post column doesn't mention that Giles-Maurer is a Republican (although Zito's book does); neither the column nor the book mentions that Giles-Maurer is the corresponding secretary of the Kenosha County, Wisconsin, Republican Party. An August 2016 article in the Kenosha News mentions her involvement in opening a field office for House Speaker Paul Ryan and Republican Sen. Ron Johnson, in which she praises Ryan for his "conservative agenda." She is listed as a member of the Kenosha Republican Party board of directors as early as March 2015. That, suffice it to say, does not sound like a 2016 swing voter.
The revelation that Giles-Maurer is a highly active Republican forced the conservative writer S.E. Cupp, who based a New York Times op-ed on Zito's reporting, to issue a correction, saying she had no idea that Giles-Maurer is a Republican. She, apparently, was misled by Zito's reporting.
Defending her use of Giles-Maurer to HuffPost's Feinberg, Zito states that her book is "about the most surprising archetypes of voters who became part of this populist coalition, those voters are both Republican and Democrat. Much of the book is focused on the kind of normally Republican-leaning voters that Hillary Clinton unsuccessfully sought to convert to her campaign." To Zito, Giles-Maurer fits that archetype.
In a Twitter thread, Zito further noted, "In the book, Amy Giles-Mauer, the woman in question, is clearly identified as not just a Republican, but as an engaged GOP primary voter." In her New York Post defense of her work, Zito notes that her Post column about Giles-Maurer featured "a large photo of her wearing a Kenosha GOP board pin."
That's all true (the book notes that Giles-Maurer originally supported Scott Walker), but there's a difference between being a primary voter and being a party official. And it remains the case that it would have been better to disclose Giles-Maurer's role as a Republican activist, especially in the New York Post column, in a clearer way than a hard-to-read pin in a photograph.
There are other suspicious cases. Feinberg highlights Cynthia Sacco, a Michigan woman whom Zito describes in the book as having "spent most of her adult life voting mostly Democrat." Zito neglects to mention that Sacco was a delegate to the Republican county convention in 1994, which complicates the portrait of her as a longtime Democrat. To Feinberg, Zito replied, "The assumption that she cannot differ with her husband who was a delegate for the GOP in 1994 is a wee bit sexist," but Sacco herself was a delegate too, as well as her husband.
Other cases are messier. @rod_inanimate attacks Zito for profiling Erie, Pennsylvania's David Rubbico in her book, a man whom Zito describes in her statement to Feinberg as "a long time Democrat who liked Obama" who "could either turn hard against the congressional GOP during the 2018 elections or swing back to voting Democratic once Trump is done." Rubbico was elected in 2018 to a local committee position in the Pennsylvania Republican Party. But that's obviously after the 2016 election, which to Zito and her defenders confirms the narrative that Rubbico was energized to get into conservative politics by Trump, even if it makes the idea of him being a swing voter this year implausible.
@rod_inanimate and Feinberg also cite a letter that Rubbico wrote in January 2017 that said, "our nation … has been decimated by President Barack Obama over the last eight years," and that Trump "is not a racist for saying that immigrants should be legal. He is holding America first by wanting to stop the invasion of illegal immigrants and Syrian refugees, both groups that are embedded with terrorists."
That does make it feel implausible that he previously was sympathetic to Obama (and that he'd swing back to Democrats in 2018 or 2020). But the letter's date is still post-election, so Zito's version of events is still plausible. Zito has also published audio and a transcript of her conversation with Rubbico, a somewhat odd move given that the authenticity of his comments was never in doubt.
Another source Zito has cited is Anthony Ripepi, a chief of surgery who lives in Peters Township, Pennsylvania, a case documented by Zito critic Beau Boughamer.
Zito prominently featured Ripepi in a January 31, 2018, New York Post column originally headlined "Donald Trump is still the man to these blue-collar voters." It has since been retitled "Donald Trump is still the man to this Pennsylvania home," which is probably for the best, given that "chief of surgery" is hardly a blue-collar job.
Zito would later defend the original statements by saying she does not write her own headlines: "Obviously, reporters don't write their own headlines, so this accusation tells you something about my trolls and the journalists who fell for the trolling." (It's true that at many, but not all, outlets, journalists don't get to headline their pieces.)
She described Ripepi and his wife, Michelle, as "upper-middle-class suburban voters who live in a blue-collar, upper-middle-class exurb." Per census data, the town has a median household income of about $110,000, or double the median for Pennsylvania as a whole; Peters Township is generally considered an affluent Pittsburgh suburb. I also don't know what the phrase "blue-collar, upper-middle-class exurb" means.
The frequency with which Zito mentions Ripepi is also striking. She cites him in a November 11, 2016, Washington Post piece titled, "Trump's voters won't mind if he doesn't keep all his promises"; he is one of only three voters cited to prove that contention. She also cites him in a January 5, 2017, Washington Examiner piece titled, "America to Obama: Stop now. You lost," in which Ripepi is upgraded from speaking for Trump voters to speaking for "America" (he is, again, one of just three voters). He appears yet again in a November 9, 2016, piece in the New York Post, in which he's described as a foe of the "cosmopolitan class" and their "constant mocking of those who live in flyover country."
Zito makes some fair inferences about him in that piece, noting, "The fundamental truth is that the Trump voter was still predominantly white, but both male and female, with a salary ranging from middle- to upper-middle-class to well-off and college-educated." That's more honest than claiming he speaks for "blue-collar" people (which, granted, could be chalked up to a headline writer's flub). But citing the same "man on the street" — a surgeon, no less — four separate times is, if not unethical, then at least strange.
The most serious charge: fabulism
Zito has repeatedly cited voters without giving their names, or their last names, or other information that might allow other reporters to track them down and verify their stories. This is unusual (as several reporters on Twitter have noted, the norm is to always get a name when talking to voters and other "people on the street"), and it becomes a problem when some of her stories are, frankly, a bit hard to believe.
The most startling cases to me (also highlighted by some other reporters like the Toronto Star's Daniel Dale) involve remarkable things Zito has claimed to have heard at gas stations.
As highlighted by @KT_So_It_Goes and @cnn94cnn, on at least three occasions Zito has claimed to hear remarkable impromptu political statements by voters at gas stations.
There was the time in Hagerstown, Maryland, that two friends were shooting the shit about Sen. Tom Cotton's (R-AR) letter, cosigned by 46 Senate Republicans, to the government of Iran:
Dodging raindrops and balancing bottled water and a bunch of power bars under one arm, a young man returned to his car at a Sheetz gas pump along old U.S. 40 in this western Maryland town, sandwiched between Pennsylvania and West Virginia.

The local public radio station blared through the open car door, reporting on the letter to Iran from 47 Senate Republicans. Adjusting his seat, he said to a traveling companion: "Good for them."

"Wait, who?" his friend asked.

"The guys who sent the letter to Iran, that Cotton guy," he replied. "For all we know, the president will issue an executive order and give Iran whatever they want."

Then he shut the car's door and drove east toward the U.S. 522 overpass.
There was the time she pulled over off US 422 and heard a gas station manager complaining about Democrats, and Martha Plimpton in particular:
A clip of Martha Plimpton's exuberance over the "best" abortion she ever had played out on the television overhead of a gas-station counter somewhere along U.S. Route 422 between Ohio and Pennsylvania.

A woman with a name tag noting her as the manager rolled her eyes and said to no one in particular as she went about stacking the shelves behind the counter, "And they wonder why people don't vote for Democrats around here anymore."
In 2014, in a Pittsburgh Tribune-Review piece reprinted in RealClearPolitics (I haven't been able to find a dateline), Zito claims she heard this:
Standing at a gas station pump, as news blared overhead about the Fort Hood shootings, a young mother with two children buckled into her sedan's car seats sighed.

"I hope someday if, God forbid, tragedy strikes again at a military base, whoever is president doesn't still head to a fundraiser," she said.
I'd be remiss here, though, if I left out the time she claims to have hung out at an abandoned gas station until someone came and gave her a perfect quote about the gas station's sign, imploring customers to support them over big businesses:
Last week, a man and his family pulled into the gas station and was surprised to find it closed, "I kept meaning to stop here on the way home, but other things got in the way," he said.

He read the sign and sighed, "They [the gas station] kept telling us we need you, and we kept thinking we'll get there soon, they will always be around," he explained.
There are more, like the French girl who used the somewhat archaic English phrasing "people young and old," which seems like an odd thing for a non-native speaker to say but which is phrasing Zito herself has also used. Nonetheless, Zito has, in her New York Post defense of her work, produced a transcript of her interview with the girl, confirming the girl said that; I personally find her defense there sufficient.
Then there's her interview with "Greg," a "small businessman" and "lifelong Republican" who issues quotes like this:
"We cannot let these hard-liners undermine every imagined slight or, even worse, do it simply based on the 'stagery' that attracts viewers or clicks," Greg said.
I had never heard of the word "stagery" before Greg said it in Zito's piece, but it appears she uses it in her own articles quite a bit. Zito has produced notes from the interview with the word "stagery" written on them:
A skeptical observer would note that famous journalistic fabulists like Stephen Glass have fabricated notes — but as a reporter who has certainly quoted people from notes without an audio recording attached, I'm willing to give Zito the benefit of the doubt on this case.
Then there's the time Zito claims a presidential campaign staffer admonished her for saying "God bless you":
There's the time she followed up a favorable retweet of a point former Bush press secretary Ari Fleischer made with a perfect quote from a guy at a gas station backing up Fleischer's argument:
There's the two separate times she claimed people in cars with "COEXIST" bumper stickers gave her the finger:
And the time she claimed to have interviewed protesters for "Demand Protest," a fake organization purportedly paying people to protest Trump that Fox News's Tucker Carlson, of all people, exposed as a hoax that didn't actually hire any protesters. That makes her claim to have met the fake group's employees a little fishy-sounding:
Despite what @UrbanAchievr says above, I don't consider these incidents ironclad proof she makes stuff up. My own attempt to dig deeper into the fabulism claims came up empty. On June 16, 2018, Zito published an account in the New York Post of several trips she took with Harvard students, aiming to give them a sense of what the "heartland" is really like. It ended with this anecdote:
In our final week, the class attended Mass at St. Stanislaus, a Polish church in the Strip District of downtown Pittsburgh. Before then, only two of my students had set foot in a Catholic church.

At the end of Mass, an older gentleman came up to me and said how nice it was to see young people dressed up and going to church. When I told him they were students from Harvard, he beamed.

"I have been reading for years that college kids these days are thin-skinned, what's that word … ? Snowbirds, snowflakes, anyways … that they have no easiness with meeting someone new or trying something different or won't be open to opposing opinions," he said.

He smiled as he gave my kids an approving thumbs-up.

"Don't you just love when a stereotype is blown up right in front of you?"
This felt suspicious to me, and to a number of others on Twitter. But Zito named the Harvard students on the trip, and I was able to talk to five of them. Four of the five remember going to Mass, and one of them recalls the final quote.
"Although I don't remember the part about thin-skinned students clearly, he did say the bit about stereotypes being blown up and he was very pleased to meet us," Malcolm Reid, Harvard '21, told me. "I do think it was an accurate representation of that conversation."
That said, Reid and three other students on the trip told me they had been in a Catholic church before, putting a lie to Zito's insistence that "only two of my students had set foot in a Catholic church."
But that's a relatively minor factual error in the scheme of things, and nothing in my conversations with the students provided positive evidence that Zito was fabricating; Reid's testimony inclined me to believe the "stereotype" line is accurate.
The Harvard story almost feels like the Salena Zito problem in microcosm. There's no absolute proof of fabrication, though it would have been much better journalistic hygiene for her to name the man she met in the church to help her editors and others with fact-checking. But it's sloppy (two students who'd been to Mass versus four-plus), and there's no confirmation that the most fake-sounding quote ("Snowbirds, snowflakes") is real.
Zito has been defiant throughout this controversy. In a long thread replying to @rod_inanimate, she alleged the account and others "lied, in an attempt to discredit my hard-earned reputation, and my hard work." She then elaborated on Face the Nation and in her New York Post column.
Seth Mandel, her colleague at the Post, "spent his entire Labor Day weekend, late into the night last night, and all day today, helping Salena compile" a defense of her work, Mandel's wife, Bethany Shondark Mandel, said on Twitter. Seth Mandel has argued that "anyone with a shred of integrity will acknowledge [Zito's] debunking and move on."
That's not likely to happen, and given Zito's cases of plagiarism and the highly suspicious nature of some of the quotes above, I'm not sure that it should happen. The controversy will likely only be resolved if Zito releases audiotapes for the suspicious incidents, proving that her anonymous men on the street said what she claims they said. The only audio released so far has been that of Rubbico; she has produced no verification of any of the gas station incidents, for instance, or that she really met people hired by Demand Protest. Until she produces more audio, the doubts will remain, and her defenders will remain indignant that people believe them.
I remain skeptical of some of Zito's reporting. I would still like to hear audio of some of her more fantastical anecdotes, and the plagiarism, especially the Wikipedia case, is unacceptable. But fabulism is an incredibly serious charge, and if people are going after Zito's job, they'll need much firmer evidence than currently exists.