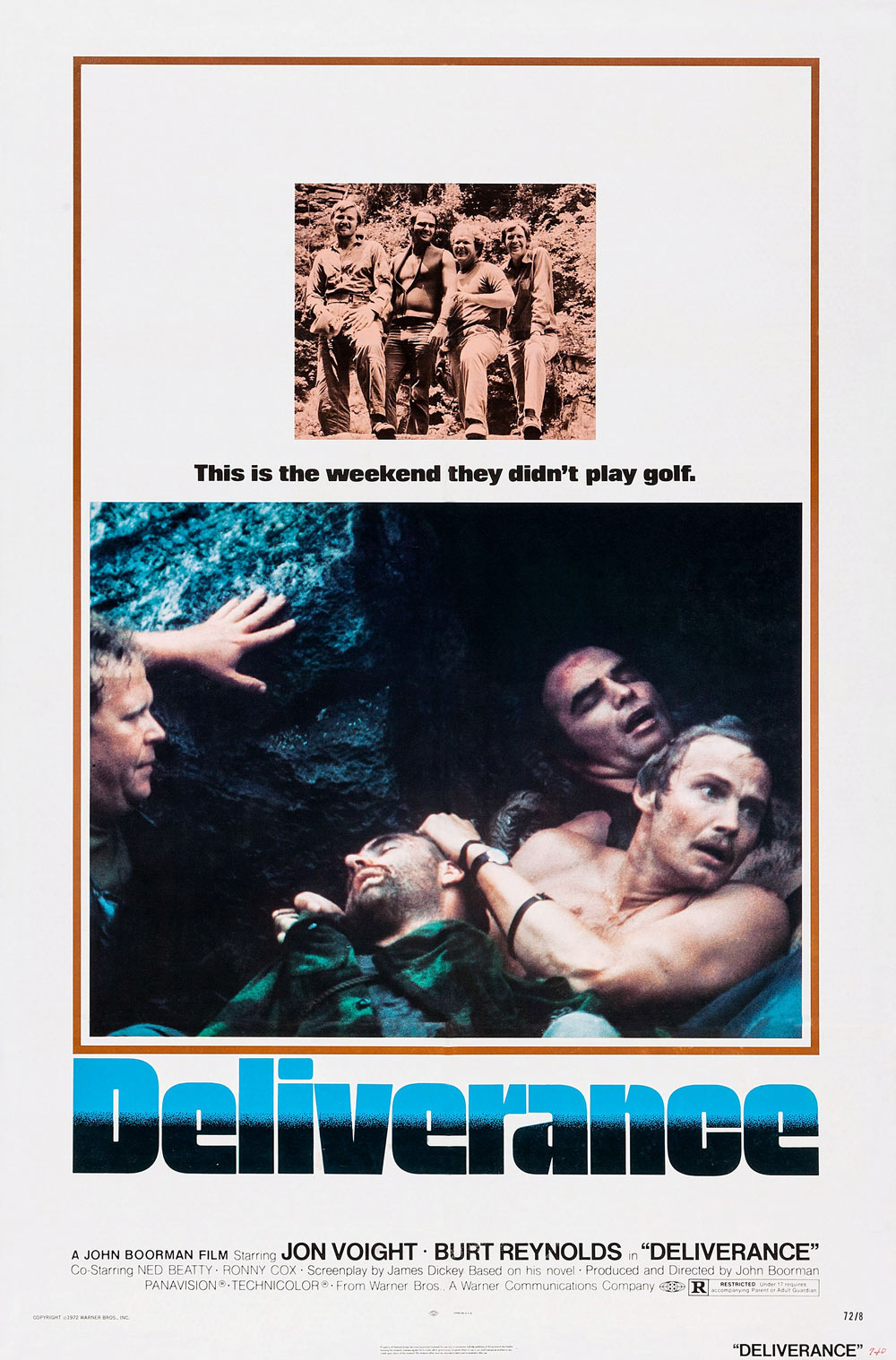 The release of "Deliverance" was, without question, a difficult time for rural Southerners. The mountaineers of "Deliverance" were "crippled misfits and savage sodomizers of the North Georgia wilderness" who terrorize the foursome of Atlanta canoeists who simply want to run the rapids of the fictitious Cahulawassee River. Indisputably the most influential film of the modern era in shaping national perceptions of southern mountaineers and rural life in general, Deliverance's portrayal of degenerate, imbecilic, and sexually voracious predators bred fear into several generations of Americans.  As film scholar Pat Arnow only partly facetiously argued in 1991, the film 'is still the greatest incentive for many non-Southerners to stay on the Interstate.'" (…) The film's infamous scenes of sodomy at gunpoint and of a retarded albino boy lustily playing his banjo became such instantly recognizable shorthand for demeaning references to rural poor whites that comedians needed to say only 'squeal like a pig' or hum the opening notes of the film's guitar banjo duet to gain an immediate visceral reaction from a studio audience. (…) To (the character) Lewis (and Dickey), the mountain folk's very backwardness and social isolation has allowed them to retain a physical and mental toughness and to preserve a code of commitment to family and kin that has long ago been lost in the rush to a commodified existence. Lewis praised the 'values' passed down from father to son. But all of that meaning appeared to be lost in the film. Instead, Hollywood was much more interested in the horrific tale and captivating adventure of traveling down a North Georgia river being chased by crazed hillbillies. (…) Resentment grew even while the film was being made. As word of how the mountaineers were being portrayed spread, (James Dickey's son) Christopher Dickey, who was staying with his family in a low-budget motel and had more contact with the local residents acting or working on the set than did Boorman and the lead actors staying in chalets at a nearby golf resort, began to fear for his safety. Shaped by a century of media depictions of brutally violent mountaineers, he worried that some 'real mountain men' with 'real guns' might 'teach some of these movie people a lesson.'" Anthony Harkins (Western Kentucky University)
Retour après la conquête de l'espace sans drapeau et à l'instar du film américain de 1972 « Deliverance » (trois ans après déjà les victimes hippies de la vindicte « redneck » d' »Easy Rider« ) …
Ou de leurs avatars français comme « Dupont Lajoie » ou les Deschiens  à la télévision …
Sur ces décennies de délégitimation des classes populaires que rappelle dans son dernier livre le géographe français Christophe Guilluy …
Auxquelles nous devons, sur fond d'un évident mépris de classe, tant les tristement fameux « aigris accros aux armes et à la religion » d'un Obama que le « panier de déplorables » d'une Hillary Clinton ….
Ou plus près de chez nous les « sans-dents » d'un François Hollande et les « illettrés » d'un Emmanuel Macron …
Avec bien sûr, sur fond de migration massive et hors contrôle, les conséquences tant sur la sécurité culturelle que l'assimilation des nouveaux arrivants …
Mais que, signe de ce nouveau « soft power » des oubliés de la mondialisation amplifié par les réseaux sociaux et les nouveaux tribuns du populisme dont parle Guilluy, les élites semblent avoir de plus en plus de mal à conserver sous le tapis …
Revisiting Deliverance
The Sunbelt South, the 1970s Masculinity Crisis, and the Emergence of the Redneck Nightmare Genre
Isabel Machado
June 19, 2017
Notes
A Portuguese version of this article will be published simultaneously by the academic journal O Olha da Historia (Brazil).
"Dueling Banjos: Joe Biden Talks about 'Man Rape' in Deliverance." Filmed May 2013. YouTube video, 1:36. Posted May 2013. http://www.youtube.com/watch?v=BSszgkaWMwY.
"50 Top‑Grossing Films [Week ending August 9]." Variety, August 16, 1972, 11. It should be noted that even though Deliverance was released five days earlier, while Super Fly opened in two theaters, Deliverance was screened in only one that first week. "'Fat City' Fat Start 31G; 'Deliverance' Delivers Big First Days in NY; Nixon Spoof, Self‑Sold, Watched," Variety, August 2, 1972, 8.
"Deliverance," Variety, July 19, 1972, 14.
Stephen Farber, "Deliverance‑How It Delivers," New York Times, August 20, 1972.
"Redneck nightmare" films are those in which a person, or a group of people, travel to or through the US South and have dreadful things done to them by monstrous "natives." For more on the definition and contextualization of the redneck nightmare subgenre/cycle see: Isabel Machado dos Santos Wildberger, "The Redneck Nightmare Film Genre: How and Why the South of Moonshine and Inbred Maniacs Replaced the South of Moonlight and Magnolias in Popular Imagination" (MA Thesis, University of South Alabama, 2013).
For studies that follow the former approach, see Allison Graham, Framing the South: Hollywood, Television, and Race during the Civil Rights Struggle (Baltimore: John Hopkins University Press, 2001), Karen L. Cox, Dreaming of Dixie: How the South Was Created in American Popular Culture (Chapel Hill: University of North Carolina Press, 2011), and articles in Deborah E. Barker and Kathryn McKee eds., American Cinema and the Southern Imaginary (Athens: University of Georgia Press, 2011). For examples of the latter, see Edward Campbell Jr., The Celluloid South: Hollywood and the Southern Myth (Knoxville: University of Tennessee Press, 1981), Warren French, ed., The South and Film (Jackson: University Press of Mississippi, 1981), Jack Temple Kirby, Media‑Made Dixie: The South in the American Imagination (Baton Rouge: Louisiana State University Press, 1978), Larry Langman and David Ebner, eds., Hollywood's Image of the South: A Century of Southern Films (Westport, Connecticut: Greenwood Press, 2001).
Peter Applebome has contended that the country, and Hollywood in particular, "has Ping‑Ponged between views of the South as a hellhole of poverty, torment, and depravity and as an American Eden of tradition, strength, and grace." This is an interesting analogy, but only if we disregard the fact that negative and positive images of the section tend to historically coexist rather that alternate. Tara McPherson might be closer to the mark when she notes that there seems to be a recurring "cultural schizophrenia about the South" in popular culture. See Peter Applebome, Dixie Rising: How the South Is Shaping American Values, Politics, and Culture (San Diego: Harcourt Brace, 1997), 11; Tara McPherson, Reconstructing Dixie: Race, Gender, and Nostalgia in the Imagined South (Durham: Duke University Press, 2003) 3.
Robin Wood, "An Introduction to the American Horror Film," in Movies and Methods Volume II, ed. Bill Nichols (Berkeley: University of California Press, 1985), 199.
James C. Cobb, Away Down South: A History of Southern Identity (New York: Oxford University Press, 2005), 4.
David R. Jansson, "Internal Orientalism in America: W. J. Cash's The Mind of the South and the Spatial Construction of American National Identity," Political Geography, vol. 22 (March 2003), 293‑316.
Larry J. Griffin, "Southern Distinctiveness, Yet Again, or, Why America Still Needs the South," Southern Cultures 6, no. 3 (2000): 47‑72. 68.
David L Smiley, "The Quest for the Central Theme in Southern History," in The New South, volume 2 of Major Problems in the History of the American South: Documents and Essays, ed. Paul D. Escott et al. (Boston: Houghton Mifflin, 1999), 18.
J. F. Staszak, "Other/Otherness," in International Encyclopedia of Human Geography, eds. Rob Kitchin and Nigel Thrift (Oxford: Elsevier, 2009), 43‑44.
See Matt Wray, Not Quite White: White Trash and the Boundaries of Whiteness (Durham: Duke University Press, 2006).
Jack Temple Kirby, The Countercultural South (Athens: University of Georgia Press, 1995), 56.
This song is from the re‑edited version of the film Bayou, directed by Harold Daniels (1957). In 1961 the movie was revamped with more nudity and violence along with a prologue featuring a banjo player singing this tune. This new version was re‑baptized Poor White Trash. See https://youtu.be/H2ZFPW5Cm6s.
James Dickey, Deliverance (Boston: Houghton Mifflin, 1970), 56.
Christopher Dickey, Summer of Deliverance (New York: Touchstone, 1999), 164.
John Boorman, audio commentary, Deliverance, directed by John Boorman (1972; Burbank, CA: Warner Home Video, 2007), DVD.
Wray, Not Quite White, 48.
Harriet Beecher Stowe, The Key to Uncle Tom's Cabin (London: Clarke, Beeton, and Co., 1853), 365, 368.
Daniel Robinson Hundley, Social Relations in Our Southern States (New York: Henry B. Price, 1860), 264
Hunley contends that unlike the noble Cavaliers, the "thrifty Middle classes," or "useful Yeomanry," the poor white trash were descended from the "paupers and convicts whom Great Britain sent over to her faithful Virginia," and of "indentured servants who were transported in great numbers from the mother country, or who followed their masters, the Cavaliers and Huguenots." See Hundley, 264–65.
Arthur H. Estabrook and Ivan E. McDougle, Mongrel Virginians: The Win Tribe (Baltimore: Williams & Wilkins Co., 1926).
Wray, Not Quite White, 82
Mongrel Virginians denunciation of the "degenerative" nature of interracial families helped justify stricter antimiscegenation marriage legislation, such as the Virginia Racial Integrity Act (1924), throughout the South. Interracial marriage had already been outlawed in Virginia since 1691, but what the new act added was a definition of whiteness. For more on this subject, see Gregory Michael Dorr, "Racial Integrity Laws of the 1920s," in Encyclopedia Virginia, ed. Brendan Wolfe (Virginia Foundation for the Humanities, 2011), http://www.EncyclopediaVirginia.org/Racial_Integrity_Laws_of_the_1920s.
By the turn of the twentieth century, there were estimates that least 40 percent of southerners, mostly poor whites, were infected with the hookworm parasite. See Thomas Waisley, "Public Health Programs in Early Twentieth-Century Louisiana," Louisiana History: The Journal of the Louisiana Historical Association, 41, no. 1 (Winter, 2000), 41; William J. Cooper and Thomas E. Terril, The American South: A History, vol. 2, rev. ed. (New York: Rowman & Littlefield Publishers, 2009), 613.
Tugwell was the director of the Resettlement Administration at the Information Division of the Agricultural Adjustment Administration, and Striker was chief of the Historical Section of the Information Division of the Resettlement Administration. See Richard D. MacCann, The People's Films: A Political History of US Government Motion Pictures (New York: Hastings House Publishers, 1973), 60.
Stuart Kidd, "FSA Photographers and the Southern Underclass, 1935–1943," in Reading Southern Poverty Between the Wars, 1918–1939, ed. Richard Godden and Martin Crawford (Athens: University of Georgia Press, 2006).
It includes works such as Edith Summers Kelly's Weeds (1923) and Henry Kroll's The Cabin in the Cotton (1931). See Jack Temple Kirby, The Countercultural South (Athens: University of Georgia Press, 1995).
O'Connor's work only had one major feature adaptation, John Huston's Wise Blood (1979), but there were several adaptations of Faulkner's fiction. The work of Erskine Caldwell has arguably generated some of the greatest sources of poor white southerner stereotypes. Two contemporary adaptations of well-known novels, directed by the same acclaimed Hollywood director, provide a good example of the impact of the southern gothic tradition of the portrayal of underclass southern whites. The Grapes of Wrath (1940) and Tobacco Road (1941) were both directed by John Ford, but the representations of the Joads and the Lesters could not be more contrasting; while the Okie family is dignified, the Georgia sharecroppers are a collection of hillbilly stereotypes.
"Deliverance," Variety, July 19, 1972, 14.
J. W. Williamson, Hillbillyland: What the Movies Did to the Mountains and What the Mountains Did to the Movies (Chapel Hill: University of North Carolina Press, 1995), 195.
Redden was also featured in a number of fortieth anniversary articles on Deliverance. See Rich Philips, "40 years later, Deliverance still draws tourists, stereotypes," CNN.com, June 22, 2012, http://www.cnn.com/2012/06/22/us/deliverance-40-years/index.html?iref=allsearch; Charles Bethea, "Mountain Men: An Oral History of Deliverance," Atlanta Magazine, September 01, 2011, http://www.atlantamagazine.com/great-reads/deliverance/.
James Dickey, Deliverance, Screenplay Second Draft (January 11, 1971), 13. http://www.dailyscript.com/scripts/deliverance.pdf.
S. Keith Graham, "Twenty Years after Deliverance: A Tale of a Mixed Blessing for Rabun County," Atlanta Journal-Constitution, March 18, 1990, M4.
Deliverance, directed by John Boorman (1972; Burbank, CA: Warner Home Video, 2007), DVD.
Ellen Glasgow, "Heroes and Monsters," Saturday Review of Literature, May 4, 1934, 4.
Graham, M4.
Robert P. Steed, Lawrence W. Moreland, and Tod A. Baker, eds., The Disappearing South? Studies in Regional Change and Continuity (Tuscaloosa: University of Alabama Press, 1990), 125.
See Bruce J. Schulman, From Cotton South to Sunbelt: Federal Policy, Economic Development, and the Transformation of the South, 19381980 (New York: Oxford University Press, 1991) and Randall M. Miller and George E. Pozzetta, Shades of the Sunbelt: Essays on Ethnicity, Race, and the Urban South (New York: Greenwood Press, 1988).
Schulman, From Cotton South to Sunbelt, 180.
Christopher Dickey, Summer of Deliverance, 170.
Jack Temple Kirby relates Carter's political success to "the redemption of the white masses from pity and from racism." See Kirby, Media-Made Dixie: The South in the American Imagination, 170.
Derek Nystrom, Hard Hats, Rednecks, and Macho Men: Class in 1970s American Cinema (New York: Oxford University Press, 2009), 57.
This association of the landscape with a violated body mirrors a previous scene in the screenplay (which did not make it to the final film), where Lewis calls Atlanta "that old whore." See Deliverance, Boorman, and James Dickey, Deliverance, Screenplay Second Draft.
Christopher Dickey, Summer of Deliverance, 180.
Deliverance Theatrical Trailer, in Deliverance, Boorman.
Joan Downs, "Ascent of a Reluctant Winner," Life, August 15, 1972, 44.
As an interesting side note: The same issue has an article about chess champion Bobby Fischer with the subhead, "The news from Reyjavik is that the Big Bad Wolf of chess has turned into Little Red Riding Hood." See Brad Darrach, "Can This Be Bobby Fischer?," Life, August 15, 1972, 42.
K. Michael Prince, "Neoconfederates in the Basement: The League of the South and the Crusade against Southern Emasculation," in White Masculinity in the Recent South, ed. Trent Watts (Baton Rouge: Louisiana State University Press, 2008), 235.
Robert O. Self shows how the shift from "breadwinner liberalism" to "breadwinner conservatism," a reaction to the gains made by nonwhites, women, and gay men and lesbians, would lead to a discourse of the defense of family values that would fuel the rise of the New Right and Religious Right. See Robert O. Self, All in the Family: The Realignment of American Democracy Since the 1960s (New York: Hill and Wang, 2012).
Michael Kimmel, Manhood in America: A Cultural History (New York: Free Press, 1996), 262.
Steve Estes shows that the relationship between white southern masculinity and sexual control was manifested in their violence against black men, which usually had sexual undertones, and that challenges to segregation also fueled male anxieties. See Steve Estes, "A Question of Honor: Masculinity and Massive Resistance to Integration" in White Masculinity in the Recent South, ed. Trent Watts (Baton Rouge: Louisiana State University Press, 2008), 111.
See Kimmel, Manhood in America; Self, All in the Family.
Kimmel, Manhood in America, 332n29.
Ann Steinmann and David J. Fox, The Male Dilemma: How to Survive the Sexual Revolution (New York: Jason Aronson, 1974), ix.
Steinmann and Fox, The Male Dilemma, 6.
Steinmann and Fox, The Male Dilemma, 9.
Christopher Dickey, Summer of Deliverance, 182.
Graham, "Twenty Years after Deliverance."
Ronald Saland, The Dangerous World of Deliverance (short promo documentary,1972), in Deliverance, Boorman.
Oliver Lyttelton, "5 Things You Might Not Know about Deliverance, Released 40 Years Ago Today," Indiewire, July 30, 2012, http://blogs.indiewire.com/theplaylist/5-things-you-might-not-know-about-deliverance-released-40-years-ago-today-20120730.
Joan Mellen, Big Bad Wolves: Masculinity in American Film (New York: Pantheon, 1977), 311.
Mellen, Big Bad Wolves, 320
Mellen, Big Bad Wolves, 318
Robert Armour, "Deliverance: Four Variations of the American Adam," Literature Film Quarterly 1, no. 3 (July 1973), 280–82.
Farber, "Deliverance—How It Delivers."
Advertising for the festival on Atlanta Journal-Constitution, August 11, 1972.
Howel Raines, "Deliverance—A Too-Proud Peacock," Atlanta Journal-Constitution, August 20, 1972, 8-F.
Sam Lucchese, "Burt Reynolds, Mister Nude, Flies to Atlanta (On Playboy's Plane)," Variety, August 16, 1972, 7.
It was also nominated for three Academy Awards: Best Picture, Best Director, and Best Film Editor in the 45th Annual Academy Awards (1973). Sam Lucchese, "Deliverance is Mostest of Bestest at Atlanta; Sounder and Tyson, Too," Variety, August 23, 1972, 7. Scott Cain, "Deliverance Wins Top festival Prize," Atlanta Journal-Constitution, August 20, 1972.
Bethea, "Mountain Men."
Christopher Dickey, Summer of Deliverance, 14.
Timothy Silver, "The Deliverance Factor," Environmental History 12, no. 2 (April 2007), 371.
Graham, "Twenty Years after Deliverance."
Bethea, "Mountain Men."
Bethea, "Mountain Men."
Graham, "Twenty Years after Deliverance."
Emily Satterwhite, "Deliverance," in Media, vol. 18 of The New Encyclopedia of Southern Culture, ed. Allison Graham and Sharon Monteith, (Chapel Hill: University of North Carolina Press), 233.
See Wildberger, "The Redneck Nightmare Genre."
For film scholar Rick Altman, the analysis of a film genre is only complete once we consider both its semantic (iconic codes) and syntactic (narrative construction) elements. See Rick Altman, Film/Genre (London, BFI, 1999).
"Georgia vs. Tennessee," The Daily Show with Jon Stewart, September 18, 2013, http://www.cc.com/video-clips/4txix4/the-daily-show-with-jon-stewart-georgia-vs–tennessee.
Jim Birkhead, "On Snakes and People," in Images of the South: Constructing a Regional Culture on Film and Video, ed. Karl G. Heider (Athens: University of Georgia Press), 1993.
Timothy Silver noted that on a visit to favorite breakfast stop in the Appalachian Mountains he spotted T-shirts for sale that read, "Paddle faster. I think I hear banjo music." Different versions of the T-shirt can also be easily found online. See Silver, "The Deliverance Factor."
Satterwhite, "Deliverance."
Voir encore:
40 years later, 'Deliverance' causes mixed feelings in Georgia
Cory Welles
Market place
August 22, 2012
Tess Vigeland: When big movies are filmed in small towns, they can pour money into the local economy. Crews need to be fed, housed, moved about and entertained. Productions need extras, and every once in awhile a local gets cast in a speaking part. Some movies even leave a footprint long after the cameras are gone. Santa Barbara Wine Country saw a huge influx of tourists after « Sideways. »
But not every production leaves a sweet taste in locals' mouths. Film producer Cory Welles and director Kevin Walker decided to make a documentary about one such movie, and the people it portrayed. Cory filed this story about her own film, « The Deliverance of Rabun County. »
---
Cory Welles: The folks in Rabun County, Ga., put on the Chattooga River Festival this past June to encourage people to visit and take care of their river. But it wasn't the moonshine tastin' or banjo pickin' that got me out to this lush, green mountainous part of the state. It was "Deliverance."
The movie was shot on and around the Chattooga 40 years ago this year, and they were using that as the hook for the festival.  What Sarah Gillespie and others who helped put the event together didn't count on was how it would split the community.
Sarah Gillespie: We had a commissioners meeting, and someone stood up and was very emotional — very real feelings — and said that the movie had ruined her life.
I heard stories of people being passed up for jobs because they came from Rabun County. And those negative images have been reinforced by 40 years of "Deliverance" jokes.
But not everyone around has bad feelings about "Deliverance." And that includes Billy Redden, the backwoods-looking boy who played Dueling Banjos with Ronny Cox in the film. Billy's 55 years old now, and he says "Deliverance" was the best thing that ever happened to him. But that doesn't mean he saw much money from it.
Billy Redden: I'd like to have all the money I thought I'd make from this movie. I wouldn't be working at Walmart right now. And I'm struggling really hard to make ends meet.
Billy didn't make alot from "Deliverance," but Rabun County did. Before the movie came out, the number of people who visited the Chattooga was in the hundreds. Afterwards, it was in the tens of thousands. Rafting is now a $20 million industry here and tourism is the area's number one source of revenue.  So you can understand why the organizers of the Chattooga River Festival decided to highlight the film.
But you can also understand the objections.
Tammy Whitmire: A lot of people tried to talk me into supporting this and so they justified it and said, « Tammy, but it's making money, it's tourism, it's bringing people to the county, why does it matter how they get here? »
Tammy Whitmire is a county official who's lived in the area since she was nine and married a man whose family has been here for 15 generations. But she refused to support the Chatooga River Festival because of "Deliverance."
Whitmire: As long as they get here and spend their money, and my thought to that particularly is, you know you're gonna sell what are you selling, to get those few dollars? Is it worth a few dollars? For people around the world to think that's what we are here? No. Or for me, it is not worth it.
But it's more than just a few dollars. Then-governor Jimmy Carter established a film commission in Georgia after "Deliverance" came out.  And since then, the state's become one of the top five production destinations in the U.S. And it's not just movie money that's been drawn to this part of the state, it's people with money. These days, million-dollar vacation homes line the shores of the area's lakes.
You can understand why city-folk might want to have a place in these parts. The Chattooga is beautiful — unbelievably beautiful. On a raft ride down the river, our guide pointed to a tree-lined bank and said "That's where the rape scene was filmed!" And 40 years after "Deliverance" hit theaters, that's still the issue: Can this gorgeous river and the disturbing scenes that were filmed here ever be separated? Do they need to be?
Sarah Gillespie: "Deliverance" is a significant part of our history, good or bad. It's a significant part of the river's history.  It was filmed here. Stereotypes are stereotypes — they're in every single movie that you'll see in your life.
For what it's worth, my partner Kevin and I found the stereotypes to be anything but true. We met so many great people in Rabun County — especially Billy Redden, the "banjo boy."
Redden: We're not a bad people up here, we're a loving people. Rabun County is a pretty good town. It's peaceful, not a lot of crime going on, just a real peaceful town. Everybody pretty much gets along with everybody.
I'm Cory Welles for Marketplace.
Voir de plus:
Background
Deliverance (1972) is British director John Boorman's gripping, absorbing action-adventure film about four suburban Atlanta businessmen friends who encounter disaster in a summer weekend's river-canoeing trip. It was one of the first films with the theme of city-dwellers against the powerful forces of nature.
The exciting box-office hit, most remembered for its inspired banjo duel and the brutal, violent action (and sodomy scene), was based on James Dickey's adaptation of his own 1970 best-selling novel (his first) of the same name – he contributed the screenplay and acted in a minor part as the town sheriff.
The stark, uncompromising film was nominated for three Academy Awards (Best Picture, Best Director, and Best Film Editing), but went away Oscar-less. The beautifully-photographed film, shot entirely on location (in northern Georgia's Rabun County that is bisected by the Chattooga River), was the least-nominated film among the other Best Picture nominees. Ex-stuntman Burt Reynolds took the role of bow-and-arrow expert Lewis after it was turned down by James Stewart, Marlon Brando, and Henry Fonda on account of its on-location hazards.
The increasingly claustrophobic, downbeat film, shot in linear sequence along forty miles of a treacherous river, has been looked upon as a philosophical or mythical allegory of man's psychological and grueling physical journey against adversity. It came during the 70s decade when many other conspiracy or corruption-related films were made with misgivings, paranoia or questioning of various societal institutions or subject areas, such as the media (i.e., Dog Day Afternoon (1975), Network (1976)), politics (i.e., The Parallax View (1974), All the President's Men (1976)), science (i.e., Capricorn One (1977), Coma (1978), The China Syndrome (1979)), and various parts of the US itself (i.e., Race with the Devil (1975), The Hills Have Eyes (1977), and later Southern Comfort (1981)).
A group of urban dwellers test their manhood and courage, totally vulnerable in the alien wild, and pit themselves against the hostile violence of nature. At times, however, they are attracted to nature, and exhilarated and joyful about their experiences in the wild. (Director Boorman pursued the same complex eco-message theme of man vs. nature in other films, including Zardoz (1973) and The Emerald Forest (1985).) As they progress further and further along in uncharted territory down the rapids, the men 'rape' the untouched, virginal wilderness as they are themselves violated by the pristine wilderness and its degenerate, inbred backwoods inhabitants. Survivalist skills come to the forefront when civilized standards of decency and logic fail.
The film's taglines were tantalizing:
« This is the weekend they didn't play golf. »

« Where does the camping trip end…and the nightmare begin…? »

« What did happen on the Cahulawassee River?
The river is the potent personification of the complex, natural forces that propel men further and further along their paths. It tests their personal values, exhibiting the conflict between country and city, and accentuates what has been hidden or unrealized in civilized society. The adventurers vainly seek to be 'delivered' from the evil in their own hearts, and as in typical horror films, confront other-worldly forces in the deep woods. The flooding of the region after the completion of a dam construction project alludes to the purification and cleansing of the sins of the world by the Great Flood. The film was also interpreted as an allegory of the US' involvement in the Vietnam War – as the men (the US military) intruded into a foreign world (Southeast Asia), and found it was raped or confronted by wild forces it couldn't understand or control.
The Story
---
The film opens with voice-overs of the main characters discussing the « vanishing wilderness » and the corruption of modern civilization, while the credits play over views of the flooding of one of the last untamed stretches of land, and the imminent wiping out of the entire Cahulawassee River and the small town of Aintry.
[The film's trailer provides details about the foursome: « These are the men. Nothing very unusual about them. Suburban guys like you or your neighbor. Nothing very unusual about them until they decided to spend one weekend canoeing down the Cahulawassee River. Ed Gentry – he runs an art service, his wife Martha has a boy Dean. Lewis Medlock has real estate interests, talks about resettling in New Zealand or Uruguay. Drew Ballinger – he's sales supervisor for a soft drink company. Bobby Trippe – bachelor, insurance and mutual funds. These are the men who decided not to play golf that weekend. Instead, they sought the river. »]
The four characters include:
Lewis Medlock (Burt Reynolds), a bow-hunter and avowed, macho survivalist and outdoorsman

Bobby Trippe (Ned Beatty in his film debut), an overweight insurance salesman

Drew Ballinger (Ronny Cox in his film debut), a guitar player and sales supervisor

Ed Gentry (Jon Voight, a star actor due to his appearance in Midnight Cowboy (1969)), married, runs an art service
Lewis lectures his friends and anxiously bemoans the dam construction that will soon destroy the ('damned' or 'dammed') Cahulawassee River and town. He urges his friends to take a ride down the river before a man-made lake will forever flood it:
…because they're buildin' a dam across the Cahulawassee River. They're gonna flood a whole valley, Bobby, that's why. Dammit, they're drownin' the river…Just about the last wild, untamed, unpolluted, unf–ked up river in the South. Don't you understand what I'm sayin'?…They're gonna stop the river up. There ain't gonna be no more river. There's just gonna be a big, dead lake…You just push a little more power into Atlanta, a little more air-conditioners for your smug little suburb, and you know what's gonna happen? We're gonna rape this whole god-damned landscape. We're gonna rape it.
His friends Bobby, Ed, and Drew label Lewis' views as « extremist. » In voice-over, Lewis coaxes his three, soft city-slicker friends to join him for a weekend canoe trip down the Cahulawassee River – to pit themselves against the US wilderness. (The film's major poster declared: « This is the weekend they didn't play golf. ») They leave behind their business jobs and civilized values for their « last chance » to go back to unspoiled nature for a weekend of canoeing, hunting, and fishing, in northern Georgia's scenic Appalachian wilderness.
Their two cars, Lewis' International Scout 4 x 4 and Drew's station wagon with canoes strapped on top, drive into the hillbilly wilderness to their odyssey's starting point:
We're gonna leave Friday, from Atlanta. I'm gonna have you back in your little suburban house in time to see the football game on Sunday afternoon. I know you'll be back in time to see the pom-pom girls at halftime 'cause I know that's all you care about…Yeah, there's some people up there that ain't never seen a town before, no bigger than Aintry anyway. And then those woods are real deep. The river's inaccessible except at a couple of points…This is the last chance we got to see this river. You just wait till you feel that white-water under you, Bobby…I'll have you in the water in an hour.
The first view of the city-dwelling buddies in the film occurs when the vehicles pull into a junk-littered, backwoods area that appears « evacuated already. » The men reveal more of their believable personalities by their reactions to the community of mountain folk they meet in this first scene:
the virile, dark-haired, dare-devil, savvy, somewhat repulsive leader Lewis (a patch on his jacket identifies him as the Co-captain of a skydiving group

the chubby-overweight, comical, middle-class salesman Bobby

the soft-spoken, decent, liberal and intellectually-minded, gentle, guitar-strumming Drew

and the thoughtful, complex, timid, mild-mannered, pipe-smoking, curious Ed
From behind a dilapidated, squalid shanty building, the first primitive hillbilly emerges, suspicious that they are from the power company. Lewis asks the old mountain man (Ed Ramey) about hiring him to drive their two cars to a point downstream at their landing point of Aintry:
Lewis: We want somebody to drive 'em down to Aintry for us.
Man: Hell, you're crazy.
Lewis: No s–t. Hey, fill that one up with gas, huh, OK?
As the mountain man pumps gas, Bobby ridicules the strange man's repulsive look:
Say, mister, I love the way you wear that hat.
He is told: « You don't know nuthin'. » Possible drivers are suggested to Lewis for hire: « You might get the Griner Brothers…They live back over that way. »
One of the film's highlights is a lively, captivating banjo duel of bluegrass music, « Dueling Banjos » (actual title « Feudin' Banjos » – arranged and played by Eric Weissberg with guitarist Steve Mandell). [The song was authored by Arthur « Guitar Boogie » Smith in the 50s, and copyrighted by the Combine Music Corp.] Drew begins by playing chords on his guitar. A deformed, retarded, albino hillbilly youngster (Billy Redden) (on banjo) appears on the porch and answers him. Under his breath, Bobby criticizes the cretinous hillbilly boy: « Talk about genetic deficiencies. Isn't that pitiful? » From behind him, one of the backwoods folks asks: « Who's pickin' a banjo here? » The impromptu song is played as a rousing challenge between the two. Toward its furious ending, Drew admits to the grinning boy: « I'm lost. » When Drew, seen as a suspicious stranger, compliments the moon-faced winner when they are done – « God damn, you play a mean banjo, » the mute, inbred, half-witted boy resumes his stony stare, turns his head sharply, and refuses to shake hands with the interloping foreigner. Drew is obviously disappointed that the boy ignores him.
As Lewis drives to the nearby Griner Bros. garage, he ridicules Bobby's means of making a living – insurance sales, thereby tempting fate: « I've never been insured in my life. I don't believe in insurance. There's no risk. » In an edgy, volatile encounter, Lewis bargains firmly with one of the grimy, poverty-stricken Griner brothers (Seamon Glass and Randall Deal) to have them drive their vehicles to Aintry for $40 – and receives a second ominous warning about the hazardous river:
Griner: Canoe trip?
Lewis: That's right, a canoe trip.
Griner: What the hell you wanna go f–k around with that river for?
Lewis: Because it's there.
Griner: It's there all right. You get in there and can't get out, you're gonna wish it wasn't.
Ed fears that they have pushed too hard: « Listen, Lewis, let's go back to town and play golf…Lewis, don't play games with these people. » With Ed as his passenger, Lewis races his Bronco against the Griner's pickup truck to the river's launch point a few miles away through the dense woods – in his station wagon, Drew follows at a safe distance behind with Bobby. The reflections of leaves from the colorful canopy above shrouds and obscures a clear view of Ed and Lewis through the windshield – the jostling ride frightens Ed: « Lewis, you son-of-a-bitch, why do we have to go so god-damned fast?…Lewis, you're gonna kill us both, you son-of-a-bitch, before we ever see any water. » When they reach the peaceful water's edge, Lewis philosophically contemplates the view:
Sometimes you have to lose yourself before you can find anything…A couple more months, she'll all be gone…from Aintry on up. One big dead lake.
They finally venture onto the river in two canoes: Drew with Ed, and Bobby with Lewis. Through the trees, they are observed at the water's edge by the Griners – inhabitants of the area before 'civilization' took over. The neophyte canoers are unsure of their direction:
Bobby: Which way are we goin', this way or that?
Lewis: I think, uh, downstream would be a good idea, don't you? Drew – you and Bobby see some rocks, you yell out now, right?…
Bobby: Lewis, is this the way you get your rocks off?
At first, their encounter with the river and nature is peaceful and tranquil as they paddle along – on a sunny day. Above them on a cross-walk bridge high above the placid river, the banjo-playing lad silently but intently watches them – the camera shooting from Drew's perspective. Before the first of many, increasingly-exciting sequences on the water, Lewis stands upright in the canoe and announces: « This gonna be fun! » They confront the twisting and turning white-water rapids of the swift-moving Chattooga River. They are exuberant and euphoric after victoriously navigating the challenging but not overwhelming wild-flowing water – under Lewis' expert instruction. Bobby is thrilled about shooting the rapids:
That's the best – the second best sensation I ever felt.
But Ed isn't as certain: « Damn, I thought we bought the farm there, for a while. » Lewis reminisces about how it must have been for the original pioneers, while Bobby foolishes thinks they've masterfully beaten the river:
Lewis: The first explorers saw this country, saw it just like us.
Drew: I can imagine how they felt.
Bobby: Yeah, we beat it, didn't we? Did we beat that?
Lewis: You don't beat it. You don't beat this river.
With a high-powered bow-and-arrow fishing rod, Lewis takes aim at a fish, misses and then warns:
Machines are gonna fail and the system's gonna fail…then, survival. Who has the ability to survive? That's the game – survive.
Lewis remarks that the mild-mannered, secure-in-life Ed has all the comforts of civilization, but does he know how to survive in the wild like a man? His implication to his companion is that only the strong survive:
Ed: Well, the system's done all right by me.
Lewis: Oh yeah. You gotta nice job, you gotta a nice house, a nice wife, a nice kid.
Ed: You make that sound rather s–tty, Lewis.
Lewis: Why do you go on these trips with me, Ed?
Ed: I like my life, Lewis.
Lewis: Yeah, but why do you go on these trips with me?
Ed: You know, sometimes I wonder about that.
The comrades camp at night by the river's edge, setting up tents, sitting around a campfire, listening to Drew's guitar playing, drinking beer, and roasting a fish that Lewis has speared. Bobby expresses some appreciation for the virgin river and the wilderness surrounding it:
Bobby: It's true, Lewis, what you said. There's somethin' in the woods and in the water that we have lost in the city.
Lewis: We didn't lose it. We sold it.
Bobby: Well, I'll say one thing for the system – the system did produce the air-mattress. Or as it's better known among we camping types the instant broad. And if you fellows will excuse me, I'm gonna go be mean to my air mattress.
Tension is heightened when Lewis senses « something or someone » in the blackness of the night around them. The three tenderfoots criticize Lewis' affinity to nature as he disappears to investigate: « He wants to be one with nature and he can't hack it. » Ed drunkenly philosophizes about their isolation from the world:
No matter what disasters may occur in other parts of the world, or what petty little problems arise…, no one can find us up here.
The next morning after rising early, Ed takes his bow and arrow and stalks a deer – emulating his buddy. But his hands tremble at the moment of the arrow's release toward a live animal, and the shot veers into a tree trunk. Drew sensitively comments: « I don't understand how anyone could shoot an animal. » Ed later explains his reason for faltering: « I lost control psychologically. » No longer intoxicated by the thrill of the outdoors, Bobby complains about his mosquito bites: « I got eaten alive last night. My bites have got bites…I'm a salesman, Ed. » Further down the river, Ed and Bobby become separated from the other two behind them. They pull their canoe out of the river when they decide to rest in the thick wilderness next to it.
More threatening than the untamed river are two evil, violent, primitive, degenerate and hostile mountain men, a gay hillbilly (Bill McKinney) and a grizzly, toothless man (Herbert « Cowboy » Coward) armed with a 12 gauge double-barreled shotgun who suddenly appear from the woods and confront the intruders. [The wilderness isn't populated with romantic survivalists or enobled, heroic characters as in adventure stories, but sadistic brutes.] The two inexperienced, naive adventurers, assuming that the menacing backwoodsmen (who are harrassing them) are hiding a still to manufacture bootleg whiskey, promise not to tell anyone where it is located. Even away from his urban citified element, Ed maintains an inappropriate decorum of decency and ineffectually calls the animalistic rednecks 'gentlemen':
Mountain Man: What the hell you think you're doin'?
Ed: Headin' down river. A little canoe trip, headin' for Aintry.
Mountain Man: Aintry?
Bobby: Sure, this river only runs one way, captain, haven't you heard?
Mountain Man: You ain't never gonna get down to Ain-.
Ed: Well, why not?
Mountain Man: 'Cause. This river don't go to Aintry. You done taken a wrong turn. See uh, this here river don't go nowhere near Aintry.
Bobby: Where does it go, then?
Mountain Man: Boy, you are a lost one, ain't ya?
Bobby: Well, hell, I guess this river comes out somewhere, don't it? That's where we're goin'. Somewhere. Look, we don't want any trouble here.
Ed: If you gentlemen have a still near here, hell, that's fine with us.
Bobby: Why sure. We'd never tell anybody where it is. You know somethin', you're right, we're lost. We don't know where in the hell we are.
Toothless Man: A still?
Bobby: Right, yeah. You're makin' some whiskey up here. We'll buy some from ya, we could use it, couldn't we?
Mountain Man: Do you know what you're talkin' about?
Ed: We don't know what we're talkin' about, honestly we don't.
Mountain Man: No, no. You said somethin' about makin' whiskey, right? Isn't that what you said?
Ed: We don't know what you're doin' and we don't care. That's none of our business.
Mountain Man: That's right. It's none of your god-damned business, right.
Ed: We got quite a long journey ahead of us, gentlemen.
Toothless Man: Hold it. You ain't goin' no damn wheres.
Ed: This is ridiculous.
Toothless Man: Hold it, or I'll blow your guts out all over these woods.
Ed: Gentlemen, we can talk this thing over. What is it you require of us?

---

At shotgun point, in a nightmarish and frightening sequence, the two sexually-perverted rustics viciously target them. They order them up into the woods where they tie Ed (with his own belt) to a tree. The mountain man sexually humiliates Bobby – the chubby-faced, defenseless intruder into his territory. He forces the fat salesman to first strip down to his underwear.

After a degrading roll around in the dirt and up a steep, leaf-strewn hillside while fondling and groping his prey, the mountain man/rapist makes Bobby squeal like a female sow before sodomizing him. Strapped against a tree, Ed helplessly watches in horror:

Mountain Man: Now, let's you just drop them pants.
Bobby: Drop?
Mountain Man: Just take 'em right off.
Bobby: I-I mean, what's this all about?
Toothless Man: Don't say anything, just do it.
Mountain Man: Just drop 'em, boy! (To Ed – at knifepoint) You ever had your balls cut off, you f–kin' ape?
Bobby: Lord.
Mountain Man: Look at there, that's sharp. I bet it'd shave a hair.
Toothless Man: Why don't ya try it and see?
Bobby: Lord, lord. Deliver us from all.
Toothless Man (To Bobby): Pull off that little ol' bitty shirt there, too. (To Mountain Man) Did he bleed?
Mountain Man: He bled. (To Bobby) Them panties, take 'em off. (After attacking him) Get up, boy. Come on, get on up there.
Bobby: No, no, no. Oh, no. No. Don't.
Mountain Man: Hey boy. You look just like a hog.
Bobby: Don't, don't.
Mountain Man: Just like a hog. Come here, piggy, piggy, piggy. (Holding Bobby's nose as he straddled him from behind) Come on, piggy, come on, piggy, come on, piggy, give me a ride, a ride. Hey, boy. Get up and give me a ride.
Bobby: All right.
Mountain Man: Get up and give me a ride, boy.
Bobby: All right. All right.
Mountain Man: Get up! Get up there!
Bobby: All right. (His underwear was pulled off) Oh no, no!
Mountain Man: Looks like we got us a sow here, instead of a boar.
Bobby: Don't. Don't.
Mountain Man: What's the matter, boy? I bet you can squeal. I bet you can squeal like a pig. Let's squeal. Squeal now. Squeal. (Bobby's ear was pulled)
Bobby: Wheeeeeeeeeeeeeee!
Mountain Man: Squeal. Squeal louder. Louder. Louder, louder. Louder! Louder! Louder! Get down now, boy. There, get them britches down. That's that. You can do better than that, boy. You can do better than that. Come on, squeal. Squeal.

Lewis and Drew silently paddle up and come upon the scene of brutalization. Meanwhile, the Toothless Man (with a bare-gummed sneer on his face) prepares to order Ed to perform fellatio upon him at gunpoint: « He's got a real purty mouth, ain't he? » With his bow and arrow, Lewis shoots and kills the Mountain Man with one arrow that is shot through his back and protrudes from his chest. The Toothless Man drops his shotgun and scurries away into the woods, as the Mountain Man staggers around with the arrow through his body – and then falls dead.

Nervously and dramatically, the outsider-tourists argue about what to do next – should they report the killing to the authorities or submerge the evidence in the ground?

Lewis: What are we gonna do with him?
Drew: There's not but one thing to do. Take the body down to Aintry. Turn it over to the Highway Patrol. Tell 'em what happened.
Lewis: Tell 'em what exactly?
Drew: Just what happened. This is justifiable homicide if anything is. They were sexually assaulting two members of our party at gunpoint. Like you said, there was nothin' else we could do.
Ed: Is he alive?
Lewis: Not now. Well, let's get our heads together. (To vengeful Bobby) Come on now, let's not do anything foolish. Does anybody know anything about the law?
Drew: Look, I-I was on jury duty once. It wasn't a murder trial.
Lewis: A murder trial? Well, I don't know the technical word for it, Drew, but I know this. You take this man down out of the mountains and turn him over to the Sheriff, there's gonna be a trial all right, a trial by jury.
Drew: So what?
Lewis: We killed a man, Drew. Shot him in the back – a mountain man, a cracker. It gives us somethin' to consider.
Drew: All right, consider it, we're listenin'.
Lewis: S–t, all these people are related. I'd be god-damned if I'm gonna come back up here and stand trial with this man's aunt and his uncle, maybe his momma and his daddy sittin' in the jury box. What do you think, Bobby? (Bobby rushes at the corpse, but is restrained) How about you, Ed?
Ed: I don't know. I really don't know.
Drew: Now you listen, Lewis. I don't know what you got in mind, but if you try to conceal this body, you're settin' yourself up for a murder charge. Now that much law I do know! This ain't one of your f–kin' games. You killed somebody. There he is!
Lewis: I see him, Drew. That's right, I killed somebody. But you're wrong if you don't see this as a game…Dammit, we can get out of this thing without any questions asked. We get connected up with that body and the law, this thing gonna be hangin' over us the rest of our lives. We gotta get rid of that guy!…Anywhere, everywhere, nowhere.
Drew: How do you know that other guy hasn't already gone for the police?
Lewis: And what in the hell is he gonna tell 'em, Drew, what he did to Bobby?
Drew: Now why couldn't he go get some other mountain men? Now why isn't he gonna do that? You look around you, Lewis. He could be out there anywhere, watchin' us right now. We ain't gonna be so god-damned hard to follow draggin' a corpse.
Lewis: You let me worry about that, Drew. You let me take care of that. You know what's gonna be here? Right here? A lake – as far as you can see hundreds of feet deep. Hundreds of feet deep. Did you ever look out over a lake, think about something buried underneath it? Buried underneath it. Man, that's about as buried as you can get.
Drew: Well, I am tellin' you, Lewis, I don't want any part of it.
Lewis: Well, you are part of it!
Drew: IT IS A MATTER OF THE LAW!
Lewis: The law? Ha! The law?! What law?! Where's the law, Drew? Huh? You believe in democracy, don't ya?
Drew: Yes, I do.
Lewis: Well then, we'll take a vote. I'll stand by it and so will you.

Under stress, the normal demeanor of the urban professionals becomes more primal and crazed. Drew persuasively argues that they must take the body with them and lawfully report the incident as self-defense (a « justifiable homicide ») to the police. Drew is outvoted when the decent, pipe-smoking Ed casts the decisive vote in the 'democratic' process – a consequential vote that Drew calls « the most important decision of your whole life…We're gonna have to live with this for the rest of our lives. » Lewis' viewpoint eventually wins out with Ed's collaboration – they decide to bury the man without reporting the incident (fearing the vengeful local residents wouldn't accept their explanation and would be antagonistic toward them in a local trial). They expect that the waters of the future dam site would keep the corpse a secret and cover up their own awful crime. They add another dead creature to the soon-to-be dead wilderness.

To prepare for the burial, Lewis pulls the arrow out of the chest of Bobby's attacker. The foursome awkwardly carry the body to a chosen gravesite. In a frenzy, they dig a grave with their bare hands, animalistically scratching and clawing with their hands. The gravediggers place the Mountain Man and the shotgun in the shallow grave, but the body's stubborn, outstretched arm won't willingly remain buried under the soft earth.

In haste, the panicked quartet anxiously race to their canoes to « paddle on down to Aintry to get the cars and go home. » As they descend and approach more frightening rapids downriver, Drew has neglected to put on his lifejacket. He rises, shakes his dazed head, loses his balance, topples and pitches (or falls) forward into the rough water in some noisy, churned-up rapids and disappears under the surface – he doesn't resurface. Ed's wooden canoe hits a large boulder, capsizes, and splinters into two pieces. The second canoe collides with it and also capsizes. All of the men are catapulted and spilled into a vicious set of cascading water and carried downstream in the frothy white foam. Lewis suffers an excruciatingly-painful right thighbone compound fracture when he strikes some underwater rocks – he cries out: « My leg's broke. » With viscera (bone and flesh) hanging out of his pant's leg where the wound was sustained, Lewis conjectures that « Drew was shot » by « that toothless bastard. » Clutching his leg and screaming in agony, Lewis finds refuge on some jagged rocks on the shoreline next to the river where high cliffs overlook them. Drew's damaged guitar floats by in the water, as Ed vainly calls out for his companion – his voice echoes throughout the gorge's canyons.

They paranoically suspect that they are the targets of gunshots, fired by the murdered man's buddy poised high atop the towering cliff above them (« he's right up there »). Ed surmises that they are retaliatory targets: « He's gonna try and kill us, too. If he killed Drew, he's gonna have to kill us. » The three are trapped in a gorge, feeling like sitting ducks [filmed at Tallulah Gorge]. Now they are compelled to play the deadly 'game' of survival. Ed yells at the group's self-proclaimed leader who has suffered a debilitating fate:

Ed: What are we gonna do, Lewis? You're the guy with the answers. What the hell do we do now?
Lewis: Now you get to play the game.
Ed: Lewis, you're wrong.

Bobby is reduced to a fearful, whimpering weakling, and Lewis is so seriously injured that his leg must be splinted with a canoe paddle. Alone, Ed must provide active leadership and guide his friends to safety and civilization. He becomes changed forever by the struggle to survive in the malevolent, backwoods world. In a daring scene, he scales the face of the sheer rock cliff within the gorge in the darkness, with a bow and arrow on his back, to end the threat of a rifleman that he suspects shot Drew. Hanging precariously, he glances at his wallet's picture of his wife and child – but they slip from his grasp. He fears: « God damn it, you're never gonna get out of this gorge alive! »

Exhausted by the torturous climb, he falls asleep at the top, waking to the early morning light and a silhouetted glimpse of an unidentified mountaineer with a Winchester Model 1892 lever-action repeating rifle. He presumes the figure is the toothless man bent on revenge. Ed's hands shake as he aims his bow and arrow. At the same instant the arrow releases, he slips on the rocks and painfully falls on his side onto one of his own arrows – it pierces his side. It first looks like he has missed his target. The hillbilly with the rifle staggers over to shoot his wounded attacker from point-blank range, but then falls dead from the arrow protruding through his neck.

Ed frantically searches inside the man's mouth to identify him but remains uncertain whether he is the toothless man. He hurls both his bow and the man's shotgun into the river far below, and then slowly lowers the corpse down the gorge's cliff face at the end of a rope. When he uses the rope to rappel down the cliff, the line snaps and he is tossed into the river with the corpse. He is almost drowned under the surface when he becomes entangled with both the line and the clinging dead man. To hide any possible clues of the unknown killer, he later weights down the body with rocks and sinks it into the river.

The three finish their journey (with the seriously-wounded Lewis lying on the floor of the canoe). They locate Drew's lifeless, drowned body along the way, lodged against a boulder and a fallen tree with his disfigured arm twisted behind his head. They scour his body for evidence of bullet wounds [whether he was shot or not remains uncertain], and then are also compelled to dispose of his weighted body at the bottom of the river:

Bobby: What are you going to do with Drew?
Ed: If a bullet made this, there are people who can tell.
Bobby: Oh God, there's no end to it. I didn't really know him.
Ed: Drew was a good husband to his wife Linda and you were a wonderful father to your boys, Drew – Jimmie and Billie Ray. And if we come through this, I promise to do all I can for 'em. He was the best of us.
Bobby: Amen.

In the final, jostling leg of the journey, the sides of their aluminum canoe scrape and crash against the rocks, causing severe pain for the incapacitated Lewis. At last, they return to civilization at Aintry, marked by junked cars at the river's edge. Bobby is jubilant at the sight of rusted hulks of cars:

We made it. We made it, Ed. We made it. We're back, Ed.

Tenaciously insistent that they all have the same story, Ed manufactures an explanatory alibi for their entire weekend:

Ed: Everything happened right here. Lewis broke his leg in those rapids there, and Drew drowned here.
Bobby: No, nothin' happened here.
Ed: Bobby, listen to me. We got to stop them from lookin' up river. It's important that we get together on this thing. Do you understand?…We're not out of this yet.

At Aintry, Ed is stunned to discover that the Griner brothers delivered their cars as they had arranged. After phoning for help, both Lewis and Ed are taken away in an ambulance for medical attention. Even the simplest signs of civilization (paper tissues and hot water) are appreciated by Ed who is obviously overwhelmed by his experience. In a local boarding house where they are placed by country lawmen, Bobby and Ed are served a home-cooked meal that includes corn, and a conversation about « the darndest-looking cucumber you ever seen. »

But they do not tell the local law officers what has really happened to them, and deny having any encounters with hillbillies. Bobby is worried that their story isn't holding together: « We're in trouble. They don't believe us. » Even though Bobby claims he « told 'em like we said, » Ed doesn't believe that his cowardly pal is telling the truth. Their story (that both Lewis' broken leg and Drew's drowning occurred at the end of the trip) contradicts the discovery of their shattered wooden canoe upstream. At the river's edge, a skeptical Deputy Queen (Macon McCalman) and suspicious Aintry County Sheriff Ed Bullard (James Dickey) report a missing hunter in the woods (related by marriage to Deputy Queen) from a couple of days earlier, but the officials have no proof and « nothin' to hold them for. » The Sheriff knowingly responds with an omen of their gruesome secrets:

Let's just wait and see what comes out of the river.

As Ed and Bobby are driven back into town to the County Memorial Hospital to visit Lewis, the taxicab driver (Pete Ware) confirms their own guilt-ridden hopes:

All this land's gonna be covered with water. Best thing ever happened to this town.

To their relief, when Lewis regains consciousness in the hospital, he confirms their story by claiming: « I don't remember nuthin'. Nuthin' ». Before they leave Aintry, the smiling, omniscient Sheriff asks a few more biting questions and then offers home-grown advice:

Sheriff: How come you all end up with four life jackets?
Bobby: Didn't we have an extra one?
Ed: No, Drew wasn't wearin' his.
Sheriff: Well, how come he wasn't wearin' it?
Ed: I don't know.
Sheriff: Don't ever do nothin' like this again. Don't come back up here.
Bobby: You don't have to worry about that, Sheriff.
Sheriff: I'd kinda like to see this town die peaceful.

Ed and Bobby agree to not see each other for a while. Returning home, Ed is 'delivered' from the malevolent horrors of nature and reunited with his wife (Belinda Beatty) and son (Charlie Boorman, the director's son who played a major role in The Emerald Forest (1985)).

The final frightening image is of Ed, snapping awake next to his wife from a vivid nightmare of his journey. He is fearfully haunted by a white, bony hand (of the murdered Mountain Man) rising above the surface of the water of the newly-flooded wilderness. The man's stiff, outstretched hand – pointing nowhere – serves as a signpost. Ed lies back in his wife's arms – unable to rest and experience 'deliverance' from his recurring nightmare of their experience with extreme violence.

Voir enfin:

Easy Rider (1969)

Easy Rider (1969) is the late 1960s « road film » tale of a search for freedom (or the illusion of freedom) in a conformist and corrupt America, in the midst of paranoia, bigotry and violence. Released in the year of the Woodstock concert, and made in a year of two tragic assassinations (Robert Kennedy and Martin Luther King), the Vietnam War buildup and Nixon's election, the tone of this 'alternative' film is remarkably downbeat and bleak, reflecting the collapse of the idealistic 60s. Easy Rider, one of the first films of its kind, was a ritualistic experience and viewed (often repeatedly) by youthful audiences in the late 1960s as a reflection of their realistic hopes of liberation and fears of the Establishment.

The iconographic, 'buddy' film, actually minimal in terms of its artistic merit and plot, is both memorialized as an image of the popular and historical culture of the time and a story of a contemporary but apocalyptic journey by two self-righteous, drug-fueled, anti-hero (or outlaw) bikers eastward through the American Southwest. Their trip to Mardi Gras in New Orleans takes them through limitless, untouched landscapes (icons such as Monument Valley), various towns, a hippie commune, and a graveyard (with hookers), but also through areas where local residents are increasingly narrow-minded and hateful of their long-haired freedom and use of drugs. The film's title refers to their rootlessness and ride to make « easy » money; it is also slang for a pimp who makes his livelihood off the earnings of a prostitute. However, the film's original title was The Loners.

[The names of the two main characters, Wyatt and Billy, suggest the two memorable Western outlaws Wyatt Earp and Billy the Kid – or 'Wild Bill' Hickcock. Rather than traveling westward on horses as the frontiersmen did, the two modern-day cowboys travel eastward from Los Angeles – the end of the traditional frontier – on decorated Harley-Davidson choppers on an epic journey into the unknown for the 'American dream'.]

According to slogans on promotional posters, they were on a search:

A man went looking for America and couldn't find it anywhere…

Their costumes combine traditional patriotic symbols with emblems of loneliness, criminality and alienation – the American flag, cowboy decorations, long-hair, and drugs.

Both Peter Fonda and Dennis Hopper co-starred, Fonda produced, and 32 year old Hopper directed (his first effort). [It was produced by B.B.S. (formed by Bob Rafelson – the director of Five Easy Pieces (1970), Bert Schneider, and Steve Blauner), already known for the groundbreaking, surrealistic Head (1968), a cult masterpiece that starred the Monkees (from the popular TV series) and was co-written by unemployed actor Jack Nicholson.] Fonda (as lead actor), Hopper (as uncredited second unit director), and Jack Nicholson (as screenwriter) had participated in director Roger Corman's low-budget, definitive LSD film The Trip (1967) a few years earlier. And Fonda had also starred in Roger Corman's and American International's ground-breaking The Wild Angels (1966) – a biker's tale about the 'Hell's Angels'. The first scenes to be shot were on grainy 16 mm. in New Orleans (during Mardi Gras) on a budget of $12,000, afterwards followed by funds for a total budget of $380,000.

This follow-up film to The Wild Angels (1966) premiered at the 1969 Cannes Film Festival and won the festival's award for the Best Film by a new director. The film received two Academy Award nominations: Best Original Screenplay (co-authored by Peter Fonda, Dennis Hopper, and Terry Southern – known previously for scripting Stanley Kubrick's Dr. Strangelove, or… (1964)), and Best Supporting Actor for Jack Nicholson in one of his earlier, widely-praised roles as a drunken young lawyer.

Easy Rider surprisingly, was an extremely successful, low-budget (under $400,000), counter-cultural, independent film for the alternative youth/cult market – one of the first of its kind that was an enormous financial success, grossing $40 million worldwide. Its story contained sex, drugs, casual violence, a sacrificial tale (with a shocking, unhappy ending), and a pulsating rock and roll soundtrack reinforcing or commenting on the film's themes. Groups that participated musically included Steppenwolf, Jimi Hendrix, The Band and Bob Dylan.

The pop cultural, mini-revolutionary film was also a reflection of the « New Hollywood, » and the first blockbuster hit from a new wave of Hollywood directors (e.g., Francis Ford Coppola, Peter Bogdanovich, and Martin Scorsese) that would break with a number of Hollywood conventions. It had little background or historical development of characters, a lack of typical heroes, uneven pacing, jump cuts and flash-forward transitions between scenes, an improvisational style and mood of acting and dialogue, background rock 'n' roll music to complement the narrative, and the equation of motorbikes with freedom on the road rather than with delinquent behaviors.

However, its idyllic view of life and example of personal film-making was overshadowed by the self-absorbent, drug-induced, erratic behavior of the filmmakers, chronicled in Peter Biskind's tell-all Easy Riders, Raging Bulls: How the Sex-Drugs-and Rock 'N Roll Generation Saved Hollywood (1999). And the influential film led to a flurry of equally self-indulgent, anti-Establishment themed films by inferior filmmakers, who overused some of the film's technical tricks and exploited the growing teen-aged market for easy profits. Hopper's success with this film gave him the greenlight from Universal Pictures (and $850,000) for his next project The Last Movie (1971) which ended up being a colossal failure, due in part to reports of drug-induced orgies during filming, and its year-long editing process (delayed by alleged use of psychedelic drugs for 'inspiration').

The Story

---

One morning, two free-wheeling, long-haired, social misfits/dropouts/hippies ride up to La Contenta Bar, south of the border in Mexico. With Jesus (Antonio Mendoza), they walk around the side of the bar through an auto-wrecking dump yard. After Jesus scoops out a small amount of white powder (cocaine) onto a mirror, they both sniff the dope. In Spanish, the thinner, calmer one chuckles: « Si pura vida (Yes, it's pure life.) » Then, he hands a packet of money to Jesus who thumbs through it and smiles. The two bikers, who have presumably orchestrated the decision to buy the cocaine in Mexico, are given cases of the powder in the drug deal.

Before the film cuts to the next scene, the loud noise of a jet engine plays on the soundtrack. In the next scene of their dope deal, they are now in California where they have smuggled the drugs for sale to a dealer. The two are on an airport road next to the touch down point of jet planes at Los Angeles International Airport – the sound of approaching planes is excruciatingly loud. A Rolls Royce pulls into the frame with their Connection (Phil Spector, the famous rock and roll producer in a cameo role). While testing the white powder in the front seat of their white pickup truck, the Connection ducks every time a plane lands. In exchange for the drugs, the Bodyguard (Mac Mashourian) gives a large quantity of cash to one of the bikers in the front seat of the Rolls. The drug deal is finalized to the tune of Steppenwolf's « The Pusher, » a song which is overtly against hard-drug pushers and dealing.

You know I smoked a lot of grass
Oh Lord, I popped a lot of pills
But I've never touched nothin'
That my spirit could kill
You know I've seen a lot of people walkin' round
With tombstones in their eyes
But the pusher don't care
Aw, if you live or if you die
God damn the Pusher
God damn, hey I say the Pusher
I said God damn, God damn the Pusher man.

With the stash of money they've made from selling drugs, they have financed their trip, including the purchase of high-handled motorcycles. One of them rolls up the banknotes and stuffs them into a long plastic tube that will be inserted snake-like into the tear-drop shaped gas tank of his stars-and-stripes decorated motorcycle. The two part-time drug dealers are:

a cool and introspective « Captain America » Wyatt (Peter Fonda) on a gleaming, silver-chromed low-riding bike with a 'stars-and-stripes' tear-drop gas tank, wearing a tight leather pants held at the waist by a round belt-buckle and a black leather jacket with an American flag emblazoned on the back; also with a 'stars-and-stripes' helmet

mustached and shaggy, long-haired Billy the Kid (Dennis Hopper), with a tan-colored bush hat, fringed buckskin jacket, shades, and an Indian necklace of animals' teeth

Wyatt casts off his wristwatch to the ground, a literal and symbolic flourish that shows his new-found freedom and rejection of time constraints in modern society. As they take to the open road on their motorcycles, cross the Colorado River and pass through unspoiled buttes and sand-colored deserts, the credits begin to scroll, accompanied by the sound of the popular song by Steppenwolf: « Born To Be Wild. » It is the start of a beautiful adventure as they travel through memorable landscapes of America's natural beauty, accompanied by the pounding of rock music.

Get your motor runnin'
Head out on the highway
Lookin' for adventure
And whatever comes our way

Chorus 1
Yeah, darlin' gonna make it happen
Take the world in a love embrace
Fire all of the guns at once and
Explode into space.

I like smoke and lightnin'
Heavy metal thunder
Racin' with the wind
And the feelin' that I'm under
Repeat of Chorus 1

Chorus 2
Like a true nature's child
We were born, born to be wild
We can climb so high
I never wanna die.
Born to Be Wild
Born to Be Wild…

That evening, they are immediately rebuffed at a motel when they ask for a room – presumably because of their long hair, general unkempt and far-out appearance. The manager flashes the NO Vacancy sign at them. They camp out on the first leg of their cross-country odyssey to New Orleans, hoping to arrive there before the Mardi Gras celebration.

In the first of a number of campfire scenes, there is time for discussion and for short snatches of dialogue to illuminate the characters and themes of the film. In front of an open fire, Billy sings of his materialistic dreams:

I'm goin' down to Mardi Gras
I'm gonna get me a Mardi Gras queen…

In contrast, Wyatt smokes on a joint and seems withdrawn and remote to Billy: « You're pulling inside man. You're getting a little distance tonight. » Wyatt explains that he is tired: « Yeah, well, I'm just getting my thing together. » The next morning, Wyatt wakens first, and explores a deserted, broken-down shed, and a drawer on the ground with a rusted compass and a withered piece of paper inside. He also looks at a frayed booklet with pages blown by the breeze.

They stop at a horse ranch to repair Wyatt's flat tire on his bike – in symbolic, parallel juxtaposition – to a rancher who is shoeing his horse nearby. Although the loud sounding motorcycle makes the horses skittish, the rancher (Warren Finnerty), not intimidated by their odd appearance, admires Wyatt's « good-looking machine. » Wyatt and Billy are invited to join the ranchhouse family (the rancher, his Mexican wife, and his many Mexican-American children) for an outdoor meal at the long dinner table. Wyatt respectfully compliments the rancher on his simple life of hard work, approves his self-sustaining piece of land (« nice spread »), and then clarifies his profound thoughts on his own attraction to the man's commitment to building a comfortable life for his family – an embodiment of freedom and responsibility:

You've got a nice place. It's not every man that can live off the land, you know. You do your own thing in your own time. You should be proud.

Soon restless and impatient with the domestic scene, they are on their way again through a wooded, mountainous area, while The Byrds' « Wasn't Born to Follow » plays on the soundtrack. Wyatt picks up a Stranger/hitchhiker (Luke Askew) and they ride up to an Enco gas station [at Sacred Mountain] to fill their tanks. Billy, who is paranoid and terrified of losing their one opportunistic chance at the good life, is nervous about having the Stranger help fill the tanks:

Billy: Hey man, everything that we ever dreamed of is in that teardrop gas tank – and you got a stranger over there pourin' gasoline all over it. Man, all he's got to do is turn and look over into it, man, and he can see that…
Wyatt: He won't know what it is, man. He won't know what it is. Don't worry, Billy. Everything's all right.

After filling both tanks, Wyatt holds out a bill, looking for someone to pay, but the hitchhiker dismisses him: « That's all taken care of. » Wyatt is pleased: « I like that. » [There may be some pre-arranged payment scheme that the hitchhiker has with the owner of the gas station, but that is only speculation.] As they pull out onto the highway, the last shot cuts to the gas station building, where a poor Mexican girl looks out the window.

As they ride through more open desert terrain and the golden sun begins to set over Monument Valley, the Band's « The Weight » is heard on the soundtrack:

I pulled into Nazareth, was feelin' 'bout half-past dead
I just need some place, where I can lay my head
Hey Mister, can you tell me, where a man might find a bed
He just grinned and shook my hand, and 'no' was all he said
Take a load off, Fanny, take a load for free
Take a load off, Fanny, yeah, and you put the load right on me
I picked up my bag, I went lookin' for a place to hide
Then I saw Carmen and the devil, walkin' side by side
I said 'Hey, Carmen, come on let's go downtown'
She said, 'I gotta go, but my friend can stick around'…

When night falls, they must camp again, choosing an ancient Pueblo Indian rock ruins. In the film's second campfire scene, their figures are silhouetted against a beautiful Southwest sunset of many hues. They have a week left to get to New Orleans and the Mardi Gras. The evasive Stranger, whom they are taking to his commune, enigmatically reveals he was originally from the repression of the city:

It doesn't make any difference what city. All cities are alike. That's why I'm out here now…cause I'm from the city, a long way from the city – and that's where I want to be right now.

The Stranger reprimands Billy for disrespecting the Indian graves directly underneath them: « The people this place belongs to are buried right under you. You could be a trifle polite…It's a small thing to ask. » When Wyatt asks: « You ever want to be somebody else? », the Stranger replies: « I'd like to try Porky Pig. » Wyatt answers his own question: « I never wanted to be anybody else. »

The next day, the Stranger leads them to his New Mexico commune where hippies are gathered outside the buildings. The commune is the typical 60s embodiment of idealized dreams – another alternative style of living quite different from the world of the rancher. The bikers are immediately drawn into the commune without fear or prejudice – their dress and mode of speaking are at one with the counter-cultural commune. The Stranger is relieved to be home – he hugs and kisses one of the women and washes his face in a washbasin. Billy plays 'cowboys and Indians' with the hippie children, yelling: « Bang bang » as he exchanges imaginary gunfire with them. Foreshadowing future events, Billy cries out: « Pow, pow, pow. Ppttwanng. You can't hit me, I'm invisible. I'm invisible. » But a big glob of mud hits him in the middle of his chest – an ominous foreshadowing.

Inside the barn/kitchen area of the commune building, Sarah (Sabrina Scharf) « raps » with the Stranger, concerned about more visitors and the burden they place on the hippie commune. The promise of Paradise in the commune is a lost dream:

We just can't take anymore, Stranger. Just too many people dropping in. Oh, I'm not talking about you and your friends, you know that. And like the week before, Susan dropped in with twelve people from Easter City. She wanted to take ten pounds of rice with her…Well naturally, we had to say no…So she gets all up tight and she breaks out some hash – and she won't give us any. Oh, and…that's not all. The next morning, they went outside to start their bus and they couldn't get it started…

A mime troupe in the commune has « gone down to the hot springs to bathe. » Joanne (Sandy Wyeth), one of the younger hippie girls, reads an interpretation from the I Ching and asks Lisa (Luana Anders) for help in understanding the passage:

Starting brings misfortune. Per-serverance brings danger. Not every demand for change in the existing order should be heeded. On the other hand, repeated and well-founded complaints should not fail to a hearing.

The members of the mime troupe return and interrupt the proceedings. Their self-conscious leader theatrically takes the role of the Devil:

Hear ye, hear ye, hear ye. We've come to play for our dinner. Or should I say, stay for our dinner. Or even slay for our dinner…We've come to drink your wine, taste your food and take pleasure in your women.

Sarah grabs the Devil and pulls him out of the kitchen – she gestures for the rest of the troupe to leave so she can prepare dinner [the women are delegated to do all the cooking!]. The barefooted Stranger walks across a dirt field and explains how the touchy-feely commune is life-affirming but barely surviving – commune members (would-be hippie farmers) are sowing seeds on unplowed, barren, sandy ground:

You see, what happened here is these people got here late in the summer. Too late to plant. But the weather was beautiful and it was easy livin', and everything was fine. And then came that winter. There were forty or fifty of them here living in this one-room place down here. Nothing to eat – starvin'. Out by the side of the road lookin' for dead horses…Anything they could get ahold of. Now there's – there's eighteen or twenty of them left and they're city kids. Look at them. But they're getting this crop in. They're gonna stay here until it's harvested. That's the whole thing.

Wyatt asks: « You get much rain here, man? » Billy and Wyatt predict opposite outcomes for the stoned-out labors of the workers. Wyatt admires the brave determination of the inhabitants:

Billy: This is nothing but sand, man. They ain't gonna make it, man. They ain't gonna grow anything here.
Wyatt: They're gonna make it. Dig, man. They're gonna make it.

In one of the film's more memorable scenes, the blessing before the meal, the camera begins a 360 degree pan around on the varied faces of a circle of people holding hands together inside the commune. The camera returns to Jack (Robert Walker, Jr.) who leads the group in an Eastern-style religious blessing for the meal, thanking God for « a place to make a stand »:

We have planted our seeds. We ask that our efforts be worthy to produce simple food for our simple taste. We ask that our efforts be rewarded. And we thank you for the food we eat from other hands – that we may share it with our fellow man and be even more generous when it is from our own. Thank you for a place to make a stand. (Amen.)

While the dance troupe, the Gorilla Theatre, entertains outdoors during the meal on a makeshift stage by singing « Does Your Hair Hang Low, » Lisa, who has taken a liking to Wyatt, sits with him against a rock. She opens by asking: « Are you an Aquarius? » Wyatt shakes his head. Then she guesses right: « Pisces. » Uneasy in the commune, Billy is not permitted to join a group including the Stranger and Sarah – one of the group holds a cross out in front of Billy and turns him away. The Stranger asks: « Who sent ya? » Billy, who is distrustful and confused by the commune's values and unable to see any pay-off, turns back and walks over to Wyatt:

Whew. Man, look, I gotta get out of here, man. Now we – we got things we want to do, man, like – I just – uh – I gotta get out of here, man.

In exchange for the food they have eaten, Wyatt and Billy give Lisa and her friend Sarah a lift on their bikes « over across the canyon » to the hot springs. « I Wasn't Born to Follow » by The Byrds is again heard as the group of four walk along the bank of a stream and then shed their clothes for a skinny-dip together in a rock grotto.

Back at the commune just before they leave, the Stranger solemnly offers Wyatt a small square object, a tab of acid (LSD): « When you get to the right place, with the right people, quarter this. You know, this could be the right place. The time's running out. » Wyatt wants to stay in the idyllic setting, but Billy is impatient and restless and insists that they leave. Both drifters finally decide that they need to keep moving. Although Wyatt might stay and develop a relationship with Lisa, he realizes time is running out for them and they are compelled to continue their journey: « Yeah, I'm, I'm hip about time. But I just gotta go. »

Along the way, they soon find themselves in the middle of a parade composed of red-uniformed band members and majorettes marching down the main street of Las Vegas, New Mexico. A revolving red light on the top of a police car signals them to pull over. They are thrown in jail for crashing the parade and « paradin' without a permit. » Billy objects vehemently as the jail cell door is closed on him:

You gotta be kidding. I mean, you know who this is, man? This is Captain America. I'm Billy. Hey, we're headliners baby. We played every fair in this part of the country. I mean, for top dollar, too!

A star-patterned symbol drawn on the cell wall reads: « I LOVE GOD » among other graffiti drawings and inscribed names. Bill calls his captors: « Weirdo hicks. » A colorful white plaster plaque reads: « Jesus Christ – the same yesterday, to-day and forever. »

In an adjoining cell and lying on a cot, they meet a genial, drunken ACLU Southern lawyer, George Hanson (Jack Nicholson, in the role that made him famous). He is moaning to himself about his aching head and sleeping off a hangover: « All right now, George – what are you gonna do now? I mean, you promised these people now. You promised these people – and you promised these people and – . » George's activist ambitions in the community have been derailed by his drinking problem. Although they're « in the same cage here, » George, experienced with the ACLU, the rule of law, and reconciliation between opposing groups, will function as their redemption because counter-culturalists Billy and Wyatt appear scruffy and foreign-looking to the red-neck townspeople:

Well, you boys don't look like you're from this part of the country. You're lucky I'm here to see that you don't get into anything…Well, they got this here – see – uh – scissor-happy 'Beautify America' thing goin' on around here. They're tryin' to make everybody look like Yul Brynner. They used – uh – rusty razor blades on the last two long-hairs that they brought in here and I wasn't here to protect them. You see – uh – I'm – uh – I'm a lawyer. Done a lot of work for the A. C. L. U.

George, a synthesizing combination of liberal and conservative ideals who has been able to transcend his parochial surroundings, assures them that they can get out of jail and find freedom with his political connections – if they « haven't killed anybody – at least nobody white. » For just $25 dollars, they are set free. After Wyatt thanks George with the words: « very groovy, » George turns toward the guards and repeats the phrase: « Very groovy. Very groovy. See there. I bet nobody ever said that to you. » A binge drinker, George appears to be a frequent visitor to the jail and knows all the guards very well. Regarded as a fellow good-ol-boy by the guards, he is able to keep his rowdy behavior a secret from his disappointed father (he is the son of a wealthy, powerful, influential figure).

Outside while looking at their « super-machines, » George toasts the day with a bottle of Jim Beam, accompanied by his elbow flapping on his side like a chicken:

Here's to the first of the day, fellas. To ol' D. H. Lawrence. Nik-nik-nik-f-f-f-Indians!

George is also interested in saving himself by escaping from the small town and joining them on their two to three day ride to New Orleans: « I must've started off to Mardi Gras six or seven times. Never got further than the state line. » He shows them a business card from his wallet that the Governor of Louisiana once gave him that eventually directs them to hedonistic, self-interested pleasures at a legendary whore house:

'Madame Tinkertoy's House of Blue Lights. Corner of Bourbon and Toulouse, New Orleans, Louisiana.' Now this is supposed to be the finest whorehouse in the South. These ain't no pork chops. These are U. S. Prime.

George presents the most unforgettable image of the film after he tells them: « Oh, oh, I've got a helmet. I've got a beauty. » He is grinning from ear to ear, wearing a gold football helmet with a blue center stripe, and riding on the back of Wyatt's motorcycle, as « If You Want to Be A Bird » (by The Holy Modal Rounders) plays on the soundtrack. George sits up and flaps his arms.

Around the campfire that night, [the third campfire scene in the film and the first of two campfire scenes with George], George – wearing a 'M' letter sweater (another symbol of his traditional scholastic leanings, along with the football helmet) – takes another drink and again flaps his arms: « Nik, nik, nik, nik – Fire! » They turn George on to marijuana (« grass ») and he is soon encouraged to inhale a joint for the first time in his life after sniffing at it and expressing his doubts about lighting it up:

You- you mean marijuana. Lord have mercy, is that what that is? Well, let me see that. Mmmmm-mmm. Mmmm….I-I-I couldn't do that. I mean, I've got enough problems with the – with the booze and all. I mean, uh, I – I can't afford to get hooked…it-it-it leads to harder stuff.

Thinking it has « a real nice, uh, taste to it, » George gets high. In a hilarious conversation, his marijuana smoking prompts him to espouse his belief in aliens and UFOs:

That was a UFO, beamin' back at ya. Me and Eric Heisman was down in Mexico two weeks ago – we seen forty of 'em flying in formation. They-they-they've got bases all over the world now, you know. They've been coming here ever since nineteen forty-six – when the scientists first started bouncin' radar beams off of the moon. And they have been livin' and workin' among us in vast quantities ever since. The government knows all about 'em.

George describes more of his « crackpot idea » to Billy about how aliens from the planet Venus (from a « more highly evolved » society without war, money, or political leaders) have already landed on Earth. They don't reveal themselves as living and working people because they are indistinguishable from normal human beings. Their mission is to help « people in all walks of life » to evolve into a higher destiny. In his theory, the US government leaders have repressed information about the extraterrestrials who represent the status quo:

Well, they are people, just like us – from within our own solar system. Except that their society is more highly evolved. I mean, they don't have no wars, they got no monetary system, they don't have any leaders, because, I mean, each man is a leader. I mean, each man – because of their technology, they are able to feed, clothe, house, and transport themselves equally – and with no effort…Why don't they reveal themselves to us is because if they did it would cause a general panic. Now, I mean, we still have leaders upon whom we rely for the release of this information. These leaders have decided to repress this information because of the tremendous shock that it would cause to our antiquated systems. Now, the result of this has been that the Venutians have contacted people in all walks of life – all walks of life. (He laughs) Yes. It-it-it would be a devastatin' blow to our antiquated systems – so now the Venutians are meeting with people in all walks of life – in an advisory capacity. For once man will have a god-like control over his own destiny. He will have a chance to transcend and to evolve with some equality for all.

They decide to save the rest of the joint for the next morning, as Wyatt advises: « It gives you a whole new way of looking at the day. »

The next morning, they continue on their trip and wind up entering a rural cafe/diner in a small Southern town, as three songs play on the soundtrack:

Don't Bogart Me (by the Fraternity of Man)
If Six Was Nine (by the Jimi Hendrix Experience)
Let's Turkey Trot (by Little Eva) – the selection on the jukebox in the diner

Local rednecks at one of the cafe's booths look up at the non-conformist intruders, as the Deputy Sheriff (Arnold Hess, Jr.) rhetorically asks: « What the hell is this? Troublemakers? » His construction-site booth mate with a yellow cap, Cat Man (Hayward Robillard) adds: « You name it – I'll throw rocks at it, Sheriff. » Teenage girls at the next booth are excited by the strangers in a different way, particularly for George: « Oh, I like the one in the red shirt with the suspenders » and for Wyatt: « Mmmm-mmm, the white shirt for me » and « look at the one with the black pants on. » In response to the attention, George and Billy make funny noises with their tongues and say: « Poontang! »

The dialogue between the Sheriff and Cat Man despises and ridicules the bikers' long hair with crude insults:

Cat Man: Check that joker with the long hair.
Deputy: I checked him already. Looks like we might have to bring him up to the Hilton before it's all over with.
Cat Man: Ha! I think she's cute.
Deputy: Isn't she, though. I guess we'd put him in the women's cell, don't you reckon?
Cat Man: Oh, I think we ought to put 'em in a cage and charge a little admission to see 'em.

Overhearing their ill-natured comments, George gracefully sighs at the two good ol' boys: « Those are what is known as 'country witticisms.' One of the girls boldly suggests asking the bikers to take them for a ride and then is dared to « go ahead. » Other customers are also threatened and make loud asides about their appearance, insulting them as « weirdo degenerates » – the local townfolk are fearful of something they don't understand:

Customer 1: You know, I thought at first that bunch over there, their mothers had maybe been frightened by a bunch of gorillas, but now I think they were caught.
Customer 2: I know one of them's Alley-oop – I think. From the beads on him.
Customer 4: Well, one of them darned sure is not Oola.
Customer 1: Look like a bunch of refugees from a gorilla love-in.
Customer 2: A gorilla couldn't love that.
Customer 1: Nor could a mother.
Customer 3: I'd love to mate him up with one of those black wenches out there.
Customer 4: Oh, now I don't know about that.
Customer 3: Well, that's about as low as they come. I'll tell ya…Man, they're green.
Customer 4: No, they're not green, they're white.
Customer 3: White? Huh!
Customer 4: Uh-huh.
Customer 3: Man, you're color blind. I just gotta say that…
Customer 1: I don't know. I thought most jails were built for humanity, and that won't quite qualify.
Customer 2: I wonder where they got those wigs from.
Customer 1: They probably grew 'em. It looks like they're standin' in fertilizer. Nothin' else would grow on 'em…
Customer 3: I saw two of them one time. They were just kissin' away. Two males. Just think of it.

Feeling threatened by the « Yankee queers » and their alternative, non-conformist lifestyle, the narrow-minded Deputy and Cat Man suggest eliminating them:

Deputy: What'cha think we ought to do with 'em?
Cat Man: I don't damn know, but I don't think they'll make the parish line.

George quickly loses his hungry appetite and Wyatt rises to « split » – the waitress has refused to serve them anyway. The teenage girls follow them outside and gather around to ask for a ride, but Billy changes his mind when he notices the Deputy peering out the cafe window at them – « the Man is at the window. »

At their next campsite around a campfire (because hotels and motels won't accept them), the film's fourth campfire scene, George (in a conversation with Billy) expresses the prophetic theme of the film – their threat to the Establishment and to Americans who are hypocritical about life, liberty, and the pursuit of happiness.

In his famous « this used to be a helluva good country » speech, George articulates the real reason for the hostility and resentment that they generate. Billy's notion is that their non-conformist mode of dress and long hair spark intolerance. But lawyer George philosophizes that they represent something much deeper and more fearful – freedom, unconventionality, and experimentation in a materialistic, capitalistic society:

George: You know, this used to be a helluva good country. I can't understand what's gone wrong with it.
Billy: Huh. Man, everybody got chicken, that's what happened, man. Hey, we can't even get into like, uh, second-rate hotel, I mean, a second-rate motel. You dig? They think we're gonna cut their throat or something, man. They're scared, man.
George: Oh, they're not scared of you. They're scared of what you represent to 'em.
Billy: Hey man. All we represent to them, man, is somebody needs a haircut.
George: Oh no. What you represent to them is freedom.
Billy: What the hell's wrong with freedom, man? That's what it's all about.
George: Oh yeah, that's right, that's what it's all about, all right. But talkin' about it and bein' it – that's two different things. I mean, it's real hard to be free when you are bought and sold in the marketplace. 'Course, don't ever tell anybody that they're not free 'cause then they're gonna get real busy killin' and maimin' to prove to you that they are. Oh yeah, they gonna talk to you, and talk to you, and talk to you about individual freedom, but they see a free individual, it's gonna scare 'em.
Billy: Mmmm, well, that don't make 'em runnin' scared.
George: No, it makes 'em dangerous.

George ends his confident words of wisdom with another flap of the arm and « nik, nik, nik, nik, nik, nik, nik – Swamp. » After they settle down in their sleeping bags, unidentified men [presumably the men from the cafe] ambush and attack them and beat them with baseball bats in the dark. Billy and Wyatt are both bloodied and bruised, but George has been clubbed to death. [Ironically, George as a lawyer from a rich family shared more in common with his local assassins than either Billy or Wyatt, but he is the one who is murdered.] Billy goes through George's wallet, wondering what to do « with his stuff. » They find some money, his driver's license, and his card to a New Orleans brothel: « He ain't gonna be usin' that. » As homage to their departed friend/companion, they immediately travel on.

The next scene abruptly finds them in a New Orleans restaurant, where they are served a fancy meal with wine (as the soundtrack plays « Kyrie Eleison » by The Electric Prunes). Thinking they'll « go there for one drink » because George « would have wanted us to, » Billy and Wyatt make their way to the House of Blue Lights, the brothel/whorehouse – a place of institutionalized love that George dreamed of visiting. The interior of the whorehouse is decorated with sexual and religious paintings and with an ornate ceiling and chandelier. The salon has a few prostitutes seated on couchs, a pimp, a Madame, and a golden-haired woman who dances on a table. After snuggling and being entertained, Billy gets smashed and enjoys spending their drug money. Remote and out of touch, Wyatt stares off into space postulating: « If God did not exist, it would be necessary to invent him. » Wyatt looks up to an inscription on the wall which reads: « Death only closes a man's reputation and determines it as good or bad. »

There is a momentary, quick flash forward – an aerial shot of a fire burning alongside a highway – it is the final image of the film – Wyatt's motorcycle burns beside the road.

The Madame brings in two hookers, Mary (Toni Basil), a dark-haired woman who accompanies Wyatt, and Karen (Karen Black), the « tall one » who joins Billy. With the two prostitutes, they wander through the crowded Mardi Gras celebration in the streets, where there are large floats and revellers are singing and parading in costumes. (« When the Saints Go Marching In » plays in the background.) As the group moves down the street, Wyatt comes upon a dead dog lying at the curb – they stoop down to it.

Then, the bonded quartet enter a cemetery, a place of institutionalized death, where they all split the packet of the hallucinogenic drug LSD, given them earlier by the Stranger. Although the drug experience promises peace and enlightenment, the acid trip is a sacrament of confusion and disillusion.

A girl's voice repeatedly recites religious creeds during the sequence:

I believe in God, Father Almighty, Creator of heaven and earth…Was crucified, died, and was buried. He descended into hell – the third day, he arose again from the dead. He ascended into heaven, to sitteth at the right hand of God – the Father Almighty. Creator of heaven and earth. I believe in God, Father Almighty, creator of heaven and earth. And in Jesus Christ – his only son, Our Lord. Received Holy Ghost. Born of the Virgin Mary, suffered under Pontius Pilate, was crucified, died, and was buried….Blessed art Thou amongst women, and blessed is the fruit of Thy womb, Jesus. Holy Mary, Mother of God, pray for us now…

Their drug trip/experience is a disjointed, distorted, purposely chaotic sequence of images, painful memories and sounds. Wyatt overlaps the creed with his own crude ramblings and eventually ends up sobbing: « Oh Mother why didn't you tell me? Why didn't anybody tell me anything?…What are you doing to me now?…Shut up!…How could you make me hate you so?…Oh God, I hate you so much. » Both women take off their clothes and pose nude in the cemetery while Wyatt embraces one of the marble statues. They frolic throughout the crypts, but ultimately they all share a sour, bad trip together. Both Mary and Karen scream and sob: « I'm going to die. I'm dead…Do you understand?…Oh dear God, please let it be. Please help me conceive a child…I'm right out here out of my head…Please God, let me out of here. I want to get out of here…You know what I mean…You wanted me…You wanted me ugly didn't you? I know you johns – I know you johns. »

Toward the end of their restless, nomadic odyssey, they leave New Orleans and ride on eastward to Florida, accompanied by « Flash, Bam, Pow » by The Electric Flag.

At another campfire, the fifth and final campire scene [in the last scene before the film's climax], Wyatt and Billy exchange deep thoughts about the freedom they have found on their journey pursuing the big drug score – « the big money. » Their rootless, drifting pursuit of the American dream and the promise of sex, drugs, and rock 'n' roll has been questionably successful, dissatisfying, transitory and elusive. Billy is unaware of the cost of their trip to his own soul. Wyatt believes there may have been another less destructive, less diversionary, more spiritually fulfilling way to search for their freedom rather than selling hard drugs, taking to the road and being sidetracked, and wasting their lives:

Billy (gleefully greedy): We've done it. We've done it. We're rich. Wyatt. (Laughs) Yeah, man. (Laughs) Yeah. Clearly, we did it, man we did it. We did it. Huh. We're rich, man. We're retired in Florida, now, mister. (Chuckles) Whew.
Wyatt (introspectively): You know, Billy? We blew it.
Billy: What? Huh? Wha-wha-wha- That's what it's all about, man. I mean, like you know – I mean, you go for the big money, man, and then you're free. You dig? (Laughs)
Wyatt: We blew it. Good night, man.

On the road again the next morning to the sound of « It's Alright Ma (I'm Only Bleeding) » (Bob Dylan's tune sung by Roger McGuinn of the Byrds), they travel through more landscapes of America, scenes which reflect the regional diversity of the country and creeping industrial pollution.

The ending of the film is remarkably bleak, cynical and fatalistic. On one of the last stretches of roadside where American industry has not yet sprawled, two armed rednecks in a small pickup truck think they'll have some fun with the two bikers:

Driver: Hey, Roy, look at them ginks!
Roy: Pull alongside, we'll scare the hell out of 'em.

Roy reaches back and takes down his mounted shotgun from the back of the cab and aims it out the window at Billy:

Want me to blow your brains out? (Billy obscenely gestures with his 'finger') Why don't you get a haircut?

A sudden shot-gun blasts Billy in the stomach and he is mortally wounded. His bike rolls and skids down the road. Wyatt stops and turns back toward Billy to help him:

Billy: Oh my God! (He gags)
Wyatt: Oh my God! I'm going for help Billy.
Billy: I got 'em. I'm gonna get 'em. (He sobs and moans)…Man, I-I'm gonna get 'em. Where are they now?

Middle America's hatred for the long-haired cyclists is shown in the film's famous ending. When Wyatt speeds down the road to seek help for his dying friend, the rednecks turn around and drive toward him – gunfire again blasts through the window and Wyatt's bike flies through the air. [Significantly, Wyatt's dead body doesn't appear in the final scene.] The closing image (of the earlier flash-forward) is an aerial shot floating upwards above his motorcycle which is burning in flames by the side of the road. Death seems to be the only freedom or means to escape from the system in America where alternative lifestyles and idealism are despised as too challenging or free. The romance of the American highway is turned menacing and deadly.

The words of Ballad of Easy Rider (by Roger McGuinn of The Byrds) are heard under the rolling credits. The uneasy aerial camera shot pulls back on the winding river alongside the highway. The river – which extends to the hazy horizon – is the final image of the film before a fade-out to black. The ballad is about a man who only wanted to be free like the flowing river amidst America's natural landscape:

The river flows, it flows to the sea
Wherever that river goes, that's where I want to be
Flow river flow, let your waters wash down
Take me from this road to some other town
All I wanted was to be free
And that's the way it turned out to be…

Voir par ailleurs:

« No Society » : l'essai au vitriol signé Christophe Guilluy
Le géographe prédit la fin de la classe moyenne occidentale. Et la poussée de vagues populistes générées par le système qui prétend la combattre
Philippe Belhache
Sud Ouest
25/10/2018

Faut-il brûler « No Society » ? La question se poserait presque, tant les réactions au brûlot de Christophe Guilluy sont parfois extrêmes, entre admiration béate et rejet affecté, récupération politique ou entreprise de décrédibilisation. L'auteur célébré de « La France périphérique », qui ouvrait sur une nouvelle appréhension de la société française, est aujourd'hui conspué par ceux qui l'ont jadis adoré. L'homme agace, il dérange. Il le sait, il en joue, brouille les cartes en refusant de débattre dans les colonnes de gauche du quotidien « Libération », répondant par ailleurs aux questions du pure player de droite Atlantico, alors même qu'il endosse le rôle de David face à ce Goliath protéiforme que représentent, pour lui, les élites.

L'homme agace, il dérange. Il le sait, il en joue, brouille les cartes

Christophe Guilluy est géographe. Mais son propos est ici tout autre. « No Society », ouvrage radical, volontiers polémiste, est sans ambiguïté un essai politique. Ce qui conduit les exégètes à s'interroger sur ses intentions. D'autant que ses travaux – qui ont permis de modéliser la montée du vote populiste en France sur la base du concept de France périphérique – sont récupérés par la quasi-totalité du champ politique, chacun en tirant les conclusions qui l'arrangent. À commencer par les mouvements d'extrême droite, qui y trouvent résonance à leurs théories, mais aussi à leur obsession complotiste.

Affirmé, répété, martelé

Que nous dit Christophe Guilluy ? Que la scission est aujourd'hui consommée entre une élite déconnectée et une classe populaire précarisée. Et que la classe moyenne, qu'il définit comme « une classe majoritaire dans laquelle tout le monde était intégré, de l'ouvrier au cadre », est un champ de ruines. Ce dernier point est affirmé, répété, martelé, « implosion d'un modèle qui n'intègre plus les classes populaires, qui constituaient, hier, le socle de la classe moyenne occidentale et en portait les valeurs».

Dès lors, les groupes sociaux en présence « ne font plus société ». C'est là le sens du titre, « No Society », reprise qui n'a rien d'innocente d'un aphorisme de feu la Première ministre britannique Margaret Thatcher – déjà responsable du célèbre Tina, « There is no alternative » –, dont la politique néolibérale agressive, véritable plan de casse sociale dans les années 1980, définit toujours le modèle outre-Manche.

Une nouvelle géographie

Guilluy se fait lanceur d'alerte. Il constate, à l'instar de l'économiste Thomas Piketty, dont il cite les travaux à plusieurs reprises, le fossé toujours plus large qui sépare les catégories les plus aisées, des classes défavorisées. Une situation qui induit une nouvelle géographie sociale et politique. Et explique, selon lui, l'insécurité culturelle s'ajoutant à l'insécurité sociale, la vague populiste qui balaie la France, la Grande-Bretagne, l'Italie, l'Allemagne, les États-Unis et aujourd'hui le Brésil. Pour l'auteur, comme pour d'autres analystes, l'élection de Trump n'est pas un accident, mais l'aboutissement d'un processus que les élites, drapées dans « un mépris de classe », auraient voulu renvoyer aux marges.

Ce qui fâche politiques, chefs d'entreprise et médias ? Cette propension à mettre tout le monde dans le même sac, tous complices de défendre, « au nom du bien commun », une idéologie néolibérale jugée destructrice. Et de masquer les vrais problèmes à l'aide d'éléments de langage. Guilluy conspue les 0,1 %, ces superpuissances économiques, tentées par l'anarcho-capitalisme, qui siphonnent les richesses mondiales. Tout comme il rejette la métropolisation des territoires, encouragée par l'Europe, qui tend à concentrer les créations d'emplois dans les zones urbaines, alors même que les classes populaires en sont rejetées par le coût du logement et une fiscalité dissuasive.

Effondrement du modèle intégrateur, ascenseur social en berne… Cette France à qui on demande de traverser la rue attend vainement, selon lui, que le feu repasse au vert pour elle. Guilluy la crédite cependant d'un « soft power », capacité, amplifiée par les réseaux sociaux, à remettre sur la table les sujets qui fâchent, ceux-là mêmes que les élites aimeraient conserver sous le tapis. Une donnée que les tribuns populistes, de droite comme de gauche, ont bien intégrée, s'en faisant complaisamment chambre d'écho.

« No Society. La fin de la classe moyenne occidentale », de Christophe Guilluy, éd. Flammarion, 240 p., 18 €.

Voir encore:

A little over a year after coming to power, Emmanuel Macron is turning out to be just another run-of-the-mill disappointing French president. Like his predecessors, he has seen his popularity nosedive among his political base. This "Jupiter", who embodied newness, youth and modernity, is now bogged down in forced reshuffles and goings-on that look very much like old-fashioned political manoeuvrings. Worse, despite claiming he would lead France to become the "start-up nation", economic performance is poor. Growth is stagnant, unemployment isn't falling and poverty is taking a firm hold. The disappointment is all the more acute because of the expectations Macron raised among those who rejected populism in favour of a candidate who both stood for good sense and could run the economy.

This turn of events isn't just worrying for Macron, it's worrying for those in Europe's pro-globalisation camp who placed their faith in him to halt the wave of populism sweeping the western world. For them, after the twin shocks of the UK's Brexit vote and Donald Trump's election in the United States, Macron simply must succeed. The slide in his popularity – Macron is now more unpopular than his predecessor, François Hollande, at the same stage – is a dire warning to "globalists". It comes at a time when Trump's popularity among his voters is relatively stable by comparison and the American economy is growing. Macron's fate could have far-reaching consequences for Europe's political future.

What makes the contrast between Trump's and Macron's fortunes so striking is that the two presidents have so much in common. Both found electoral success by breaking free of their own side: Macron from the left and Trump from mainstream Republicanism; they both moved beyond the old left-right divide. Both realised that we were seeing the disappearance of the old western middle class.

Both grasped that, for the first time in history, the working people who make up the solid base of the lower middle classes live, for the most part, in regions that now generate the fewest jobs. It is in the small or middling towns and vast stretches of farmland that skilled workers, the low-waged, small farmers and the self-employed are concentrated. These are the regions in which the future of western democracy will be decided.

But the similarities end there. While Trump was elected by people in the heartlands of the American rustbelt states, Macron built his electoral momentum in the big globalised cities. While the French president is aware that social ties are weakening in the regions, he believes that the solution is to speed up reform to bring the country into line with the requirements of the global economy. Trump, by contrast, concluded that globalisation was the problem, and that the economic model it is based on would have to be reined in (through protectionism, limits on free trade agreements, controls on immigration, and spending on vast public infrastructure building) to create jobs in the deindustrialised parts of the US.

It could be said that to some extent both presidents are implementing the policies they were elected to pursue. Yet, while Trump's voters seem satisfied, Macron's appear frustrated. Why is there such a difference? This has as much to do with the kind of voters involved as the way the two presidents operate politically.

Trump speaks to voters who constitute a continuum, that of the old middle class. It is a body of voters with clearly expressed demands – most call for the creation of jobs, but they also want the preservation of their social and cultural model. Macron's problem, on the other hand, is that his electorate consists of different elements that are hard to keep together.

The idea that Macron was elected just by the big city "winners" isn't accurate: he also attracted the support of many older voters who are not especially receptive to the economic and societal changes the president's revolution demands.This holds true throughout Europe. Those who support globalisation often tend to forget a vital fact: the people who vote for them aren't just the ones on the winning side in the globalisation stakes or part of the new, cool bourgeoisie in Paris, London or New York, but are a much more heterogeneous group, many of whom are sceptical about the effects of globalisation. In France, for example, most of Macron's support came in the first instance from the ranks of pensioners and public sector workers who had been largely shielded from the effects of globalisation.

They may dislike populism, but that doesn't mean they have been won round to globalisation. It is among pensioners that the president's popularity has fallen most dramatically over recent months. The Benalla scandal, when a presidential bodyguard beat up a leftwing protester, has tarnished his image. But Macron's ratings were damaged much more by the first round of reforms he embarked on. These measures include an additional tax burden on pensioners and an overhaul of the rights of public sector workers.

So, while Trump appears to be delivering what his voters want, Macron is pushing through more and more measures that go against the wishes of his.

These developments are an illustration of the political difficulty that Europe's globalising class now finds itself in. From Angela Merkel to Macron, the advocates of globalisation are now relying on voters who cling to a social model that held sway during the three decades of postwar economic growth. Thus their determination to accelerate the adaptation of western societies to globalisation automatically condemns them to political unpopularity. Locked away in their metropolitan citadels, they fail to see that their electoral programmes no longer meet the concerns of more than a tiny minority of the population – or worse, of their own voters.

They are on the wrong track if they think that the "deplorables" in the deindustrialised states of the US or the struggling regions of France will soon die out. Throughout the west, people in "peripheral" regions still make up the bulk of the population. Like it or not, these areas continue to represent the electoral heartlands of western democracies. By ignoring them, those who promote global economic solutions are deliberately shunning any meaningful involvement in politics. They limit themselves to supporting and managing implementation of the globalised economic model. With opinion polarising as it is now, such political passivity is suicidal. In France, voters are looking to President Macron to show that he can drive the political agenda, not just be a supporting actor to a movement that only benefits a minority. Macron promised to lead a "revolution" (the title of the book setting out his programme) but that has to be done through, and with, the forgotten regions of France – in other words through society itself.

• Christophe Guilluy is the author of Twilight of the Elites: Prosperity, Periphery and the Future of France

Voir de plus:

Mark Lilla, procureur de la gauche multiculturelle
L'historien américain s'attire les foudres des démocrates aux Etats-Unis en dénonçant l'«idéologie de la diversité». Portrait d'une figure transgressive de la vie intellectuelle outre-Atlantique.
Simon Blin
Libération
11 octobre 2018

Bientôt deux ans après la défaite de Hillary Clinton face à Donald Trump, l'heure est au réglement de compte chez les démocrates américains, où le deuil de l'ère Obama semble encore lourd à porter. Une phase de reconstruction intellectuelle et politique dans laquelle Mark Lilla, historien des idées et professeur à Columbia University, détonne par l'âpreté de son propos, nettement plus conservateur que celui de ses congénères opposants à Trump classés à gauche – citons, entre autres, l'historien Timothy Snyder, le journaliste Ta-Nehisi Coates ou le politologue Yascha Mounk.

Dix jours à peine après l'élection de Trump, Lilla publie une tribune dans le New York Times, où il étrille la célébration univoque de la diversité par l'élite intellectuelle progressiste comme principale cause de sa défaite face à Trump. «Ces dernières années, la gauche américaine a cédé, à propos des identités ethniques, de genre et de sexualité, à une sorte d'hystérie collective qui a faussé son message au point de l'empêcher de devenir une force fédératrice capable de gouverner […], estime-t-il. Une des nombreuses leçons à tirer de la présidentielle américaine et de son résultat détestable, c'est qu'il faut clore l'ère de la gauche diversitaire.»

«Dérive».
De cette diatribe à succès, l'universitaire a fait un livre tout aussi polémique, The Once and Future Liberal. After Identity Politics, dont la traduction française vient d'être publiée sous le titre la Gauche identitaire. L'Amérique en miettes (Stock). Un ouvrage provocateur destiné à sonner l'alerte contre le «tournant identitaire» pris par le Parti démocrate sous l'influence des «idéologues de campus», «ces militants qui ne savent plus parler que de leur différence.» «Une vision politique large a été remplacée par une pseudo-politique et une rhétorique typiquement américaine du moi sensible qui lutte pour être reconnu», développe Lilla. Dans son viseur : les mouvements féministes, gays, indigènes ou afro comme Black Lives Matter («le meilleur moyen de ne pas construire de solidarité»). Bref, tout ce qui est minoritaire et qui s'exprime à coups d'occupation de places publiques, de pétitions et de tribunes dans les journaux est fautif à ses yeux d'avoir fragmenté la gauche américaine.

L'essayiste situe l'origine de cette «dérive» idéologique au début des années 70, lorsque la Nouvelle Gauche interprète «à l'envers» la formule «le privé est politique», considérant que tout acte politique n'est rien d'autre qu'une activité personnelle. Ce «culte de l'identité» et des «particularismes» issus de la révolution culturelle et morale des Sixties a convergé avec les révolutions économiques sous l'ère Reagan pour devenir «l'idéologie dominante.» «La politique identitaire, c'est du reaganisme pour gauchiste», résume cet adepte de la «punchline» idéologico-politique.

Intellectuel au profil hybride, combattant à la fois la pensée conservatrice et la pensée progressiste, Lilla agace plus à gauche qu'à droite où sa dénonciation de «l'idéologie de la diversité», de «ses limites» et «ses dangers» est perçue comme l'expression ultime d'un identitarisme masculin blanc. Positionnement transgressif qu'on ferait volontiers graviter du côté de la «nouvelle réaction», ce qu'il réfute.

A Paris, loin de la tempête médiatique new-yorkaise, chez son éditeur au cœur du Quartier latin, costume bleu marine d'intello-worldwide en promo et lunettes noires cerclées posées sur un visage imberbe, il se définit comme «liberal, centrist» (un «modéré de gauche», dirait-on en France). On lit aussi dans le New Yorker «démocrate à col bleu», ces «travailleurs» d'ateliers, usiniers et ouvriers du Midwest, frappés de plein fouet par la crise économique et oubliés par le Parti démocrate durant la présidentielle de 2016. Refusant toute étiquette, il revendique une «posture républicaine» et «universaliste», rêvant pour son pays d'un républicanisme à la française, intransigeant et farouchement laïque. De ce point de vue là, Mark Lilla est l'anti-Joan Scott, son homologue américaine, elle aussi francophile, dont le dernier livre la Religion de la laïcité (Flammarion) épingle a contrario l'utilisation «évolutive, opportuniste et de circonstance» de ce concept en France au nom de l'égalité entre les sexes.

Champ.
L'essai de Lilla peut se lire comme un avertissement lancé à la gauche intellectuelle française, aujourd'hui divisée entre «républicanistes» et «décoloniaux». Un signal à prendre au sérieux de la part d'une sommité académique qui connaît bien la France. Entre 1988 et 1990, le chercheur pose ses valises à Paris, où il fait la rencontre du cercle universitaire entourant François Furet, alors directeur du Centre d'études sociologiques et politiques Raymond-Aron. Décidément bien inspiré par la critique de la modernité, il publie en 1994 New French Thought. Political Philosophy, un recueil de textes consacré à la nouvelle pensée française façonnée par Marcel Gauchet, Luc Ferry ou Alain Renaut.

Plus globalement, Lilla est connu dans le champ intellectuel pour le regard neuf qu'il porte sur la pensée européenne. En 1993, son essai sur Giambattista Vico, G.B. Vico. The Making of an Antimodern, lui offre ses premières bribes de notoriété. «Lilla a pris le contre-pied des travaux de l'époque sur Vico, se souvient Alain Pons, spécialiste du philosophe italien, rencontré à Paris au début des années 90. Contrairement à la conception dominante qui place Vico dans la lignée d'un idéalisme hégélien, il a su déceler chez lui un fond à contre-courant des Lumières. Lecture inédite.»

Celui qui contribue à faire connaître Michel Houellebecq outre-Atlantique, «un écrivain qui dit la vérité sur la réalité», tient ce rôle d'entremetteur entre les deux continents. «C'est sa grande force, pointe le politologue et ex-compagnon de route parisien Philippe Raynaud. Contrairement à ses compatriotes, il ne s'intéresse pas exclusivement à ce qui est anglo-saxon. Il a sur la France un regard compréhensif.» Seule ombre au tableau de ses amitiés franco-américaines, une relation contrariée avec le philosophe Pierre Manent, qui a refusé poliment de répondre à nos questions. Leur lien se serait distendu après que Lilla a critiqué ses positions catholiques conservatrices dans la New York Review of Books. Quand ce n'est pas à son goût, ami ou pas, Lilla allume. «C'est un esprit indépendant, témoigne l'historien Marcel Gauchet, autre membre du centre Aron. Ce qui n'est pas forcément bien vu dans les milieux universitaires.»

Si son livre a reçu un accueil chaleureux dans la presse française, l'américaniste Denis Lacorne craint qu'il ne soit «mal lu, donc mal compris»,même s'il reconnaît à Lilla quelques «prises de positions musclées». Quitte à frôler l'injure à son propre public. Comme lorsqu'il dit que les étudiants de gauche s'intéressent plus à leur nombril qu'au reste du monde. «Une insulte à ses étudiants ? Je ne pense pas, réagit Lacorne. Lilla fait état d'une certaine difficulté de l'enseignement aux Etats-Unis. En retour, c'est lui qu'on traite de supremaciste blanc !»

Mark Lilla est blanc, il a 62 ans. Né à Detroit, père ouvrier chez Chevrolet et mère infirmière. Installée près de la frontière avec le Canada, sa famille est à l'entendre «un îlot progressiste» au milieu d'«un océan d'ouvriers blancs racistes.» Voir la classe ouvrière des années 60 sombrer dans sa version white trash pré-Trump lui fait dire : «Le racisme, je le connais mieux que mes étudiants noirs et pour la plupart tous bourgeois.» Pour payer ses études, Lilla fait éboueur «à l'arrière du camion-poubelle». Il obtient une bourse de l'université du Michigan et s'envole pour Harvard. Son entrée dans l'élite universitaire coïncide avec la fin de son époque «Jesus Freak», «ces hippies qui lisaient la Bible au lieu de fumer des joints». Sa rencontre avec le sociologue Daniel Bell, en 1979, le délivre pour de bon de l'emprise de la religion. «J'émergeais tout juste des brumes du fanatisme pentecôtiste, qui avait assombri mon adolescence, écrit-il en 2011 dans le trimestriel conservateur Commentaire […]. J'ai appris que ce que les convertis cherchent dans la foi est la chaleur.»

Autorité
A la longue, Lilla montre des occurrences biograhiques le baladant plus du côté des conservateurs que des réseaux intellectuels progressistes. C'est bien de cette facette et de son nouvel habit de pamphlétaire dont il est question depuis la parution de son essai. Le polémiste se serait-il substitué au chercheur à l'autorité planétaire ? «Il est ni plus ni moins polémique qu'avant, corrige Raynaud. Ce n'est pas un livre polémique mais un livre sur lequel on polémique. Mark Lilla se situe entièrement à l'intérieur de la gauche. Il veut son retour aux affaires en 2020.» L'intéressé assure que son essai est un «rappel à l'ordre» pour «renouer avec l'ambition d'un avenir commun.» On voudrait déclarer la guerre des gauches, qu'on ne s'y prendrait pas autrement.

Voir enfin:

Dominique Reynié : « Il n'y a pas de demande de repli nationaliste, mais de protection »

Alain Barluet

INTERVIEW – Professeur des universités à Sciences Po, directeur général de la Fondation pour l'innovation politique, Dominique ­Reynié analyse pour Le Figaro les frac­tures européennes.

LE FIGARO.- L'Europe est-elle aujourd'hui menacée d'implosion par les nationalismes?

Dominique REYNIÉ.- Notre situation est parfaitement paradoxale. Jamais les ennemis de l'Union européenne n'ont eu à ce point le sentiment de toucher au but, de presque en voir la fin, et cependant jamais, je le crois, les peuples d'Europe n'ont été plus sérieusement, plus gravement attachés à l'Union. Quel malentendu! Voilà bien l'un des plus fâcheux résultats de notre incapacité à discuter, de notre nouvelle inclination pour la simplification à outrance des points de vue. L'hypothèse d'un repli nationaliste procède d'une erreur d'interprétation.

Il n'y a pas de demande de repli nationaliste, mais une demande de protection, de régulation politique, de contrôle du cours des choses. C'est une demande de puissance publique qui ne heurte pas l'idée européenne. C'est en refusant de répondre à cette demande éminemment légitime et recevable que l'Union finira par conduire les Européens à revenir, la mort dans l'âme, au dogme nationaliste.

Quelles sont les principales causes des fractures européennes actuelles?

Il existe bien sûr des causes particulières à chacune de nos nations. Mais les causes communes dominent et c'est l'autre face du paradoxe, puisque ces causes, en tant qu'elles sont continentales, qu'elles nous sont communes, devraient nous fournir la matière d'un nouveau grand dessein européen. Considérons ici notre crise démographique. Chaque année, il y a en Europe plus de décès que de naissances. Pas une nation du continent n'est épargnée par ce terrible déficit. Les conséquences sont immenses, sur nos capacités économiques, scientifiques, militaires, sur nos budgets, etc.

Notre crise démographique est-elle la réponse des peuples européens à la question de leur rôle dans la nouvelle histoire? Ce ne sont pas les États qui font des enfants. Et ce n'est pas à coups d'incitations fiscales ou de médailles nationales que nous corrigerons cela. À l'échelle de l'histoire, il n'y a pas de plus pure démonstration de force que la démographie. On peut refuser le multiculturalisme, mais que vaut une culture nationale qui n'engendre plus de vivants? Notre perte de vitalité dans un monde bouillonnant est l'une des grandes causes du malaise européen, des peuples et de leurs États.

«Nous devons accepter cet attachement viscéral des Européens à leur patrimoine immatériel, leur manière de vivre, leur souveraineté, parfois si récente ou retrouvée depuis si peu et si chèrement payée»

Quel rôle a joué Trump?

Les Européens observent Trump. Ils ne l'aiment pas, mais ils le comprennent. Ils voient un chef d'État qui affirme la primauté de son pays et de son peuple. Trump marque le retour d'une figure classique mais oubliée chez nous, celle de l'homme d'État qui n'a d'intérêt que pour son pays. Il assume une politique de puissance. On verra ses résultats. Mais on ne doute pas que cette politique le conduirait à sacrifier l'intérêt européen s'il le fallait, et même les intérêts du monde. L'abandon des accords de Paris sur le climat a été une réussite de ce point de vue: c'est l'affirmation éclatante du retour à une politique égoïste sans fard. C'est la réponse à un monde que les démocraties ne dominent plus.

Les Européens regardent Trump comme ils regardent Xi Jinping: impossible de les aimer puisqu'ils sont redoutables et qu'ils jettent sur nous des regards de prédateurs. C'est bel et bien conscients de cela, de la faiblesse de leurs moyens s'ils avaient l'idée d'agir séparément, que les Européens restent attachés à l'Union, notre dernière condition pour survivre dans la grande bataille des politiques de puissance qui a commencé. Les Américains font ce qu'ils ont à faire pour eux-mêmes. À nous, les Européens, de faire ce qu'il nous revient de faire pour nous-mêmes, voilà ce que cherchent à dire aujourd'hui les Européens.

Macron a-t-il raison de souligner le clivage avec l'Europe de l'Est?

C'est un risque politique, sur le plan national comme sur le plan européen. Le risque peut être gagnant si le vote populiste, qui menace l'Union, amorce un reflux lors des élections européennes. À ce jour, ce n'est pas le plus probable. Mais on peut obtenir un résultat combinant une défaite européenne et une victoire nationale, si la liste LaREM termine en tête. La double défaite signifierait a posteriori l'imprudence du pari et pèserait sur les deux niveaux, européen et national en affaiblissant dangereusement le président.

Quelles pistes pour «réduire» les fractures européennes?

Du côté des gouvernements, cessons de surjouer l'opposition frontale. Elle est spectaculaire, médiatique, elle frappe les esprits. Autant l'Europe, avec son langage hermétique et ses représentants extraterritorialisés, ne sait jamais expliquer les bénéfices qu'elle permet pourtant, autant elle met en scène avec brio ses disputes. Les effets sont désastreux. Hélas, le retour de la modération n'aura pas lieu avant les européennes, ces excès étant supposés favoriser la mobilisation des bataillons électoraux. Il y a une impérieuse nécessité à mieux se comprendre. Orban et ses amis doivent comprendre que le respect des principes et des procédures qui fondent l'État de droit démocratique est au cœur du projet politique européen, il n'est pas négociable. Mais nous aussi nous devons accepter cet attachement viscéral des Européens à leur patrimoine immatériel, leur manière de vivre, leur souveraineté, parfois si récente ou retrouvée depuis si peu et si chèrement payée.

Voir par ailleurs:

Thursday morning I prepared a lovely prune-based compote. My husband adores this dessert, but I wondered if I shouldn't send it over to George Will's house, as an act of mercy. For Will has never before seemed as constipated as he did in his Thursday morning column on Donald Trump, whom he describes as "an unprecedentedly and incorrigibly vulgar presidential candidate."

What exactly does Will mean by "vulgar"? Is it an epithet that Washington arbiters of taste use to describe the regular vernacular and humor of everyday Americans? If you eschew complex ambiguity in favor of language that everyone can understand, does that make you vulgar?

In a nod to personal liberty, Will grants that Trump's "squalid performance and its coarsening of civic life are costs of freedom that an open society must be prepared to pay." Yes, democracy is like that. It is exuberant, and accommodates a glorious diversity of taste and expression. "Life, like a dome of many-colored glass,/Stains the white radiance of Eternity," wrote Percy Bysshe Shelley in Adonias. I, for one, adore the stunning display of colors and shapes with which God endowed this world. There's room here for the Trumps as well as the Wills. Eternity with its white radiance can wait.

Will describes Trump's performance as "squalid," and contends that he "coarsens" civic life. "Squalid," with its connotations of filth and corruption—of something that requires sanitization—is a surprising choice of words. Surely, this is an overreaction. But then what kind of conservative would satisfy Will? Well, you'd have to go back 60 years, to a golden age when Bill Buckley made "conservatism intellectually respectable and politically palatable." That would be the same Bill Buckley who, in a debate with Gore Vidal, exploded, "Now listen you queer. Stop calling me a crypto-Nazi or I'll sock you in your goddamned face." Even the most righteous of conservatives, then, have a coarse streak that emerges when they're provoked. Rage is sometimes only a normal reaction, and the absence of passion in the face of slanderous provocation can be pathological.

Interestingly, Canadians are more tolerant than Americans of this sort of behavior from their politicians. In 1996, when Prime Minister Jean Chretien's public address was disrupted and cut short by rowdy protesters, he plowed into the crowd, grabbed one of them by the neck and forced him to the ground. He then knocked the megaphone from the hands of a second protester, and went on his way. Canadians loved him for it. The neck-hold came to be known as the "Shawinigan handshake," named for Chretien's hometown. Today, an illustration of Chretien applying the famous handshake to a Canadian hockey personality graces the label of a microbrew, Shawinigan Handshake Pugnacious Strong Ale.

Trump's message resonates with working class stiffs who believe that, despite his wealth, he understands them and their concerns. When he speaks, they understand him. There's no complex grammar to parse. And there's none of the phony folksiness you get from the Dems, none of the sho-nuffs and y'alls from a Hillary. To many ordinary Americans, Trump represents the promise of America as a land where everyone should have an opportunity to make it to the top if he works hard enough. These are the folks who gave the last election to Barak Obama because he made this promise, and now they're disillusioned.

But Will can't accept that these folks might be or become Republicans. To Will, these "Trumpites" are more plausible as vulgar Archie Bunker Democrats than they are as Republicans. So let's ignore them.

But then I recall Will sniffing his nose at another déclassé Republican candidate and his supporters as "kamikaze conservatives." That was Ronald Regan, and Will invited him to form a third party and lead his mob of followers "into outer darkness." Will acknowledged that while this "would cost the party some support…it would make the party seem cleansed."

Cleansed? Sounds like an exorcism.

The pièce de résistance of Will's article, though, comes when he prissily asks us to perform a thought experiment: "Try to imagine Trump in an Iowa living room, with a macaroon in one hand and cup of hot chocolate balanced on a knee, observing Midwestern civilities while talking about something other than himself." This is going to be the new litmus test for any would-be leader of the Republican Party? "Yes, I can see the value in that as well. And could I have a splash more of your delicious chocolate?"

Many Ruling Class Republicans seem to suffer from Trump Derangement Syndrome. To these folks, the Trump-Kelly dust-up was the last straw. Writing in the Post, Jennifer Rubin bellyaches that Trump "whines," "bellyaches," and "complains." Even (gasp!) "during the debate." Trump had the unmitigated chutzpah to call out a member of the sacred media priesthood when she was behaving unprofessionally towards him. Genteel Republicans don't do that.

As is his wont, Trump readily admits the obvious. "I'm the most fabulous whiner…. and I keep whining and whining until I win."

And win he did, Most candidates beg the media to cover them. The reverse is true with Trump. After the dust-up with Kelly, it was Trump who black-listed Fox when he was doing the Sunday news shows, and Fox begged him to come back and make up. Wanna bet that in the future a debate moderator will think twice before treating Trump unfairly?

What Kelly had done, was to take out of context a joke that Trump had made on one of his Celebrity Apprentice shows. Adopting a confrontational tone—with blood coming out of her eyes—Kelly hurled at Trump the most asinine question that a moderator ever asked a presidential candidate. "You once told a contestant on 'Celebrity Apprentice' it would be a pretty picture to see her on her knees. Does that sound to you like the temperament of a man we should elect as president?"

Trump was clearly bewildered. There'd been many shows, and he didn't remember everything that was said on every one of them.

The context in which Trump made this statement was a conversation he'd had with contestant Brande Roderick and rock star Bret Michaels.

"Brande came in here," Michaels said on the show, "She got down on her knees and said, 'I passionately want to do this—'"

"Excuse me, you dropped to your knees?" Trump interrupted.

"Yes," Roderick responded.

"That must be a pretty picture, you dropping to your knees," Trump said.

See anything demeaning in this banter? Brande didn't. In fact, she was so outranged by the unfairness of Kelly's nasty implications that she jumped to Trump's defense: She didn't remember the comment. Besides, this was a TV show; people were having fun being funny. And Trump had always treated her with respect. She'd witnessed the way he treats his daughter, "like a princess." To Brande, the way a father treats his daughter reflects his attitude toward women generally. As a woman and a mother of a daughter, I can say that this is a very astute observation.

Then, another contestant, Omarosa Manigault-Stallworth who, during the Clinton administration, had worked in Al Gore's office, leapt into the fray and described Kelly's questioning as "the lowest form of journalism," comparing it to "going through somebody's trash and cherry-picking." And contestant Katrina Campins piped up that it was unfair to criticize Trump for things he'd said when he was being an entertainer. Anybody but an overly intellectualized pundit could surely see that. It was clearly a joke!

The Stump for Trump girls got that it was a joke, but they were not amused at Kelly wasting valuable debate time on inanities. These are two African American ladies whose website boasts a delightful series of short videos where the sisters analyze issues facing Americans today, including the abysmal employment situation facing African Americans under Obama's leadership. In their opinion, there are lots of urgent issues—including unemployment—that have much more salience than the one Kelly brought up. Based on all that they'd heard Trump say in the past, they thought that he was the best man to deal with the issues that affect the lives of every-day Americans.

George Will is not the only Ruling Class Republican to express contempt for Donald Trump. And some express even more contempt for those who like him. Writing for National Review Online, Charles C. Cooke calls Trump a "virus." (What is it with these misophobics?) and those who like him are ill, infected. You can recognize them because "by their dull, unreflective, often ovine behavior, they resemble binary and nuancless drones." Nuancless?

Choosing Trump for the presidential nomination, explains Cooke, is "comparable…to a person's choosing a disabled man to run in a marathon." Who would do something like that? Oh, wait. The disabled do compete in marathons, and have done so with pride since 1972. I'm sure that Cooke didn't intend to diss the disabled.

The problem for Ruling Class Conservatives like Will and Cooke, is that the Left has emasculated them. They tremble lest they let slip a faux pas that the Left can jump upon. They must at all times show that their Conservatism is "intellectually respectable and politically palatable," and worry that Trump will make them look bad to the Liberals and their media. They are unable to grasp the fact that, notwithstanding all their efforts, the Left will never regard them as respectable and palatable. To achieve that goal, they must first become Liberals themselves.

Trump makes it clear that he doesn't give a damn what Liberals think of us. And everyday people of all political persuasions applaud when he stands up to the self-important elitist media, just as they did with Newt Gingrich in 2012. It's time for the Right to man-up. Emulate Donald Trump and the Canadians.