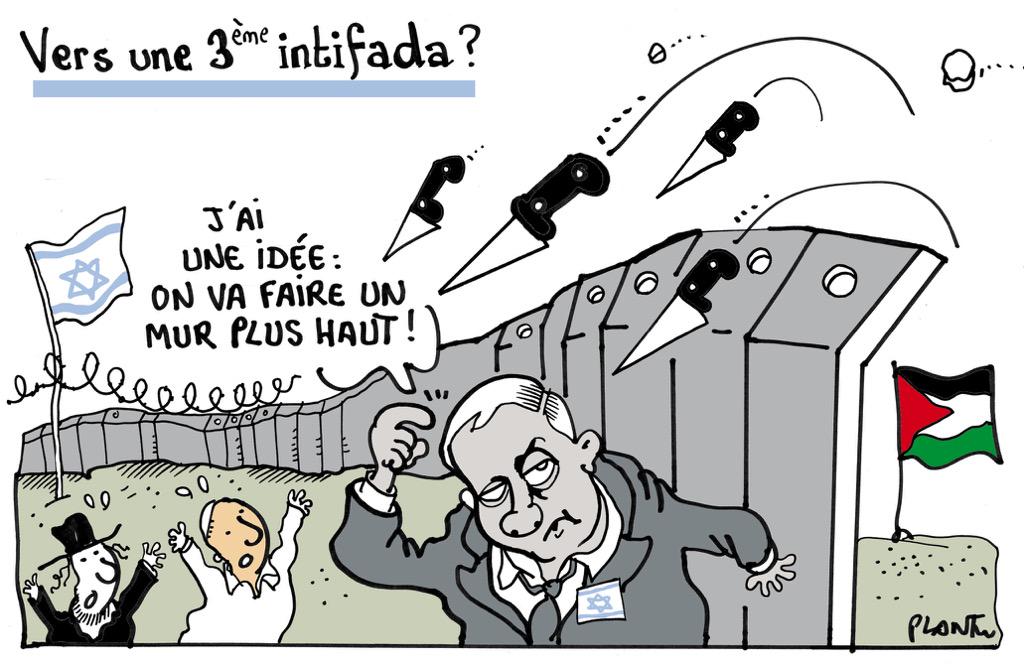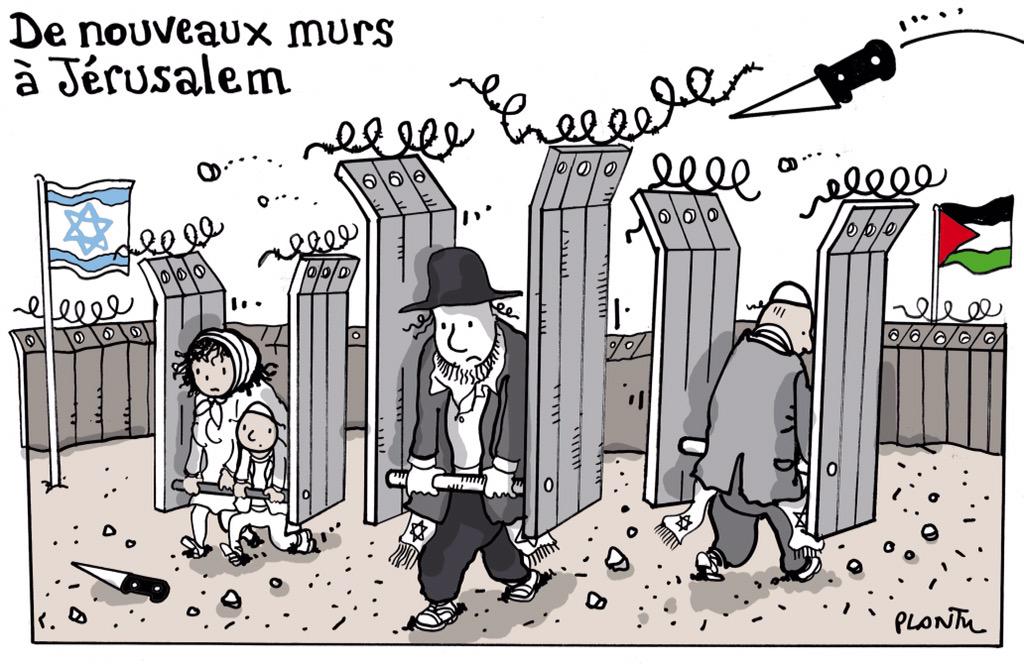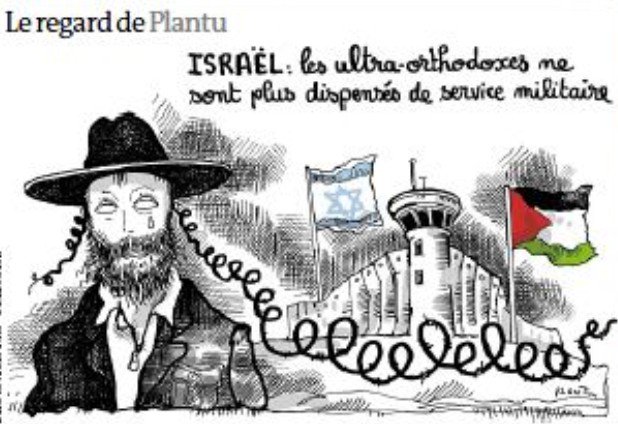 L'antisémitisme, c'est de prendre l'exemple d'une caractéristique ou d'une action qui est répandue, sinon universelle, et de n'en accuser que les Juifs. Alan Dershowitz
Le Monde should be mindful that what started as cartoons in the 1930's ultimately led to violence and unspeakable tragedy. French Jewry has seen enough in the way of terror and violence and anti-Semitic vitriol, undoubtedly fueled by hateful cartoons like these. It's not only libelous, it's reckless and dangerous in light of the terror attacks earlier this year. There is an ignorance and prejudice buried in the image itself. It says more about the preconception in the mind of the illustrator than the reality on the ground. Joe Hyams (HonestReporting)
A political cartoon is one of the most effective tools of communication. People see an image and remember it longer than an article or an essay. Unfortunately, it's also an extremely effective way of passing misinformation. And that's the problem with a recent cartoon in Le Monde, France's paper of record. The cartoon shows an IDF soldier firing his gun at Palestinian civilians, who appear to be dying in the rubble in front of him. The soldier is joined by a stereotypical religious Jew, depicted with a long beard, hat and coat, and even a rifle on his shoulder. The religious Jew is also holding a suitcase labeled New Settlements, and he's telling the soldier: "Can't you shoot any quicker? I'm in a hurry to move in!" In the background, an Israeli helicopter is firing on Palestinian buildings. The meaning of the cartoon is unmistakable: Israel is intentionally killing Palestinians in order to steal the land for its own use. The cartoon, by veteran cartoonist Jean Plantureux (known as Plantu), is shocking not only because of its false and gruesome depiction of Israeli soldiers and its caricature of the religious but also because it comes at a time of deep soul searching in Israel over the death of a Palestinian baby, who was killed in a house fire widely believed to have been set by Jewish extremists. The incident was widely condemned across Israeli society and led to stricter security measures against Israeli extremists. To present Israeli soldiers as wanton killers and religious Jews as promoters of genocide is a crass distortion of Israel that will breed more hate towards Jews and less understanding of the complex reality in the region. The death of the baby does not appear to be referenced in the cartoon. Instead, it may have been triggered by an announcement of plans for 300 new units in the settlements, which took place as Israeli security forces grappled with the removal of Jewish homes in Beit El. Honest reporting
Un antisémite est caché dans ces dessins, sauras-tu le retrouver ?
Suite à l'invitation de Plantu lui-même sur sa page Facebook …
Avec la reproduction de son dessin faussement didactique de l'Express de 2015 …
Intitulé « Un Etat palestinien est caché dans ce dessin, sauras-tu le retrouver ? » …
Et dénonçant les nouvelles implantations (pardon: « colonies » israéliennes) dans les territoires occupés (pardon: « palestiniens ») …
Petit retour en images …
Les quelques exceptions qui confirment la règle mises à part …
Sur la longue tradition à laquelle …
Entre deux caricatures anti-américaines …
Il a largement contribué avec Le Monde …
A political cartoon is one of the most effective tools of communication. People see an image and remember it longer than an article or an essay. Unfortunately, it's also an extremely effective way of passing misinformation. And that's the problem with a recent cartoon in Le Monde, France's paper of record.
The cartoon shows an IDF soldier firing his gun at Palestinian civilians, who appear to be dying in the rubble in front of him. The soldier is joined by a stereotypical religious Jew, depicted with a long beard, hat and coat, and even a rifle on his shoulder. The religious Jew is also holding a suitcase labeled New Settlements, and he's telling the soldier: "Can't you shoot any quicker? I'm in a hurry to move in!" In the background, an Israeli helicopter is firing on Palestinian buildings.
The meaning of the cartoon is unmistakable: Israel is intentionally killing Palestinians in order to steal the land for its own use.
The cartoon, by veteran cartoonist Jean Plantureux (known as Plantu), is shocking not only because of its false and gruesome depiction of Israeli soldiers and its caricature of the religious but also because it comes at a time of deep soul searching in Israel over the death of a Palestinian baby, who was killed in a house fire widely believed to have been set by Jewish extremists.
The incident was widely condemned across Israeli society and led to stricter security measures against Israeli extremists. To present Israeli soldiers as wanton killers and religious Jews as promoters of genocide is a crass distortion of Israel that will breed more hate towards Jews and less understanding of the complex reality in the region.
The death of the baby does not appear to be referenced in the cartoon. Instead, it may have been triggered by an announcement of plans for 300 new units in the settlements, which took place as Israeli security forces grappled with the removal of Jewish homes in Beit El.
It's actually the third straight cartoon by Plantu on the settlement issue, but the first directly accusing Israel of genocide.
HonestReporting CEO Joe Hyams condemned Le Monde for spreading hateful propaganda that reinforces a false narrative.
"Le Monde should be mindful that what started as cartoons in the 1930's ultimately led to violence and unspeakable tragedy," Mr Hyams said. "French Jewry has seen enough in the way of terror and violence and anti-Semitic vitriol, undoubtedly fueled by hateful cartoons like these.
"It's not only libelous, it's reckless and dangerous in light of the terror attacks earlier this year. There is an ignorance and prejudice buried in the image itself. It says more about the preconception in the mind of the illustrator than the reality on the ground," he added.
CALL TO ACTION:
We call on Le Monde to remove the cartoon and acknowledge the damage to the Jewish community. Let the editors know what you think on their Facebook page at https://www.facebook.com/lemonde.fr
This is not the first time Israel has been demonized through political cartoons. The slidshow below looks at some of the recent examples.