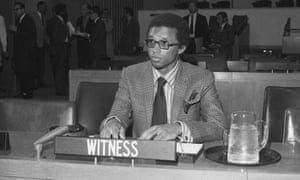 Segregation and racism had made me loathe aspects of the white South, but had scarcely left me less of a patriot. In fact, to me and my family, winning a place on our national team would mark my ultimate triumph over all those people who had opposed my career in the South in the name of segregation. (…) Despite segregation, I loved the United States. It thrilled me beyond measure to hear the umpire announce not my name but that of my country: 'Game, United States,' 'Set, United States,' 'Game, Set, and Match, United States.' (…) There were times when I felt a burning sense of shame that I was not with blacks—and whites—standing up to the fire hoses and police dogs. (…) I never went along with the pronouncements of Elijah Muhammad that the white man was the devil and that blacks should be striving for separate development—a sort of American apartheid. That never made sense to me. (…) Jesse, I'm just not arrogant, and I ain't never going to be arrogant. I'm just going to do it my way. Arthur Ashe
I've always believed that every man is my brother. Clay will earn the public's hatred because of his connections with the Black Muslims. Joe Louis
I've been told that Clay has every right to follow any religion he chooses and I agree. But, by the same token, I have every right to call the Black Muslims a menace to the United States and a menace to the Negro race. I do not believe God put us here to hate one another. Cassius Clay is disgracing himself and the Negro race. Floyd Patterson
Clay is so young and has been misled by the wrong people. He might as well have joined the Ku Klux Klan. Floyd Patterson
Bluebirds with bluebirds, red birds with red birds, pigeons with pigeons, eagles with eagles. God didn't make no mistake! (…) I don't hate rattlesnakes, I don't hate tigers — I just know I can't get along with them. I don't want to try to eat with them or sleep with them. (…)  I know whites and blacks cannot get along; this is nature. (…) I like what he [George Wallace] says. He says Negroes shouldn't force themselves in white neighborhoods, and white people shouldn't have to move out of the neighborhood just because one Negro comes. Now that makes sense. Muhammed Ali
A black man should be killed if he's messing with a white woman. (…) We'll kill anybody who tries to mess around with our women. Muhammed Ali
Long before he died, Muhammad Ali had been extolled by many as the greatest boxer in history. Some called him the greatest athlete of the 20th century. Still others, like George W. Bush, when he bestowed the Presidential Medal of Freedom in 2005, endorsed Ali's description of himself as "the greatest of all time." Ali's death Friday night sent the paeans and panegyrics to even more exalted heights. Fox Sports went so far as to proclaim Muhammad Ali nothing less than "the greatest athlete the world will ever see." As a champion in the ring, Ali may have been without equal. But when his idolizers go beyond boxing and sports, exalting him as a champion of civil rights and tolerance, they spout pernicious nonsense. There have been spouters aplenty in the last few days — everyone from the NBA commissioner ("Ali transcended sports with his outsized personality and dedication to civil rights") to the British prime minister ("a champion of civil rights") to the junior senator from Massachusetts ("Muhammad Ali fought for civil rights . . . for human rights . . . for peace"). Time for a reality check. It is true that in his later years, Ali lent his name and prestige to altruistic activities and worthy public appeals. By then he was suffering from Parkinson's disease, a cruel affliction that robbed him of his mental and physical keenness and increasingly forced him to rely on aides to make decisions on his behalf. But when Ali was in his prime, the uninhibited "king of the world," he was no expounder of brotherhood and racial broad-mindedness. On the contrary, he was an unabashed bigot and racial separatist and wasn't shy about saying so. In a wide-ranging 1968 interview with Bud Collins, the storied Boston Globe sports reporter, Ali insisted that it was as unnatural to expect blacks and whites to live together as it would be to expect humans to live with wild animals. "I don't hate rattlesnakes, I don't hate tigers — I just know I can't get along with them," he said. "I don't want to try to eat with them or sleep with them." Collins asked: "You don't think that we can ever get along?" "I know whites and blacks cannot get along; this is nature," Ali replied. That was why he liked George Wallace, the segregationist Alabama governor who was then running for president. Collins wasn't sure he'd heard right. "You like George Wallace?" "Yes, sir," said Ali. "I like what he says. He says Negroes shouldn't force themselves in white neighborhoods, and white people shouldn't have to move out of the neighborhood just because one Negro comes. Now that makes sense." This was not some inexplicable aberration. It reflected a hateful worldview that Ali, as a devotee of Elijah Muhammad and the segregationist Nation of Islam, espoused for years. At one point, he even appeared before a Ku Klux Klan rally. It was "a hell of a scene," he later boasted — Klansmen with hoods, a burning cross, "and me on the platform," preaching strict racial separation. "Black people should marry their own women," Ali declaimed. "Bluebirds with bluebirds, red birds with red birds, pigeons with pigeons, eagles with eagles. God didn't make no mistake!" In 1975, amid the frenzy over the impending "Thrilla in Manila," his third title fight with Joe Frazier, Ali argued vehemently in a Playboy interview that interracial couples ought to be lynched. "A black man should be killed if he's messing with a white woman," he said. And it was the same for a white man making a pass at a black woman. "We'll kill anybody who tries to mess around with our women." But suppose the black woman wanted to be with the white man, the interviewer asked. "Then she dies," Ali answered. "Kill her too." Jeff Jacoby
Muhammad Ali was the most controversial boxer in the history of the sport, arguably the most gifted and certainly the best known. His ring glories and his life on the political and racial frontline combine to make him one of the most famous, infamous and discussed figures in modern history. During his life he stood next to Malcolm X at a fiery pulpit, dined with tyrants, kings, crooks, vagabonds, billionaires and from the shell of his awful stumbling silence during the last decade his deification was complete as he struggled with his troubled smile at each rich compliment. (…) He was a one-man revolution and that means he made enemies faster than any boy-fighter – which is what he was when he first became world heavyweight champion – could handle. (…) but (…) His best years as a prize-fighter were denied him and denied us by his refusal to be drafted into the American military system in 1967. At that time he was boxing's finest fighter, a man so gifted with skills that he knew very little about what his body did in the ring; his instincts, his speed and his developing power at that point of his exile would have ended all arguments over his greatness forever had he been allowed to continue fighting. Ali was out of the ring for three years and seven months and the forced exile took away enough of his skills to deny us the Greatest at his greatest, but it made him the icon he became. "We never saw the best of my guy," Angelo Dundee told me in Mexico City in 1993. Dundee should know. He had been collecting the fighter's sweat as the chief trainer from 1960 and would until the ring end in 1981. (…) He had gained universal respect during the break because of his refusal to endorse the bloody conflict in Vietnam, but he often walked a thin line in the 70s with the very people that had been happy to back his cause. He was not as loved then as he is now, and there are some obvious reasons for that. In 1970 there were still papers in Britain that called him Cassius Clay, the birth name he had started to shred the day after beating Sonny Liston for the world title in 1964. In America he still divided the boxing press and the people. In the 70s he attended a Ku Klux Klan meeting, accepted their awards and talked openly and disturbingly about mixed race marriages and a stance he shared with the extremists. His harshest opinions are always overlooked, discarded like his excessive cruelty in the ring, and explained by a misguided concept that everything he said and did, that was either uncomfortable or just wrong, was justifiable under some type of Ali law that insisted there was a twinkle in his eye. There probably was a twinkle in his eye but he had some misguided racist ideas back then and celebrated them. In the ring he had hurt and made people suffer during one-sided fights and spat at the feet of one opponent. He was mean and there is nothing wrong with that in boxing, but he was also cruel to honest fighters, men that had very little of his talent and certainly none of his wealth. The way he treated Joe Frazier before and after their three fights remains a shameful blot on Ali's legacy. I sat once in dwindling light with Frazier in Philadelphia at the end of three days of talking and listened to his words and watched his tears of hate and utter frustration as he outlined the harm Ali's words had caused him and his family. Big soft Joe had no problem with the damage Ali's fists had caused him, that was a fair fight but the verbal slaughter had been a mismatch and recordings of that still make me feel sick. I don't laugh at that type of abuse. (…) Away from the ring excellence he went to cities in the Middle East to negotiate for the release of hostages and smiled easily when men in masks, carrying AK47s, put blindfolds on him and drove like the lunatics they were through bombed streets. "Hey man, you sure you know where you're going?" he asked one driver. "I hope you do, coz I can't see a thing." He went on too many missions to too many countries for too long, his drive draining his life as he handed out Islamic leaflets. He was often exploited on his many trips, pulled every way and never refusing a request. On a trip to Britain in 2009 he was bussed all over the country for a series of bad-taste dinners that ended with people squatting down next to his wheelchair; Ali's gaze was off in another realm, but the punters, who had paid hundreds for the sickening pleasure, stuck up their thumbs or made fists for the picture. The great twist in the abhorrent venture was that Ali's face looked so bad that his head was photo-shopped for a more acceptable Ali face. Who could have possibly sanctioned that atrocity? During his fighting days he had men to protect him, men like Gene Kilroy, the man with the perm, that loved him and helped form a protective guard at his feet to keep the jackals from the meat. When he left the sport and was alone for the first time in the real world, there were people that fought each other to get close, close enough to insert their invisible transfusion tubes deep into his open heart. His daughters started to resurrect their own wall of protection the older they got, switching duties from sitting on Daddy's lap to watching his back like the devoted sentinels they became. In the end it felt like the whole world was watching his back, watching the last moments under the neon of the King of the World. Steve Bunce

I think Ali is being done a disservice by the way in which he's these days cast as benign. He was always a lot more complicated than that. (…) Ali has been post-rationalised as a champion of the civil rights movement. But far from promoting the idea of black and white together, his was a much more tricky, divisive politics. John Dower
Far from being embarrassed about sharing jaw-time with the Grand Chief Bigot or whatever the loon in the sheet called himself, Ali boasted about it. The revelation of his cosy chats with white supremacists comes in a television documentary screened on More4. As Ali finds himself overtaken as the most celebrated black American in history, True Stories: Thrilla In Manila provides a timely re-assessment of his politics. (…) Before his third fight with Frazier, Ali was at his most elevated, symbolically as well as in the ring. Hard to imagine when these days he elicits universal reverence, back then he was a figure who divided America, as loathed as he was admired. At the time he was taking his lead from the Nation of Islam, which, in its espousal of a black separatism, found its politics dovetailing with the cross-burning lynch mob out on the political boondocks. Ali was by far the organisation's most prominent cipher. The film reminds us why. Back then, black sporting prowess reinforced many a prejudiced theory about the black man being good for nothing beyond physical activity. But here was Ali, as quick with his mind as with his fists. When he held court the world listened. Intriguingly, the film reveals, many of his better lines were scripted for him by his Nation of Islam minders. Ferdie Pacheco, the man who converted Ali to the bizarre cause which insisted that a spaceship would imminently arrive in the United States to take the black man to a better place, tells Dower's cameras that it was he who came up with the line, « No Viet Cong ever called me nigger ». There was never a more succinct summary of America's hypocrisy in forcing its beleaguered black citizenry to fight in Vietnam. (…) The film suggests it was his opponent who got the blunt end of Ali's political bludgeon. The pair were once friends and Frazier had supported Ali's stance on refusing the draft. But leading up to the fight Ali turned on his old mate with a ferocity which makes uncomfortable viewing even 30 years on. Viciously disparaging of Frazier, he calls him an Uncle Tom, a white man's puppet. Ali riled Frazier to the point where he entered the ring so infuriated that he abandoned his game plan and blindly struck out. So distracted was he by Ali's politically motivated jibes, he lost. Indeed, what we might be watching in Dower's film is not so much the apex of Ali's political potency as the birth of sporting mind games. Jim White
In 1974, in the middle of a Michael Parkinson interview, Muhammad Ali decided to dispense with all the safe conventions of chat show etiquette. "You say I got white friends," he declared, "I say they are associates." When his host dared to suggest that the boxer's trainer of 14 years standing, Angelo Dundee, might be a friend, Ali insisted, gruffly: "He is an associate." Within seconds, with Parkinson failing to get a word in edgeways, Ali had provided a detailed account of his reasoning. "Elijah Muhammad," he told the TV viewers of 1970s Middle England, "Is the one who preached that the white man of America, number one, is the Devil!" The whites of America, said Ali, had "lynched us, raped us, castrated us, tarred and feathered us … Elijah Muhammad has been preaching that the white man of America – God taught him – is the blue-eyed, blond-headed Devil!  No good in him, no justice, he's gonna be destroyed! "The white man is the Devil.  We do believe that.  We know it!" In one explosive, virtuoso performance, Ali had turned "this little TV show" into an exposition of his beliefs, and the beliefs of "two million five hundred" other followers of the radically – to some white minds, dangerously – black separatist religious movement, the Nation of Islam. At the height of his tirade, Ali drew slightly nervous laughter from the studio when he told Parkinson "You are too small mentally to tackle me on anything I represent." (…) By the time he met Ali in 1962, Malcolm X was Elijah Muhammad's chief spokesman and most prominent apostle. His belief that violence was sometimes necessary, and the Nation of Islam's insistence that followers remain separate from and avoid participation in American politics meant that not every civil rights leader welcomed Muhammad Ali joining the movement. "When Cassius Clay joined the Black Muslims [The Nation of Islam]," said Martin Luther King, "he became a champion of racial segregation, and that is what we are fighting against." The bitter irony is that soon after providing the Nation of Islam with its most famous convert, Malcolm X became disillusioned with the movement.  A trip to Mecca exposed him to white Muslims, shattering his belief that whites were inherently evil.  He broke from the Nation of Islam and toned down his speeches. Ali, though, remained faithful to Elijah Muhammad.  "Turning my back on Malcolm," he admitted years later, "Was one of the mistakes that I regret most in my life." (…) By then, though, Ali's own attitudes to the « blue-eyed devils" had long since mellowed.  In 1975 he converted to the far more conventional Sunni Islam – possibly prompted by the fact that Elijah Muhammad had died of congestive heart failure in the same year, and his son Warith Deen Mohammad had moved the Nation of Islam towards inclusion in the mainstream Islamic community. He rebranded the movement the "World Community of Islam in the West", only for Farrakhan to break away in 1978 and create a new Nation of Islam, which he claimed remained true to the teachings of "the Master" [Fard]. "The Nation of Islam taught that white people were devils," he wrote in 2004.  "I don't believe that now; in fact, I never really believed that. But when I was young, I had seen and heard so many horrible stories about the white man that this made me stop and listen. » The attentive listener to the 1974 interview, might, in fact, have sensed that even then Ali wasn't entirely convinced about white men being blue-eyed devils. He had, after all, set the bar pretty high for "associates" like Angelo Dundee to become friends. "I don't have one black friend hardly," he had said.  "A friend is one who will not even consider [before] giving his life for you." And, despite calling Parky "the biggest hypocrite in the world" and "a joke", he could also get a laugh by reassuring the chat show host: "I know you [are] all right." Adam Lusher
[want police to back off] No. That represented our progressive, our activists, our liberal journalists, our politicians. But it did not represent the overall community because we know for a fact that around the time that Freddie Gray was killed, we start to see homicides increase. We had five homicides in that neighborhood while we were protesting. What I wanted to see happen was that people would build a trust relationship with our police department so that they would feel more comfortable with having conversations with the police about crime in their neighborhood because they would feel safer. So we wanted the police there. We wanted them engaging the community. We didn't want them there beating the hell out of us. We didn't want that. (…) We've not seen any changes in those relationships. What we have seen was that the police has distanced themselves, and the community has distanced themselves even further. So there is – the divide has really intensified. It hasn't decreased. And of course, we want to delineate the whole concept of the culture of bad policing that exists. Nobody denies that. But as a result of this, we don't see the policing – the level of policing we need in our community to keep the crime down in these cities that we're seeing bleed to death. Reverend Kinji Scott (Baltimore)
The crime victories of the last two decades, and the moral support on which law and order depends, are now in jeopardy thanks to the falsehoods of the Black Lives Matter movement. Police operating in inner-city neighborhoods now find themselves routinely surrounded by cursing, jeering crowds when they make a pedestrian stop or try to arrest a suspect. Sometimes bottles and rocks are thrown. Bystanders stick cell phones in the officers' faces, daring them to proceed with their duties. Officers are worried about becoming the next racist cop of the week and possibly losing their livelihood thanks to an incomplete cell phone video that inevitably fails to show the antecedents to their use of force.  (…) As a result of the anti-cop campaign of the last two years and the resulting push-back in the streets, officers in urban areas are cutting back on precisely the kind of policing that led to the crime decline of the 1990s and 2000s. (…) On the other hand, the people demanding that the police back off are by no means representative of the entire black community. Go to any police-neighborhood meeting in Harlem, the South Bronx, or South Central Los Angeles, and you will invariably hear variants of the following: "We want the dealers off the corner." "You arrest them and they're back the next day." "There are kids hanging out on my stoop. Why can't you arrest them for loitering?" "I smell weed in my hallway. Can't you do something?" I met an elderly cancer amputee in the Mount Hope section of the Bronx who was terrified to go to her lobby mailbox because of the young men trespassing there and selling drugs. The only time she felt safe was when the police were there. "Please, Jesus," she said to me, "send more police!" The irony is that the police cannot respond to these heartfelt requests for order without generating the racially disproportionate statistics that will be used against them in an ACLU or Justice Department lawsuit. Unfortunately, when officers back off in high crime neighborhoods, crime shoots through the roof. Our country is in the midst of the first sustained violent crime spike in two decades. Murders rose nearly 17 percent in the nation's 50 largest cities in 2015, and it was in cities with large black populations where the violence increased the most. (…) I first identified the increase in violent crime in May 2015 and dubbed it "the Ferguson effect." (…) The number of police officers killed in shootings more than doubled during the first three months of 2016. In fact, officers are at much greater risk from blacks than unarmed blacks are from the police. Over the last decade, an officer's chance of getting killed by a black has been 18.5 times higher than the chance of an unarmed black getting killed by a cop. (…) We have been here before. In the 1960s and early 1970s, black and white radicals directed hatred and occasional violence against the police. The difference today is that anti-cop ideology is embraced at the highest reaches of the establishment: by the President, by his Attorney General, by college presidents, by foundation heads, and by the press. The presidential candidates of one party are competing to see who can out-demagogue President Obama's persistent race-based calumnies against the criminal justice system, while those of the other party have not emphasized the issue as they might have. I don't know what will end the current frenzy against the police. What I do know is that we are playing with fire, and if it keeps spreading, it will be hard to put out. Heather Mac Donald
It's ironic that Jerry's longest-lasting legacy is that the big shoe company co-opted his slogan. Nike has Just Do It in all of their ad campaigns. Sam Leff (Yippie, close friend of Hoffman's)
Je ne vais pas afficher de fierté pour le drapeau d'un pays qui opprime les Noirs. Il y a des cadavres dans les rues et des meurtriers qui s'en tirent avec leurs congés payés. Colin Kaepernick
Je pense que tous les athlètes, tous les humains et tous les Afro-Américains devraient être totalement reconnaissants et honorés [par les manifestations lancées par les anciens joueurs de la NFL Colin Kaepernick et Eric Reid]. Serena Williams
Je ne suis pas une tricheuse! Vous me devez des excuses! (…) Je ne suis pas une tricheuse! Je suis mère de famille, je n'ai jamais triché de ma vie ! Serena Williams
The NBA's suspension of Abdul-Rauf, which resulted from his defying a provision in the league's operations manual requiring all players to « stand and line up in a dignified posture … during the playing of the American and/or Canadian national anthems » lasted just one game (page 52). But, really, the anthem controversy never goes away—and it will surface again. Maybe in Seattle, if SuperSonics fans suddenly get perturbed with forward Sam Perkins. As a member of the Jehovah's Witnesses, who refuse to pledge allegiance to any government, Perkins stands at attention but well out of line from his teammates during the national anthem. Or maybe it will be in Charlotte, where Hornets owner George Shinn—who has also added an invocation to the pregame festivities at Charlotte Coliseum—intimidates his team into compliance. Shinn says he tells the Hornets, « I'm going to be up there in the stands watching, and if you're down there picking your nose and not standing at attention, then you're telling me you don't like it here and want to be traded. » Or maybe it will happen when another celebrity strolls to the pitcher's mound, remote mike in hand, ramparts and twilight's last gleamings all mixed up in his brainpan, and carves Francis Scott Key's 1814 paean to war into little pieces. So it seems like the appropriate time—once Sullivan puts down that two-iron—to ask, Has the national anthem as pregame ritual outlived its usefulness? The practice of playing The Star-Spangled Banner is clearly rooted in wartime patriotic fervor. During World War I it became customary to play the song before baseball games, and it was during WWII that it became de rigueur to play the anthem at all sporting events. There are other nations that take the playing of their national anthem as seriously as the U.S. In Israel Hatikvah (The Hope) used to be played only before international basketball games and soccer matches, but since the 1991 Persian Gulf war it has been a staple at almost all athletic competitions. In Kenya the national anthem, Ee Mungu nguvu yetu (O God of All Creation), is played not just before every sporting event but also before nearly every public gathering. And the '95 Ryder Cup was a virtual anthemfest. Last year at Oak Hill Country Club in Rochester, N.Y., the Spanish anthem was played for Seve Ballesteros; the Scottish for Bernard Gallacher, Colin Montgomerie and Sam Torrance; the British for Howard Clark, Nick Faldo, David Gilford and Mark James; the Swedish for Per-Ulrik Johansson; the German for Bernhard Langer; the Italian for Costantino Rocca; the Irish for Philip Walton; and the Welsh for Ian Woosnam. And, of course, The Star-Spangled Banner for all the guys on the U.S. side. The event started out more like a battle of the bands than a golf match. In most countries, however, national anthems are reserved for international or championship games. Bemused by the Abdul-Rauf flap, North Carolina center Serge Zwikker, who is from the Netherlands, professes not to know the words to the Dutch anthem. « But maybe I could hum a few bars, » he adds hopefully. Which is exactly what many entertainers—beginning, perhaps, with Robert Goulet, who blanked during a catastrophic rendition of The Star-Spangled Banner at the Muhammad Ali-Sonny Liston fight in Lewiston, Maine, in 1965—have done after accepting the intimidating national anthem assignment. Most people at U.S. sporting events don't even hum along or for that matter stand at attention. Members of the media file pregame notes to the office, peruse stat sheets or stay in the press room munching potato chips. Fans nosh on hot dogs, chat with their neighbors or look for Jack Nicholson. Those who are enthralled with the anthem have become so only because they have turned it into their personal fight song. The athletes, in most cases, are indifferent. « It gets to the point where you start forgetting about the meaning because you do it so often, » says San Francisco Giants outfielder-first baseman David McCarty. Still, players offer some darned fine observations on the anthem. « I guess we sing it to give someone the opportunity to make 50 dollars, » says Cincinnati Reds pitcher Mark Portugal. Be serious, guys. « Maybe it's because people are amazed you can play a kid's game and make more money than the president, » says Detroit Pistons center Mark West. « You've got to celebrate that somehow. » Hey, come on now. « Personally, I use that time to scan the crowd for babes, » says Atlanta Hawks forward Matt Bullard. « That's how I met my wife. » And St. Louis Cardinals reliever Dennis Eckersley offers this take: « The anthem is part of the game. It wouldn't seem right, would it, if they didn't play it? But I don't like it when the Canadian teams are in town because then we have to listen to two anthems. » Now that The Star-Spangled Banner is again an issue—as it was most potently during the late 1960s and early '70s—in all its red-white-and-blue complexity, wouldn't it be better for pro leagues to turn tail and start phasing it out before this gnarly matter comes around once more? After all, it's not written anywhere that the national anthem must be played, not even, believe it or not, in the NBA operations manual. In Dallas, bible-thumping Mavericks owner Donald Carter has substituted God Bless America for The Star-Spangled Banner, and no one has protested. Isn't America ready for a secular song to be installed as the official let's-play-ball ditty? Don't bet on it. Though Americans rarely show the anthem proper respect, they seem to like the simple fact that it's there. The Baltimore Orioles stopped playing The Star-Spangled Banner for one week during the 1954 season, hoping to use the song only on holidays and special occasions. In reaction the city council passed a resolution suggesting that the anthem be played before every game, and that's why, four decades later, we're obligated to hear the home fans turn that final « Oh, say … » into a cheer for the O's. In '66, when the Chicago White Sox tried to pinch-hit with God Bless America, so vehement was the backlash that the fans asked for a special vote on the issue, pledging on their ballots to sing the winning song loud and clear. (The national anthem received 74% of the vote.) Most revealing, after an Atlanta Falcons game in the mid-'70s the Atlanta-Fulton County Stadium scoreboard mistakenly flashed PLEASE RISE AND JOIN IN SINGING OUR NATIONAL ANTHEM instead of THANK YOU FOR ATTENDING THE GAME. The crowd stood awkwardly for several minutes before the P.A. announcer told everyone to go home. Let's face it: Americans are intimidated by the national anthem, fearful that some cosmic chandelier will come crashing on their heads if they put it out to pasture. How about a compromise? How about sending a DH up for The Star-Spangled Banner? How about not playing it all the time and reserving it for the Final Four, the Super Bowl, the World Series and other big-time events? Perhaps then it would become meaningful to more people. Yes, it might be scary out there without the anthem to kick around every night. But the pregame song doesn't have to be scrapped. Just mix it up, raise America's pop-culture index with other offerings such as America the Beautiful and This Land Is Your Land. But those are just suggestions. Positively, absolutely, bounce them off Mike Sullivan first. Sports Illustrated (1996)
For her country, Osaka has already succeeded in a major milestone: She is the first Japanese woman to reach the final of any Grand Slam. And she's currently her country's top-ranked player. Yet in Japan, where racial homogeneity is prized and ethnic background comprises a big part of cultural belonging, Osaka is considered hafu or half Japanese. Born to a Japanese mother and a Haitian father, Osaka grew up in New York. She holds dual American and Japanese passports, but plays under Japan's flag. Some hafu, like Miss Universe Japan Ariana Miyamoto, have spoken publicly about the discrimination the term can confer. "I wonder how a hafu can represent Japan," one Facebook user wrote of Miyamoto, according to Al Jazeera America's translation. For her part, Osaka has spoken repeatedly about being proud to represent Japan, as well as Haiti. But in a 2016 USA Today interview she also noted, "When I go to Japan people are confused. From my name, they don't expect to see a black girl." On the court, Osaka has largely been embraced as one of her country's rising stars. Off court, she says she's still trying to learn the language. "I can understand way more Japanese than I can speak," she said. (…) Earlier this year, Osaka reveled a four-word mantra keeps her steady through tough matches: "What would Serena do?" Her idolization of the 23 Grand Slam-winning titan is well-known. "She's the main reason why I started playing tennis," Osaka told the New York Times. Time
Des sportifs semblent désormais plus facilement se mettre en avant pour évoquer leurs convictions, que ce soient des championnes de tennis ou des footballeurs. Mais ces athlètes activistes restent encore minoritaires. Peu ont suivi Kaepernick lorsqu'il s'est agenouillé pendant l'hymne national. La plupart se focalisent sur leur sport, ils ne sont pas vraiment désireux de jouer les trouble-fête. Dans notre culture, ces sportifs sont des dieux, qui peuvent exercer une influence positive. Ils peuvent être un bon exemple d'engagement civique pour des jeunes. Et puis une bonne controverse comme l'affaire Kaepernick permet de pimenter un peu le sport et d'élargir le débat au-delà du jeu. Orin Starn (anthropologue)
Son genou droit posé à terre le 1er septembre 2016 a fait de lui un paria. Ce jour-là, Colin Kaepernick, quarterback des San Francisco 49ers, avait une nouvelle fois décidé de ne pas se lever pour l'hymne national. Coupe afro et regard grave, il était resté dans cette position pour protester contre les violences raciales et les bavures policières qui embrasaient les Etats-Unis. Plus d'un an après, la polémique reste vive. Son boycott lui vaut toujours d'être marginalisé et tenu à l'écart par la Ligue nationale de football américain (NFL). L'affaire rebondit ces jours, à l'occasion des débuts de la saison de la NFL. Sans contrat depuis mars, Colin Kaepernick est de facto un joueur sans équipe, à la recherche d'un nouvel employeur. (…) Plus surprenant, une centaine de policiers new-yorkais ont manifesté ensemble fin août à Brooklyn, tous affublés d'un t-shirt noir avec le hashtag #imwithkap. Le célèbre policier Frank Serpico, 81 ans, qui a dénoncé la corruption généralisée de la police dans les années 1960 et inspiré Al Pacino pour le film Serpico (1973), en faisait partie. Les sportifs américains sont nombreux à afficher leur soutien à Colin Kaepernick. C'est le cas notamment des basketteurs Kevin Durant ou Stephen Curry, des Golden State Warriors. (…) La légende du baseball Hank Aaron fait également partie des soutiens inconditionnels de Colin Kaepernick. Sans oublier Tommie Smith, qui lors des Jeux olympiques de Mexico en 1968 avait, sur le podium du 200 mètres, levé son poing ganté de noir contre la ségrégation raciale, avec son comparse John Carlos. Le geste militant à répétition de Colin Kaepernick, d'abord assis puis agenouillé, a eu un effet domino. Son coéquipier Eric Reid l'avait immédiatement imité la première fois qu'il a mis le genou à terre. Une partie des joueurs des Cleveland Browns continuent, en guise de solidarité, de boycotter l'hymne des Etats-Unis, joué avant chaque rencontre sportive professionnelle. La footballeuse homosexuelle Megan Rapinoe, championne olympique en 2012 et championne du monde en 2015, avait elle aussi suivi la voie de Colin Kaepernick et posé son genou à terre. Mais depuis que la Fédération américaine de football (US Soccer) a édicté un nouveau règlement, en mars 2017, qui oblige les internationaux à se tenir debout pendant l'hymne, elle est rentrée dans le rang. Colin Kaepernick lui-même s'était engagé à se lever pour l'hymne pour la saison 2017. Une promesse qui n'a pas pour autant convaincu la NFL de le réintégrer. Barack Obama avait pris sa défense; Donald Trump l'a enfoncé. En pleine campagne, le milliardaire new-yorkais avait qualifié son geste d'«exécrable», l'hymne et le drapeau étant sacro-saints aux Etats-Unis. Il a été jusqu'à lui conseiller de «chercher un pays mieux adapté». Les chaussettes à motifs de cochons habillés en policiers que Colin Kaepernick a portées pendant plusieurs entraînements – elles ont été très remarquées – n'ont visiblement pas contribué à le rendre plus sympathique à ses yeux. Mais ni les menaces de mort ni ses maillots brûlés n'ont calmé le militantisme de Colin Kaepernick. Un militantisme d'ailleurs un peu surprenant et parfois taxé d'opportunisme: métis, de mère blanche et élevé par des parents adoptifs blancs, Colin Kaepernick n'a rallié la cause noire, et le mouvement Black Lives Matter, que relativement tardivement. Avant Kaepernick, la star de la NBA LeBron James avait défrayé la chronique en portant un t-shirt noir avec en lettres blanches «Je ne peux pas respirer». Ce sont les derniers mots d'un jeune Noir américain asthmatique tué par un policier blanc. Par ailleurs, il avait ouvertement soutenu Hillary Clinton dans sa course à l'élection présidentielle. Timidement, d'autres ont affiché leurs convictions politiques sur des t-shirts, mais sans aller jusqu'au boycott de l'hymne national, un geste très contesté. L'élection de Donald Trump et le drame de Charlottesville provoqué par des suprémacistes blancs ont contribué à favoriser l'émergence de ce genre de protestations. Ces comportements signent un retour du sportif engagé, une espèce presque en voie de disparition depuis les années 1960-1970, où de grands noms comme Mohamed Ali, Billie Jean King ou John Carlos ont porté leur militantisme à bras-le-corps. Au cours des dernières décennies, l'heure n'était pas vraiment à la revendication politique, confirme Orin Starn, professeur d'anthropologie culturelle à l'Université Duke en Caroline du Nord. A partir des années 1980, c'est plutôt l'image du sportif businessman qui a primé, celui qui s'intéresse à ses sponsors, à devenir le meilleur possible, soucieux de ne déclencher aucune polémique. Un sportif lisse avant tout motivé par ses performances et sa carrière. Comme le basketteur Michael Jordan ou le golfeur Tiger Woods. Le Temps

It was an incredible match. I mean, Arthur was an innovator. It was the first time he sort of sat down at the side of the court in between — they didn't have chairs at the side of the court for a long time; we sort of had to towel off and go on — but he would sit and cover his head with the towel and just think. It was the first time you were conscious of the mental side of tennis. Arthur was instrumental in that. . . . Arthur was a thinker. Virginia Wade
Arthur didn't need Vietnam. Arthur had his own Vietnam right there in the United States in those days, and some of the things that I saw while I was there — he didn't need that. The thing that I always think about, and this was always the most important thing in my mind, was that Arthur represented so many possibilities. Arthur was the first to do so much so often that those of us who knew him would say: 'What's next? What mountain was he going to climb next?' Arthur was always different. (…) Growing up, Arthur was a sponge. . . . That was just his nature. He was a voracious reader, and he had to satisfy his intellect. I tell people if Arthur had concentrated on just tennis, he would have been the best in the world. But tennis was a vehicle. . . . He wanted to be able to take kids outside of their environs, outside of their element for a little while and expose them to what they can be. . . . And, let's face it, most parents don't have the wherewithal to do that. It's not easy. What happens is you get somebody like Arthur — and following Arthur, LeBron James is starting to do things — to expose kids. It's so important that that happens. (…) "Until Arthur came along and Althea came along, tennis was a sport of the elites. Then you get two playground children — one from Harlem, one from Richmond — to break into the bigs. People had to stop and think about that. It opened the doors for other people, and that's what it was all about. That's what it was all about for him. Johnnie Ashe
The Apollo program was a national effort that depended on American derring-do and sacrifice. History is usually airbrushed to remove a figure who has fallen out of favor with a dictatorship, or to hide away an episode of national shame. Leave it to Hollywood to erase from a national triumph its most iconic moment. The new movie First Man, a biopic about the Apollo 11 astronaut Neil Armstrong, omits the planting of the American flag during his historic walk on the surface of the moon. Ryan Gosling, who plays Armstrong in the film, tried to explain the strange editing of his moonwalk: "This was widely regarded in the end as a human achievement. I don't think that Neil viewed himself as an American hero." Armstrong was a reticent man, but he surely considered himself an American, and everyone else considered him a hero. ("You're a hero whether you like it or not," one newspaper admonished him on the 10th anniversary of the landing.) Gosling added that Armstrong's walk "transcended countries and borders," which is literally true, since it occurred roughly 238,900 miles from Earth, although Armstrong got there on an American rocket, walked in an American spacesuit, and returned home to America. (…) It was a chapter in a space race between the United States and the Soviet Union that involved national prestige and the perceived worth of our respective economic and political systems. The Apollo program wasn't about the brotherhood of man, but rather about achieving a national objective before a hated and feared adversary did. The mission of Apollo 11 was, appropriately, soaked in American symbolism. The lunar module was called Eagle, and the command module Columbia. There had been some consideration to putting up a U.N. flag, but it was scotched — it would be an American flag and only an American flag. (…) There may be a crass commercial motive in the omission — the Chinese, whose market is so important to big films, might not like overt American patriotic fanfare. Neither does much of our cultural elite. They may prefer not to plant the flag — but the heroes of Apollo 11 had no such compunction. National Review
B

illed as being based on "a crazy, outrageous incredible true story" about how a black cop infiltrated the KKK, Spike Lee's BlacKkKlansman would be more accurately described as the story of how a black cop in 1970s Colorado Springs spoke to the Klan on the phone. He pretended to be a white supremacist . . . on the phone. That isn't infiltration, that's prank-calling. A poster for the movie shows a black guy wearing a Klan hood. Great starting point for a comedy, but it didn't happen. The cop who actually attended KKK meetings undercover was a white guy (played by Adam Driver). These led . . . well, nowhere in particular. No plot was foiled. Those meetups mainly revealed that Klansmen behave exactly how you'd expect Klansmen to behave. The movie is a typical Spike Lee joint: A thin story is told in painfully didactic style and runs on far too long. (…)  Washington (son of Denzel) has an easygoing charisma as the unflappable Ron Stallworth, a rookie cop in Colorado Springs who volunteers to go undercover as a detective in 1972, near the height of the Black Power movement and a moment when law enforcement was closely tracking the activities of radicals such as Stokely Carmichael, a.k.a. Kwame Ture, a speech of whose Stallworth says he attended while posing as an ordinary citizen. In the movie, Stallworth experiences an awakening of black pride and falls for a student leader, Patrice (a luminous Laura Harrier, who also played Peter Parker's girlfriend in Spider-Man: Homecoming), inspiring in him the need to do something for his people. (…) The Klan also turn out to be grandstanders and blowhards given to Carmichael-style paranoid prophecies and seem to hope to troll their enemies into attacking them. When Lee realizes he needs something to actually happen besides racist talk, he turns to a subplot featuring a white-supremacist lady running around with a purse full of C-4 explosive with which she intends to blow up the black radicals. It's so unconvincing that you watch it thinking, "I really doubt this happened." It didn't. The only other tense moment in the film, in which Driver's undercover cop (who is Jewish) is nearly subjected to a lie-detector test about his religion by a suspicious Klansman, is also fabricated. Lee frames his two camps as opposites, but whether we're with the black-power types or the white-power yokels, they're equally wrong about the race war they seem to yearn for. The two sides are equally far from the stable center, the color-blind institution holding society together, which turns out to be . . . the police! After some talk from the radical Patrice (whose character is also a fabrication) about how the whole system is corrupt and she could never date a "pig," and a scene in which Stallworth implies the police's code of covering for one another reminds him of the Klan, Lee winds up having the police unite to fight racism, with one bad apple expunged and everybody else on the otherwise all-white force supporting Ron. That Spike Lee has turned in a pro-cop film has to be counted one of the stranger cultural developments of 2018, but Lee seems to have accidentally aligned with cops in the course of issuing an anti-Trump broadside. (…) (See also: an introduction in which Alec Baldwin plays a Southern cracker called Dr. Kennebrew Beauregard who rants about desegregation for several minutes, then is never seen again.) Lee's other major goal is to link Stallworth's story to Trumpism using David Duke. Duke, like Trump, said awful things at the time of the Charlottesville murder and played a part in the Stallworth story when the cop was assigned to protect the Klan leader (played by Topher Grace) on a visit to Colorado Springs and later threw his arm around him while posing for a picture. Saying Duke presaged Trump seems like a stretch, though. After all the nudge-nudge MAGA lines uttered by the Klansmen throughout the film, the let-me-spell-it-out-for-you finale, with footage from the Charlottesville white-supremacist rally, seems de trop. BlacKkKlansman was timed to hit theaters one year after the anniversary of the horror in Virginia. That Charlottesville II attracted only two dozen pathetic dorks to the cause of white supremacy would seem to undermine the coda. The Klan's would-be successors, far from being more emboldened than they have been since Stallworth's time, appear to be nearly extinct. National review
The all-seeing social-justice eye penetrates every aspect of our lives: sports, movies, public monuments, social media, funerals . . .

A

 definition of totalitarianism might be the saturation of every facet of daily life by political agendas and social-justice messaging. At the present rate, America will soon resemble the dystopias of novels such as 1984 and Brave New World in which all aspects of life are warped by an all-encompassing ideology of coerced sameness. Or rather, the prevailing orthodoxy in America is the omnipresent attempt of an elite — exempt from the consequences of its own ideology thanks to its supposed superior virtue and intelligence — to mandate an equality of result. We expect their 24/7 political messaging on cable-channel news networks, talk radio, or print and online media. And we concede that long ago an NPR, CNN, MSNBC, or New York Times ceased being journalistic entities as much as obsequious megaphones of the progressive itinerary. But increasingly we cannot escape anywhere the lidless gaze of our progressive lords, all-seeing, all-knowing from high up in their dark towers. (…) Americans have long accepted that Hollywood movies no longer seek just to entertain or inform, but to indoctrinate audiences by pushing progressive agendas. That commandment also demands that America be portrayed negatively — or better yet simply written out of history. Take the new film First Man, about the first moon landing. Apollo 11 astronaut Neil Armstrong became famous when he emerged from The Eagle, the two-man lunar module, and planted an American flag on the moon's surface. Yet that iconic act disappears from the movie version. (At least Ryan Gosling, who plays Armstrong, does not walk out of the space capsule to string up a U.N. banner.) Gosling claimed that the moon landing should not be seen as an American effort. Instead, he advised, it should be "widely regarded as a human achievement" — as if any nation's efforts or the work of the United Nations in 1969 could have pulled off such an astounding and dangerous enterprise. I suppose we are to believe that Gosling's Canada might just as well have built a Saturn V rocket. (…) Sports offers no relief. It is now no more a refuge from political indoctrination than is Hollywood. Yet it is about as difficult to find a jock who can pontificate about politics as it is to encounter a Ph.D. or politico who can pass or pitch. The National Football League, the National Basketball Association, and sports channels are now politicalized in a variety of ways, from not standing up or saluting the flag during the National Anthem to pushing social-justice issues as part of televised sports analysis. What a strange sight to see tough sportsmen of our Roman-style gladiatorial arenas become delicate souls who wilt on seeing a dreaded hand across the heart during the playing of the National Anthem. Even when we die, we do not escape politicization. At a recent eight-hour, televised funeral service for singer Aretha Franklin, politicos such as Jesse Jackson and Al Sharpton went well beyond their homages into political harangues. Pericles or Lincoln they were not. (…) Politics likewise absorbed Senator John McCain's funeral the next day. (…) Even the long-ago dead are fair game. Dark Age iconoclasm has returned to us with a fury. Any statue at any time might be toppled — if it is deemed to represent an idea or belief from the distant past now considered racist, sexist, or somehow illiberal. Representations of Columbus, the Founding Fathers, and Confederate soldiers have all been defaced, knocked down, or removed. The images of mass murderers on the left are exempt, on the theory that good ends always allow a few excessive means. So are the images and names of robber barons and old bad white guys, whose venerable eponymous institutions offer valuable brands that can be monetized. At least so far, we are not rebranding Stanford and Yale with indigenous names. Victor Davis Hanson
Johnnie Ashe, like Wade, remembers his brother as an intellectual and an innovator, as someone who was meant to change the world. That's why, when Johnnie came to understand that the military wouldn't send two brothers into active duty in a war zone at the same time, he volunteered for a second tour in Vietnam. He was three months away from coming home.Since Johnnie stayed on active duty, Arthur could compete for both the U.S. amateur and U.S. Open championships in 1968. He is the only person to have won both. Ashe had many projects that helped extend his legacy beyond that of a pioneering tennis player who won 33 career singles championships; ever the thinker, bringing tennis and educational opportunities to youths was Ashe's passion. He helped found the National Junior Tennis & Learning network in 1968, a grass-roots organization designed to make tennis more accessible. Today, the NJTL receives significant funding from the USTA. The Washington Post
Arthur Ashe always had an exquisite sense of timing, whether he was striking a topspin backhand or choosing when to speak out for liberty and justice for all. So we shouldn't be surprised that the 50th anniversary of his victory at the first U.S. Open — a milestone to be celebrated on Saturday at the grand stadium bearing his name — coincides with a national conversation on the First Amendment rights and responsibilities of professional athletes. Mr. Ashe has been gone for 25 years, struck down at the age of 49 by AIDS, inflicted by an H.I.V.-tainted blood transfusion. But the example he set as a champion on and off the court has never been more relevant. As Colin Kaepernick, LeBron James and others strive to use their athletic stardom as a platform for social justice activism, they might want to look back at what this soft-spoken African-American tennis star accomplished during the age of Jim Crow and apartheid. (…) He began his career as the Jackie Robinson of men's tennis — a vulnerable and insecure racial pioneer instructed by his coaches to hold his tongue during a period when the success of desegregation was still in doubt. At the same time, Mr. Ashe's natural shyness and deferential attitude toward his elders and other authority figures all but precluded involvement in the civil rights struggle and other political activities during his high school and college years. The calculus of risk and responsibility soon changed, however, as Mr. Ashe reinvented himself as a 25-year-old activist-in-training during the tumultuous year of 1968. With his stunning victory in September at the U.S. Open, where he overcame the best pros in the world as a fifth-seeded amateur, he gained a new confidence that affected all aspects of his life. Mr. Ashe's political transformation had begun six months earlier when he gave his first public speech, a discourse on the potential importance of black athletes as community leaders, delivered at a Washington forum hosted by the Rev. Jefferson Rogers, a prominent black civil rights leader Mr. Ashe had known since childhood. Mr. Rogers had been urging Mr. Ashe to speak out on civil rights issues for some time, and when he finally did so, it released a spirit of civic engagement that enveloped his life. "This is the new Arthur Ashe," the reporter Neil Amdur observed in this paper, "articulate, mature, no longer content to sit back and let his tennis racket do the talking." In part, Mr. Ashe's new attitude reflected a determination to make amends for his earlier inaction. "There were times, in fact," he recalled years later, "when I felt a burning sense of shame that I was not with other blacks — and whites — standing up to the fire hoses and the police dogs, the truncheons, bullets and bombs." He added: "As my fame increased, so did my anguish." During the violent spring of 1968, the assassinations of the Rev. Dr. Martin Luther King Jr., whom Mr. Ashe had come to admire above all other black leaders, and Senator Robert F. Kennedy, whom he had supported as a presidential candidate, shook Mr. Ashe's faith in America. But he refused to surrender to disillusionment. Instead he dedicated himself to active citizenship on a level rarely seen in the world of sports. His activism began with an effort to expand economic and educational opportunities for young urban blacks, but his primary focus soon turned to the liberation of black South Africans suffering under apartheid. Later he supported a wide variety of causes, playing an active role in campaigns for black political power, high educational standards for college athletes, criminal justice reform, equality of the sexes and AIDS awareness. He also became involved in numerous philanthropic enterprises. By the end of his life, Mr. Ashe's success on the court was no longer the primary source of his celebrity. He had become, along with Muhammad Ali, a prime example of an athlete who transcended the world of sports. In 2016, President Barack Obama identified Mr. Ali and Mr. Ashe as the sports figures he admired above all others. While noting the sharp contrast in their personalities, he argued that both men were "transformational" activists who pushed the nation down the same path to freedom and democracy. Mr. Ashe practiced his own distinctive brand of activism, one based on unemotional appeals to common sense and enlightened philosophical principles as simple as the Golden Rule. He had no facility for, and little interest in, using agitation and drama to draw attention to causes, no matter how worthy they might be. A champion of civility, he always kept his cool and never raised his voice in anger or frustration. Viewing emotional appeals as self-defeating and even dangerous, he relied on reasoned persuasion derived from careful preparation and research. Mr. Ashe preferred to make a case in written form, or as a speaker on the college lecture circuit or as a witness before the United Nations. His periodic opinion pieces in The Washington Post and other newspapers tackled a number of thorny issues related to sports and the broader society, including upholding high academic standards for college athletic eligibility and the expulsion of South Africa from international athletic competition. In the 1980s, he devoted several years to researching and writing "A Hard Road to Glory," a groundbreaking three-volume history of African-American athletes. In retirement Mr. Ashe became a popular tennis broadcaster known for his clever quips, yet as an activist he never resorted to sound bites that excited audiences with reductionist slogans. Often working behind the scenes, he engaged in high-profile public debate only when he felt there was no other way to advance his point of view. Suspicious of quick fixes, he advocated incremental and gradual change as the best guarantor of true progress. Yet he did not let this commitment to long-term solutions interfere with his determination to give voice to the voiceless. Known as a risk taker on the court, he was no less bold off the court, where he never shied away from speaking truth to power. He was arrested twice, in 1985 while participating in an anti-apartheid demonstration in front of the South African Embassy and in 1992 while picketing the White House in protest of the George H.W. Bush administration's discriminatory policies toward Haitian refugees. The first arrest embarrassed the American tennis establishment, which soon removed him from his position as captain of the U.S. Davis Cup team, and the second occurred during the final months of his life as he struggled with the ravages of AIDS. In both cases he accepted the consequences of his principled activism with dignity. Mr. Ashe was a class act in every way, a man who practiced what he preached without being diverted by the temptations of power, fame or fortune. When we place his approach to dissent and public debate in a contemporary frame, it becomes obvious that his legacy is the antithesis of the scorched-earth politics of Trumpism. If Mr. Ashe were alive today, he would no doubt be appalled by the bullying tactics and insulting rhetoric of a president determined to punish athletes who have the courage and audacity to speak out against police brutality toward African-Americans. And yet we can be equally sure that Mr. Ashe would honor his commitment to respectful dialogue, refusing to lower himself to the president's level of unrestrained invective. (…) Mr. Ashe would surely be gratified that to date, this high road has led to more protest, not less, confirming his belief that real change comes from rational advocacy and hard work, not emotional self-indulgence. As we celebrate his remarkable life and legacy a quarter-century after his death, we can be confident that Mr. Ashe would rush to join today's activists in spirit and solidarity, solemnly but firmly taking a knee for social justice. Raymond Arsenault
Reviens, Arthur, Ils sont devenus fous !
En ces temps devenus fous …
Où après les médias et, enterrements compris, la haute fonction publique …
Et, entre le négationnisme (pas de drapeau américain sur la lune) et la réécriture de l'histoire (les quelques mois d'infiltration du KKK par une équipe de policiers noir et blanc dans une petite ville du Colrado au début des années 70 transformés en film blaxploitation avec toute l'explosive subtilité d'un Spike Lee), Hollywood …
Comme au niveau des grosses multinationales du matériel de sport à l'occasion du 30e anniversaire d'un slogan de toute évidence fauché au yippie Jerry Rubin …
Mais faussement attribué (droits obligent ?) aux dernière paroles du tristement célèbre premier exécuté (volontaire et déjà gratifié par Norman Mailer de son panégyrique littéraire) du retour de la peine de mort aux Etats-Unis …
La marchandisation d'un joueur (métis multimillionnaire abandonné par son père noir et adopté par des parents blancs) dont le seul titre de gloire est, outre ses chaussettes anti-policiers et ses tee-shirts à la gloire de Castro, son refus d'honorer le drapeau de son pays pour prétendument dénoncer les brutalités policières contre les noirs …
Tout semble dorénavant permis pour dénigrer l'actuel président américain et les forces de police …
Comment ne pas repenser …
En ce 50e anniversaire …
De la première victoire, dès la création du premier tournoi professionnel, d'un joueur de tennis noir à une épreuve de Grand chelem …
A la figure hélas oubliée d'un Arthur Ashe …
Qui, de l'apartheid sud-africain à la défense des réfugiés haïtiens ou des enfants atteints du SIDA jusqu'à l'ONU …
Et loin des outrances racistes à l'époque d'un Mohamed Ali …
Ou de la violence actuelle (et surtout de ses conséquences sur les plus démunis quoi qu'en dise son biographe) du collectif Black lives matter que prétend défendre un Colin Kaeperinck …
Et sans parler du lamentable scandale, au nom d'un prétendu sexisme et face à une improbable nippo-haïtienne élevée aux Etats-Unis mais ne parlant pas japonais, de Serena Williams en finale du même US Open hier …
Avait toujours su joindre l'intelligence et le respect des autres comme de son propre pays à la plus redoutable des efficacités ?
What Arthur Ashe Knew About Protest
The tennis great was committed to respectful dialogue, refusing to lower himself to the level of invective
Raymond Arsenault
Mr. Arsenault is a biographer of Arthur Ashe.
The New York Times
Sept. 8, 2018
Arthur Ashe always had an exquisite sense of timing, whether he was striking a topspin backhand or choosing when to speak out for liberty and justice for all. So we shouldn't be surprised that the 50th anniversary of his victory at the first U.S. Open — a milestone to be celebrated on Saturday at the grand stadium bearing his name — coincides with a national conversation on the First Amendment rights and responsibilities of professional athletes.
Mr. Ashe has been gone for 25 years, struck down at the age of 49 by AIDS, inflicted by an H.I.V.-tainted blood transfusion. But the example he set as a champion on and off the court has never been more relevant. As Colin Kaepernick, LeBron James and others strive to use their athletic stardom as a platform for social justice activism, they might want to look back at what this soft-spoken African-American tennis star accomplished during the age of Jim Crow and apartheid.
The first thing they will discover is that, like most politically motivated athletes, Mr. Ashe turned to activism only after his formative years as an emerging sports celebrity. He began his career as the Jackie Robinson of men's tennis — a vulnerable and insecure racial pioneer instructed by his coaches to hold his tongue during a period when the success of desegregation was still in doubt. At the same time, Mr. Ashe's natural shyness and deferential attitude toward his elders and other authority figures all but precluded involvement in the civil rights struggle and other political activities during his high school and college years.
The calculus of risk and responsibility soon changed, however, as Mr. Ashe reinvented himself as a 25-year-old activist-in-training during the tumultuous year of 1968. With his stunning victory in September at the U.S. Open, where he overcame the best pros in the world as a fifth-seeded amateur, he gained a new confidence that affected all aspects of his life.
Mr. Ashe's political transformation had begun six months earlier when he gave his first public speech, a discourse on the potential importance of black athletes as community leaders, delivered at a Washington forum hosted by the Rev. Jefferson Rogers, a prominent black civil rights leader Mr. Ashe had known since childhood. Mr. Rogers had been urging Mr. Ashe to speak out on civil rights issues for some time, and when he finally did so, it released a spirit of civic engagement that enveloped his life. "This is the new Arthur Ashe," the reporter Neil Amdur observed in this paper, "articulate, mature, no longer content to sit back and let his tennis racket do the talking."
In part, Mr. Ashe's new attitude reflected a determination to make amends for his earlier inaction. "There were times, in fact," he recalled years later, "when I felt a burning sense of shame that I was not with other blacks — and whites — standing up to the fire hoses and the police dogs, the truncheons, bullets and bombs." He added: "As my fame increased, so did my anguish."
During the violent spring of 1968, the assassinations of the Rev. Dr. Martin Luther King Jr., whom Mr. Ashe had come to admire above all other black leaders, and Senator Robert F. Kennedy, whom he had supported as a presidential candidate, shook Mr. Ashe's faith in America. But he refused to surrender to disillusionment. Instead he dedicated himself to active citizenship on a level rarely seen in the world of sports.
His activism began with an effort to expand economic and educational opportunities for young urban blacks, but his primary focus soon turned to the liberation of black South Africans suffering under apartheid. Later he supported a wide variety of causes, playing an active role in campaigns for black political power, high educational standards for college athletes, criminal justice reform, equality of the sexes and AIDS awareness. He also became involved in numerous philanthropic enterprises.
By the end of his life, Mr. Ashe's success on the court was no longer the primary source of his celebrity. He had become, along with Muhammad Ali, a prime example of an athlete who transcended the world of sports. In 2016, President Barack Obama identified Mr. Ali and Mr. Ashe as the sports figures he admired above all others. While noting the sharp contrast in their personalities, he argued that both men were "transformational" activists who pushed the nation down the same path to freedom and democracy.
Mr. Ashe practiced his own distinctive brand of activism, one based on unemotional appeals to common sense and enlightened philosophical principles as simple as the Golden Rule. He had no facility for, and little interest in, using agitation and drama to draw attention to causes, no matter how worthy they might be. A champion of civility, he always kept his cool and never raised his voice in anger or frustration. Viewing emotional appeals as self-defeating and even dangerous, he relied on reasoned persuasion derived from careful preparation and research.
Mr. Ashe preferred to make a case in written form, or as a speaker on the college lecture circuit or as a witness before the United Nations. His periodic opinion pieces in The Washington Post and other newspapers tackled a number of thorny issues related to sports and the broader society, including upholding high academic standards for college athletic eligibility and the expulsion of South Africa from international athletic competition. In the 1980s, he devoted several years to researching and writing "A Hard Road to Glory," a groundbreaking three-volume history of African-American athletes.
In retirement Mr. Ashe became a popular tennis broadcaster known for his clever quips, yet as an activist he never resorted to sound bites that excited audiences with reductionist slogans. Often working behind the scenes, he engaged in high-profile public debate only when he felt there was no other way to advance his point of view. Suspicious of quick fixes, he advocated incremental and gradual change as the best guarantor of true progress.
Yet he did not let this commitment to long-term solutions interfere with his determination to give voice to the voiceless. Known as a risk taker on the court, he was no less bold off the court, where he never shied away from speaking truth to power.
He was arrested twice, in 1985 while participating in an anti-apartheid demonstration in front of the South African Embassy and in 1992 while picketing the White House in protest of the George H.W. Bush administration's discriminatory policies toward Haitian refugees. The first arrest embarrassed the American tennis establishment, which soon removed him from his position as captain of the U.S. Davis Cup team, and the second occurred during the final months of his life as he struggled with the ravages of AIDS. In both cases he accepted the consequences of his principled activism with dignity.
Mr. Ashe was a class act in every way, a man who practiced what he preached without being diverted by the temptations of power, fame or fortune. When we place his approach to dissent and public debate in a contemporary frame, it becomes obvious that his legacy is the antithesis of the scorched-earth politics of Trumpism. If Mr. Ashe were alive today, he would no doubt be appalled by the bullying tactics and insulting rhetoric of a president determined to punish athletes who have the courage and audacity to speak out against police brutality toward African-Americans. And yet we can be equally sure that Mr. Ashe would honor his commitment to respectful dialogue, refusing to lower himself to the president's level of unrestrained invective.
Not all of the activist athletes involved in public protests during the past two years have followed Mr. Ashe's model of restraint and civility. But many have made a good-faith effort to do so, resisting the temptation to respond in kind to Mr. Trump's intemperate attacks on their personal integrity and patriotism. In particular, several of the most visible activists — including Mr. Kaepernick, Stephen Curry and Mr. James — have kept their composure and dignity even as they have borne the brunt of Mr. Trump's racially charged Twitter storms and stump speeches. By and large, they have wisely taken the same high road that Mr. Ashe took two generations ago, eschewing the politics of character assassination while keeping their eyes on the prize.
Mr. Ashe would surely be gratified that to date, this high road has led to more protest, not less, confirming his belief that real change comes from rational advocacy and hard work, not emotional self-indulgence. As we celebrate his remarkable life and legacy a quarter-century after his death, we can be confident that Mr. Ashe would rush to join today's activists in spirit and solidarity, solemnly but firmly taking a knee for social justice.
Raymond Arsenault is the author of "Arthur Ashe: A Life."
Voir aussi:
Arthur Ashe's real legacy was his activism, not his tennis
We remember Ashe for his electrifying talent. But he had a social conscience that was way ahead of its time
Raymond Arsenault
The Guardian
9 Sep 2018
No one had expected a fifth-seeded, 25-year-old amateur on temporary leave from the army to come out on top in a field that included the world's best pro players. The era of Open tennis, in which both amateurs and professionals competed, was only four months old. Many feared that mixing the two groups was a mistake. Yet Ashe, with help from a string of upsets that eliminated the top four seeds, defeated the Dutchman Tom Okker in the championship match – in the process becoming the first black man to reach the highest echelon of amateur tennis.
As an amateur, Ashe could not accept the champion's prize money of $14,000. But the lost income proved inconsequential in light of the other benefits that came in the wake of his historic performance. He became not only as a bona fide sports star but also a citizen activist with important things to contribute to society and a platform to do so. Ashe began to speak out on questions of social and economic justice.
Earlier in the year, the assassinations of Martin Luther King and Robert Kennedy had shocked Ashe out of his youthful reticence to become involved in the struggle for civil rights. Over the next 25 years, he worked tirelessly as an advocate for civil and human rights, a role model for athletes interested in more than fame and fortune.
"From what we get, we can make a living," he counseled. "What we give, however, makes a life."
Ashe's 1968 win was truly impressive but his finest moment at the Open came, arguably, in 1992, four and a half months after the public disclosure that he had Aids and nearly a decade after he contracted HIV during a blood transfusion. If we apply Ashe's professed standard of success, which placed social and political reform well above athletic achievement, the 25th US Open, not the first, is the tournament most deserving of commemoration. Without picking up a racket, he managed to demonstrate a moral leadership that far transcended the world of sports.
On 30 August, on the eve of the first round, a substantial portion of the professional tennis community rallied behind the stricken champion's effort to raise funds for the new Arthur Ashe Foundation for the Defeat of Aids (AAFDA). The celebrity-studded event, the Arthur Ashe Aids Tennis Challenge, drew a huge crowd and nine of the game's biggest stars. The support was unprecedented, leading one reporter to marvel: "The tennis world is known by and large as a selfish, privileged world, one crammed with factions and egos. So what is happening at the Open is unthinkable: gender and nationality and politics will take a back seat to a full-fledged effort to support Ashe."
Participants included CBS correspondent Mike Wallace, then New York City mayor David Dinkins and two of tennis's biggest celebrities, the up-and-coming star Andre Agassi and the four-time Open champion John McEnroe, who entertained the crowd by clowning their way through a long set. To Ashe's delight, McEnroe, once known as the "Superbrat" of tennis, even put on a joke tantrum against the umpire.
Several days earlier, on a more serious note, McEnroe had spoken for many of his peers in explaining why he felt passionate about Ashe's cause.
"It's not something you can even think twice about when you're asked to help," he insisted. "The fact that the disease has happened to a tennis player certainly strikes home with all of us. I'm just glad someone finally organized the tennis community like this, and obviously it took someone like Arthur to do it."
Ashe was thrilled with the response to the Aids Challenge, which raised $114,000 for the AAFDA. One man walked up and casually handed him a personal check for $25,000. Later in the week the foundation received $30,000 from an anonymous donor in North Carolina. Such generosity was what Ashe had hoped to inspire, and when virtually all of the US Open players complied with the foundation's request to attach a special patch – "a red ribbon centered by a tiny yellow tennis ball" – to their outfits as a symbolic show of support for Aids victims, he knew he had started something important.
This awakening of social responsibility – among a group of athletes not typically known for political courage – was deeply gratifying to a man whose previous calls to action had been largely ignored. Seven years earlier he was fired as captain of the US Davis Cup team in part because leaders were uncomfortable with his growing political activism, especially his arrest during an anti-apartheid demonstration outside a South African embassy. This rebuke did not shake his belief in active citizenship as a bedrock principle, however, and as the 1992 Open drew to a close he demonstrated just how seriously he regarded personal commitment to social justice.
When his lifelong friend and anti-apartheid ally Randall Robinson asked Ashe to come to Washington for a protest march he immediately said yes, even though the march was scheduled four days before the end of the Open. The march concerned an issue that had become deeply important to Ashe: the Bush administration's discriminatory treatment of Haitian refugees seeking asylum in the US. With more than 2,000 other protesters, Ashe gathered in front of the White House to seek justice for the growing mass of Haitian "boat people" being forcibly repatriated without a hearing.
In stark contrast to the warm reception accorded Cuban refugees fleeing Castro's communist regime, the dark-skinned boat people were denied refuge due to a blanket ruling that Haitians, unlike Cubans, were economic migrants undeserving of political asylum. To Ashe and the organizers of the White House protest, this double standard – which flew in the face of the political realities of both islands – smacked of racism.
"The argument incensed me," Ashe wrote. "Undoubtedly, many of the people picked up were economic refugees, but many were not."
Ashe knew a great deal about Haiti: he had read widely and deeply about the island's troubled past; he had visited on several occasions; he and his wife had even honeymooned there in 1977. More recently, he had monitored the truncated career of President Jean-Bertrand Aristide, a self-styled champion of the poor whose regime was toppled by a military coup with the tacit support of the Bush administration. Ashe felt compelled to speak out.
"I was prepared to be arrested to protest this injustice," he said.
Considering his medical condition, he had no business being at a protest; certainly no one would have blamed him if he had begged off. No one, that is, but himself. At the appointed hour, he arrived at the protest site in jeans, T-shirt and straw hat, a human scarecrow reduced to 128lbs on his 6ft 1in frame, but resolute as ever. Big, bold letters on his shirt read: "Haitians Locked Out Because They're Black."
The throng included a handful of celebrities, but Ashe alone represented the sports world. He didn't want to be treated as a celebrity, of course; he simply wanted to make a statement about the responsibilities of democratic citizenship. While he knew his presence was largely symbolic, he hoped to set an example.
Putting oneself at risk for a good cause, he assured one reporter, "does wonders for your outlook … Marching in a protest is a liberating experience. It's cathartic. It's one of the great moments you can have in your life."
Since federal law prohibited large demonstrations close to the White House, the organizers expected arrests. The police did not disappoint: nearly 100 demonstrators, including Ashe, were arrested, handcuffed and carted away. Ashe, despite his physical condition, asked for and received no favors. After paying his fine and calling his wife Jeanne to assure her he was all right, he took the late afternoon train back to New York.
The next night, while sitting on his couch watching the nightly news, he felt a sharp pain in his sternum. Tests revealed he had suffered a mild heart attack, the second of his life. Prior to the trip to Washington, Jeanne had worried something like this might happen. But she knew her husband was never one to play it safe when something important was on the line.
On the tennis court, he had always been prone to fits of reckless play, going for broke with shots that defied logic or sense. Off the court, particularly in his later years, Arthur Ashe almost always went full-out. He did so not because he craved activity for its own sake but rather because he wanted to live a virtuous and productive life. Even near the end, weakened by disease, he still wanted to make a difference. And he did, as he always did.
Raymond Arsenault, the John Hope Franklin professor of southern history at the University of South Florida, St Petersburg, is the author of Arthur Ashe: A Life, recently published by Simon & Schuster

Voir également:

'Arthur was always different': Reflecting on Ashe's legacy, 50 years after U.S. Open win
Ava Wallace
The Washington Post
September 3, 2018

NEW YORK — Virginia Wade has many memories of Arthur Ashe, but the one that sticks in her mind isn't from 50 years ago in New York, when in 1968 they won the first U.S. Open singles titles and Ashe became the first African American man to win a Grand Slam championship. Her favorite memory is from seven years later at Wimbledon.

Ashe claimed the last of his three major titles in England in 1975 in a match against heavy favorite Jimmy Connors. Wade remembers cool, unruffled Ashe's daring tennis against the 22-year-old Connors, who hollered back at the crowd when it shouted encouragement. She also remembers the changeovers.

"It was an incredible match. I mean, Arthur was an innovator," Wade, 73, said last week. "It was the first time he sort of sat down at the side of the court in between — they didn't have chairs at the side of the court for a long time; we sort of had to towel off and go on — but he would sit and cover his head with the towel and just think. It was the first time you were conscious of the mental side of tennis. Arthur was instrumental in that. . . . Arthur was a thinker."

As the U.S. Open celebrates its 50th anniversary, the U.S. Tennis Association is also honoring Ashe for all that he was: thinker, pioneer, activist, champion.

The 1968 winner already has a significant presence at Billie Jean King National Tennis Center — the facility's biggest and most prestigious stage is named for him — but this fortnight, his visage is inescapable. There is a special photo exhibit on the walkway between Court 17 and the Grandstand, and a special "Arthur Ashe legacy booth" decked out in the colors of UCLA, his alma mater. Fans can be seen walking around sporting white T-shirts featuring a picture of Ashe wearing sunglasses, cool as can be.

At the start of Monday's evening session, Lt. Gen. Darryl Williams gave Ashe's younger brother Johnnie a folded American flag in honor of his brother, who died in 1993 from AIDS-related pneumonia after contracting the disease from a tainted blood transfusion. Ashe was an Army lieutenant when he won the U.S. Open as an amateur in 1968; Johnnie, 70, was in the Marine Corps for 20 years.

Johnnie Ashe, like Wade, remembers his brother as an intellectual and an innovator, as someone who was meant to change the world. That's why, when Johnnie came to understand that the military wouldn't send two brothers into active duty in a war zone at the same time, he volunteered for a second tour in Vietnam. He was three months away from coming home.

"Arthur didn't need Vietnam. Arthur had his own Vietnam right there in the United States in those days, and some of the things that I saw while I was there — he didn't need that," Johnnie said Monday night. "The thing that I always think about, and this was always the most important thing in my mind, was that Arthur represented so many possibilities. Arthur was the first to do so much so often that those of us who knew him would say: 'What's next? What mountain was he going to climb next?' Arthur was always different."

Since Johnnie stayed on active duty, Arthur could compete for both the U.S. amateur and U.S. Open championships in 1968. He is the only person to have won both.

Ashe had many projects that helped extend his legacy beyond that of a pioneering tennis player who won 33 career singles championships; ever the thinker, bringing tennis and educational opportunities to youths was Ashe's passion. He helped found the National Junior Tennis & Learning network in 1968, a grass-roots organization designed to make tennis more accessible. Today, the NJTL receives significant funding from the USTA.

"Growing up, Arthur was a sponge. . . . That was just his nature," Johnnie Ashe said. "He was a voracious reader, and he had to satisfy his intellect. I tell people if Arthur had concentrated on just tennis, he would have been the best in the world. But tennis was a vehicle. . . . He wanted to be able to take kids outside of their environs, outside of their element for a little while and expose them to what they can be. . . . And, let's face it, most parents don't have the wherewithal to do that. It's not easy. What happens is you get somebody like Arthur — and following Arthur, LeBron James is starting to do things — to expose kids. It's so important that that happens."

Billie Jean King called the NJTL one of the best things that ever happened to the sport.

"Arthur and I had many conversations over the years about how to we make tennis better — for the players, the fans and the sport," King said in an email Monday. "We both thought tennis needed to be more hospitable, and for Arthur a big part of that was improving access and opportunity to our sport for everyone. Arthur, and Althea Gibson before him, opened doors for people of color in our sport. And, from Venus and Serena [Williams] to Naomi Osaka and Frances Tiafoe, we are seeing the results of his efforts today."

Ashe's efforts as a humanitarian inspired James Blake, who now chairs the USTA Foundation. Blake was growing up when Ashe's humanitarian career was front and center, both as the leader of the group Artists and Athletes Against Apartheid and as a figure who spoke out to educate the nation about AIDS.

"He never looked for sympathy," Blake said. "Instead, he looked for a way to make life better for others that were struggling."

Blake counts himself as one who benefited from Ashe's barrier-breaking career. It's a legacy not lost on the USTA; Katrina Adams, its president and chief executive, is a black woman.

But before Maria Sharapova lost in the fourth round to Carla Suarez Navarro and the riveted crowd turned its attention to Roger Federer's match, Monday night was about Arthur Ashe. Johnnie's flag came wrapped in a wooden display case.

"I was thinking what I was going to design to keep it in, but I don't have to. This is nice," Johnnie said.

"Until Arthur came along and Althea came along, tennis was a sport of the elites. Then you get two playground children — one from Harlem, one from Richmond — to break into the bigs. People had to stop and think about that. It opened the doors for other people, and that's what it was all about. That's what it was all about for him."

Voir de même:

Waiting for the Next Arthur Ashe
Harvey Araton
NYT
Sept. 7, 2018

On the second of two occasions when he had the privilege of a conversation with Arthur Ashe, MaliVai Washington, having just become the country's No. 1 college player as a Michigan sophomore in 1989, happened to mention that he was thinking of turning pro.

Ashe did not exactly tell him what he wanted to hear.

"I don't think he thought it was a very good idea," Washington said.

Ashe won the first United States Open at the West Side Tennis Club in Forest Hills 50 years ago to the day of Sunday's men's final, to be played in a stadium named for him. He also won the 1970 Australian Open and a third and final major in 1975 at Wimbledon.

After all these years there are the formidable but not mutually exclusive legacies of Ashe: as the only African-American man to win a Grand Slam tournament and as a venerated humanitarian. Washington came tantalizingly close to living up to the former and has found a contextual purpose in the latter.

Washington, who made it to the Wimbledon final in 1996, can recall some self-imposed pressure to hoist the trophy Ashe had claimed there 21 years earlier because "when you're the No. 1 black player, you feel a sense of responsibility."

That said, Washington was admittedly more focused on the biggest payday of his career, potential lifetime membership in the All England Club and a permanent engraving on its champions wall.

"I'm honestly not thinking then that much about history and social issues, about how this is going to impact on America, what impact is it going to have on kids," he said of the final, which he lost to Richard Krajicek of the Netherlands in straight sets. "But at 35, 45, O.K., I can think more intelligently about it and understand the impact."

Washington is now 49, the age at which Ashe died in 1993 of AIDS after getting H.I.V. through a blood transfusion. Family life in northern Florida is good for Washington, with a wife, two teenage children, a real estate business and an eponymous foundation in an impoverished area of Jacksonville that for 22 years has provided a tennis introduction for children unlikely to find a private pathway into the sport.

Washington's program is affiliated with the National Junior Tennis League, which Ashe co-founded in 1969 to promote discipline and character through tennis among under-resourced youth. If, in the process, another Ashe happened to emerge, so much the better. But that was not the primary function, or point.

"We're not a pathway to pro tennis by any stretch of the imagination," Washington said. "At my foundation, we don't have that ability, that capacity, never had an interest in going in that direction. We highly encourage kids to play on their high school team, go on to play or try out for their college team.

"But our biggest bang for our buck is teaching life skills. Stay in our program, and you'll have a focus on high school education, be on a good track when you leave high school. You're not going to leave high school with a criminal record, or with a son or daughter."

Why there was no African-American male Grand Slam champion successor to Ashe in the years soon after his trailblazing is no great mystery, Washington said.

Fifty years ago, tennis was largely the province of the wealthy and white, lacking a foundational structure to facilitate such an occurrence. Which doesn't mean that Ashe didn't influence the rise of a Yannick Noah, the French Grand Slam champion whom Ashe himself discovered in Cameroon. Or the likes of Richard Williams and Oracene Price, whose parental vision birthed the careers of Venus and Serena Williams. They in turn have been followed by a raft of African-American female players, including the 2017 U.S. Open women's champion, Sloane Stephens, and the runner-up, Madison Keys.

This year's women's final, on Saturday afternoon, will feature Serena Williams and Naomi Osaka, a half-Japanese, half-Haitian player whose father used the Williams family as a model for his own daughters' tennis ambitions.

Looming over the lack of an African-American Grand Slam successor to Ashe is the vexing question of why the United States hasn't produced a male champion since Andy Roddick won his only major title in New York in 2003. That most of the men's titles have been claimed by a small handful of European players might be more of a tribute to them than a defining failure of the United States Tennis Association's development capabilities.

But on the home front, the issue is a pressing one, especially during America's Grand Slam tournament, year after year.

Washington retired in 1999 with four tour victories and a 1994 quarterfinal Australian Open result in addition to his Wimbledon run. He was followed by James Blake, who rose to No. 4 in the world during a 14-year career that included 10 tour titles and three Grand Slam quarterfinals, including two at the U.S. Open.

Martin Blackman, the U.S.T.A.'s general manager for player development, agreed that a breakthrough by one or two young Americans — white or black — in the foreseeable future could help trigger a wave of next-generation stars from an expanding landscape of prospects at a time when African-American participation has significantly declined in baseball, and football is confronted with health concerns.

"With tennis starting to be recognized as a really athletic sport, I think we do have a unique opportunity to pull some better athletes into the game," said Blackman, an African-American man who played briefly on tour and once partnered with Washington to make the junior doubles semifinals of the 1986 Open. "So now it comes down to what can we do at the base to recruit and retain as many great young players as possible, make the game accessible and then get them into the system to stay."

Even with better intentions, and greater investment, it still took a set of circumstances worthy of a Disney script to land Frances Tiafoe, one of the more promising young American players, on tour.

The son of immigrants from Sierra Leone, Tiafoe, 20, was introduced to the sport at a club in College Park, Md., where his father, Frances Sr., had found custodial work. Talent and a noticeable work ethic attracted well-heeled benefactors and helped Tiafoe climb to his current ranking of No. 44.

He gained his first victory at the U.S. Open over France's Adrian Mannarino, the 29th seed, in the first round before losing next time out. His father watched from the player's box on the Grandstand court, high-fiving Frances' coaches and trainer when the Mannarino match ended, and soon after contended that his son wasn't all that unique.

"There have to be thousands of kids like Frances out there, thousands who don't have the same opportunities," Frances Sr. said. "I'm not just talking about going to college, but going to the pro level, or just to have that chance, see if it's possible."

This is where Washington holds up a metaphorical sign for caution, if not for an outright stop. Most people, he said, have little understanding of just how forbidding the odds are of becoming a pro, much less a champion.

Like the Williams sisters, Washington — who was born in Glen Cove, N.Y., but grew up in Michigan — had the benefit of a tennis-driven father, William, who saw four of his five children play professionally. MaliVai, who typically goes by Mal, had by far the most success.

"When I was a junior player, I was playing seven days a week and there were times when I was in high school where I was playing before school and after school," he said. "It is so very difficult to win a major. I tried to win one, came close."

Then, speaking of Roger Federer and Rafael Nadal, he added: "Federer and Nadal, they've won 20 and 17. What makes them so great is hard to understand. You just can't throw money at kids and think it's going to happen."

So how is it done? Where does one start?

With smaller social achievements, Washington said. With helping young people love the game recreationally, while pursuing a better life than those in less affluent African-American communities have been dealt.

He talked of a young female graduate of his program who recently finished college without any debt, thanks to a tennis scholarship. And for the foundation's head tennis pro, he hired Marc Atkinson, who began playing at Washington's facility in sixth grade and walked onto the Florida A&M tennis team.

"He's married with three kids, and at some point, I imagine he's going to introduce the sport to his kids," Washington said. "You know, I often think back to my ancestors and the challenges they had, whether it's my parents growing up in the Deep South in the 1940s and 1950s, or my great-great-grandpa who was born a slave. I can trace my lineage back to people who were getting up and getting after it, who were trying to make a better life for themselves and their kids.

"So with the thousands of kids that we're helping, that tennis champion may be part of that next generation, or the one after that. You don't know, but maybe 20 years from now, or 50 years from now, you'll be able to look at a kid and track back a lineage to my youth foundation and that would be really cool."

Told that he sounded more like Ashe the humanitarian than Ashe the Grand Slam champion, Washington nodded with approval. His two meetings with Ashe produced "no deep conversations," he said, and he did not heed Ashe's advice on staying in school, though he eventually earned a degree in finance from the University of North Florida.

A voice was nonetheless heard, and still resounds.

Voir encore:

Etats-Unis
Frédéric Potet
La Croix
28/04/1997
A trois reprises, et par la plus pure des coïncidences, la question du sportif noir dans la société américaine s'est retrouvée sur le devant de l'actualité, ces trois dernières semaines. Il y eut d'abord, le 25 mars à Hollywood, l'attribution de l'Oscar du meilleur documentaire à When we were kings, le film de Leon Gast, sorti en France depuis mercredi, et dont le personnage central est le boxeur Mohammed Ali. Vint ensuite, le 13 avril, la victoire au Master d'Augusta (Géorgie, Etats-Unis) de la nouvelle étoile du golf mondial, le jeune Tiger Woods. Deux jours plus tard, enfin, l'Amérique célébrait le 50e anniversaire de l'intégration du premier joueur noir dans une équipe de base-ball professionnel, Jackie Robinson.
Robinson-Ali-Woods. Ces trois noms résumeraient presque la longue marche de l'émancipation du sportif noir aux Etats-Unis. Chacun d'entre eux représente une période, elle-même synonyme d'idéaux et de quête vers la reconnaissance. Si le film de Leon Gast nous montre bien quel incomparable combattant de la cause black fut Mohammed Ali, gageons qu'Ali ne serait pas devenu Ali à l'époque de Woods et que Robinson serait resté un modeste anonyme s'il avait joué dans les années 60.
Nul ne l'ignore plus aujourd'hui : si Jackie Robinson a pu trouver place au sein des Brooklyn Dodgers en cette année 1947, ce fut principalement pour des raisons extrasportives. Ce petit-fils d'esclave était en effet d'un tempérament suffisamment doux et détaché pour ne pas répondre aux concerts d'insultes dont il allait être la cible durant toute sa carrière. A l'instar de son aîné Jesse Owens, sprinter quatre fois médaillé d'or à qui Hitler refusa de serrer la main aux Jeux Olympiques de 1936 à Berlin, Jackie Robinson ne devait jamais rejoindre d'organisation militante. Sa présence au sein d'une équipe de la Major League (première division) allait pouvoir permettre, sans heurt, l'arrivée d'une nouvelle population dans les stades : le public noir.
Le roi dollar fait taire les langues
Autre contexte et autre façon de voir les choses, vingt ans plus tard. En 1964, quelques jours après son premier titre mondial, Cassius Clay intègre le mouvement politico-religieux des Blacks Muslims et devient Mohammed Ali. Trois ans plus tard, il refuse de partir au Vietnam, arguant qu'aucun Vietcong ne l'a « jamais traité de négro ». Rien d'étonnant lorsqu'en 1974, sur une idée du promoteur Don King, il part affronter George Foreman au Zaïre. L'africanisme possède son meilleur apôtre. Dans le film de Leon Gast, le boxeur incarne une sorte de roi-sorcier revenant au pays après plusieurs siècles d'exil. Ali ne fait alors rien d'autre que de la politique. Comme en ont fait les sprinteurs Tommie Smith, John Carlos et Lee Evans (qui deviendra entraîneur en Afrique) le jour où ils brandirent leur poing sur le podium des Jeux de Mexico de 1968.
De cette corporation de champions engagés, Arthur Ashe, décédé en 1993 après une vie passée à lutter contre diverses injustices (apartheid, sida, sort des réfugiés haïtiens), sera le dernier. Les années 80 et 90 sont un tournant. Le basketteur Michael Jordan devient le sportif le mieux payé au monde. Le sprinteur Carl Lewis, le boxeur Mike Tyson et aujourd'hui le très politiquement correct Tiger Woods vont répéter tour à tour qu'« on ne mélange pas sport et politique ». Le roi dollar fait taire les langues alors que, curieusement, le militantisme noir connaît un regain d'intérêt aux Etats-Unis.
Le paradoxe est même total le 16 octobre 1995 quand Louis Farrakhan, leader de la Nation of Islam, réunit un million de personnes à Washington. Ce jour-là, des slogans proclamant l'innocence d'O.J. Simpson reviennent souvent dans la foule. L'ancienne vedette de football américain est suspecté d'avoir tué sa femme. L'affaire a rendu l'Amérique totalement zinzin. A telle enseigne qu'O.J. est devenu une icône pour la population noire. Plus personne, alors, ne se rappelle que du temps de sa splendeur au coeur de la jet-set de Los Angeles, Simpson s'était appliqué à faire oublier aux Blancs qu'il était noir, allant jusqu'à prendre des cours de diction pour changer son accent. La politique, lui aussi, O.J. le disait déjà : ce n'était pas son job.
Voir par ailleurs:
Neil Armstrong Didn't Forget the Flag
Rich Lowry
National review
September 5, 2018
The Apollo program was a national effort that depended on American derring-do and sacrifice. History is usually airbrushed to remove a figure who has fallen out of favor with a dictatorship, or to hide away an episode of national shame. Leave it to Hollywood to erase from a national triumph its most iconic moment.
The new movie First Man, a biopic about the Apollo 11 astronaut Neil Armstrong, omits the planting of the American flag during his historic walk on the surface of the moon.
Ryan Gosling, who plays Armstrong in the film, tried to explain the strange editing of his moonwalk: "This was widely regarded in the end as a human achievement. I don't think that Neil viewed himself as an American hero." Armstrong was a reticent man, but he surely considered himself an American, and everyone else considered him a hero. ("You're a hero whether you like it or not," one newspaper admonished him on the 10th anniversary of the landing.)
Gosling added that Armstrong's walk "transcended countries and borders," which is literally true, since it occurred roughly 238,900 miles from Earth, although Armstrong got there on an American rocket, walked in an American spacesuit, and returned home to America.
Apollo 11 was, without doubt, an extraordinary human achievement. Armstrong's famous words upon descending the ladder to the moon were apt: "One small step for man, one giant leap for mankind." A plaque left behind read: "HERE MEN FROM THE PLANET EARTH FIRST SET FOOT UPON THE MOON, JULY 1969 A.D. WE CAME IN PEACE FOR ALL MANKIND."
But this was a national effort that depended on American derring-do, sacrifice, and treasure. It was a chapter in a space race between the United States and the Soviet Union that involved national prestige and the perceived worth of our respective economic and political systems. The Apollo program wasn't about the brotherhood of man, but rather about achieving a national objective before a hated and feared adversary did.
The Soviets' putting a satellite, Sputnik, into orbit first was a profound political and psychological shock. The historian Walter A. McDougall writes in his book on the space race, . . . The Heavens and the Earth:
In the weeks and months to come, Khrushchev and lesser spokesmen would point to the first Sputnik, "companion" or "fellow traveller," as proof of the Soviet ability to deliver hydrogen bombs at will, proof of the inevitability of Soviet scientific and technological leadership, proof of the superiority of communism as a model for backwards nations, proof of the dynamic leadership of the Soviet premier.
The U.S. felt it had to rise to the challenge. As Vice President Lyndon Johnson put it, "Failure to master space means being second best in every aspect, in the crucial arena of our Cold War world. In the eyes of the world first in space means first, period; second in space is second in everything."
VIEW SLIDESHOW: Apollo 11
The mission of Apollo 11 was, appropriately, soaked in American symbolism. The lunar module was called Eagle, and the command module Columbia. There had been some consideration to putting up a U.N. flag, but it was scotched — it would be an American flag and only an American flag.
The video of Armstrong and his partner Buzz Aldrin carefully working to set up the flag — fully extend it and sink the pole firmly enough in the lunar surface to stand — after their awe-inspiring journey hasn't lost any of its power.
The director of First Man, Damien Chazelle, argues that the flag planting isn't part of the movie because he wanted to focus on the inner Armstrong. But, surely, Armstrong, a former Eagle Scout, had feelings about putting the flag someplace it had never gone before?
There may be a crass commercial motive in the omission — the Chinese, whose market is so important to big films, might not like overt American patriotic fanfare. Neither does much of our cultural elite. They may prefer not to plant the flag — but the heroes of Apollo 11 had no such compunction.
Voir de plus:
What BlacKkKlansman Gets Wrong
It's a slow, didactic film about a minor episode.