A working class hero is something to be. John Lennon
Aux États-Unis, les plus opulents citoyens ont bien soin de ne point s'isoler du peuple ; au contraire, ils s'en rapprochent sans cesse, ils l'écoutent volontiers et lui parlent tous les jours. Ils savent que les riches des démocraties ont toujours besoin des pauvres et que, dans les temps démocratiques, on s'attache le pauvre par les manières plus que par les bienfaits. La grandeur même des bienfaits, qui met en lumière la différence des conditions, cause une irritation secrète à ceux qui en profitent; mais la simplicité des manières a des charmes presque irrésistibles : leur familiarité entraîne et leur grossièreté même ne déplaît pas toujours. Ce n'est pas du premier coup que cette vérité pénètre dans l'esprit des riches. Ils y résistent d'ordinaire tant que dure la révolution démocratique, et ils ne l'abandonnent même point aussitôt après que cette révolution est accomplie. Ils consentent volontiers à faire du bien au peuple ; mais ils veulent continuer à le tenir à distance. Ils croient que cela suffit ; ils se trompent. Ils se ruineraient ainsi sans réchauffer le coeur de la population qui les environne. Ce n'est pas le sacrifice de leur argent qu'elle leur demande; c'est celui de leur orgueil. Tocqueville
J'appelle stratégies de condescendance ces transgressions symboliques de la limite qui permettent d'avoir à la fois les profits de la conformité à la définition et les profits de la transgression : c'est le cas de l'aristocrate qui tape sur la croupe du palefrenier et dont on dira «  Il est simple », sous-entendu, pour un aristocrate, c'est-à-dire un homme d'essence supérieure, dont l'essence ne comporte pas en principe une telle conduite. (…) Le consacré condescendant choisit délibérément de passer la ligne ; il a le privilège des privilèges, celui qui consiste à prendre des libertés avec son privilège. Pierre  Bourdieu

Il faut inscrire dans la théorie le principe réel des stratégies, c'est-à-dire le sens pratique ou, si l'on préfère, ce que les sportifs appellent le sens du jeu, comme maîtrise pratique de la logique ou de la nécessité immanente d'un jeu qui s'acquiert par l'expérience du jeu et qui fonctionne en deçà de la conscience et du discours (à la façon par exemple des techniques du corps). (…) Mais on peut refuser de voir dans la stratégie le produit d'un programme inconscient sans en faire le produit d'un calcul conscient et rationnel. Elle est le produit du sens pratique comme sens du jeu, d'un jeu social particulier, historiquement défini, qui s'acquiert dès l'enfance en participant aux activités sociales, notamment (…) aux jeux enfantins. Le bon joueur, qui est en quelque sorte le jeu fait homme, fait à chaque instant ce qui est à faire, ce que demande et exige le jeu. Cela suppose une invention permanente, indispensable pour s'adapter à des situations indéfiniment variées, jamais parfaitement identiques. Ce que n'assure pas l'obéissance mécanique à la règle explicite, codifiée (quand elle existe). (…) On voit qu'il n'y a pas à poser le problème en termes de spontanéité et de contrainte, de liberté et de nécessité, d'individu et de social. L'habitus comme sens du jeu est le jeu social incorporé, devenu nature. Rien n'est plus libre ni plus contraint à la fois que l'action du bon joueur. Il se trouve tout naturellement à l'endroit où la balle va tomber, comme si la balle le commandait, mais, par là, il commande à la balle. Pierre Bourdieu (1985)

Rien n'illustre mieux la liberté extraordinaire que donne à l'émetteur une conjonction de facteurs favorisants, que le phénomène de l'hypocorrection. Inverse de l'hypercorrection, phénomène caractéristique du parler petit-bourgeois, l'hypocorrection n'est possible que parce que celui qui transgresse la règle (Giscard par exemple lorsqu'il n'accorde pas le participe passé avec le verbe avoir) manifeste par ailleurs, par d'autres aspects de son langage, la prononciation par exemple, et aussi par tout ce qu'il est, par tout ce qu'il fait, qu'il pourrait parler correctement. Pierre Bourdieu 

C'est une chose que Weber dit en passant dans son livre sur le judaïsme antique : on oublie toujours que le prophète sort du rang des prêtres ; le Grand Hérésiarque est un prophète qui va dire dans la rue ce qui se dit normalement dans l'univers des docteurs. Bourdieu
Samedi 31 décembre, François Hollande prononçait depuis l'Élysée ses derniers vœux présidentiels. Comme il est d'usage lorsque le chef de l'État prend la parole, le compte Twitter de l'Élysée a relayé les phrases les plus importantes du discours en direct. Sauf que le community manager (la personne en charge des réseaux sociaux) du Président l'a fait avec une foultitude de fautes d'orthographes. Ainsi « je me rendrais » au lieu de « rendrai » pour exprimer le futur ; « vous avez tenu bons » avec un « s » en trop ; « le socle et là » au lieu de « est » ; « la France a un rang et des valeurs a défendre » (sans accent sur le « à ») ; « c'est vous qui auraient le dernier mot », pour « aurez ». Le Lab Europe 1
A toutes les équipes de l'École de Gendarmerie de Tulle, mille mercis pour votre engagement aux côtés de nos personnels de l'Éducation. Votre expertise, votre professionalisme impressionnant nous sont plus que précieux. Amitiés. Najat Vallaud-Belkacem
J'adresse mes plus chaleureuses félicitations au Paris Saint Germain qui a fait rêvé notre jeunesse. Najat Vallaud-Belkacem

La brutalité de la droite extrême vêtue d'une parka aussi rouge que le gros rouge qui tâche, voilà ce qui attend le pays. Najat Vallaud-Belkacem
Twitter users are the least literate of the internet users we looked at, with 0.56% of words on the network being either misspelled or otherwise unofficial, perhaps due to its stricter character limit. Americans tend to deviate slightly more than those based in the UK, with the Brits at 0.53% and the USA at the global average of 0.56%. Interestingly, tweeters have been getting increasingly literate over the past few years, getting 0.01% more literate each year since 2011 – is this a result of increased adoption of auto-correcting devices perchance? Females are more likely to deviate too, using unofficial language every 169 words, whereas males do it once every 192. The fairer gender are also responsible for elongating words like arghhh, awwww, soooo and ahhh much more than males, who instead prefer to shorten them to things like gonna, wanna and kinda. The most common form of 'error' is the exclusion of apostrophes, resulting in words like im, wont, cant, theres, hes, womens and parents. The second most frequent deviation was the usage of acronyms, the widest used of which was LOL, followed by WTF, LMAO, YOLO, OMG and FFS. In terms of the actual words that are misspelled, here are the favourites: definitely separate embarrass achieve surprise weird government argument. Brandwatch
Bosses regularly complain about the poor literacy standards among school leavers, whose written English in applications forms and CVs can be shocking. The research uses examples such as one applicant stating: 'I wont to work wiv you're company.' Others regularly confuse the words 'to' and 'too', such as: 'I'd like too work with you', while asking whether job 'oppurtunities' are 'avalible' at the company. Others sign their letters with several kisses, showing an inappropriate level of friendliness with a potential boss who they have never met. Tracy Newby, head of English at Ringmer Community College in East Sussex, said helping her students to learn good spelling and grammar involves a 'fight' with social media. She said: 'Social media has a massive impact on students every day. The Daily Telegraph
Vous allez dans certaines petites villes de Pennsylvanie où, comme ans beaucoup de petites villes du Middle West, les emplois ont disparu depuis maintenant 25 ans et n'ont été remplacés par rien d'autre (…) Et il n'est pas surprenant qu'ils deviennent pleins d'amertume, qu'ils s'accrochent aux armes à feu ou à la religion, ou à leur antipathie pour ceux qui ne sont pas comme eux, ou encore à un sentiment d'hostilité envers les immigrants. Barack Obama (2008)
Pour généraliser, en gros, vous pouvez placer la moitié des partisans de Trump dans ce que j'appelle le panier des pitoyables. Les racistes, sexistes, homophobes, xénophobes, islamophobes. A vous de choisir. Hillary Clinton
Nous avons gagné chez les évangélistes. Nous avons gagné avec les jeunes. Avec les vieux. Avec les diplômés de l'enseignement supérieur. Avec ceux qui sont peu diplômés. J'aime ceux qui sont peu diplômés. Donald Trump
Sorry losers and haters, but my I.Q. is one of the highest -and you all know it! Please don't feel so stupid or insecure, it's not your fault. Donald Trump (2013)
I'm much smarter than them. I think I have a much higher IQ. I think I went to a better college — better everything. Donald Trump
Maybe if these elites-pretending-not-to-be-elites deigned to talk to some knowledgeable elites in government once in a while, they might emerge from the distorted, belligerent, dystopian, Darwinian, cracked-mirror world that is alarming Americans and our allies. They might even stop ripping off the working-class people they claim to be helping. Maureen Dowd
I was in Doha last week, and a Sudanese woman approached me to explain how desperate she felt about the fact that her son, at school in the United States, now felt unable to travel to see her. He was afraid that if he left he might not be allowed back. In lots of small and not-so-small ways, the mean, militaristic mind of the American president has come to inhabit people's lives. If a budget can be a portrait of a soul, then this president's is arid and shriveled. It is filled with contempt for the needy. Here is a man dismissive of the arts, the environment, the humanities, diplomacy, peacekeeping, science, public education and civilian national service — in short, civilization itself. If he could defund goodness he would. Charity is also ripe for the ax. Creativity needs skewering. Giving is weakness. All that counts are acquisitive instinct, walls and bans (of the kind that keep mother and son apart), displays of power, and the frisson of selective cruelty that lay behind his successful TV show. Everyone is now Donald Trump's apprentice, at least as he sees it. In Doha, at The New York Times "Art for Tomorrow" conference, I met the artist Christo. This was before rumors that Trump wants to cut all funding to the National Endowment for the Arts were confirmed. It's been a particularly hard couple of months for Christo. He knows all about walls. He knows all about being a refugee. As a young man in the 1950s, he fled communist Bulgaria, then part of the totalitarian Soviet imperium. When the Berlin Wall went up in 1961, he made a wall of oil barrels on the Rue Visconti in Paris. From 1964 to 1967, he lived as an illegal immigrant in New York with his late wife Jeanne-Claude, before getting a green card and becoming a citizen in 1973. By the time America opened its arms to him, he had been stateless for 17 years. Freedom meant something. The United States was more than a country; it was an idea. (…) For more than two decades, Christo has labored to create a work called "Over the River" in Colorado — a canopy of silvery fabric that was to have been suspended for two weeks over 42 miles of the Arkansas River, a flowing, billowing liquid mirror. But now, after spending some $15 million, he has walked away in perhaps the biggest single act of protest by an artist against Donald Trump. Much of the land is federally owned. As Christo explained to my colleague Randy Kennedy earlier this year, "The federal government is our landlord. They own the land. I can't do a project that benefits this landlord." In Doha, Christo, who is 81, refused to sit down. Defiance is part of him. To live freely is an immense act of will. For an hour he spoke with irrepressible vitality. Eat little, he counseled, in order to channel energy (in his case yogurt with garlic for breakfast, then nothing until dinner). Decide what you want — that is the most difficult part — and then apply yourself without compromise to that end. (…) The only use I can imagine for Trump's grotesque wall is for Christo to wrap it and set us free. Roger Cohen

It's bizarre that Trump, who has bragged about his MBA from the University of Pennsylvania, is now lumping himself in with the « poorly educated. »But it's true that the more educated Republicans are, the less likely they are to warm up to him. According to exit polls, Trump won Nevada voters without a high school degree with 57 percent of the vote. He won voters with some college with 49 percent of the vote. He won college graduates with 42 percent of the vote. And among those with a postgraduate degree, his share was only 37 percent. Vox
Trump did graduate from the Wharton School of business at the University of Pennsylvania, an Ivy League college. But Trump did not get an MBA from Wharton; he has a much less prestigious undergraduate degree. He was a transfer student who arrived at Wharton after two years at Fordham University, which U.S. News & World Report currently ranks 66th among national universities. (Besides, simply going to an Ivy League school doesn't prove you're a genius.) Gwenda Blair, in her 2001 book "The Trumps," said that Trump's grades at Fordham were just "respectable" and that he got into Wharton mainly because he had an interview with an admissions officer who had been a high school classmate of his older brother. And Wharton's admissions team surely knew that Trump was from one of New York's wealthiest families. For years, numerous media reports said Trump graduated first in his class from Wharton, but that's wrong. The 1968 commencement program does not list him as graduating with any sort of honors. In fact, the Boston Globe reported that he barely made an impression at all: "His former classmates said he seemed a student who spoke up a lot but rarely shined in class, who barely participated in campus activities, shunned fraternity parties." 

He's done so well with these people with who are high school educated, and I don't mean this in a demeaning way at all, but it's the fact, and the more blue collar workers who really are the heart of America and they think finally somebody is speaking for them but the truth is he is not for them not in his real life and that needs to be highlighted. (…) It doesn't seem like he can be beaten at this point because he not only has all these poll figures in his favor but he has the momentum. The momentum is not only moving with him but ahead of him because people are still excited to see Donald Trump, if for the show if nothing else. (…)  you can't keep saying he's not a conservative because no one really cares about that apparently. They're not driven by ideological arguments; they're driven by their emotional feel that he's on their team which is another joke. What they can do is make a very clear case how Donald Trump has crushed the little man on his way to larger and taller monuments to himself. Kathleen Parker (Washington Post)
Les gens  attendaient  Trump  et  son  discours franc, qui dit les choses comme elles sont et qui promet de défendre les intérêts du peuple.  Il  ne  tourne  pas  autour  du  pot  et c'est ça qu'on aime. (…)  et même si Trump ne le sait pas,  je  suis  persuadé  qu'il  a  été  envoyé par Dieu pour réparer ce pays et lui rendre  sa  grandeur  !  Le  système  est  corrompu,  nous  devons  revenir  aux  fondamentaux  :  les  valeurs  américaines,  le travail, le respect. Obama  est  allé  s'excuser  autour  du  monde, et  résultat,  personne  ne  nous  respecte. Cela va changer. Kelly Lee (électeur)
Les choses vont changer avec Trump car ce  n'est  pas  un  politicien,  il  ne  doit rien à cette élite qui vit entre elle depuis si longtemps. Mike Costello (électeur)
Les médias sont en embuscade, mais nous ne sommes pas inquiets parce que le peuple a vraiment vu le vrai visage partisan  de  ces  médias.  Trump  ne  se  laissera pas  faire.  Au  début  j'ai  été  choquée  de voir   son   usage   de   Twitter   car   je   suis conservatrice. Mais maintenant, je comprends.  Il  déjouera  leurs  plans  et  dira aux gens ce qu'il pense vraiment s'ils déforment    ses    propos. Nous avons besoin de lois. Aujourd'hui, les  gardes-frontières  n'ont  pas  le  droit d'arrêter les illégaux et laissent des villes sanctuaires  les  protéger  sans  la  moindre sanction.  Est-ce  normal  ?  La  presse  dit que c'est raciste de penser ce que je vous dis,   mais   c'est   ridicule   !   Nous   serions donc devenus une nation de racistes par- ce   que   nous   ne   sommes   pas   d'accord avec  ce   laxisme ? Annette (électrice)
Ce  qui  nous  plaît   chez Trump, c'est qu'il ne doit rien à personne. Il est milliardaire mais il accepte de faire  ce  job  pour  sauver  le  pays.  Il  n'en   avait pas besoin. C'est son atout. Car il va  pouvoir  se  concentrer  sur  l'essentiel,  au   lieu de penser à être réélu.  Obama  s'est  trop  excusé, nous devons montrer notre force. Nous espérons  que  Trump  sera  le  Reagan  de   notre  génération. James Mack (ouvrier machiniste de Pennsylvanie)
It's not just visual: In interview after interview in all corners of the state, I've found that Trump's support across the ideological spectrum remains strong. Democrats, Republicans, independents, people who have not voted in presidential elections for years — they have not wavered in their support. Two components of these voters' answers and profiles remain consistent: They are middle-class, and they do not live in a big city. They are suburban to rural and are not poor — an element I found fascinating, until a Gallup survey last week confirmed that what I've gathered in interviews is more than just freakishly anecdotal. The Gallup analysis, based on 87,000 interviews over the past year, shows that while economic anxiety and Trump's appeal are intertwined, his supporters for the most part do not make less than average Americans (not those in New York City or Washington, perhaps, but their Main Street peers) and are less likely to be unemployed. The study backs up what many of my interviews across the state found — that these people are more concerned about their children and grandchildren. While Trump supporters here are overwhelmingly white, their support has little to do with race (yes, you'll always find one or two who make race the issue) but has a lot to do with a perceived loss of power. Not power in the way that Washington or Wall Street board rooms view power, but power in the sense that these people see a diminishing respect for them and their ways of life, their work ethic, their tendency to not be mobile (many live in the same eight square miles that their father's father's father lived in). Thirty years ago, such people determined the country's standards in entertainment, music, food, clothing, politics, personal values. Today, they are the people who are accused of creating every social injustice imaginable; when anything in society fails, they get blamed. The places where they live lack economic opportunities for the next generation; they know their children and grandchildren will never experience the comfortable situations they had growing up — surrounded by family who lived next door, able to find a great job without going to college, both common traits among many successful small-business owners in the state. These Trump supporters are not the kind you find on Twitter saying dumb or racist things; many of them don't have the time or the patience to engage in social media because they are too busy working and living life in real time. These are voters who are intellectually offended watching the Affordable Care Act crumble because they warned six years ago that it was an unworkable government overreach. They are the same people who wonder why President Obama has not taken a break from a week of golfing to address the devastating floods in Louisiana. (As one woman told me, "It appears as if he only makes statements during tragedies if there is political gain attached.") Voice such a remark, and you risk being labeled a racist in many parts of America. The Joe-Six-Pack stereotype of a Trump supporter was not created in a vacuum; it's real and it's out there. Yet, if you dig down deep into the Gallup survey — or, better yet, take a drive 15 minutes outside of most cities in America — you will learn a different story. That is, if you look and listen. Salena Zito

America is coming apart. For most of our nation's history, whatever the inequality in wealth between the richest and poorest citizens, we maintained a cultural equality known nowhere else in the world—for whites, anyway. (…) But t's not true anymore, and it has been progressively less true since the 1960s. People are starting to notice the great divide. The tea party sees the aloofness in a political elite that thinks it knows best and orders the rest of America to fall in line. The Occupy movement sees it in an economic elite that lives in mansions and flies on private jets. Each is right about an aspect of the problem, but that problem is more pervasive than either political or economic inequality. What we now face is a problem of cultural inequality. When Americans used to brag about « the American way of life »—a phrase still in common use in 1960—they were talking about a civic culture that swept an extremely large proportion of Americans of all classes into its embrace. It was a culture encompassing shared experiences of daily life and shared assumptions about central American values involving marriage, honesty, hard work and religiosity. Over the past 50 years, that common civic culture has unraveled. We have developed a new upper class with advanced educations, often obtained at elite schools, sharing tastes and preferences that set them apart from mainstream America. At the same time, we have developed a new lower class, characterized not by poverty but by withdrawal from America's core cultural institutions. (…) Why have these new lower and upper classes emerged? For explaining the formation of the new lower class, the easy explanations from the left don't withstand scrutiny. It's not that white working class males can no longer make a « family wage » that enables them to marry. The average male employed in a working-class occupation earned as much in 2010 as he did in 1960. It's not that a bad job market led discouraged men to drop out of the labor force. Labor-force dropout increased just as fast during the boom years of the 1980s, 1990s and 2000s as it did during bad years. (…) As I've argued in much of my previous work, I think that the reforms of the 1960s jump-started the deterioration. Changes in social policy during the 1960s made it economically more feasible to have a child without having a husband if you were a woman or to get along without a job if you were a man; safer to commit crimes without suffering consequences; and easier to let the government deal with problems in your community that you and your neighbors formerly had to take care of. But, for practical purposes, understanding why the new lower class got started isn't especially important. Once the deterioration was under way, a self-reinforcing loop took hold as traditionally powerful social norms broke down. Because the process has become self-reinforcing, repealing the reforms of the 1960s (something that's not going to happen) would change the trends slowly at best. Meanwhile, the formation of the new upper class has been driven by forces that are nobody's fault and resist manipulation. The economic value of brains in the marketplace will continue to increase no matter what, and the most successful of each generation will tend to marry each other no matter what. As a result, the most successful Americans will continue to trend toward consolidation and isolation as a class. Changes in marginal tax rates on the wealthy won't make a difference. Increasing scholarships for working-class children won't make a difference. The only thing that can make a difference is the recognition among Americans of all classes that a problem of cultural inequality exists and that something has to be done about it. That « something » has nothing to do with new government programs or regulations. Public policy has certainly affected the culture, unfortunately, but unintended consequences have been as grimly inevitable for conservative social engineering as for liberal social engineering. The « something » that I have in mind has to be defined in terms of individual American families acting in their own interests and the interests of their children. Doing that in Fishtown requires support from outside. There remains a core of civic virtue and involvement in working-class America that could make headway against its problems if the people who are trying to do the right things get the reinforcement they need—not in the form of government assistance, but in validation of the values and standards they continue to uphold. The best thing that the new upper class can do to provide that reinforcement is to drop its condescending « nonjudgmentalism. » Married, educated people who work hard and conscientiously raise their kids shouldn't hesitate to voice their disapproval of those who defy these norms. When it comes to marriage and the work ethic, the new upper class must start preaching what it practices. Charles Murray
We're in the midst of a rebellion. The bottom and middle are pushing against the top. It's a throwing off of old claims and it's been going on for a while, but we're seeing it more sharply after New Hampshire. This is not politics as usual, which by its nature is full of surprise. There's something deep, suggestive, even epochal about what's happening now. I have thought for some time that there's a kind of soft French Revolution going on in America, with the angry and blocked beginning to push hard against an oblivious elite. It is not only political. Yes, it is about the Democratic National Committee, that house of hacks, and about a Republican establishment owned by the donor class. But establishment journalism, which for eight months has been simultaneously at Donald Trump's feet ("Of course you can call us on your cell from the bathtub for your Sunday show interview!") and at his throat ("Trump supporters, many of whom are nativists and nationalists . . .") is being rebelled against too. Their old standing as guides and gatekeepers? Gone, and not only because of multiplying platforms. (…) All this goes hand in hand with the general decline of America's faith in its institutions. We feel less respect for almost all of them—the church, the professions, the presidency, the Supreme Court. The only formal national institution that continues to score high in terms of public respect (72% in the most recent Gallup poll) is the military (…) we are in a precarious position in the U.S. with so many of our institutions going down. Many of those pushing against the system have no idea how precarious it is or what they will be destroying. Those defending it don't know how precarious its position is or even what they're defending, or why. But people lose respect for a reason. (…) It's said this is the year of anger but there's a kind of grim practicality to Trump and Sanders supporters. They're thinking: Let's take a chance. Washington is incapable of reform or progress; it's time to reach outside. Let's take a chance on an old Brooklyn socialist. Let's take a chance on the casino developer who talks on TV. In doing so, they accept a decline in traditional political standards. You don't have to have a history of political effectiveness anymore; you don't even have to have run for office! "You're so weirdly outside the system, you may be what the system needs." They are pouring their hope into uncertain vessels, and surely know it. Bernie Sanders is an actual radical: He would fundamentally change an economic system that imperfectly but for two centuries made America the wealthiest country in the history of the world. In the young his support is understandable: They have never been taught anything good about capitalism and in their lifetimes have seen it do nothing—nothing—to protect its own reputation. It is middle-aged Sanders supporters who are more interesting. They know what they're turning their backs on. They know they're throwing in the towel. My guess is they're thinking something like: Don't aim for great now, aim for safe. Terrorism, a world turning upside down, my kids won't have it better—let's just try to be safe, more communal. A shrewdness in Sanders and Trump backers: They share one faith in Washington, and that is in its ability to wear anything down. They think it will moderate Bernie, take the edges off Trump. For this reason they don't see their choices as so radical. (…) The mainstream journalistic mantra is that the GOP is succumbing to nativism, nationalism and the culture of celebrity. That allows them to avoid taking seriously Mr. Trump's issues: illegal immigration and Washington's 15-year, bipartisan refusal to stop it; political correctness and how it is strangling a free people; and trade policies that have left the American working class displaced, adrift and denigrated. Mr. Trump's popularity is propelled by those issues and enabled by his celebrity. (…) Mr. Trump is a clever man with his finger on the pulse, but his political future depends on two big questions. The first is: Is he at all a good man? Underneath the foul mouthed flamboyance is he in it for America? The second: Is he fully stable? He acts like a nut, calling people bimbos, flying off the handle with grievances. Is he mature, reliable? Is he at all a steady hand? Political professionals think these are side questions. "Let's accuse him of not being conservative!" But they are the issue. Because America doesn't deliberately elect people it thinks base, not to mention crazy. Peggy Noonan
In 1978, the eminent sociologist William Julius Wilson argued confidently that class would soon displace race as the most important social variable in American life. As explicit legal barriers to minority advancement receded farther into the past, the fates of the working classes of different races would converge. By the mid 2000s, Wilson's thesis looked pretty good: The black middle class was vibrant and growing as the average black wealth nearly doubled from 1995 to 2005. Race appeared to lose its salience as a political predictor: More and more blacks were voting Republican, reversing a decades-long trend, and in 2004 George W. Bush collected the highest share of the Latino (44 percent) vote of any Republican ever and a higher share of the Asian vote (43 percent) than he did in 2000. Our politics grew increasingly ideological and less racial: Progressives and the beneficiaries of a generous social-welfare state generally supported the Democratic party, while more prosperous voters were more likely to support Republicans. Stable majorities expressed satisfaction with the state of race relations. It wasn't quite a post-racial politics, but it was certainly headed in that direction. But in the midst of the financial crisis of 2007, something happened. Both the white poor and the black poor began to struggle mightily, though for different reasons. And our politics changed dramatically in response.

I

t's ironic that the election of the first black president marked the end of our brief flirtation with a post-racial politics. By 2011, William Julius Wilson had published a slight revision of his earlier thesis, noting the continued importance of race. The black wealth of the 1990s, it turned out, was built on the mirage of house values. Inner-city murder rates, which had fallen for decades, began to tick upward in 2015. In one of the deadliest mass shootings in recent memory, a white supremacist murdered nine black people in a South Carolina church. And the ever-present antagonism between the police and black Americans — especially poor blacks whose neighborhoods are the most heavily policed — erupted into nationwide protests. Meanwhile, the white working class descended into an intense cultural malaise. Prescription-opioid abuse skyrocketed, and deaths from heroin overdoses clogged the obituaries of local papers. In the small, heavily white Ohio county where I grew up, overdoses overtook nature as the leading cause of death. A drug that for so long was associated with inner-city ghettos became the cultural inheritance of the southern and Appalachian white: White youths died from heroin significantly more often than their peers of other ethnicities. Incarceration and divorce rates increased steadily. Perhaps most strikingly, while the white working class continued to earn more than the working poor of other races, only 24 percent of white voters believed that the next generation would be "better off." No other ethnic group expressed such alarming pessimism about its economic future. And even as each group struggled in its own way, common forces also influenced them. Rising automation in blue-collar industries deprived both groups of high-paying, low-skill jobs. Neighborhoods grew increasingly segregated — both by income and by race — ensuring that poor whites lived among poor whites while poor blacks lived among poor blacks. As a friend recently told me about San Francisco, Bull Connor himself couldn't have designed a city with fewer black residents. Predictably, our politics began to match this new social reality. In 2012, Mitt Romney collected only 27 percent of the Latino vote. Asian Americans, a solid Republican constituency even in the days of Bob Dole, went for Obama by a three-to-one margin — a shocking demographic turn of events over two decades. Meanwhile, the black Republican became an endangered species. Republican failures to attract black voters fly in the face of Republican history. This was the party of Lincoln and Douglass. Eisenhower integrated the school in Little Rock at a time when the Dixiecrats were the defenders of the racial caste system.(…) For many progressives, the Sommers and Norton research confirms the worst stereotypes of American whites. Yet it also reflects, in some ways, the natural conclusions of an increasingly segregated white poor. (…) The reality is not that black Americans enjoy special privileges. In fact, the overwhelming weight of the evidence suggests that the opposite is true. Last month, for instance, the brilliant Harvard economist Roland Fryer published an exhaustive study of police uses of force. He found that even after controlling for crime rates and police presence in a given neighborhood, black youths were far likelier to be pushed, thrown to the ground, or harassed by police. (Notably, he also found no racial disparity in the use of lethal force.) (…) Getting whipped into a frenzy on conspiracy websites, or feeling that distant, faceless elites dislike you because of your white skin, doesn't compare. But the great advantages of whiteness in America are invisible to the white poor, or are completely swallowed by the disadvantages of their class. The young man from West Virginia may be less likely to get questioned by Yale University police, but making it to Yale in the first place still requires a remarkable combination of luck and skill. In building a dialogue around "checking privilege," the modern progressive elite is implicitly asking white America — especially the segregated white poor — for a level of social awareness unmatched in the history of the country. White failure to empathize with blacks is sometimes a failure of character, but it is increasingly a failure of geography and socialization. Poor whites in West Virginia don't have the time or the inclination to read Harvard economics studies. And the privileges that matter — that is, the ones they see — are vanishing because of destitution: the privilege to pay for college without bankruptcy, the privilege to work a decent job, the privilege to put food on the table without the aid of food stamps, the privilege not to learn of yet another classmate's premature death. (…)

B

ecause of this polarization, the racial conversation we're having today is tribalistic. On one side are primarily white people, increasingly represented by the Republican party and the institutions of conservative media. On the other is a collection of different minority groups and a cosmopolitan — and usually wealthier — class of whites. These sides don't even speak the same language: One side sees white privilege while the other sees anti-white racism. There is no room for agreement or even understanding.

J. D. Vance
Je crois que la séparation fondamentale entre peuple et élites – c'est une image, car c'est toujours plus compliqué – a pour point de départ la différenciation éducative produite par le développement du supérieur. Au lendemain de la guerre, dans les démocraties occidentales, tout le monde avait fait l'école primaire – aux États-Unis, ils avaient également fait l'école secondaire –, les sociétés étaient assez homogènes et très peu de gens pouvaient se vanter d'avoir fait des études supérieures. Nous sommes passés, ensuite, à des taux de 40 % de gens qui font des études supérieures par génération. Ils forment une masse sociale qui peut vivre dans un entre-soi. Il y a eu un phénomène d'implosion sur soi de ce groupe qui peut se raconter qu'il est supérieur, tout en prétendant qu'il est en démocratie. C'est un phénomène universel et pour moi, c'est la vraie raison. Il y a des décalages. L'arrivée à maturité de ce groupe social se réalise dès 1965 aux États-Unis. En France, nous avons trente ans de retard et ça s'effectue en 1995. Les gens des diverses strates éducatives ne se connaissent plus. Ceux d'en haut vivent sans le savoir dans un ghetto culturel. Dans le cas d'un pays comme la France, nous avons par exemple l'apparition d'un cinéma intimiste, avec des préoccupations bourgeoises déconnectées des cruautés de la globalisation économique. Il y a des choses très bien dans cette culture d'en haut. L'écologie, les festivals de musique classique ou branchée, les expositions de peinture impressionniste ou expressionniste, le mariage pour tous : toutes ces choses sont bonnes. Mais il y a des personnes avec des préoccupations autres, qui souhaitent juste survivre économiquement et qui n'ont pas fait d'études supérieures. (…) Par contre, je diverge de Lasch et de gens qui dénoncent les élites pour supposer des qualités spéciales au peuple. Je l'ai cru à une époque, mais je n'en suis plus là. Les élites trahissent le peuple, c'est certain. J'estime même de plus en plus qu'il y a au sein des élites des phénomènes de stupidité induits par le conformisme interne du groupe, une autodestruction intellectuelle collective. Mais je ne pense plus que le peuple soit intrinsèquement meilleur. L'idée selon laquelle, parce qu'il est moins éduqué ou moins bien loti, le peuple serait moralement supérieur est idiote, c'est une entorse subtile au principe d'égalité. Adhérer pleinement au principe d'égalité, c'est être capable de critiquer simultanément élites et peuple. Et c'est très important dans le contexte actuel. Cela permet d'échapper au piège d'une opposition facile entre un populo xénophobe qui vote Le Pen et les crétins diplômés qui nous ont fabriqué l'euro. C'est toute la société française qu'on doit condamner dans sa médiocrité intellectuelle et morale. (…) Je crois que c'est le symptôme d'un changement d'humeur de la société américaine dans son cœur, qui est un cœur blanc puisque la démocratie américaine est à l'origine blanche. Depuis longtemps, je suis convaincu que parce que les Anglo-Saxons ne sont au départ pas très à l'aise avec la notion d'égalité, le sentiment démocratique aux États-Unis est très associé à l'exclusion des Indiens et des Noirs. Il y a quand même 72 % du corps électoral qui est blanc. Obama a mené une politique de sauvetage de l'économie américaine tout à fait estimable dans la grande crise de 2007-2008, mais il n'a pas remis en question les fondamentaux du consensus de Washington : le libre-échange, la liberté de circulation du capital et donc les mécanismes qui ont assuré la dégradation des conditions de vie et la sécurité des classes moyennes et des milieux populaires américains. Dans les années 1950, la classe moyenne comprenait la classe ouvrière aux États-Unis. Les ouvriers ont été  "reprolétarisés" par la globalisation et les classes moyennes ont été mises en danger. Il y a eu, en 2016, une sorte de révolte. Le premier élément qui m'a intéressé – et c'était normal puisque dans L'illusion économique (1997) je dénonçais le libre-échange –, c'est la remise en question du libre-échange, qui était commune à Trump et Sanders. C'est parce que le protectionnisme est commun aux deux que nous pouvons affirmer être face à une évolution de fond de la société américaine. C'est vrai que le phénomène Trump est incroyable : le type fout en l'air le Parti républicain pendant la primaire et fout en l'air les Démocrates ensuite. Mais jusqu'au bout, et des vidéos le prouvent, j'ai cru que c'était possible, parce que j'étais tombé sur des études démographiques largement diffusées. Je ne sais plus si je les avais vues mentionnées dans le New York Times, dans le Washington Post, ou dans les deux. Elles révèlent que la mortalité des Blancs de 45-54 ans a augmenté aux États-Unis entre 1999 et 2013. Pour les Américains, le débat sur les merveilles du libre-échange est clos. Ils ont compris. Il faut partir de l'électorat et pas de Trump. L'électorat est en révolte et les États-Unis ont une tradition démocratique plus solide que la nôtre, à la réserve près qu'il s'agit d'une démocratie blanche. (…) Les Républicains ont inventé la technique du dog-whistle, c'est-à-dire du "sifflet à chien", qui agit sans qu'on l'entende. Un langage codé permet de bien faire comprendre à l'électorat blanc qu'il faut détruire le welfare (les aides sociales), censé n'aller qu'aux Noirs. C'est ce qui a permis au Parti républicain de mener une politique économique absolument défavorable à son propre électorat, c'est-à-dire de diminuer les impôts des riches et de continuer à foutre en l'air la classe ouvrière blanche par le libre-échange. Trump est à l'opposé du dog-whistle. Il avait un double discours : d'un côté, un discours xénophobe tourné contre le Mexique – et pas contre les Noirs, qui sont sur le territoire américain – et de l'autre, des thématiques économiques quasi-marxistes. Pour moi, Trump est le contraire du racialisme républicain traditionnel. Il a mené le débat sur le terrain économique, face à des Démocrates qui activaient inlassablement, sur le mode de la bien-pensance, la question raciale, en se présentant comme les défenseurs des Noirs et en expliquant que si on appartenait à tel groupe, on devait voter de telle manière. Trump a donc foutu en l'air le Parti républicain racial avec ses thématiques économiques, pendant que le Parti démocrate est resté sur ses positions raciales banales. (…) En formalisant, nous pourrions dire qu'il y a deux forces qui s'opposent aux États-Unis : un parti national et un parti globaliste. Nous pourrions dire que le parti national se caractérise par une protection aux frontières – des biens, de la circulation des personnes, le tout avec une bonne base xénophobe – mais qui n'est pas hostile au marché et qui a pour seul but de relancer un capitalisme interne qui fabrique des biens. En gros, il explique que les entreprises peuvent se faire de l'argent autrement. En face, il y a le parti globaliste qui va laisser les frontières ouvertes, en expliquant que cela va fonctionner même si la théorie économique explique que cela va générer des dégâts et des inégalités, le tout devant être compensé par de la redistribution et du welfare. (…) Mais l'important, c'est la protection contre l'arrivée de marchandises fabriquées par des gens sous-payés. (…) La question, c'est de savoir s'il existe une technique qui permet que des gens s'enrichissent et que cela profite à tout le monde dans l'espace national. (…) Jusqu'à présent, j'étais résigné à l'enfermement de "l'anglosphère" dans son néo-libéralisme par son indifférence à l'égalité. Dans l'ensemble, mon modèle anthropologique ne fonctionne pas mal. L'idée d'un communisme fabriqué par une famille communautaire, égalitaire et autoritaire explique très bien l'histoire russe. La famille nucléaire absolue explique très bien le modèle libéral anglo-saxon, ainsi que le développement du capitalisme. Le fait que les gens ne sont pas très sensibles aux États-Unis ou en Angleterre à l'idéal d'égalité explique pourquoi le capitalisme y fonctionne de manière bien huilée et pourquoi les individus ne sont pas choqués quand certains font du profit. Mais entre 2000 et 2015, nous avons atteint la limite du modèle. Et bien sûr, les peuples peuvent transcender leur détermination anthropologique, mais à un certain niveau de souffrance seulement. C'est pour cela que la hausse de la mortalité a été un avertisseur qui m'a permis d'échapper à mon propre modèle. Quand j'ai pensé que Trump pouvait être élu, j'étais au fond en train d'admettre que mon modèle anthropologique était insuffisant. Mais c'est finalement la même chose qui s'est passée avec la chute du communisme. (…) Mon modèle anthropologique dit que les traditions communautaires russes expliquent très bien l'invention du communisme. Mais de même que le libéralisme a emmené la société américaine à un niveau de souffrance exagéré, qui a provoqué la révolte de 2016, le communisme avait atteint vers 1975 un niveau d'absurdité tel, avec une hausse de la mortalité infantile, qu'il s'est effondré en 1990. Par contre, ce que nous dit déjà l'existence ultérieure de la Russie, c'est que l'atteinte de ce point de rupture peut amener une modification du système économique, mais ne fait pas sortir définitivement la population de sa culture. Je pense qu'il y a une démocratie en Russie. Les Russes votent à 80 % pour Poutine. C'est une forme de démocratie autoritaire. Mais le fonctionnement de la société garde beaucoup des traditions communautaires d'autrefois. Le système américain tente de se réformer, mais il va garder ses traits libéraux et non égalitaires fondamentaux. D'ailleurs, quand je décrivais un protectionnisme qui laisse fonctionner le capitalisme en interne, c'est exactement cela que j'évoquais. (…) Les États-Unis ont traversé une phase d'instabilité et de crise culturelle à partir des années 1960 : montée du divorce, enfants hors mariage, etc. Ce sont quand même les Américains qui ont inventé la pilule. Cette phase de crise a entraîné une montée spectaculaire du taux d'homicide. Mais si nous reprenons tous ces paramètres – ce que je ne ferai pas maintenant – depuis 1995, il est clair qu'en termes de mœurs, les États-Unis sont dans une phase de restabilisation. Dans ses tréfonds, la société américaine opère un retour à l'équilibre. Si nous lisons la presse française, (…) nous sommes affolés par Trump. Le subliminal de « Trump est fou », c'est que c'est pour nous que l'Amérique est folle. Pure illusion : l'Amérique de 2016 est rationnelle et raisonnable. J'ai affirmé dans un premier temps qu'il existe une rationalité économique au vote Trump. Votre question me conduit à ajouter qu'en termes de mœurs, l'Amérique revient à l'équilibre. C'est un pays en cours de stabilisation morale, malgré sa souffrance économique, qui vient d'élire Trump. (…) Évidemment, le discours de Trump sur les questions identitaires est inacceptable pour quelqu'un comme moi. C'est d'ailleurs parce que ce caractère inacceptable me semble évident que je suis capable d'accepter la dimension économique de son discours. (…) Mais nous ne devons jamais oublier la rationalité de Trump et de son équipe, aussi bien en politique intérieure qu'en politique internationale. Un effort intellectuel est nécessaire puisque nous avons affaire à un communicant : derrière les choses horribles qu'il dit – ce qui a poussé ses adversaires à le prendre pour un fou –, il y a des calculs. Sa conquête électorale de la Rust Belt et de la Pennsylvanie, promise par Trump avant l'élection, montre bien une certaine forme de rationalité. En politique internationale, les commentateurs évoquent cette même folie : Trump attaque la Chine, l'Allemagne, l'Union européenne (qu'il perçoit, à juste titre, comme un instrument de la puissance allemande)… Il marche à la guerre… Mais d'un point de vue protectionniste, ceci est tout à fait normal puisque la Chine et l'Allemagne sont les pays qui posent des problèmes de concurrence économique aux États-Unis. C'est bien l'Allemagne, plus que les États-Unis, qui poussait pour le fameux traité transatlantique. L'Allemagne et la Chine sont deux ardents défenseurs du libre-échange, comme l'indique la proposition absurde d'alliance libre-échangiste faite par la seconde à la première. (…) en réalité, le retour au national promu par Trump devrait s'accompagner d'une "désuniversalisation" des problèmes. Cela devrait finir par concerner l'islam aussi, et pourrait finalement conduire à une "désuniversalisation" de la question musulmane. Le retour au national ne suppose pas une rupture avec l'idée de puissance, mais suppose une politique différenciée qui cesse d'être généralisatrice. Je peux me tromper mais il me semble que les axes fondamentaux de la politique de Trump ne comprennent pas cet universalisme généralisateur qui désignerait un ennemi universel qui serait l'islam. Je reconnais que certains aspects de sa politique sont, au stade actuel, insupportables, et je suis ravi de l'action des contre-pouvoirs américains, (de ce système judiciaire qui avait posé tellement de problèmes à Roosevelt), mais je ne parierai pas sur une universalisation durable de la question de l'islam, qui contredirait le retour au national. (…) Trump ne peut pas être à la fois universalisant et "désuniversalisant". Ce sont les partisans de la globalisation qui ont tendance à universaliser tous les problèmes, et donc celui de l'islam. Le retour à l'égoïsme national a ses qualités. Emmanuel Todd
Est-ce le plus beau cadeau qu'Hillary Clinton ait fait à son adversaire ? En traitant "la moitié" des électeurs de Trump de "basket of deplorables", Hillary a donné à l'équipe Trump un nouveau slogan de campagne : Les Deplorables (en français sur l'affiche avec le "e" sans accent, et aussi sur les t-shirts, sur les pots à café, dans la salle, etc.) ; avec depuis hier une affiche empruntée au formidable succès de scène de 2012 à Broadway Les Misérables (avec le "é" accentué, ou Les Mis', tout cela en français sur l'affiche et sur la scène), et retouchée à la mesure-Trump (drapeau US à la place du drapeau français, bannière avec le nom de Trump). Grâce soit rendue à Hillary, le mot a une certaine noblesse et une signification à la fois, – étrangement, – précise et sophistiqué, dont le sens négatif peut aisément être retourné dans un contexte politique donné (le mot lui-même a, également en anglais, un sens négatif et un sens positif), surtout avec la référence au titre du livre de Hugo devenu si populaire aux USA depuis 2012…  L'équipe Trump reprend également la chanson-standard de la comédie musicale "Do You Hear the People Sing", tout cela à partir d'une idée originale d'un partisan de Trump, un artiste-graphiste qui se désigne sous le nom de Keln : il a réalisé la composition graphique à partir de l'affiche des Misérables et l'a mise en ligne en espérant qu'elle serait utilisée par Trump. Depuis quelques jours déjà, les partisans de Trump se baptisent de plus en plus eux-mêmes Les Deplorables (comme l'on disait il y a 4-5 ans "les indignés") et se reconnaissent entre eux grâce à ce mot devenu porte-drapeau et slogan et utilisé sur tous les produits habituels ("nous sommes tous des Deplorables", comme d'autres disaient, dans le temps, "Nous sommes tous des juifs allemands"). De l'envolée de Clinton, – dont elle s'est excusée mais sans parvenir à contenir l'effet "déplorable" pour elle, ni l'effet-boomerang comme on commence à le mesurer, –nous écrivions ceci le 15 septembre : « L'expression ("panier" ou "paquet de déplorables"), qui qualifie à peu près une moitié des électeurs de Trump, est assez étrange, sinon arrogante et insultante, voire sophistiquée et devrait être très en vogue dans les salons progressistes et chez les milliardaires d'Hollywood ; elle s'accompagne bien entendu des autres qualificatifs classiques formant le minimum syndical de l'intellectuel-Système, dits explicitement par Hillary, de "racistes", xénophobes", et ajoutons comme sous-entendus "crétins absolus" ou bien "sous-hommes", et ajoutons encore implicitement "irrécupérables" et de la sorte "à liquider" ou à envoyer en camp de rééducation ou plutôt à l'asile, comme l'éclairé Bacri conseille de faire avec Zemmour. » Récupéré par les électeurs de Trump eux-mêmes puis par l'équipe Trump, le slogan peu résonner comme un cri de révolte qui pourrait donner un formidable rythme et un atout considérable de communication à la campagne du candidat républicain. Philippe Grasset

Hillary Clinton's comment that half of Donald Trump's supporters are "racist, sexist, homophobic, xenophobic, Islamophobic"—a heck of a lot of phobia for anyone to lug around all day—puts back in play what will be seen as one of the 2016 campaign's defining forces: the revolt of the politically incorrect.

They may not live at the level of Victor Hugo's "Les Misérables," but it was only a matter of time before les déplorables—our own writhing mass of unheard Americans—rebelled against the intellectual elites' ancien régime of political correctness. (…) Mrs. Clinton's (…) dismissal, at Barbra Streisand's LGBT fundraiser, of uncounted millions of Americans as deplorables had the ring of genuine belief. Perhaps sensing that public knowledge of what she really thinks could be a political liability, Mrs. Clinton went on to describe "people who feel that the government has let them down, the economy has let them down, nobody cares about them . . . and they're just desperate for change." She is of course describing the people in Charles Murray's recent and compelling book on cultural disintegration among the working class, "Coming Apart: The State of White America, 1960-2010." This is indeed the bedrock of the broader Trump base. Mrs. Clinton is right that they feel the system has let them down. There is a legitimate argument over exactly when the rising digital economy started transferring income away from blue-collar workers and toward the "creative class" of Google and Facebook employees, no few of whom are smug progressives who think the landmass seen from business class between San Francisco and New York is pocked with deplorable, phobic Americans. Naturally, they'll vote for the status quo, which is Hillary. But in the eight years available to Barack Obama to do something about what rankles the lower-middle class—white, black or brown—the non-employed and underemployed grew. A lot of them will vote for Donald Trump because they want a radical mid-course correction. (…) The progressive Democrats, a wholly public-sector party, have disconnected from the realities of the private economy, which exists as a mysterious revenue-producing abstraction. Hillary's comments suggest they now see much of the population has a cultural and social abstraction. (…) Donald Trump's appeal, in part, is that he cracks back at progressive cultural condescension in utterly crude terms. Nativists exist, and the sky is still blue. But the overwhelming majority of these people aren't phobic about a modernizing America. They're fed up with the relentless, moral superciliousness of Hillary, the Obamas, progressive pundits and 19-year-old campus activists. Evangelicals at last week's Values Voter Summit said they'd look past Mr. Trump's personal résumé. This is the reason. It's not about him. The moral clarity that drove the original civil-rights movement or the women's movement has degenerated into a confused moral narcissism. (…) It is a mistake, though, to blame Hillary alone for that derisive remark. It's not just her. Hillary Clinton is the logical result of the Democratic Party's new, progressive algorithm—a set of strict social rules that drives politics and the culture to one point of view. (…) Her supporters say it's Donald Trump's rhetoric that is "divisive." Just so. But it's rich to hear them claim that their words and politics are "inclusive." So is the town dump. They have chopped American society into so many offendable identities that only a Yale freshman can name them all. If the Democrats lose behind Hillary Clinton, it will be in part because America's les déplorables decided enough of this is enough. Bret Stephens
Il n'y a évidemment que des coups à prendre – et ils sont nombreux – lorsque l'on dénonce les discours alarmistes qui visent l'Amérique de Donald J. Trump.  Mais, contrairement aux chiens de garde de BFMTV, la Rédaction de Marianne ne « dégage » pas ceux qui font entendre une voix dissonante (un cas de « délit d'opinion » s'y est produit ces jours derniers), ce qui est tout à l'honneur de Delphine Legouté et Renaud Dely, en particulier, mais également de TSF Jazz et Radio Nova qui ont régulièrement donné la parole à l'auteur de ce blog qui existe depuis mars 2012. La démocratie à l'épreuve du verbe est tout ce que ceux qui se revendiquent du camp des « progressistes » redoutent. L'histoire n'est pas nouvelle. Ceux qui se paient de mots et veulent censurer les mots des autres n'ont rien de différents de ces gens qui se rendent le dimanche à la messe et sont, pour quelques un, des salauds hors les murs de l'église ou trop souvent, des intolérants, et de ces autres dont Montaigne disait qu'ils «envoyent leur conscience au bordel, et tiennent leur contenance en règle». Le tout, c'est de conserver un langage agréable à l'oreille, d'afficher des convictions à vous faire croire que certains humains naissent naturellement purs de tout instinct grisâtre et de toute idée injuste et surtout, de défendre la belle idée plutôt que l'action qui elle, comporte toujours sa part de risque et d'échec. Les centaines de milliers de personnes qui viennent de défiler, aux Etats-Unis et à travers le monde, pour crier leur opposition voire leur haine contre le 45ème président des Etats-Unis sont tout à fait en droit de revendiquer, mais que revendiquent-ils au juste ? Ils disent s'opposer à la violence, et la chanteuse Madonna porte leur voix en disant qu'elle a pensé à « faire exploser la Maison-Blanche ». Ils veulent la paix dans le monde et ne se sont pas lancés dans les rues pour demander à « leur » président, Barack Obama, de traiter la montée de l'Etat Islamique et l'effondrement de la société syrienne avec le sérieux nécessaire. Ils demandent le respect vis-à-vis des immigrants mais on ne les a vu nulle part pour s'opposer à la plus grande vague d'expulsions jamais organisée et qui a marqué les deux mandats de Barack Obama, sans compter le travail des fameuses brigades « ICE », en charge de la traque des illégaux. On ne les a jamais vus, non plus, le long des 1300 kilomètres de mur déjà construit à la frontière avec le Mexique. Ils n'ont pas organisé de « sittings » géants pour demander la fin des exécutions capitales ou la grâce de Snowden, Manning ou Bregham. Pire : les « millennials », ainsi que l'on appelle les plus jeunes, ou les Afro-Américains, ont boudé les urnes et ont fait défaut à la candidate démocrate Hillary Clinton le 8 novembre. Ce sont les mêmes qui scandent « Trump n'est pas mon président ». Les femmes ? Offusquées, scandalisées par les propos et les attitudes de Trump, oui, mais leur colère date t-elle de son apparition dans le paysage politique américain ? Et cette colère, dont on ne sait plus ni les contours ni les messages tant ils sont portés par une rage totale, quelle est sa finalité, quelle mesure, quel changement, au juste, peuvent l'apaiser ? On ne sait plus. (…) Comment expliquer tant de frustrations, de colères, de fureurs, au terme de huit années de pouvoir d'un homme aussi célébré que Barack Obama ? On lui impute soudain mille législations et actions positives, alors que l'on dénonçait, hier encore, l'obstruction systématique des Républicains – élus, soit dit en passant, lors des élections intermédiaires – à toutes ses entreprises. On s'attaque à un système électoral que personne ne change depuis sa mise en place et que l'on ne dénonce pas quand il profite à son camp. On annonce une guerre totale contre l'administration Trump lorsqu'hier, on s'en prenait au manque d'esprit bipartite du camp républicain. Tout cela est incohérent. Toute cette séquence, en réalité, est de pure rhétorique. Certes, dans nos pays européens, à l'exception de l'Angleterre, où l'expression publique est bornée par des lois visant à contenir certains outrages, Donald J. Trump se serait exposé à de nombreuses plaintes sinon condamnations. Mais quelle ironie que de voir les Américains, qui vénèrent la liberté d'expression totale et méprisent nos entraves à cette liberté, s'émouvoir soudain des débordements de M. Trump. Le puritanisme américain a encore de beaux jours devant lui. C'est le même qui préside au sentiment de bien faire, d'exporter la démocratie dans le monde, tout en pilotant des drones meurtriers ou en fabriquant de futurs terroristes dans des geôles à Guantanamo ou ailleurs : l'important, c'est de faire les choses avec une bonne intention, de ne pas en parler et d'avoir bonne conscience, bref, de garder son exquise politesse. C'est au nom de cet état d'esprit que l'Amérique – et le monde – célèbre toujours un John Fitzgerald-Kennedy quand bien-même ce dernier fut le premier président autorisant fin août 1961, le premier usage du Napalm sur les paysans vietnamiens. Ce n'est pas une affaire strictement américaine : la France et son Indochine, avec son discours sur la patrie des droits de l'Homme et ses Sangatte, n'a pas de leçon à donner aux Yankees. Tout comme l'époque est au ricanement, comme le dit fort justement Alain Finkielkraut, tout comme l'époque est au souriant antisémitisme ou la célébration de tout ce qui est jeune, femme ou de couleur dans le camp des prétendu « progressistes », elle l'est au déni. Désormais, chaque action, chaque signature du nouveau président américain fera résonner le monde de colère et de condamnation, et la politique américaine va se résumer à un vaste complot visant à l'abattre et avec lui, son administration. C'est cela, désormais, la démocratie, la lutte des gens « bien » contre les méchants et les imbéciles. Le problème, c'est que les gens bien se plaignent de tout ce qu'ils on fait et n'ont pas fait lorsqu'ils en avaient le pouvoir, pour le reprocher à ceux auxquels il a été confié. Une histoire de fou. Stéphane Trano 

Le génie Trump a vu que la classe politique était un tigre de papier et que le pays était en colère. En prenant la main sur un parti politique américain majeur en tant qu'outsider, il a fait quelque chose de jamais vu, et c'est lui qui devrait gagner. Conrad Black
The furor of ignored Europeans against their union is not just directed against rich and powerful government elites per se, or against the flood of mostly young male migrants from the war-torn Middle East. The rage also arises from the hypocrisy of a governing elite that never seems to be subject to the ramifications of its own top-down policies. The bureaucratic class that runs Europe from Brussels and Strasbourg too often lectures European voters on climate change, immigration, politically correct attitudes about diversity, and the constant need for more bureaucracy, more regulations, and more redistributive taxes. But Euro-managers are able to navigate around their own injunctions, enjoying private schools for their children; generous public pay, retirement packages and perks; frequent carbon-spewing jet travel; homes in non-diverse neighborhoods; and profitable revolving-door careers between government and business. The Western elite classes, both professedly liberal and conservative, square the circle of their privilege with politically correct sermonizing. They romanticize the distant "other" — usually immigrants and minorities — while condescendingly lecturing the middle and working classes, often the losers in globalization, about their lack of sensitivity. On this side of the Atlantic, President Obama has developed a curious habit of talking down to Americans about their supposedly reactionary opposition to rampant immigration, affirmative action, multiculturalism, and political correctness — most notably in his caricatures of the purported "clingers" of Pennsylvania. Yet Obama seems uncomfortable when confronted with the prospect of living out what he envisions for others. He prefers golfing with celebrities to bowling. He vacations in tony Martha's Vineyard rather than returning home to his Chicago mansion. His travel entourage is royal and hardly green. And he insists on private prep schools for his children rather than enrolling them in the public schools of Washington, D.C., whose educators he so often shields from long-needed reform. In similar fashion, grandees such as Facebook billionaire Mark Zuckerberg and Univision anchorman Jorge Ramos do not live what they profess. They often lecture supposedly less sophisticated Americans on their backward opposition to illegal immigration. But both live in communities segregated from those they champion in the abstract. The Clintons often pontificate about "fairness" but somehow managed to amass a personal fortune of more than $100 million by speaking to and lobbying banks, Wall Street profiteers, and foreign entities. The pay-to-play rich were willing to brush aside the insincere, pro forma social-justice talk of the Clintons and reward Hillary and Bill with obscene fees that would presumably result in lucrative government attention. Consider the recent Orlando tragedy for more of the same paradoxes. The terrorist killer, Omar Mateen — a registered Democrat, proud radical Muslim, and occasional patron of gay dating sites — murdered 49 people and wounded even more in a gay nightclub. His profile and motive certainly did not fit the elite narrative that unsophisticated right-wing American gun owners were responsible because of their support for gun rights. No matter. The Obama administration and much of the media refused to attribute the horror in Orlando to Mateen's self-confessed radical Islamist agenda. Instead, they blamed the shooter's semi-automatic .223 caliber rifle and a purported climate of hate toward gays. (…) In sum, elites ignored the likely causes of the Orlando shooting: the appeal of ISIS-generated hatred to some young, second-generation radical Muslim men living in Western societies, and the politically correct inability of Western authorities to short-circuit that clear-cut connection. Instead, the establishment all but blamed Middle America for supposedly being anti-gay and pro-gun. In both the U.S. and Britain, such politically correct hypocrisy is superimposed on highly regulated, highly taxed, and highly governmentalized economies that are becoming ossified and stagnant. The tax-paying middle classes, who lack the romance of the poor and the connections of the elite, have become convenient whipping boys of both in order to leverage more government social programs and to assuage the guilt of the elites who have no desire to live out their utopian theories in the flesh. Victor Davis Hanson
Barack Obama is the Dr. Frankenstein of the supposed Trump monster. If a charismatic, Ivy League-educated, landmark president who entered office with unprecedented goodwill and both houses of Congress on his side could manage to wreck the Democratic Party while turning off 52 percent of the country, then many voters feel that a billionaire New York dealmaker could hardly do worse. If Obama had ruled from the center, dealt with the debt, addressed radical Islamic terrorism, dropped the politically correct euphemisms and pushed tax and entitlement reform rather than Obamacare, Trump might have little traction. A boring Hillary Clinton and a staid Jeb Bush would most likely be replaying the 1992 election between Bill Clinton and George H.W. Bush — with Trump as a watered-down version of third-party outsider Ross Perot. But America is in much worse shape than in 1992. And Obama has proved a far more divisive and incompetent president than George H.W. Bush. Little is more loathed by a majority of Americans than sanctimonious PC gobbledygook and its disciples in the media. And Trump claims to be PC's symbolic antithesis. Making Machiavellian Mexico pay for a border fence or ejecting rude and interrupting Univision anchor Jorge Ramos from a press conference is no more absurd than allowing more than 300 sanctuary cities to ignore federal law by sheltering undocumented immigrants. Putting a hold on the immigration of Middle Eastern refugees is no more illiberal than welcoming into American communities tens of thousands of unvetted foreign nationals from terrorist-ridden Syria. In terms of messaging, is Trump's crude bombast any more radical than Obama's teleprompted scripts? Trump's ridiculous view of Russian President Vladimir Putin as a sort of « Art of the Deal » geostrategic partner is no more silly than Obama insulting Putin as Russia gobbles up former Soviet republics with impunity. Obama callously dubbed his own grandmother a « typical white person, » introduced the nation to the racist and anti-Semitic rantings of the Rev. Jeremiah Wright, and petulantly wrote off small-town Pennsylvanians as near-Neanderthal « clingers. » Did Obama lower the bar for Trump's disparagements? Certainly, Obama peddled a slogan, « hope and change, » that was as empty as Trump's « make America great again. » (…) How does the establishment derail an out-of-control train for whom there are no gaffes, who has no fear of The New York Times, who offers no apologies for speaking what much of the country thinks — and who apparently needs neither money from Republicans nor politically correct approval from Democrats? Victor Davis Hanson
In another eerie ditto of his infamous 2008 attack on the supposedly intolerant Pennsylvania "clingers," Obama returned to his theme that ignorant Americans "typically" become xenophobic and racist: "Typically, when people feel stressed, they turn on others who don't look like them." ("Typically" is not a good Obama word to use in the context of racial relations, since he once dubbed his own grandmother a "typical white person.") Too often Obama has gratuitously aroused racial animosities with inflammatory rhetoric such as "punish our enemies," or injected himself into the middle of hot-button controversies like the Trayvon Martin case, the Henry Louis Gates melodrama, and the "hands up, don't shoot" Ferguson mayhem. Most recently, Obama seemed to praise backup 49ers quarterback and multimillionaire Colin Kaepernick for his refusal to stand during the National Anthem, empathizing with Kaepernick's claims of endemic American racism. (…) Even presidential nominee and former Secretary of State Hillary Clinton is not really defending the Obama administration's past "red line" in Syria, the "reset" with Vladimir Putin's Russia, the bombing of Libya, the Benghazi tragedy, the euphemistic rebranding of Islamic terrorism as mere "violent extremism," the abrupt pullout from (and subsequent collapse of) Iraq, or the Iran nuclear deal that so far seems to have made the theocracy both rich and emboldened. (…) Racial relations in this country seem as bad as they have been in a half-century. (…) Following the Clinton model, a post-presidential Obama will no doubt garner huge fees as a "citizen of the world" — squaring the circle of becoming fabulously rich while offering sharp criticism of the cultural landscape of the capitalist West on everything from sports controversies to pending criminal trials. What, then, is the presidential legacy of Barack Obama? It will not be found in either foreign- or domestic-policy accomplishment. More likely, he will be viewed as an outspoken progressive who left office loudly in the same manner that he entered it — as a critic of the culture and country in which he has thrived. But there may be another, unspoken legacy of Obama, and it is his creation of the candidacy of Donald J. Trump. Trump is running as an angry populist, fueled by the promise that whatever supposed elites such as Obama have done to the country, he will largely undo. Obama's only legacy seems to be that "hope and change" begat "make America great again." Victor Davis Hanson
After the election, in liberal, urban America, one often heard Trump's win described as the revenge of the yahoos in flyover country, fueled by their angry "isms" and "ias": racism, anti-Semitism, nativism, homophobia, Islamophobia, and so on. Many liberals consoled themselves that Trump's victory was the last hurrah of bigoted, Republican white America, soon to be swept away by vast forces beyond its control, such as global migration and the cultural transformation of America into something far from the Founders' vision. As insurance, though, furious progressives also renewed calls to abolish the Electoral College, advocating for a constitutional amendment that would turn presidential elections into national plebiscites. Direct presidential voting would shift power to heavily urbanized areas—why waste time trying to reach more dispersed voters in less populated rural states?—and thus institutionalize the greater economic and cultural clout of the metropolitan blue-chip universities, the big banks, Wall Street, Silicon Valley, New York–Washington media, and Hollywood, Democrat-voting all. Barack Obama's two electoral victories deluded the Democrats into thinking that it was politically wise to jettison their old blue-collar appeal to the working classes, mostly living outside the cities these days, in favor of an identity politics of a new multicultural, urban America. Yet Trump's success represented more than simply a triumph of rural whites over multiracial urbanites. More ominously for liberals, it also suggested that a growing minority of blacks and Hispanics might be sympathetic with a "country" mind-set that rejects urban progressive elitism. For some minorities, sincerity and directness might be preferable to sloganeering by wealthy white urban progressives, who often seem more worried about assuaging their own guilt than about genuinely understanding people of different colors. Trump's election underscored two other liberal miscalculations. First, Obama's progressive agenda and cultural elitism prevailed not because of their ideological merits, as liberals believed, but because of his great appeal to urban minorities in 2008 and 2012, who voted in solidarity for the youthful first African-American president in numbers never seen before. That fealty wasn't automatically transferable to liberal white candidates, including the multimillionaire 69-year-old Hillary Clinton. Obama had previously lost most of America's red counties, but not by enough to keep him from winning two presidential elections, with sizable urban populations in Wisconsin, Michigan, Ohio, and Pennsylvania turning out to vote for the most left-wing presidential candidate since George McGovern. Second, rural America hadn't fully raised its electoral head in anger in 2008 and 2012 because it didn't see the Republican antidotes to Obama's progressive internationalism as much better than the original malady. Socially moderate establishmentarians like the open-borders-supporting John McCain or wealthy businessman Mitt Romney didn't resonate with the spirit of rural America—at least not enough to persuade millions to come to the polls instead of sitting the elections out. Trump connected with these rural voters with far greater success than liberals anticipated. Urban minorities failed in 2016 to vote en bloc, in their Obama-level numbers; and rural Americans, enthused by Trump, increased their turnout, so that even a shrinking American countryside still had enough clout to win. What is insufficiently understood is why a hurting rural America favored the urban, superrich Trump in 2016 and, more generally, tends to vote more conservative than liberal. Ostensibly, the answer is clear: an embittered red-state America has found itself left behind by elite-driven globalization, battered by unfettered trade and high-tech dislocations in the economy. In some of the most despairing counties, rural life has become a mirror image of the inner city, ravaged by drug use, criminality, and hopelessness. Yet if muscular work has seen a decline in its relative monetary worth, it has not necessarily lost its importance. After all, the elite in Washington and Menlo Park appreciate the fresh grapes and arugula that they purchase at Whole Foods. Someone mined the granite used in their expensive kitchen counters and cut the timber for their hardwood floors. The fuel in their hybrid cars continues to come from refined oil. The city remains as dependent on this elemental stuff—typically produced outside the suburbs and cities—as it always was. The two Palo Altoans at Starbucks might have forgotten that their overpriced homes included two-by-fours, circuit breakers, and four-inch sewer pipes, but somebody somewhere made those things and brought them into their world. In the twenty-first century, though, the exploitation of natural resources and the manufacturing of products are more easily outsourced than are the arts of finance, insurance, investments, higher education, entertainment, popular culture, and high technology, immaterial sectors typically pursued within metropolitan contexts and supercharged by the demands of increasingly affluent global consumers. A vast government sector, mostly urban, is likewise largely impervious to the leveling effects of a globalized economy, even as its exorbitant cost and extended regulatory reach make the outsourcing of material production more likely. Asian steel may have devastated Youngstown, but Chinese dumping had no immediate effect on the flourishing government enclaves in Washington, Maryland, and Virginia, filled with well-paid knowledge workers. Globalization, big government, and metastasizing regulations have enriched the American coasts, in other words, while damaging much of the nation's interior. Few major political leaders before Trump seemed to care. He hammered home the point that elites rarely experienced the negative consequences of their own ideologies. New York Times columnists celebrating a "flat" world have yet to find themselves flattened by Chinese writers willing to write for a fraction of their per-word rate. Tenured Harvard professors hymning praise to global progressive culture don't suddenly discover their positions drawn and quartered into four part-time lecturer positions. And senators and bureaucrats in Washington face no risk of having their roles usurped by low-wage Vietnamese politicians. Trump quickly discovered that millions of Americans were irate that the costs and benefits of our new economic reality were so unevenly distributed. As the nation became more urban and its wealth soared, the old Democratic commitment from the Roosevelt era to much of rural America—construction of water projects, rail, highways, land banks, and universities; deference to traditional values; and Grapes of Wrath–like empathy—has largely been forgotten. A confident, upbeat urban America promoted its ever more radical culture without worrying much about its effects on a mostly distant and silent small-town other. In 2008, gay marriage and women in combat were opposed, at least rhetorically, by both Barack Obama and Hillary Clinton in their respective presidential campaigns. By 2016, mere skepticism on these issues was viewed by urban elites as reactionary ignorance. In other words, it was bad enough that rural America was getting left behind economically; adding insult to injury, elite America (which is Democrat America) openly caricatured rural citizens' traditional views and tried to force its own values on them. Lena Dunham's loud sexual politics and Beyoncé's uncritical evocation of the Black Panthers resonated in blue cities and on the coasts, not in the heartland. Only in today's bifurcated America could billion-dollar sports conglomerates fail to sense that second-string San Francisco 49ers quarterback Colin Kaepernick's protests of the national anthem would turn off a sizable percentage of the National Football League's viewing audience, which is disproportionately conservative and middle American. These cultural themes, too, Trump addressed forcefully. In classical literature, patriotism and civic militarism were always closely linked with farming and country life. In the twenty-first century, this is still true. The incubator of the U.S. officer corps is red-state America. "Make America Great Again" reverberated in the pro-military countryside because it emphasized an exceptionalism at odds with the Left's embrace of global values. Residents in Indiana and Wisconsin were unimpressed with the Democrats' growing embrace of European-style "soft power," socialism, and statism—all the more so in an age of European constitutional, financial, and immigration sclerosis. Trump's slogan unabashedly expressed American individualism; Clinton's "Stronger Together" gave off a whiff of European socialist solidarity. Trump, the billionaire Manhattanite wheeler-dealer, made an unlikely agrarian, true; but he came across during his presidential run as a clear advocate of old-style material jobs, praising vocational training and clearly enjoying his encounters with middle-American homemakers, welders, and carpenters. Trump talked more on the campaign about those who built his hotels than those who financed them. He could point to the fact that he made stuff, unlike Clinton, who got rich without any obvious profession other than leveraging her office. Give the thrice-married, orange-tanned, and dyed-haired Trump credit for his political savvy in promising to restore to the dispossessed of the Rust Belt their old jobs and to give back to farmers their diverted irrigation water, and for assuring small towns that arriving new Americans henceforth would be legal—and that, over time, they would become similar to their hosts in language, custom, and behavior. Ironically, part of Trump's attraction for red-state America was his posture as a coastal-elite insider—but now enlisted on the side of the rustics. A guy who had built hotels all over the world, and understood how much money was made and lost through foreign investment, offered to put such expertise in the service of the heartland—against the supposed currency devaluers, trade cheats, and freeloaders of Europe, China, and Japan. Trump's appeal to the interior had partly to do with his politically incorrect forthrightness. Each time Trump supposedly blundered in attacking a sacred cow—sloppily deprecating national hero John McCain's wartime captivity or nastily attacking Fox superstar Megyn Kelly for her supposed unfairness—the coastal media wrote him off as a vulgar loser. Not Trump's base. Seventy-five percent of his supporters polled that his crude pronouncements didn't bother them. As one grape farmer told me after the Access Hollywood hot-mike recordings of Trump making sexually vulgar remarks had come to light, "Who cares? I'd take Trump on his worst day better than Hillary on her best." Apparently red-state America was so sick of empty word-mongering that it appreciated Trump's candor, even when it was sometimes inaccurate, crude, or cruel. Outside California and New York City and other elite blue areas, for example, foreigners who sneak into the country and reside here illegally are still "illegal aliens," not "undocumented migrants," a blue-state term that masks the truth of their actions. Trump's Queens accent and frequent use of superlatives—"tremendous," "fantastic," "awesome"—weren't viewed by red-state America as a sign of an impoverished vocabulary but proof that a few blunt words can capture reality. To the rural mind, verbal gymnastics reveal dishonest politicians, biased journalists, and conniving bureaucrats, who must hide what they really do and who they really are. Think of the arrogant condescension of Jonathan Gruber, one of the architects of the disastrous Obamacare law, who admitted that the bill was written deliberately in a "tortured way" to mislead the "stupid" American voter. To paraphrase Cicero on his preference for the direct Plato over the obscure Pythagoreans, rural Americans would have preferred to be wrong with the blunt-talking Trump than to be right with the mush-mouthed Hillary Clinton. One reason that Trump may have outperformed both McCain and Romney with minority voters was that they appreciated how much the way he spoke rankled condescending white urban liberals. Poorer, less cosmopolitan, rural people can also experience a sense of inferiority when they venture into the city, unlike smug urbanites visiting red-state America. The rural folk expect to be seen as deplorables, irredeemables, and clingers by city folk. My countryside neighbors do not wish to hear anything about Stanford University, where I work—except if by chance I note that Stanford people tend to be condescending and pompous, confirming my neighbors' suspicions about city dwellers. And just as the urban poor have always had their tribunes, so, too, have rural residents flocked to an Andrew Jackson or a William Jennings Bryan, politicians who enjoyed getting back at the urban classes for perceived slights. The more Trump drew the hatred of PBS, NPR, ABC, NBC, CBS, the elite press, the universities, the foundations, and Hollywood, the more he triumphed in red-state America. Indeed, one irony of the 2016 election is that identity politics became a lethal boomerang for progressives. After years of seeing America reduced to a binary universe, with culpable white Christian males encircled by ascendant noble minorities, gays, feminists, and atheists—usually led by courageous white-male progressive crusaders—red-state America decided that two could play the identity-politics game. In 2016, rural folk did silently in the voting booth what urban America had done to them so publicly in countless sitcoms, movies, and political campaigns. In sum, Donald Trump captured the twenty-first-century malaise of a rural America left behind by globalized coastal elites and largely ignored by the establishments of both political parties. Central to Trump's electoral success, too, were age-old rural habits and values that tend to make the interior broadly conservative. That a New York billionaire almost alone grasped how red-state America truly thought, talked, and acted, and adjusted his message and style accordingly, will remain one of the astonishing ironies of American political history. Victor Davis Hanson
After his Nevada win, Donald Trump preened and affectionately recounted the numbers that added up to his huge victory. "We won with young. We won with old. We won with highly educated. We won with poorly educated. I love the poorly educated, » he said. My Twitter timeline was splattered as suddenly and thoroughly as a windshield in a Florida downpour. That last sentence was repeated in laughing disbelief. What does Trump think about the poorly educated? A man who might be President just said "I love the poorly educated." "I love the poorly educated" is the drop-the-mic ending to America's superpower status. I grew up in New York, and have been unhappily acquainted with Trump's brand of glitzy racist megalomania for decades. This campaign has distilled and revealed him: liar, misogynist, ableist, xenophobe, wannabe war-mongerer. As the man himself might say, Trump is a terrible candidate and person! Sad! But please, stop the titters and eyerolls about his "poorly educated" line. First, his fans – the Trumpkins – already believe Democrats and journalists are snotty elitists. In this case, the cut-ups are proving the Trumpkins right. What is funny about saying "I love the poorly educated"? Of course Trump loves poorly educated voters. Who else would be asinine enough to buy his tripe? But some of the same people who have been laughing because he said he loves the poorly educated also denounce voter ID laws. Why? They disenfranchise Americans who are disproportionately lower-income workers, minorities — and poorly educated. They denounce the laws because they believe — rightly — that an education is neither necessary nor sufficient for thoughtful democratic participation. Of course, "I love the poorly educated" is ostensibly funny because what politician actually says something like that? Any politician who thought for half a second before speaking would say, "I'm grateful for the support of working class Americans." But Trump does not tiptoe. That is at least partly because, unlike many of the candidates and most of the media, he actually loves the poorly educated. He is not laughing at them or ignoring them or wishing them away or informing them that they are wrong about what is really best for them. Trumpkins say they love how Trump speaks his mind. Maybe some admire his outspoken bigotry. But maybe others also like the way he talks about them. Straightforwardly. Acceptingly. As a friend tweet-stormed, "If you self-identify as undereducated and feel bad about it…the guy 'loves' you (after a fashion) and wants to be greedy for you." A February 24th poll shows Trump beating Hillary Clinton by 46 to 40 among voters without college degrees in the must-win state of Ohio. Meanwhile, the highly educated scratch their heads and cannot understand why he is not imploding like they keep predicting. Elizabeth Priciutto

Attention: une faute peut en cacher une autre!
Intelligence avec l'ennemi, parties fines avec prostituées, racisme, sexisme, homophobie, fascisme, populisme, folie …
Y a-t-il une accusation qui n'aura pas été formulée contre le président Trump ?
Détournement de fonds publics, recel et complicité d'abus de biens sociaux, manquement aux obligations de déclaration à la Haute Autorité pour la transparence de la vie publique, trafic de décorations, prêts, costumes de luxe …
Ou de ce côté-ci de l'Atlantique une révélation qui n'aura pas été faite contre celui qui dans au moins 30 départements différents …
Vient de remporter haut la main – qui en parle ? – le premier tour du nombre de parrainages  ?
Pendant que c'est désormais du côté des dollars de parangons de la liberté et accessoirement fourriers du terrorisme comme le Qatar …
Que nos nouveaux résistants et croisés de l'antifascisme nous envoient désormais leurs missives anti-Trump …
A l'heure où pour disqualifier le choix du peuple …
Tous les moyens semblent désormais bons pour nos médias et nos juges …
Comment s'étonner que des médias qui nous avaient vendu comme intellectuel …
Un ancien rédacteur en chef de la Harvard Review of Law avec aucun article de fond à son nom …
Ou l'auteur supposé de deux livres écrits on ne sait à combien de mains et dédiés à sa seule propre gloire …
S'attaquent à présent à l'utilisation par son successeur, pour les court-circuiter, de l'équivalent actuel des causeries au coin du feu de Roosevelt ou de Reagan …
Et notamment, énième preuve supplémentaire de son impéritie, à son rapport si particulier avec l'orthographe ?
Mais surtout au-delà d'un mode de communication qui avec ses contraintes de 140 signes, ses mots nécessairement tronqués, ses acronymes et ses néologismes …
Fait le désespoir de tant d'enseignants et de parents …
Et qui se révèle être à 50% de plus que Facebook et 25% que Google …
Le média social le plus touché, Elysée ou Ministère de l'éducation français compris, par les coquilles ou fautes d'orthographe …
Comment ne pas comprendre du coup la véritable hargne de nos nouveaux censeurs …
Face à un véritable animal politique qui non content de la proclamer à chacune de ses diatribes …
Incarne face à la rhétorique vide comme au politiquement correct sermonneur et méprisant de ses adversaires …
Et jusque dans ses mauvaises manières et la pauvreté dévastatrice de son langage …
La proximité avec les plus démunis de ses électeurs aussi bien culturellement qu'économiquement via la véritable « reprolétarisation » imposée par la mondialisation …
Qu'enfermés  dans leur ghetto culturel ses prédécesseurs avaient depuis si longtemps perdue ?
Voices
Donald Trump's 'I love the poorly educated' isn't actually a bad mantra – and attacking him for it is wrong
Trump actually does love the poorly educated. He is not laughing at them or ignoring them or wishing them away or informing them that they are wrong about what is really best for them
Elizabeth Picciuto
The Independent
25 February 2016
After his Nevada win, Donald Trump preened and affectionately recounted the numbers that added up to his huge victory. "We won with young. We won with old. We won with highly educated. We won with poorly educated. I love the poorly educated, » he said.
My Twitter timeline was splattered as suddenly and thoroughly as a windshield in a Florida downpour. That last sentence was repeated in laughing disbelief.
What does Trump think about the poorly educated?
A man who might be President just said "I love the poorly educated."
"I love the poorly educated" is the drop-the-mic ending to America's superpower status.

I grew up in New York, and have been unhappily acquainted with Trump's brand of glitzy racist megalomania for decades. This campaign has distilled and revealed him: liar, misogynist, ableist, xenophobe, wannabe war-mongerer. As the man himself might say, Trump is a terrible candidate and person! Sad!
But please, stop the titters and eyerolls about his "poorly educated" line.
First, his fans – the Trumpkins – already believe Democrats and journalists are snotty elitists. In this case, the cut-ups are proving the Trumpkins right.
What is funny about saying "I love the poorly educated"? Of course Trump loves poorly educated voters. Who else would be asinine enough to buy his tripe?
But some of the same people who have been laughing because he said he loves the poorly educated also denounce voter ID laws. Why? They disenfranchise Americans who are disproportionately lower-income workers, minorities — and poorly educated.
They denounce the laws because they believe — rightly — that an education is neither necessary nor sufficient for thoughtful democratic participation.
Of course, "I love the poorly educated" is ostensibly funny because what politician actually says something like that? Any politician who thought for half a second before speaking would say, "I'm grateful for the support of working class Americans."
But Trump does not tiptoe. That is at least partly because, unlike many of the candidates and most of the media, he actually loves the poorly educated.
He is not laughing at them or ignoring them or wishing them away or informing them that they are wrong about what is really best for them.
Trumpkins say they love how Trump speaks his mind. Maybe some admire his outspoken bigotry. But maybe others also like the way he talks about them. Straightforwardly. Acceptingly.
As a friend tweet-stormed, "If you self-identify as undereducated and feel bad about it…the guy 'loves' you (after a fashion) and wants to be greedy for you."
A February 24th poll shows Trump beating Hillary Clinton by 46 to 40 among voters without college degrees in the must-win state of Ohio.
Meanwhile, the highly educated scratch their heads and cannot understand why he is not imploding like they keep predicting.
Voir aussi:
The strangest line from Donald Trump's victory speech: "I love the poorly educated"
Libby Nelson
Vox
Feb 24, 2016
Donald Trump loves « the poorly educated. » And they love him back.
In his victory speech after clinching the Nevada caucuses, Trump rattled off the groups he won in the Silver State. But his supporters without a college degree got a special note of praise:
« We won the evangelicals, » Trump said. « We won with young. We won with old. We won with highly educated. We won with poorly educated — I love the poorly educated. We're the smartest people, we're the most loyal people. »
It's bizarre that Trump, who has bragged about his MBA from the University of Pennsylvania, is now lumping himself in with the « poorly educated. »
But it's true that the more educated Republicans are, the less likely they are to warm up to him. According to exit polls, Trump won Nevada voters without a high school degree with 57 percent of the vote. He won voters with some college with 49 percent of the vote. He won college graduates with 42 percent of the vote. And among those with a postgraduate degree, his share was only 37 percent.
Voir également:
Everyone's favorite apricot demagogue won big in another state last night. Donald Trump carried Nevada with the support of 45 percent of caucus-goers, 22 points clear of his nearest rival, Marco Rubio. But the specifics of the win—that is, who exactly came out to support him—were just as remarkable. Trump being Trump, he said as much in his victory speech:
« We won the Evangelicals. We won with young. We won with old. We won with highly educated. We won with poorly educated. I love the poorly educated. We're the smartest people, we're the most loyal people. »
Now, it's obviously unusual to call attention to your supporters' low level of education—it's normally a seen-not-heard situation. But Trump, who graduated from an Ivy League school, also seems to be putting himself in this group. We're smart and loyal, he says to his kindred spirits, We're just proud Americans with common sense. Trump also has plenty of reason to love the less-educated: the half of voters without a college degree he took in Nevada (including 57 percent of those with no college at all) was right in line with what he's been doing across the country.
He also had time to gloat about his (admittedly remarkable) support among Hispanics. He took 45 percent of the Hispanic vote in Nevada, about what Ted Cruz and Marco Rubio got combined.
All this is to say that, while identity politics plays a part—South Carolina showed that he has the white supremacist vote locked up—there's clearly more than that to the Trump phenomenon. After all, he also won among the well-educated last night.
Voir de plus:
Trump, Working-Class Zero
Maureen Dowd
The New York Times
MARCH 18, 2017
It's not unknown, of course.
In ancient Egypt, there was the symbol of the ouroboros, the snake that eats its own tail. Nerve-addled octopuses sometimes consume their own arms.
But we've never watched a president so hungrily devour his own presidency.
Soon, there won't be anything left except the sound of people snickering.
Consumed by his paranoia about the deep state, Donald Trump has disappeared into the fog of his own conspiracy theories. As he rages in the storm, Lear-like, howling about poisonous fake news, he is spewing poisonous fake news.
The Hirshhorn has a sold-out exhibit of Yayoi Kusama's stunning infinity mirror rooms. But they are nothing compared to the infinity mirror room of Trump's mind, now on display a mile and a half away at the White House.
Many voters who took a chance on the real estate mogul and reality TV star hoped he would grow more mature and centered when confronted with the august surroundings of the White House and immensity of the job. But instead of improving in office, Trump is regressing. The office has not changed Trump. Trump has changed the office.
He trusts his beliefs more than facts. So many secrets, so many plots, so many shards of gossip swirl in his head, there seems to be no room for reality.
His grandiosity, insularity and scamming have persuaded Trump to believe he can mold his own world. His distrust of the deep state, elites and eggheads — an insecurity inflamed by Steve Bannon — makes it hard for him to trust his own government, or his own government's facts.
Angela Merkel did not get a surprise shoulder squeeze from this president. He ignored the chancellor's request to shake hands. But Merkel still looked jittery.
Many who meet with Trump — from foreign leaders to our own lawmakers — look like cats on a hot stove. One Democratic senator told me he was determined not to smile in a session with the president in case Trump suddenly said something offensive or batty while the senator was politely grinning for the cameras.
Everyone is tiptoeing around the mad king in his gilded, sparse court. His lieges make fools of themselves trying to justify or interpret his transcendentally nutty tweets and willfully ignorant comments.
For two weeks, he has refused to back off his unhinged claim that his predecessor tapped his phones during the election.
According to CNN's Jeff Zeleny, Trump got furious reading a Breitbart report that regurgitated a theory by conservative radio host Mark Levin that Barack Obama and his allies had staged a "silent coup."
It is surpassingly strange that the president would not simply pick up the phone and call his intelligence chiefs before spitting out an inflammatory accusation with no proof, just as it was bizarre that Trump shrugged off the regular intelligence briefings after he was elected. He preferred living in his own warped world.
Sean Spicer offered a shaky Jenga tower of media citations to back up the president, including the contention of Fox's Judge Andrew Napolitano that Obama had used GCHQ, a British intelligence agency, to spy on Trump.
In a rare public statement, the GCHQ called the claim "utterly ridiculous."
Fox News also demurred, with Shepard Smith saying it "knows of no evidence of any kind that the now president of the United States was surveilled at any time, in any way. Full stop."
Even Devin Nunes, chairman of the House Intelligence Committee, gave up the Sisyphean effort of defending Trump's tripe. He said that if you took Trump's remarks "literally" — as we expect to do with our commander in chief's words — "clearly the president was wrong."
Asked by a German reporter about GCHQ rubbishing the wiretapping claims, Trump was dismissive. "All we did was quote a certain very talented legal mind," he said. "You should be talking to Fox."
Trump's aversion to veracity is exacerbated by his inner circle of sycophants and conspiracists. As far as Trump is concerned, his budget and health care plan are going great, when everyone else in Washington is averting their eyes.
In a Wall Street Journal piece, Bannon said his anti-elitist worldview was shaped by his father's decision during the financial crisis in 2008 to sell his AT&T stock, at a loss of more than $100,000. Marty Bannon, who started at AT&T as a lineman, got spooked by Jim Cramer's advice on the "Today" show to take "whatever money you may need for the next five years" out of the market.
Even though one son, Steve, was a banker at Goldman Sachs and another son had an investment background, Marty Bannon did not consult them or a financial adviser until the sale was completed.
He preferred, like Trump, to get crucial information from TV pundits and eschew the experts in his own circle who might have told him that selling during panics is not wise and that having one stock in an undiversified portfolio is not smart.
"Everything since then has come from there, all of it," Steve Bannon, the multimillionaire architect of Trumpworld, said of the stock sale. So, essentially, because Bannon's father made a bad, hurried financial decision based on watching TV, we now have to slash Meals on Wheels, Big Bird, the arts, after-school programs, health insurance, immigration from Muslim countries, climate change research, diplomats and taxes for the rich.
Maybe if these elites-pretending-not-to-be-elites deigned to talk to some knowledgeable elites in government once in a while, they might emerge from the distorted, belligerent, dystopian, Darwinian, cracked-mirror world that is alarming Americans and our allies. They might even stop ripping off the working-class people they claim to be helping.
Voir de même:
I was in Doha last week, and a Sudanese woman approached me to explain how desperate she felt about the fact that her son, at school in the United States, now felt unable to travel to see her. He was afraid that if he left he might not be allowed back. In lots of small and not-so-small ways, the mean, militaristic mind of the American president has come to inhabit people's lives.
If a budget can be a portrait of a soul, then this president's is arid and shriveled. It is filled with contempt for the needy. Here is a man dismissive of the arts, the environment, the humanities, diplomacy, peacekeeping, science, public education and civilian national service — in short, civilization itself. If he could defund goodness he would. Charity is also ripe for the ax. Creativity needs skewering. Giving is weakness. All that counts are acquisitive instinct, walls and bans (of the kind that keep mother and son apart), displays of power, and the frisson of selective cruelty that lay behind his successful TV show. Everyone is now Donald Trump's apprentice, at least as he sees it.
In Doha, at The New York Times "Art for Tomorrow" conference, I met the artist Christo. This was before rumors that Trump wants to cut all funding to the National Endowment for the Arts were confirmed. It's been a particularly hard couple of months for Christo. He knows all about walls. He knows all about being a refugee.
As a young man in the 1950s, he fled communist Bulgaria, then part of the totalitarian Soviet imperium. When the Berlin Wall went up in 1961, he made a wall of oil barrels on the Rue Visconti in Paris. From 1964 to 1967, he lived as an illegal immigrant in New York with his late wife Jeanne-Claude, before getting a green card and becoming a citizen in 1973. By the time America opened its arms to him, he had been stateless for 17 years. Freedom meant something. The United States was more than a country; it was an idea.
For more than two decades, Christo has labored to create a work called "Over the River" in Colorado — a canopy of silvery fabric that was to have been suspended for two weeks over 42 miles of the Arkansas River, a flowing, billowing liquid mirror. But now, after spending some $15 million, he has walked away in perhaps the biggest single act of protest by an artist against Donald Trump. Much of the land is federally owned. As Christo explained to my colleague Randy Kennedy earlier this year, "The federal government is our landlord. They own the land. I can't do a project that benefits this landlord."
In Doha, Christo, who is 81, refused to sit down. Defiance is part of him. To live freely is an immense act of will. For an hour he spoke with irrepressible vitality. Eat little, he counseled, in order to channel energy (in his case yogurt with garlic for breakfast, then nothing until dinner). Decide what you want — that is the most difficult part — and then apply yourself without compromise to that end.
Last year he made another work involving water, called "The Floating Piers," at Lake Iseo in northern Italy. On top of 220,000 interlocking polyethylene cubes, Christo installed a glowing unfenced walkway connecting an island in the lake with the shore. Over a couple of weeks about 1.2 million visitors came. They wanted to walk on water. It's possible to walk on water. In times of oppression freedom is also a fierce act of the imagination.
Christo, born Christo Vladimirov Javacheff in communist Bulgaria, wrapped the Reichstag in 1995, six years after the fall of the Berlin Wall. The Reichstag had burned in 1933, an act of arson three Bulgarian communists were accused of orchestrating. Hitler used the fire, whose cause is still disputed, to impose despotic terror. Christo's wrapping preceded by a few years the return of the parliament of a free, united Germany to the building that had stood adjacent to the dividing line of Europe. A Bulgarian freed by America declared his liberty — the ultimate freedom of the imagination — at Europe's pivot. That is worth recalling today.
The only use I can imagine for Trump's grotesque wall is for Christo to wrap it and set us free.
Voir encore:
RTL
18/12/2016
Le président élu Donald Trump a fait savoir son mécontentement après la saisie par Pékin d'une sonde de la marine américaine en mer de Chine méridionale, twittant un message avec une grosse faute qui a fait les délices des réseaux sociaux samedi 17 décembre. « La Chine vole un drone de recherche de la marine américaine dans les eaux internationales – le sort de l'eau et le ramène en Chine dans un acte sans président » (sic), a-t-il écrit de bon matin sur le réseau social, en voulant clairement évoquer un acte « sans précédent ». Dans la version anglaise le mot utilisé, « unpresidented » (au lieu de « unprecedented ») est très vite devenu le mot clé le plus en vogue sur Twitter aux États-Unis.
Le milliardaire populiste a corrigé son erreur en effaçant le tweet erroné et en le renvoyant, cette fois sans coquille, une heure après son message initial. L'auteure britannique J.K. Rowling, auteure de la série des Harry Potter s'amusait de ce message, pointant « l'efficacité non présidentielle » de Donald Trump. Le magnat de l'immobilier avait déjà fait une petite faute d'orthographe dans un précédent tweet jeudi, un message qu'il avait déjà corrigé peu après.
Ses supporteurs le défendaient, estimant qu'au lieu de se moquer de ces petites erreurs les gens feraient mieux de s'intéresser aux vrais problèmes soulevés par les messages du président élu. Au-delà de cette erreur, Donald Trump voulait en effet surtout souligner son mécontentement vis à vis de la Chine, dont un navire s'est emparé jeudi soir d'un drone sous-marin appartenant à la marine américaine, qui évoluait à quelque 50 milles marins au large des Philippines, selon le Pentagone. Toutefois, la Chine a assuré que le drone serait rendu aux États-Unis.
INTERNATIONAL – Entre Donald Trump et Twitter, c'est une histoire sans fin. Le président élu des Etats-Unis communique en effet très souvent en 140 caractères, notamment pour répondre à ses détracteurs. Mais sur Twitter comme ailleurs, la relecture s'impose, et ce samedi 10 décembre Donald Trump a laissé passer une faute qui a rapidement été interprétée.
Dans ces nouveaux tweets, Donald Trump répondait à la dernière polémique sur son avenir au sein de son émission de télé-réalité « Celebrity Apprentice ». Le 8 décembre dernier, le site Variety affirmait en effet que le futur président des Etats-Unis continuerait à produire son émission, en tant que producteur exécutif. Des propos repris par CNN, qui précise que cet arrangement « signifie que le Président pourrait avoir un intérêt dans le show diffusé par un média qui rend également compte du déroulement de sa présidence » et souligne le « conflit d'intérêt majeur » provoqué par cette situation.
Alors une fois de plus, Donald Trump a pris le clavier. « Je n'ai rien à voir avec The Apprentice, à l'exception du fait que je l'ai créé avec Mark B (Burnett, ndlr) et que j'ai investi là-dedans. Je ne lui consacrerai pas de temps! », a-t-il posté, avant de s'adresser directement à CNN. « Les informations de CNN selon lesquelles je travaillerai sur The Apprentice pendant ma présidence, même à temps partiel, sont (ridicules) et fausses – FAUSSE INFORMATION! »
Sauf que comme vous pouvez le voir dans la publication ci-dessus, Donald Trump a commis une petite faute de frappe en écrivant « rediculous » au lieu de « ridiculous ». Et si le magnat de l'immobilier a fini par supprimer son tweet et poster une version corrigée quelques heures plus tard, il n'en fallait pas plus pour que les internautes s'emparent de cette méprise et de ce mot absurde, qui en dit long selon eux sur les aptitudes du 45e président des Etats-Unis.
Voir encore:
De Nicolas Sarkozy à Najat Vallaud-Belkacem : quand les politiques sont pris en faute (d'orthographe)
Sibylle Laurent

LCI
A PEU PRÈS – Depuis ce week-end, la ministre de l'Education nationale, Najat Vallaud-Belkacem, se fait épingler sur les réseaux sociaux pour une faute d'orthographe dans un livre d'or. Elle n'est pas la première, et sûrement pas la dernière, à se faire ainsi taper sur les doigts.
16 janv 2017 18:52
Sibylle LAURENT
Aïe. L'intention était bonne. Mais elle a mal tourné. Depuis quelques heures, Najat Vallaud-Belkacem se fait étriller sur les réseaux sociaux. En cause, un petit mot que la ministre de l'Education a laissé dans le livre d'or de l'école de gendarmerie de Tulle. Avec une grosse faute d'orthographe.
Alors, vous avez trouvé la faute ? Outre l'oubli de plusieurs accents, c'est surtout l'omission d'un « N » au mot « professionnalisme » qui saute aux yeux… ouvrant la voie aux sarcasmes sur les réseaux sociaux, où l'ortographe est pourtant loin de régner en maître…
Reste que ce petit dérapage orthographique d'un politique n'est pas vraiment une première.
La palme 2017 revenait pour l'heure à l'Elysée, qui s'est fait remarquer dès les vœux du 1er janvier sur Twitter. « Face aux attaques, vous avez tenu bons, vous avez montrez que vous étiez forts, soldaires (sic) » ; « le socle et là et les base sont solides » ; « C'et vous qui auraient le dernier mot », sont quelques-uns des tweets que les followers du palais ont pu voir défiler…
Les fautes sont évidemment dues au community manager, qui a voulu rendre compte en direct de l'intervention de François Hollande. Et semble avoir oublié au passage la première des règles : toujours bien se relire avant d'envoyer son message.
D'ailleurs en la matière, l'Elysée n'en est pas à sa première bourde. En 2015, l'écrivain et essayiste Christian Combaz s'insurgeait dans Le Figaro après avoir vu passer un communiqué de presse truffé de fautes d'orthographe et de grammaire.   « Sait-on parler Français à l'Elysée ? On peut s'interroger sur la qualité (ou l'intention) de ceux qui ont à relire ce genre de prose avant de l'envoyer », écrivait-il. « Ou ils sont carrément nuls, ce qui est une éventualité, ou ils font exprès de laisser passer des bourdes pareilles sans la moindre remise en forme pour accabler leur patron. »
Nul n'aura sans doute jamais la réponse à cette question. Mais ce petit buzz n'avait cependant pas atteint celui de 2011, à l'occasion d'un hommage à Danielle Mitterrand. Le compte de l'Elysée avait été retweeté des centaines de fois et recommandé 20.000 fois sur Facebook. Trois paragraphes, et six fautes, relevées par l'Express. Pas mal :
Quoiqu'il en soit, les fautes d'orthographe chez les politiques ne sont pas l'apanage de la gauche. Les politiques de droite sont même assez concurrentiels en la matière, rappelait Rue 89 il y a quelques années.  En 2009, le maire de Nice Christian Estrosi, alors ministre de l'Industrie, s'était vu reprocher un message envoyé sur Twitter : « Je commence le bêtisier : Bourquin PS : efficacité du service publique mais cette efficacité pas au détriment du service publique. » Forcément, c'est un socialiste, le sénateur Martial Bourquin lui-même, qui s'était fait un petit plaisir de le corriger publiquement. « Monsieur Estrosi, je suis un autodidacte comme vous. « Service public », c'est un « c », c'est pas « que ». Quand on parle de l'identité nationale… l'orthographe fait partie de l'identité nationale. »
En même temps, sous la présidence de Nicolas Sarkozy, le ton était donné, orthographe approximative et syntaxe douteuse ponctuant allègrement nombre de ses discours et de ses interventions. Sont ainsi restés dans les annales son « Si y en a que ça les démange d'augmenter les impôts.. » ou encore son « Chère Christine Lagarde, monsieur le Sénateur, et tous ceux qui sont importants, bonjour ». Autre jolie faute de Nicolas Sarkozy, griffonnée durant un discours avant d'être relevée par le Petit journal en 2008 : « fréquenter l'infrécentable ». Un président prolixe en la matière, au point qu'en mars 2009, Le Parisien avait publié un recueil de ses meilleurs trouvailles en pleine Semaine de la langue française. Un bel hommage.
Mais ces approximations orthographiques ont le don d'énerver les milieux intellectuels. Comme cette chercheuse au CNRS, Barbara Cassin, qui s'était indignée dans une tribune du Monde intitulée « Sarkozy m'à tuer » de la « présence massive de fautes d'orthographe sur le site de la présidence de la République française » : « Ces fautes, on ne les tolère pas en classe parce qu'elles sont le signe que l'élève ne comprend pas le mécanisme de la langue », écrivait-elle. « Tous les niveaux de discours sont confondus, nivelés au ras de la langue par le plus authentique, irrépressible et immédiat « Casse-toi pauv' con ». »
Et en matière d'Education, ce ne sont pas les ministres en charge du portefeuille qui sont le plus exemplaires. Luc Chatel, en septembre 2009, avait fait distribuer un dossier truffé de fautes… pour la rentrée scolaire. Extrait : « La rèforme de l'enseignement primaire, qui est entré en application à la rentrée 2008, s'appuie sur des horaires et des Les programmes, redéfinis par arrêtés du 9 juin 2008 qui s'articulent avec les sept grandes compétences du socle commun. »
Une mise en application de la réforme de l'orthographe ?
Magie de l'Internet, les fautes peuvent être rapidement effacées, et nulle trace ne reste… sauf sur certains sites qui se font un plaisir de graver les bourdes dans le marbre de l'Internet. Comme Bescherelle ta mère, qui se fait une joie de nous rappeler que Marine Le Pen, prompte à crucifier sur les réseaux les fauteurs d'orthographe, s'y adonne elle-même… au point qu'il est parfois difficile de percevoir le sens de ses tweets.
Un autre compte, sijauraisu.fr, en a aussi repéré une flopée, qu'on vous rappelle, pour le plaisir…
Mais peut-être les politiques ne font-ils que mettre en œuvre les nouvelles « directives orthographiques » qui sont mises en place en cette rentrée, comme l'explique cette professeure dans un article de Télérama. Atterrée, elle raconte qu'elle a participé à une formation sur l'étude de la langue, où on lui a appris que dorénavant, « en langue, tout est négociable » : « Je vous jure. Si l'élève a fait une faute, mais qu'il est capable de justifier son choix, alors nous devons considérer qu'il a raison », écrit-elle. « Par exemple, s'il écrit 'Les cadeaux que Lucie a reçue lui ont plue', nous sommes en droit de lui demander des comptes sur ses accords défaillants des participes passés. Mais si l'élève répond 'Ben on parle de Lucie, or Lucie est une fille, donc j'ai mis des E', eh bien cet élève, qui a fait preuve d'une capacité à justifier ses erreurs… a finalement raison ! » Magique.
Voir aussi:
Farooq A. Kperogi, Ph.D.
Notes from Atlanta
November 13, 2016
The just concluded American presidential election didn't excite me at all. That was why I didn't write about it. But now that the election is over, I want to take some time to reflect on the effect the campaigns have had on English grammar and usage. I will start with Donald Trump.
Trump contorted the English language in more ways than any presidential candidate did. First, he was notorious for terrible, sometimes hilarious, misspellings on Twitter. After the Republican primary debates on February 26, 2016, for instance, Trump tweeted: "Wow, every poll said I won the debate last night. Great honer!" He had earlier tweeted the following: "Lying Ted Cruz and leightweight chocker Marco Rubio teamed up last night in a last ditch effort to stop our great movement. They failed!"
Trump became the object of ridicule. Senator Marco Rubio viciously excoriated him for his poor spelling the following day at a campaign rally.  A headline in the website Mediaite.com captured it well. "Donald Trump Is Cluelessly and Hilariously Spelling Everything Wrong on Twitter Today," it said. Even the Merriam-Webster Dictionary couldn't help pillorying Trump. It sent out a tweet where it defined "honer" as "one that hones," and adds: "leightweight: We have no. idea." It also defined "chocker" in obvious dig at Trump's clumsy attempt to spell "choker." (By "honer," Trump meant to write "honor.")
But it's Trump's unusual turns of phrase and simplistic, repetitive vocabulary that have attracted the most attention from American grammarians. A famous study by Carnegie Mellon University concluded that he speaks at a Third Grade Level, that is, the level of an American Primary School kid.
English teachers have also torn apart his grammar. For instance, he mistook "temper" for "temperament" during one of his debates with Hillary Clinton. He also uttered the nonstandard "you was" during the debate. He said, « But you was totally out of control! » instead of the standard "But you were totally out of control!" Grammar pedants tore him to shreds.
And when he said, « They talk good around election » instead of "they speak well around election time," many English teachers took to social media to say he had lost their votes. It is impossible to chronicle all the Trumpian solecisms in this article, but others that stood out include, « I pay tremendous numbers of taxes » and « Give economics to people. »
Bad Grammar as Strategy of Condescension 
But as a rhetorician, I know Trump's mangled, dialectal English isn't necessarily a product of insufficient mastery of the language. It was a deliberate rhetorical strategy designed to establish identification with the lower end of the American social stratum that constitutes the « base » of the Republican Party. Poor, rural, uneducated white Americans who form the bulk of Trump's support base speak the kind of regional, nonstandard English Trump spoke on the campaign trail.
In his book Language and Symbolic Power, French theorist Pierre Bourdieu calls this « strategy of condescension. » Bourdieu didn't mean « condescension » in the everyday sense of the word as disdain for one's social inferiors; he meant the ability to negotiate and seamlessly traverse several « linguistic markets, » as he called it. He said this ability invests elites with immense social and cultural capital. As Peter Haney puts it, strategies of condescension occur « when someone at the top of a social hierarchy adopts the speech or style of those at the bottom. With such a move, the dominant actor seeks to profit from the inequality that he or she ostensibly negates. »
George Bush used it to maximum effect. People still remember him as the former US president who could barely string together grammatically correct sentences in English, who spoke with a Texan drawl. But Bush is the scion of « old money » who went to elite prep schools and grew up mostly in America's northeast. If he wanted to sound « polished » and « cultivated, » he could, but he would risk calling attention to his privilege and thereby alienating people he wanted to appeal to. Scholars actually systematically compared his speeches before he became governor of Texas and after he became governor of Texas and found radical differences in his grammar, enunciation, and speech mannerisms. Before he became governor of Texas, he spoke like a typical American northeaster. His grammar and usage were polished and educated.
That doesn't mean people at the upper end of the social scale don't innocently mangle the language. For instance, when Hillary Clinton recently characterized some Trump supporters as belonging to a « basket of deplorables, » American English grammarians took her on; they said « deplorable » is an adjective, not a noun, and therefore can't be pluralized as « deplorables » since only nouns are pluralized. But « deplorables » may well become mainstream in the coming years if enough people with social and cultural capital use it the same way Hillary used it. That's how language evolves.
In any case, the English language is full of examples of adjectives that became nouns. They are called nominalized adjectives. The word "greats" (meaning great people) comes to mind. It started out as an adjective.
In a February 3, 2013 column titled « How Political Elite Influence English Grammar and Vocabulary, » I pointed out several examples of the changes in the lexis and grammar of the language that were instigated by political and cultural elites across the pond. When former US President Warren Harding first used the word « normalcy » instead of the then usual « normality, » he was ridiculed. But « normalcy » is now mainstream.
As I pointed out in the article, "Even the Queen of England, the unofficial guardian of the English tongue, is given to occasional violation of the rules of her own language. In their book Longman Guide to English Usage, Professors Sidney Greenbaum and Janet Whitcut shared how the Queen misused the expression 'due to' and inadvertently caused the rule to be changed in favor of her misuse.
"In traditional grammar 'due' is an adjective, and when it is followed by the preposition 'to' it should be attached to a noun (example: the cancellation of the event was due to the rain). The use of 'due to' at the beginning of a sentence in the sense of 'because of' or 'owing to' was considered uneducated.
"But when the Queen of England, in a Speech from the Throne, said, 'Due to inability to market their grain, prairie farmers have been faced for some time with a serious shortage,' this 'uneducated' usage gained respectability. It is no longer bad grammar.
"I once observed that this example shows the arbitrariness and unabashed elitism of (English) usage norms. But that's only partly true. What is equally true is that research has shown that the Queen of England has lately been speaking like her subjects, leading the Daily Mail, UK's second-biggest selling newspaper, to write in a recent story that 'The Queen no longer speaks the Queen's English.'"
Unfortunately, only native English speakers get to have that much influence on the language, which is both unsurprising and invidious, given the status of English as a world language with more non-native speakers than native speakers. Creative deviations from the norm that emerge from non-native speakers are often condemned to marginality.
There are exceptions, though. Chinese English speakers in the US have made enduring contributions to the lexis and structure of the language in very fascinating ways. For instance, the expression « long time no see » came to English by way of Chinese English speakers in California.
As I pointed out in my book, Glocal English: The Changing Face and Forms of Nigerian English in a Global World, this ungrammatical but nonetheless fixed English expression, which is used as a salutation by people who have not seen each other for a long time, is a loan translation from Mandarin hǎo jiǔ bú jiàn, which literally means « very long time no see. » It was initially derided as « broken » English in California, but because the expression filled a real lexical and idiomatic void in the language, it quickly spread to other parts of the US, then crossed the pond to the UK, and is now part of the repertoire of international English.
Expressions like « no-go area, » « have a look-see, » etc. were also Chinese broken English expressions that are now idiomatic in the language. (Check out my April 19, 2015 column titled « Popular Expressions English Borrowed from Other Languages » and my 4-part series titled « The African Origins of Common English Words »).
Given the impact that the cultural and political elite have on language, would Trumpian grammar change American English in significant ways? Business Insider thinks so: "Donald Trump may have forever changed the English language. Sad!"
Voir également:
America has never been entirely sure what to do with its white poor. For complicated historical and political reasons, we associate "poor" in our public consciousness with "black". Terms such as "welfare queen" and "culture of poverty" became associated uniquely with the social maladies of African Americans in urban ghettos, despite the fact that poor whites outnumbered poor blacks.
It wasn't always thus. When President Lyndon Baines Johnson launched his "War on Poverty" in the 1960s, he did so from eastern Kentucky coal country, then and now one of the poorest regions of the country. That region is my ancestral homeland, the place from which my grandparents emigrated to avoid the sort of material destitution President Johnson highlighted. Like millions of southern and Appalachian migrants, they moved north to the booming industrial economies of Ohio, Pennsylvania and similar states.
They moved in the hope of finding better jobs and higher wages and for a time they found those things. Yet in the wake of a long-term decline in manufacturing in the United States, the economic boomtown my grandparents migrated to began to struggle in many of the same ways as the eastern Kentucky town they left behind. By the time their grandchildren reached adulthood in the early 2000s, joblessness and despair had replaced the optimism that characterised my grandparents 50 years earlier. And though the local economies of each region differed – in Detroit, automobile manufacturing; in southern Ohio, steel and paper mills; in Pennsylvania and West Virginia, coal mining – the social problems looked eerily similar. All across Appalachia and the Rust Belt, opioid addiction, family breakdown and rising mortality set in. And the ills afflicting the white working class, so similar to those stereotypically assigned to the black poor, became impossible to ignore.
To many commentators, these problems are statistics to be analysed, but to me, they were the backdrop of my youth. As a kid, I sorted Middletown into three basic geographic regions. First, the area surrounding the high school, which opened in 1969. The "rich" kids lived here. Large homes mixed comfortably with well-kept parks and office complexes. If your dad was a doctor, he almost certainly owned a home or had an office here, if not both. I dreamed that I'd own a house in Manchester Manor, a relatively new development not a mile from the high school, where a nice home went for less than a fifth of the price of a decent house in San Francisco. Next, the poor kids (the really poor kids) lived near Armco, where even the nice homes had been converted into multi-family apartment units. I didn't know until recently that this neighbourhood was actually two neighbourhoods – one inhabited by Middletown's working-class black population, the other by its poorest white population. Middletown's few housing projects stood there.
Then there was the area where we lived – mostly single-family homes, with abandoned warehouses and factories within walking distance. Looking back, I don't know if the "really poor" areas and my block were any different or whether these divisions were the constructs of a mind that didn't want to believe we were really poor.
Across the street from our house was Miami Park, a single city block with a swing set, a tennis court, a baseball field and a basketball court. As I grew up, I noticed that the tennis court lines faded with each passing month and that the city had stopped filling in the cracks or replacing the nets on the basketball courts. I was still young when the tennis court became little more than a cement block littered with grass patches. I learned that our neighbourhood had "gone downhill" after two bikes were stolen in the course of the week. For years, Mamaw said, her children had left their bikes unchained in the yard with no problems. Now we woke to find thick locks cracked in two by deadbolt cutters. From that point forward, I walked.
Downtown Middletown is little more than a relic
If Middletown had changed little by the time I was born, the writing was on the wall almost immediately thereafter. It's easy even for residents to miss how much Middletown has changed because the change has been gradual – more erosion than mudslide. But it's obvious if you know where to look and a common refrain for those of us who return intermittently is: "Geez, Middletown is not looking good."
In the 1980s, Middletown had a proud, almost idyllic downtown: a bustling shopping centre, restaurants that had operated since before the Second World War and a few bars where men like Papaw would gather and have a beer (or sometimes many) after a hard day at the steel mill. My favourite store was the local Kmart, which was the main attraction in a strip mall, near a branch of Dillman's, a local grocer with three or four locations. Now the strip mall is mostly bare: Kmart stands empty and the Dillman family closed that big store and all the rest, too. The last I checked, there was only an Arby's, a discount grocery store, and a Chinese buffet in what was once a Middletown centre of commerce. The scene at that strip mall is hardly uncommon. Few Middletown businesses are doing well and many have ceased operating altogether. Twenty years ago, there were two malls. Now one of those malls is a parking lot and the other serves as a walking course for the elderly.
Today, downtown Middletown is little more than a relic of American industrial glory. Abandoned shops line the heart of downtown Middletown, where Central Avenue and Main Street meet. Richie's pawnshop has long since closed, though the hideous yellow and green sign still marks the site, last time I checked. Richie's isn't far from an old pharmacy that, in its heyday, had a soda bar and served root beer floats. Across the street is a building that looks like a theatre, with one of those giant triangular signs that reads "ST–L" because the letters in the middle were shattered and not replaced. A little farther down the road is a cash-for-gold store and not far from that is a payday lending outfit.
Not far from the main drag of empty shops and boarded-up windows is the Sorg mansion. The Sorgs, a powerful and wealthy industrial family dating back to the 19th century, operated a large paper mill in Middletown. They donated enough money to put their names on the local opera house and helped build Middletown into a respectable enough city to attract Armco. Their mansion, a gigantic manor home, sits near a formerly proud Middletown country club. Despite its beauty, a Maryland couple recently purchased the mansion for $225,000 or about half of what a decent multi-room apartment sets you back in Washington DC.
Located quite literally on Main Street, the Sorg mansion is just up the road from a number of opulent homes that housed Middletown's wealthy in their heyday. Most have fallen into disrepair. Those that haven't have been subdivided into small apartments for Middletown's poorest residents. A street that was once the pride of Middletown is now a notorious spot for druggies and dealers. Main Street is now the place you avoid after dark.
The white working class had grown angry. And it had no heroes
City leaders have tried in vain to revive Middle-town's downtown, though in recent years they've met with some limited success, as a few businesses have opened near the newest branch of a local community college. Despite some progress, efforts to reinvent downtown Middletown are likely futile. People didn't leave because our downtown lacked trendy cultural amenities. The trendy cultural amenities left because there weren't enough consumers in Middletown to support them. And why weren't there enough well-paying consumers? Because there weren't enough jobs to employ those consumers. Downtown Middletown's struggles were a symptom of everything else happening to Middletown's people, especially the collapsing importance of the local steel mill.
Unfortunately, very few of America's political or financial classes understood what was happening in towns such as Middletown. And this ignorance comes in part from their increasing segregation from working- and middle-class families. In booming Washington DC, cosmopolitan New York and hi-tech San Francisco, people rarely come face to face with the poor, with the possible exception of the random beggar. Their interactions with the poor of rural and suburban America are rarer still. Meanwhile, as a 2011 Brookings Institute study found, "compared to 2000, residents of extreme-poverty neighbourhoods in 2005–2009 were more likely to be white, native-born, high-school or college graduates, homeowners and not receiving public assistance". The white poor always existed, but they were rapidly growing in numbers and America's wealthiest and most powerful residents seemed unaware.
Indeed, if they deigned to care much about the white working class, they often expressed little more than condescension or outright disdain. As my grandma once told me, "hillbillies" – by which she meant poor whites with some connection to Appalachia – were the only group of people that elites felt comfortable stereotyping and looking down upon. From MTV's chronicle of a "wild" white family in West Virginia to Justified, a popular show about eastern Kentucky, the media's interest in the region seemed confined to entertaining caricature.
The political system's response was even worse. While candidate Obama in 2007 secretly chastised poor whites for "clinging to their guns and religion," the Republican party, where most white, working-class Americans made a political home, seemed completely unaware that its own base was struggling. In 2012, Mitt Romney ran on a platform that celebrated the noble business owner, even as polls showed that the white working class increasingly mistrusted the business owners perceived to push them from their work.
And in late 2015, the party appeared ready to crown Jeb Bush, the scion of a wealthy family whose policy programme differed little from Mitt Romney's, even as his tone did. This was the brother of a man who started two unsuccessful wars, wars whose burden was disproportionately shouldered by the white middle and working class. And though a number of putative challengers offered stylistic contrasts with the younger Bush brother, no one challenged the core premise at the heart of his candidacy: tax cuts and deregulation at home combined with an active, military-focused foreign policy abroad. Just eight years after George W Bush left office to historically low approval numbers, the party appeared primed to double down on Bush, both in policy and in genetics. And no one seemed that interested in stopping it.
Except for Donald Trump.
In a now famous September debate among Republican presidential candidates, Jeb offered a robust defence of his brother's foreign policy: "As it relates to my brother, there's one thing I know for sure: he kept us safe." In interviews after the debate and on social media, Trump filleted Bush repeatedly, noting the failures of the war and even blaming Bush for his failure to prevent the 9/11 terrorist attacks. It was the third rail of Republican politics and television commentators predicated that it was the end of Trump's candidacy. How, many asked, could Trump survive such an aggressive criticism of the party's most recent president? Instead, Trump thrived, building on his lead in the polls and cruising to the Republican nomination.
What so many commentators failed to understand was that the Republican party of George W Bush had changed. In the eight years since Obama's election, the white working class had grown angry: at the economy that failed to deliver good jobs, at the failed prosecution of two wars, at a government bureaucracy that failed to deliver good healthcare for veterans, at policy-makers who bailed out megabanks in the 2008 financial crisis even as many Americans lost their homes. The party didn't want another Mitt Romney and it sure as hell didn't want another Bush. It wanted, most of all, a man whose very existence is the opposite of everything prior nominees stood for.
This was about more than finances and the macroeconomy problem. As a culture, working-class white Americans like myself had no heroes. We loved the military but had no George S Patton figure in the modern army. I doubt my neighbours could even name a high-ranking military officer. The space programme, long a source of pride, had gone the way of the dodo and with it the celebrity astronauts. We had lost any trust in the media as guardians of truth and consequently many were willing to believe all manner of conspiracies about our allegedly foreign-born president and his supposed grabs for power.
In style and tone Trump reminds blue-collar workers of themselves
To understand the significance of this cultural detachment, you must appreciate that much of my family's, my neighbourhood's and my community's identity derives from our love of country. I once interviewed my grandma for a class project about the Second World War. After 70 years filled with marriage, children, grandchildren, death, poverty and triumph, the thing about which she was unquestionably the proudest and most excited was that she and her family did their part during the war.
We spoke for minutes about everything else; we spoke for hours about war rations, Rosie the Riveter, her dad's wartime love letters to her mother from the Pacific and the day "we dropped the bomb". My grandma always had two gods: Jesus Christ and the United States of America. I was no different and neither was anyone else I knew.
Many in the US and abroad marvel that a showy billionaire could inspire such allegiance among relatively poor voters. Yet in style and tone, Trump reminds blue-collar workers of themselves. Gone are the poll-tested and consultant-approved political lines, replaced with a backslapping swashbuckler unafraid of saying what's on his mind. The elites of DC and NY see an offensive madman, blowing through decades of political convention with his every word. His voters, on the other hand, see a man who's refreshingly relatable, who talks about politics and policy as if he were sitting around the dinner table.
More important is Trump's message. Implicit in the slogan "Make America Great Again" is a belief that one's country is not especially great right now and that's certainly how many of Middletown's residents felt. In the wake of the Great Recession, there was something almost spiritual about the cynicism of the community at large. If America was the lynchpin of a civic faith, then many in the white working class were losing something like a religion.
In America, commentators have devoted dozens of essays and think pieces to the question of whether Trump's rise is primarily a function of economic insecurity or racial anxiety. The question is easy to answer – it's both – and yet not especially helpful. Donald Trump isn't just the candidate of economically dispossessed whites, though he is that. Nor is he just the candidate of racially anxious whites, though he is also that.
He's the candidate of the man who opens his morning paper to find that another of his neighbours has died of a heroin overdose; of the woman who proudly sent her son to fight in Iraq only to watch it break his body and mind; of the father who spends hours on the phone with the Department of Veterans Affairs, begging for medical care that his former Marine nephew is owed both legally and morally; of the proud coal miner who voted for Bill Clinton and then watched as his wife promised to "put a lot of coal miners and coal companies out of business". Donald Trump is the candidate of a patriotic people who feel an almost apocalyptic apprehension about the future. His great insight was to recognise and exploit that apprehension.
The tragedy of Trump's candidacy is that, embedded in his furious exhortations against Muslims and Mexicans and trade deals gone awry is a message that America's white poor don't need: that everything wrong in your life is someone else's fault. No one doubts that globalisation and automation have disproportionately had an impact on the white working class and no responsible politics should fail to appreciate and address that fact. Yet our neighbourhoods and our communities create certain pressures and instil certain values that make it harder for our children to lead happy lives.
Trump's entire candidacy consists of pointing the finger at someone else
During my junior year of high school, our neighbour Pattie called her landlord to report a leaky roof. The landlord arrived and found Pattie topless, stoned and unconscious on her living-room couch. Upstairs, the bathtub was overflowing, thus the leaking roof. Pattie had apparently drawn herself a bath, taken a few prescription painkillers and passed out. The top floor of her home and many of her family's possessions were ruined. This is the reality of our community. It's not just about hard-working people dispossessed by globalisation, though that's undoubtedly true for many people. It's also about a naked druggie destroying what little of value exists in her life. It's about children who lose their toys and clothes to a mother's addiction. It's about families torn apart by domestic violence and students afraid to go home when the school bell rings at the end of the day.
Psychologists call it "learned helplessness" when a person believes, as I did during my youth, that their choices have no effect on their life's outcomes. We acquired that sense of helplessness from a number of sources: from families who felt that you had to pretend to be "black or liberal" to get into an Ivy League school; from the home life that showed us the world could be turned upside down in an instant; from seeing so few of our neighbours succeed in the modern economy that we wondered whether success was even possible for those like us.
To recognise that these neighbourhoods and attitudes affect us is not to place moral blame on the poor. Indeed, many of the obstacles folks like me perceive are quite real. But it is dangerous, even destructive, to give up completely on the role of agency. The white working class must build a set of values that recognises life's unfairness while constructively engaging with it – in our community institutions, in our government and in our families. Yet Trump's message for the white voter so desperately in need of introspection and self-reflection is: it's all someone else's fault. His rallies may be cathartic, as he screams and yells at conjured enemies, but he offers no solutions. His entire candidacy is an exercise in pointing the finger at someone else.
In pointing that finger so repeatedly and enthusiastically, Donald Trump has debased our entire political culture. On the right, the party of robust American global leadership now finds itself apologising for a man who apologises for Vladimir Putin even as he scares our staunchest European allies.
The Republican speaker of the house, a brilliant, respected leader, regularly repudiates some noxious statement of Trump's even as he cannot politically repudiate the man himself. On the left, the cosmopolitan elites of the Democratic party have taken to Facebook and Twitter to denounce half of their fellow citizens, people they rarely see, much less know. In the eyes of American elites, Trump's voters are racist rednecks, finally reaping what they've sown.
In this age of Trump, each tribe has lost the ability to show even a hint of compassion for the other side.
The great irony is that the people who may make Trump president are among those who most need a constructive politics and an engaged leader. They need a life raft and a mirror. Trump instead offers a political high, a promise to "Make America Great Again" without a single good idea regarding how.
Hillbilly Elegy by JD Vance is published by William Collins on 22 September, £16.99
Voir encore:
Five myths Donald Trump tells about Donald Trump
Glenn Kessler
The Wall Street Journal
January 28, 2016
All politicians like to brag about their abilities and achievements. But rarely has a presidential hopeful emerged like Donald Trump, who consistently touts his résumé and plans for the nation in sweeping and over-the-top terms. Trump is particularly unique in how he talks about himself. Plenty of would-be presidents make dubious claims about what they have accomplished in elected office (created millions of jobs! slashed spending!). Few make such claims about their personal attributes. Trump has no such hesitation. Just before the Iowa caucuses, here are five of the biggest myths Donald Trump tells about himself.
1. "I'm, like, a really smart person."
Trump is not shy about his intellectual prowess. As he tweeted in 2013: "Sorry losers and haters, but my I.Q. is one of the highest -and you all know it! Please don't feel so stupid or insecure, it's not your fault."
Of course, "smart" is a bit subjective. There's book smarts as well as street smarts. Many would say Trump has run a pretty smart campaign. But clearly he's saying that his brain is very sharp — as he puts it, "super-genius stuff.'' At one point, Trump rebutted criticism from columnist George Will and GOP consultant Karl Rove by saying: "I'm much smarter than them. I think I have a much higher IQ. I think I went to a better college — better everything."
Trump's college background, in fact, is often his key piece of evidence for his intellectual superiority. But there's less here than meets the eye. Trump did graduate from the Wharton School of business at the University of Pennsylvania, an Ivy League college. But Trump did not get an MBA from Wharton; he has a much less prestigious undergraduate degree. He was a transfer student who arrived at Wharton after two years at Fordham University, which U.S. News & World Report currently ranks 66th among national universities. (Besides, simply going to an Ivy League school doesn't prove you're a genius.)
Gwenda Blair, in her 2001 book "The Trumps," said that Trump's grades at Fordham were just "respectable" and that he got into Wharton mainly because he had an interview with an admissions officer who had been a high school classmate of his older brother. And Wharton's admissions team surely knew that Trump was from one of New York's wealthiest families.
For years, numerous media reports said Trump graduated first in his class from Wharton, but that's wrong. The 1968 commencement program does not list him as graduating with any sort of honors. In fact, the Boston Globe reported that he barely made an impression at all: "His former classmates said he seemed a student who spoke up a lot but rarely shined in class, who barely participated in campus activities, shunned fraternity parties."
2. "I have the world's greatest memory."
One of Trump's most controversial claims is that he saw a television news report about thousands of Muslims in New Jersey cheering the collapse of the World Trade Center in 2001. That statement ended up on the Washington Post Fact Checker's list of 2015's biggest Pinocchios.
Trump insisted he was right because he has such a great memory.
But no television network could find such a clip — though extensive searches were made. No news reports were tracked down to validate Trump's claim of "thousands." The closest thing ever found was a local newscast at the time, from a CBS affiliate in New York, that reported on the arrest of eight men who neighbors said had celebrated the attack. That's a far cry from thousands. There were also video clips of several Palestinians in the Israeli-occupied territories cheering. But that wasn't New Jersey — and again, it wasn't thousands.
Trump also tried to point to a line in a Washington Post article written days after the attacks that said law enforcement authorities detained and questioned some people who were allegedly seen celebrating . But when one of the reporters, Serge Kovaleski, said the article did not validate Trump's claim, the real estate magnate mocked Kovaleski's disability. (Kovaleski has a chronic condition that limits his mobility.)
Trump later denied doing so, claiming that he didn't know the reporter — even though Kovaleski had closely covered Trump in the 1980s and 1990s and had interviewed him several times.
Maybe Trump should rephrase his boast: "I have the world's most selective memory."
3. "I'm proud of my net worth. I've done an amazing job."
Trump frequently touts his financial acumen. He often says he is worth $10 billion, though most analysts say that is exaggerated. Bloomberg News closely studied his 92-page financial disclosure report and concluded that he is really worth $2.9 billion.
That may sound like a lot of money. But don't forget that Trump inherited a lot of money, too — about $40 million in 1974. In 1978, his net worth was estimated by BusinessWeek at $100 million. The Post's Wonkblog calculated that if Trump had gotten out of real estate, put his money in an index fund based on the Standard & Poor's 500 index and reinvested the dividends, he'd be worth twice as much — $6 billion — today.
National Journal noted that Warren Buffett was also worth $40 million in 1974 — and he managed to turn that into $67 billion today. But then Buffett doesn't have a long list of business flops, such as Trump Airlines, Trump Vodka, various Trump casinos, Trump Steaks and Trump University.
4. "I'm self-funding my campaign."
Trump keeps saying that unlike his rivals, he's paying for his own presidential campaign, but that's largely false.
At the start of his campaign, he loaned his political operation $1.8 million. As of Oct. 1, he had given his campaign an additional $104,829.27 — but he had also received $3.9 million from donors, which accounted for the vast majority of the $5.8 million his campaign had taken in by then. His campaign website features a prominent "donate" button on its homepage. Trump has spent $5.4 million, and interestingly, about one-quarter of his spending has gone to Trump-owned entities (mainly his private jet company).
In January, Trump launched an ad campaign in Iowa and New Hampshire, saying he planned to spend $2 million. He also claimed that his campaign was $35 million to $40 million below budget. Ultimately, all of his spending — and where the money came from — will have to be disclosed in campaign finance reports. The odds are his personal share of the spending will be less than 50 percent.
5. "I'm probably the least racist person on Earth."
When people have criticized Trump for promising to build a wall on the U.S.-Mexico border or proposing a ban on all Muslims from entering the country, he has defended himself by saying he's not motivated by racism. Still, he has a pattern of racially tinged remarks and actions.
The very first article about Trump in the New York Times — it appeared 42 years ago — was headlined "Major Landlord Accused Of Antiblack Bias in City." Trump was quoted saying the charges in a lawsuit brought by the Justice Department against the company he and his father ran were "absolutely ridiculous." The sides settled — but three years later, the Justice Department charged Trump's organization with continuing to discriminate against blacks.
When five black and Latino teenagers were implicated in a brutal attack on a white woman jogging in Central Park in 1989, Trump took out full-page newspaper ads calling for the death penalty for "criminals of every age." The suspects were convicted but later exonerated by DNA evidence — and Trump then called their wrongful-conviction settlement a "disgrace."
Trump Plaza Hotel and Casino President John R. O'Donnell, in the 1991 book "Trumped," alleged that Trump once said that "laziness is a trait in blacks." He also claimed Trump said, of his accountants: "Black guys counting my money! I hate it. The only kind of people I want counting my money are little short guys that wear yarmulkes every day." (Trump has called O'Donnell a disgruntled employee, but he has not disputed the remarks. "The stuff O'Donnell wrote about me is probably true," he told Playboy in an interview published in May 1997.)
Speaking to the Republican Jewish Coalition in December, Trump made a speech riddled with Jewish stereotypes, such as: "Look, I'm a negotiator like you folks; we're negotiators." And: "I know why you're not going to support me. You're not going to support me because I don't want your money."
Another Trump observation: "A well-educated black has a tremendous advantage over a well-educated white in terms of the job market. . . . If I were starting off today, I would love to be a well-educated black, because I believe they do have an actual advantage.''
When Trump launched his campaign, he made a broad-brush accusation against Mexico: "They're sending people that have lots of problems, and they're bringing . . . drugs, they're bringing crime, they're rapists. And some, I assume, are good people."
President Trump's administration has a spelling problem, and it seems to be getting worse.The latest cringe-worthy gaffe, courtesy of the Education Department, was a double whammy: In a tweet Friday, the agency misspelled the name of the late scholar-activist and NAACP co-founder W.E.B. Du Bois. Then it followed up with a correction, with its own glaring error: "Our deepest apologizes for the earlier typo."It wasn't long ago that pretty much everyone across the political spectrum could agree that it was embarrassing when our elected officials failed to use the English language correctly. Just ask former vice president Dan Quayle how to spell "potato."
Yet as critics pounced on the latest errors as a sign of carelessness or incompetence, Trump defenders howled back, blasting the criticism as liberal-elite snobbery. It's come to this: The fault lines of our deeply divided country have crossed into the once-neutral territory of grammar and spelling.
So how problematic is the administration's spelling — really? We decided to take a closer look at a few recent incidents.
1. The 'to'/'too' mix-up on the official Trump inauguration poster
The poster had to be removed from the Library of Congress website after people noticed that something seemed to be missing from the quote emblazoned on it. Can you spot it? Look closer. Ah, yes — one of those pesky "to"/"too" confusions. Too often the eye just skips over it, and even spell check won't always help you with that one. Who among us hasn't committed this offense? (But, no, probably not on an official presidential portrait.)
2. Betsy DeVos's 'historical' error
Plenty of public-school alumni jumped on this usage error by the school-vouchers advocate, who has since been confirmed as education secretary. It might not have been the most egregious error — "historical" is often confused as a synonym for "historic" but actually means "belonging to the past"; and she's hardly the only person we know who randomly capitalizes nouns such as "inauguration" that don't actually merit it. But still, not a great look for the nation's top education policy guru.
3. Trump's great 'honer'
The tweet was sent by Trump on his first full day in office. It was swiftly deleted and reposted with the correct spelling — but not before the original version was immortalized online. It might have been just one misplaced vowel, but he'd made this mistake on Twitter before, after a February 2016 presidential debate. ("Wow, every poll said I won the debate last night. Great honer!" — that tweet, too, was quickly corrected.) We'll be blunt: "Honer" doesn't even look close to correct, and we're not sure how he made this blooper. But in fairness, Twitter is where we make all our finger-slip errors, too.
[Shoker! Rediculous chocker Trump attaks and dishoners English with ever-dummer spellings.]
3. Marco Rubio the 'leightweight chocker'
In an oft-mocked tweet in February 2016, Trump lashed out at primary opponents Ted Cruz and Marco Rubio: "Lying Ted Cruz and leightweight chocker Marco Rubio teamed up last night in a last ditch effort to stop our great movement. They failed!"
Look, we get that "choker," though correct, looks nearly as strange as "chocker" the more you stare at it. And we can see how someone focused on getting the e-i order correct in "weight" might overcompensate and screw up the "light" part — but wouldn't you see "leightweight" and know you'd done something wrong?
As per usual, the tweet was deleted — but not before the dictionary folks supplied a snarky response.
4. Lose vs. Loose
No way around it: There is so much wrong with this one, gnarled syntax as well as troubled spelling. Fortunately, Twitter was there to help.
"Insticts" is pretty odd, but you can see how someone who spends a lot of time tweeting about "losers" could get lost trying to spell "loose." The standard U.S. spelling, of course, is "judgment," not "judgement," but again — Twitter.
5. Terrorist 'attakers'
When the White House released a list of 78 "under-reported' terrorist attacks earlier this month — aiming to prove that the media had played down the terrorism threat — reporters found themselves wading through a document riddled with typos and errors. Among other mistakes, the report misspelled "attacker" and "attackers" as "attaker" and "attakers" 27 times. Who does that? And this wasn't a Twitter typo, but a document prepared for public release by the communications staff. This is — bad. A new level of bad. We've left Quayle far, far behind.
6. An unprecedented misspelling
This one was particularly regrettable because of the Freudian-slip undertones. It quickly spawned a trending hashtag, an onslaught of jokes and more than a few anti-Trump protest signs at subsequent rallies. Again, the dictionary couldn't let this pass without taking a shot.
"Unpresidented" did earn an official entry in Urban Dictionary, however. (It isn't very flattering.)
7. Theresa May vs. Teresa May
One is the name of the British prime minister. The other is the name of a British former soft-porn actress. Guess which one appeared three times on an official White House schedule?
This one would feel more relatable and excusable — we've all done something like this — except we're not talking about bungling the name of your cousin's new boyfriend on a party invitation. We're talking about the name of a foreign head of government, misspelled three times on an official White House document.
Voir par ailleurs:
It's no surprise that technology has been a driving factor in how we communicate. 140 character limits, the need to be succinct and other prevailing memes have transformed the ways we talk to each other online.
It's not rare to hear celebrated literary experts lament the demise of the second-most widely spoken language in the world, but seldom to we ever witness any evidence of such change beyond the anecdotal.
Accordingly, we have taken it upon ourselves to conduct our own research into how social media is helping drive evolution in the English language.
Deviating from official English
Twitter users are the least literate of the internet users we looked at, with 0.56% of words on the network being either misspelled or otherwise unofficial, perhaps due to its stricter character limit.
Twitter                 0.56% or 1 in 179
Google+              0.42% or 1 in 238
Facebook            0.31% or 1 in 323
Forums                0.18% or 1 in 556
Americans tend to deviate slightly more than those based in the UK, with the Brits at 0.53% and the USA at the global average of 0.56%.
Interestingly, tweeters have been getting increasingly literate over the past few years, getting 0.01% more literate each year since 2011 – is this a result of increased adoption of auto-correcting devices perchance?
Females are more likely to deviate too, using unofficial language every 169 words, whereas males do it once every 192. The fairer gender are also responsible for elongating words like arghhh, awwww, soooo and ahhh much more than males, who instead prefer to shorten them to things like gonna, wanna and kinda.
The most common form of 'error' is the exclusion of apostrophes, resulting in words like im, wont, cant, theres, hes, womens and parents.
The second most frequent deviation was the usage of acronyms, the widest used of which was LOL, followed by WTF, LMAO, YOLO, OMG and FFS.
In terms of the actual words that are misspelled, here are the favourites:
definitely
separate
embarrass
achieve
surprise
weird
government
argument
It found one in every 150 words posted on Twitter is spelt incorrectly, in contrast to one in 323 words on Facebook.

The figure doesn't just refer to spelling mistakes. It includes the use of abbreviations (such as LOL), grammatical errors, word elongation and shortening.

Women are more likely to make errors and use abbreviations than men, averaging one in every 169 words, as opposed to one in 192 words.

I use Twitter quite a lot and I must admit to taking some grammatical shortcuts.

With just 140 characters to play with per Tweet, it's really frustrating to get to the end of a sentence and be just one character short.

Rather than rewriting the tweet, I will go back and substitute the likes of "I'm" for "Im".

I think there's a difference between the odd grammatical tweak and glaring spelling errors. Twitter is a public forum and consistently poor spelling and grammar look like you don't care.

In Twitter arguments, spelling mistakes are one of the first things people criticise. Making a spelling mistake on Twitter looks like you aren't in control – especially as mobile phone spell checks are getting better.

"Out of all the social networks, I think we should be forgiving of mistakes on Twitter »

Twitter is about spontaneous reactions to events and if you are in a hurry it's easy to make mistakes, particularly if you're typing using a small keyboard.

For the majority of people, it doesn't really matter if there's a mistake – for professions like politics or teaching, it's a different story.

Interestingly Brandwatch's study found that on Twitter women tend to elongate words, while men shorten them.

Common words used by women include: soo, aww and ohh. Men use lota, lol, lonna and wanna.

I'm guilty of the odd aww and soo. But I would use those terms on Facebook and emails to friends.

Writing a letter or sending a Facebook message can be unwittingly formal. People can read sentences in different ways and misconstrue the original meaning.  By using such language I'm hoping my message sounds a little more conversational and a little how I'd say it in person.

According to the survey the most common grammatical errors are related to misuse of the apostrophe: im, wont, cant, dont, id.

There's a movement online called Kill The Apostrophe "on the basis that it serves only to annoy those who know how it is supposed to be used and to confuse those who dont."

I'm not in favour of removing the apostrophe. Twitter and text speech is only a small facet of the way we use our language, enough people still write emails or letters using the apostrophe for it to be useful.

In the future Twitter and other social networks are likely to increasingly shape our language and we have to get used to it. Language has evolved centuries and will continue to do so.

It's not all bad news: it has also been revealed that Twitter users have been getting more literate each year since 2011.

Overall, I suggest tolerance towards language quirk on Twitter and yes to abbreviation and elongation – in moderation.

I advise anyone who cares to take a few seconds to correct typos before hitting send.

Voir également:
Twitter users make more than twice as many spelling mistakes as those on Facebook, new research has revealed – with apostrophes the most common source of errors.
Jennifer O'Mahony
The Daily Telegraph
29 May 2013
Britons' well-documented struggles with their own language appear to be particularly acute when they post on the microblogging service, a study by social media monitoring service Brandwatch has found.
One in every 150 English words posted on Twitter is spelt incorrectly, with missing apostrophes the most common grammar crime.
Apostrophes, or a lack thereof, were followed by the use of acronyms such as LOL (laugh out loud) and YOLO (you only live once) as the most frequent examples of misuse in English.
Twitter's strict 140-character limit for posts is undoubtedly the cause of much mangled language, a constraint that forces users to innovate by cutting linguistic corners.
Brandwatch analysed almost one million randomly selected online interactions across Twitter, forums, Facebook and Google+ in the month of March over a three-year period.
Twitter recently announced it counts an average of 400 million tweets posted by users every day, but it fared worst among all social networks for the quality of spelling and grammar.
By contrast, Facebook's users compose just one in every 323 words incorrectly, though this rose to one in every 238 on Google+.
The research comes in the wake of comments by Simon Horobin, an English professor at Magdalen College, Oxford, who suggested that "they're", "their" and "there" could be spelt in the same way. Prof Horobin, speaking at the Telegraph Hay Festival, said: « I am not saying we should just spell freely, but sometimes we have to accept spellings change ».
Minimal differences were found between the accuracy levels of American and British tweeters, but analysts discovered women tended to elongate words and use onomatopoeia such as « soooo » or « argh », while men favoured shortened slang, including « gonna » and « gotta ».
« Whether through deliberate misuse or ignorance, it is clear that the nature of Twitter and its strict character limit continues to encourage a higher rate of unofficial English. But rather than bemoaning the loss of the language, shouldn't we instead be recognising this for what it is – a natural evolution? » said Joel Windels, Lead Community Manager at Brandwatch.
« Last year the Oxford English Dictionary added well over 1,000 new words and meanings, including web-speak words 'lolz' and 'tweeps.' Changes to language are nothing new, but this research highlights just how much of an influence social media is having on how we communicate. »
The government may not welcome the sentiments of Mr Windels and Prof Horobin.
Michael Gove, the Education Secretary, has published a list of 162 words which all 11-year-olds would be expected to spell correctly, and has said that « too little attention » has been paid to spelling and grammar in schools in recent years.
Voir encore:
The days of writing grammatically correct, perfectly punctuated sentences may seem like a thing of the past – but what role has social media played in this trend?
If new research from Brandwatch is anything to go by, it could be said that social networks have transformed modern day English, with Twitter presenting the greatest threat.
The site analysed the effect of various social media sites on the English language to find that Twitter users are the most likely to deviate from correct spelling and grammar.
A total of 0.56 per cent of words posted on the micro-blogging site are either misspelled or unofficial, although it has been suggested that this might be down to its strict 140-character limit.
Taking up second place is Google+ with 0.42 per cent of misspelled words, followed by Facebook with 0.31 per cent.
However, it's not all bad news for Twitter users, as the website found that people have become increasingly literate since 2011 – although how much of this is down to autocorrect features?
Women were found to be more likely to deviate from the official language than their male counterparts, as well as being more inclined to elongate their words for effect.
Men, perhaps unsurprisingly, showed a preference for shortening words, instead using phrases such as 'kinda' and 'wanna'.
Now it's not uncommon for even the greatest of spelling aficionados to struggle with the odd word or two, but Brandwatch's analysis found that some words are more commonly misspelled than others.
The worst offenders were definitely, separate, embarrass and achieve, with weird and surprise also featuring on the list.
It just goes to show that even in a field as broad as social media, people are still on the lookout for good spelling and grammar – something that people running Twitter campaigns should bear in mind.
 Voir de plus:
Facebook and Twitter 'harm pupils literacy': Headmasters claims children are so distracted by the sites they don't bother to read books
Children's literacy is being damaged by social media, headmasters claim.
They say pupils are too distracted by sites such as Facebook and Twitter to bother to read a book.
As a result, thousands are poor spellers and have little understanding of grammar.
Children's literacy is being damaged by social media, headmasters claim. They say pupils are too distracted by sites such as Facebook and Twitter to bother to read a book
A survey of 214 secondary school heads found that 70 per cent believe Facebook and Twitter are 'bad for literacy'.
Excessive use of such sites means youngsters' spelling and grammar have deteriorated. For example, some write 'l8' rather than 'late', while others rely on computer spellcheckers to correct their mistakes.
To make matters worse, many parents do nothing to try to improve these crucial skills.
The research, conducted by Booked, a magazine for schools, found that half of Britain's headmasters are concerned about their pupils' approach to reading.
Tsol Keoshgerian, chairman of Booked, said: 'This is a worrying snapshot of literacy standards.
It appears to confirm that the massive rise in social media use among the young is having a major impact on writing skills th little or no attempt by parents to stop it.'
Tsol Keoshgerian, chairman of Booked, which encourages children to read and write, said: 'This is a worrying snapshot of literacy standards in the UK today.
'From a social perspective, it appears to confirm the massive rise in social media use among the young is having a major impact on writing skills with little or no attempt by parents to stop it.'
Bosses regularly complain about the poor literacy standards among school leavers, whose written English in applications forms and CVs can be shocking.
Bosses regularly complain about the poor literacy standards among school leavers, whose written English in applications forms and CVs can be shocking
The research uses examples such as one applicant stating: 'I wont to work wiv you're company.'
Others regularly confuse the words 'to' and 'too', such as: 'I'd like too work with you', while asking whether job 'oppurtunities' are 'avalible' at the company.
Others sign their letters with several kisses, showing an inappropriate level of friendliness with a potential boss who they have never met.
Tracy Newby, head of English at Ringmer Community College in East Sussex, said helping her students to learn good spelling and grammar involves a 'fight' with social media.
She said: 'Social media has a massive impact on students every day.
'Ask a Year 10 class [aged 14 and 15] how many of them have read a book for pleasure recently and you might get two or three hands.
'Ask them how many have checked Twitter or Facebook that day and every hand will shoot up.'
Miss Newby runs workshops and competitions at her school to encourage the children to read and to find reading exciting and interesting.
One head teacher, who did not want to be named, said: 'I do feel that, to a certain extent, the use of electronic media, particularly a reliance on spell checks, has resulted in a decline in old-fashioned grammar and spelling.'
Another said: 'Parents are less inclined to help children at home with reading.
'Parents need to be aware of how important their role is. We hold regular evenings for parents and a very low percentage attend.' It comes after a damning report from the Organisation for Economic Co-operation and Development revealed the scale of the problem.
England is the only developed country producing children who are worse at reading and maths than their grandparents, according to a recent report from the Organisation for Economic Co-operation and Development.
John Allan, national chairman of the Federation of Small Businesses, said: 'Young people don't have the literacy and numeracy skills to do the job properly.
'What we need now is action to improve these crucial basic skills from an early age.
'While the Government is doing good work to improve the rigour of the curriculum, it must also learn lessons from those countries that perform well, on how to improve and retain these vital skills, to ensure the UK doesn't find itself with an unskilled workforce.'
Voir de même:
Trump's tweets are little different from FDR's chats
Trump's tweets represent 'empathy' but don't always reflect 'judgment,' says Andrew Card
MarketWatch
Jan 23, 2017
'FDR started it.' Andrew Card, chief of staff to President George W. Bush
Donald Trump, arguably, has already changed the office of the presidency forever, with his prolific tweets, some of which, at least in the lead-up to his Friday inauguration, endorsed specific companies, lashed out at impersonations and even laid the groundwork for complex policies. Cabinet appointees have found themselves walking back his remarks with some regularity.
Some observers embrace the transparency of the unfiltered Trump experienced on Twitter TWTR, -0.72% . The public wasn't ruffled one bit when a newly elected Trump's staff blew off the protocol for press pool reports and end-of-day signoffs.
Trump's delivery mechanism may be relatively new, but the motivation isn't. Circumventing the press, and even the carefully crafted press release, is a presidential tack that can be traced as far back as Franklin Delano Roosevelt's "fireside chats," which leveraged the radio medium to deliver Roosevelt directly into American living rooms, said Andrew Card, in an MSNBC interview. Card, White House chief of staff to the second President Bush, also served in the administrations of Ronald Reagan and George H.W. Bush.
And: Trump's tweets 'speak for themselves' as he holds media off for now
FDR delivered his first radio address on March 12, 1933, in the middle of the crisis of confidence over the U.S. banking system. The intent? Reassure the public as if the president had stopped by personally. It was only after the broadcast's relative success that they eventually earned the "fireside chat" familiarity. Trump's tweets are the president-elect's way to get closer to Americans, too, said Card.
And that's not without risk. Trump's words represent "empathy" but don't always reflect "judgment," said Card.
There have been, of course, other media firsts for the executive office. President Dwight Eisenhower created the White House TV studio, according to NPR. It was Reagan, the former actor, who first went prime time and live on network television to enter American homes.
Presidents have taken liberties with format in other ways, too. Barack Obama, whose White House was no stranger to social media, squeezed in "Between Two Ferns" alongside comedian Zach Galifianakis to promote the contentious Affordable Care Act.
Voir enfin:
"I love the poorly educated"—Read Donald Trump's full Nevada victory speech
Quartz
February 24, 2016
Oh boy. We love Nevada. We love Nevada. Thank you. Thank you. Oh this is a great place. Thank you very much. Great evening. We will be celebrating for a long time tonight. Have a good time. Have a good time.
You know we weren't expecting—a couple of months ago, we weren't expecting to win this one, you know that, right? We weren't. Of course if you listen to the pundits, we weren't expected to win too much, and now we're winning, winning, winning the country. And soon the country's going to start winning, winning, winning. So I want to thank the volunteers. They've been unbelievable. These people, they work like endlessly, endlessly. We're not going to forget it. And we've had some great numbers coming out of Texas, and amazing numbers coming out of Tennessee and Georgia and Arkansas and then in a couple of weeks later Florida. We love Florida so. We're going to do very well in Ohio. We're beating the governor. It's always nice to be beating the governor. And Michigan—the whole thing. It's going to be an amazing two months.
We might not even need the two months, folks, to be honest. So tonight we had 45 to 46%, and tomorrow you'd hear them say, you know, if they could just take the other candidates and add them up, and if you could add them up because you know the other candidates amount to 55%. So if they could—they keep forgetting that when people drop out, we're going to get a lot of votes. You know they keep forgetting.
So I want to begin by thanking my boys, Eric has been all over the place making speeches. He's getting better than me so I'm a little jealous. And Don went to _____, you were all over, right?
He loves the rifle stuff. This is serious rifle. This is serious NRA, both of them, both of them. We love the Second Amendment folks. Nobody loves it more than us, so just remember that.
And Corey and Hope, the staff, the whole group, and Charles and Dan and what a group we have. I want to just thank a couple of friends of mine that are here, the owner of this incredible hotel, Mr. and Mrs. Phil Ruffin, stand up. Great guy. Phil said, "Donald,"—like for the last three months he's driving me crazy, he said—"Donald, I want to put $10 million into your campaign." I said, "Phil I don't want your money. I don't want to do it. I'm self funding." Every time I see him. It's hard for me to turn down money because that's what I've done in my whole life. I grab and grab and grab. You know I get greedy. I want money, money.
I'll tell you what we're going to do, right? We get greedy, right? Now we're going to get greedy for the United States. We're going to grab and grab and grab. We're going to bring in so much money and so much everything. We're going to make America great again, folks, I'm telling you folks, we're going to make America great again.
And another great friend of mine, someone respected by everybody, a great friend of Phil too—Mr. and Mrs. Steve Wynn. Stand up, Steve. Stand up. Two great people. Steve is always calling. He's always got advice, right Steve? "Donald I think you should do this and that." His advice I like to listen to, I'll be honest. So Phil and Steve and families, we appreciate it. You've been great friends. Thank you, thank you.
So this was very exciting tonight. But I'll tell you it looks like we won by a lot evangelicals. I love evangelicals, and I have to tell you pastor [Robert] Jeffress has been so incredible on television and elsewhere. He has been great. And as you know Liberty University—do we love Liberty University? Huh? Jerry Falwell Jr., an unbelievable guy, and he has been with us and with us from the beginning, and I want to thank Jerry and his family. It's been amazing, the relationship. So we won the evangelicals.
We won with young. We won with old. We won with highly educated. We won with poorly educated. I love the poorly educated. We're the smartest people, we're the most loyal people, and you know what I'm happy about? Because I've been saying it for a long time. 46% were the Hispanics—46%, No. 1 one with Hispanics. I'm really happy about that.
So I'm very proud of you, this is an amazing night. I love the country, I love the country. We're going in the wrong direction. We're going to keep—as you know Gitmo, we're keeping that open, and we're going to load it up with bad dudes. We're going to load it up w a lot of bad dudes out there. We're going to have our borders nice and strong. We're going to build the wall, you know that. We're going to build the wall. And I have a lot of respect from Mexico, and you just heard we won Hispanics. But let me tell you Mexico is going to pay for the wall, right? It's going to happen. It's going to happen. They know it. I know it. We all know it.
We have a tremendous deficit. We have a trade deficit with Mexico. They'll pay for the wall. They'll be very happy about it. Believe me. I'll talk to them. They're going to be very, very thrilled. They're going to be thrilled to be paying for the wall.
We're going to be the smart people. We're not going to be the people that get pushed around all over the place. We're going to be the smart people. You're going to be proud of your president, and you're going to be even prouder of your country, OK?
Voir par ailleurs:
Emmanuel Todd : « C'est un pays en cours de stabilisation morale qui vient d'élire Trump »
Le Comptoir : Le 8 novembre 2016, Donald Trump remportait à la surprise générale l'élection présidentielle américaine. Comme lors du référendum sur le Brexit en juin de la même année, ou du rejet français du Traité établissant une Constitution pour l'Europe (TCE) en mai 2005, les élites politico-médiatiques n'avaient rien vu venir. Pourquoi, à chaque scrutin, les élites semblent-elles de plus en plus déconnectées des électeurs ?
Emmanuel Todd : Je crois que la séparation fondamentale entre peuple et élites – c'est une image, car c'est toujours plus compliqué – a pour point de départ la différenciation éducative produite par le développement du supérieur. Au lendemain de la guerre, dans les démocraties occidentales, tout le monde avait fait l'école primaire – aux États-Unis, ils avaient également fait l'école secondaire –, les sociétés étaient assez homogènes et très peu de gens pouvaient se vanter d'avoir fait des études supérieures. Nous sommes passés, ensuite, à des taux de 40 % de gens qui font des études supérieures par génération. Ils forment une masse sociale qui peut vivre dans un entre-soi. Il y a eu un phénomène d'implosion sur soi de ce groupe qui peut se raconter qu'il est supérieur, tout en prétendant qu'il est en démocratie. C'est un phénomène universel et pour moi, c'est la vraie raison. Il y a des décalages. L'arrivée à maturité de ce groupe social se réalise dès 1965 aux États-Unis. En France, nous avons trente ans de retard et ça s'effectue en 1995. Les gens des diverses strates éducatives ne se connaissent plus. Ceux d'en haut vivent sans le savoir dans un ghetto culturel. Dans le cas d'un pays comme la France, nous avons par exemple l'apparition d'un cinéma intimiste, avec des préoccupations bourgeoises déconnectées des cruautés de la globalisation économique. Il y a des choses très bien dans cette culture d'en haut. L'écologie, les festivals de musique classique ou branchée, les expositions de peinture impressionniste ou expressionniste, le mariage pour tous : toutes ces choses sont bonnes. Mais il y a des personnes avec des préoccupations autres, qui souhaitent juste survivre économiquement et qui n'ont pas fait d'études supérieures. C'est en tout cas ce que j'écris dans mes livres, je ne vais pas changer d'avis soudainement.
Une analyse qui rejoint en partie celle de Christopher Lasch en 1994, dans La révolte des élites et la trahison de la démocratie (The Revolt of the Elites and the Betrayal of Democracy)…
Ben écoutez, La révolte des élites, je l'ai là [il attrape un exemplaire de The Revolt of the Elites posé sur sa table]. Oui, peut-être. Honnêtement, j'avais publié le bouquin de Lasch sur le narcissisme [La culture du narcissisme, NDLR] quand j'étais jeune éditeur chez Laffont. J'avais été très attentif à ce livre, dont j'avais revu la traduction. Mais je ne suis même plus sûr d'avoir lu La révolte des élites. C'est ça, l'âge. [Rires] Mais je sais de quoi il s'agit, c'est vrai que c'est à peu près ça. Par contre, je diverge de Lasch et de gens qui dénoncent les élites pour supposer des qualités spéciales au peuple. Je l'ai cru à une époque, mais je n'en suis plus là. Les élites trahissent le peuple, c'est certain. J'estime même de plus en plus qu'il y a au sein des élites des phénomènes de stupidité induits par le conformisme interne du groupe, une autodestruction intellectuelle collective. Mais je ne pense plus que le peuple soit intrinsèquement meilleur. L'idée selon laquelle, parce qu'il est moins éduqué ou moins bien loti, le peuple serait moralement supérieur est idiote, c'est une entorse subtile au principe d'égalité. Adhérer pleinement au principe d'égalité, c'est être capable de critiquer simultanément élites et peuple. Et c'est très important dans le contexte actuel. Cela permet d'échapper au piège d'une opposition facile entre un populo xénophobe qui vote Le Pen et les crétins diplômés qui nous ont fabriqué l'euro. C'est toute la société française qu'on doit condamner dans sa médiocrité intellectuelle et morale.
En 2008, alors que presque toute la gauche se félicitait de l'élection d'un Noir à la Maison-Blanche, vous étiez l'un des rares à émettre des doutes sur ce symbole. Selon vous, Barack Obama n'avait pas de programme économique. La percée inattendue de Bernie Sanders à la primaire démocrate et la victoire de Trump sont-elles les symptômes de l'échec d'Obama ?
Je crois que c'est le symptôme d'un changement d'humeur de la société américaine dans son cœur, qui est un cœur blanc puisque la démocratie américaine est à l'origine blanche. Depuis longtemps, je suis convaincu que parce que les Anglo-Saxons ne sont au départ pas très à l'aise avec la notion d'égalité, le sentiment démocratique aux États-Unis est très associé à l'exclusion des Indiens et des Noirs. Il y a quand même 72 % du corps électoral qui est blanc. Obama a mené une politique de sauvetage de l'économie américaine tout à fait estimable dans la grande crise de 2007-2008, mais il n'a pas remis en question les fondamentaux du consensus de Washington : le libre-échange, la liberté de circulation du capital et donc les mécanismes qui ont assuré la dégradation des conditions de vie et la sécurité des classes moyennes et des milieux populaires américains. Dans les années 1950, la classe moyenne comprenait la classe ouvrière aux États-Unis. Les ouvriers ont été  "reprolétarisés" par la globalisation et les classes moyennes ont été mises en danger. Il y a eu, en 2016, une sorte de révolte.
Le premier élément qui m'a intéressé – et c'était normal puisque dans L'illusion économique (1997) je dénonçais le libre-échange –, c'est la remise en question du libre-échange, qui était commune à Trump et Sanders. C'est parce que le protectionnisme est commun aux deux que nous pouvons affirmer être face à une évolution de fond de la société américaine. C'est vrai que le phénomène Trump est incroyable : le type fout en l'air le Parti républicain pendant la primaire et fout en l'air les Démocrates ensuite. Mais jusqu'au bout, et des vidéos le prouvent, j'ai cru que c'était possible, parce que j'étais tombé sur des études démographiques largement diffusées. Je ne sais plus si je les avais vues mentionnées dans le New York Times, dans le Washington Post, ou dans les deux. Elles révèlent que la mortalité des Blancs de 45-54 ans a augmenté aux États-Unis entre 1999 et 2013. Pour les Américains, le débat sur les merveilles du libre-échange est clos. Ils ont compris. Il faut partir de l'électorat et pas de Trump. L'électorat est en révolte et les États-Unis ont une tradition démocratique plus solide que la nôtre, à la réserve près qu'il s'agit d'une démocratie blanche.
Beaucoup de commentateurs ont vu dans l'élection du milliardaire Trump une victoire des classes populaires. Or, encore une fois, celles-ci se sont majoritairement abstenues. En outre, 58 % des Blancs ont voté Trump, contre 37 % pour Clinton. Réciproquement, 74 % des non-Blancs ont préféré la candidate démocrate. L'élection de Trump ne reflète-t-elle pas le retour de la question ethnique dans une Amérique qui s'est crue post-raciale après l'élection d'Obama ?
Non, je ne le pense pas. Bien entendu, la question raciale reste lancinante. D'abord, il faut savoir que la situation des Noirs, toujours ghettoïsés, et celle des Hispaniques, pauvres mais en voie d'assimilation, n'est pas du tout la même, même si le Parti démocrate a un discours de ciblage général des minorités. Comme aux précédentes élections, les Noirs ont voté très majoritairement pour la candidate démocrate (89%), mais avec un taux d'abstention plus élevé, parce que les Clinton sont assez ambivalents dans leurs rapports à la question, contrairement à Obama. Toute la politique américaine, depuis Nixon – et ça a culminé avec Reagan –, a été marquée par un Parti républicain qui a fait fortune en devenant un parti blanc, résistant aux mesures de déségrégation et à l'affirmative action (discrimination positive). Les Républicains ont inventé la technique du dog-whistle, c'est-à-dire du "sifflet à chien", qui agit sans qu'on l'entende. Un langage codé permet de bien faire comprendre à l'électorat blanc qu'il faut détruire le welfare (les aides sociales), censé n'aller qu'aux Noirs. C'est ce qui a permis au Parti républicain de mener une politique économique absolument défavorable à son propre électorat, c'est-à-dire de diminuer les impôts des riches et de continuer à foutre en l'air la classe ouvrière blanche par le libre-échange. Trump est à l'opposé du dog-whistle. Il avait un double discours : d'un côté, un discours xénophobe tourné contre le Mexique – et pas contre les Noirs, qui sont sur le territoire américain – et de l'autre, des thématiques économiques quasi-marxistes. Pour moi, Trump est le contraire du racialisme républicain traditionnel. Il a mené le débat sur le terrain économique, face à des Démocrates qui activaient inlassablement, sur le mode de la bien-pensance, la question raciale, en se présentant comme les défenseurs des Noirs et en expliquant que si on appartenait à tel groupe, on devait voter de telle manière. Trump a donc foutu en l'air le Parti républicain racial avec ses thématiques économiques, pendant que le Parti démocrate est resté sur ses positions raciales banales.
Justement, vous semblez voir, dans l'élection de Donald Trump, l'amorce d'une sortie de la séquence néolibérale qui avait été marquée par l'arrivée au pouvoir de Margaret Thatcher et Ronald Reagan au début des années 1980. La dénonciation du libre-échange ou la volonté de rétablir le Glass-Steagall Act – aboli par l'administration Clinton – qui séparait les banques de dépôt des banques d'affaires sont effectivement en rupture avec le discours tenu à la fois par les Républicains et les Démocrates. Les premières mesures de dérégulation financière annoncées dès le lendemain de son élection, comme l'abolition de la loi Dodd-Frank – régulation timide des marchés financiers introduite sous Obama – ne sont-elles pas plutôt le signe que ce discours protectionniste et régulateur n'était qu'une façade et que le consensus de Washington continue de faire loi ?
Le problème, c'est qu'en France, nous sommes confrontés à une méconnaissance de ce qu'est le protectionnisme. C'est un certain type de régulation par l'État, mais ce n'est surtout pas une technique de régulation hostile au marché. C'est la fixation d'une limite autour d'un marché, qui doit rester capitaliste et libéral. Dans la théorie classique du protectionnisme, il n'y a pas de contradiction entre le fait de prendre des mesures de libéralisation en interne et le fait de protéger en externe. En formalisant, nous pourrions dire qu'il y a deux forces qui s'opposent aux États-Unis : un parti national et un parti globaliste. Nous pourrions dire que le parti national se caractérise par une protection aux frontières – des biens, de la circulation des personnes, le tout avec une bonne base xénophobe – mais qui n'est pas hostile au marché et qui a pour seul but de relancer un capitalisme interne qui fabrique des biens. En gros, il explique que les entreprises peuvent se faire de l'argent autrement. En face, il y a le parti globaliste qui va laisser les frontières ouvertes, en expliquant que cela va fonctionner même si la théorie économique explique que cela va générer des dégâts et des inégalités, le tout devant être compensé par de la redistribution et du welfare. J'ai obtenu la réédition de l'ouvrage classique de l'économiste Friedrich List sur le protectionnisme [Système national d'économie politique, Gallimard, 1998, NDLR], que j'ai préfacée en expliquant bien que le protectionnisme n'était qu'une branche du libéralisme. Marx détestait List. Je me suis retrouvé dans des émissions de radio face à des incultes qui me répliquaient : « Vous voulez transformer la France en Corée du Nord ? » Ce sont des ignorants qui pensent qu'en économie, le protectionnisme est une branche de l'étatisme. Évidemment, ici, je fais comme si Trump et son équipe avaient une conscience parfaite de ce qu'ils font, ce qui n'est pas le cas. J'évoque l'idéal-type wébérien du libéralisme protectionniste.
Vous expliquez donc que Trump est le promoteur d'un capitalisme national qui va relancer la production de biens. Mais pour le moment, il a surtout annoncé des mesures de dérégulation de la finance et a manifesté son envie de revenir sur les maigres mesures de régulation de l'administration Obama !
Mais ce n'est pas cela qui est important.
La financiarisation de l'économie a généralement nui au capitalisme productif que vous défendez…
Mais l'important, c'est la protection contre l'arrivée de marchandises fabriquées par des gens sous-payés. Une économie qui se protège avec des barrières tarifaires à 30-40 % – c'est une tradition américaine, c'était ainsi avant la guerre de 1914, si mes souvenirs sont exacts –, c'est une économie qui, même si toutes les règles internes deviennent plus libérales, est soumise à des contraintes différentes. C'est une économie où les ouvriers et les ingénieurs vont redevenir nécessaires ! Alors il y aura toujours des gens – c'est le principe du capitalisme – qui voudront se faire de l'argent. Il faudra seulement qu'ils le fassent autrement. Si nous nous en tenons à une approche marxiste, et souhaitons combattre les puissances d'argent, éventuellement abolir le Capital, nous restons à côté du problème. La question, c'est de savoir s'il existe une technique qui permet que des gens s'enrichissent et que cela profite à tout le monde dans l'espace national.
Vous avez longtemps soutenu que l'acceptation par le monde anglo-saxon de la globalisation et de la montée des inégalités qui en découle renvoyait à la structure familiale de type nucléaire et individualiste, indifférente à la valeur d'égalité. Le Brexit et l'élection de Trump ne sont-ils pas, au contraire, la preuve que l'action des peuples peut échapper, du moins dans certaines limites, aux déterminations anthropologiques ?
Je suis dans un manuscrit où je suis en train de traiter justement cette question. Pour moi, c'est la vraie question. Jusqu'à présent, j'étais résigné à l'enfermement de "l'anglosphère" dans son néo-libéralisme par son indifférence à l'égalité. Dans l'ensemble, mon modèle anthropologique ne fonctionne pas mal. L'idée d'un communisme fabriqué par une famille communautaire, égalitaire et autoritaire explique très bien l'histoire russe. La famille nucléaire absolue explique très bien le modèle libéral anglo-saxon, ainsi que le développement du capitalisme. Le fait que les gens ne sont pas très sensibles aux États-Unis ou en Angleterre à l'idéal d'égalité explique pourquoi le capitalisme y fonctionne de manière bien huilée et pourquoi les individus ne sont pas choqués quand certains font du profit. Mais entre 2000 et 2015, nous avons atteint la limite du modèle. Et bien sûr, les peuples peuvent transcender leur détermination anthropologique, mais à un certain niveau de souffrance seulement. C'est pour cela que la hausse de la mortalité a été un avertisseur qui m'a permis d'échapper à mon propre modèle. Quand j'ai pensé que Trump pouvait être élu, j'étais au fond en train d'admettre que mon modèle anthropologique était insuffisant. Mais c'est finalement la même chose qui s'est passée avec la chute du communisme.
Ce que vous écriviez dans La chute finale (1976)…
Mon modèle anthropologique dit que les traditions communautaires russes expliquent très bien l'invention du communisme. Mais de même que le libéralisme a emmené la société américaine à un niveau de souffrance exagéré, qui a provoqué la révolte de 2016, le communisme avait atteint vers 1975 un niveau d'absurdité tel, avec une hausse de la mortalité infantile, qu'il s'est effondré en 1990. Par contre, ce que nous dit déjà l'existence ultérieure de la Russie, c'est que l'atteinte de ce point de rupture peut amener une modification du système économique, mais ne fait pas sortir définitivement la population de sa culture. Je pense qu'il y a une démocratie en Russie. Les Russes votent à 80 % pour Poutine. C'est une forme de démocratie autoritaire. Mais le fonctionnement de la société garde beaucoup des traditions communautaires d'autrefois. Le système américain tente de se réformer, mais il va garder ses traits libéraux et non égalitaires fondamentaux. D'ailleurs, quand je décrivais un protectionnisme qui laisse fonctionner le capitalisme en interne, c'est exactement cela que j'évoquais.
En 1981, vous introduisiez Christopher Lasch en France, en faisant traduire La culture du narcissisme (sous le titre Le Complexe de Narcisse). L'intellectuel américain y analysait la destruction de la structure familiale américaine et ses conséquences néfastes. Les élections que nous venons de vivre s'inscrivent-elles dans la séquence décrite par Lasch ?
Non, elles ne sont plus en décomposition justement. Les États-Unis ont traversé une phase d'instabilité et de crise culturelle à partir des années 1960 : montée du divorce, enfants hors mariage, etc. Ce sont quand même les Américains qui ont inventé la pilule. Cette phase de crise a entraîné une montée spectaculaire du taux d'homicide. Mais si nous reprenons tous ces paramètres – ce que je ne ferai pas maintenant – depuis 1995, il est clair qu'en termes de mœurs, les États-Unis sont dans une phase de restabilisation. Dans ses tréfonds, la société américaine opère un retour à l'équilibre. Si nous lisons la presse française – regardez, j'ai même acheté Les Inrocks (il l'attrape) –, nous sommes affolés par Trump. Le subliminal de « Trump est fou », c'est que c'est pour nous que l'Amérique est folle. Pure illusion : l'Amérique de 2016 est rationnelle et raisonnable. J'ai affirmé dans un premier temps qu'il existe une rationalité économique au vote Trump. Votre question me conduit à ajouter qu'en termes de mœurs, l'Amérique revient à l'équilibre. C'est un pays en cours de stabilisation morale, malgré sa souffrance économique, qui vient d'élire Trump.
Avec Youssef Courbage, vous avez largement déconstruit, avec l'outil démographique, la notion de "choc des civilisations" (Le Rendez-vous des civilisations). Ne craignez-vous pas que l'élection d'un Donald Trump ne la fasse revivre ?
Évidemment, le discours de Trump sur les questions identitaires est inacceptable pour quelqu'un comme moi. C'est d'ailleurs parce que ce caractère inacceptable me semble évident que je suis capable d'accepter la dimension économique de son discours. Les choses sont assez claires dans ma tête. Mais nous ne devons jamais oublier la rationalité de Trump et de son équipe, aussi bien en politique intérieure qu'en politique internationale. Un effort intellectuel est nécessaire puisque nous avons affaire à un communicant : derrière les choses horribles qu'il dit – ce qui a poussé ses adversaires à le prendre pour un fou –, il y a des calculs. Sa conquête électorale de la Rust Belt et de la Pennsylvanie, promise par Trump avant l'élection, montre bien une certaine forme de rationalité.
En politique internationale, les commentateurs évoquent cette même folie : Trump attaque la Chine, l'Allemagne, l'Union européenne (qu'il perçoit, à juste titre, comme un instrument de la puissance allemande)… Il marche à la guerre… Mais d'un point de vue protectionniste, ceci est tout à fait normal puisque la Chine et l'Allemagne sont les pays qui posent des problèmes de concurrence économique aux États-Unis. C'est bien l'Allemagne, plus que les États-Unis, qui poussait pour le fameux traité transatlantique. L'Allemagne et la Chine sont deux ardents défenseurs du libre-échange, comme l'indique la proposition absurde d'alliance libre-échangiste faite par la seconde à la première.
Je reviens à votre question sur le conflit de civilisations. Il est vrai que Trump donne des signaux forts d'hostilité à l'islam et aux musulmans. J'ai beaucoup évoqué sa rationalité, mais j'admets que son hostilité à l'Iran est un élément exagéré, discordant. Il s'agit peut-être d'une volonté de semer le trouble au sein de l'électorat américain. Revenons sur le plan des principes généraux : en réalité, le retour au national promu par Trump devrait s'accompagner d'une "désuniversalisation" des problèmes. Cela devrait finir par concerner l'islam aussi, et pourrait finalement conduire à une "désuniversalisation" de la question musulmane. Le retour au national ne suppose pas une rupture avec l'idée de puissance, mais suppose une politique différenciée qui cesse d'être généralisatrice. Je peux me tromper mais il me semble que les axes fondamentaux de la politique de Trump ne comprennent pas cet universalisme généralisateur qui désignerait un ennemi universel qui serait l'islam. Je reconnais que certains aspects de sa politique sont, au stade actuel, insupportables, et je suis ravi de l'action des contre-pouvoirs américains, (de ce système judiciaire qui avait posé tellement de problèmes à Roosevelt), mais je ne parierai pas sur une universalisation durable de la question de l'islam, qui contredirait le retour au national. Je ne m'étais pas vraiment posé la question mais c'est ainsi que je vois les choses pour l'instant : Trump ne peut pas être à la fois universalisant et "désuniversalisant". Ce sont les partisans de la globalisation qui ont tendance à universaliser tous les problèmes, et donc celui de l'islam. Le retour à l'égoïsme national a ses qualités.
Voir par ailleurs:
Why does Donald Trump exaggerate the size of his inauguration crowd, brag about his election win in conversations with world leaders, and claim without evidence that voter fraud may have cost him the popular vote? Why does he dismiss protesters who oppose him as "paid professionals" and polls that reflect poorly on him as "fake news"? Why does he call much of the media the "enemy of the people"?
There are explanations for these things that focus on the individual, characterizing Trump as a self-centered reality-TV star obsessed with approval and allergic to criticism.
But there is also an ideological explanation, and it involves a concept that gets mentioned a lot these days without much context or elaboration: populism.
What is a populist?
No definition of populism will fully describe all populists. That's because populism is a "thin ideology" in that it "only speaks to a very small part of a political agenda," according to Cas Mudde, a professor at the University of Georgia and a co-author of Populism: A Very Short Introduction. An ideology like fascism involves a holistic view of how politics, the economy, and society as a whole should be ordered. Populism doesn't; it calls for kicking out the political establishment, but it doesn't specify what should replace it. So it's usually paired with "thicker" left- or right-wing ideologies like socialism or nationalism.
Populists are dividers, not uniters, Mudde told me. They split society into "two homogenous and antagonistic groups: the pure people on the one end and the corrupt elite on the other," and say they're guided by the "will of the people." The United States is what political scientists call a "liberal democracy," a system "based on pluralism—on the idea that you have different groups with different interests and values, which are all legitimate," Mudde explained. Populists, in contrast, are not pluralist. They consider just one group—whatever they mean by "the people"—legitimate.
This conception of legitimacy stems from the fact that populists view their mission as "essentially moral," Mudde noted. The "distinction between the elite and the people is not based on how much money you have or even what kind of position you have. It's based on your values."
Given their moral framing, populists conclude that they alone represent "the people." They may not win 100 percent of the vote, but they lay claim to 100 percent of the support of good, hardworking folks who have been exploited by the establishment. They don't assert that the neglected people who back them should be kept in mind by political leaders just like all other citizens; they claim that these neglected people are the only people that matter.
"Populists only lose if 'the silent majority'—shorthand for 'the real people'—has not had a chance to speak, or worse, has been prevented from expressing itself," explains Jan-Werner Müller, a professor at Princeton University and the author of What Is Populism? "Hence the frequent invocation of conspiracy theories by populists: something going on behind the scenes has to account for the fact that corrupt elites are still keeping the people down. … If the people's politician doesn't win, there must be something wrong with the system."
One might expect this argument to fail once populists enter government and become the establishment. But no: Populists—ranging from the revolutionary socialist Hugo Chavez in Venezuela to the religious conservative Recep Tayyip Erdoğan in Turkey—have managed to portray themselves as victims even at the height of their power, blaming their shortcomings on sabotage by shadowy domestic or foreign elites.
The notion of one virtuous people and one vile elite is a fiction, even if it does reflect real divisions and power dynamics in a given society. "There is no single political will, let alone a single political opinion, in a modern, complex, pluralist—in short, enormously messy—democracy," writes Müller. It's not that populists have some special mind meld with the masses. Rather, "populists put words into the mouth of what is after all their own creation." As an example, Müller cites Nigel Farage, the former leader of the populist U.K. Independence Party (UKIP), who called Britain's vote to leave the European Union a "victory for real people," as if the 48 percent of British people who voted to remain in the EU were "somehow less than real—or, rather, questioning their status as members of the political community."
Populists "tend to define the people as those that are with them," Mudde said. The mark of a populist isn't which specific groups of people he or she includes in "the people" or "the establishment." It's the fact that he or she is separating the world into those warring camps in the first place.
Stylistically, populists often use short, simple slogans and direct language, and engage in "boorish behavior, which makes [them] appear like the real people," said Pippa Norris, a professor at Harvard University who is working on a book on the rise of "populist-authoritarian" politicians around the world, especially in Europe. They are typically "transgressive on all the rules of the game."
Is Donald Trump a populist?
Something fundamental in Trump's approach to politics changed around the time that Steve Bannon, now the president's chief strategist in the White House, joined the businessman's campaign, according to Mudde. Trump had been condemning America's allegedly incompetent political leaders for decades. But when Trump launched his presidential bid, he was not, in Mudde's mind, a populist. Over time, however, he's come to style himself as one, in ways that help illuminate why Trump does what he does and says what he says.
Trump's initial political vocabulary included the corrupt elite but not the pure people. Instead, in rambling speeches, he focused on just one person: himself. "Our country needs a truly great leader … that wrote The Art of the Deal," Trump declared in announcing his candidacy. Gradually, however, his speeches grew more coherent and populist. His remarks at the Republican National Convention—which were written by his aide Stephen Miller, who developed a taste for "nation-state populism" while working for Senator Jeff Sessions—marked a transitional moment. "I alone can fix" the broken system in Washington, Trump said, promising to serve as the "voice" of the "forgotten men and women of our country." By Inauguration Day, the transformation was complete: Trump's rhetoric was thoroughly populist. "January 20th, 2017, will be remembered as the day the people became the rulers of this nation again," he proclaimed. That speech was written by Miller and Bannon, who envisions Trump leading a new "economic nationalist movement" modeled on the "populism" of the 19th-century U.S. President Andrew Jackson.
In his presidential-announcement speech, Trump used versions of the word "I" 256 times. In his inaugural address, he used those words three times.
Trump shifted from exclusively "selling himself" to presenting "himself as a vehicle of the people," Mudde observed, and this allowed his supporters to feel part of something bigger than Trump. "You couldn't be part of Trump, and that was what he sold before," Mudde said. "That was where the genius came in. Before it was just one man standing against everyone. Now it was a movement that had him as its leader. That energized [people] much more." (Norris pointed out that Trump usually portrays himself as a "paternalistic leader who will do things for the people" rather than seeking to directly empower them.)
The moral dimension of populism "explains why someone like Donald Trump, who clearly is not a commoner, can nevertheless pretend to be the voice of the people," Mudde told me. "He doesn't argue, 'I am as rich as you.' What he argues is, 'I have the same values as you. I'm also part of the pure people.'"
And here's where the ideological explanation for Trump's seeming vanity comes in. If Trump is the only authentic emissary of the people, then how does he reconcile that role with unspectacular crowd sizes, weak poll numbers, the loss of the popular vote, mass protests by people claiming he doesn't represent them, and critical media coverage of the policies the people allegedly want?
What, moreover, do these realities do to the mandate he claims from the people to take extraordinary measures like banning refugees and immigrants from whole countries, or pressuring Mexico into paying for a border wall?
As Trump told ABC's David Muir regarding his fixation on the size of the Inauguration Day crowd, the media tries to "demean me unfairly 'cause we had a massive crowd of people. … Part of my whole victory was that the men and women of this country who have been forgotten will never be forgotten again."
"The legitimacy of populists comes from mass opinion," said Norris. Trump "doesn't have legitimacy through the popular vote. He doesn't have legitimacy through experience. He doesn't have legitimacy through the [Republican] Party," which institutionally has had a rocky relationship with Trump. "So he claims this mythical link to the people."
Mudde remains skeptical that Trump is, in his heart of hearts, a populist. The chances he becomes more "elitist" in office are greater than for someone like the presidential candidate Marine Le Pen in France, who has been consistently populist for years, Mudde said. But "Donald Trump the politician today is a populist radical-right politician."
While Trump has been inconsistently populist, Mudde noted, he has consistently opposed elites, demonstrated a nativist attitude toward immigrants, and exhibited "authoritarian streaks." These could be described as his thicker ideologies.
According to Norris, who labels Trump a "populist-authoritarian," nativist nationalism dwells on threats posed by outsiders, and revolves around "the idea that the country should come first, and that there are certain groups that are part of the people and they're the ones who should get the benefits and rewards of that society." (One recent study of European Union countries found that as the percentage of immigrants in a nation increases, so does support for right-wing populist parties; the journalist John Judis has observed that while left-wing populists typically defend the lower and middle classes against the upper class, right-wing populists defend the people against elites who they accuse of being insufficiently tough on a third group: outsiders like immigrants or radical Islamists.)
Authoritarians, meanwhile, think that the primary role of the state is to enforce law and order, fear chaos more than anything else, and instinctively respond to problems by "cracking down" on the perceived source of the issue, Mudde said. Some authoritarians disdain democracy even if they maintain its trappings, but Trump doesn't appear to be one of them, Mudde added. Trump "has never really attacked the democratic narrative that the majority of the people should elect their leaders," he noted. The president seems to believe that "I have been elected by the majority of the people—which of course he wasn't, but that's his frame—and so now everyone else should just accept what I do because I have the mandate of the people." He seeks to underscore his "democratic legitimacy" by publicizing "shows of support."
"To understand the current administration, populism is as important as nativism and authoritarianism, because [Trump] fires on all three cylinders," Mudde said.
So what if Trump is a populist?
There's been little comparative study of whether populists deliver better or worse results for their people than other types of politicians, according to Norris. Not much can be said definitively, for example, about the effect of populist governance on a country's GDP growth, though a number of prominent populists, particularly in Latin America, have pursued disastrous economic policies.
But what does often happen is that populists, when they come to power and "actually have to deal with things on a daily basis, they often become more moderate as they gradually learn that bomb throwing doesn't work when they're trying to get things done," Norris said. "And then they often lose their popularity over time as a result because they no longer have that appeal" of political outsiders.
Just because many of Trump's policies—tax cuts that benefit the wealthy, for instance—may not actually help non-elites doesn't mean he can't be described as a populist, Norris added, noting that populists are "all over the place" on economic policy. Nor is Trump necessarily a fake populist just because he's a billionaire who's appointed a bunch of millionaires and billionaires to his cabinet. Populism as many scholars understand it is, in Judis's words, more a "political logic" than a policy program or sincerely held belief system.
Sometimes, however, populists don't moderate in office. And either way, empowered populists often pose challenges to the key components of Western-style liberal democracy: civil liberties, minority rights, the rule of law, and checks and balances on government power.
This occurs even as the popularity of populists exposes widespread dissatisfaction with the existing state of representative democracy. Populists are problematic for free societies, but they're also responding to profound problems in those societies; they succeed when they tap into people's genuine grievances about the policies pursued by their leaders. As Douglas Carswell, a member of UKIP in Britain, once told the BBC, "I think populism is a popular idea with which the elites tend to disagree." Viktor Orbán, the populist leader of Hungary, an EU member, recently put it more vividly:
In Western Europe, the center Right … and the center Left have taken turns at the helm of Europe for the past 50 to 60 years. But increasingly, they have offered the same programs and thus a diminishing arena of political choice. The leaders of Europe always seem to emerge from the same elite, the same general frame of mind, the same schools, and the same institutions that rear generation after generation of politicians to this day. They take turns implementing the same policies. Now that their assurance has been called into question by [Europe's] economic meltdown, however, an economic crisis has quickly turned into the crisis of the elite.
But in being anti-establishment, populists typically aren't just "anti–the other party or anti–particular interests or particular policies, which is normal politics," Norris said. "It's really being anti–all the powers that be in a particular society," from political parties and the media to business interests and experts such as academics and scientists.
And that's why populists can endanger democracy. "You can't compromise in a moral struggle," Mudde explained. "If the pure compromises with the corrupt, the pure is corrupted. … You're not dealing with an opponent. An opponent has legitimacy. Often in the populist mind and rhetoric, it is an enemy. And you don't make deals with enemies and you don't bend to illegitimate pressure."
As a result, "populists in power tend to undermine countervailing powers, which are courts, which are media, which are other parties," Mudde said. "And they tend to do that through a variety of mostly legal means, but not classic repression." In Hungary, for instance, Orbán hasn't banned opposition newspapers; rather, his government has directed advertising by state-run organizations away from critical media outlets and toward friendly ones. Orbán's government also lowered the retirement age for judges in an effort to fill those positions with loyalists.
Individually, these actions don't seem so remarkable. But collectively, they "create an un-level playing field in which it becomes increasingly difficult for the populist leader to lose elections," Mudde said. Such leaders "by and large wear out the opposition," he added, noting that mass anti-government demonstrations in Hungary have withered in the years since Orbán took office. "After a while, it starts to become normal, you start to worry more about speaking out, and everything kind of falls in place."
"Democracy in the sense of popular sovereignty and majority rule, where the people elect their leaders, even [Russian President Vladimir] Putin upholds this," he said. "Even Erdoğan upholds this. But they do that in a situation where it's virtually impossible for real opposition to mobilize."
"Populism knocks over some of the liberal-democratic safeguards," Norris said. "What flows in when the door is open depends on the ideology that that particular party is putting forward."
Populists are certainly not alone in seeking to consolidate political power. But unlike other power-hungry politicians, they can do so openly, Müller notes: "Why, populists can ask indignantly, should the people not take possession of their state through their only rightful representatives? Why should those who obstruct the genuine popular will in the name of civil service neutrality not be purged?"
While marginalizing opponents, populists also tend to openly dole out favors to their supporters. "In a sense," Müller writes, "they try to make the unified people in whose name they had been speaking all along a reality on the ground. … Populism becomes something like a self-fulfilling prophecy."
Mudde struggled to cite a populist elsewhere in the world who reminds him of Trump. Rodrigo Duterte in the Philippines has a similarly authoritarian vision of leadership, Mudde noted, but he doesn't embrace Trump's narrative of democratic legitimacy. Silvio Berlusconi in Italy was also a brash, billionaire populist, but he was more ideologically moderate than Trump. Geert Wilders in the Netherlands is outspoken on radical Islam and active on Twitter, but he's a skilled, professional politician. "The amateurism of Trump is absolutely unique," Mudde said. "I honestly have never seen anything like that in an established democracy."
Mudde said it was difficult to predict the impact Trump's populist presidency could have on American democracy because the populists he's studied in advanced democracies have ruled in parliamentary coalitions, meaning they haven't held as much power as a president in the U.S. system does. The populists who've led presidential systems are largely in Latin America, which has weaker political institutions than the United States does.
"Trump is so unique in so many different ways that it's very hard to [draw lessons] from other countries," Mudde said. Still, he argued that the threat Trump represents for liberal democracy is an incremental one that could grow over the course of four or eight years, especially if Trump's fellow Republicans, who at the moment have "more than enough power to stop Trump whenever he would push beyond what liberal democracy allows," decide not to stand up to the president. Alternatively, the threat could expand in the event of a crisis. Consider what happened with President George W. Bush after 9/11, "when we were rallying around the flag of a liberal democrat in [2001], with the Patriot Act," Mudde observed. Now imagine what might happen after a major terrorist attack in a country led by an "illiberal democrat."
"All of these measures are small measures," Mudde said. "And they have a cumulative effect over years. It is some oppositional newspapers that disappear; others start to self-censor. It is various forms of disenfranchisement, all the time a little bit extra, which drops off parts of the electorate. It is the appointment of more and more judges at all kinds of levels who don't challenge the administration. … This is chipping away at protections."
Noting the low levels of public trust in the press and political institutions, and Trump's sustained campaign to further undermine that trust, Norris foresaw not "an overnight revolution," but a "drip, drip, drip" deterioration in America's already troubled democracy. "Faith and confidence in your institutions," she said, is the "cultural basis for democracy."
The irony, Müller writes, is that populists, after coming to power, tend to commit the same sins they ascribe to elites: "excluding citizens and usurping the state. What the establishment supposedly has always done, populists will also end up doing. Only with a clear justification and, perhaps, even a clear conscience."
Voir enfin:
Hence the queasiness: The prospect of prolonged dynasties seems hard to square with the ideal of a democracy « of the people, by the people and for the people. » It brings to mind the warning words of Alexis de Tocqueville, who had counseled in 1835 against the gradual diminution of the electorate into « a flock of timid and industrious animals, of which the government is the shepherd. »
But as historians like Lawrence Goodwyn have argued, this dynastic tendency is no anomaly. American politics has long been dominated by an elite that has successfully insulated itself against the whims and tides of public opinion. During the first American presidential election in 1789, seven of the 13 original colonies did not even allow a popular vote but simply appointed delegates to the Electoral College. Political parties did not yet exist. Indeed, the founding fathers were distrustful enough of organized parties that they expunged any mention of them from the draft of the Constitution. When parties first entered the American political landscape in 1796, they served as lobbying groups for the presidential bids of John Adams and Thomas Jefferson, not as vehicles of mass expression. « Representative democracy » originated and blossomed in the United States as the representation of the interests and dispositions of a rather small sliver of the American population.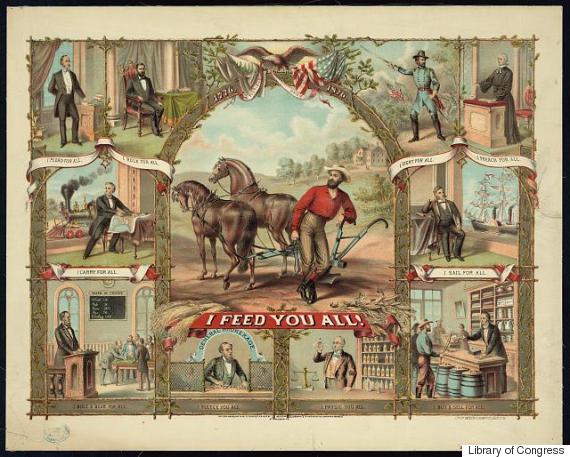 « I feed you all! » lithograph by American Oleograph Co., Milwaukee, ca. 1875. (Library of Congress Prints and Photographs Division)
Since those early days, political participation has often remained a minority phenomenon: After peaking in the 19th century, voter turnout rates have hovered around 55 percent for presidential elections at around 40 percent for midterm elections for much of the 20th century. Party affiliation is at an all-time low. The expansion of the franchise and the introduction of the primary system have changed the ostensible procedures of democracy, but have retained the influence of party elites in the form of super delegates and through control of the allocation of campaign funds. Elite politics — prominently derided by Walt Whitman as the « never-ending audacity of elected persons » — is a feature of the American political system, not a bug. Voters seem to have tolerated this system with a slightly disgruntled shrug: Congressional approval rates are notoriously low, and have stayed well under 40 percent for many of the last 40 years.
Almost as persistent as elite democracy is the debate over its merits. In 1911, the German sociologist Robert Michels posited what has become known as the « iron law of oligarchy. » Michels argued that concentrations of power and elite dominance are inevitable features of mass organizations like political parties. As the size and complexity of an organization increase, power becomes concentrated within a core group of leaders. But instead of acting as « servants of the masses, » these bureaucratic and political elites establish monopolies of information, and dominate over the apathetic rank-and-file. Several decades later, the Austrian economist Joseph Schumpeter had an even more dire view of politics:
The typical citizen drops down to a lower level of mental performance as soon as he enters the political field. He argues and analyzes in a way which he would readily recognize as infantile within the field of his real interests. He becomes a primitive again.
For Schumpeter, the significance of elite politics was found not in its inevitability but in its necessity: Only through the considered judgment of elites could the « unintelligent and irresponsible » proclivities of the masses be contained. Schumpeter had witnessed the dark and anti-Semitic underbelly of mass fervor in Austria and Germany in the 1920s and 1930s, and had come to embrace rule by an enlightened elite as the best guarantor of political and economic liberalism. In the United States, his concerns were echoed by the likes of Walter Lippmann, who dismissed public opinion as the consequence of emotional infatuation and stereotypes, and argued that complex decisions and calculations were best left to a trained professional elite. The world of mass politics was to remain separated from the world of governance. The tragedy of democracy, Lippmann argued, was the pretense of popular participation: By positing a direct and intimate link between people and politicians, it misconstrued how the system worked in practice.
Only in the 1950s did the tide begin to shift. Building on the work of American progressives like John Dewey — who had famously declared that « democracy and the one, ultimate, ethical ideal of humanity are to my mind synonymous » — C. Wright Mills rose to public and intellectual prominence by deriding the presence of a « power elite » in American politics. By turning politics from a matter of public engagement into a practice of rational administration, Mills argued that this elite had not only begun to wield unprecedented power but had also corrupted the basic operations of democracy in America.
The significance of elite politics was found not in its inevitability but in its necessity.
Only against this background of elite democracy is it possible to disentangle the meaning and significance of the specter that is haunting the current primary season: the specter of populism that has seemingly buoyed the candidacies of Donald Trump, Ted Cruz and Bernie Sanders — three men who don't usually trod the same ground or find themselves fighting from the same corner.
Daniele Albertazzi and Duncan McDonnell, two authorities of the topic, define populism as an ideology that « pits a virtuous and homogeneous people against a set of elites and dangerous 'others.' » This is a useful starting point, for it highlights a crucial aspect of populist politics: They proceed through the drawing of boundaries, the building of alliances and the kindling of the imagination, and thus constitute a political project rather than an individualistic reaction to injustice or destitution.
Populism gathers steam when discontent becomes the spark of political mobilization, when individual grievances are revealed as shared frustrations and when the dispersed energies of the street are cajoled and channeled into collective action.
History's most fervent populists were usually not the Tom Joads of this world, who hunkered down, trekked westward, and worked themselves into early and dusty graves when life threw drought and famine upon them. Populism, like other social movements, gathers steam when discontent becomes the spark of political mobilization, when individual grievances are revealed as shared frustrations, and when the dispersed energies of the street are cajoled and channeled into collective action. That's one reason why populist movements, despite their anti-elitist tones, sometimes cohere behind strong and charismatic leaders. The populist strength is not of a military or financial kind, but is instead rooted in the combination of plentiful bodies and powerful rhetoric.
We know all this because populism, like elite politics, has a long history in the United States. One of the country's most significant — and most understudied — political mass mobilizations occurred in the 1880s and 1890s, when scores of cotton farmers, sharecroppers, and landowners banded together against « Washington elites » and industrial capitalists. Worried about their declining relevance in a modernizing economy and about the crop lien system that underpinned much of American agriculture, they formed the Farmers' Alliance to « unite the farmers of America for their protection against class legislation and the encroachments of concentrated capital. » As the writer Mary Elizabeth Lease noted at the time, farmers needed to « raise less corn and more hell. »
Not all populisms are created equal.
Soon, rural activists were calling for the nationalization of railroads, agricultural debt relief and the establishment of cooperative stores. Those stores, they argued, could function outside the regular market economy and thus escape the predatory grasp of East Coast financiers and remedy the regulatory lethargy of East Coast politicians.
By the 1890s, the increasing circulation of mass media, a vibrant rural lecturing circuit and series of droughts had galvanized populist sentiments and contributed to the formation and early electoral success of the newly formed People's Party. Populist state politicians and congressmen soon broadened the scope of their arguments, and began to link calls for agrarian revival to condemnations of the gold standard and the Federal Reserve. But their influence was temporary. By the early 20th century, agrarian populist energies had dissipated or had sometimes taken ugly turns. Thomas Watson, who first rose to prominence within the People's Party before becoming a voice of demagoguery, could thus declare to applause in 1910 that:
The scum of creation has been dumped on us. Some of our principal cities are more foreign than American. The most dangerous and corrupting hordes of the Old World have invaded us. The vice and crime which they have planted in our midst are sickening and terrifying.
Who was to blame for this preponderance of vice? « The manufacturers, » said Watson, who « wanted cheap labor; and they didn't care a curse how much harm to our future might be the consequence. »
This highlights another crucial aspect of populist politics: It includes as much as it excludes. Notably absent from the ranks of the People's Party were black sharecroppers, who were presumably more than irritated by the party's lenient approach to Southern white supremacy. Later populist revivals — Theodore Roosevelt's Progressive Party in the 1910s, or George Wallace's presidential campaigns in 1968 and 1972 — folded women and industrial workers into their respective definitions of « the people, » but also excluded, or continued to exclude, immigrants, African Americans or liberal reformers.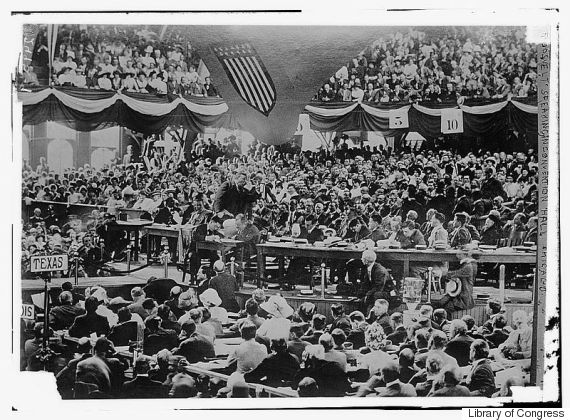 Theodore Roosevelt speaking at a convention hall in Chicago in the early 1900s (Library of Congress).
This is why any attempt to associate populism with a particular conservative or progressive tradition — and thus to condemn it in partisan fashion — is bound to falter: The logic and rhetoric of populism have been harnessed by diverse groups for different ends. Like elite politics, populism has been a constant throughout America's political history. It constitutes, in the words of the recently deceased political theorist Ernesto Laclau, the « political logic » of the modern nation-state: By outlining and reinforcing the boundaries of who constitutes « the people » and by articulating their sovereignty, populism can serve as the midwife of democracy, the language of demagoguery and as the antidote to elite politics.
Thus, not all populisms are created equal. For Tocqueville, the prospect of populism lay in its link to participatory institutions, and thus in the possibility of cultivating the « habits of the heart » that underpinned popular sovereignty. By contrast, the third-party presidential campaigns of Ross Perot in the 1990s and of Ralph Nader in the 2000s had a distinct populist rhetoric but were ultimately rooted in the logic of reformism, not in a rejection of Washington politics. Likewise, the vision of Bernie Sanders' campaign is not the abandonment of Beltway politics but the reclamation of the political system for the middle class — which has experienced a steady decline in numbers and prosperity since the 1970s — and the working class — which has swelled in numbers and shrunken in social mobility. Sanders' campaign proposals — universal health care, free education or tightened financial regulation — are remarkable largely because they have long been excluded from American political discourse even on the left but now attract support among Democrats across age and income brackets. They are populist insofar as they have sparked the imagination and galvanized the Democratic electorate. In most European countries, similar proposals have long registered as common sense.
Democrats are fighting over the political direction of the party, but Republicans are fighting over the direction of the political system.
Yet this particular strand of populism seems profoundly different from the populist debate that is rocking the Republican Party and has largely sidelined establishment candidates. Democrats are fighting over the political direction of the party, but Republicans are fighting over the direction of the political system and the boundaries of political discourse.
Many of Trump's policy proposals are remarkably unimaginative and centrist, but his campaign is unique in the vitriol of its rhetoric and its hostility towards established institutions of American politics. Routine shutdowns of the federal government over budgetary disagreements or calls to ban Muslims from immigrating into the United States have surprised and rocked even the party's conservative elite, and have given a new lease of life to Schumpeter's concerns. The truly revolutionary populism now emanates from the right, and it's not a pretty sight.